If you've been sticking staunchly to a quick flick of eyeliner up until now, consider this the invitation you need to step into the world of eyeshadow palettes.
There's a whole sparkly, shimmery, metallic, glittery world out there. And it's one you can break into in a matter of seconds, with a quick application on your eyelids that'll make you see the world through rose-tinted glasses eyelids.
From bringing a splash of color to an all-black ensemble or adding the cherry on top of an already sparkling number, eyeshadow is the finishing touch when it comes to perfecting your look.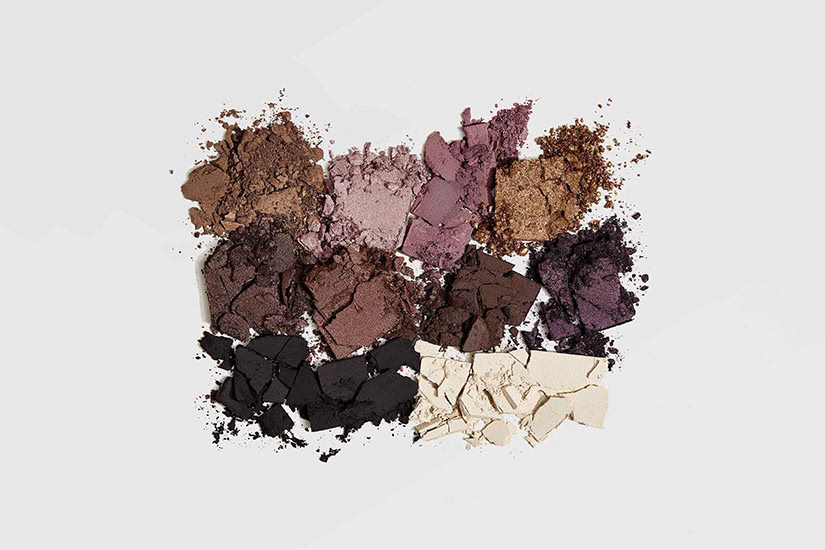 And even if you wouldn't consider yourself an artist, there's a lot of fun to be had when it comes to playing around with new colours, finishes and combinations. Just because you wouldn't consider attempting a cut crease doesn't mean you have to avoid eyeshadow altogether.
From the professional eyeshadow palettes to the most popular and most colorful eyeshadow palettes, you'll find a shade here to look out for on your next shopping trip. 
The 21 best eyeshadow palettes
Givenchy Beauty: Overall best eyeshadow palette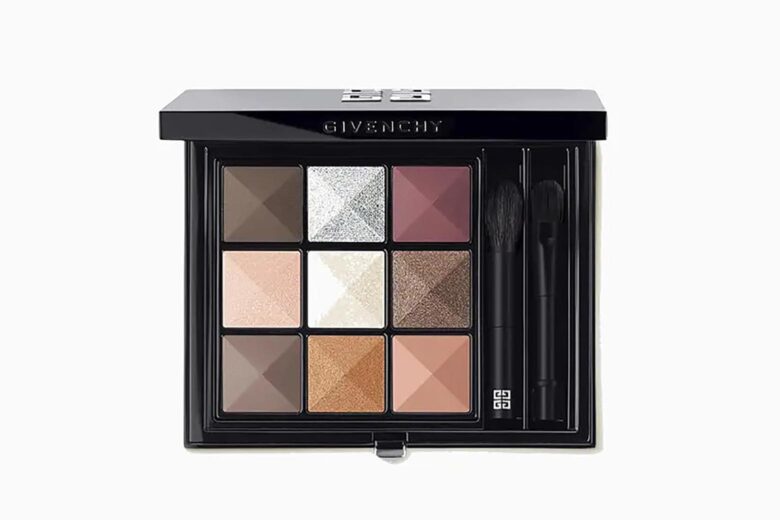 You'll want to buy this at least a few days before you're planning on using it for the first time, because any Givenchy palette rightfully deserves to be admired pan by pan before you eventually give in and try each silky shade. This is one of those palettes that's so pretty, you'll consider buying it just to look at, before sternly telling yourself that life is for living and this palette is for using.
The beauty of the Givenchy Beauty Le 9 de Givenchy Palette in N1 not only lies in the eye of the beholder but also your eyes too, once you've decided which shade to try first. A variety of gorgeous, diamond-cut shades in an impossibly smooth formula will all gaze up at you, begging to be tested first. This is the palette that you'll rush out to repurchase as soon as any of the shiny silver starts to show through the bottom.  
Best for: Hiding away when your friends want to borrow your makeup bag.
Tom Ford: Best high-end eyeshadow palette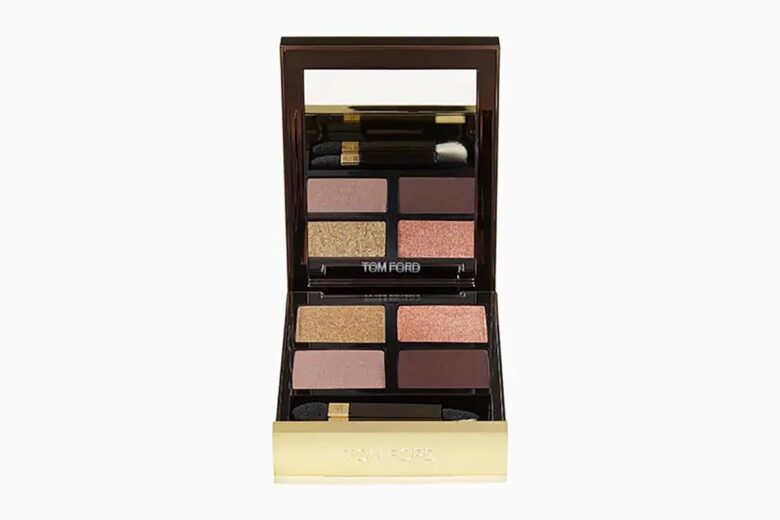 Long lasting, versatile, and promising plenty of usage, a Tom Ford eyeshadow palette is the ultimate definition of luxe makeup and it's a purchase you'll never regret. When it comes to the best high-end eyeshadow palettes, we'd put Tom Ford's Beauty Eye Color Quad in Golden Mink right at the top of the pile. 
It's the sort of palette that'll catch your eye as you wander past the makeup counter and will refuse to leave your mind until you've gone back on yourself to properly swatch it on your wrist. These beautiful velvety hues are a mixture of four sparkle, satin, shimmer, and matte shades covering every base in a chic compact mirror that's just begging to be pulled out of your makeup bag. Buildable and smoky, this will become your go-to palette when you're looking to impress. 
Best for: Using sparingly on those special occasions.
NYX Nudes: Best value eyeshadow palette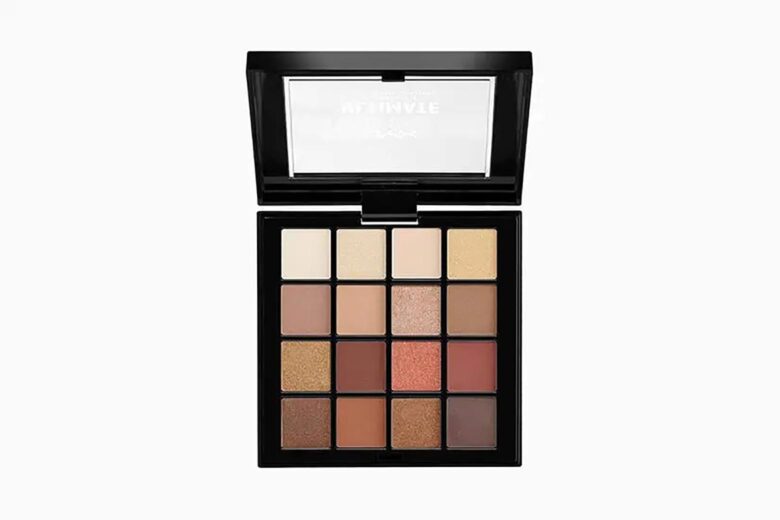 NYX is one of those brands that's a firm favorite for everyone from your makeup artist friend to the teenagers in your family and maybe also your mum. It's one of those failsafe brands that refuses to produce anything other than great quality, highly pigmented shades that stay firmly on your eyelid for hours on end. And if you're looking for a budget-friendly palette to assist you on any sort of outfit, look no further than NYX. 
Specifically, look no further than NYX's Ultimate Shadow Palette – Warm Neutrals. The beauty of neutral shades is that they're designed to suit any skin tone and any eye colour. A mixture of mattes, creams and shimmer eyeshadows means you'll never run out of inspiration when it comes to putting together a new look. NYX is also a cruelty-free brand, for an extra boost of positivity.
Best for: Being carried around with you absolutely everywhere.
Urban Decay: Best neutral eyeshadow palette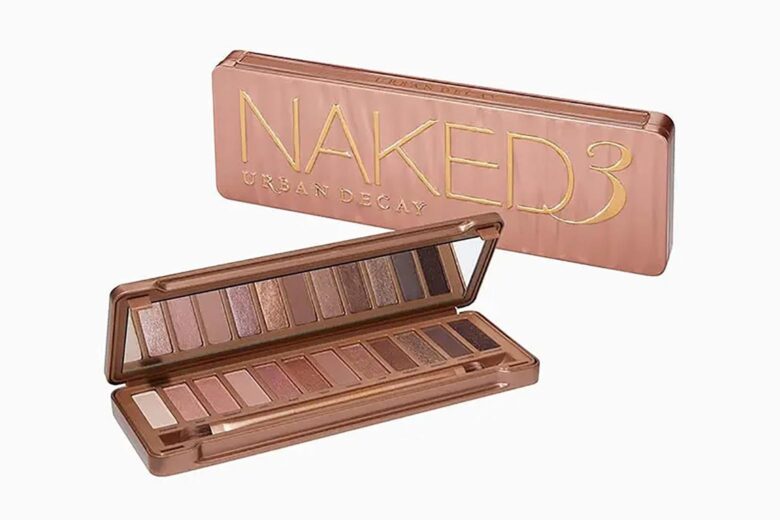 A neutral eyeshadow palette is your best day-to-night friend that'll accompany you everywhere from the morning meeting straight through to Friday night drinks. Perfect for adding a final touch to your weekday wardrobe or adding subtle glam to your weekend events, the best neutral palettes offer endless combinations that'll keep you satisfied for months to come.
And who better to supply such a palette than Urban Decay? Renowned for its buttery soft colors and versatile shades, Urban Decay is one of those staple brands that likely took the title of "first premium palette" in your makeup bag from your teenage years. It's hard to fault any of Urban Decay's palettes, but our favorite has to be the Urban Decay Naked3 Eyeshadow Palette. Not only does it win the award for best neutral eyeshadow palette but also for best everyday eyeshadow palette.
Best for: The indecisive friend who can never choose a shade.
Maybelline The Nudes: Best nude eyeshadow palette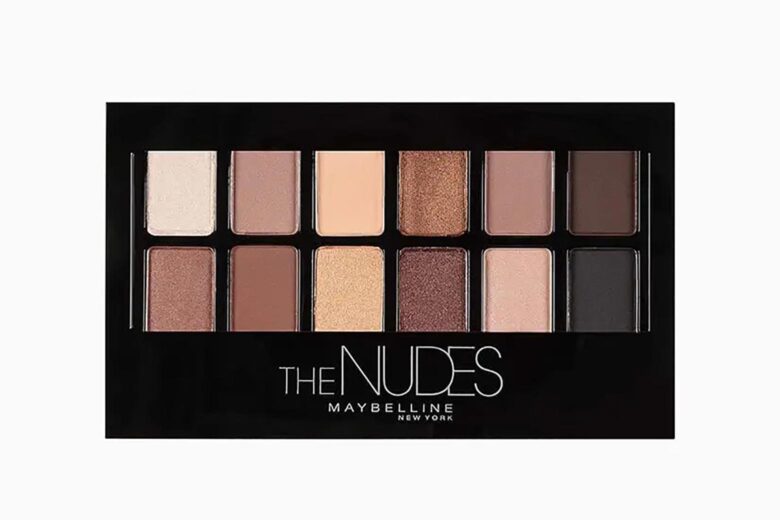 Think back to when you first got into makeup, and you'll probably have fond memories of digging through your mum's makeup bag and testing each and every product you came across. We'd put money on at least one of those products coming from Maybelline. This staple brand is a family favorite for a good reason: despite the budget price tag, the shades are rich, blendable, and effortlessly cool. 
Everyone needs a go-to nude eyeshadow palette for those understated occasions when you can't bring yourself to leave the house with a totally naked eye. We'd go as far as to say the Maybelline Eyeshadow Palette in The Nudes is the best nude eyeshadow palette out there, when you take into account things like the range of shades, quality, and versatility of each shade. And, of course, there's that classic packaging that reminds us of our youth in the best way possible.
Best for: Wearing with brightly colored outfits when you don't want a naked eye. 
Lorac Pro: Best eyeshadow palette for makeup artists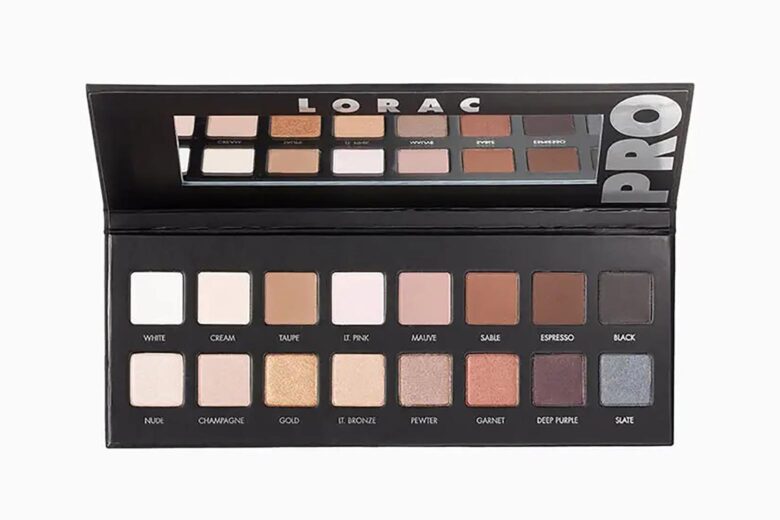 Professional makeup artists don't mess around, as you'll know if you've ever timidly suggested a slightly different shade or method when you've had your makeup done. The experts of the industry, complete with dazzling eye makeup and perfectly sculpted contouring, should be listened to. They know what's up when it comes to the pinnacle of quality in the eyeshadow palette world.
One palette famed among makeup artists is the Lorac Pro Palette Eyeshadow Kit, a firm favorite when it comes to professional eye shadow palettes thanks to its extensive range of light and dark shades and sleek, unbreakable packaging. This is the eyeshadow palette that'll likely look a little bashed up if you've ever offered the chance to borrow it from a friend, thanks to the frequent use it's likely getting from its original owner. Expect a range of silky smooth mattes that frown disdainfully at the very idea of powdery finishes.
Best for: Pretending you know what you're talking about in the makeup world.
Maybelline Soda Pop: Best eyeshadow palette for brown eyes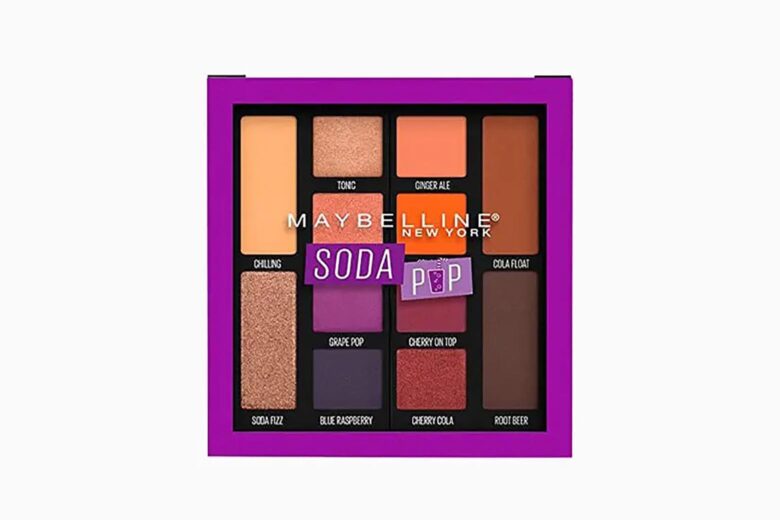 Accentuate brown eyes like never before with a pop of color in the form of another Maybelline favorite. The trick with brown eyes is to use shades in the same side of the color wheel to fully bring out the warm tones without being overbearing. Brown eyes look especially beautiful when paired with subtle orange, maroon, or grape shades; almost the eye makeup equivalent of crashing your way through piles of autumn leaves. 
A mixture of bold matte and softly shimmering shades makes Maybelline Eyeshadow Palette Makeup, Soda Pop our top choice for brown eyes. This is a palette known for being super blendable, so even if you wouldn't consider yourself an expert when it comes to eye makeup, you shouldn't struggle when it comes to the application. And, as well as being blendable, these shades can also be built up really easily, which means you can start subtle and add more shades the braver you get.
Best for: Bringing out all the chocolatey tones of your eyes.
Huda Beauty: Best eyeshadow palette for blue eyes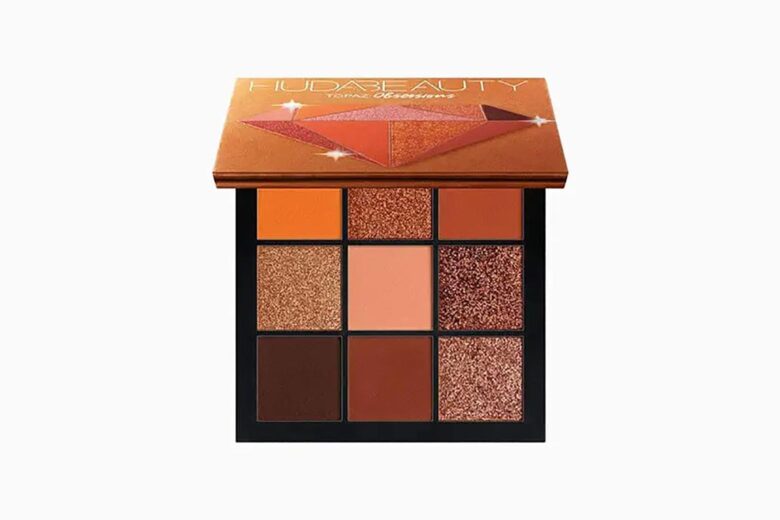 In fairness, Huda Beauty palettes are so incredible that they'll suit every eye on every occasion. You can't really go wrong with a Huda palette — something you'll regularly hear from beauty editors and those frantically refreshing the screen to purchase a new palette before it sells out again. Famed among beauty resellers too, Huda palettes are some of the best when it comes to high-quality shadows with incredible pigmentation. 
So, if you're fortunate enough to be blessed with blue eyes, it would almost be rude not to add this palette to your collection. Make the most of anything from baby blue to mysteriously dark navy eyes with a quick application of Huda Beauty Topaz Obsessions Palette. You'll want to maximize the opposing tones here to add a dash of contrast to your look. Vibrant brick oranges, sparkling golds, and burnished bronze shades make up this beautiful palette, and you'll find an occasion to try out all of them.
Best for: Drawing attention even when wearing the plainest of outfits.
Revolution: Best eyeshadow palette for hazel eyes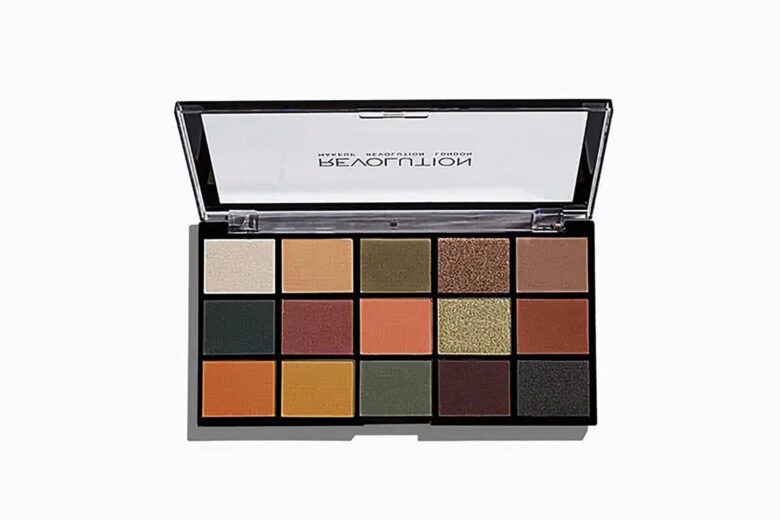 Hazel eyes have that unique beauty about them that deserves to be celebrated. And the best way to do just that is with an eyeshadow palette that's the makeup equivalent of Kanye crashing the 2009 VMAs to highlight Beyonce's performance. If that seems unachievable from something as easy as applying some eyeshadow, it simply means that you're not in possession of the Revolution Eyeshadow Palette in Reloaded Division.
This is a palette that crams plenty of different shades into a relatively small space. Unlike lesser palettes that sometimes seem to throw in extra unnecessary shades to take up space, a quick brainstorm and you'll find the time and date to wear each and every one of the shades in this palette. Better yet, it's cruelty-free and entirely vegan, which means you'll look incredible without causing any harm. 
Best for: Knowing people are staring into your eyes for a good reason.
Charlotte Tilbury Walk Of No Shame: Best eyeshadow palette for green eyes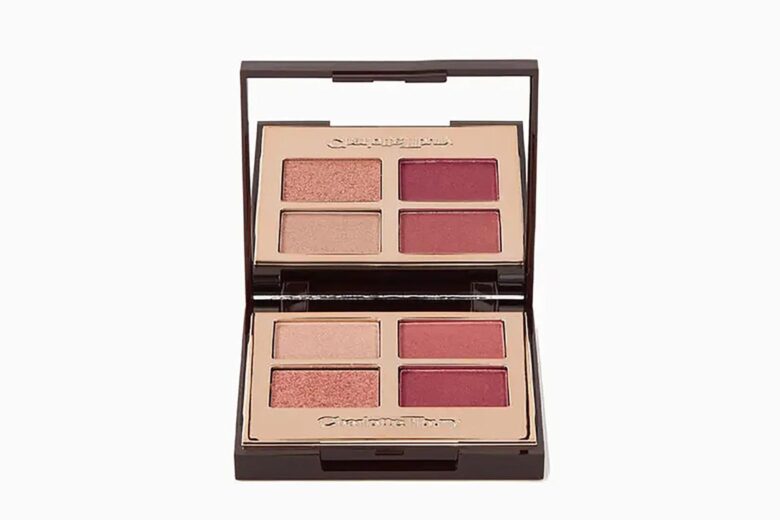 If you weren't in the know, Charlotte Tilbury was a makeup artist before she launched her brand. Which means that, if there's one person who knows how to put together an eyeshadow palette, it's her. When it comes to eyeshadow palettes for green eyes, there are two obvious routes to go down. Either play it safe with golden hues or branch out with something a little more daring like bright pink.
The best way to make a lasting impression with makeup — especially if you're not someone who regularly wears lipstick — is the Charlotte Tilbury Walk Of No Shame. This palette combines beautifully soft shades in four statement colors that'll cover every base when it comes to highlighting green eyes. These shades might look bright, but they're designed to be dialed up or down depending on the look you're going for. Each shade is enriched with oil too, which means a smooth application from start to finish. Don't blame us if subtly-shaded pink eyes become your new everyday look. 
Best for: Getting that "pretty green eyes" song stuck in your head all day.
Haus Laboratories: Best eyeshadow palette for dark skin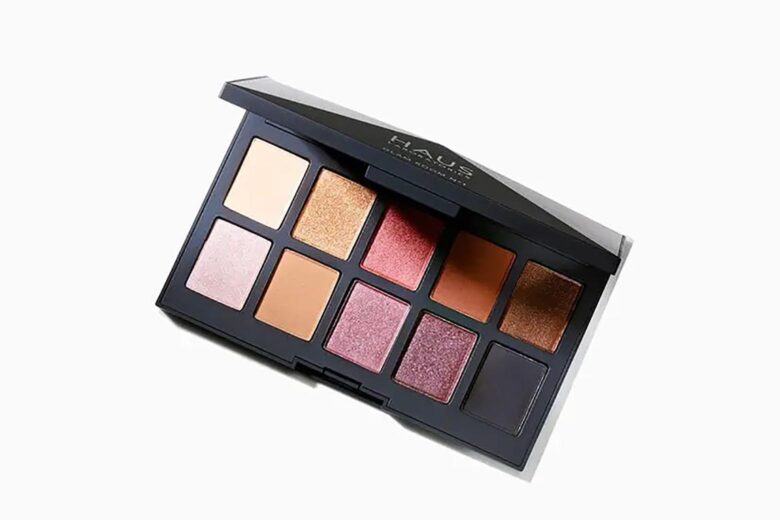 Haus Laboratories is a brand designed by Lady Gaga, so you know the shades practically come with a guarantee of confident glam. And that's exactly what you'll discover when you've spent a few minutes swatching each pan on the Haus Laboratories Glam Room Palette. And, for the record, that's something you'll want to do out of sheer indecisiveness of where to start. Watch as each individual shade jumps out at you with a unique sparkle or shimmer, and admire the matte colors with their unflinching opacity. 
These are shades that refuse to back down, with a powerful finish that shines proudly on any skin tone. The high pigmentation makes this a great palette for darker skin tones with a large range of colors for every mood. From warm pale peach and rose gold to cool plums and a deep black, you'll find yourself scheduling an extra half an hour into your makeup routine in order to try each shade out.
Best for: Saturday night glam.
Lamora Beauty: Best eyeshadow palette for cool skin tones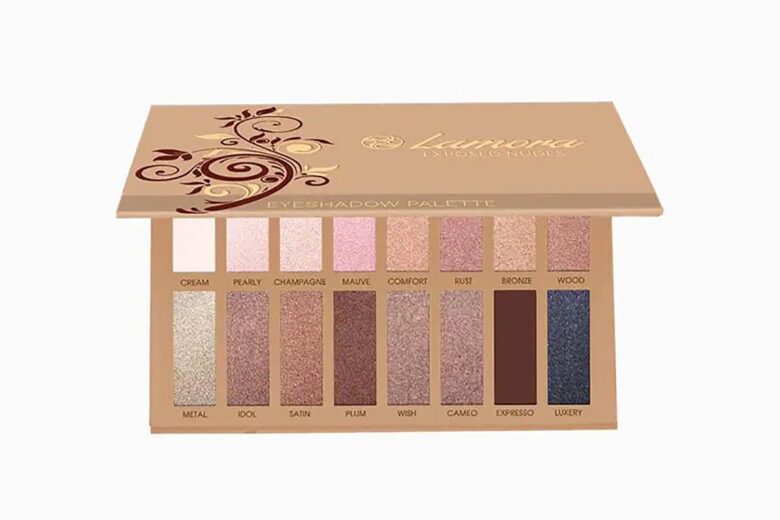 If you're someone who looks better in silver jewelry than gold, has skin with more pink tones than golden, and suits white more than cream, you likely have a cool skin tone. Of course, the great thing about makeup is that everyone's free to experiment with it as they please, but cool skin tones will look especially good wearing pastel shades with pink, purple, and violet hues. 
Enter: Lamora Beauty's Professional Nudes palette. Almost a toy box in makeup form, you could spend hours sampling every single shade here and trying out all different kinds of combinations. Not only are all of these pans silky smooth, but they're also ultra-pigmented which means one quick application will be more than enough for a dose of color. These shades are also all waterproof, so you're safe to apply them at the start of the night without worrying about eyelid creasing or rubbing off altogether. 
Best for: Highlighting your feminine side.
Marc Jacobs Beauty: Best eyeshadow palette for warm skin tones
Highly pigmented and ready to bring out golden hues, the Marc Jacobs Eyeshadow Palette in Scandalust 740 is one of our favorites when it comes to highlighting warm skin tones. Adding a sun-kissed touch to your complexion, all seven shades on this palette are designed to add a burst of color to your look with a combination of velvet, silk, satin, and lamé finishes. 
You'll want to add a dab of the lightest shade to your eyelids in the morning to combat any hints of a late night. And, as the day goes on, you'll find yourself leaning closer to the darker and brighter shades, ready to step things up a notch for the evening ahead. Better yet, this compact comes with a mirror, so there'll be no attempts of applying makeup using your phone screen again.
Best for: Serving with a side of your favorite spirit for the ultimate party starter.
Charlotte Tilbury Pillow Talk: Best eyeshadow palette for beginners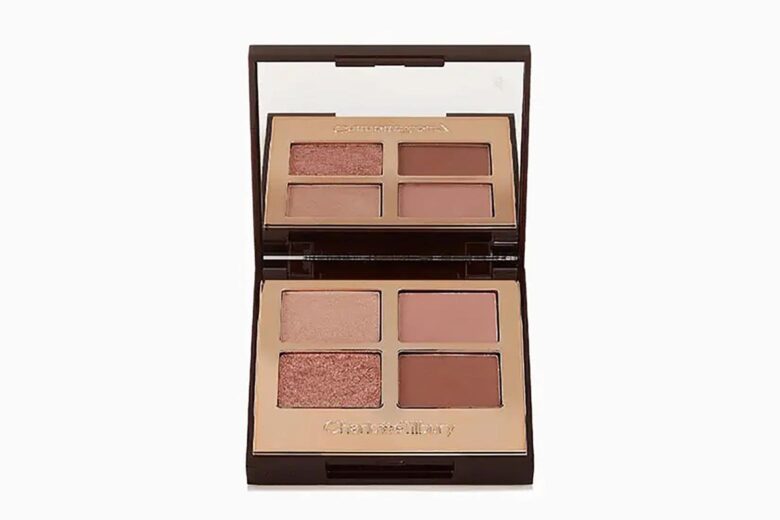 If you're someone who usually shies away from eyeshadow for fear of accidentally bringing back the fluorescent hues of your youth or something resembling early Halloween makeup, now's your time to shine. The best way to ease yourself into the world of eyeshadow is to start with a subtle palette that allows plenty of room for building up the colors as you grow more confident. 
A neutral palette with a hint of personality is the best for this and the one to choose is almost definitely going to be Charlotte Tilbury's Pillow Talk. Two matte shades and two subtle shimmers give a lot of room for experimentation in a failsafe compact that refuses to take things a step too far. The best palette for building up your confidence, it's impossible to go wrong with Charlotte Tilbury's high-quality formula and the universally flattering golden-pink shades.
Best for: Being the catalyst to you adding four more palettes to your basket.
NYX Brights: Best bright eyeshadow palette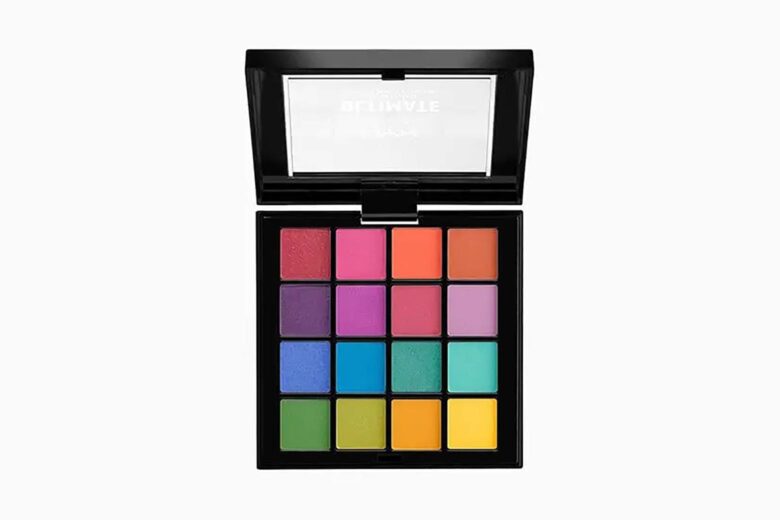 Give any makeup lover a bright palette and expect not to hear from them for at least three to five working days. It's a gamble, but one that will certainly pay off when you're rewarded with dozens of new looks and unique ways of bringing out your features and personality. A bright palette is the enthusiastic friend who's always up for making plans or accompanying you on any kind of adventure.
The makeup equivalent of that friend is NYX's Ultimate Shadow Palette in Brights — the best rainbow eyeshadow palette with almost every color under the sun. Expect to find yourself scrolling through Instagram, Pinterest, Youtube, and maybe even Tik Tok looking for fresh inspiration of all the new ways to make the most from this palette. A huge range of matte, satin, shimmery and metallic pans means that, if you ever found yourself stranded on a desert island, you'd consider this palette one of your three essentials for guaranteed entertainment.
Best for: Making you the center of attention each and every time. 
Lilah B: Best eyeshadow palette for work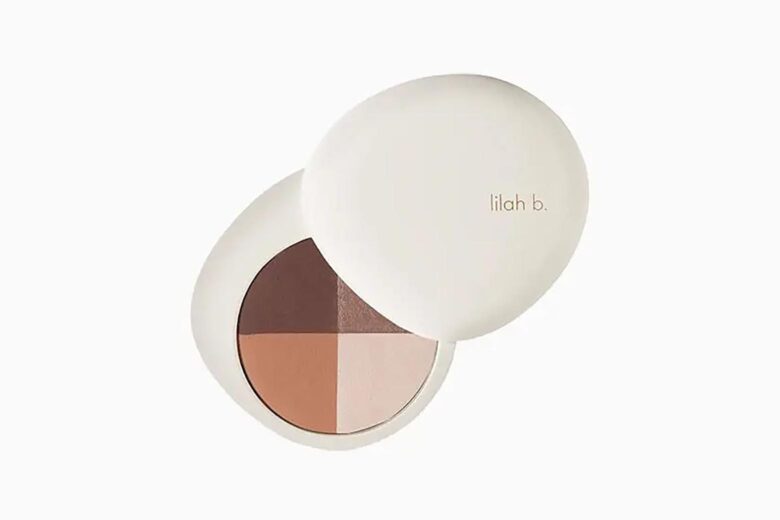 You might not find it office-appropriate to come in wearing an entire rainbow of shades on your eyelids, but that doesn't mean bare eyes are the way forward. A dash of subtle eyeshadow color can be the difference between everyone guessing you had a late night last night and fooling everyone into thinking you're "eight hours of sleep and a large coffee" levels of awake. 
Lilah B's Palette Perfection Eye Quad is the palette that promises to do just that, with four staple shades that are as reassuring as a trusty cup of tea in the morning or relaxing back on the sofa after a long day. Not only are these matte and shimmer shades designed to highlight healthy-looking skin, they also come with a hydrating finish that'll compensate for any amount of late nights.
Best for: Adding an understated glow to your look.
NARS: Best shimmer eyeshadow palette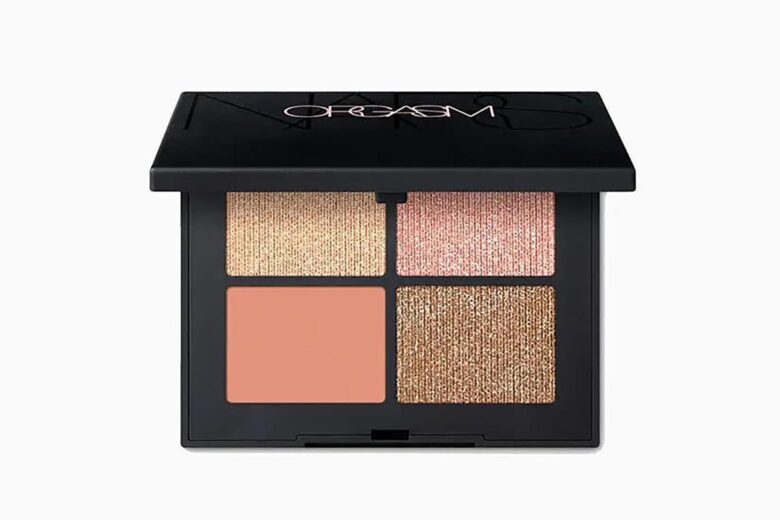 Makeup aficionados will talk for hours about how incredible NARS – Orgasm blush is, and the eyeshadow palette is just as impressive. Combining four iconic shades that are crease-resistant and ready to party, you'll find yourself reaching for this palette as a sort of cosmetic pick-me-up whenever you're feeling down. The NARS Eyeshadow Quad in Orgasm truly is la petite mort when it comes to shimmer palettes, with enough versatility between the shades to allow you to quickly differentiate which is which when you see someone wearing them.
A quick flick of one of these shades to your eyelids, and you'll be ready to go, no matter what's on the cards. Shimmering gold and cocoa, metallic champagne pink, and matte coral fuse together effortlessly in your new favorite palette. 
Best for: Your secret weapon for instantly looking 10/10.
Milani: Best matte eyeshadow palette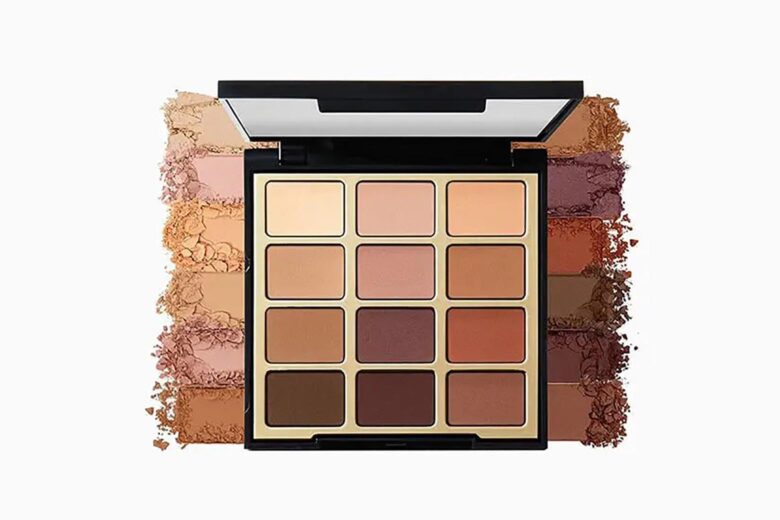 A matte eyeshadow palette is your new best friend when it comes to adding a touch of understated chic to any outfit. Perfect for daytime and office-friendly occasions, a matte palette allows plenty of room for diversifying your outfit without any shimmers or sparkles in sight. The best matte eyeshadow palette if you're looking for something versatile is the Milani Most Loved Mattes Eyeshadow Palette. 
With 12 different shades in a variety of subtle hues, this is the palette for Monday mornings when you want to add a touch of glam without being overbearing. All of the shades in this cruelty-free palette are perfectly blendable, with high-quality powders that stay put on your eyelid. Make use of the lighter shades to highlight your eyes or accentuate a little more with the darker shades.
Best for: That "no makeup" makeup look.
Victoria Beckham: Best eyeshadow palette for smoky eyes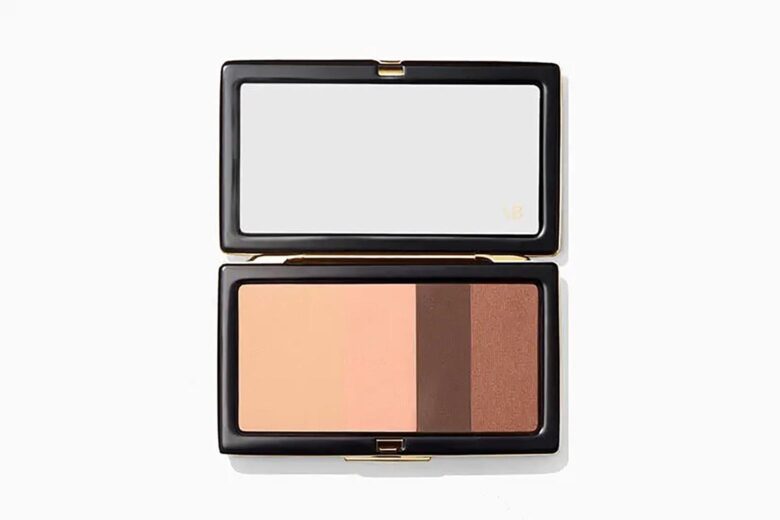 A smoky eye is probably something you attempted when you first got introduced to makeup and may have figured it out with varying levels of success. There's a reason this staple look has passed the test of time and continues to be a runway favorite and that's because it suits everyone. A smoky eye adds a touch of class and style to whatever you're wearing, elevating your daytime look to an evening-ready occasion in a mere blink of an eye. 
Our favorite palette for creating such a look comes from smoky eye queen Victoria Beckham, in the Victoria Beckham Smoky Eye Brick. Signature by name and signature by nature, this palette combines three shades to put together the perfect smoky eye with no room for wrong turnings. A satin matte finish perfectly blends the line between smart and casual in a palette that will hold its value in your makeup bag for any number of swish events.  
Best for: Making you red carpet ready.
Honest Beauty: Most versatile eyeshadow palette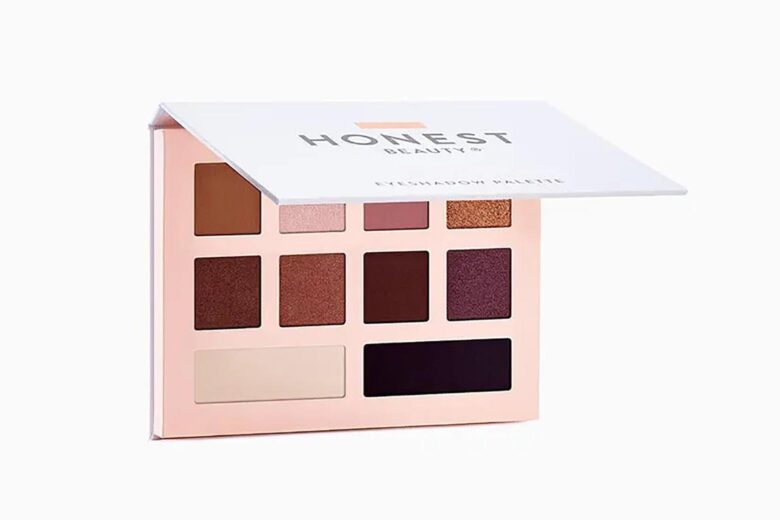 The LBD of occasionwear, the "jeans and a nice top" of weekend drinks, the chosen cocktail that you never branch out from: the Honest Beauty Eyeshadow Palette is the makeup equivalent of all of the above — the one versatile palette you'll run to when all else fails, no matter the occasion. This is the palette that will see you through spontaneous after-work drinks, last-minute weekends away, and unexpected formal meetings that happen to crop up when you'd least expect it. 
What we're saying is if there's one palette to keep in your bag at all times, it's this one. Truly a failsafe item in the world of cosmetics, you'll find endless shade and color combinations tucked neatly inside this compact. Use the shimmers and satins interchangeably to dress up your look, or keep it cool but casual with the velvety mattes. 
Best for: Triumphantly pulling out of your makeup bag in the midst of a crisis.
Rimmel: Best budget eyeshadow palette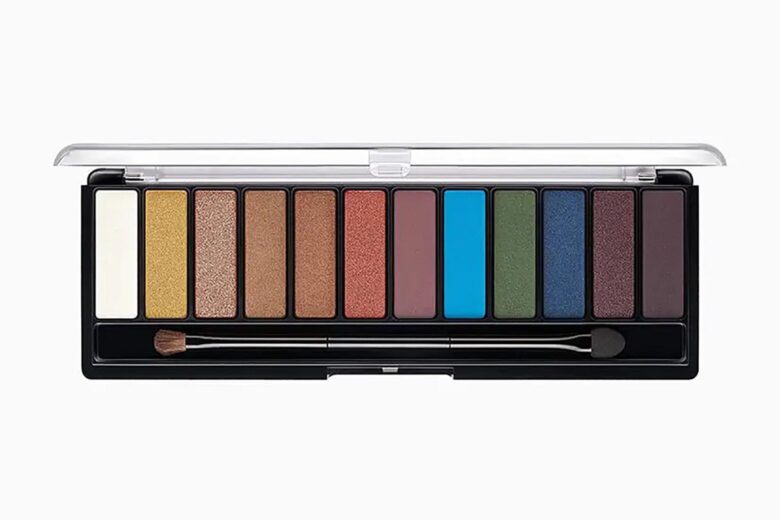 Beauty doesn't have to come at a high price and, sometimes, the best options are hiding directly in front of you. The underdog of the makeup industry, Rimmel is the drugstore brand that you'll accidentally stumble upon in various unexpected corners of the world.
There's a chance you'll buy the Rimmel Magnif'eyes Eyeshadow Palette in 001 Nude in a hurry, not quite realizing its potential before stashing it safely in your bag to be used again and again. Put this palette up against others in a blind test, and there's no way you'd select it as the budget option. A full rainbow's worth of colors in an ultra-smooth, blendable formula are ready for all possibilities. Highly pigmented and beautifully versatile, this award-winning palette will surely become your new makeup BFF.  
Best for: Having you scour the internet for more "best drugstore makeup buys"
Beauty guide to the best eyeshadow palettes
Before you start swatching any number of new eyeshadow palettes, take the following into account:
Finish
Matte, satin, metallic, shimmer, or glitter? If you know you'll never touch a glittery palette, chances are a compact full of matte shades will benefit you more. But if you're after one versatile palette to suit you for any occasion, look for a palette with a few different finishes.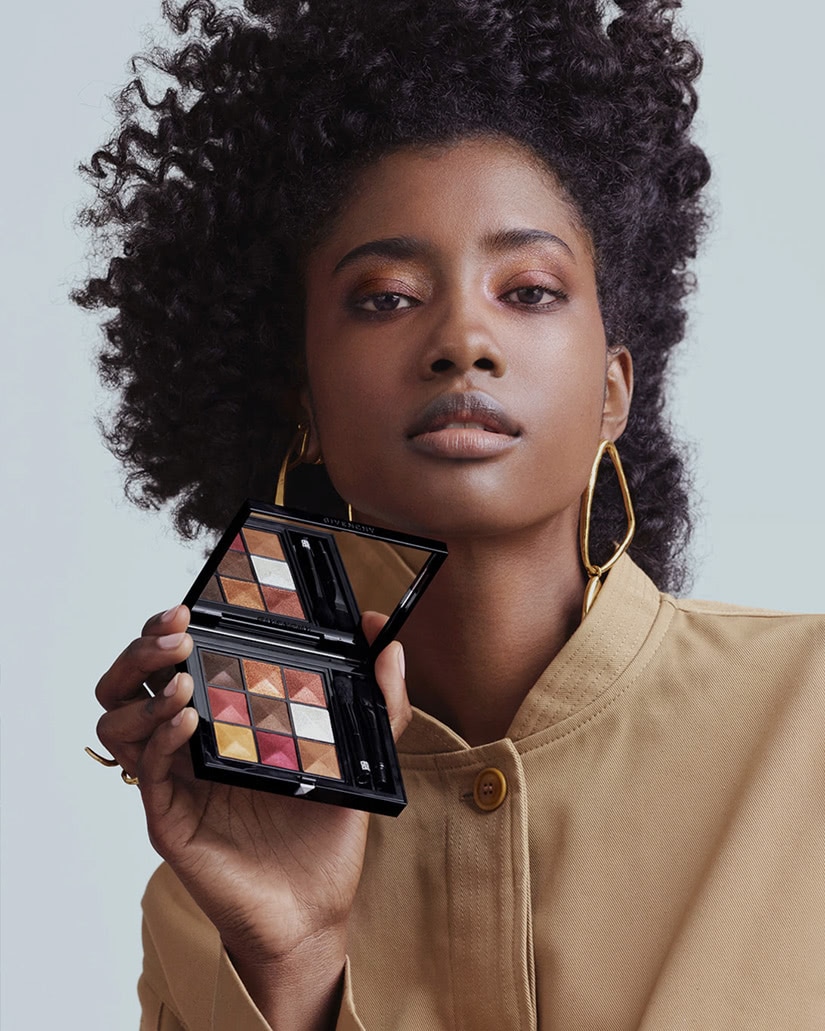 Size
If you know you'll stick to a few firm favorite shades there's no point choosing a palette with 20 different colors – it'll just take up space in your makeup bag. But if you get bored easily and love trying out new combinations, a bigger palette might just be your new BFF. 
Colors
You'll find a palette in our guide above specifically chosen for every eye color but have a think about the shades you wear most often, too. Rainbow palettes might look like a lot of fun but if you stick mostly to neutrals then don't let temptation sway you if you won't get the wear out of it. 
Frequently asked questions about eyeshadow palettes
How many eyeshadow palettes should you own?
It depends on how many looks you want to create, but a great place to start is one neutral palette with a range of nude shades, one palette specifically for your eye color with a variety of mattes and shimmers, and one bright palette for adventurous occasions.
What is the best professional makeup palette?
The best professional makeup palette is the Lorac Pro Palette Eyeshadow Kit. Its extensive range of light and dark shades and sleek, unbreakable packaging makes it perfect for carrying around and whipping out of your makeup bag for photoshoots, fashion weeks or special events.
What is the best eyeshadow palette for brown eyes?
The best eyeshadow palette for brown eyes is the Maybelline Eyeshadow Palette Makeup in Soda Pop. This versatile palette comes with a mixture of bold matte and softly shimmering shades in colors that'll bring out all the chocolate tones of brown eyes.
How do I choose an eyeshadow palette?
When choosing an eyeshadow palette, you'll want to take into account the sort of shades you're after and the finish you want. Take into account factors like the occasion, range of colors, finish, longevity, and whether it's cruelty-free when choosing your next eyeshadow palette.