Scooters can be a safe, sustainable, and (perhaps most important!) fun way to help your child have some independent transportation. They can also help your child develop motor skills, balance, and more. They're a great gift for children, from toddlers to teenage boys and teenage girls.
They can also be a lot to research. From handlebar height to frame composition, there are many factors that go into the making of a truly great scooter for kids. Even if you're a whiz with suspensions, tires, weight limits, and more, it can be overwhelming.
Good news: You don't have to do the heavy lifting. Our team sifted through the best scooters to find the scooters that are the zippiest, lightest, fastest, safest, and, of course, simply look the coolest of all the scooter models available on the market.
Here, you'll find recommendations for scooters in a variety of price points, as well as a handy buyer's guide to help with the considerations you'll need to think about when selecting the best possible scooter for your young one (including one of the best electric scooters).
No matter who you're buying for, you'll find the answer right here.
The 11 best riding scooters for your kids
Check our special children's scooter buying guide after the list to see exactly what you should pay attention to when shopping for kids' scooters online.
Micro Kickboard Sprite: Best overall kick scooter for kids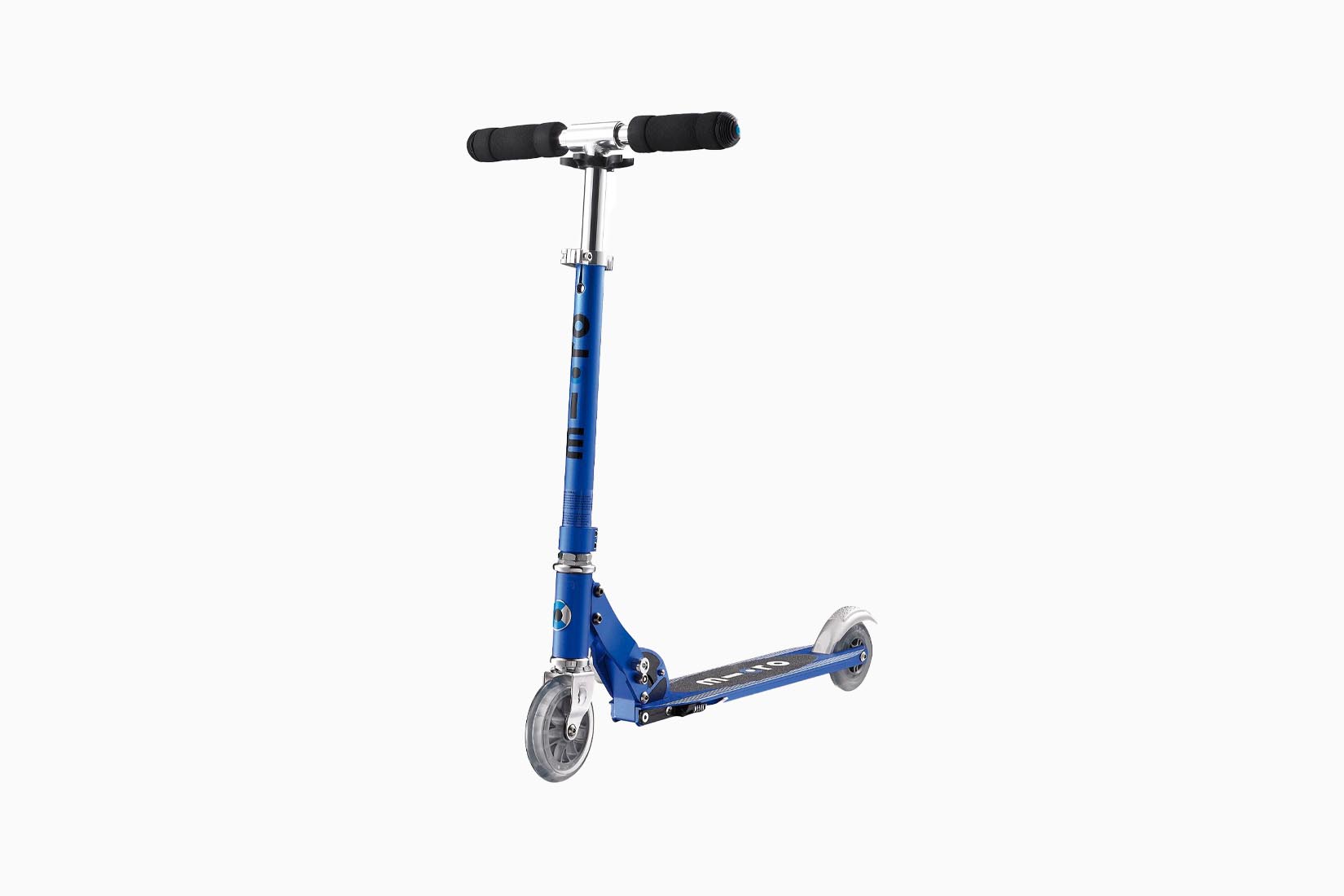 We love Micro as a brand because of its consistent, top-notch Swiss construction, and this durable, smooth-riding, easy-folding scooter for kids is certainly no exception. This kick scooter may look like other similar models, but you'll find that everything about it—from its materials to its wheels, gliding feel, and more—has just been elevated; resulting in a great ride that your child is sure to enjoy.
The Sprite, in addition to being adorably named, handles bumps capably—leading to a far more comfortable ride for little ones. The scooter always seems to feel sturdy, and (importantly to us parents!), it doesn't make any clicking noises as children ride it. With a fluid ride and stable feel, the Micro Kickboard Sprite is certainly one to keep an eye out for.
Best for: A near-silent ride (and resulting peace of mind).
| | |
| --- | --- |
| Colors: | Red, white |
| Ages: | 8+ |
| Weight: | 5.9 lb (2.67 kg) |
| Max child weight: | Up to 220 lb (99 kg) |
| Handlebar height: | 22.5 in (57 cm) |
Razor A Kick: Best value scooter for boys and girls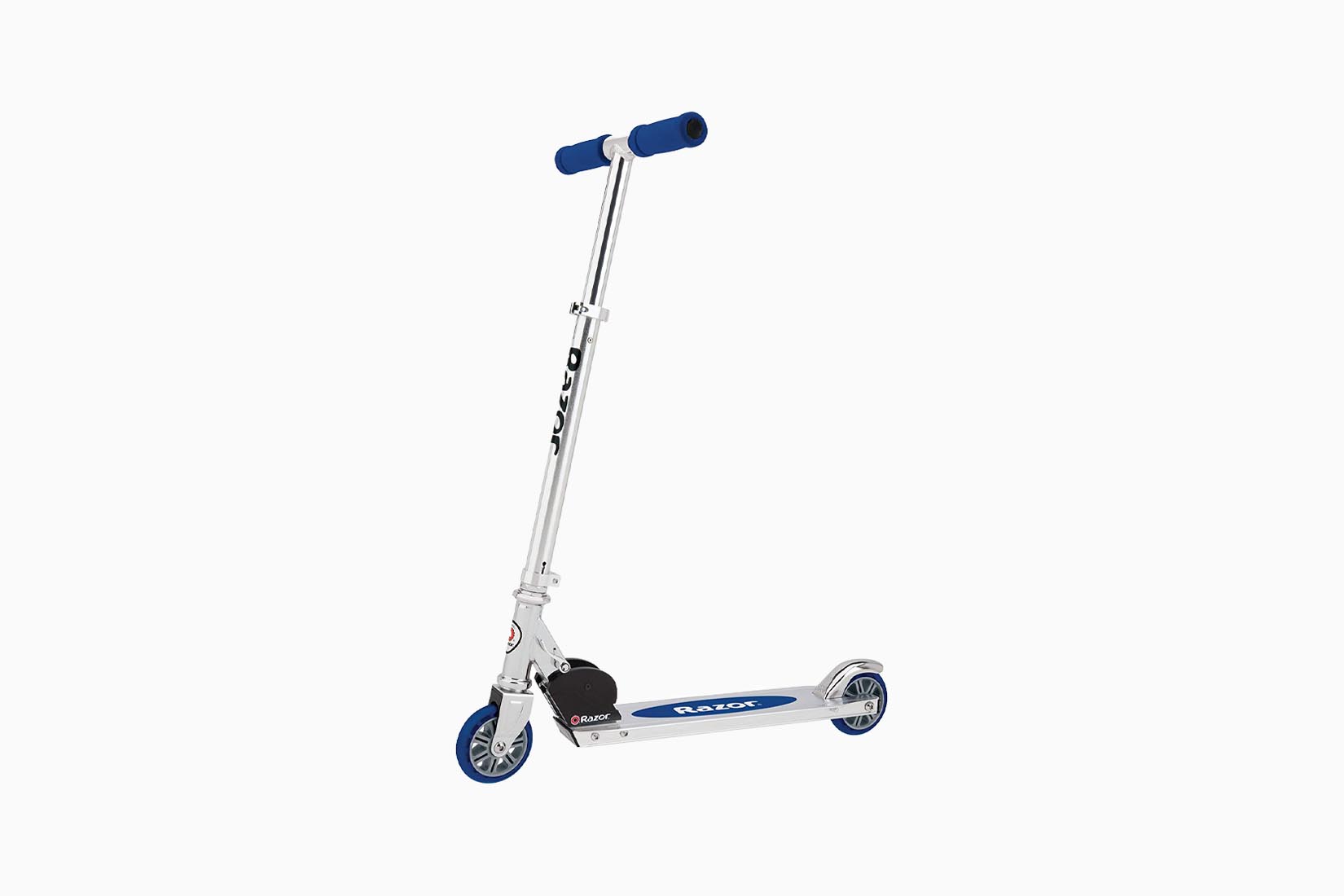 It's a classic for a reason: The Razor A scooter is durable and lightweight, with a folding mechanism that makes it easy to tote, transport, and store. What more could you want for a scooter? The fact that it's available for a budget-friendly price is just the icing on the cake.
The Razor A kick features adjustable handlebars that your child can set to their preferred height, customizable features like different types of wheels and brakes, and is easy to set up: Your child can ride it right out of the box. It's the original 2000's phenomenon, it's well-made and versatile, and it's ready to have fun with: The Razor A Kick promises great value for your kids!
Best for: Those who embrace the classics.
| | |
| --- | --- |
| Colors: | Black, clear, blue |
| Ages: | 5+ |
| Weight: | 4.62 lb (2 kg) |
| Max child weight: | 143 lb (64 kg) |
| Handlebar height: | Adjustable; 24 in (61 cm) |
Apollo Pro: Best pro scooter for kids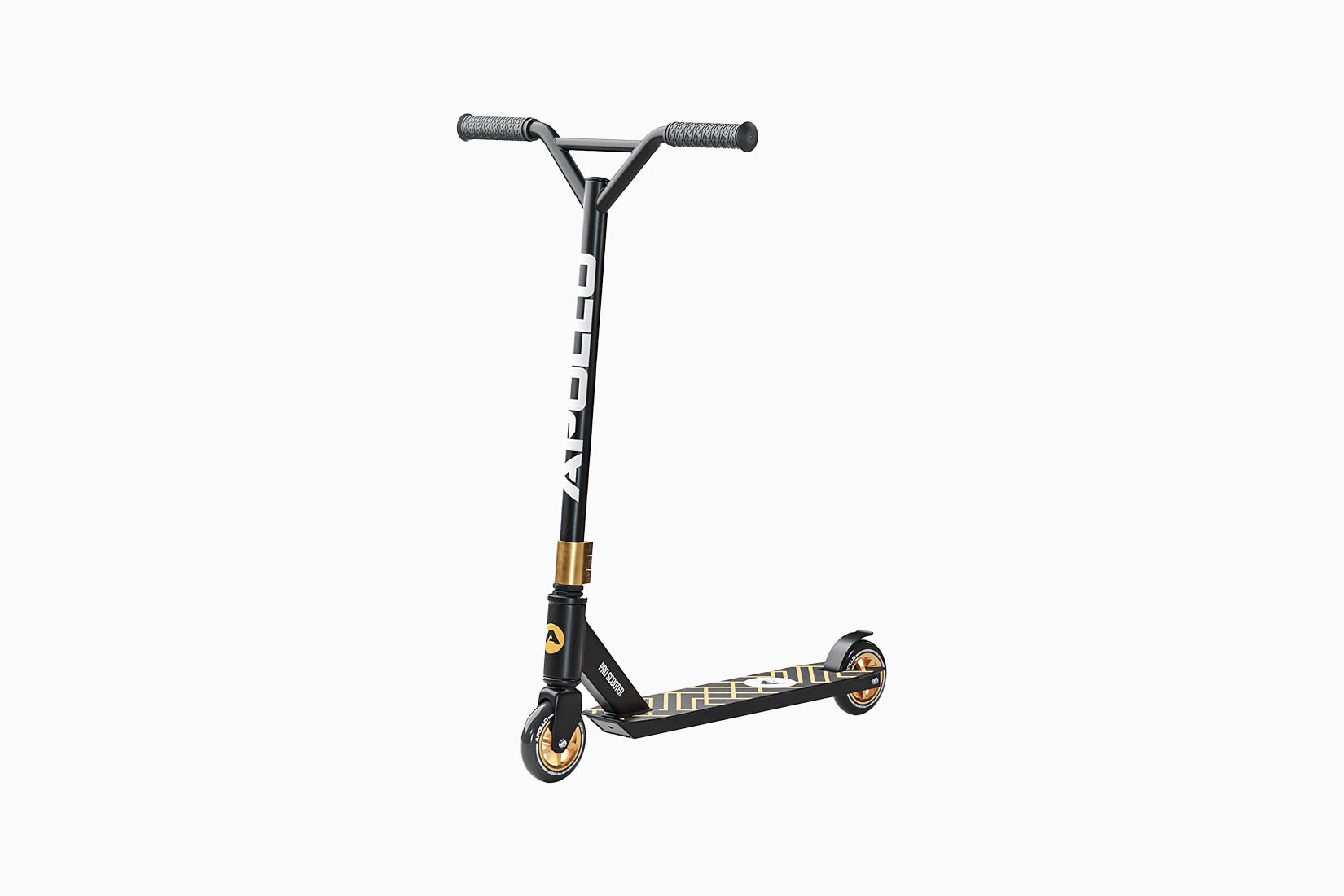 If you or your child is feeling the need to elevate the scooting experience, you're in the right place.
Crafted from an aircraft-grade aluminum alloy, the Apollo Pro is fast, sturdy, and lightweight. Your child will fly down your street on this beautifully-designed scooter—a scooter that rides well whether your child wishes to use it to get from point A to point B or for jumps and stunts.
With coated grips, a chrome steel handlebar, aluminum rims, and more, this pro scooter is made to do anything your child will want to do with ease and safety. Take this trick scooter to the skate park for some half-pipes or stroll it down the street: the Apollo Pro will look good either way.
Best for: Kids who'll want to be driving high-end sports cars in a few years.
| | |
| --- | --- |
| Colors: | Black, blue, gold |
| Ages: | 6+ |
| Weight: | 6 lb (2.72) |
| Max child weight: | 220 lb (99 kg) |
| Handlebar height: | 30 in (76.2 m) |
GoTrax GKS: Best electric scooter for kids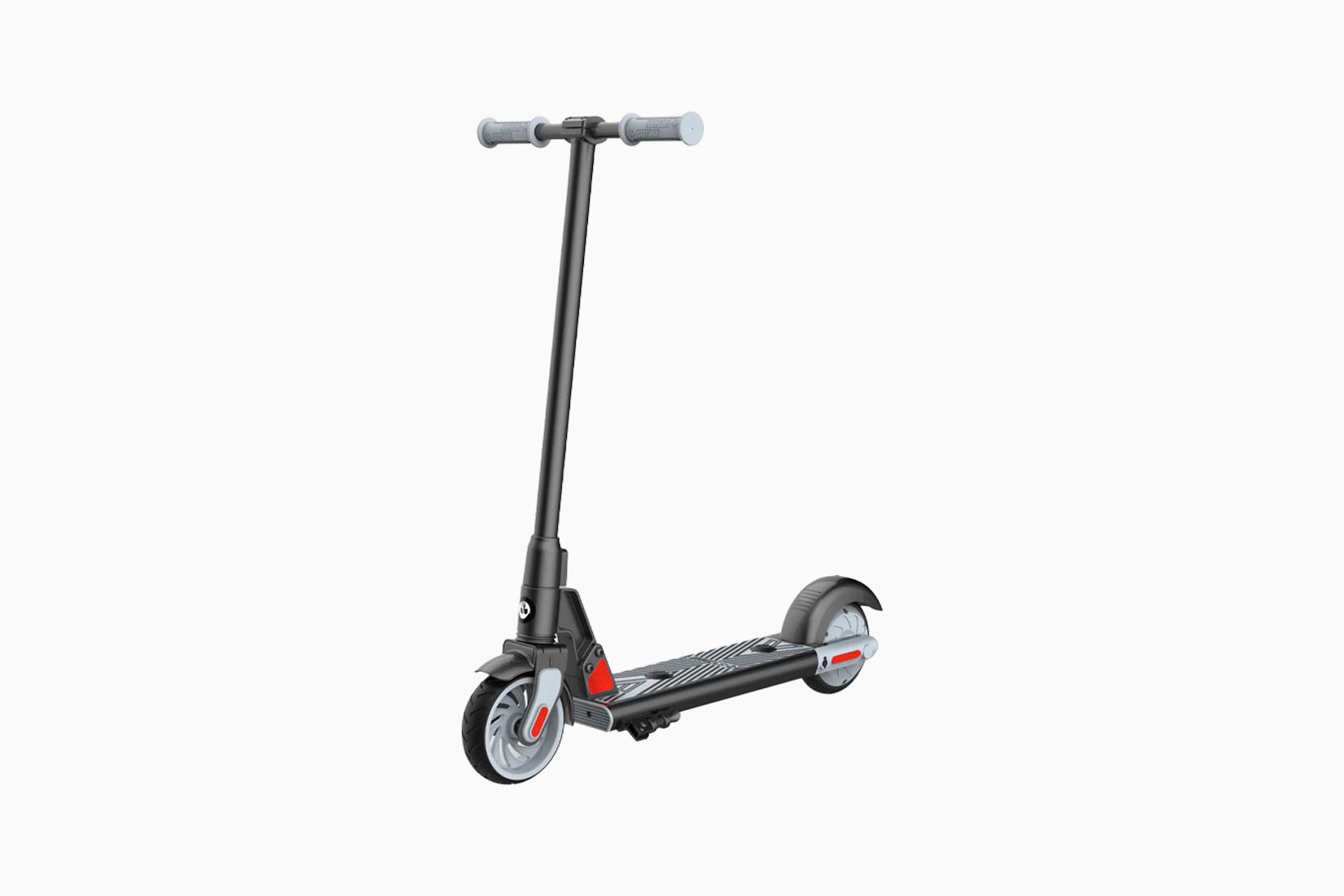 Looking for a lower max speed for your younger kids? You'll get that sense of safety in a sustainable package with the GoTrax GKS. This scooter is lightweight, unique, and affordable.
It's also not clunky. We've found that kids' scooters that are electrically powered can often be really bulky and hard to manage. Not so with the Gotrax GKS: It's narrow and maneuverable, and, dare we say, aesthetically pleasing.
This scooter naturally features a slower start and a lower high speed, so it's great for younger kids or for those who would do best with a little less power. (We also like the fact that when the power does run out for this scooter, it performs admirably as a normal kid's scooter).
Best for: Teaching your kids your eco-chic ways.
| | |
| --- | --- |
| Colors: | Black, blue, green |
| Ages: | 6-12 |
| Weight: | 17 lb (7.7 kg) |
| Max child weight: | 154 lb (70 kg) |
| Handlebar height: | 32 in (81 cm) |
Micro Kickboard Maxi Deluxe: Best 3-wheel scooter for kids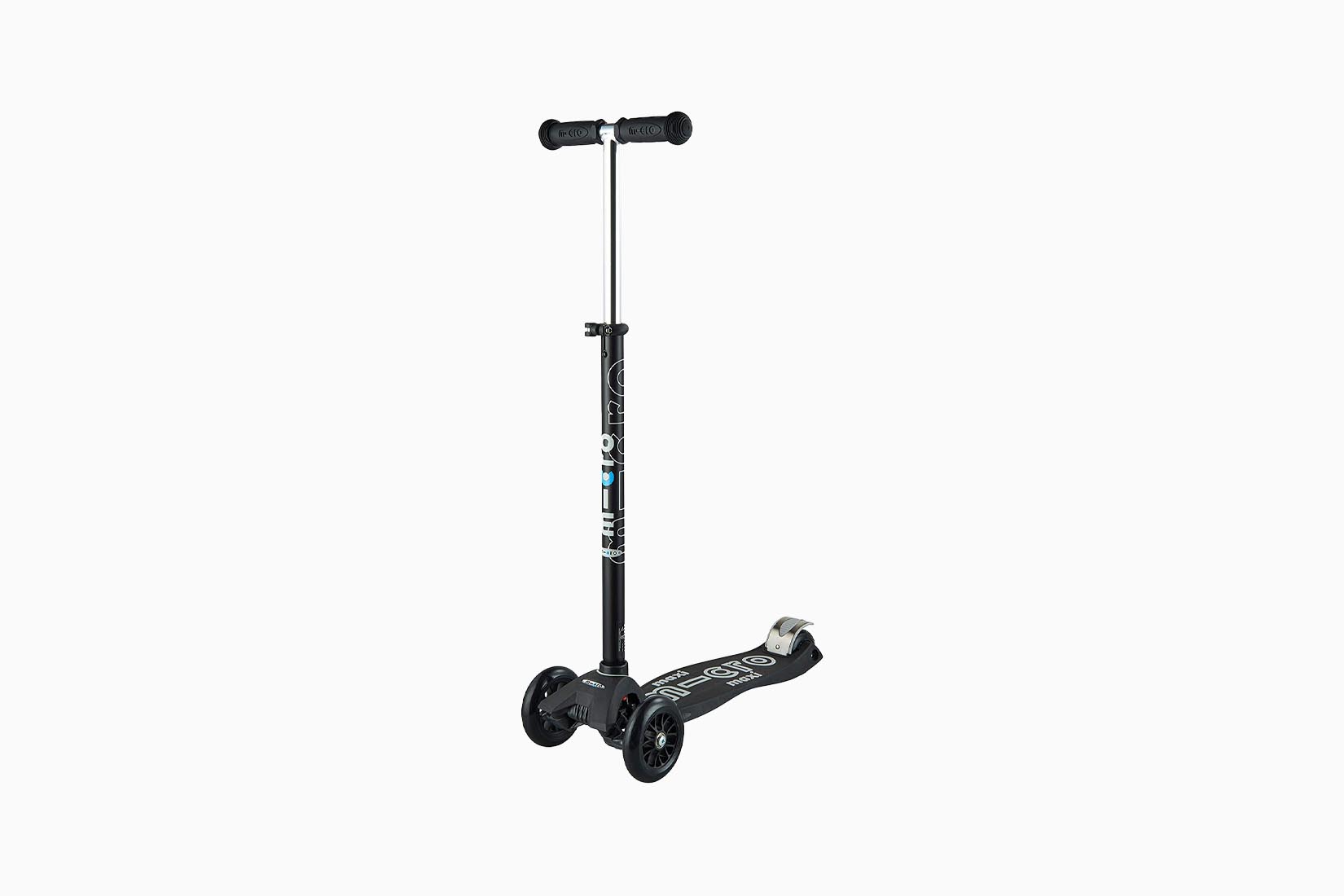 Looking for a safe scooter that will allow your younger children to take the road (…or sidewalk) by storm?
The Maxi Deluxe from Micro is a great ride, with a smooth and stable feel. It's available in many colours, so your child can pick out something that matches their personality perfectly! With adjustable handlebars, the added security of a reinforced foot deck made of flexible fiberglass, and lean-to-steer functionality, this is an easy yet elegant way for your kids to get where they need (or want) to be.
We like that it comes almost assembled, as opposed to some models we've tried out that required a lot of puzzling when we put them together. Simply slot the two halves together, and your child will be ready to ride for hours on the Micro Kickboard Maxi Deluxe.
Best for: Kids graduating from riding their trikes.
| | |
| --- | --- |
| Colors: | Black, Caribbean blue, green |
| Ages: | 5-12 |
| Weight: | 5.5 lb (2.49 kg) |
| Max child weight: | 110 lb (49 kg) |
| Handlebar height: | Adjustable; 24 in (60 cm) |
Scoot & Ride Highway Kick 1: Best baby scooter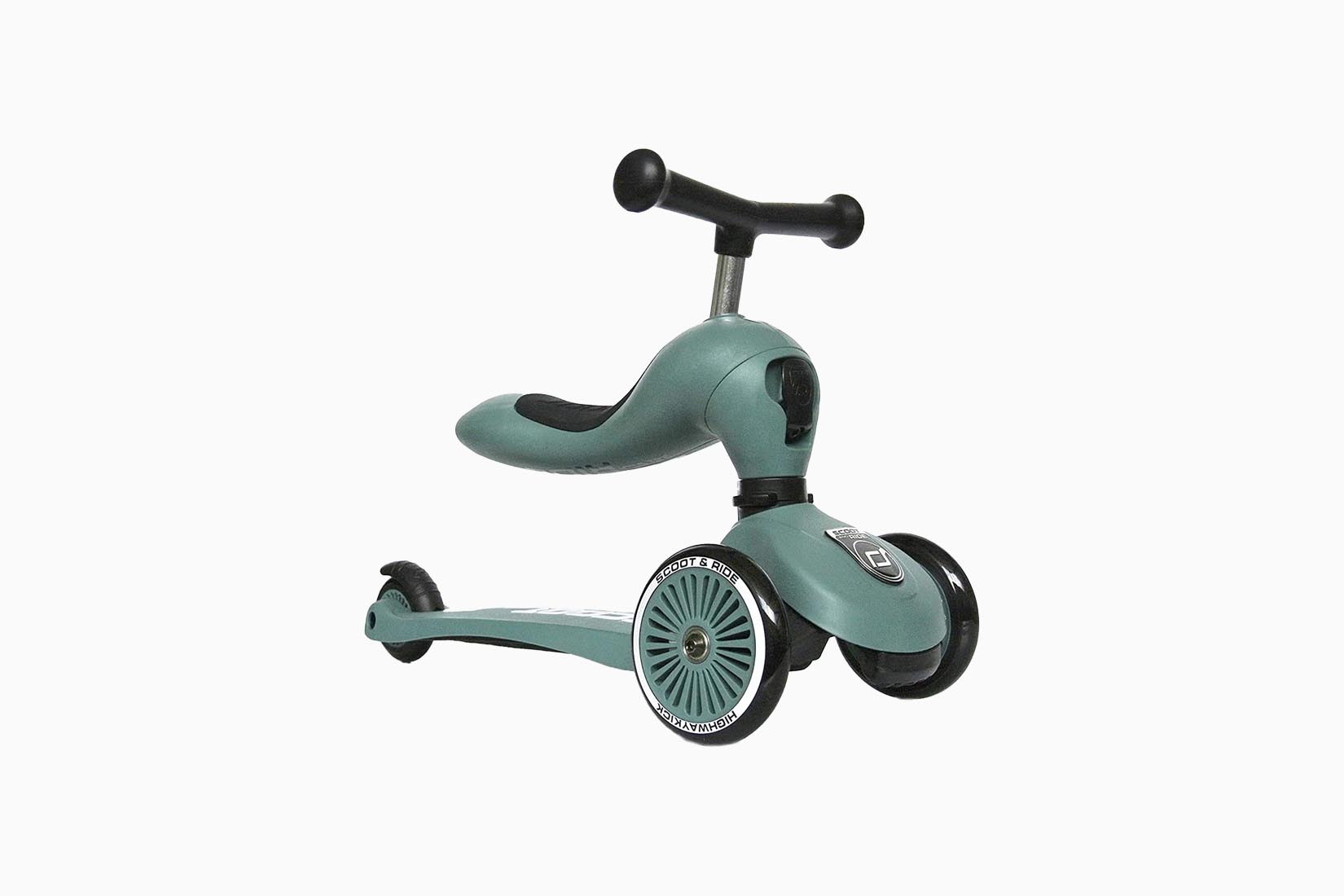 Need a scooting solution for your youngest little ones?
We get it: Even the tiniest kids are going to want to be in on the fun. While some of the more traditional, geared-for-older-kids scooters may be out of their range, the Scoot & Ride Highway Kick 1 will make it easy even for toddlers to have fun and practice their future BMX skills.
With a convertible frame that offers your little rider the choice of a seated or standing scooting experience, the Highway Kick 1 will always be exactly what your child needs. This baby scooter is designed to be as stable and safe as possible, with a thoughtful two-front-wheel and one-back-wheel design.
Get ready to sit back and watch your child learn to cruise, gaining confidence all the way.
Best for: Ambitious babies (and their parents).
| | |
| --- | --- |
| Colors: | Ash, blueberry, kiwi |
| Ages: | 1-5 |
| Weight: | 6.2 lb (2.8 kg) |
| Max child weight: | 44 lb (19.95 kg) |
| Handlebar height: | 25 in (62 cm) |
Micro Kickboard Mini Deluxe: Best toddler scooter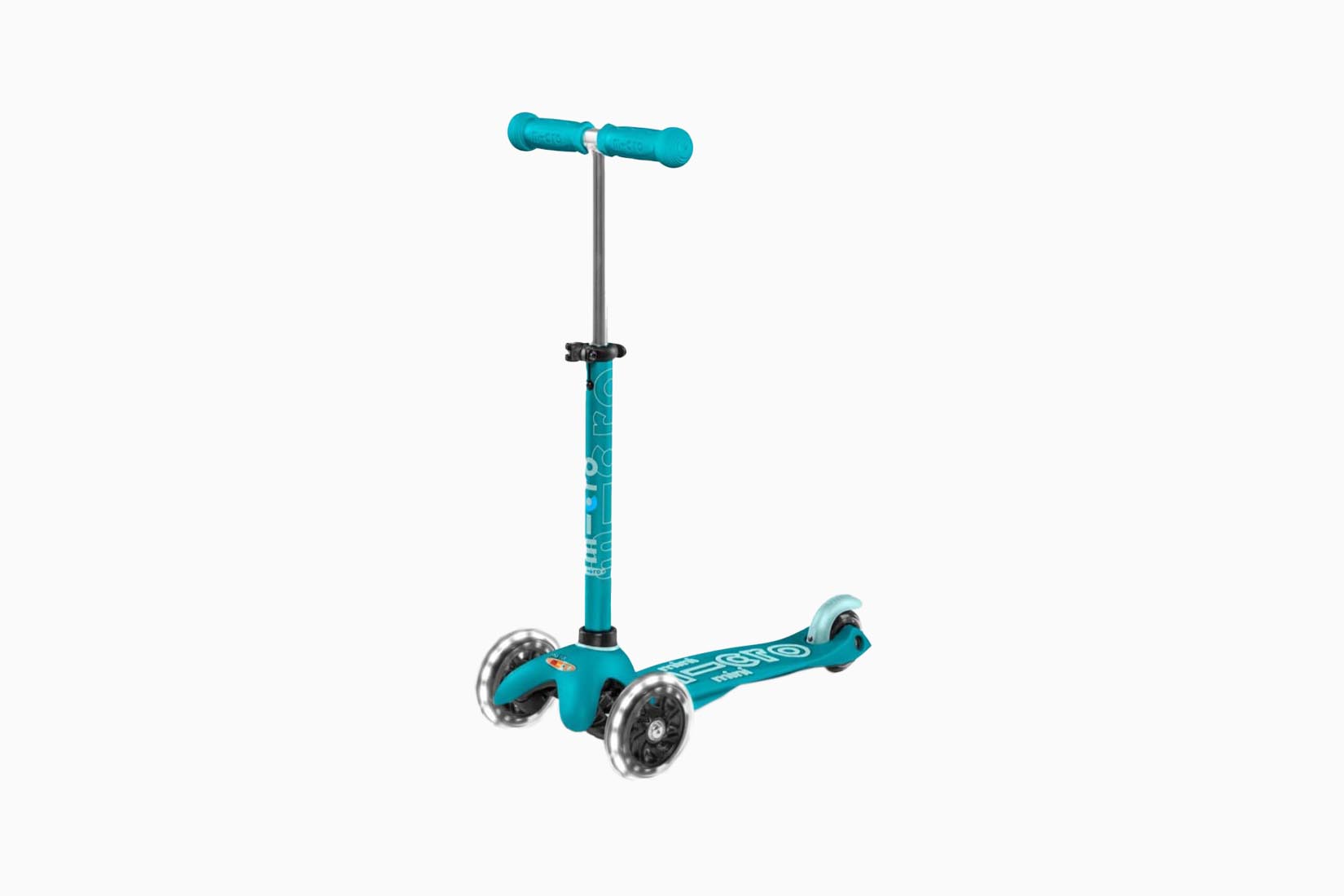 Ready for another superior entry into the stroller world from Micro? The Mini, a smaller version of Micro's other great scooters, is perfect for preschoolers who want to start scooting as early as possible.
With a three-wheeled setup and a foot deck that's built to be extra wide, the Micro is designed never to fall over—and to be as easy as possible for tiny feet to learn how to balance. We love that the reinforced fiberglass foot deck specifically absorbs any impacts that the scooter may experience—shielding your preschooler and giving them a quiet, smooth scooting experience.
We also know that preschoolers grow incredibly quickly, which is why we love to see the adjustable handlebars that make the Micro Kickboard Mini Deluxe a scooter your child can use through several growth spurts.
Best for: Adorable photoshoots with your quick-growing kid.
| | |
| --- | --- |
| Colors: | Aqua, green, red |
| Ages: | 2-5 |
| Weight: | 4.2 lb (1.9 kg) |
| Max child weight: | 110 lb (49 kg) |
| Handlebar height: | 25 in (62 cm) |
Mongoose Expo: Best big wheel scooter for kids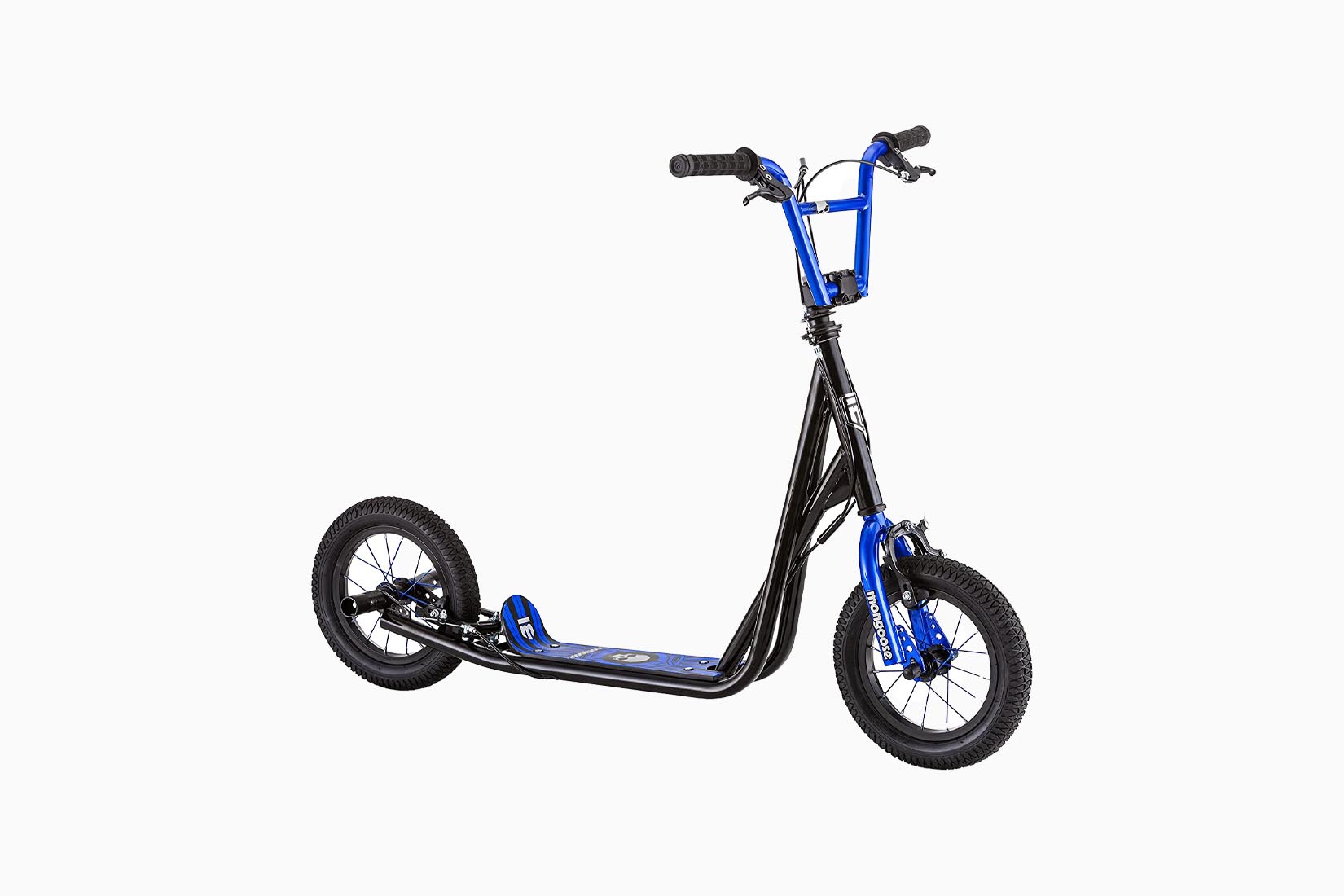 Is your child a future BMX-style rider?
This scooter features hand brakes, BMX handlebars, a freestyle handlebar rotes, and axle pegs—basically, everything your child needs to practice impressive BMX moves as safely as possible.
With a wide foot deck for easy balance and a durable frame that helps keep your rider stable, the Mongoose Expo makes it less dangerous for ambitious children to do exactly what they like on their scooters.
The steel deck is traction-coated for safety, the handlebar can be adjusted up to three inches, and the bike's frame absorbs impact so your child doesn't have to! Perfect for your child who wants a big-wheeled scooter, the Mongoose Expo is here to provide a thrilling ride without the risk.
Best for: Children who can't wait to go pro.
| | |
| --- | --- |
| Colors: | Black/blue, green/gray |
| Ages: | 6-9 |
| Weight: | 18 lb (8.16 kg) |
| Max child weight: | 220 lb (99 kg) |
| Handlebar height: | 33 inches (84 cm) |
Razor A3: Best kids' foldable scooter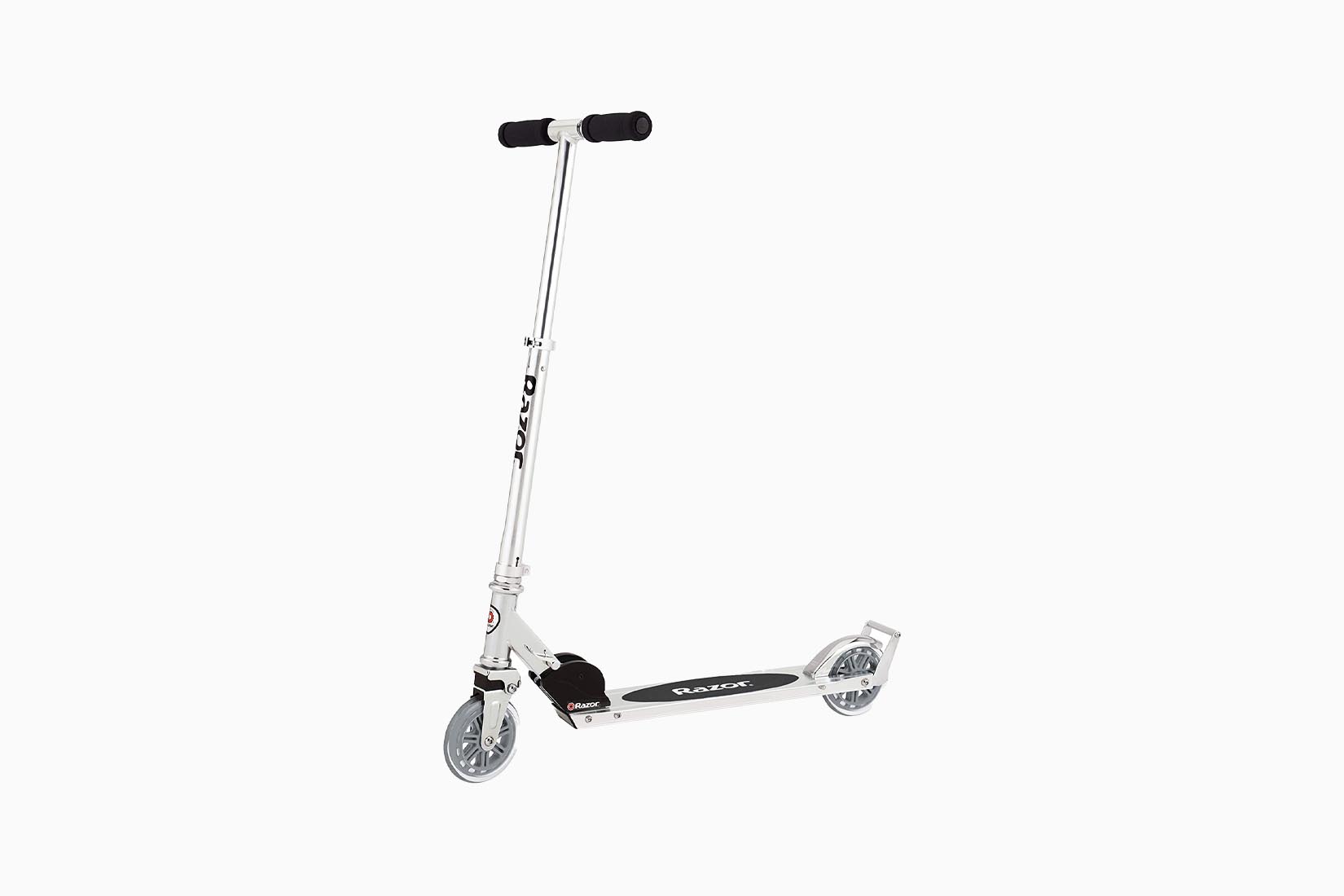 It's hard to get over the appeal of the original scooter brand—and when Razor comes out with a model that's fully foldable for ultimate portability, it's even harder to ignore.
The Razor A3 is a version of the classic scooter, this time with larger wheels that provide an even smoother ride. As if that weren't enough, the Razor team implemented a front vibration-dampening system for upgraded suspension, which makes the ride more like a true glide.
The aluminum frame is light, stable, and durable; the scooter folds up smoothly and feels natural to carry; and the scooter features other cool extras like handlebars that you can easily adjust, a rear-fender brake, and even a wheelie bar. With an affordable price tag, too, the Razor A3 is definitely a go-to in our book!
Best for: Kids who want to keep their go-to ride close at hand at all times.
| | |
| --- | --- |
| Colors: | Blue, clear, green |
| Ages: | 5+ |
| Weight: | 7.02 lb (3 kg) |
| Max child weight: | 143 lb (64 kg) |
| Handlebar height: | 27 in (68.58 m) |
Lascoota Foldable Kick Scooter: Best scooter for teens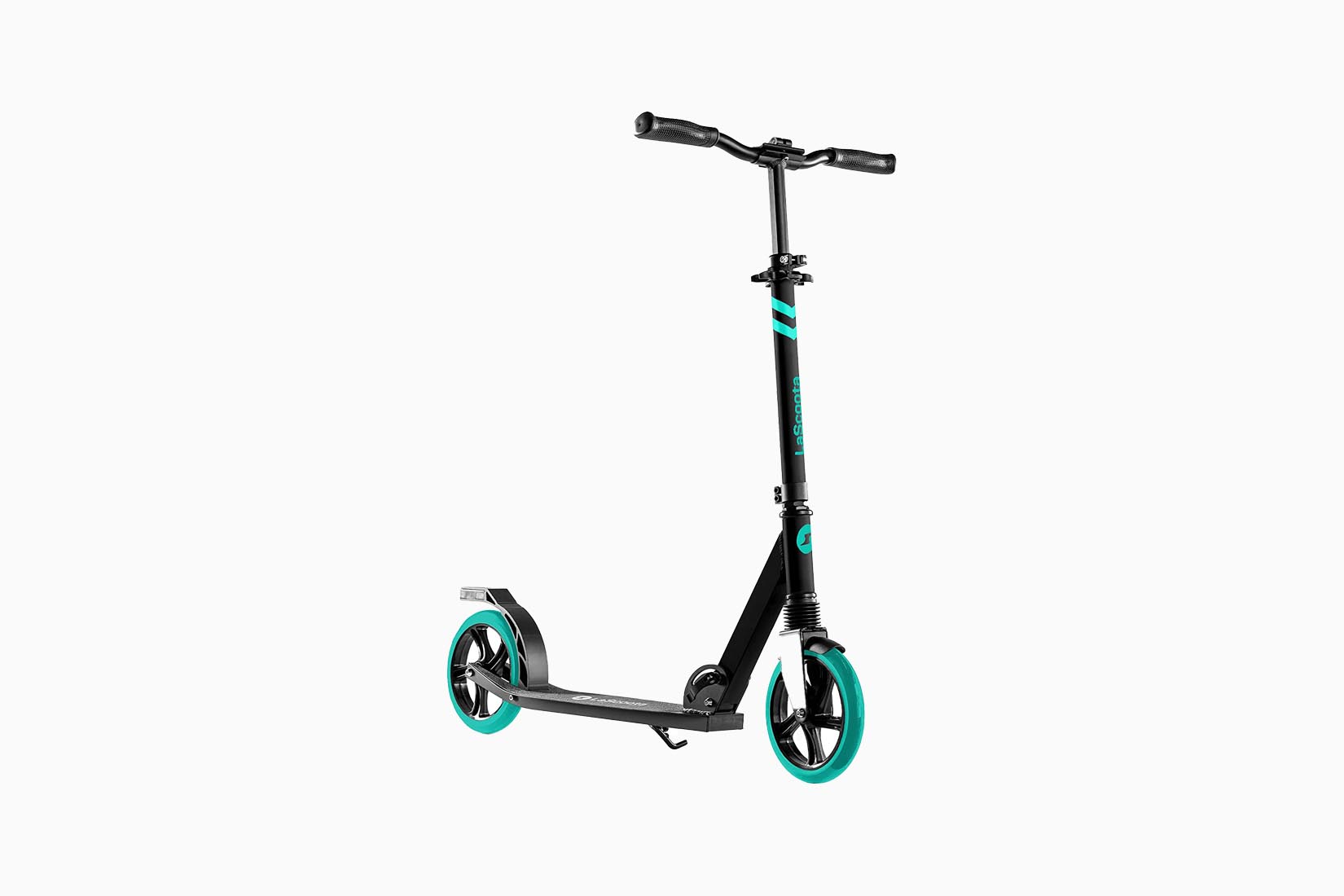 With large wheels, a suspension that allows for a swift and comfortable ride, and ergonomically-shaped grips that cushion the handlebars, the Lascoota Teen Scooter not only rides well, it feels good and looks good, too.
What more could your teen want?
With looks similar to popular Razor scooters but with a better build and lower price, the Lascoota is a no-brainer for teens who will use their ride often. With grips that clean easily and a frame that allows for a quiet riding experience, we find that the Lascoota Teen Scooter just seems to have been built with real use in mind.
Best for: Older children (of any age).
| | |
| --- | --- |
| Colors: | Antique Pink, Aqua-Black, Camouflage |
| Ages: | 13+ |
| Weight: | 14.1 lb (6.39 kg) |
| Max child weight: | 220 lb (99 kg) |
| Handlebar height: | 39 in (99 cm) |
Razor A2: Best budget scooter for kids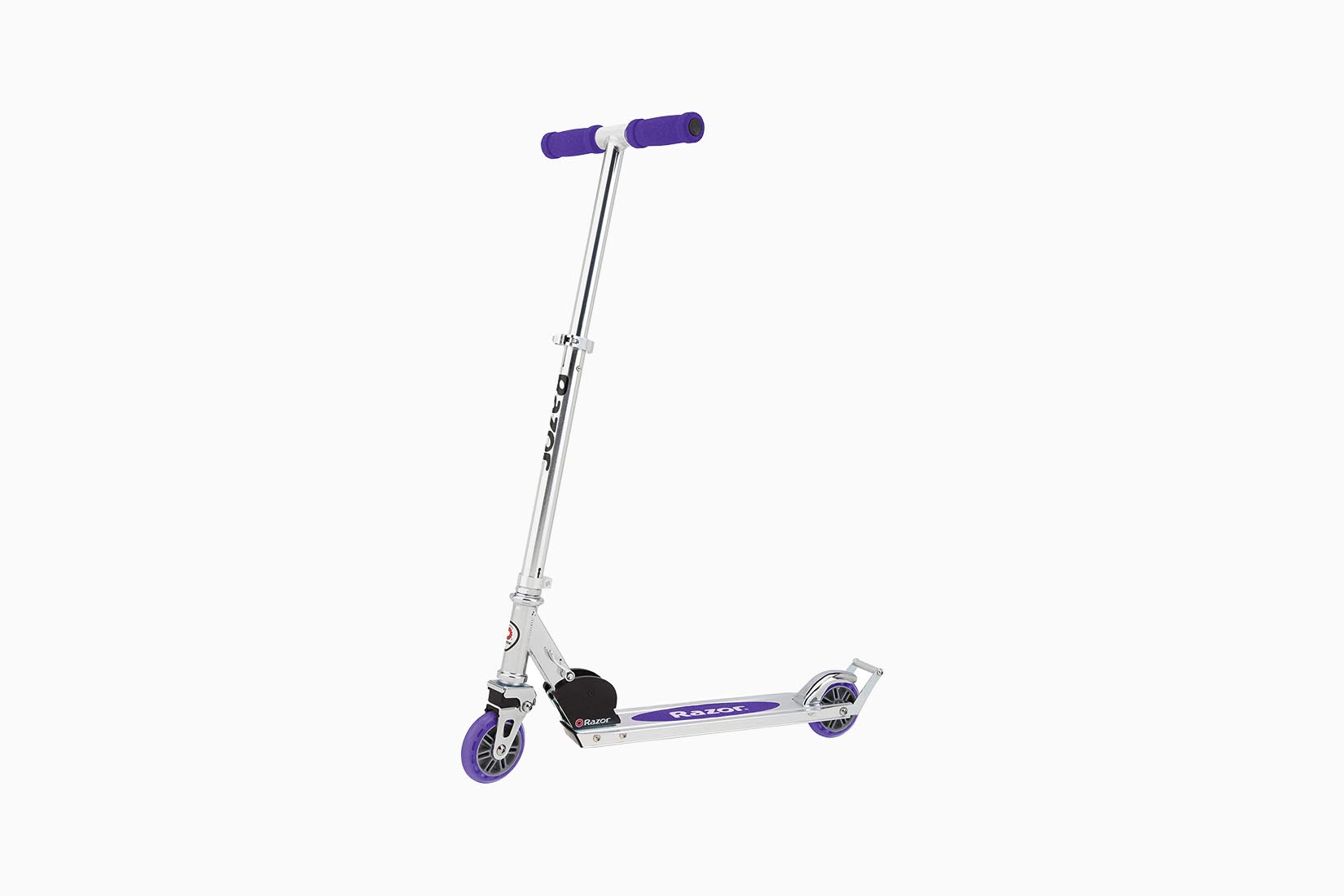 If you have children, you know that they aren't always discerning about how they treat their belongings.
Sometimes, it can be hard to justify spending a lot of money on gifts for them. Yet, at the same time, you want them to enjoy their things—and be safe when using them.
That's where gems like the Razor A2 come in handy. With a strong aluminum construction that's light enough to carry, foldable portability, and a timeless design that will never go out of style, this scooter is here to wow your child without hurting your wallet.
It doesn't hurt that this scooter is ready to ride in comfort. It's got a front wheel shock system that makes going over small bumps a jolt-free experience. Trust us: This cost-efficient scooter is going to be your child's go-to for years—the Razor A2 even has a high max weight and adjustable handles, meaning that it's ready for anything the future holds.
Best for: Your credit card statement—and, of course, your child.
| | |
| --- | --- |
| Colors: | Black, blue, clear |
| Ages: | 6+ |
| Weight: | 6 lb (2.72 kg) |
| Max child weight: | 143 lb (64.8 kg) |
| Handlebar height: | 25 in (63.5 cm) |
Buyers guide: Finding the best scooter for kids
When you're getting ready to purchase a scooter for your child, you know that you want the best. You're going to have to make several decisions about the type of scooter you need, features you want, and more. Here's what you need to know.
Number of wheels
As a general rule of thumb, if your child is under five years of age, they should have a three-wheel scooter. Once the child is five or older, they can graduate to a two-wheeled scooter. Of course, you should use your best discernment about your child's balancing aptitude to make your decision.
Scooter weight
Whether you'll be carrying the scooter for your child or your child will be toting it around, you need to know how heavy it'll be! Heavier scooters can be fancier or more durable, but at the very least, your child needs to be able to pick the scooter up if it falls down.
Durability
Many scooters, with the exception of those made for older children, have upper age limits. In an ideal world, you'd want your scooter to work and be safe at least as long as your child is within that age range. (If you have multiple children, maybe longer.) For the most part, higher-investment scooters may have a chance of lasting longer with good care. It all depends on the goals you have for this gift.
Handlebar height
Growing children might appreciate an adjustable height handlebar. Handlebar heights also tend to get higher as the scooter is made for older children.
Foot platform
The younger the child, the wider the deck—making it easier for preschoolers and toddlers to balance. You know your child best—if they need a wider deck, it's always better to be safe than otherwise.
Types of kids' scooters
There are a few different scooter types for kids, including:
Kick Scooters: These scooters have a wide kick plate and are 'powered' by gliding along and pushing off the ground with your feet. These are far and away the most popular type of scooter for kids.
Kickboard Scooters: These three-wheeled scooters have a wider kick plate, are easier to balance, and can feature a lean-to-steer functionality—much like a traditional skateboard might. These can be slower than other scooter alternatives.
Trick Scooters: Trick scooters, sometimes known as BMX scooters, are for doing tricks (such as half-pipes, jumps, slides, and more). They're faster, heavier-duty, and often popular among teenagers.
Electric Scooters: Sustainable and fun, electric scooters for kids can allow a powered riding experience—albeit at a slow speed for children's models.
Frequently asked questions about scooters for kids
Which scooter brand is the best for kids?
Micro is the best scooter brand for kids. Razor is a close second! Check our round-up of the best scooters for kids to find the model that's best for your child.
Are scooters safe for toddlers?
Scooters are safe for toddlers because they're easy to maneuver, light, and aren't quite as fast as bikes.
What is the best scooter for a 10-year-old?
The Mongoose Expo is the best scooter for a 10-year-old, particularly if they've been scooting for a while and are ready to try some daring moves.
Which scooter is best for a 6-year-old?
The Micro Kickboard Sprite is the best scooter for a 6-year-old because it's sturdy and doesn't have any overstimulating noises.
Which scooter is best for a 5-year-old?
The Micro Kickboard Mini Deluxe is the best scooter for a 5-year-old, with a three-wheeled setup that's easy to balance.
What is the best scooter for an 8-year-old?
The Razor A Kick is the best scooter for an 8-year-old because it's adjustable, foldable, and ready for adventure.