One day, there'll be a way to bottle that feeling that comes from giving someone the perfect gift and seeing their seriously happy reaction.
Struggling to remember what that feels like? You're not the only one. Even if you may know exactly what to get your BFF and your other half this year, it's almost always more of a struggle when it comes to sourcing cool kids gifts; let alone eco-friendly gifts.
But there's a growing number of unique kids gifts out there, which promises endless opportunities to nurture future passions, discover new interests or just ensure you're at the top of the list when it comes to sending out thank you notes. Choose the right present and you could un-tap the next Picasso, Mozart or Nobel Prize winner. No pressure.
Not sure where to start? We've covered a little of everything when it comes to popular toys for kids, including fashion, electricals, beauty, jewelry and, of course, just plain fun.
The best things in life may be free but the second best things in life are found below in our organized-by-price holiday gift guides.
From budget-friendly treats to high-end premium gifts, it's all here. And to make sure that you stay within a (reasonable?) budget, we're breaking down our list by price range:
Our top picks for the best gifts for kids this Christmas
In a rush? No problem! Here are the most popular gifts for men right now. These are sure to be a hit.
Psssst, we also curated a list of the best gift ideas for teenage girls and teenage boys, as well as the best gifts for men and women if you're looking for more inspiration. Or a little treat for yourself…
Unsure how to choose the right gift for younger kids? Check our special children's gift buying guide after the list to see exactly what you should pay attention to when shopping for children's gifts online.
The best gifts for kids under $50
We start off our list with children's gift ideas under $50 that (almost) look like a million bucks. You'll mostly find below small yet meaningful gifts but also funny or symbolic presents to show that you care.
Color-In Pajamas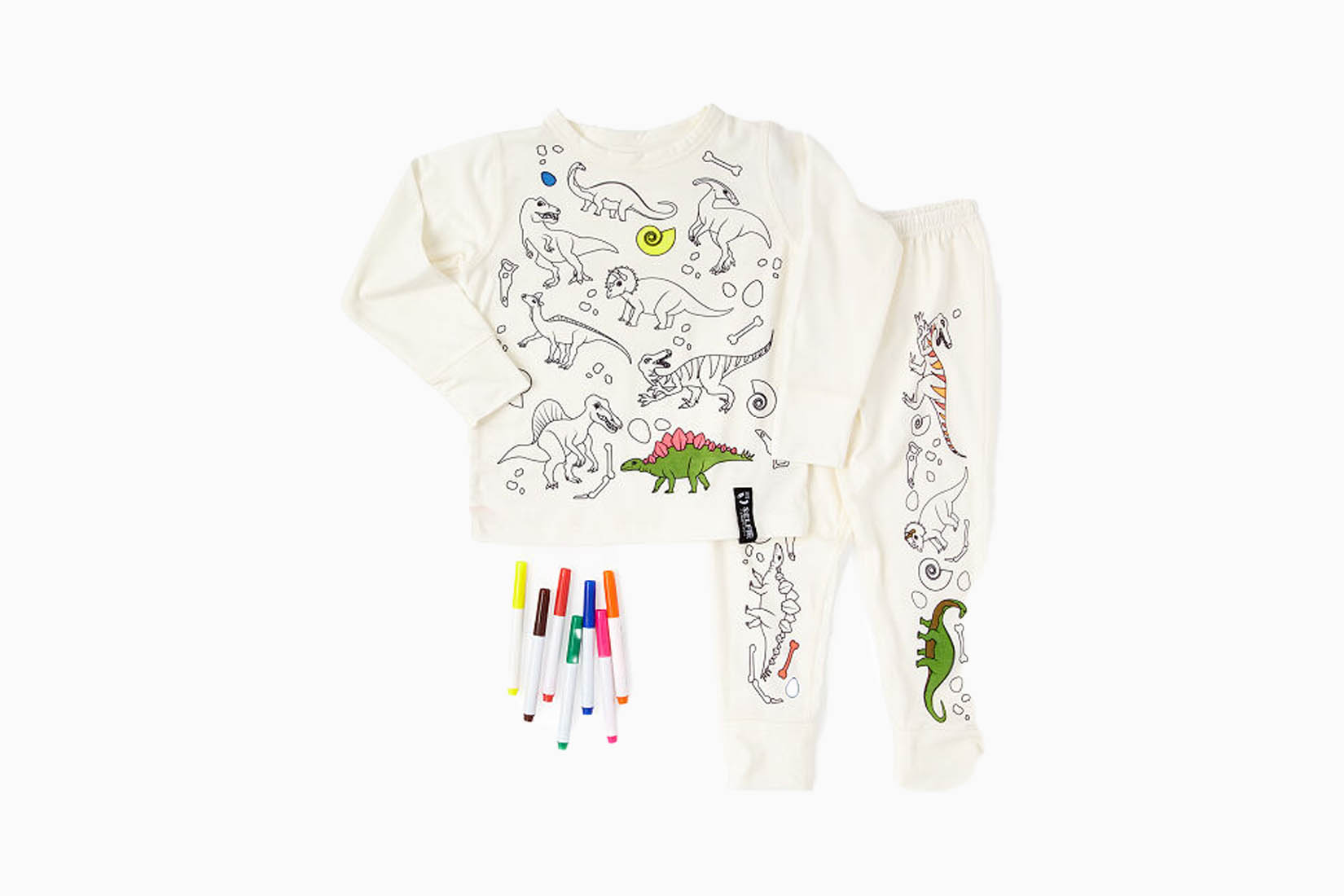 Those fears of coming home to thoroughly scribbled walls or children's unique artworks dotted all over prized furniture? Take that artistic talent (even if it's yet to be understood or interpreted by the world) and redirect it into something that's – literally – designed for covering with doodles.
The Color-In Dino Pyjamas are one of the best unique kids gifts and are both soft and comforting, with a subtle off white shade and plenty of outlines on front to back. Spend the afternoon scribbling away and bringing each illustration to life and simply air-cure the pajamas for 24 hours or iron the design to set the colors before bedtime. Don't be surprised if your child wakes up a future artist after all.
Ages: 3-10
Wash-Off Nail Polish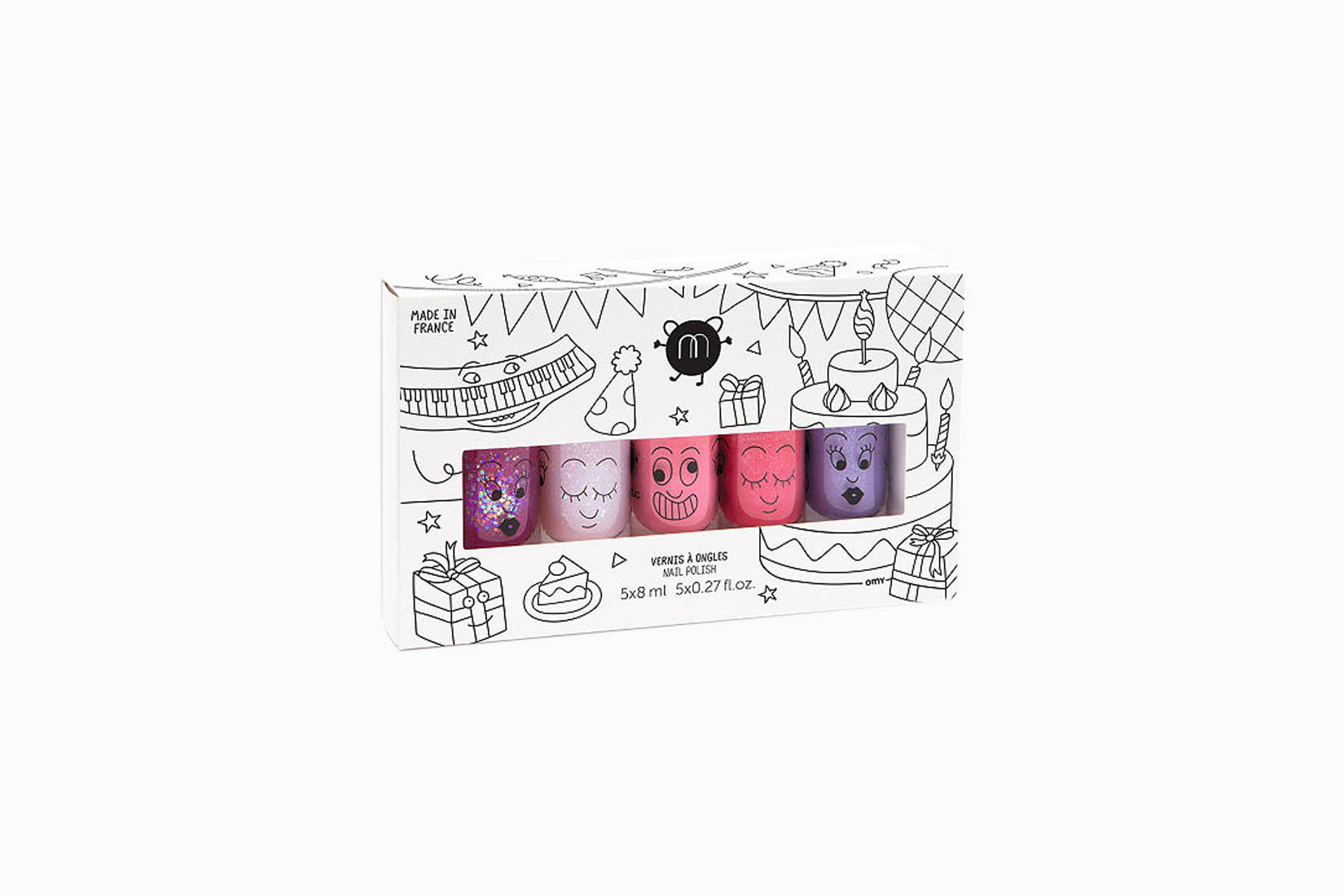 Nail polish might often call itself non toxic but it's understandable if you'd still rather keep it away from young hands. But if you've got a young child who's desperate for equally as beautiful nails as yours, the ideal midpoint comes in the form of Wash-Off Nail Polish.
Child friendly both in chemical makeup and color, this multi-pack comes in five vibrant shades and promises to be the star of the show. While it might look just like normal nail varnish, this one scrubs off with soap and water. When you're finished with nail painting, the box itself is also designed to be colored in.
Ages: 3+
Parachute Baby Towel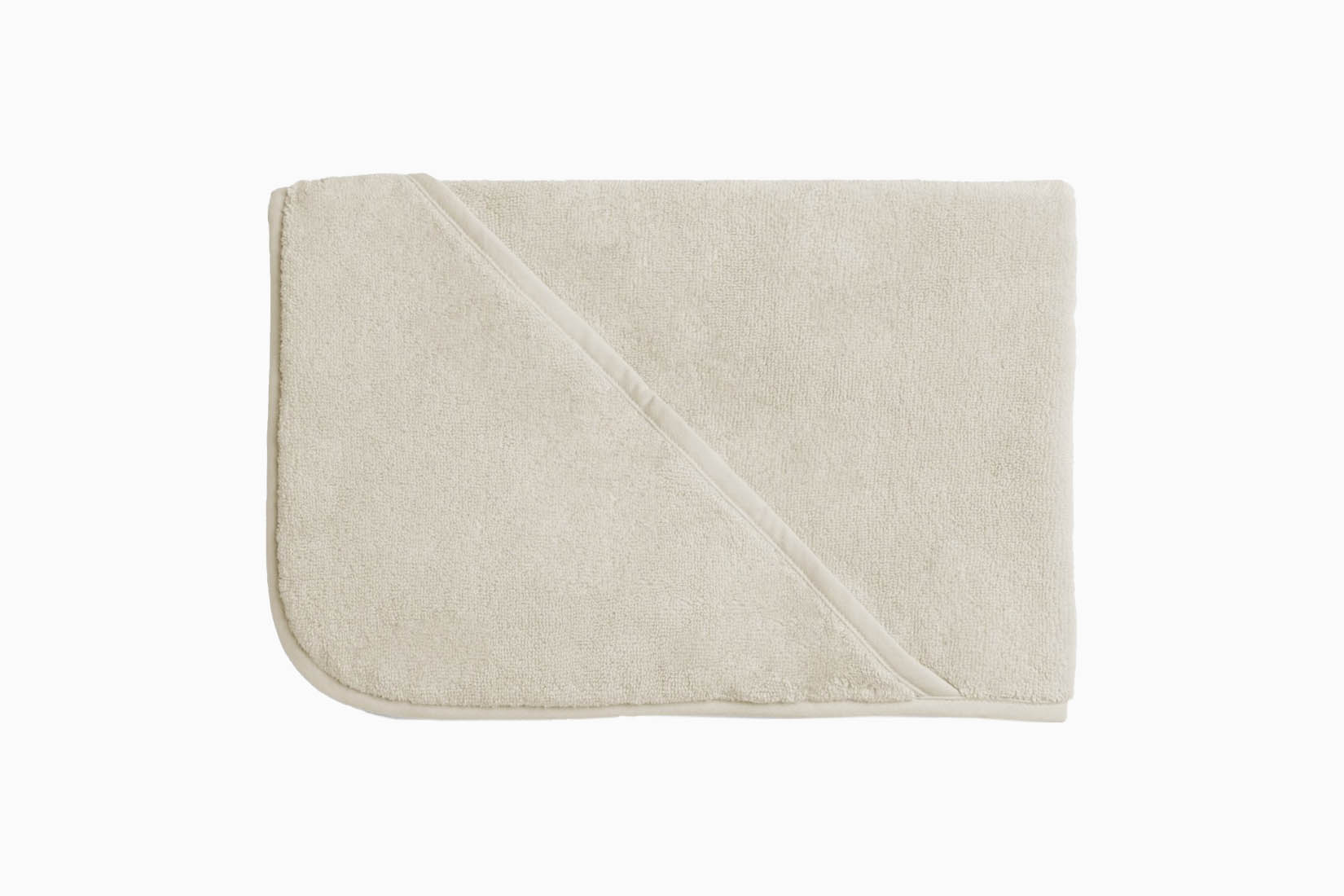 Struggling to decide what to buy a newborn who seemingly has all of the essentials covered already? Think outside the box – or outside the bath in this case – with the addition of a Hooded Baby Towel.
This one from Parachute is our favorite, thanks to its irresistibly soft long-staple Turkish cotton and delicate color. A baby towel is one of those things that's not ultimately essential but is definitely desirable; the sort of thing an over-stressed parent might not think of immediately but will absolutely appreciate when it comes to bathing baby in the colder months of the year.
Ages: Newborn
Dabble & Dollop Bath Bubbles Mixing Kit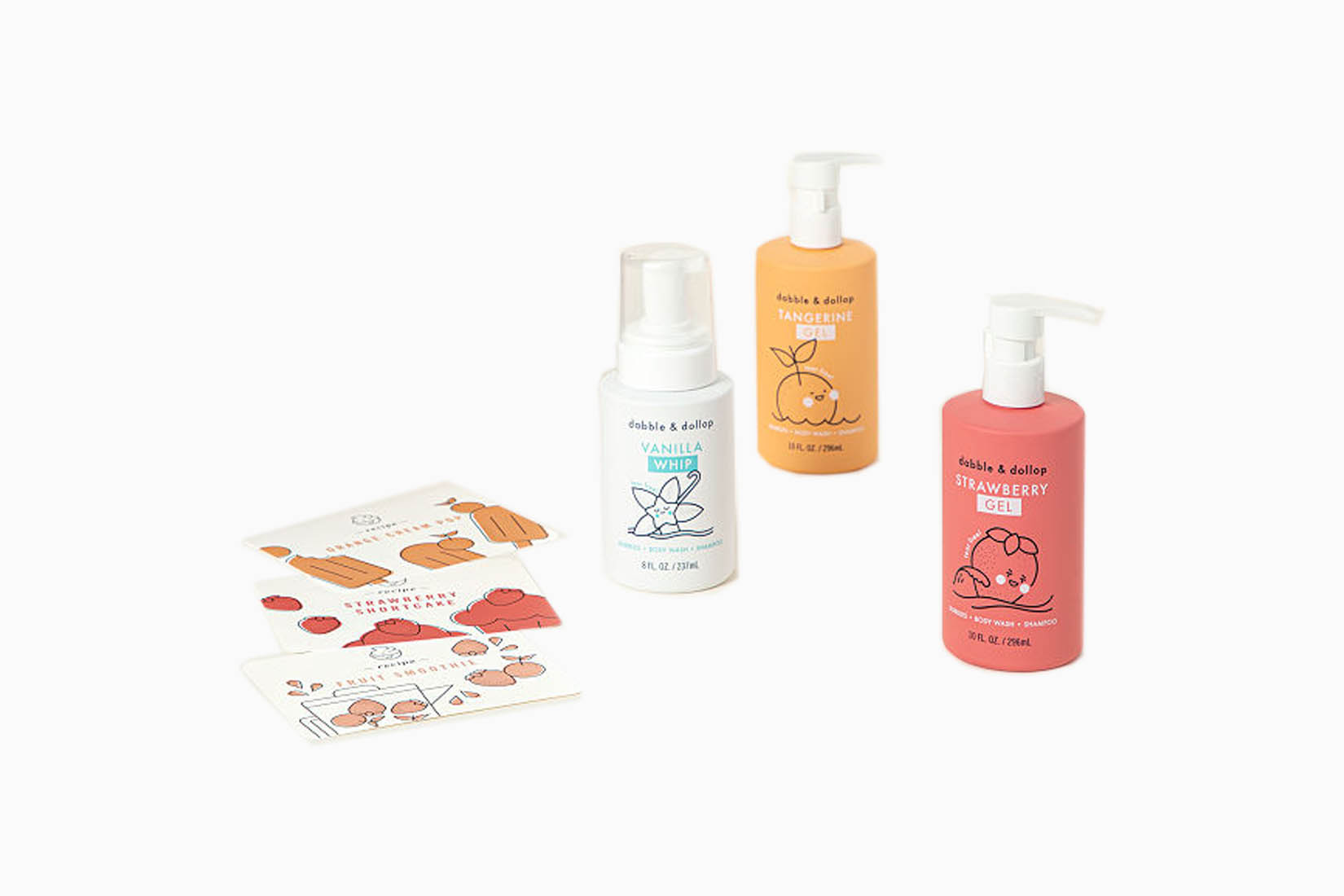 Love it or hate it but bath time is an essential part of the day. If you're spending time with a child who hates bath time, distraction is your friend. And that's where the Dabble & Dollop Bath Bubbles Mixing Kit comes in. With a child-sized mixing bowl and recipe cards for inspiration, this bath set promises a complete 180 for children who'll suddenly enjoy bath time a whole lot more.
It's entirely hypoallergenic, with soft, delicious scents of strawberry, tangerine, and vanilla-flavoured products. Each gel and whip is made from naturally derived ingredients and it's suitable for children of all ages.
Ages: 2-12
Lovevery Play Kit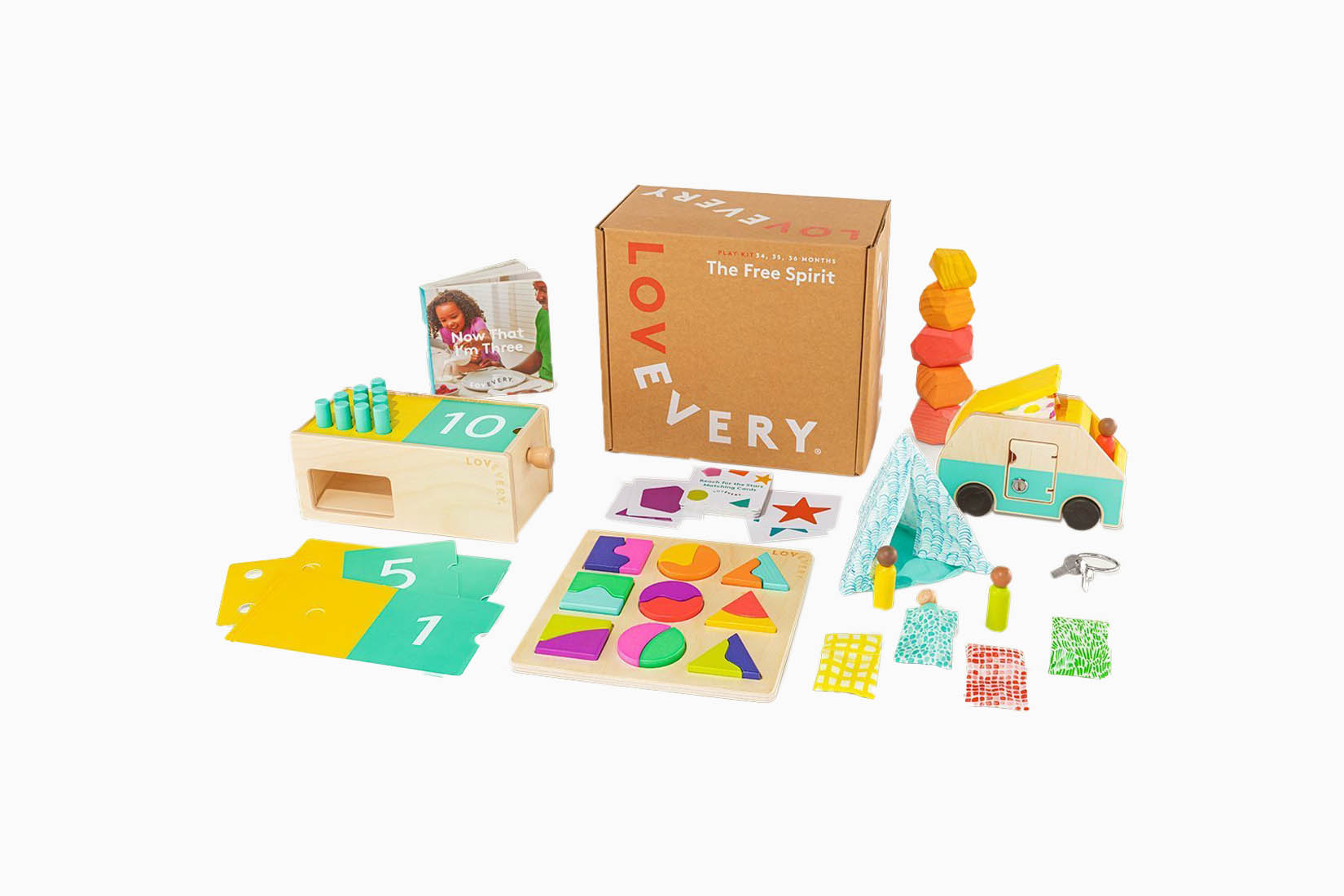 Lovevery's Play Kits are the sort of present you'll feel a little smug giving to anyone with children due to just how thoughtful they are. Because these play kits aren't just designed for mindless fun; they're specifically designed to encourage subconscious learning at the same time.
Different kits come with different inclusions, which are tailored right through from newborns to toddlers. Expect a range of interesting colors, textures, sounds and designs, incorporated into each unique box. If you know anything about the Montessori way of education, you'll be over the moon with any of these Lovevery Play Kits. And, if you're feeling generous, you can set up an ongoing subscription box.
Ages: Newborn – 2 years
Maileg Teddy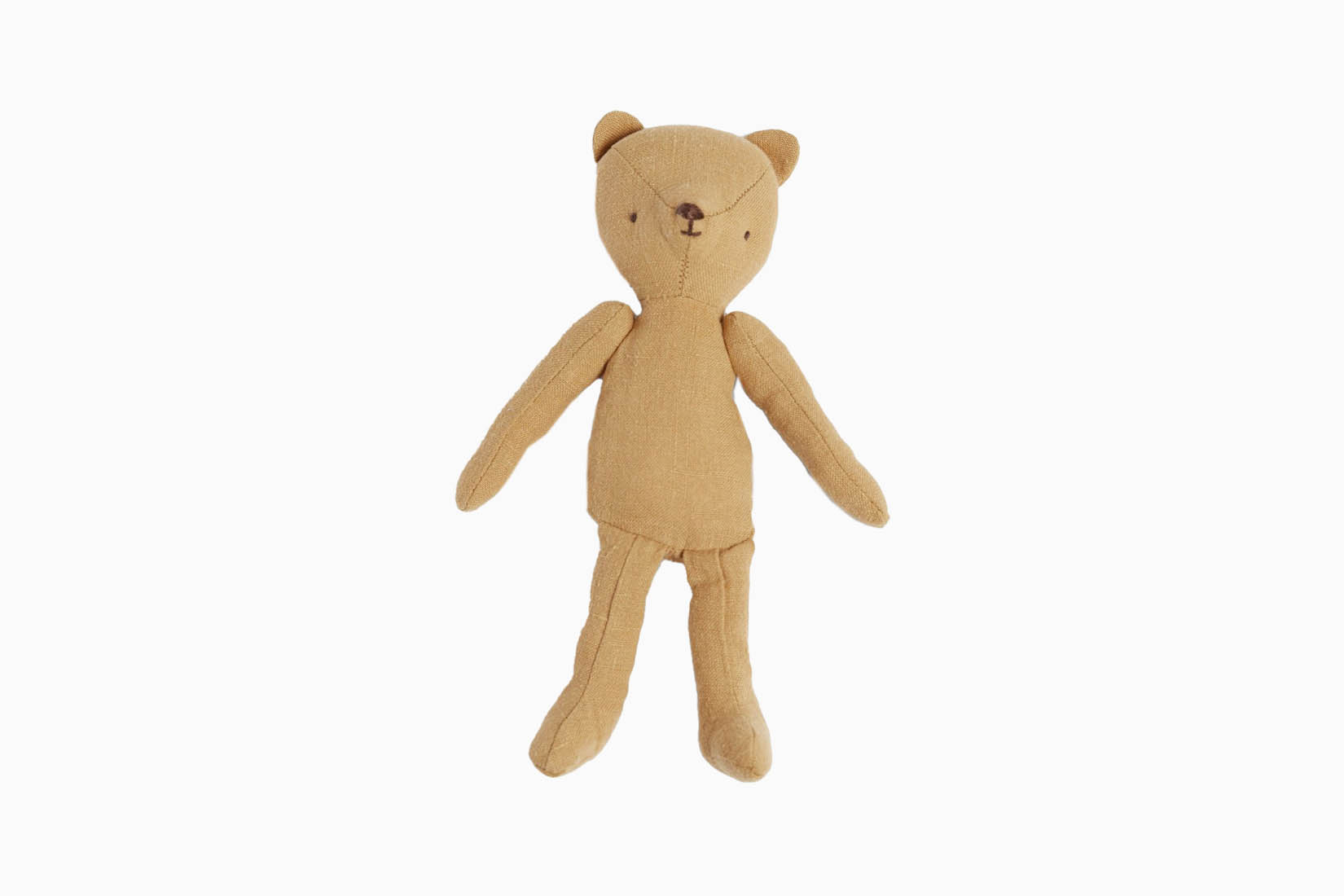 Parachute's Stuffed Teddy is equally as adorable as he is sustainable: a timeless new friend who'll accompany the child in your life from their first activity of the day right through to story time at night, tucked up in bed.
Each of these bears is handmade, which means no two are the same. They're also made sustainably, incorporating work from artisans across the world and waving goodbye to unethical working practices. Made from soft linen in a muted yellow color and filled with recycled polyester, this Maileg Teddy is set to become the right hand of any child thanks to his soft fabric and sweet expression.
Ages: Newborn upwards
EarthHero Finger Paint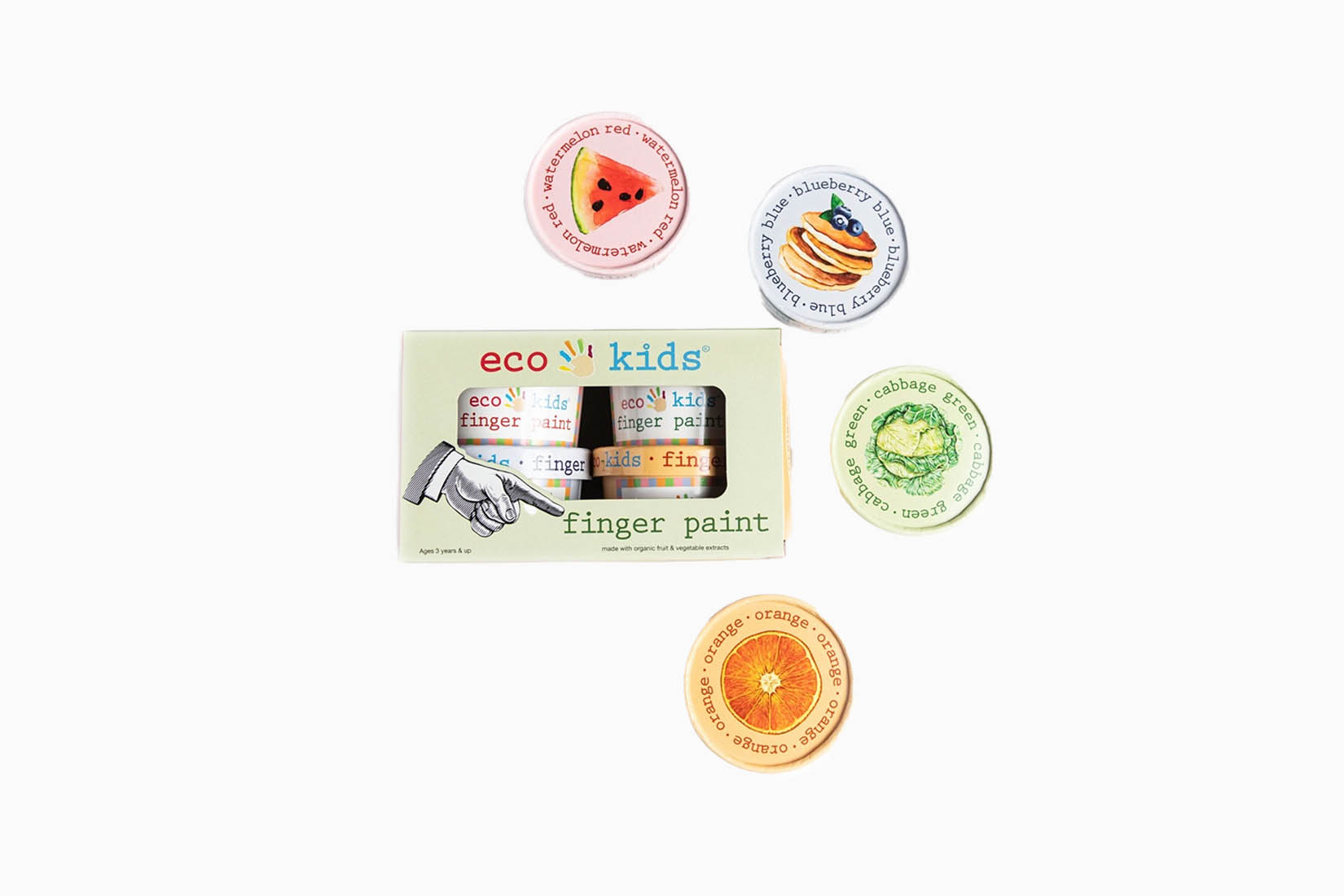 Earthhero's Eco-kids Finger Paint might look like they come in soft, pastel shades but as soon as you mix these planet-friendly paints with a dash of water, you'll admire the vibrant colors that pop out. These non-toxic finger paints are great for kids just developing their own artistic streak, made from food-safe, non-GMO ingredients including potatoes, rice, and beans.
Each color is naturally derived from plants or vegetables, which means it's not the end of the world if the little one in question gets a little hungry mid painting. These powdered paints come in recyclable paper cartons and are made almost entirely sustainably, with soy inks in a wind-powered factory. They're one of the best when it comes to environmentally friendly gifts for young children.
Ages: 3+
The best gifts for kids under $100
Let's now take a look at the best gifts for kids under $100. These are a step up from the previous ideas. They won't break the bank, but if you're ready to spend more on a children's gift, you'll want your gift to be memorable and useful.
Osmo iPad Learning Games
A gift to kids, parents, and teachers alike, the Genius Starter Kit doesn't feel like homework, but it certainly has the same (if not better) results. And if you're struggling to entertain your kids with meaningful but fun activities in the school holiday, the Osmo universes is a fantastic place to start.
The hands-on kit includes the Osmo software for iPad or Fire as well as physical components such as tangram pieces, number tiles, word tiles and stackable storage. So whilst you can tick off the much-coveted screen-time, you can do so with the assurance that your digitally-keen children are also engaging with exterior learning materials. Trust us when we say that these Osmo learning games are a win for all.
Ages: 6-10
VTech KidiZoom Smartwatch DX2
Ok, so back in our day, watches weren't really on our radar of appropriate gifts for two to four year olds. But hear us out. This isn't just a watch. This is a tech piece that promises to delight any digitally-interested children (that's all of them, isn't it?)
The child-friendly design ranges from bright pink and blue to slightly more mature blacks and grays. The easy-to-capture camera and video empower your little ones to capture, share and filter their own memories. Whilst multiple games allow for entertaining car rides and parental reprieve every now and then. And, of course, this child-friendly watch face integrates the telling of time into their everyday lives.
Ages: 2-4
Allbirds Wool Runners
Epitomizing sized-down sophistication, we can't think of anything cuter than these Smallbirds Wool Runners. Unless you get yourself a matching pair, of course—and then we expect to see the family Christmas card montage.
But these adorable runners aren't just about gaining some serious playground cred, they're also super comfortable and easy to wear. Made from eco-chic materials, they're light and breathable (so no bribing required to keep them on.) And we particularly love that you can simply chuck them in the washing machine after a long day of adventuring in muddy puddles.
Ages: 5-10
Axel Arigato Hoodie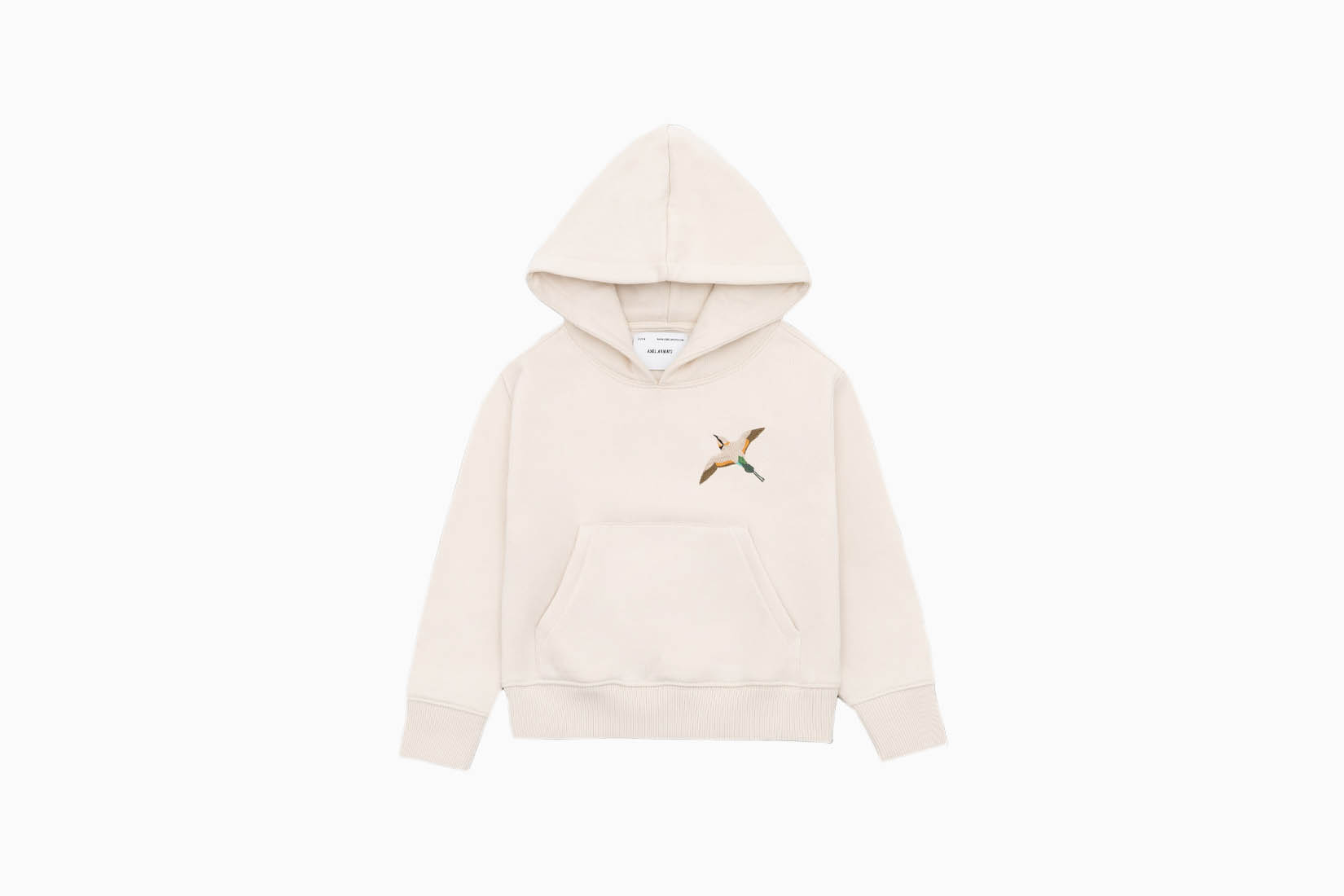 These Axel Arigato hoodies will have you wishing for the adult version so you'd be able to mix and match with whichever lucky child is on the receiving end of this gift. But, even if you can't quite fit into the Kids Single Bee Bird Hoodie yourself, you'll get a pat on the back in years to come for ensuring your protégé started life suitably stylishly.
Incorporating the brand's classic premium quality in an understated design, this Bee Bird hoodie is made from pure organic cotton with a brushed back for enhanced comfort. It's also available in black or grey.
Ages: 3-10
Bobo Choses Backpack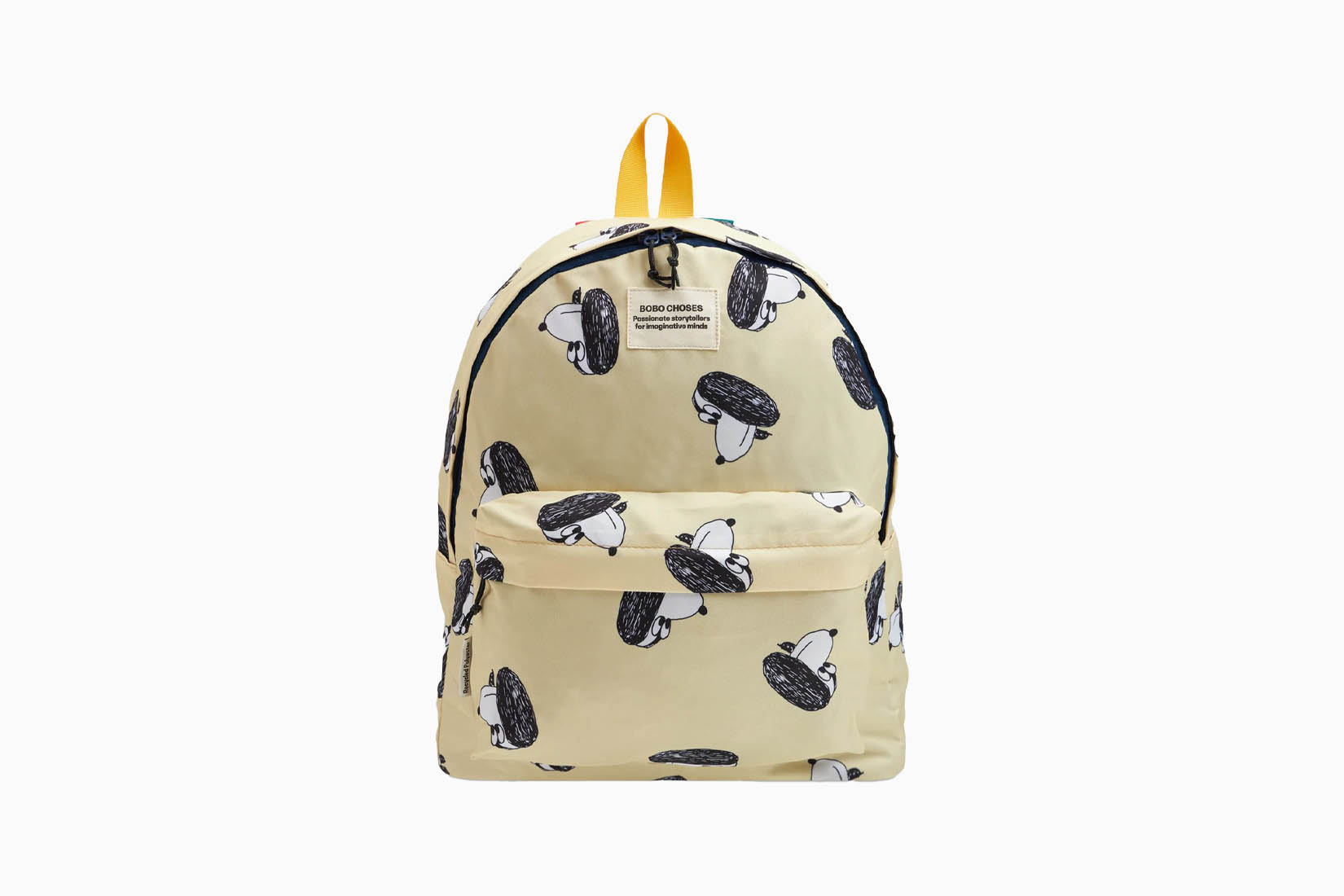 Whether that's to bring along to school for daily use, to be saved for fun weekend adventures, to be the safe place to store essentials during extracurricular activities, there's always a use for a good backpack. Better yet if the backpack in question is great quality, in a kid-friendly design and sustainably made.
The answer? Bobo Choses Printed Recycled Backpack. This piece might be a little more expensive than your standard backpack for children but it's made of strong enough fabrics to ensure a lot of wear and tear. It's also a cute, versatile design, suitable for all kids to enjoy.
Ages: 6+
Liewood Beach Set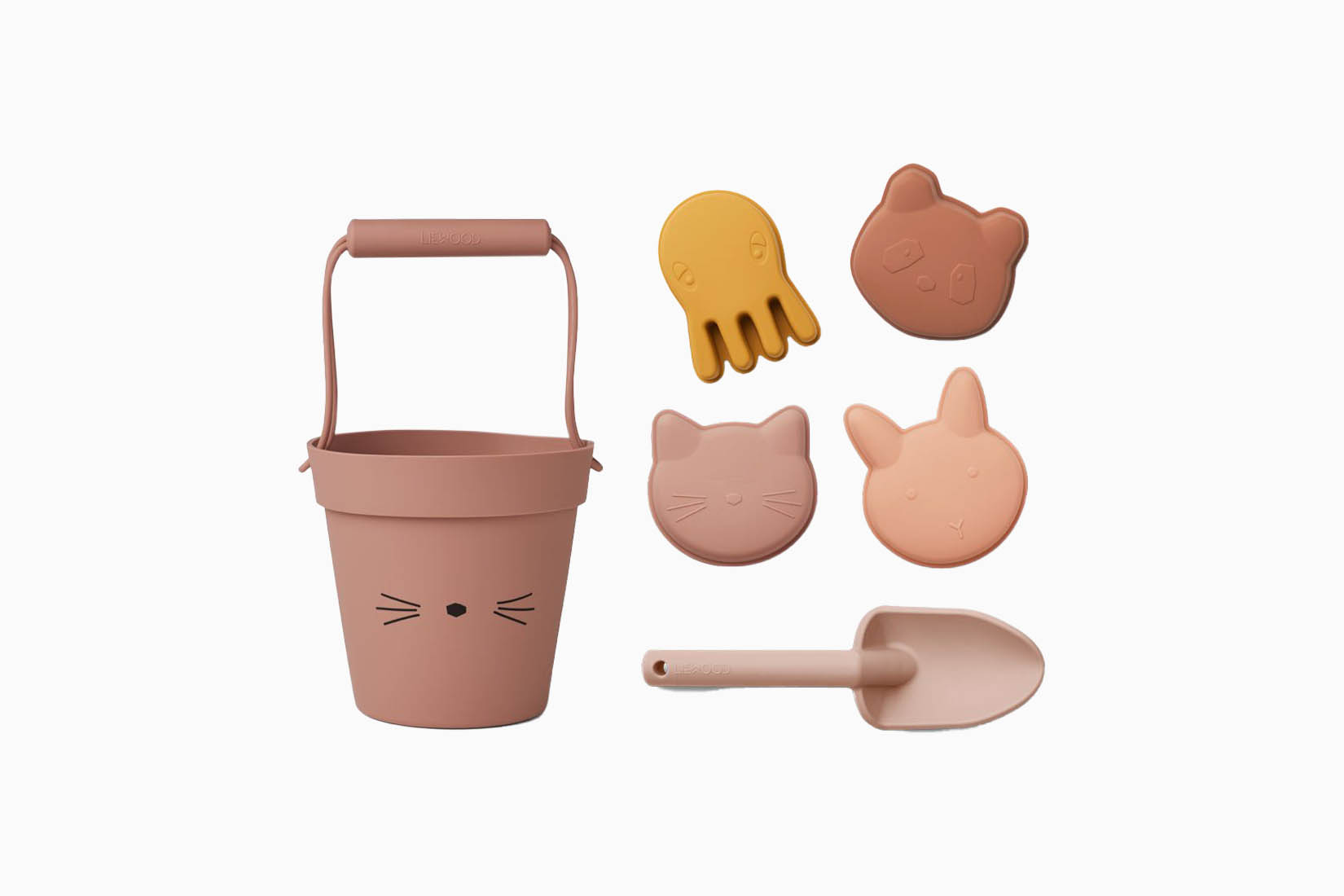 Summer holiday coming up or just looking for a few more additions to the sandpit in the garden? Liewood's Dante Fruit Beach Set is the stylish essential to bring along to the beach for hours spent playing in the sand.
This tonal shade beach set is a little more on trend than your typical garish bucket and spade combo and also promises to withstand a lot more pressure. It's made entirely from rubber, which makes it safe and suitable for younger kids without any dangers of sharp corners. Complete with four different beach molds, it promises days on end of fun.
Ages: 3+
Nike Kids Sneakers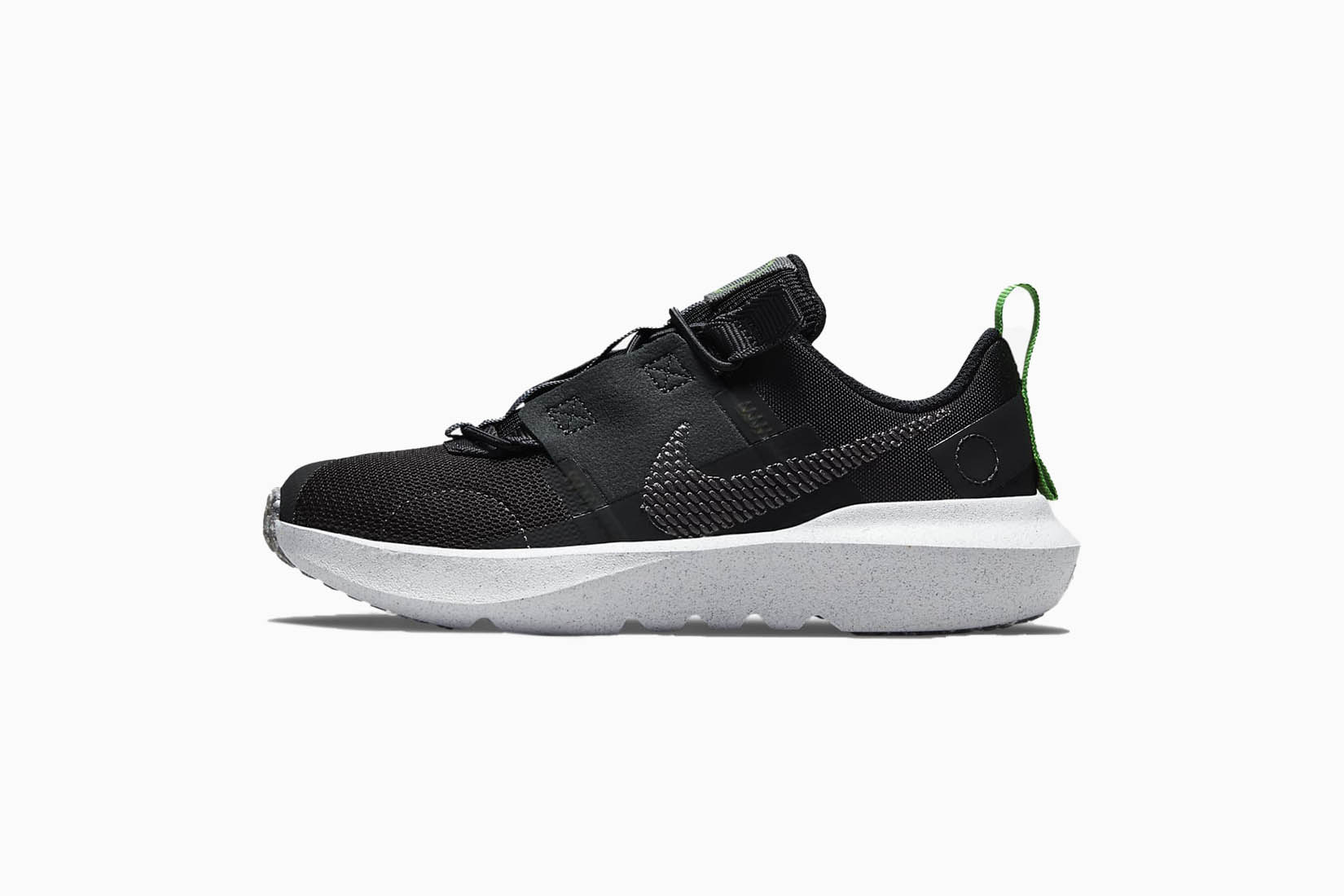 Style meets practicality with this pair of Nike sneakers for kids. A great gift idea if you want the lucky present recipient to be the most fashionable kid at school. Nike offers a range of cool sneakers for children, but we particularly like the Crater Impact collection that's designed with the Earth mind. These shoes are indeed made with at least 20% recycled materials. They're lightweight, durable and feature Crater foam cushioning, so your kiddo can make an impact every time they play—in more ways than one.
Ages: 3-8
Gotrax GKS Electric Scooter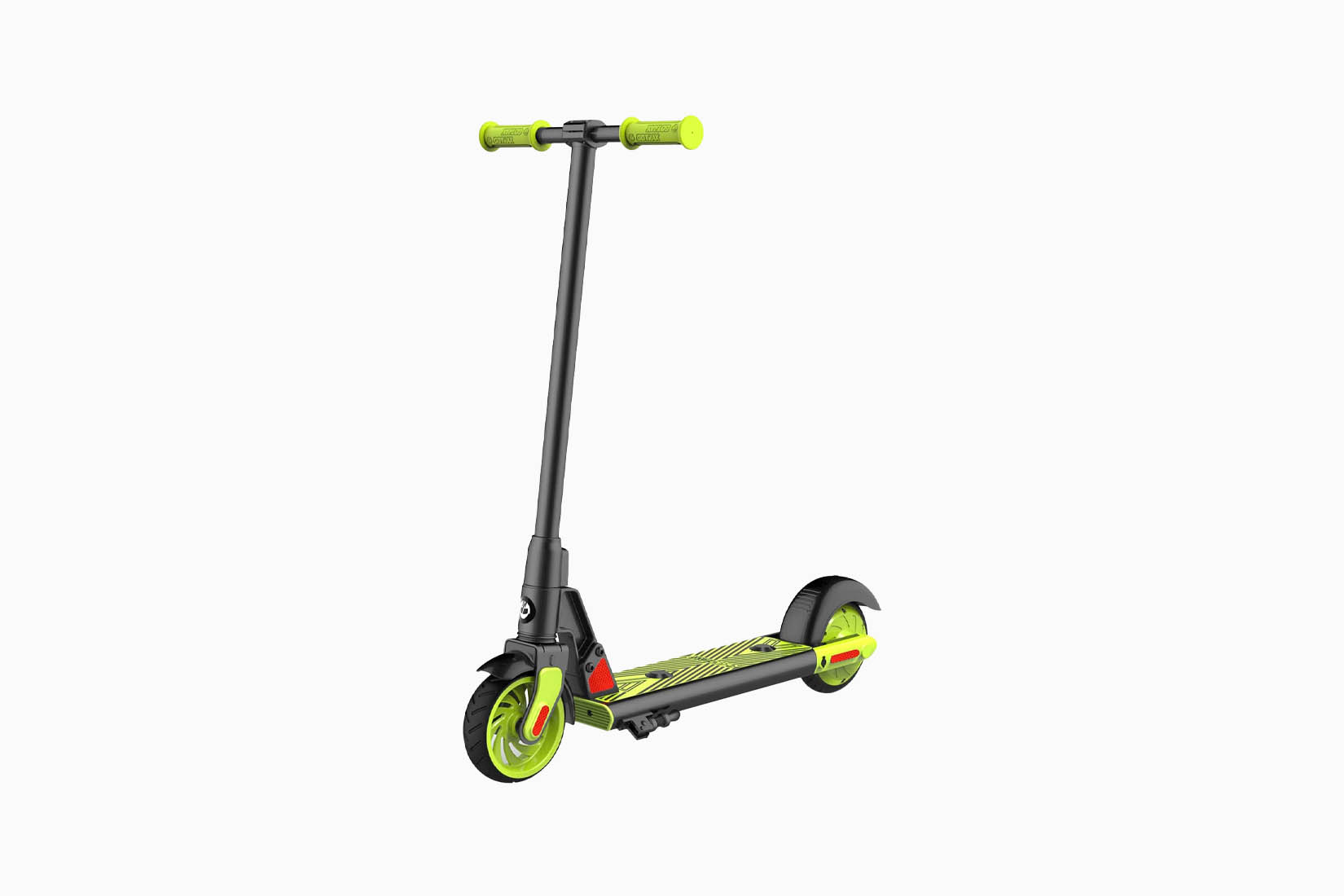 If you've been jumping on the electric scooter hype recently then there's a good chance any child who's seen you whizzing by has also expressed a desire for their own mini version. Say hello to just that: the Gotrax GKS Electric Scooter for Kids.
A miniature variation of one of the most popular electric scooters out there, this one comes with all of the features necessary for a fun day out and also the added benefit of being used manually, too. It has a top speed of up to 7.5mph – fast enough to pick up some speed but not so much that they'll be able to feign ignorance or inability to hear you when they shoot off into the horizon. If you prefer a non-electric option, check our round-up of the best scooter for kids.
Ages: 6-12
Axel Arigato Clean 90 Sneakers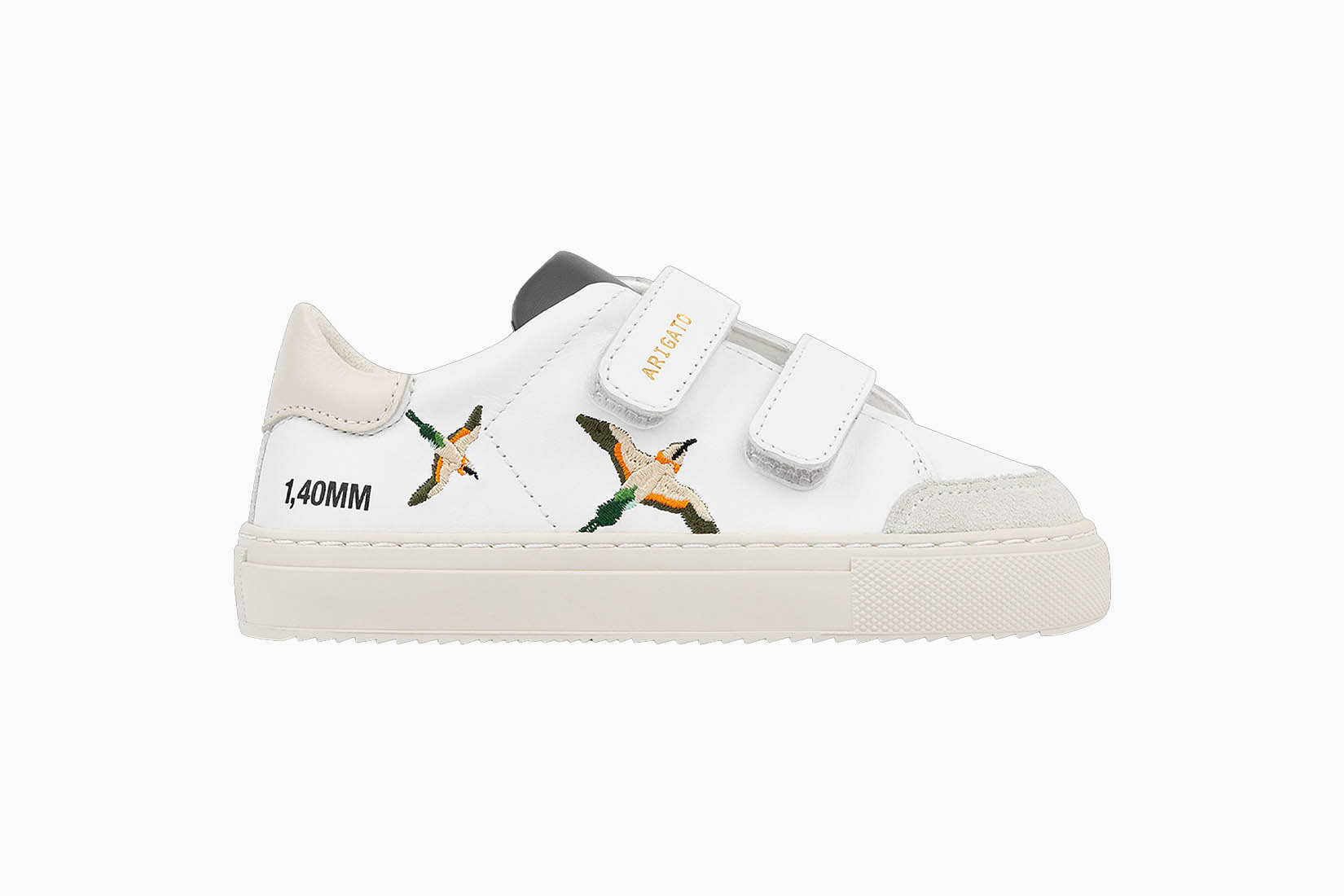 The Kids Clean 90 Triple Animal Straps will have you seriously considering starting an Instagram account for the child in your life, just to show off their fashionable fits.
These mini luxury sneakers are not only adorably small but also come with a minimalist silhouette, leopard print panels and the brand's signature gold accents. They're a pair to buy with some trepidation, though: gift these to a young boy or girl in your life and expect a request next year for Yeezy's or something similar.
Ages: Size UK 25 – 34
Gorjana Adjustable Bracelet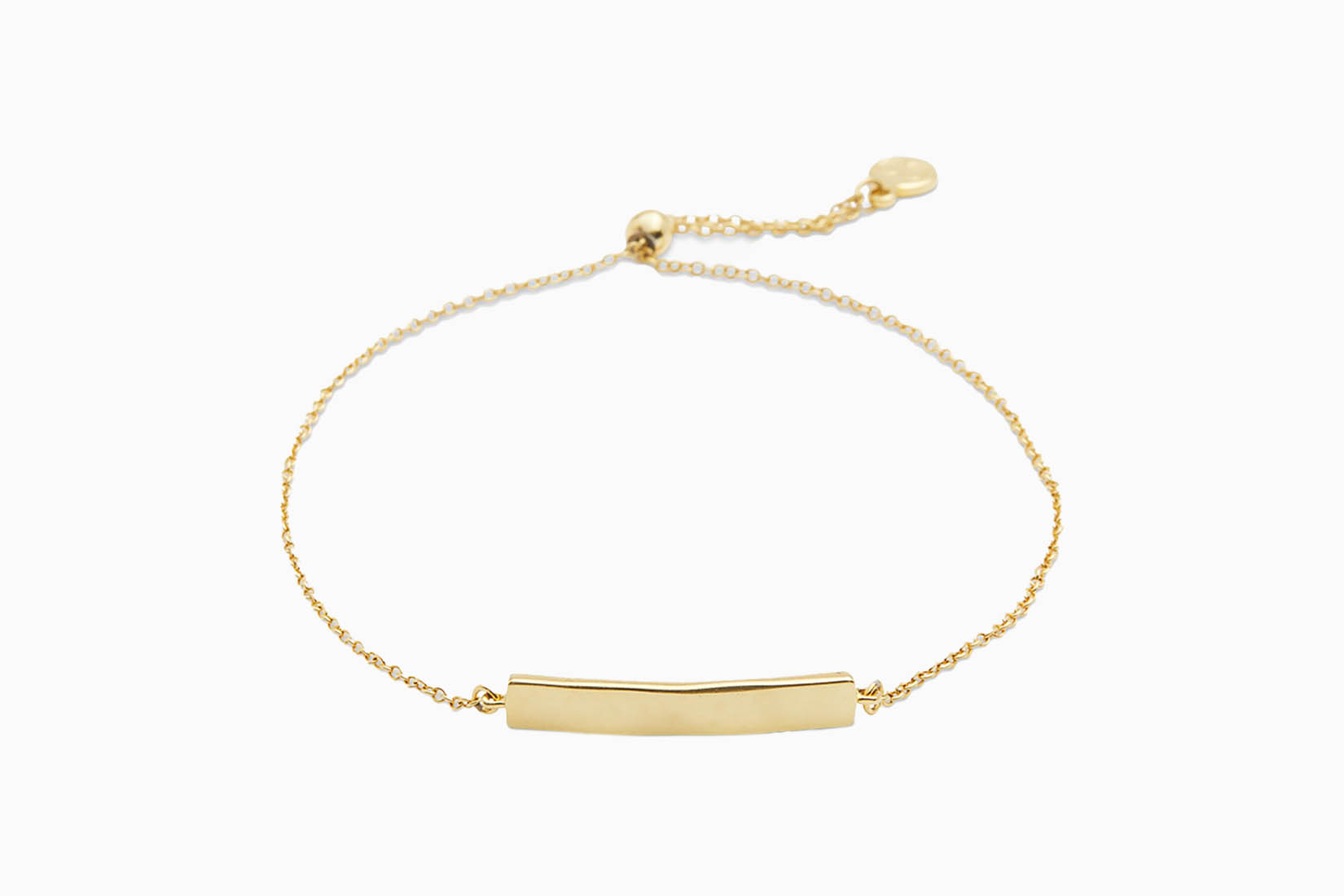 We've talked a lot about our favorite jewelry brands before but not all of them are quite so child-friendly. What that basically boils down to is the chance of jewelry getting lost, broken or somehow otherwise harmed. But Gorjana's Bespoke Plate Adjustable Bracelet is a great midpoint for something that's delicate and sweet without being overly expensive or liable for breaking.
Each of these bracelets comes with the opportunity for customization, so you can even go one step further with an engraved name on the side. It's perfectly dainty and ensures a much-loved, thoughtful gift for whoever's lucky enough to receive it.
Ages: 8+
Liewood Silicone Cups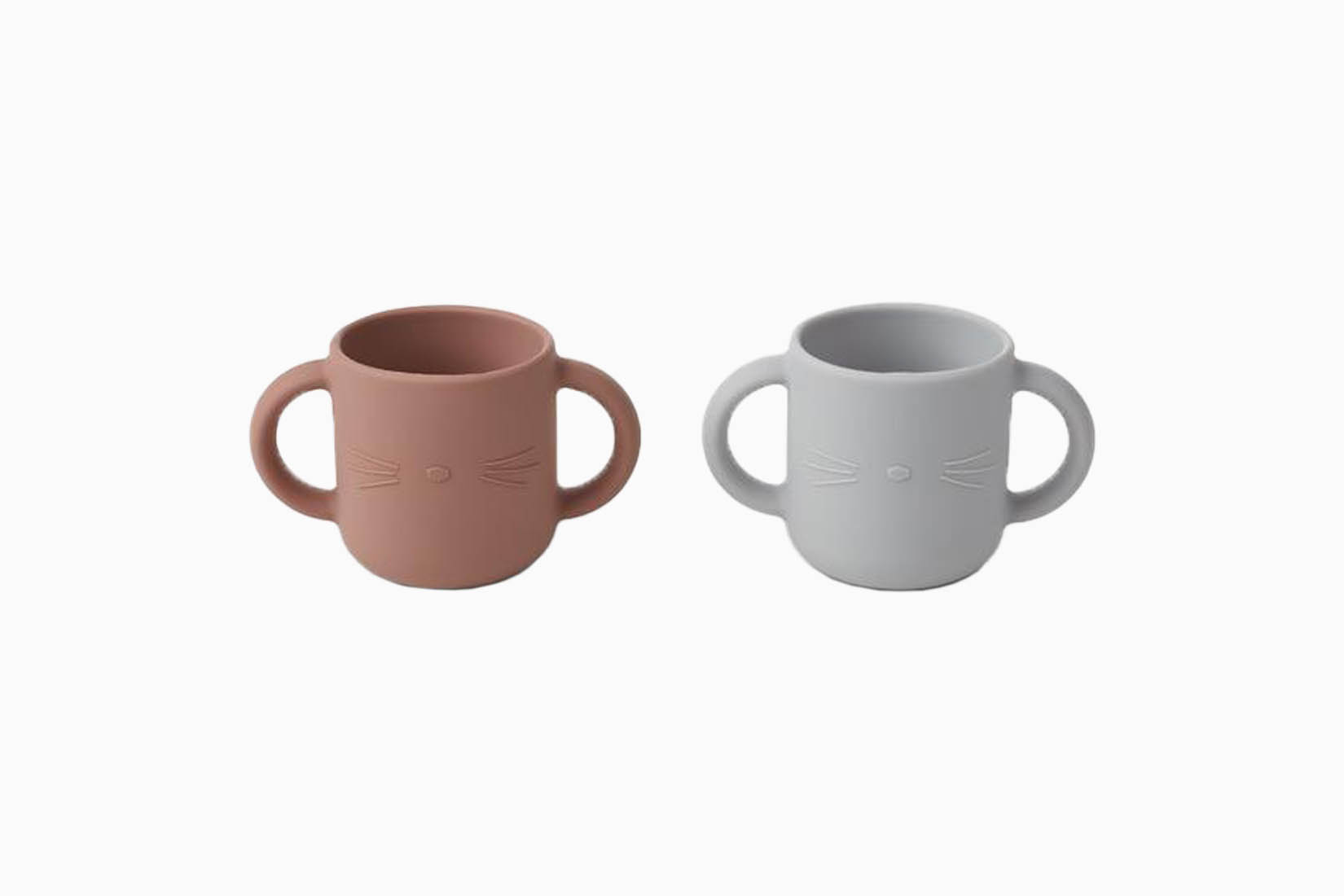 Liewood's Silicone Cups is the ideal gift for kids who know well enough not to throw everything they're given straight on the floor but also don't necessarily have the right level of motor control to not accidentally end up smashing the occasional glass.
A cute and tonal addition to your glassware drawer that's child friendly, these cups come with two holders and – hopefully – the promise of more liquid ending up being drunk rather than splashed on all nearby surfaces. If you have a child who's pushing for their independence, these cups add to that experience without breakages.
Ages: 4+
The best gifts for kids if money is no object
Now we're talking! The gifts below are more meaningful investments. These are the luxury gifts for the children who have everything and want nothing.
Below, our favorite luxury gifts for kids.
Best Choice Products Electric Car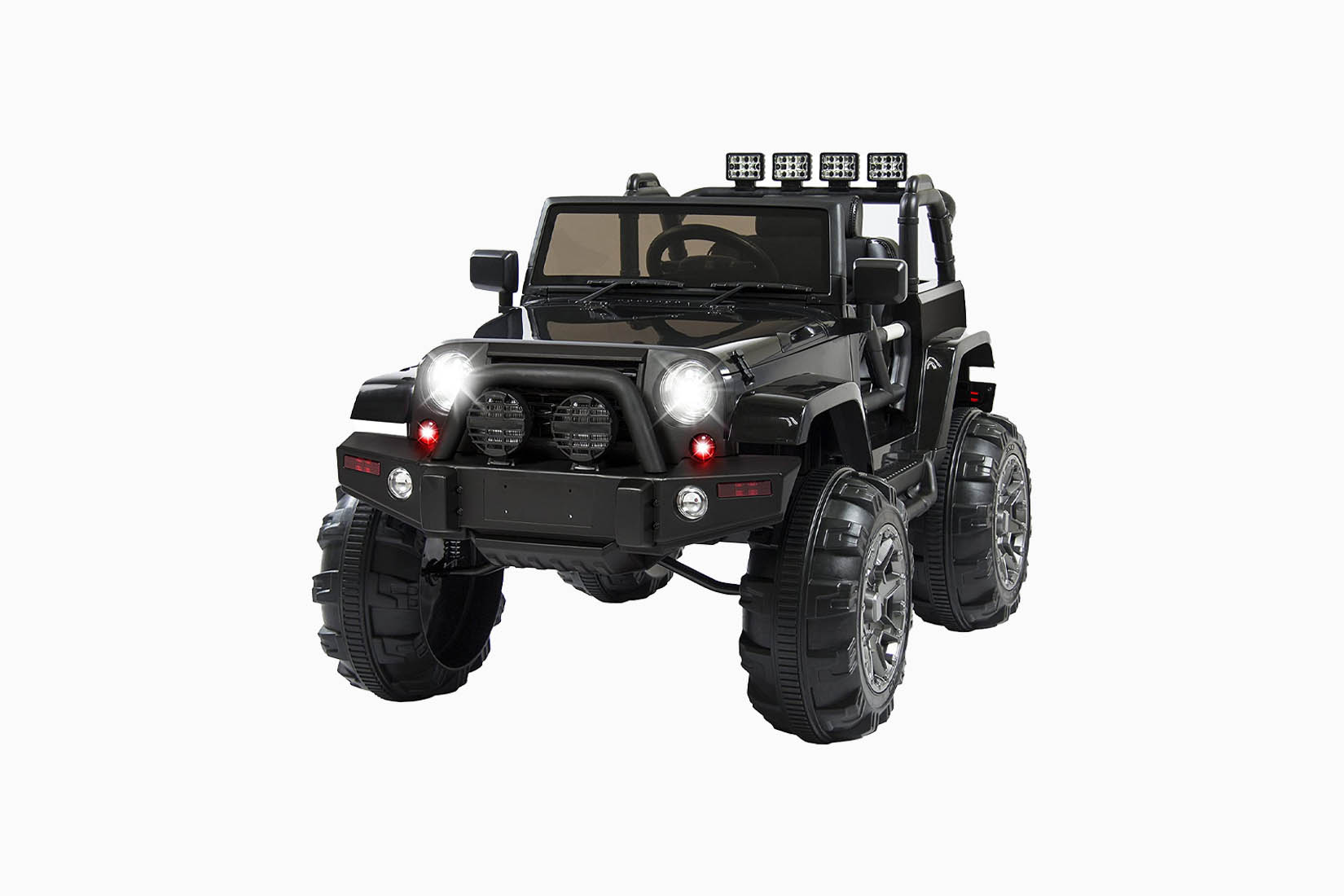 If you're looking to go all out during the next gifting season, there are a few failsafe options that all kids will love. One of the most popular comes in the form of Best Choice Products' Kids 12V Ride On Truck. With five different color options and a proper behind-the-wheel experience, it's the closest thing you'll find to independent driving for children of a young age.
Take your child on a wild ride with full control over the truck's driving features with a 3.7mph max speed that feels much faster on the road. What's even cooler is this electric car's built-in Bluetooth speakers, adding a musical element to playtime.
Check our round-up of the best electric cars for kids if you want to see other great options.
Ages: 3+
Bearaby Weighted Blanket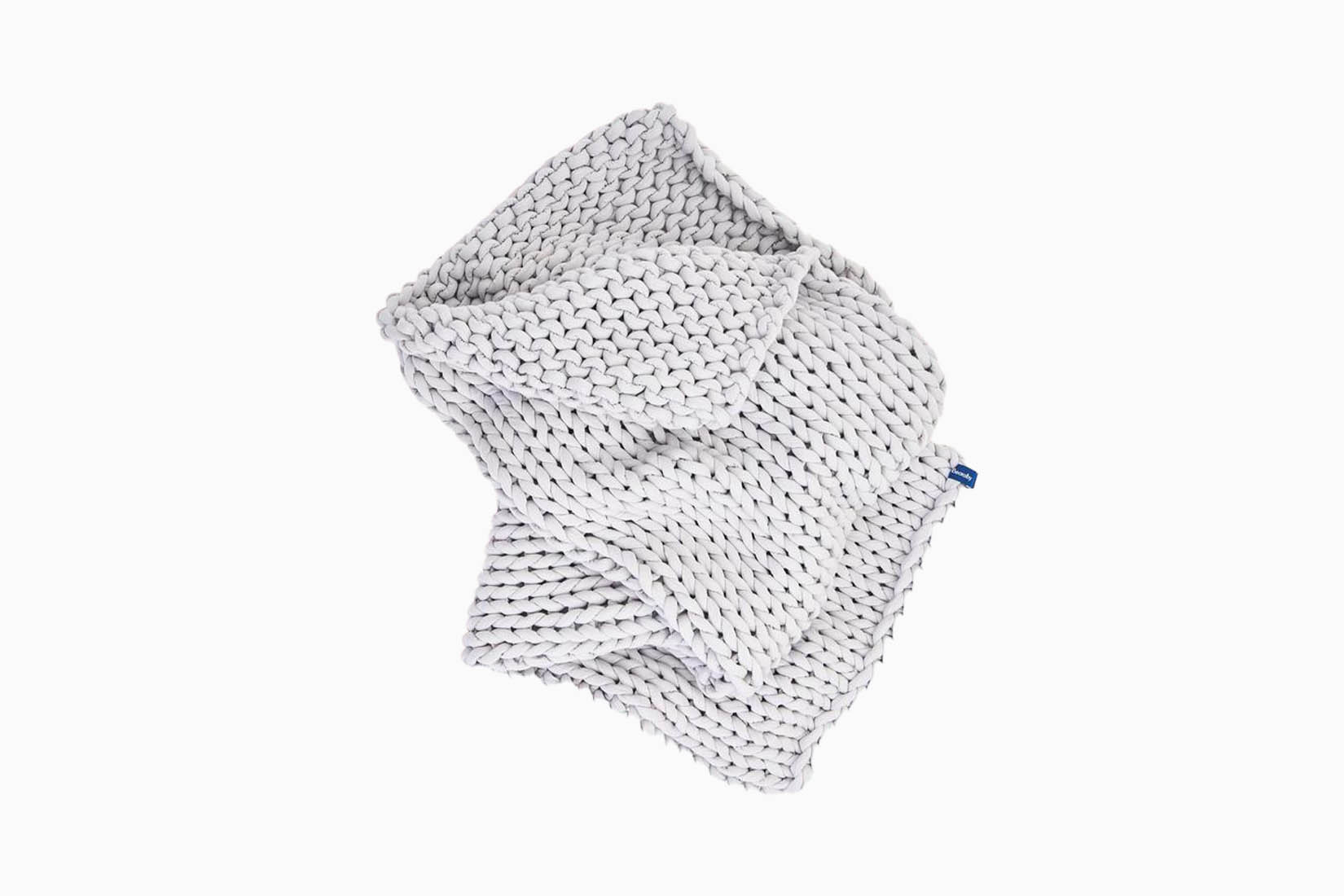 Weighted blankets promise a new realm of comfort for any anxious sleeper but many – due to their heavily weighted element – aren't suitable for kids. Bearaby's Nappling Weighted Blanket For Kids puts an end to that problem, with the arrival of a beautifully soft weighted blanket that ensures a consistent and relaxed night of sleep.
Perfect for any kid who struggles with nightmares or staying asleep, this weighted blanket offers a reassuring presence and comes in four soft shades. It's made from organic cotton and has a thick, knitted design – a real-life comfort blanket that takes the stress out of bedtimes each night.
Ages: 3+
MC2 Saint Barth Teddy Backpack
Trying to wean your little one of his furry-eared childhood friend? Say hello to the MC2 Saint Barth Teddy Backpack: a slightly more practical Mr Bear. The fluffy, smiley silhouette is just as comforting as their lifelong cuddle-buddy. While the spacious interior makes double-strapping lunch, sweaters and coloring equipment a lot less burdensome.
This teddy carryall has got your back in style and practicality. And you likely won't have to pick between following school rules and an upset child again.
Ages: 2-4
Sophia Webster Butterfly Rain Boots
Sprinkled with fairy dust, the glitter-covered silhouette speaks to endless Peter Pan-inspired adventures. And it doesn't hurt that the silvertone is versatile enough to pass off any outfit as well put together (even if you let her dress herself these days.)
Made from premium materials in the United Kingdom, these sparkly rain boots are sophisticated enough for a Buckingham Palace princess. And doubling up as a present for parents too, you won't have to beg her to put them on every time the weatherman forecasts showers. In fact, the only problem you'll have is getting her to wear anything else when the sun's out.
Ages: 5-12
Liewood Printed Blanket
Timelessly adorable, this is one she won't grow out of anytime soon. The duvet cover and pillow case set comes in a soft pink with contemporary geometric shapes. We promise that it's a whole lot more stylish than the highly coveted Barbie or Paw Patrol iterations. But she'll be equally enthusiastic to show off her new room decor to her friends.
Aesthetics aside, we love that this Liewood's bedding is made from 100% organic cotton. As one of the most sustainable fabrics in the industry, it's also lightweight, breathable and sumptuously soft. And curled up in this cute duvet set, we anticipate sweet dreams only.
Ages: 5-12
Gucci Vintage T-Shirt
As a godparent, if you've got a couple of forgotten birthdays and Christmas' to make up for, this precious Gucci shirt does all that and more. The simple white tee flaunts the iconic vintage Gucci logo with the signature equestrian-inspired red and green stripe. And the mother of pearl buttons along the seam finish off the retro look seamlessly.
Made in Italy from superlatively soft cotton, it's one to pass down to many generations to come. And starting them off on the right foot, this decadent designer tee may just inspire a family heritage of fashionable trendsetters. What better gift to give than that, right?
Ages: 0-3
Anthropologie Giraffe Stuffed Animal
Perhaps it'll inspire an interest in zoology. Perhaps it'll act as a co-conspirator against the boogie man. Perhaps it's the play partner they need. Or maybe you're just looking for an excuse to decorate your new nursery with this adorable stuffed toy. Either way, this giant giraffe is every child's dream playmate—and we may just have a soft spot for him too.
Standing at over four feet tall, this giant giraffe pulls double duty as a decor statement and everyday playmate. It's the perfect gift for baby-showers or birthday presents. And it's one that we see being passed down to many future brothers and sisters to come.
Ages: 0-10
Yesglasses Sunglasses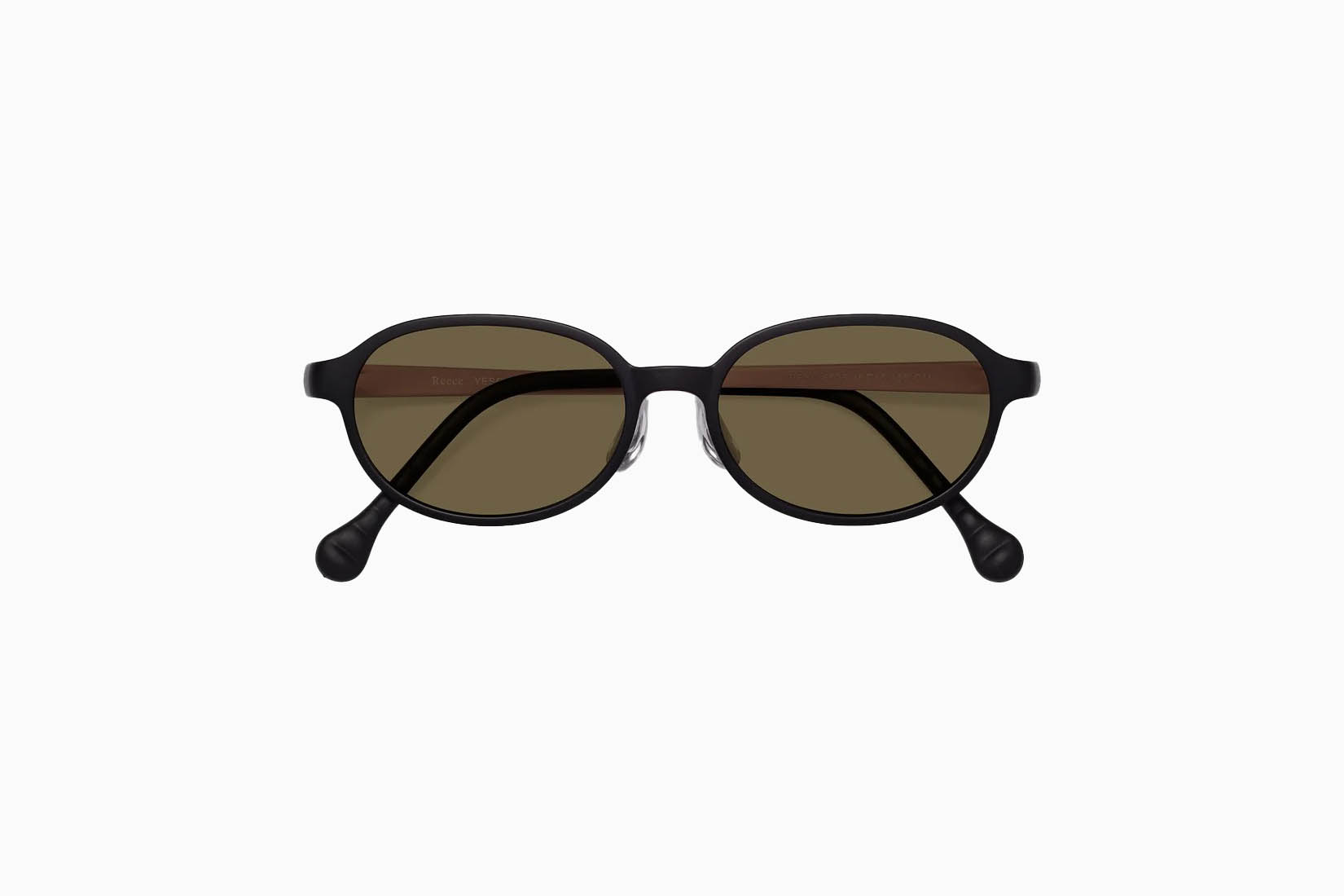 We're big fans of Yesglasses and the child-friendly glasses are arguably even cooler than the adult designs. These fun sunglasses fuse fashion with function in a way that's truly versatile and personalizable. The Reece is a durable, oval-shaped kids' frame that promises to withstand all of the delights of childhood.
A high-quality structure fuses with kid-friendly additions like a saddle bridge fit that will perfectly sit on your child's face and additional silicone nose pads for added comfort. They also come in five different frame colors and three different lens colors, all with sun protection and anti-reflective and anti-scratch coatings.
Ages: Pre-teens
Eberjey Night Time Set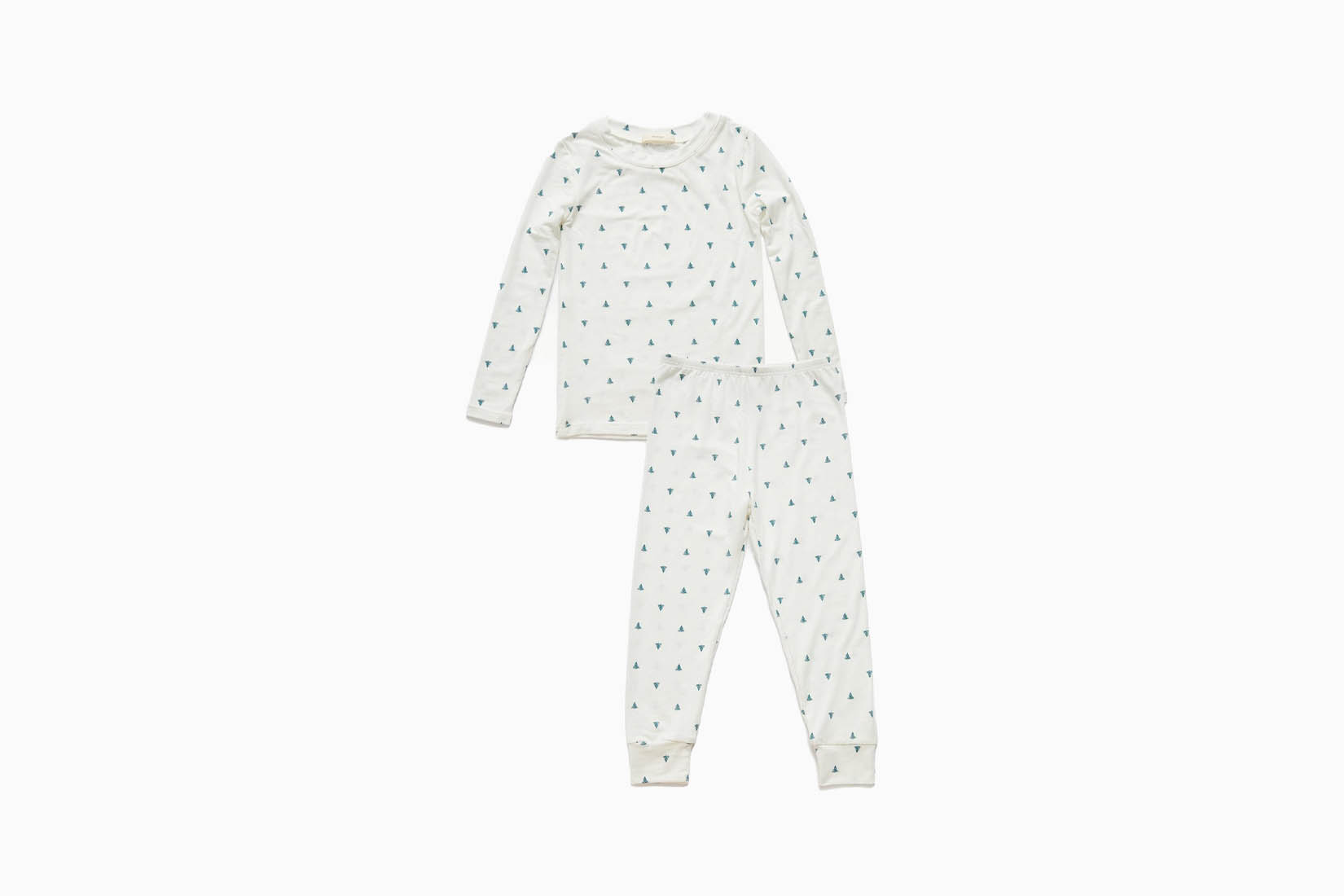 Eberjey's Gisele Sets are a soft, sumptuous and all-around comforting option for nighttime wear. These premium quality pajama sets are both stylish and soft, the sort you'll throw on fresh on Christmas morning and find yourself refusing to change out of the rest of the day.
Taking nighttime comfort to the next level, a pair of Eberjey pajamas is an evening essential. Available in sizes ranging from XS to XL and in a large range of colors, you'll want to buy a pair for the teenager in your life and then buy a matching pair for the rest of the family, too.
Ages: Teenagers
Barbara Sturm Beauty Set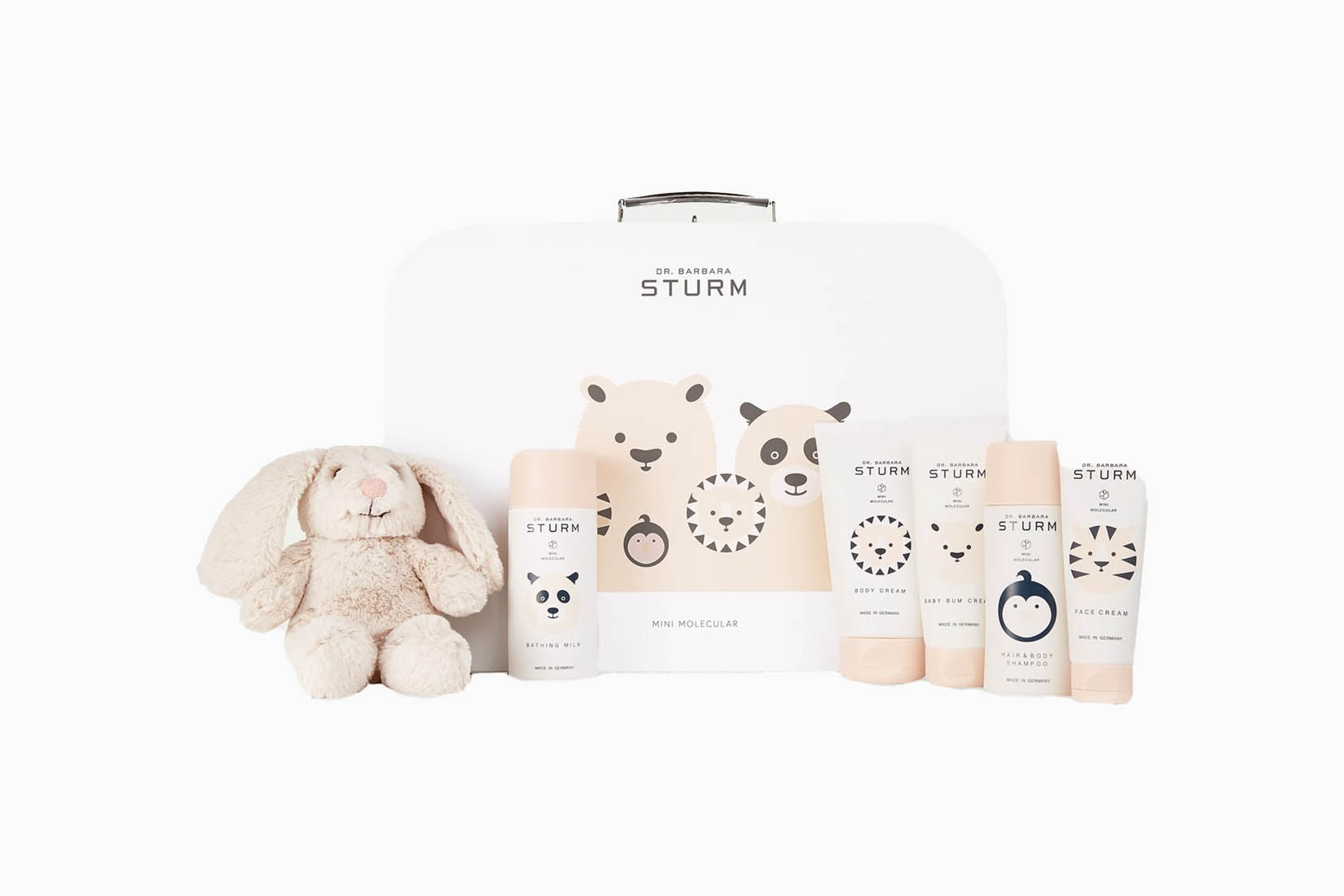 Skincare warrior Dr. Barbara Sturm is a big name when it comes to all things health and beauty and her new line extends to children, too. A great option if you're buying skincare for mum or dad and would like to continue the theme with children, this Baby & Kids Set comes in beautifully pastel shades and is 100% suitable for young skin.
It features a gentle, calming bath soak, almond blossom and jojoba oil shampoo, chamomile body cream and Baby Bum Cream to ensure every part of baby's body is soft and happy. It also comes with a super cute fluffy bunny toy.
Ages: Newborn +
Liewood Organic Blanket & Pillow Set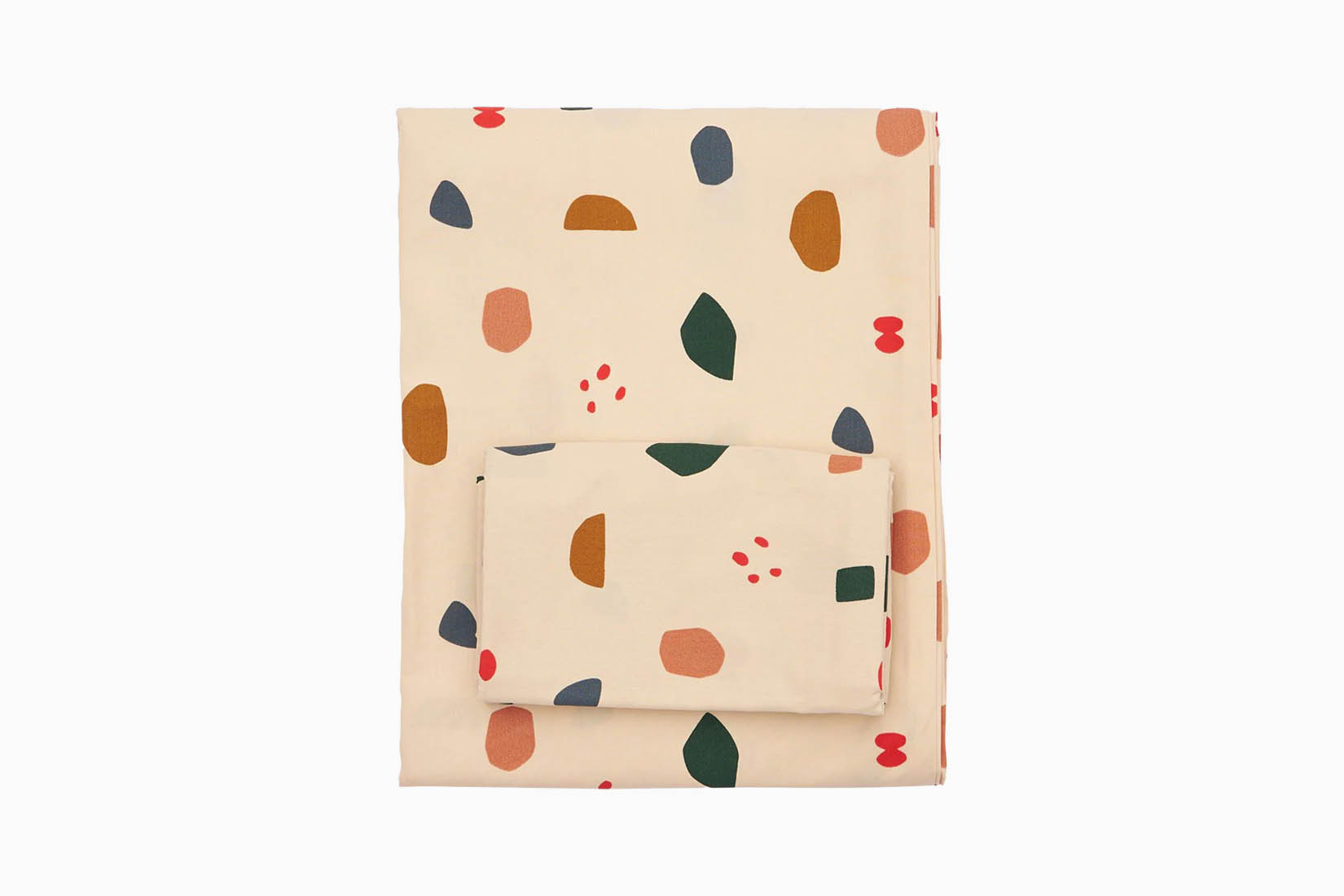 Liewood's Organic Blanket and Pillow Set comes in a range of neutral shades, making it a brilliant choice for boys or girls. It might be created for children but it's designed in such a pattern that adults probably wouldn't say no to adorning their beds with it either.
Seriously soft and made from organic cotton, it's a welcoming sight at the end of a busy day – the sort of blanket you'll snuggle up on and instantly find yourself heading off to dreamland. Including a duvet cover, a pillowcase and a dust bag, it's one of those gifts that's just as useful as it is enjoyable.
Ages: 2+
Reebok X Victoria Beckham Backpack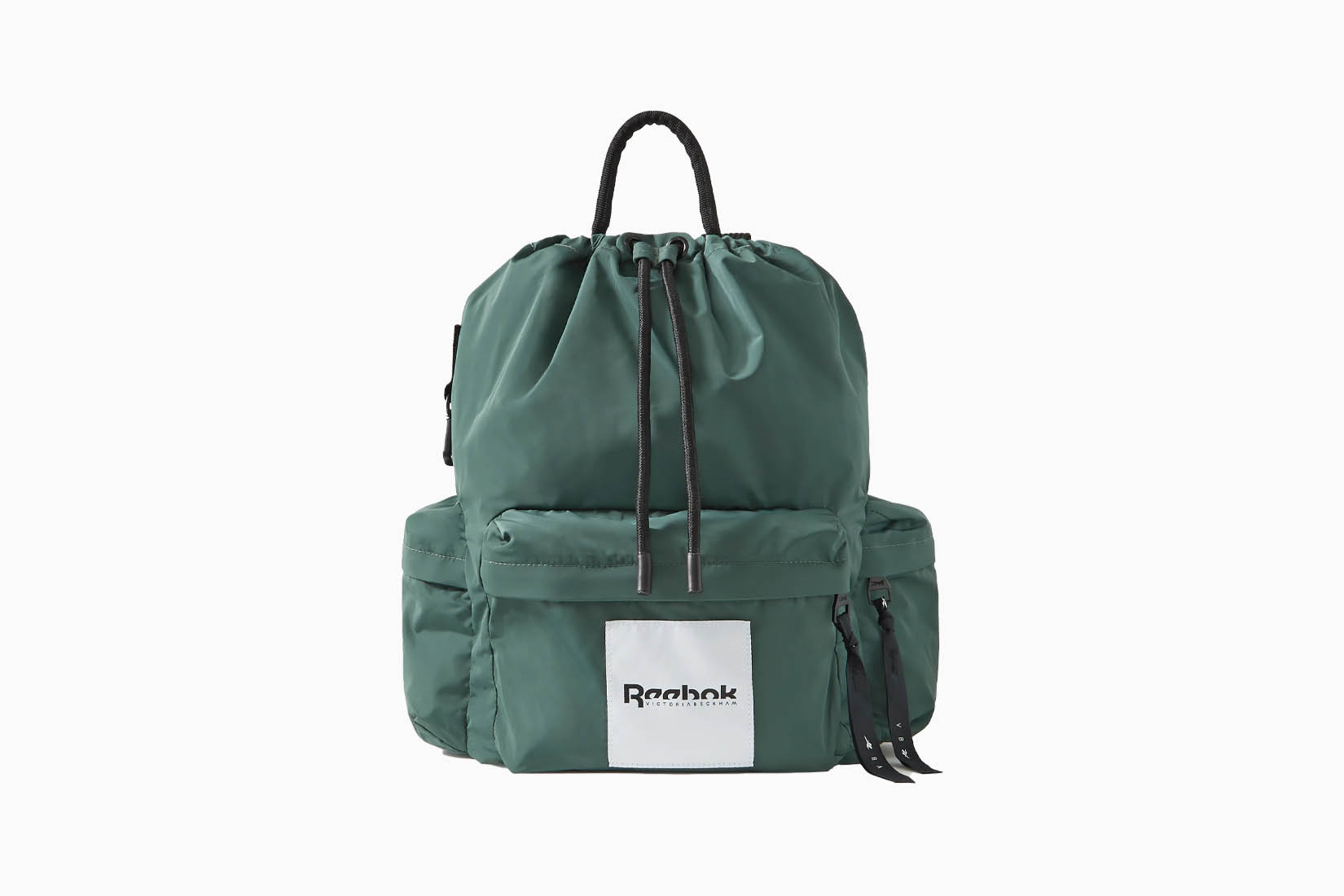 Any little girls (or boys) who love to play with mum's accessories will love having their own, miniature version to accompany on all kinds of outings. Child-friendly but suitably grown-up styled, this backpack by Reebok X Victoria Beckham comes inspired by the same line in a larger style.
A soft forest green color is a popular choice for kids and the lightweight design ensures it's a joy to wear rather than a burden on small shoulders. This backpack is fully lined to keep books, toys and fruit secure on all kinds of adventures, no matter where you're going next.
Ages: 5+
Tous Earrings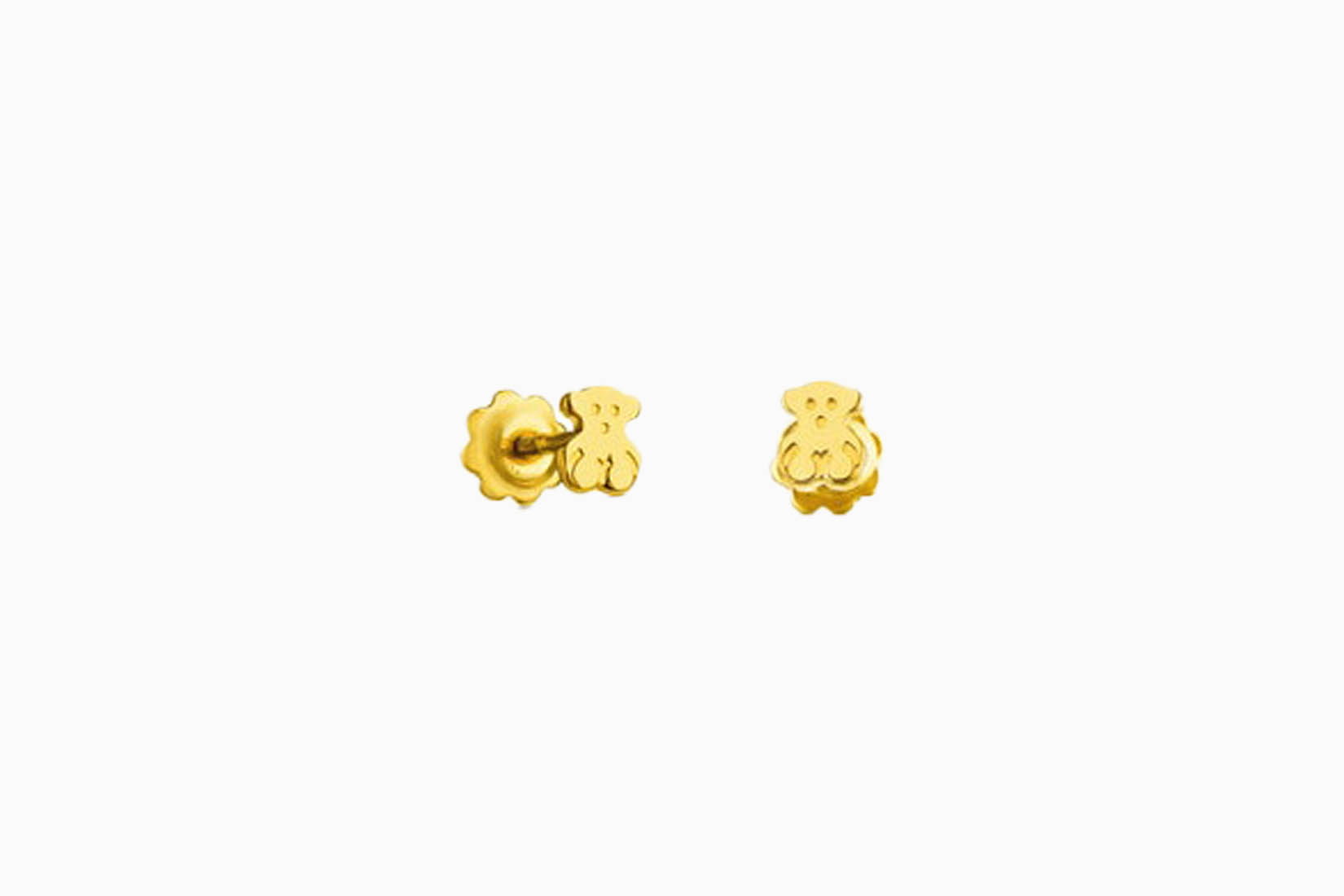 Looking to give the child in your life a thoughtful gift? Choose a pair of earrings, like the gold TOUS Baby Earrings, for a personal gift with a unique touch. These earrings are designed with children in mind, thanks to their understated design and cute bear faces.
But it's a child-friendly design with adult-friendly quality: these aren't cheap earrings that can cause irritation or leave marks behind. Instead, these bear earrings are made from 18kt yellow gold; a quality pair that they'll treasure long after they've eventually grown out of the design.
Ages: Toddlers upwards
Wigiwama Teepee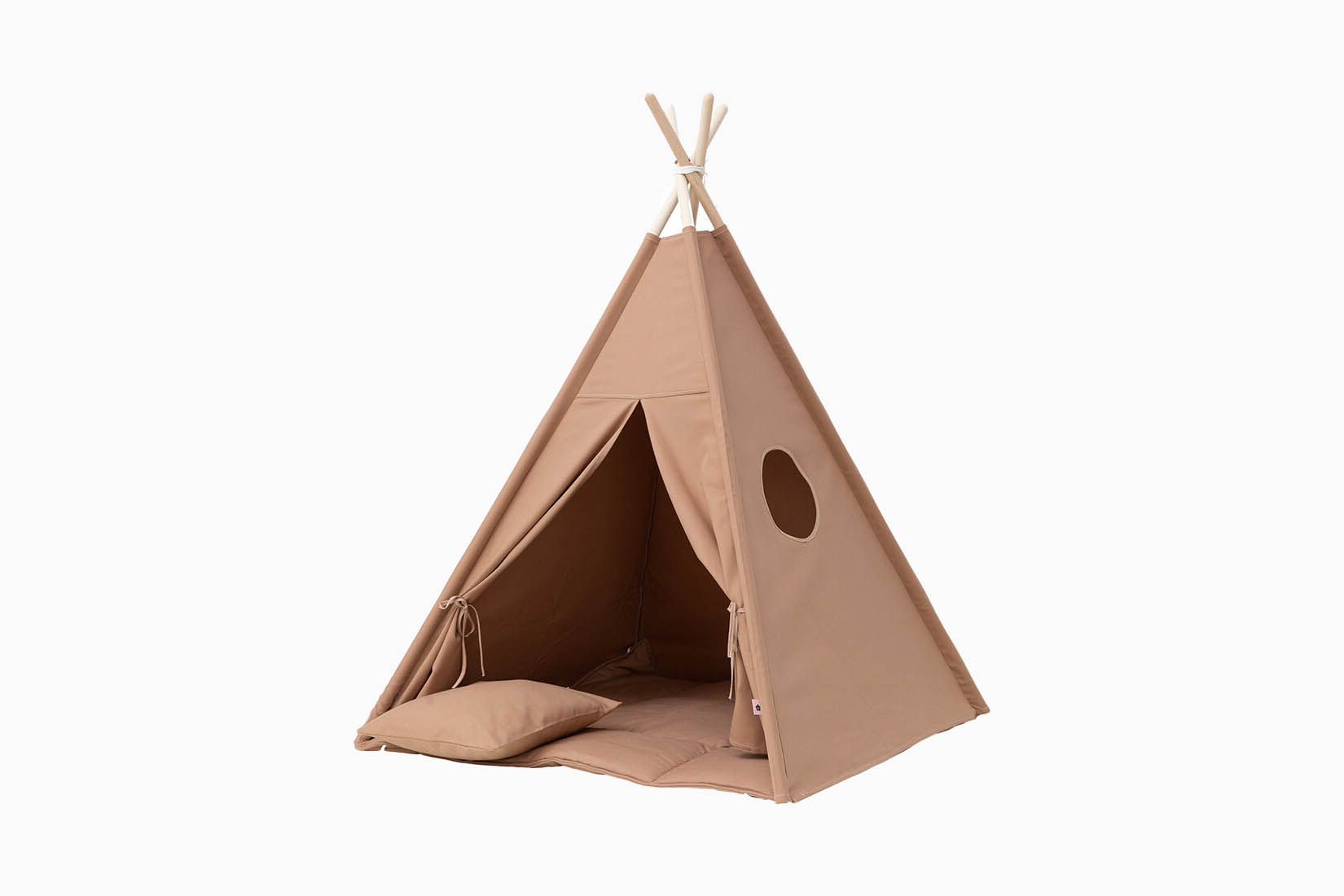 A treehouse might not be a year-round friendly option but that doesn't mean playtime and secret hideouts should be restricted to the summer months. Bringing outdoor fun inside, Wigiwama's Teepee Set is fun and playful, the ideal size for young children to escape into with their imagination without taking up too much space of the outside world.
This Teepee Set also comes in both colorful and muted shades, designed to blend in with the rest of your playroom or nursery's existing color scheme. Both a play mat and cushion cover are included and it's fully hypo-allergenic on the inside.
Ages: Toddlers and young children
Away Suitcase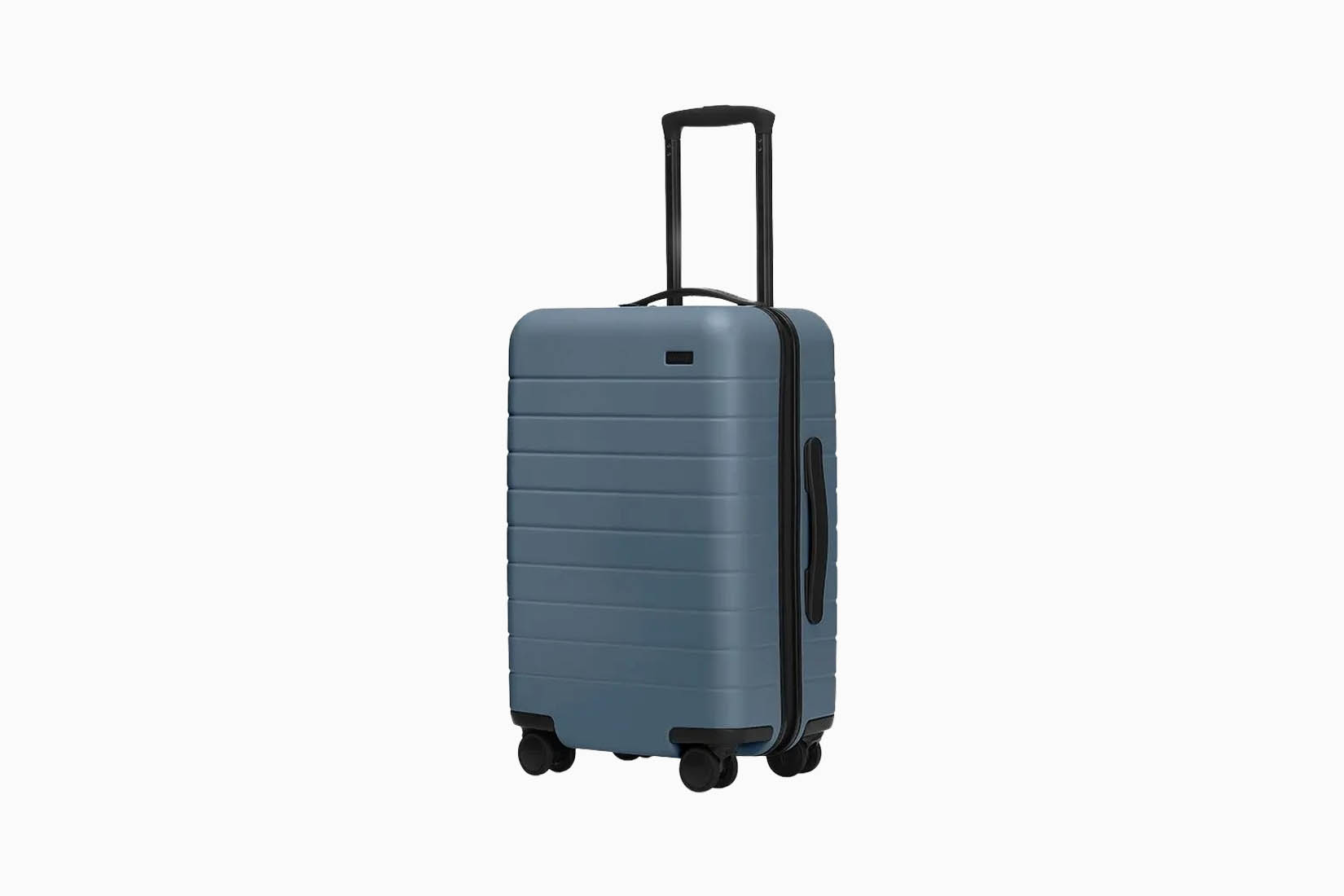 Stylish luggage is the gift that keeps on giving and Away's The Carry-On Suitcase promises just that. The best way to inspire (or nurture) the travel bug in kids, Away luggage is designed to last no matter how many planes, trains or automobiles it's taken on.
The Carry-On comes in different color options and is the perfect size for most airline's hand luggage requirements. It comes with a durable polycarbonate hard shell and 360° spinner wheels; perfect for racing from the car to the hotel or strolling between cities if you're traveling with an older child.
Ages: 12+
Buyers guide to the best gifts for kids
Struggling to decide what to buy for the child in your life? It's a justified concern: children don't tend to have the same subtlety when it comes to feigning joy about a not-so-loved present. But, along with our gift guide, here are some handy tips to keep in mind when it comes to buying the best gift for kids.
Age safety
Something that's likely to be just as much of a concern to the child in question as it is for their parents, you'll want to ensure your kids' gifts are age-appropriate. That means no small parts or things liable to be eaten for very young children and a careful double check even for slightly older kids that their present can't accidentally be swallowed.
You'll also want to check if the present is age appropriate from an enjoyment perspective. Buy a gift for a child that they would have played with a few years ago and you might just find it disregarded after a quick glance. It's not so much of a hassle if you buy a gift for a child that's slightly too old for them – as long as it's not something that's edible or has an upcoming expiry date.
Developmental age
What's better than a toy you can play with? A toy you can play with that's also got an educational element. One of the best ways to score top points with parents and an easy way to claim credit for any child genius that may reveal itself in the future, a sensory development toy will help bring a child's imagination to life without any kind of conscious learning.
Materials
Most gifts for children are, as you'd expect, child-friendly anyway, but it's worth double-checking fabrics and beauty products to ensure they're suitable for young skin.
When buying clothes for children, you might see OEKO-TEX certification on the label, which means the fabrics are free from all known allergens and dangerous chemicals. Similarly, when buying bath or beauty products, choose ones made from natural ingredients wherever possible.
Color
If you're buying gifts for young children, bright colors almost always go down best. Bright shades – especially when incorporated into prints or patterns – are great for baby development. If you're buying for an older child, there's more room for experimentation.
Obviously, the easiest way to choose a color is to ask the parent (or the child yourself if possible) to see which would go down well. A rise in sustainably created presents for kids also means you won't just find the same garish bright shades nowadays, if the children in question would prefer muted tones or soft creams.
Durability
Let's face it: most kids already have too many toys. And while it's easy to pick out a new game or fluffy toy, there are so many sustainably made options available that we'd recommend going for something else, instead. The benefits? Not only will sustainable Christmas gifts likely have much longer shelf lives than their plastic counterpart, but they're also likely made from healthier ingredients, making them safer toys to play with.
Frequently asked questions about the best gifts for kids