Argentinian-born Diana Verde Nieto, Co-Founder and CEO of Positive Luxury, is at the forefront of a sustainable and ethical transformation in luxury. With 73 percent of Millennial consumers willing to spend more on brands that are environmentally or socially conscious, high-end retailer Positive Luxury is well-positioned to capture a growing audience of affluent consumers online.
Digital is transforming luxury retail, but Positive Luxury is much more than a high-end online store. With the Butterfly Mark award, Positive Luxury recognises premium brands that have a positive impact on people and the planet.
Diana Verde Nieto is first and foremost an engaged business leader with a strong environmental vision. Trained in 2007 by Al Gore at the Alliance for Climate Protection, Diana is now an advisor to the British Fashion Council, the House of St. Barnabas and the European Chapter of Conservation International. She has been honoured by the World Economic Forum as a Young Global Leader and sits on the Sustainable Development Goals Advisory Council.
Diana was inspired to create the Butterfly Mark after presenting a Lifetime Achievement Award to Sir David Attenborough at the International Green Awards Ceremony in 2010. Sir Attenborough told Diana the story of the British blue butterfly that disappeared from Britain in 1979 but was later brought back thanks to the intervention of a dedicated group of people.
Diana Verde Nieto decided to use the blue butterfly as an emblem to award brands that are positively impacting their environment. In 2011, Diana teamed up with Scottish entrepreneur Karen Hanton MBE, founder of JustAddRed and Toptable, to launch Positive Luxury. The website helps consumers discover and buy brands that are awarded the Butterfly Mark.
Positive Luxury taps into the affluent Millennials' appetite for sustainable luxury brands by providing credibility and reassurance to consumers seeking an authentic experience. With over 100 luxury brands from fashion, beauty, jewellery, travel and lifestyle being awarded the Butterfly Mark, Positive Luxury's users can shop with confidence.
Diana Verde Nieto: Sustainable luxury drives online retail growth
Luxe Digital: Hello Diana, thank you for your time. It's a pleasure have you on Luxe Digital. Can you please start by telling us what Positive Luxury is?
Diana Verde Nieto: Positive Luxury is a digital experience platform that brings together mindful luxury lifestyle brands across fashion and accessories, travel, jewellery and watches, and beauty. It's a place for consumers that care to shop, learn and be inspired.
I've always been passionate about human rights. I grew up in a dictatorship in Argentina, and I always rejected those principles of leadership and the lack of transparency within the
government. Throughout my career, I have aimed to combine business with ethics, as I think businesses can be agents of change if they are a force for good.
In the news, the word 'sustainability' almost always has negative associations. People rarely talk about the amazing work that brands are doing in this area. We felt it was time to change the dialogue – and thought it was time to reward brands for the steps they are taking and to champion the leaders of responsible business. That's why I created Positive Luxury with my co-founder Karen Hanton MBE, Founder of TopTable. Karen is a tech pioneer – and with her knowledge of the digital world combined with my sustainability background, we created the interactive Butterfly Mark to disrupt the sector. The Butterfly Mark enables consumers to find out what brands are doing in relation to social and environmental responsibility at the point-of-sale.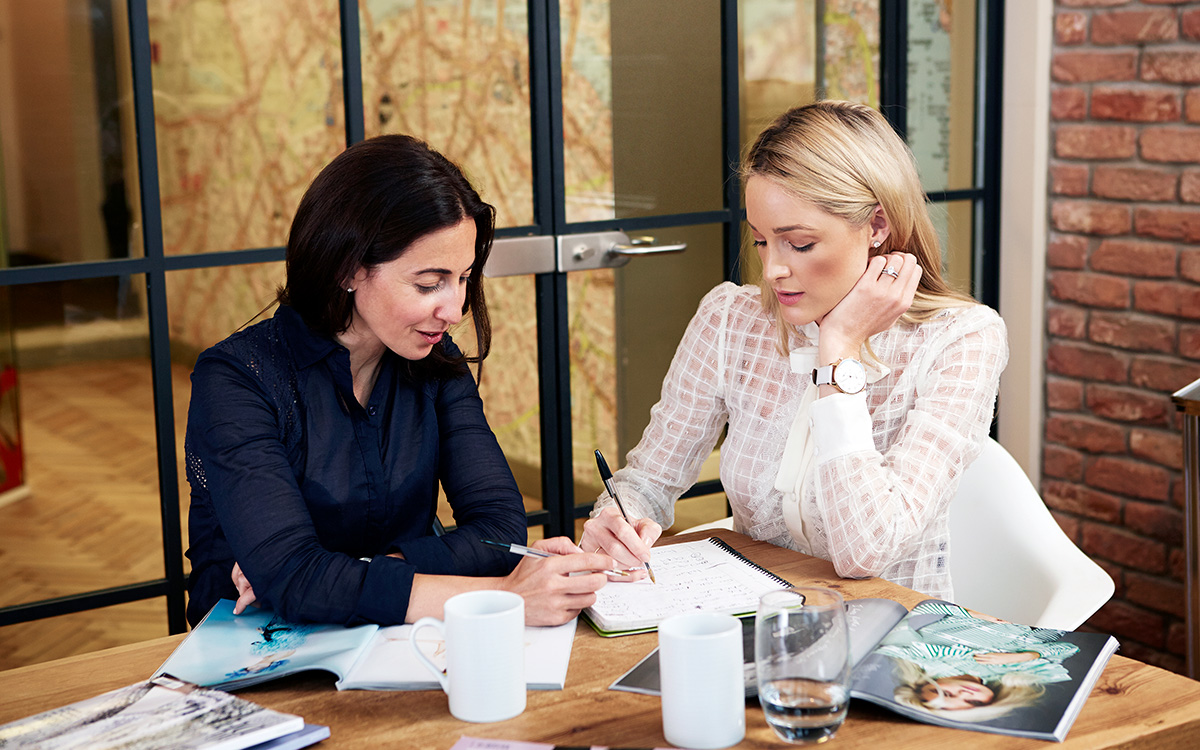 Luxe Digital: So who are your typical users and what are they looking for when visiting Positive Luxury?
Diana Verde Nieto: Our users come to Positive Luxury to explore brands that are doing better for people and the planet – and learn how they're doing it.
We've really seen a shift in people becoming more interested in responsible practices. We know that Millennials, for example, view themselves as global citizens with a responsibility to live sustainably, and advances in social media have allowed them to find like-minded individuals and mobilise around causes that matter to them. We're seeing that brands that are able to operationalise sustainability and communicate that action will build a powerful community of advocates – and position themselves as leaders in their field for years to come.
We've found that Millennials are looking deeply into the brands and companies they purchase from, expecting full disclosure of their values and practices. Luxury brands have realised this, and are taking strive to share powerful, authentic experiences in the digital world, building trust and brand loyalty and a "community" both in the physical and digital space, which is crucial to have in order to reach success.
Our 2018 Predictions Report distils some of these key trends and insights in detail and discusses how understanding the influence of emotions is essential to understanding the consumer of tomorrow.
Regarding trust, we have a robust application process. Before being awarded the Butterfly Mark, all companies go through a stringent screening process that looks holistically at sustainability. The application is devised with the help of our sustainability council of experts and evaluates companies holistically across five areas: governance, social framework, environmental framework, community investment and innovation.
To become a Positive Luxury brand, companies must respond positively to a minimum of 80 percent of the questions, along with providing supporting documents. If they don't reach the requirements, we will then work with them on the areas they need to improve before awarding them the Butterfly Mark. Every two years, brands need to reapply and go through the process again so we can make sure there is constant improvement across all areas.
Luxe Digital: How do you translate a premium luxury experience to an online marketplace like yours?
Diana Verde Nieto: That's an interesting question. There have recently been amazing technological advances which are having a huge impact on every sector of luxury, from retail to manufacturing, as well as bringing about the subtler cultural shift we've been talking about.
By curating experiences on our online platform across the lifestyle sector – from wellness retreats to exclusive opportunities to meet the designers – we're enabling luxury brands to craft memorable experiences with a unique spin on positive living that has not previously been available. In creating these mission-driven experiences, luxury brands are able to develop a close relationship with a consumer who is far more engaged than if they were simply to browse items online or in-store.
Luxe Digital: In your career of 10+ years, how has the luxury industry changed?
And in particular, how have digital and sustainability impacted the way brands should position themselves?
Diana Verde Nieto: I always felt that luxury was the way to inspire the mainstream to do better as most luxury brands are already leading the way in the area of social and environmental sustainability. This is because their DNA is built on a commitment to some core principles and values – quality, craftsmanship, service, design, and a careful selection of resources.
Nowadays, thanks to the shifting values of Millennials, luxury brands are more inspired than ever to do better and to communicate about what they do, even if they are small actions. It is this consumer power that has helped drive the conversation and to make this relevant today.
Perhaps the most important concept luxury brands must master is that CSR can no longer be skin deep. Sustainability must provoke an emotional response. "I'll buy a local product because I care about reducing my carbon footprint" or "It's not enough that my moisturizer makes my skin glow; it also has to be cruelty-free" are the type of statements becoming commonplace for today's globally-responsible consumer.
Luxe Digital: What are the biggest challenges and opportunities that the digital transformation of the luxury industry brings for sustainable brands?
Diana Verde Nieto: When it comes to sustainability, digital technologies have facilitated both the involvement of customers with brands and the coalescing of like-minded individuals into 'movements' and subsequently communities. There are implications for brands arising from both.
For example, social media-hosted user-generated content (UGC) is often used in online purchase decision making. However, the process of individuals sharing and engaging with the views of others helps build a community.
As trust evolves, brands need to have a point of view in addition to a point of difference, where the values match those of their customers – they need to create authentic content about their brand.
Luxe Digital: What's your vision for the next 5 years in the industry? What are you most excited about?
Diana Verde Nieto: My vision is for our Butterfly Mark to become the globally recognised trust mark for the luxury lifestyle industry. We want consumers to be able to see the Butterfly Mark on brand websites and luxury retailers across the world and know, at a glance, which brands they can trust and which brands are making efforts to improve their social and environmental footprint.
I'm excited to achieve this by expanding the business internationally and launching some amazing new retail partnerships. We will also award the Butterfly Mark to even more responsible companies and continue to introduce our growing community of brands to the increasing wave of consumers who care.
In terms of my vision for the future, I want sustainability to be adopted in the same way that technology has – it's no longer something you think about, it's a part of everyday life.
A few words that say a lot: