It's fair to say that most whisky brands launch with the intention of offering something different in the already thriving whisky market.
Maybe that's a seriously smokey blend, filled to the brim with charred notes and endless depth. Or perhaps that's a whisky aged in an innovative variety of barrels. Or, maybe even, in Monkey Shoulder's case, the gap in the market comes in the form of selling whisky to non-whisky drinkers.
Everyone likes a challenge, and it's fair to say that Monkey Shoulder not only accepted that particular challenge but also took it, ran with it, and reimagined the whisky industry into something far more open-minded and progressive.
Monkey Shoulder never set out to be the new whisky for connoisseurs. Instead, it set out to bridge the gap between those with an interest in whisky and those who actively enjoy it. A starter whisky, of sorts, with enough character and taste, to stand out in taste tests and to win over everyone from novice drinkers to professional mixologists.
This lighthearted, light-colored and deliciously enjoyable brand offers something different in the world of whisky: a bottle designed as a mixing spirit, filled with zesty orange, vanilla, honey, and spiced oak notes that's consistently applauded for being a top choice.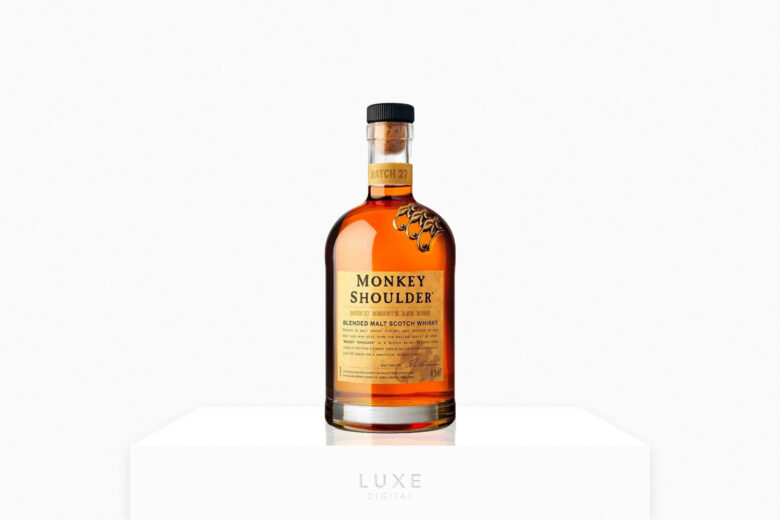 Monkey Shoulder Whisky price and bottle sizes
| Bottle | Size | Price (USD) |
| --- | --- | --- |
| Monkey Shoulder Blended Scotch | 750 ml | $36 |
| Monkey Shoulder Blended Scotch | 1750 ml | $65 |
Fun to its core for all kinds of drinkers
Don't immediately disregard Monkey Shoulder if you're already a firm fan of the whisky industry. While this bottle might be great for beginners, it's also a popular choice for those with a nose for a good bottle and a great blend.
The secret? Monkey's Shoulder might be young, wild, and carefree but its heritage stems from a far longer line of prominent brands. Together, it promises the appeal of a fresh new face to the industry, thought up by those who've already been living in it for decades.
Monkey Shoulder is made by the same family that's behind some of the most popular names in the spirit industry: William Grant & Sons. Still family-owned today, William Grant & Sons has been distilling some of the finest Scotch whiskies since 1887. That's a lot of stored history to bolster any up-and-coming brand.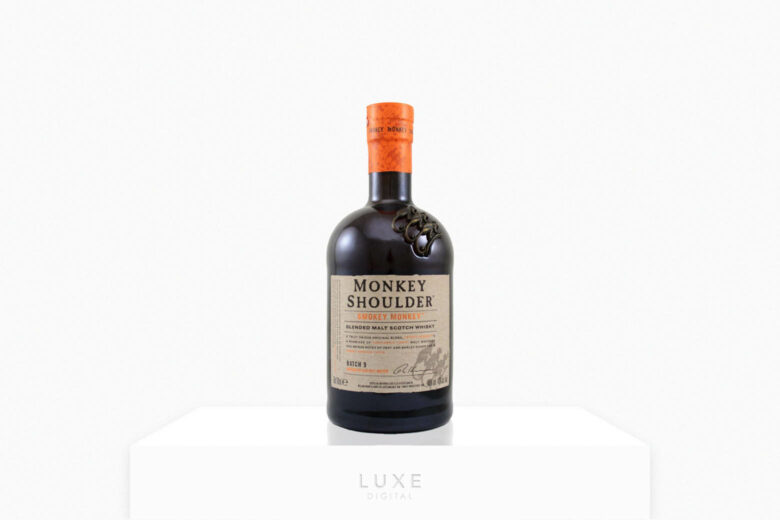 Even if you haven't personally sampled this brand, you've almost definitely tried one of its siblings: Hendrick's Gin, Glenfiddich Scotch, or Tullamore D.E.W. Irish whisky, to name just a few.
And, although it may be a blended whisky, it's one filled with plenty of depth and knowledge. Its path started with an exclusive blend of three popular choices, Balvenie, Kininvie, and Glenfiddich, before demand outweighed supply and changes had to be made.
Some trial and error occurred and, after deciding to keep those three whiskies as the base, with a few others added in for good measure, a final blend was born.
That's a blend you'll spot on the sides of the bottles or perhaps elsewhere in the industry: Batch 27. Named as such due to a bit of simple maths: three single malts per blend and nine casks for every single malt. Multiply them together and you arrive at 27. 
And its name? That stems from yet more history. This exclusively malt-made whisky incorporated an old whisky term. A Monkey Shoulder was the term used for maltmen who injured themselves after too much repetitive action at work.
The process of hand-turning the grain on the malthouse floor and throwing it over one shoulder with a wooden shovel was most definitely a painful one. But, while a Monkey Shoulder was something you'd want to avoid back then, nowadays it's something that'll make your eyes light up when you see.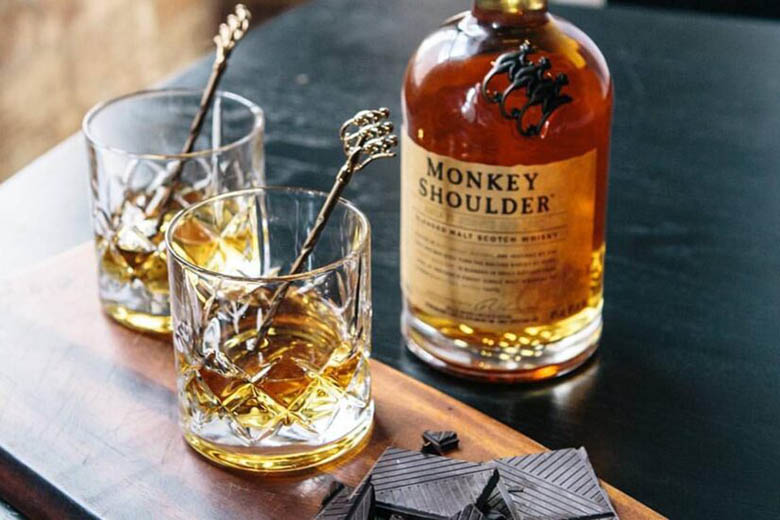 How to drink Monkey Shoulder Whisky
Monkey Shoulder pretty much looked at the whisky industry as a whole, turned its back, and came up with its own unique way of drinking whisky.
Everything about this brand is fun, youthful, and energy-infused, which means drinking it comes with plenty more character and entertainment than your standard bottle of this spirit.
Designed as a mixing spirit, you probably wouldn't choose this bottle to drink straight. There's nothing stopping you and, with its artful blend, it's not one you'd shy away from sipping straight. But it's one you'll enjoy far more if you mix it up a bit.
Whisky snobs may turn their noses up at blended whiskies but Monkey Shoulder proves to be a popular spirit all around. Bartenders often choose it for their whisky of choice, noting it for its underrated appeal, versatility in mixed drinks, and all-around impressive quality.
It's also one that scores highly on a professional basis, which means it pretty much always goes down well. With that in mind, there's really no wrong way to drink Monkey Shoulder.
Do as the pros do and start your experience with a brandy snifter glass and fireplace, or grab your friends and a range of interesting long drinks, glassware, and accompaniments and embody the spirit of Monkey Shoulder together.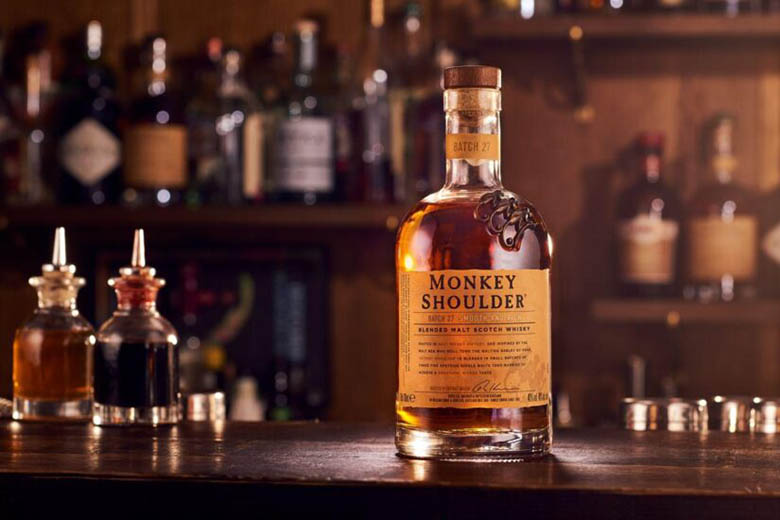 The best cocktails to make with Monkey Shoulder Whisky
Monkey Shoulder is arguably the best whisky out there if you're looking to make cocktails. This spirit was actively designed to be incorporated into the most innovative, interesting drinks around, which means the options are endless when it comes to mixing Monkey Shoulder into your favorite cocktails. You'll see some of our top choices below.
Ginger Monkey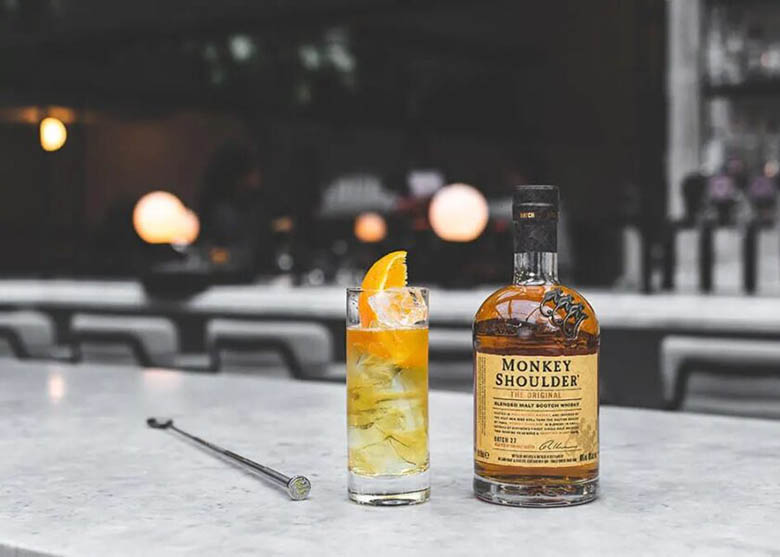 Ingredients:
50 ml Monkey Shoulder
120 ml Dry Ginger Ale
1 Orange Wedge
Cocktail recipes: Monkey Shoulder as a brand is often spotted pulling together a Ginger Monkey, which they often also call an "OMG" (Orange, Monkey, Ginger). To make, fill a long glass with a handful of ice before pouring in the Monkey Shoulder and dry ginger ale. Then, stir gently and garnish with an orange wedge before serving.
Lazy Old Fashioned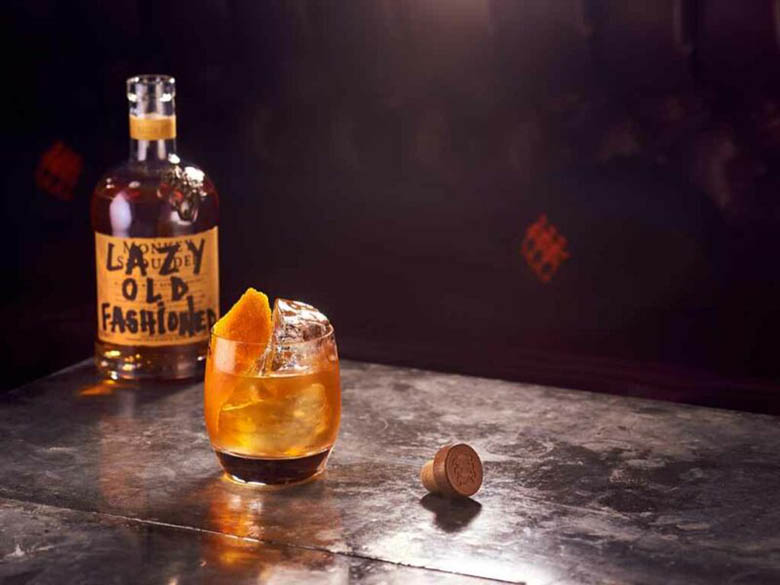 Ingredients:
50 ml Monkey Shoulder
10 ml Sugar Syrup
2 Dashes Angostura Bitters
Orange Zest and Twist for garnishing
Cocktail recipes: The best thing about this Old Fashioned is the fact that it's designed to be mixed up in a batch and pulled out of the fridge whenever the mood arises. To make, mix Monkey Shoulder, sugar syrup, and angostura bitters in a glass or cocktail shaker before adding more ice until diluted. Then, strain into a fresh glass and add the orange zest, and twist before serving.
Monkey Colada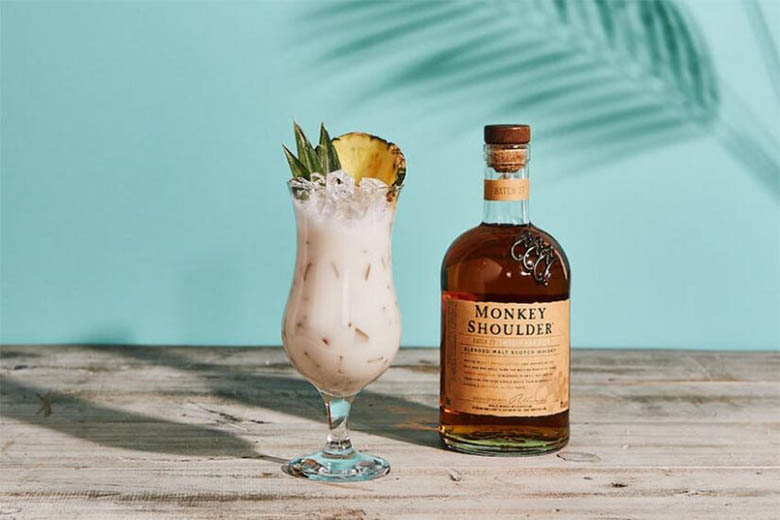 Ingredients:
40 ml Monkey Shoulder
20 ml Coconut Rum
60 ml Coconut Water
10 ml Fresh Lime Juice
Dash of Sugar Syrup
Pineapple Chunk for garnishing
Cocktail recipes: This fun, Monkey-infused cocktail adds a whisky-hued edge to a popular rum-based drink. To make one, add all ingredients to a blender and blend until entirely smooth. Then, add a dash of sugar syrup if you'd like it a little sweeter, before pouring into a glass of choice and garnishing with the pineapple chunk.
Frequently asked questions about Monkey Shoulder Whisky
What is the price of Monkey Shoulder whisky?
Monkey Shoulder Blended Scotch costs around $36.31 for a 750 ml bottle and around $65.25 for a 1750 ml bottle. It's around the same price as Buchanan's whisky.
Is Monkey Shoulder available in India?
Yes, Monkey Shoulder is available in India. It costs around Rs 4,000 in New Delhi for a 700 ml bottle and is also available in Gurgaon, Chandigarh, Kolkata, and Mumbai.
Is Monkey Shoulder a good whisky?
While Monkey Shoulder might not be a great option for whisky connoisseurs, it's a great whisky for beginners and those looking to mix the spirit. It's also budget-friendly and widely available, too.  
Is Monkey Shoulder a good beginner whisky?
Monkey Shoulder is a great beginner's whisky as it's designed to be mixed. If you're just dipping your toe into the world of whisky, Monkey Shoulder will get you used to the spirit's characteristics before delving deeper into its depth and breadth. Some of our other favorite beginner whiskies include Johnnie Walker and Jameson.