You could say that Indoggo Gin's owner, Snoop Dogg, has been preparing for the launch of his gin brand since the early '90s.
One of his first big hits, Gin & Juice, is one that's stayed at the forefront of the industry pretty much ever since. But, despite previously delving into the wine and legal cannabis industries, he's never tackled the spirits world by himself before.
Until now. Indoggo Gin, a relative newcomer to the gin industry, is here to make all of your "hmm, that's a little too strong" drinking-related problems fade away. Because, while this delicious gin sits at a hefty 40% ABV, it's also flavored with a little extra boost to ensure it's good enough to drink straight. And, no, not the little boost you might typically associate with Snoop Dogg.
Gin snobs may turn their noses up, but they're missing out. Because, as much as Indoggo Gin comes with some natural strawberry flavoring, it's also filled with a premium botanical blend to keep all kinds of gin drinkers happy.
This vibrant-colored bottle, owned by a rapper with an equally as vibrant personality, is one you'll never miss on the shelves. And that's if you haven't already heard about it from Snoop's music or on his social media channels.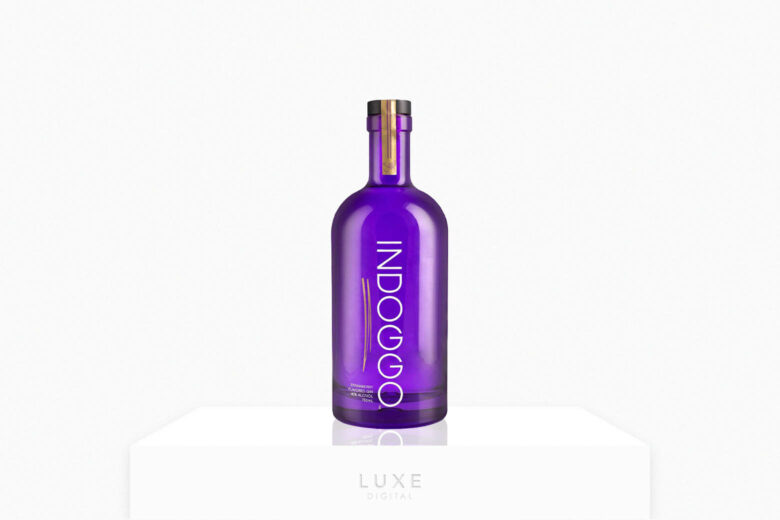 Indoggo Gin price and bottle sizes
| Bottle | Size | Price (USD) |
| --- | --- | --- |
| Indoggo Gin | 50 ml | $1.29 |
| Indoggo Gin | 750 ml | $28.99 |
Gin and juice, like you've never known it before
It was only a matter of time before Snoop Dogg got involved in the gin world. As a previous brand ambassador for Tanqueray 10 and a (partial) world record setter in 2018 for crafting the world's largest G&T with Hendrick's Gin, it made sense for him to complete the circle with a bottle of his own.
Released to the world towards the end of 2020, Snoop Dogg revealed his gin in typical OTT style. Think: Instagram posts decked out in head-to-toe Indoggo purple, Christmas trees filled with sparkling purple baubles and huge, gold thrones for both 'Dogg and Indoggo to perch upon. He revealed some of his own cocktail recipes to be made with Indoggo and gifting ideas for the Snoop—or gin—fan in your life.
Snoop Dogg style—but somehow stepped up a notch, even more.
Indoggo is a citrus-heavy gin with far more depth than you might initially assume. While many celebrity spirits are all about the show, Indoggo is a gin that somehow ticks all the boxes when it comes to style and substance.
Indoggo's made with seven botanicals, including both angelica root and seed as well as orange, coriander and cassia. Snoop, in partnership with Keenan Townes, apparently spent two years crafting his recipe for Indoggo.
It features juniper—of course—but it's not, like Bombay, a juniper heavy gin. What it lacks in juniper, it makes up for with vibrant flavors that burst in the mouth from a single sip. It's exactly what you'd expect from such a brightly colored purple bottle.
If you've been searching for a pink gin-esque drink but without all of the typical pink gin characteristics, Indoggo's sure to become a new favorite.
It's also a popular choice for anyone trying to keep their alcoholic beverages of choice relatively healthy, as it's sugar-free, gluten-free, fat-free and relatively low calorie. Indoggo Gin is also distilled five times during its creation process, which promises a seriously smooth blend when it's served up.
The overall result? A spirit that wastes no time before making its mark. One you can simply open and enjoy, whatever the circumstances or surroundings. Just like Snoop himself is famed for, it's designed to make life easy.
How to drink Indoggo Gin
Indoggo Gin is a little different to your standard bottle of gin. For a start, even though it's just as strong as normal gin, it doesn't taste exactly the same.
So you'll want to incorporate some of the traditional rules when it comes to drinking Indoggo Gin while incorporating some more modern features to enjoy this spirit the best way 'Dogg himself knows how.
Most of the time, gin is served chilled to bring out its unique flavor notes. That's also a good way to make the spirit more palatable when served neat, for those who might not be quite so accustomed to its strong initial taste.
But Indoggo was designed to be enjoyed without any kind of preparation. It's a bottle that's just as delicious brought along to the beach or a picnic and sipped straight from the bottle as it is served up into cocktails, chilled from the fridge and paired with all sorts of accompaniments.
Snoop himself said "Make it gin and juicy, more or less, so that when people get it, you just add the ice and you feel like it's already there—no components needed" which tells you everything you need to know.
As long as it doesn't require much effort to serve, pour and drink, you're doing it right.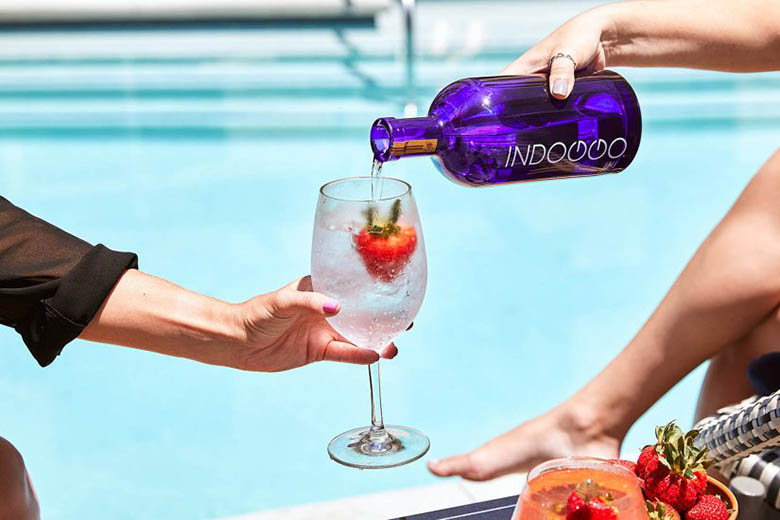 The best cocktails to make with Indoggo Gin
You wouldn't expect to make a simple gin and tonic with Indoggo Gin, would you? The best cocktails to make with this spirit are those that evoke the same sense of chilled out nature that Snoop himself is famed for. That means interesting flavor combinations, unique additions—especially in our first recommendation—and lots going on from the first sip right until the final dregs.
The Laid Back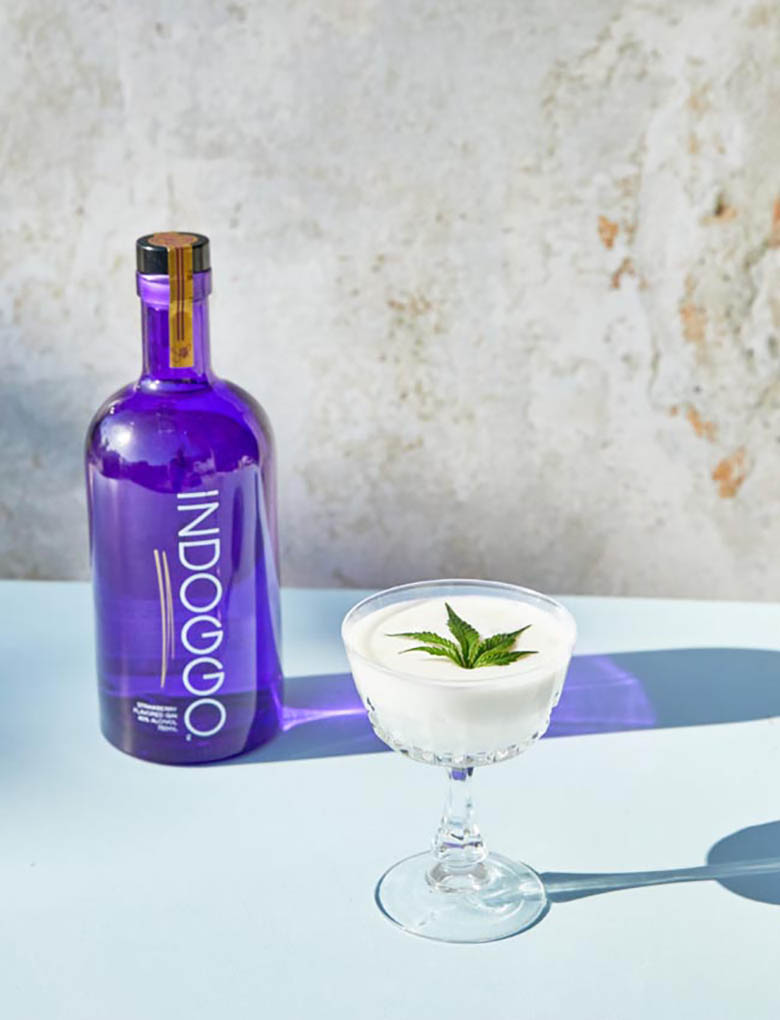 Ingredients:
45 ml Indoggo Gin
60 ml Coconut Milk
22 ml Lemon Juice
22 ml Vanilla Syrup
Optional: 3-4 drops of CBD Oil Tincture
It wouldn't be a Snoop Dogg inspired cocktail list without at least one CBD-enhanced drink. To make The Laid Back, add Indoggo Gin, coconut milk, lemon juice and vanilla syrup into a cocktail shaker and add ice. Shake vigorously and strain into a coupe glass, before adding the—optional—CBD oil.
The Remix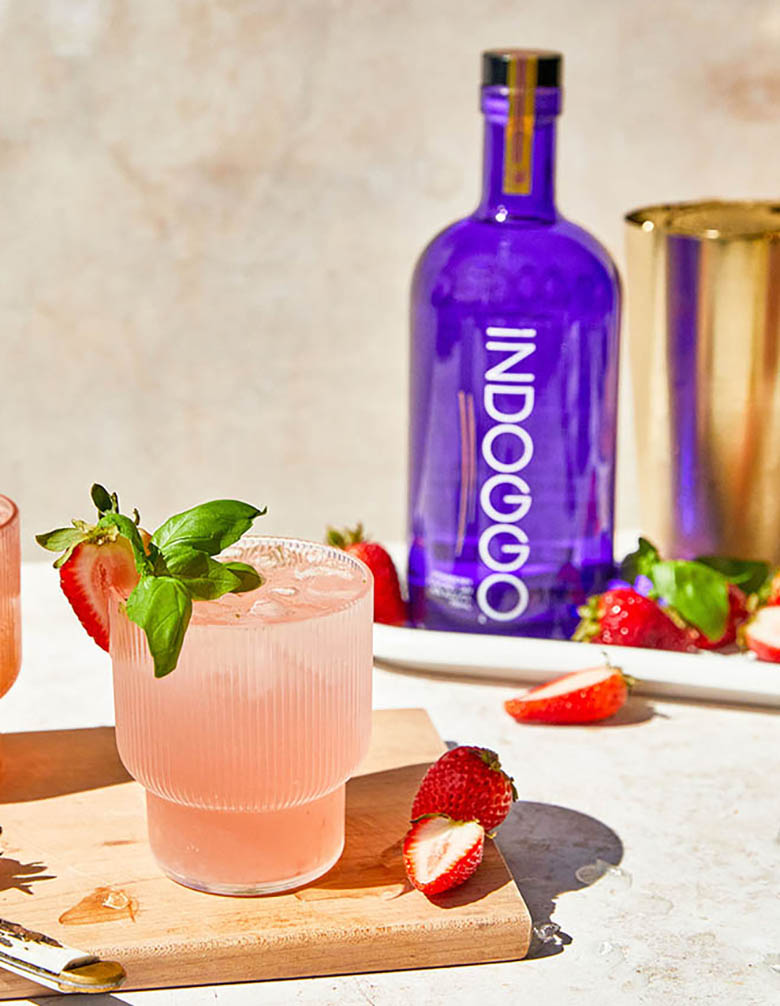 Ingredients:
45 ml Indoggo Gin
30 ml Lemon Juice
22 ml Lemon
22 ml Simple Syrup
15 ml Honey
2-3 Fresh Strawberries
2-3 Fresh Basil Leaves
Club Soda, to top
Strawberries and Fresh Basil Leaves for garnishing
Sweet and almost too delicious to drink, make The Remix by adding lemon juice, simple syrup, honey, fresh strawberries and basil into a cocktail shaker. Then, muddle together before adding Indoggo Gin and ice. Shake until chilled before straining into a glass. Finally, garnish with fresh strawberries and basil before serving.
Summer Shizzle Fizzle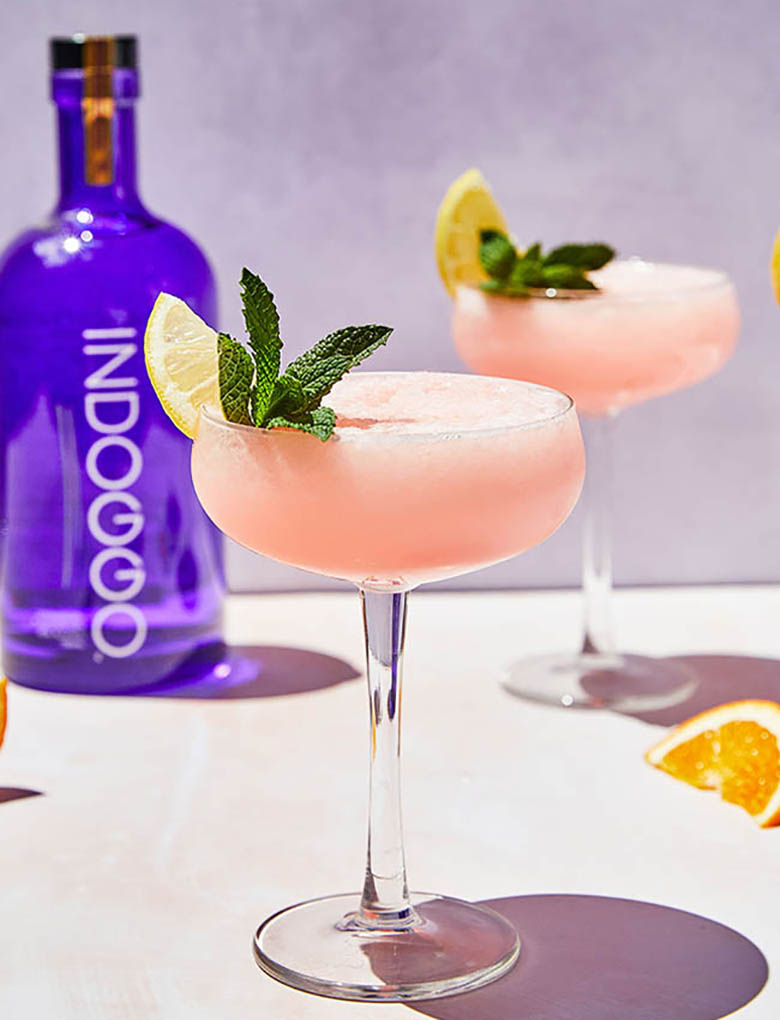 Ingredients:
45 ml Indoggo Gin
22 ml Lemon Juice
30 ml Aperol
22 ml Orange Liqueur
22 ml Orange Zest Simple Syrup
Ice
Soda Water
Lemon Wedge and Mint for garnishing
A Summer Shizzle Fizzle is a summertime special with a burst of fruitiness and plenty of chill. To make, add Indoggo, lemon juice, aperol, orange liqueur and simple syrup to a blender. Then, add ice and blend until slushy. Pour into a glass, garnish with a fresh lemon wedge and mint before serving. To turn into a longer drink, spritz with soda water before serving.
Frequently asked questions about Indoggo Gin
How much is a bottle of Indoggo gin?
A 750 ml bottle of Indoggo Gin starts at around $28.99 when bought from an online retailer like Drizly or ReserveBar. You can also order tasters, like 50 ml for $1.29 per mini bottle.
Does Snoop Dogg own Indoggo liquor?
Yes, Snoop Dogg is the owner of Indoggo Gin.
Is Indoggo Gin any good?
Indoggo Gin is a great option for anyone with a sweet tooth, thanks to its natural strawberry flavoring. It's a popular gin-based liquor that's just as strong as standard gin but with added flavorings for extra sweetness.
Where to buy Indoggo liquor?
You can buy Indoggo Gin online at retailers like Drizly or Reserve Bar. It's also possible to find Indoggo Gin in bars across the United States, particularly in Minnesota.