Think of rum and you'll likely think of Pirate's treasure chests, bottled hidden deep in the sand, and discoveries on faraway exotic islands. While most rum brands might cling onto that story as a form of brand identity, it's a story that doesn't sway too far from the truth in Caroni Rum's case.
Read up on Caroni Rum and you'll see that it was launched in 2004. But dig a little deeper—literally and metaphorically—and you'll discover that this rum was actually born again, after initially launching in 1918 but falling into disarray in the 1970s. Caroni is a rum brand that fulfills all those cliches in the best way possible.
This heavy, smokey, and seriously intense rum brand was once only known for selling overproof bottles to the Navy. Hailing from Trinidad and Tobago, it's a brand with an almost as rich history as the dark, velvety liquid inside, which now sells for a large price at auctions around the world.
This iconic Trinidadian distillery almost disappeared from the rum industry for good, had it not been for Luca Gargano, one of the greatest rum experts in the world, who took a trip to the distillery and stumbled upon hundreds of sealed bottles. It was a real-life treasure chest that promised a complete resurgence of the Caroni brand name.
Nowadays, "Caronimania" is a real thing. Mention the brand name within listening distance of any rum fan and you'll find yourself deep in conversation about the history of this brand and everything it encompasses.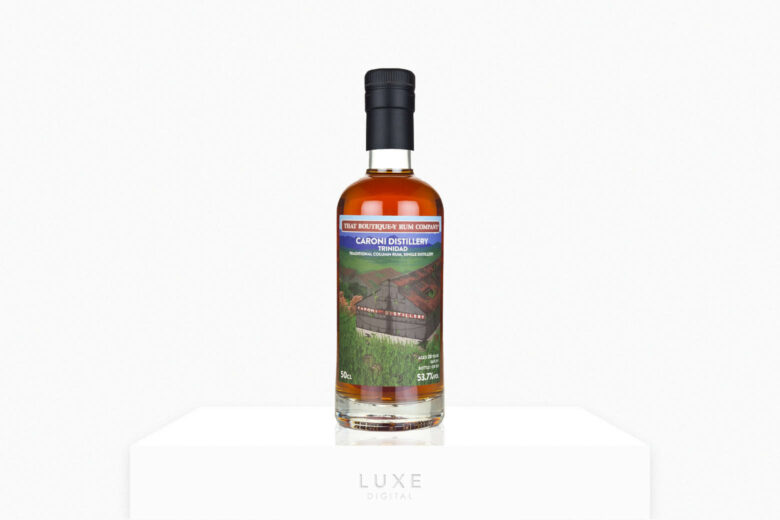 Caroni Rum price and bottle sizes
| Bottle | Size | Price (USD) |
| --- | --- | --- |
| Caroni 17 Year Rum | 750ml | $104.99 |
A rich history stretching back to 1918, Trinidad and Tobago
When Luca Gargano took a trip to Trinidad, he only really visited out of interest, to check out the distilleries in Tunapuna-Piarco that had been closed by the government. His original plan was to arrange a photoshoot in the area when he came across the boarded-up distillery by chance.
A quick bit of digging around revealed something he never would have anticipated: a large number of barrels of rum dating back to 1974. He saw potential: an opportunity to bring Caroni back to its roots, with plenty of bottles to start with.
Next was a careful few years of negotiations in order to purchase the barrels, which were then bottled and released to the world. This might not have worked as a success story for many other brands, but Caroni has always stood apart from most other spirits.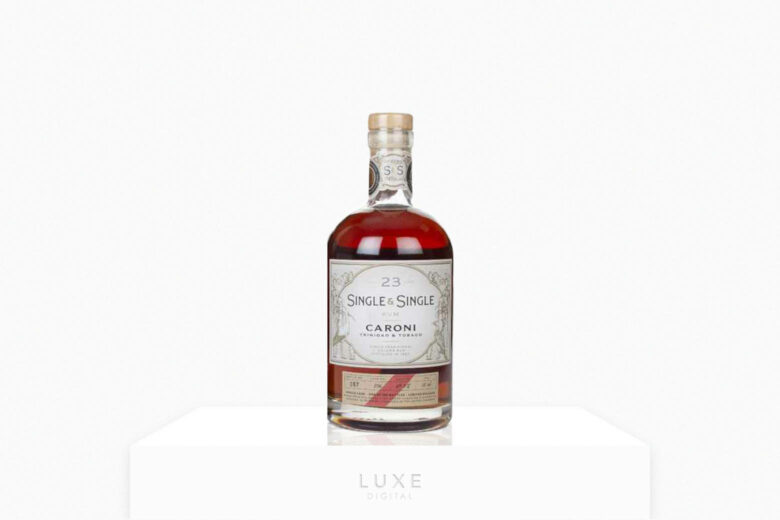 For a start, it doesn't cater to the usual tastes. Instead, this brand rose to fame for its undiluted, overproof bottles. Strong to some, perfectly intense to others, these 77%, 75%, and 62% overproof rums were quickly established as some of the best rum bottles in the world.
And, due to their rarity, also became quickly established as some of the most difficult to get ahold of. Nowadays, if you're looking to sample an original bottle of Caroni rum, you'll have to find the closest auction and be prepared to part with a large chunk of money.
Unlike other rums, which tend to be blended, Caroni stood apart for its impressive single vintages. Full of fruity, burnt caramel, and brown sugar notes, it's fair to say there's no other rum brand out there quite like Caroni. Rich and distinctive, it was loved in the Navy for its heaviness and that's something that's remained appealing to this very day.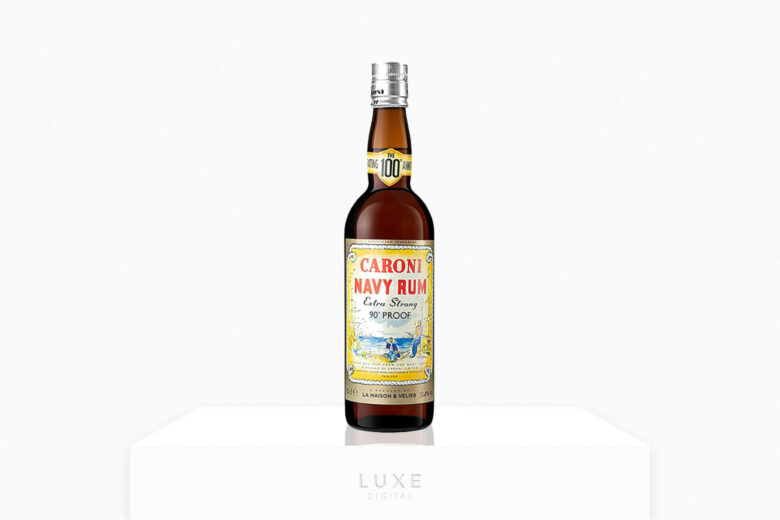 How to drink Caroni Rum
Drinking Caroni Rum is a conversation starter, even if you wouldn't consider yourself an expert in the industry. This prestigious brand's back story ensures that any eagle-eyed viewers nearby will almost definitely start up a conversation about its roots or flavor notes.
So, the most important thing to remember when drinking Caroni Rum is that it pretty much guarantees a social occasion. Commercial bottles—as in those sold easily online—can be enjoyed a little more freely.
This means you're free to mix them up with your favorite long drinks or use Caroni as a base for some excellent rum cocktails. If you're drinking from a rarer bottle, you'll want to focus on Caroni rather than anything else served at the same time.
Wood, coffee, licorice, gentian, and cola are just some of the notes you should pay attention to sampling when you drink from this brand. The richness of Caroni, in particular, means many may struggle to sip it neat.
Its high proof means it's arguably even a little more enjoyable with a few drops of diluted water or a large ice cube. Dark rum-like Caroni also works great served on the rocks. If you're mixing it with one thing only, choose Coca-Cola, pineapple juice, coconut water, or orange juice for a brilliantly easy combination.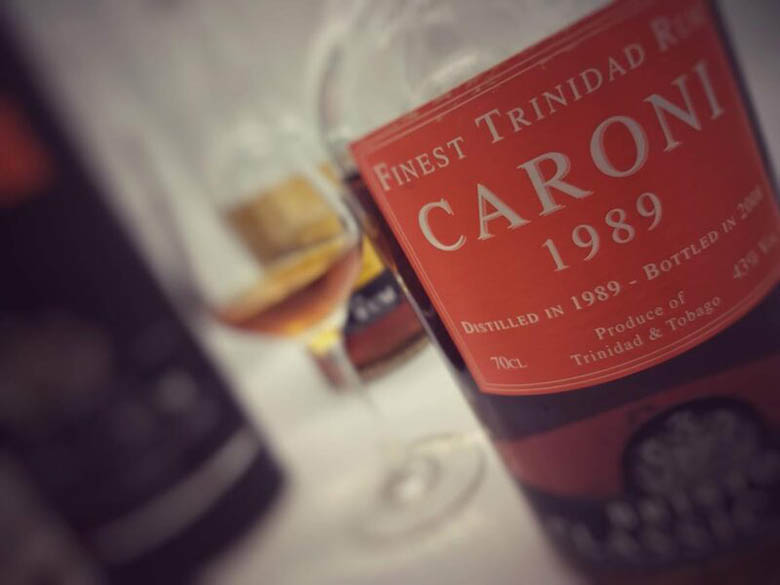 The best cocktails to make with Caroni Rum
You could drink Caroni rum straight—and, if you're sampling a rare bottle you probably should— but its intense flavors mean most people prefer it in cocktail form. And its strong notes mean this bottle isn't easily scared away by fruity, sweet, or sour accompaniments. Opt for strong flavor notes to counteract some of Caroni's richness without stealing the show.
Añejo Highball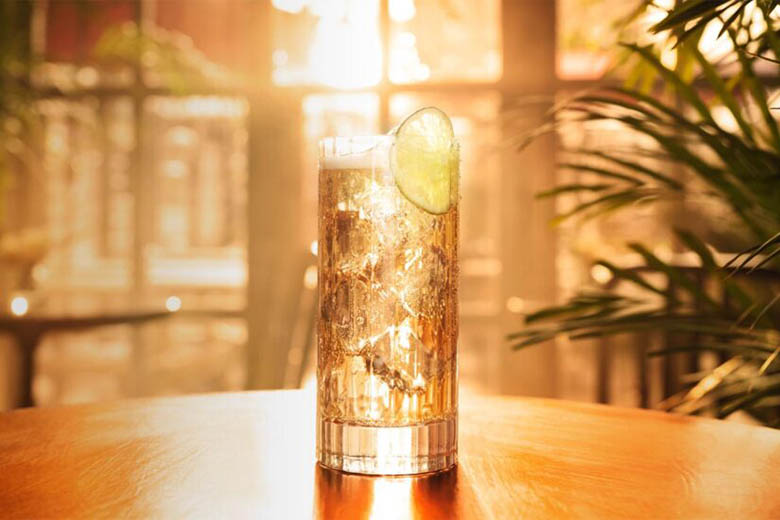 Ingredients:
45 ml Caroni 17 Year Rum
15 ml Triple Sec
10 ml Lime Juice
2 dashes Aromatic Bitters
4 parts Ginger beer
Lime Wheel for garnishing
A twist on the classic favorite Dark N' Stormy, an Añejo Highball comes bursting with flavor and goes down seriously well. To make this tropical cocktail, add all the ingredients except the ginger beer to a tall glass with ice. Then, top with the ginger beer and stir gently before garnishing with the lime wheel and serving.
Rum Old Fashioned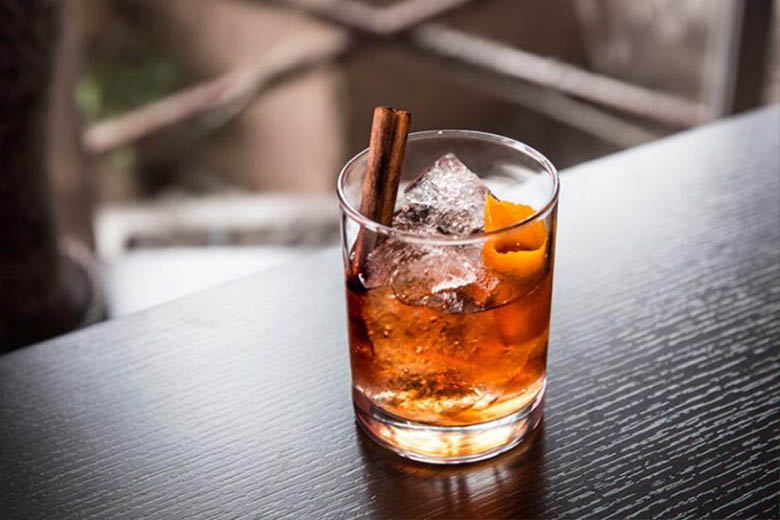 Ingredients:
80 ml Caroni 17 Year Rum
3 dashes Orange Bitters
1 Sugar Cube
1 Orange Peel for garnishing
Ice
Warning: this Rum Old Fashioned is a little sweeter with the replacement of rum over whiskey and it's one you'll want to enjoy slowly due to its high potency. To make, muddle a sugar cube with the orange bitters in a Rocks glass before adding your Caroni 17 Year Rum and stirring. Add one large ice cube and stir again. Then, twist the orange peel to release its oils before dropping it into the glass and serving.
Bermuda Punch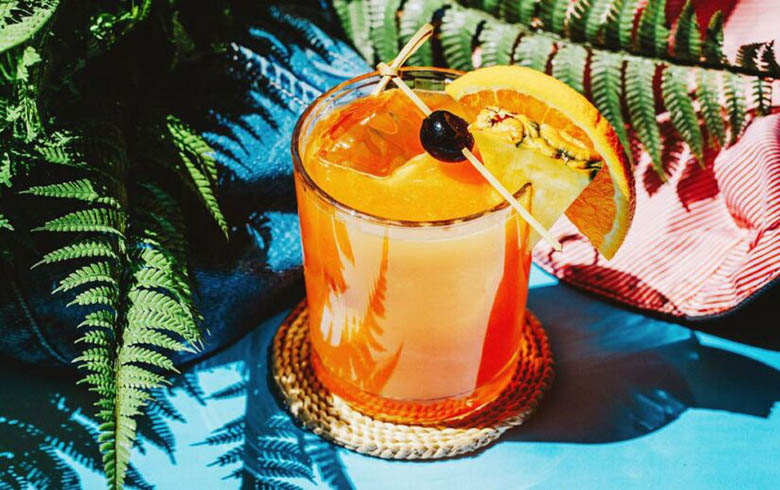 Ingredients:
60 ml Caroni 17 Year Rum
40 ml Lemon juice
15 ml Falernum Syrup
8 ml Apricot liqueur
8 ml Lime juice
5 dashes Aromatic Bitters
This party cocktail is just as vibrant as its name suggests and promises a great first impression when served at all kinds of events. Make one—or a batch​​—by pouring all ingredients into a cocktail shaker with ice and shaking vigorously. Glassware is up to you here, but anything fun will do. Feel free to garnish with fruit or a parasol for the full Tiki experience.
Frequently asked questions about Caroni Rum
How much does a bottle of Caroni Rum cost?
A 750 ml bottle of Caroni 17 Year Rum costs around $104.99 when purchased from online retailers like Drizly. Caroni's rare bottles, discovered when the brand first relaunched, are often sold at auction for upwards of $380.
Is Caroni Rum any good?
Caroni Rum is one of the most sought-after rum brands and is well-loved for its rich, deep, and all-around intricate flavor notes. It's not one for the fainthearted. Some of its overproof rums have been recognized among the best rums in the world.
Where can you buy Caroni Rum online?
You can buy Caroni Rum from plenty of online retailers including Drizly and ReserveBar. Prices start at around $104.99 for a 750 ml bottle of Caroni 17 Year Rum. Rare bottles can be bought online via auction websites.
Where is Caroni Rum made?
Caroni Rum is made in Trinidad, located in the heart of Trinidad's Caroni plains.