With 1800 Tequila, the first thing to catch your attention is the price tag. This is a premium tequila that's affordable too.
But the thing that will steal your heart and keep you coming back for more? Its smoothness.
Double distilled, 1800 Tequila is one super smooth drink. It's also clean, dry, and with a fruity and peppery flavor. All this makes its price tag rather deceptive. 1800 reinstates tequila to its rightful place as a sophisticated spirit with serious happy hour appeal. 
A superior spirit for the refined drinker, 1800 Tequila is the perfect addition to any home bar. After all, if you're a budding mixologist eager to show off your new skills with some tequila cocktails, you want a spirit that's high-quality but not so expensive that mixing it is a crime.
And if you consider yourself a tequila connoisseur, you might also explore the brand's ultra-premium line, such as 1800 Milenio Extra Añejo or the eminently sippable 1800 Colección Extra Añejo.
Made according to a 200 year-old-recipe, 1800 Tequila represents Mexican tradition and history distilled and poured into a bottle. It's a mid-range tequila that's anything but mediocre.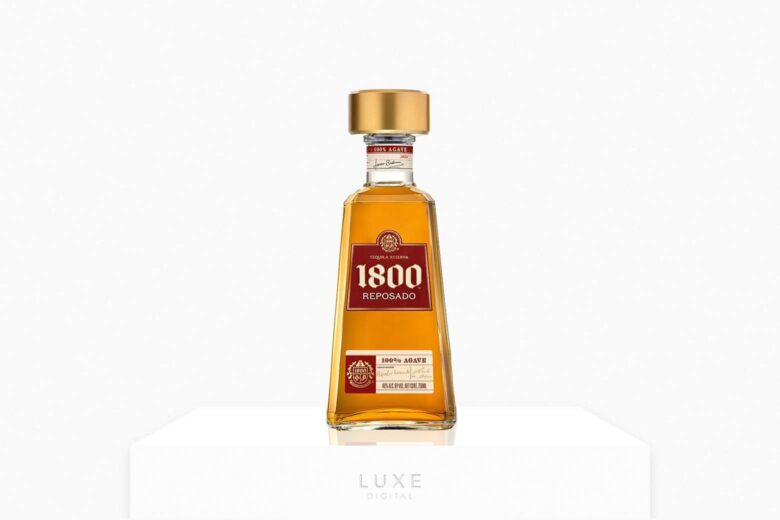 1800 Tequila bottle sizes and prices
| Bottle | Size | Price (USD) |
| --- | --- | --- |
| 1800 Silver | 375 ml | $18 |
| 1800 Silver | 750 ml | $26 |
| 1800 Coconut | 750 ml | $27 |
| 1800 Reposado | 750 ml | $30 |
| 1800 Añejo | 750 ml | $38 |
| 1800 Silver | 1750 ml | $40 |
| 1800 Cristalino Añejo | 750 ml | $60 |
| 1800 Milenio Extra Añejo | 750 ml | $125 |
| 1800 Colección Extra Añejo | 750 ml | $1600 |
1800 Tequila: the story behind the brand
Back to the beginning
1800 Tequila is a premium line of tequila by the Jose Cuervo brand, the best-selling tequila company owned by the Beckmann family.
It was launched in 1975 and was originally called Cuervo 1800 Tequila. 1800 apparently refers to the year when tequila was first aged in wooden casks.
It's made from 100% blue weber agave. Why does this matter? Because some tequilas can contain up to 49% of other alcohols, and we all know what happens if you mix your alcohols. 1800 is ideal for drinkers who fear the notorious tequila hangover.
The brand's agave plants are grown in the Jalisco region of Mexico. The piñas of the plant are selected after the plant has been growing for eight to twelve years and are at their optimum level of sweetness.
The piñas are then harvested and cooked in traditional clay kilns before being crushed to a pulp. The juice is double distilled in copper pot stills, a process that removes impurities—and any other components that might cause a throbbing head the next morning.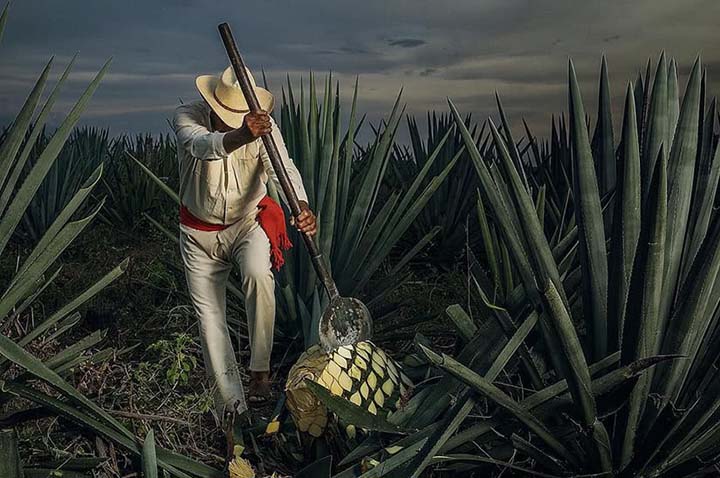 Finally, it's blended with a special selection of other white tequilas to create the distinct flavor of 1800 Tequila. 
1800 Tequila is sold in a triangular bottle with a top that serves as a shot glass. The unique shape is designed to resemble the ancient Mayan pyramids, a symbol of Mexico's culture and heritage. The logo includes the brand slogan: Trabajo, Passion, Honestidad ("Work," "Passion," "Honesty").
From good to better to best: 1800 Tequila types and variants
What distinguishes 1800 Tequila from the Jose Cuervo parent brand is that it's designed as a premium tequila. However, within this top quality bracket, there are different types of 1800 tequila to suit different drinking styles, tastes, and budgets.
There's 1800 Tequila Silver, an entry-level and unaged tequila, perfect for cocktails.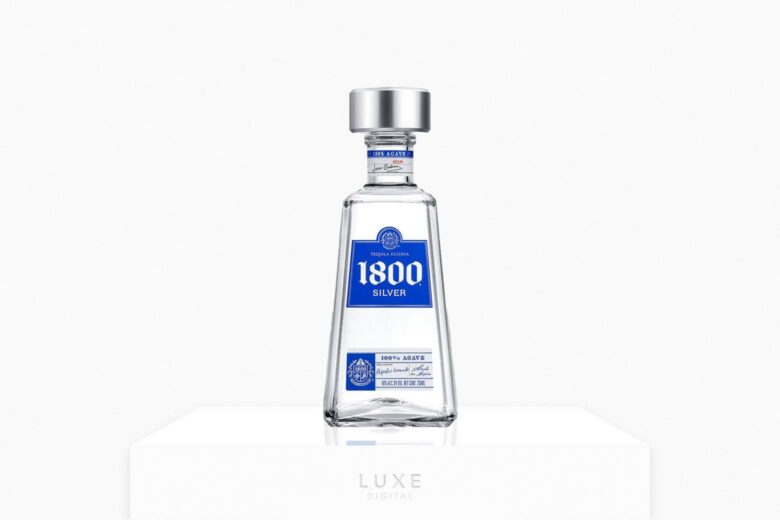 The 1800 Coconut is similar to the 1800 Silver but infused with natural coconut. It's ideal for making coconut margaritas but you can also mix it with fruit juice—or drink it neat.
1800's gold tequila, the 1800 Reposado, is matured in American and French oak barrels for at least six months. Rich and smooth to taste, 1800 Reposado has notes of butter, caramel, and spice. Full of flavor but still easy to drink, it's perfect for elevating a standard margarita—and very affordable, at under $40 a bottle. 
Beyond that, 1800 offers three añejos: 1800 Añejo, 1800 Milenio, and the 1800 Colección.
1800 Añejo has been aged for at least fourteen months in French and American oak barrels, and has notes of toasted oak, vanilla, cinnamon, pears, and butterscotch. The overall impression is similar to a bourbon or Cognac, and so it's best sampled neat. It's also an affordable alternative to more high-end premium tequilas like Patrón.
The brand's ultra-premium line with the 1800 Milenio Extra Añejo, was introduced at the turn of the millennium. It's aged longer than the 1800 Añejo and is finished in French oak Cognac casks—hence the higher price tag and the unique flavor.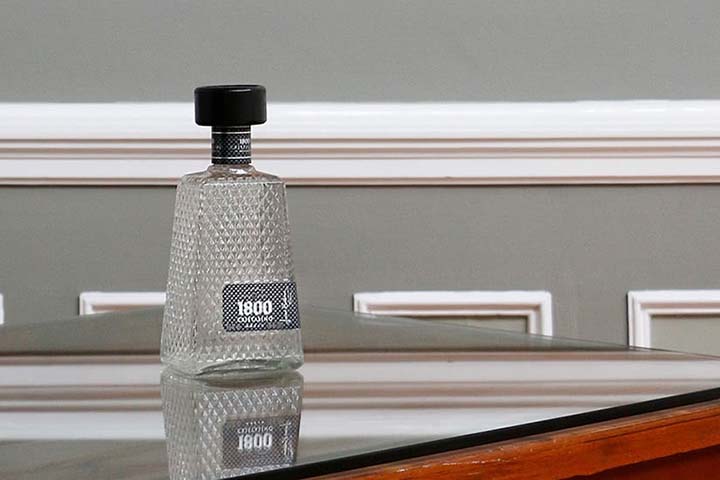 The 1800 Colección Extra Añejo is even more refined and exclusive, only produced and released in the best years of production. Bottles of 1800 Colección go on sale for over $1,600 and each one is paired with a custom-designed decanter by well-known artists. The most recent editions come with an eye-catching pewter decanter designed by Gary Baseman.
1800 Silver, Reposado, and Añejo have all won silver at the San Francisco Wine and Spirits Competition. The Milenio and Select Silver have both won bronze.
Also worth mentioning is the 1800 Tequila Select Silver, launched in 2008, a potent and flavourful tequila that, despite being 50% ABV, is incredibly smooth with a sweet and citrusy taste.
And if your favorite way to consume tequila is in a margarita, you'll be thrilled to hear about 1800 The Ultimate Margarita, launched in 2006: a pre-mixed and ready-to-serve margarita made from 1800 Silver. 
Or if you like your tequila alongside a dose of high-culture, check out the 1800 Tequila Essential Artist series whereby bottles of 1800 Silver are emblazoned with the work of famous artists, such as Jean-Michel Basquiat and Keith Haring. These highly covetable limited edition bottles are quickly swooped upon by collectors.
More recently, there's also been the 1800 Cristalino, meticulously filtered to create a drink with the clarity of a tequila blanco but with the same flavor complexity as a tequila añejo.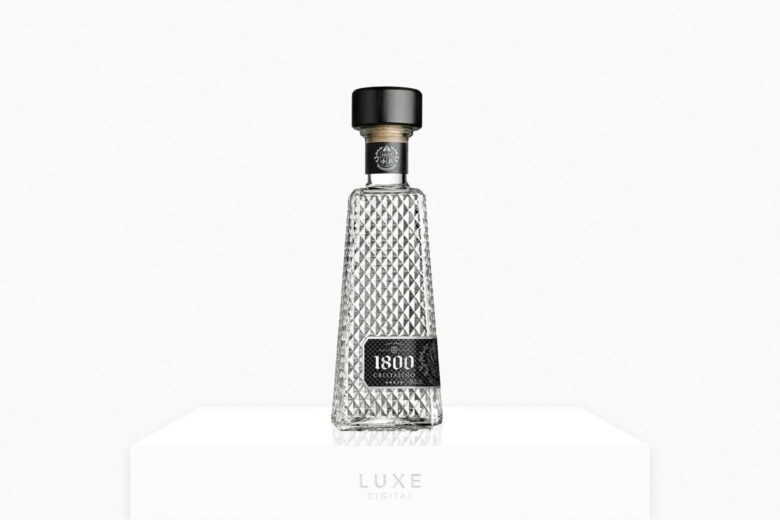 Friends in high places
1800 Tequila has some well-known brand ambassadors including Michael Imperioli from The Sopranos, who featured in several well-known adverts for the drink.
After Imperioli came Goodfellas actor Ray Liotta and a brand campaign shot in Buenos Aires with the slogan 'Enough Said'—the message being that 1800 Tequila's quality speaks for itself.
The brand's 1800 Silver Select tequila has also been endorsed by rapper Rick Ross and his crew, the Triple C's. And 1800 Tequila also sponsors the US NBA teams, the LA Lakers, and the New York Knicks.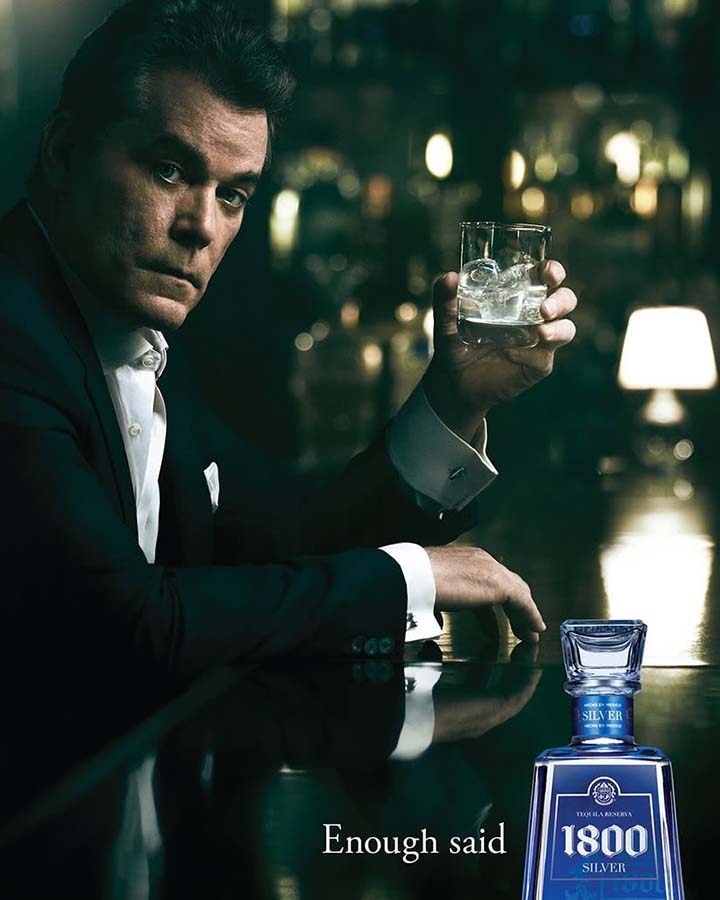 How to drink 1800 Tequila
How you drink 1800 Tequila will depend on the particular type you choose.
1800 Silver is perfect for making cocktails thanks to its smoothness and subtle flavors. But thanks to its lower price tag, the Reposado can also be mixed into cocktails when you're looking for something extra special. 
For bourbon or whisky drinkers looking to experiment, the 1800 Añejo is a perfect springboard into the world of sipping tequila with its warm spices and sweet tones. Serve in a rocks glass or whisky snifter and take your time to explore the complicated flavors. 
When it comes to looking after your bottle of 1800 Tequila, avoid direct sunlight. We also recommend you steer clear of the freezer. When the spirit is too cold, you can't pick up the subtle aromas.
Oh, and for an innovative take on your classic gin 'n' tonic, why not try a tonic and tequila, aka a T&T?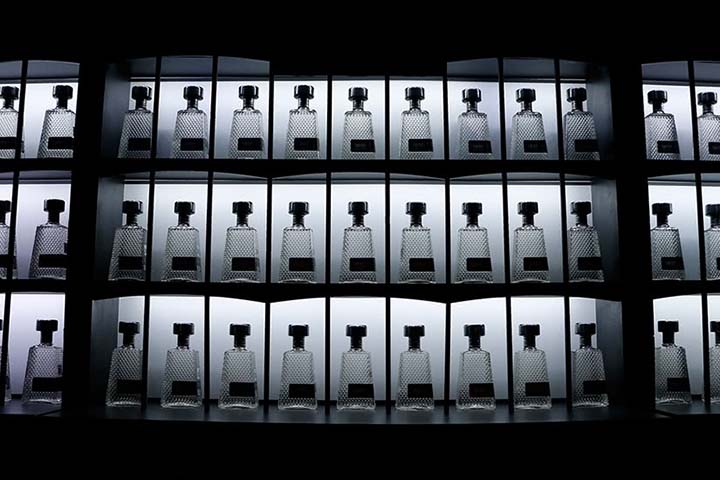 1800 Tequila cocktail recipes
The smoothness of 1800 Tequila makes it the perfect base for a range of cocktails, whether that's something light, fruity, and tropical, or something stronger and more nuanced. Pick up a bottle online and experiment with different 1800 Tequila types, shaking up cocktail classics into something extra special.
1800 Tequila Margarita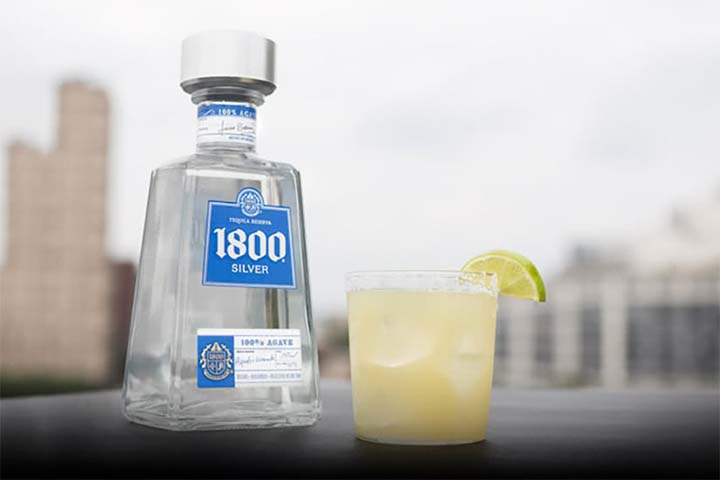 In one of many origin stories for the Margarita cocktail, the Daisy cocktail, typically made with gin or brandy, was instead made with tequila. Hence the name Margarita—Spanish for 'daisy'.
Ingredients
50 ml 1800 Reposado
25 ml lime juice
20 ml Cointreau
Combine the tequila, lime juice, and Cointreau in a cocktail shaker with ice. Strain into a rocks glass or into a cocktail glass rimmed with sugar or salt.
Want to save time and energy? 1800 conveniently offers bottles of pre-mixed Margarita called 1800 The Ultimate Margarita. All you have to do is add the ice.
Frozen Matador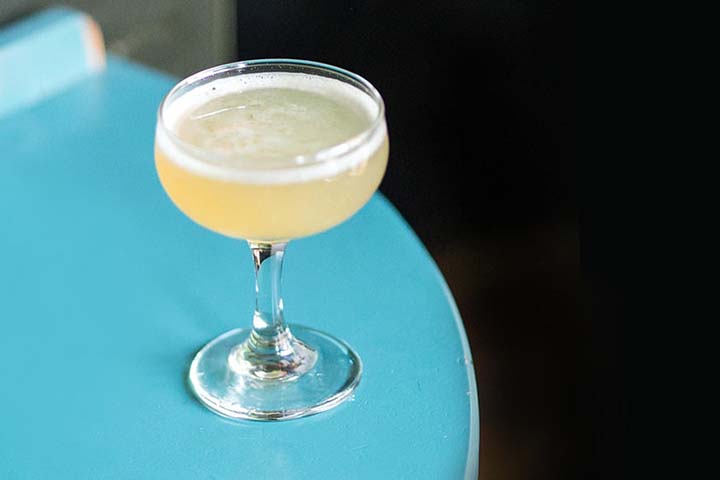 Also known simply as a Matador, this cocktail is similar to a vodka Screwdriver in that it mixes fruit juice with a single spirit. Combining lime, tequila, and pineapple, the Matador showcases all the best Mexican flavors. Serve in a Collins glass, champagne flute, or a rocks glass. 
Ingredients
45 ml 1800 Silver
60 ml pineapple juice
15 ml lime juice
Ice
Pineapple chunks to garnish
Combine all the ingredients in a shaker with ice or in a blender at low speed. Pour into a glass and garnish with pineapple. Some recipes also call for the addition of triple sec.
Añejo Old Fashioned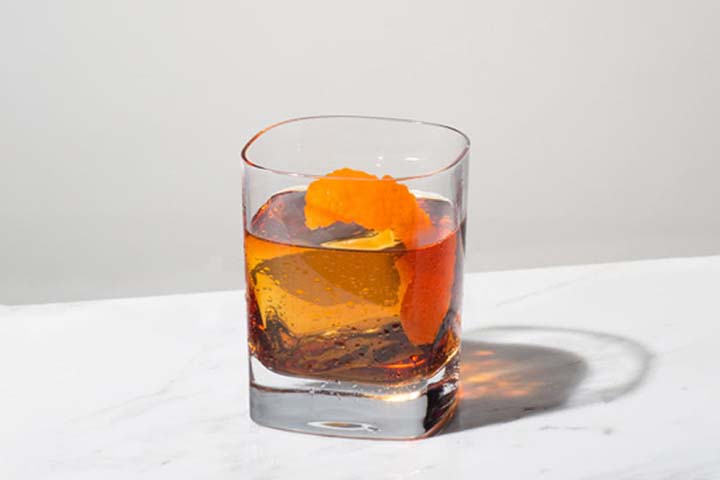 This take on a classic Old Fashioned uses aged tequila instead of whisky and is a chance for you to serve your guests something extra memorable during cocktail hour. 1800 Añejo is perfect for this drink thanks to its reasonable price.
Ingredients
60 ml 1800 Añejo
7.5ml agave syrup
8 drops of bitters of your choice
Orange peel
Brandied cherry
Muddle together the syrup, bitters, and orange peel. Fill the glass with ice before adding the tequila and stirring. Garnish with the cherry.
Frequently asked questions about 1800 Tequila
Is 1800 a good tequila?
1800 is a premium brand of tequila, offering drinkers a smooth and high-quality spirit that's nevertheless affordable and accessible. 1800 Silver is ideal for cocktails while the brand's range of aged tequilas is award-winning and well-regarded within the industry.
How much does 1800 Tequila cost?
The price of 1800 Tequila depends on the type. A 750 ml bottle of 1800 Silver costs around $26. A bottle of 1800 Reposado costs around $30. A bottle of 1800 Añejo will set you back around $38, while the brand's ultra-premium range includes the limited edition 1800 Colección line of tequilas, which sells for over $1600 per bottle.
What percent alcohol is 1800 Tequila?
1800 Silver, 1800 Reposado, and 1800 Añejo are all 40% ABV. 1800 Coconut is slightly less strong at 35%. In 2008, the brand introduced 1800 Silver Select which is a 100 proof tequila, or 50% ABV.
Does 1800 Margarita get you drunk?
1800's pre-mixed Margarita drink, known as 1800 The Ultimate Margarita, has an alcohol content of 9.95% ABV. This is compared to a standard Margarita, which is usually at least 22%. Therefore 1800 Margarita probably won't get you as drunk as a normal Margarita.