Amazing, isn't it, how one little piece of headgear can add so much funk to your outfit? Bucket hats for men certainly didn't start out as an iconic fashion piece; quite the opposite, in fact. They were a workingman's lid, a hat designed to keep the rain and the sun off of the heads of farmers and fishermen. Now, they're a fashion flavor that marks you as a fashion-conscious fella.
Men's bucket hats are a simple item really… just a cloth bowl with a flap. And yet, from that simple fashion seed a fashion icon has blossomed. In the 1960s, the Mods were wearing them. In the 1980s, rappers brought designer bucket hats and comfortable sneakers to the forefront of the fashion scene. And now it's your turn.
Cool bucket hats are everywhere these days, especially since some big-name fashion designers have applied their art to this style of hat. Types of bucket hats vary from the traditional working man's durable designs, right through to colorful eye-popping festival bucket hats. And hey, if you're just looking for some old-school fishing hats, that's cool too.
So let's take a look at the latest bucket hat trends. We'll even throw in some tips about how to dress with them. Let's add a little flash to your casual summer fashion.
Alpha Industries Essential Nylon Bucket Hat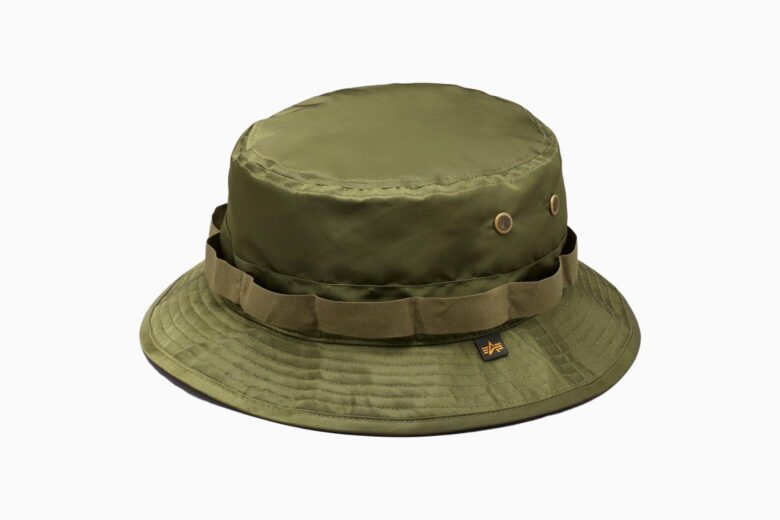 Inspired by old-school military boonie hats, Alpha Industries' essential nylon bucket hat is all about durability. Made from nylon as opposed to cotton, this bucket hat has a nice bit of waterproofing while still remaining breathable. The adjustable neck strap will keep this hat in place while you're bombing around on your fishing boat, and the slick styling will keep you looking sharp.
Best for: Sporting old-school tough-guy looks with a modern nylon twist.
Adidas Bucket Hat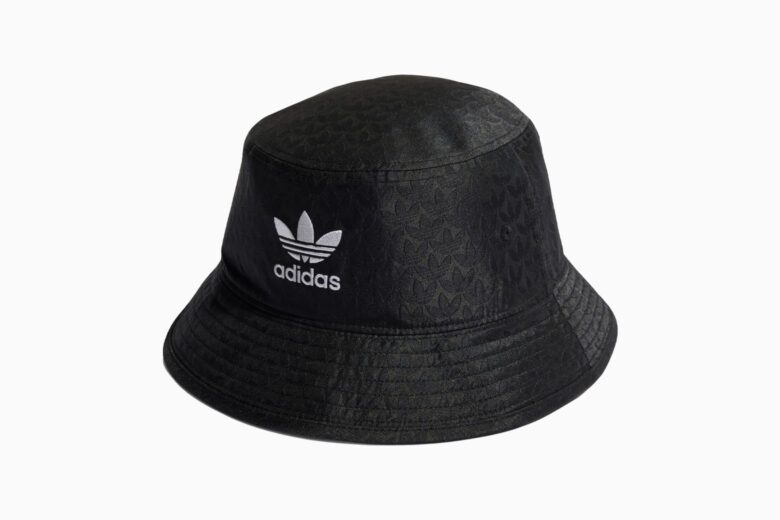 Adidas brings back that 80s hip hop confidence with the Adidas bucket hat. Seriously, how cool are you going to look once you pair this hat up with a set of killer sunglasses? Adidas adds a glossy look for extra stand-out strength, and the hidden trefoil design is just visible enough to spark curiosity in your admirers.
Best for: Wrapping up your look with rap-star swagger.
Nike Jordan Jumpman Washed Bucket Hat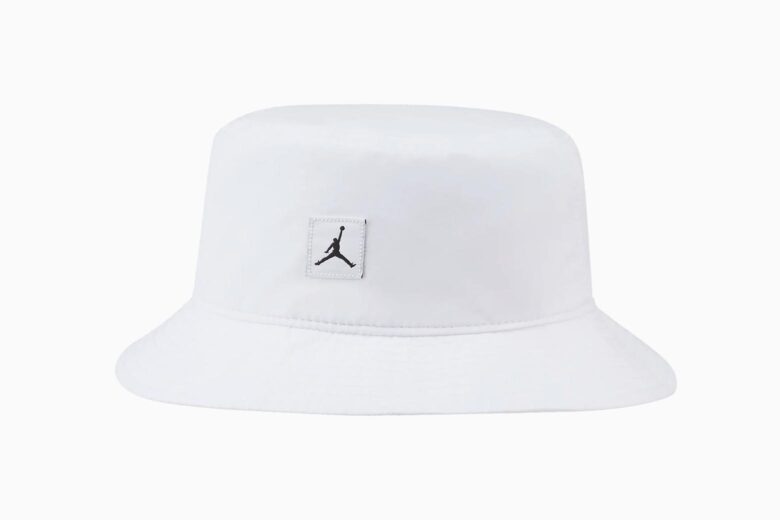 Nike fully embraced the vintage look with this Jordan Jumpman bucket hat. Made from lightweight, washed woven twill, this hat is designed to jump at the sun. Sporting a black silhouette of you-know-who making his world-famous leap, the white body of this Jordan hat is going to look spectacular matched up with a brightly-colored t-shirt and a set of white shorts.
Best for: Demonstrating that Jordan styles never went away.
Axel Arigato Sterling Bucket Hat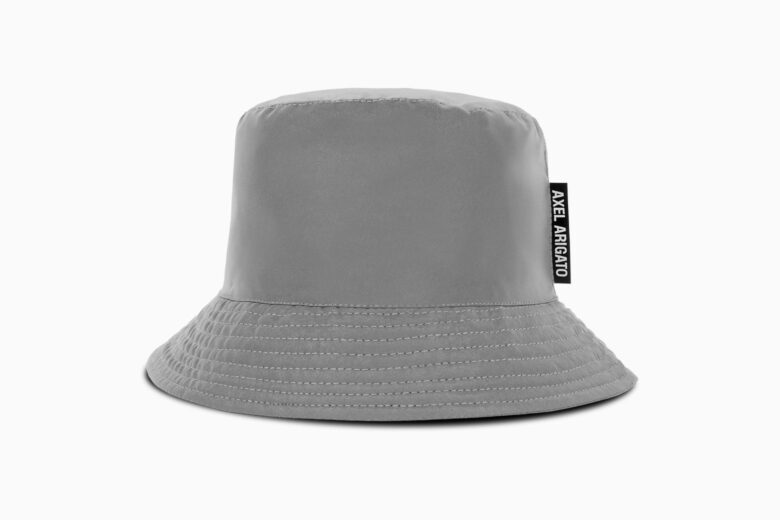 Ohhhh, so shiny. One of our favorite designers, Axel Arigato's glistening entry into the bucket hat arena is the Sterling bucket hat, so named because the silver material, made from 55% glass fibers, has the kick of a nice shine to its tailoring. If you put this hat together with some reflective designer sunglasses and bright white sneakers you're definitely going to turn some heads. And yet despite the beacon-like reflective qualities, the neutral silver means the Sterling will still do great mixing and matching with other colors in your outfit.
Best for: Being a shining fashion beacon.
Adidas x Gucci Bucket Hat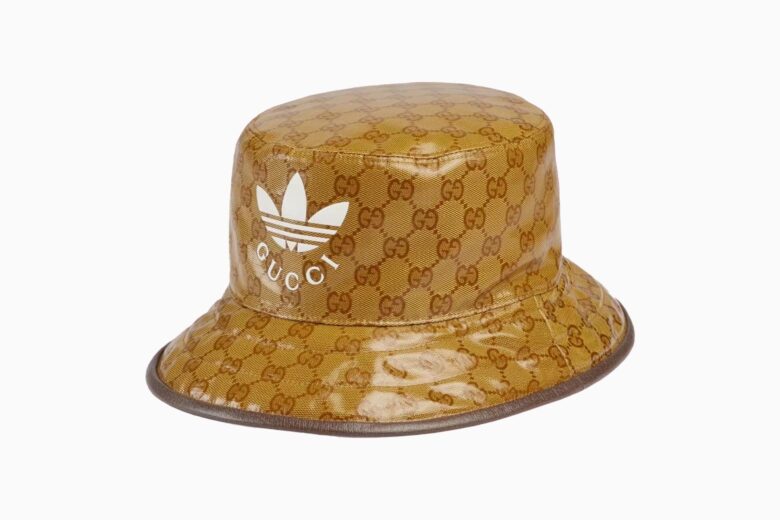 Two powerhouse clothing labels combined their formidable forces to come up with the Adidas x Gucci Trefoil bucket hat. Gucci's double-G motif is repeated across the material, with a combination logo taking prominence on the front. As if all that wasn't enough, the Trefoil is made of Crystal canvas, which adds a high-power glossy finish.
Best for: Going all-out in attention-grabbing headwear.
Dior and Parley Oblique Bucket Hat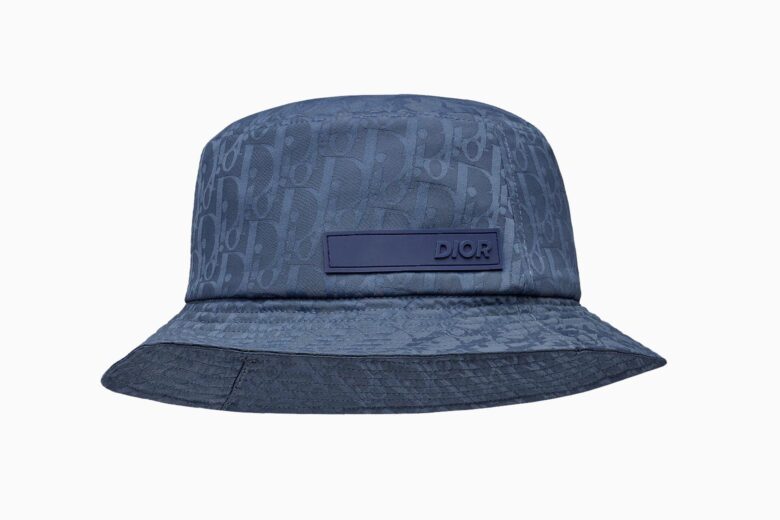 Dior and Parley's Oblique bucket hat sits nicely at the crossroads between vintage and modern looks. The surface of the hat is styled with Dior's Oblique motif, with the pattern broken up by the bold rubber Dior patch to one side. Beyond the fashion, this hat is a heart warmer because it uses Parley Ocean Plastic, so the whole shebang is made from 100% upcycled plastic.
Best for: Going preppy and cleaning up the planet.
Adidas Victory Bucket Hat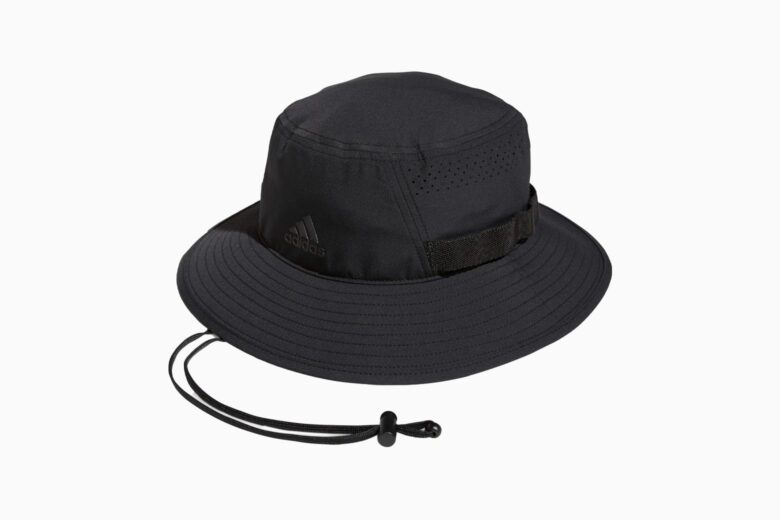 Sure, Adidas' Victory bucket hat looks pretty slick, but it actually has a whole lot of functionality going on under the hood. The Victory is a men's bucket hat with string to keep it in place, mesh ventilation, a moisture-wicking sweatband, and the 100% polyester build comes with UV 50 protection to keep you safe from the sun.
Best for: Playing hard under the summer sun.
Erdem Floral-print Bucket Hat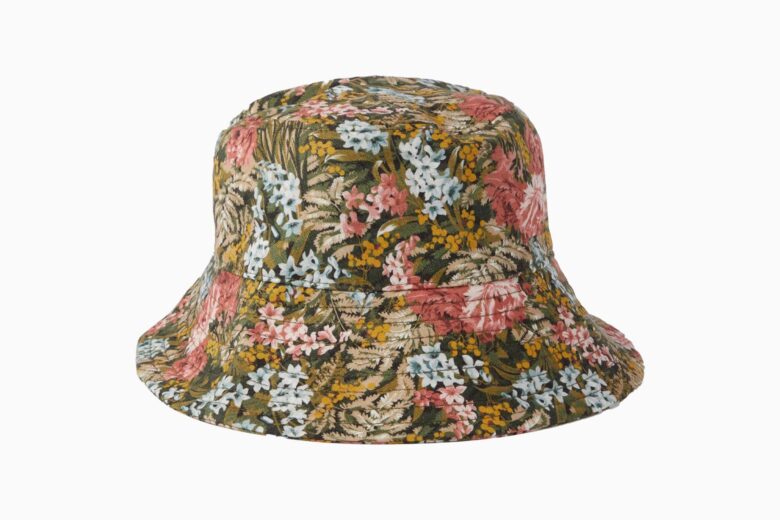 No need to be shy. Erdem's floral-printed bucket hat is a design based on the brand's director Derek Jarman's diary, Modern Nature: Journals. A comfortable cotton-blend, this hat's eye-catching print can be matched with a printed or mono-colored top, shorts or longer summer pants, and comfortable summer shoes.
Best for: Fully embracing the colors of summer.
Isabel Marant Textured Stripe Bucket Hat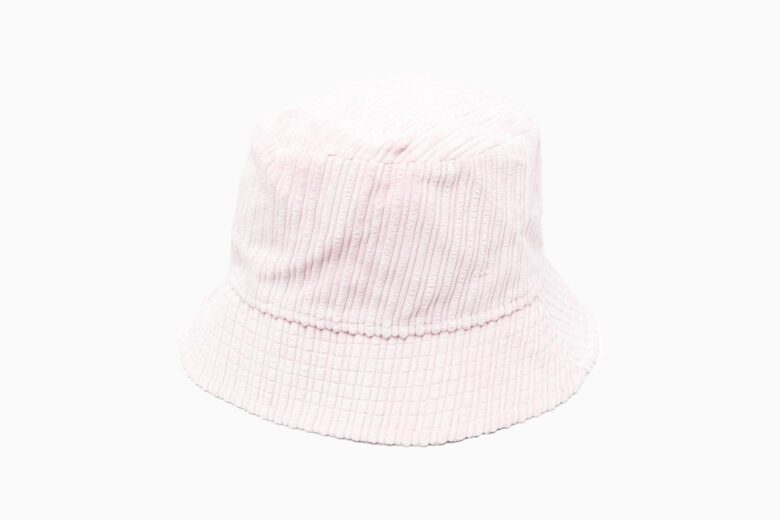 You know what color goes well with sun-kissed skin? Pale pink. If you've managed a bit of a healthy tan, or you're just naturally blessed with darker skin, Isabel Marant's pale pink textured stripe bucket hat is going to look great on you. In fact, add it to an entire pastel and white outfit and let your healthy self be the center of attention.
Best for: Highlighting your own charms.
Jacquemus Le Bob Gadjo Bucket Hat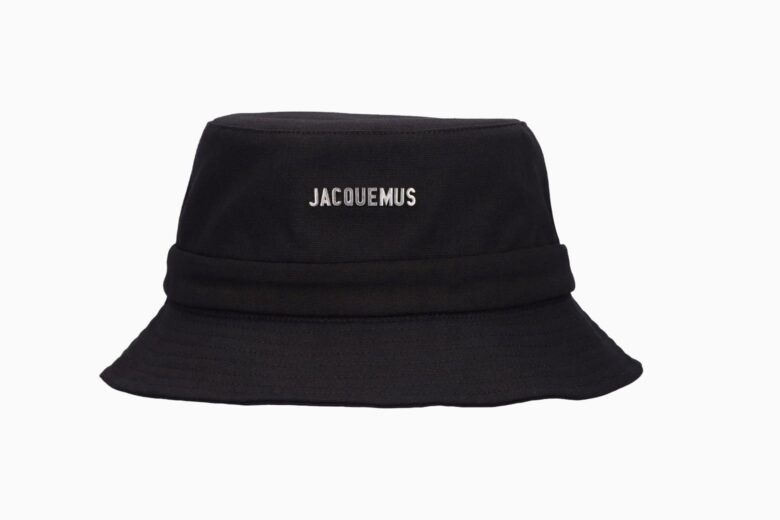 Let's take it back to basics. Jacquemus' Le Bob Gadjo is a basic 100% cotton black, which is broken up by the contrast of the shining metallic logo detail smack dab center on the front. On the golf course, the boat, on a restaurant's patio… this hat is going to fit in nicely anywhere and with any summer casual outfit you care to throw at it.
Best for: Making basic black your blasting-off point.
Burberry Vintage Check Bucket Hat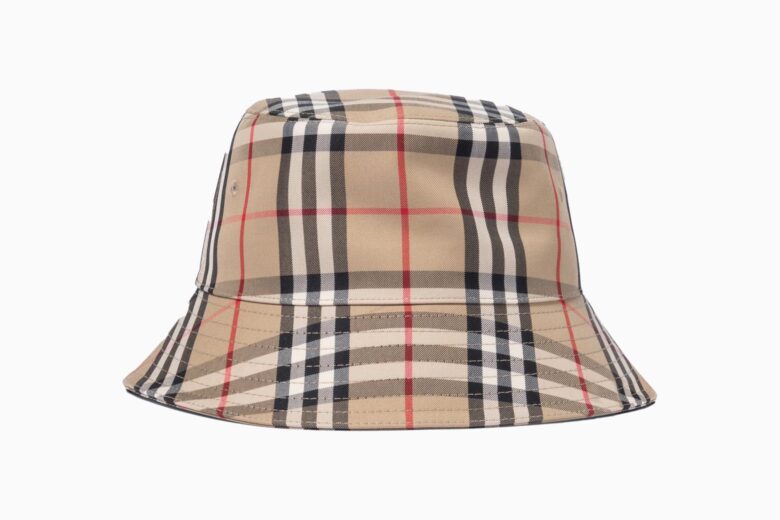 The bucket hat is a vintage style of hat. The Burberry Check is a vintage style. You put them together and you've got the Burberry Vintage Check bucket hat, which is the epitome of old-school charm. Don't worry, you're not going to have to spend the summer covered up in an old-school trench coat, the Burberry bucket hat is still going to work well with modern summer shirts and shorts.
Best for: Boldly adding decades-old charm to your modern-day looks.
Acne Studios Bucket Hat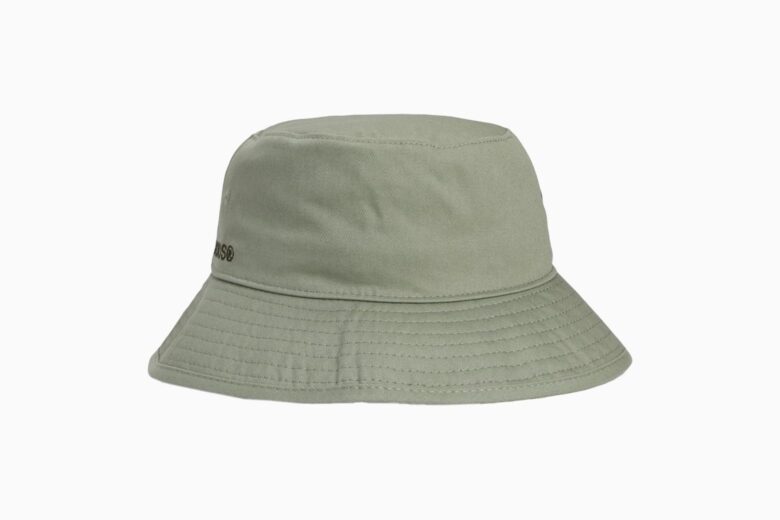 Acne Studios' bucket hat works on the Keep It Simple Stupid principle. Built with cotton tailoring, you're presented with visible stitching, a short brim, and the brand's name on the side. Because of its simple look, this hat is going to be your best friend with a whole lot of different styles of outfits, which also makes it one of the best bucket hats for women.
Best for: Keeping it simple up top so you can do whatever you want down below.
The North Face Class V Bucket Hat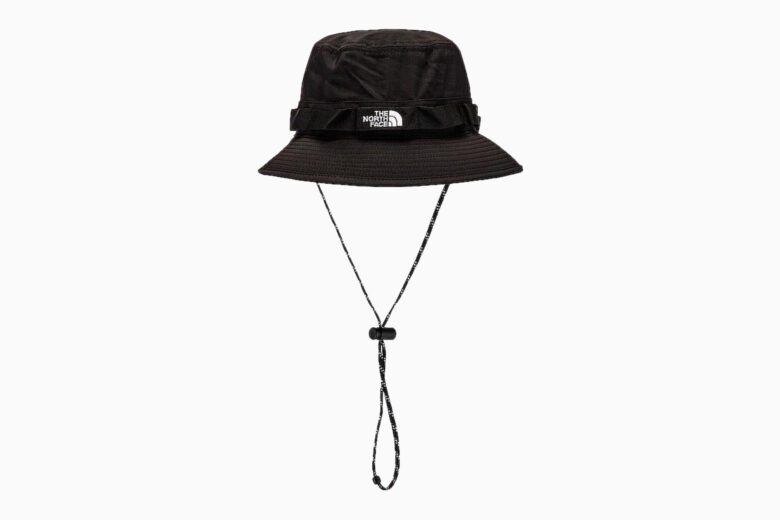 Renowned for its rugged wear, The North Face is one of our favorite brands when spending time in the great outdoors. And this Class V bucket hat is a testament to why. This is the bucket hat you want if you know you're going to be giving your headwear a hard time.
Best for: Tipping your hat to Mother Nature.
Polo Ralph Lauren Embroidered Logo Bucket Hat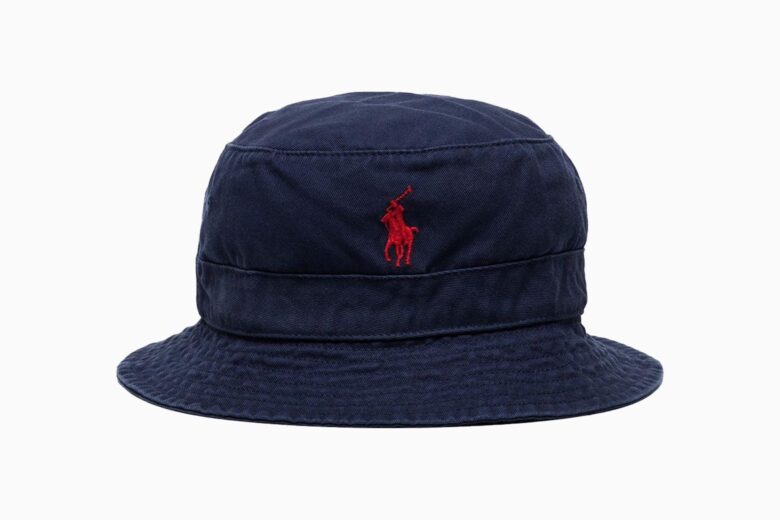 Considering that Polo is best known for the preppy look, the Polo Ralph Lauren embroidered logo bucket hat is surprisingly rugged. Sure, it still offers you a crisp and clean aesthetic that will look great matched with a Polo shirt, but the hat itself stands ready to protect your head from both the sun and the rain.
Best for: Preppy head protection.
Kapital Bandana Print Bucket Hat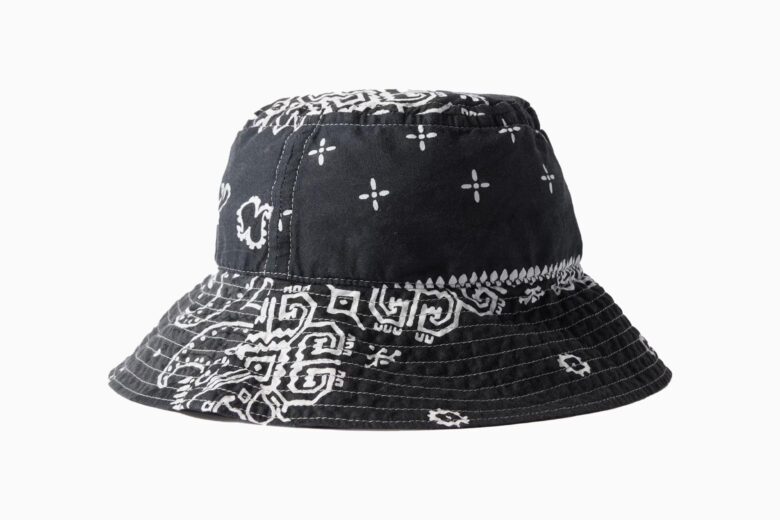 Kapital really tries to push the fashion aspect of bucket hats with the Kapital Bandana Print bucket hat. Avoiding both a plain face, as well as a repeated motif, the Bandana Print hat has a visually appealing bandana design offset across its surface. Aside from being a looker, this bucket hat is low maintenance, requiring a simple toss in the washing machine when it gets soiled.
Best for: Playing with summertime patterns.
Frequently asked questions about men's bucket hats
What is a bucket hat?
Bucket hats feature a soft bowl joined with a loose and wide brim. The brim can be angled down to help deal with unwanted sun or rain, or just for the style. Bucket hats were originally working man's wear, but are now considered a fashionable accessory. Check our round-up of the best bucket hats for men to find the perfect one for you.
What season is best for bucket hats?
Because they are now a fashion item, there is no off-season for bucket hats. Originally, they were intended to keep the summer's sun off of the heads of farmers and would keep heads dry during a region's rainy season.
What is the purpose of a bucket hat?
Aside from being stylish, bucket hats can help protect you from the environment. The wide brim, which can usually be tilted down, does a good job of protecting skin from the sun and can keep rain from dripping down your neck.
Do bucket hats look good on guys?
Bucket hats absolutely look good on guys. They are casual and/or utility hats that are not meant for dressier occasions, but aside from that they can complement almost any sort of casual outfit and occasion. See our list of the best bucket hats for men to see which style works best for you.