The spirits industry might seem pretty saturated but, every so often, a newcomer springs into action with a fresh bottle that refuses to be ignored. And New Amsterdam, with its ever-growing collection of flavored vodkas and recently rebranded gin, is doing just that.
With age comes wisdom but with youth comes the chance to be innovative and make new rules. So, if there's one brand to prove that the fountain of youth is ever-flowing, it's New Amsterdam. Famed for its vodkas and currently selling millions of bottles per year, New Amsterdam is a brand of vodka you won't want to sleep on.
New Amsterdam does standard vodka pretty well but where this brand really shows off its expertise is with its flavored vodkas. Covering all ground from the classic lemon and apple flavors to the soon-to-be-your-new-favorites like raspberry, watermelon and mango, New Amsterdam's flavored vodkas offer an unmistakably delicious tang to whatever you're drinking.
And when we say "millions" it's not an exaggeration. New Amsterdam is a record-breaking vodka that firstly hit the already impressive one-million-case benchmark in 2016 before smoothly moving forward and, almost as quickly, hitting the five million case point. It's now the fastest growing vodka brand in the world.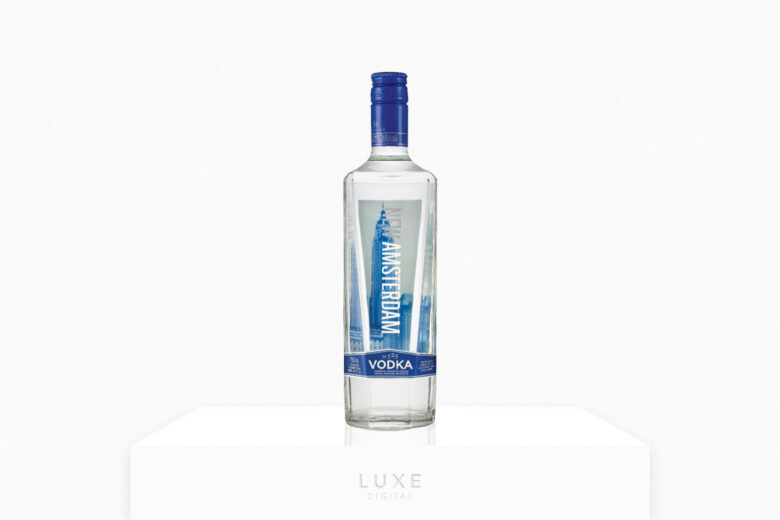 New Amsterdam bottle sizes and prices
| Bottle | Size | Price (USD) |
| --- | --- | --- |
| New Amsterdam Vodka | 750ml | $13.99 |
| New Amsterdam Grapefruit | 750ml | $12.99 |
| New Amsterdam Lemon | 750ml | $13.19 |
| New Amsterdam Raspberry | 750ml | $13.31 |
| New Amsterdam Watermelon | 750ml | $13.67 |
| New Amsterdam Mango | 750ml | $13.99 |
| New Amsterdam Apple | 750ml | $13.99 |
| New Amsterdam Red Berry | 750ml | $13.99 |
| New Amsterdam Orange | 750ML | $13.99 |
| Pink Whitney by New Amsterdam | 750ml | $13.99 |
| New Amsterdam Pineapple | 750ml | $13.99 |
| New Amsterdam Peach | 750ml | $13.99 |
| New Amsterdam Coconut | 750ml | $13.99 |
| New Amsterdam Gluten Free | 750ml | $15.99 |
| New Amsterdam 100 Proof | 750ml | $16.99 |
The story behind New Amsterdam's Vodka
An unstoppable surge to the top
New Amsterdam vodka only launched in 2011 but was an almost instant hit. This silky smooth and impossibly clean tasting spirit ticks all the boxes for a drink that's versatile, enjoyable and affordable. And, when a bottle comes with a guarantee of great taste and will set you back less than $20, you'd be forgiven for picking up New Amsterdam over others on the shelf.
Some of New Amsterdam's smoothness comes from its distillation process. Despite its low price, this vodka is created using premium quality water and grains. It's also distilled five times to remove any impurities, before being filtered a further three times. It's up there with far more expensive brands when it comes to hitting the mark for taste and success. Most bottles are around the 40% ABV mark, with the brand's 100 Proof vodka jumping slightly higher with a 50% ABV. The latter is a vodka made from corn and its slightly higher price point promises delicious aromas of sweet frosting and light citrus.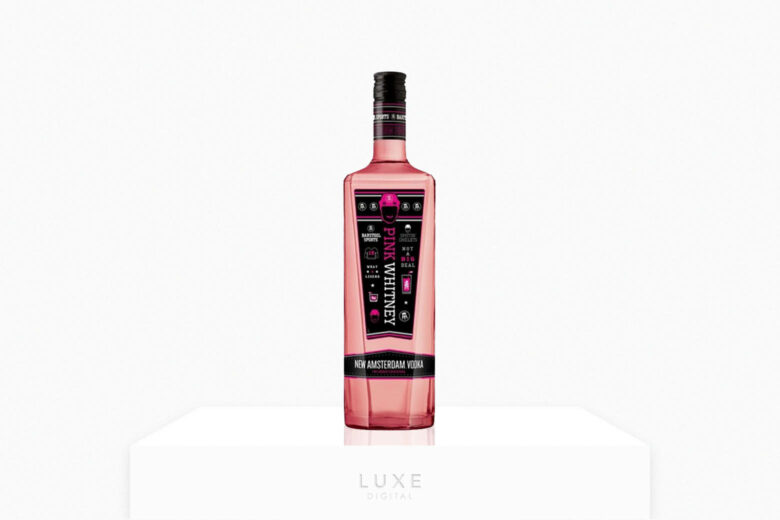 Vodka isn't the only spirit that New Amsterdam produces. In fact, while you might know it nowadays for its huge variety of fruity vodkas, New Amsterdam originally produced gin. Its gin brand debuted in 2007 and sold 100,000 cases in its first 12 months.
This paved the way for the arrival of New Amsterdam vodka, which stole the show as gin's younger, more confident little sister. Haven't heard of New Amsterdam's gin? That's because it's recently been rebranded as "Stratusphere". But, if you're in the market for sampling a different gin (and who isn't?), give it a try. While it might not be quite as popular as the brand's vodka, it's a delicious gin nonetheless. Expect notes of orange and lime and an urge to pour another G&T.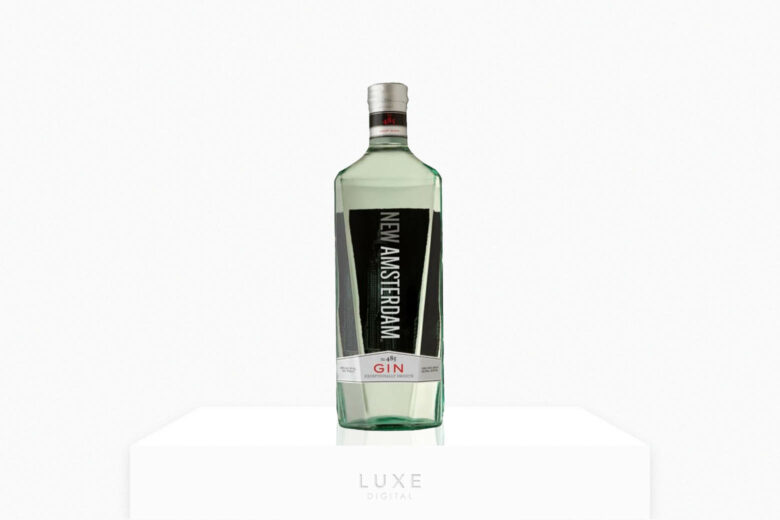 But, back to the vodka. Like many fancy spirits, New Amsterdam has an affiliation with sports and, in their case, it's hockey. Not only has it released multiple hockey-specific limited edition bottles of its vodka, but New Amsterdam also released a pink lemonade flavored vodka in honor of former Pittsburgh Penguin Ryan Whitney. Whitney's favorite drink is pink lemonade and vodka, resulting in the aptly-named Pink Whitney. As you might expect, it's infused with fresh pink lemonade flavor and is perfectly drinkable with an impressive 30% ABV.
How to drink New Amsterdam vodka
Vodka's neutral flavor means this spirit shouldn't really taste like much at all, but it's an acquired taste nonetheless. And one of the best things about vodka is this spirit's carefree nature, which means you're free to mix as you please, exactly to your own tastes. There aren't really any particular rules to follow when drinking vodka other than to chill the spirit first. Connoisseurs might encourage you to drink vodka in its purest form but don't be too concerned if you'd rather mix this spirit with something else.
New Amsterdam is an especially neutral vodka that mixes well with plenty of things. Its high alcohol percentage means vodka doesn't freeze so you're safe to store it away in the freezer for a couple of hours before you bring it out. Once you've got a nice chilled bottle in front of you, feel free to branch out from the norm and mix your vodka with whatever you fancy. Cranberry juice is a popular choice, as is orange juice (to create a Screwdriver cocktail) or lemonade or coke if you're ordering at the bar.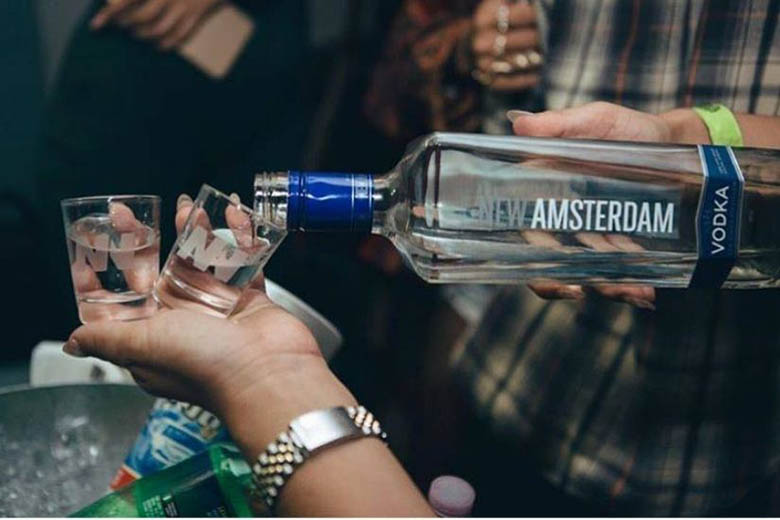 When mixing New Amsterdam into cocktails, try to play around with flavor combinations that complement each other — sweet and sour, bitter, spicy or something in-between.
The best cocktails to make with New Amsterdam
New Amsterdam Mule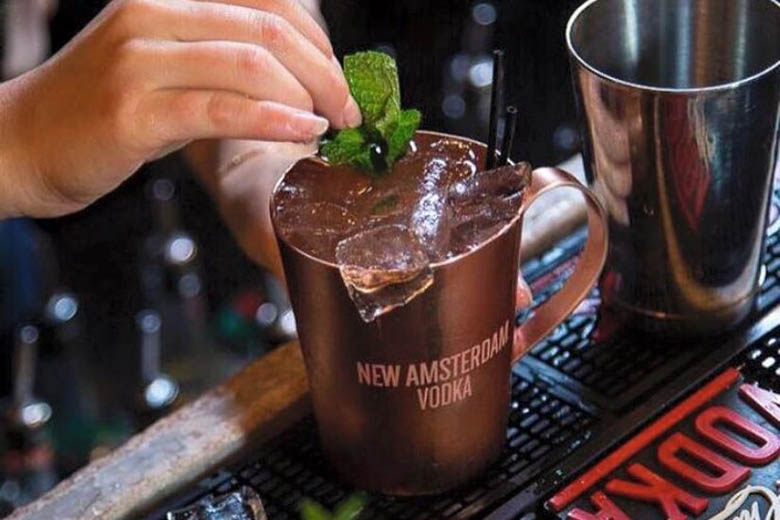 Ingredients:
60ml New Amsterdam Original Vodka
15ml Simple Syrup
15ml Lime Juice
90ml Ginger Beer
Garnish with Lime & Mint
The Moscow Mule gets a European upgrade in the form of the New Amsterdam Mule. Almost as easy to make as it is easy to drink, mix up a New Amsterdam Mule by combining all of the ingredients into a Mule mug filled with ice and stir together until chilled. Then, garnish with lime and mint before serving.
Legendary Lemonade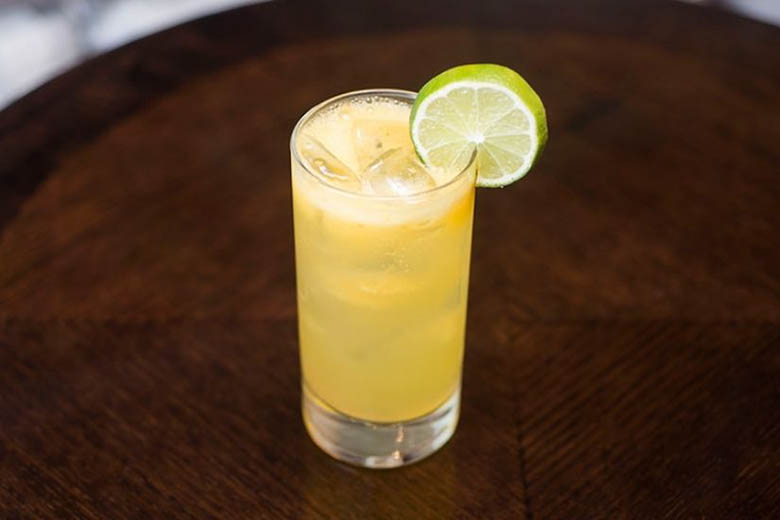 Ingredients:
60ml New Amsterdam Original Vodka
60ml Strawberry or Raspberry Lemonade
60ml Sparkling Moscato
Garnish with a lemon wheel, strawberries or raspberries
Perfect in a glass or a pitcher, a Legendary Lemonade is a party starter of a cocktail that always goes down a treat. To mix one, add the ingredients to a rocks glass filled with ice and give it a stir. To mix up a batch, pour equal measures of vodka, lemonade and Moscato into a pitcher before garnishing with lemon wheels and berries.
The Big Apple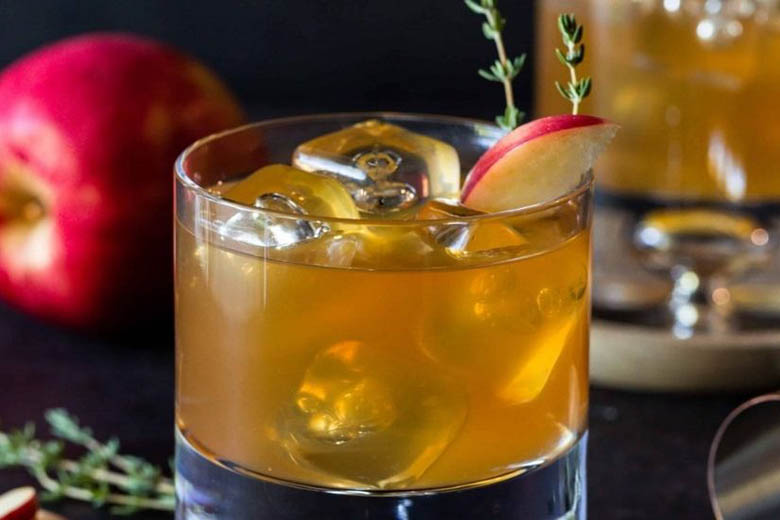 Ingredients:
30ml New Amsterdam Vodka
15ml Vanilla Liqueur
60ml White Cranberry Juice
60ml Apple Juice
15ml Ginger Ale or Ginger Beer
Garnish with apple and lemon slices
Another fruity cocktail that's great for groups is The Big Apple. Fruity by name and fruity by nature, The Big Apple takes mere seconds to concoct and probably won't take much longer to drink up. Make one by pouring all ingredients into a chilled rocks glass filled with ice and garnishing with apple and lemon slices.
Frequently asked questions about New Amsterdam vodka
How much does New Amsterdam cost?
A 750ml bottle of New Amsterdam vodka costs around $16.99 USD. The cheapest bottle of New Amsterdam vodka, Citron flavor, starts at $16.19. New Amsterdam's flavored vodkas generally cost around $16.99 too, and New Amsterdam's 100 proof vodka is slightly higher for 750ml at a cost of around $16.99.
Is New Amsterdam cheap vodka?
New Amsterdam is a very accessibly priced vodka, starting at around $16.99 USD for a 750ml bottle. Despite its low price point, New Amsterdam vodka is renowned for being crisp and clean with a great flavor and enough bite to hold its ground. It's a very popular vodka across the world and sells millions of bottles each year. 
How much is a gallon of New Amsterdam?
The cheapest way to buy a gallon of New Amsterdam vodka would be to buy three 1.75L bottles. These can be purchased on Total Wine for around $24.99 USD per bottle, which would be around $50 for just under a gallon or $75 for a gallon with a bit left for your next occasion.