Once a staple in the competitive automotive industry, Chrysler cars are now limited to just two models. While the Chrysler 300 is still ready to burn rubber and the Chrysler Pacifica can tackle soccer practice like a champ, this once luxurious and dominating brand leaves a little to be desired.
Until now.
Chrysler has released big plans to bring back the greatness it once had. The 2022 unveiling of the electric Chrysler Airflow crossover SUV proved that a Chrysler car can be exciting and compete on the world's stage. By 2028, the brand expects to release an entirely new lineup of EVs to wow us all.
At a glance
| | |
| --- | --- |
| | |
| Name: Chrysler | Industry: Automotive |
| Founded: 1925 | Founder: Walter Chrysler |
| Headquarters: United States | Parent organization: Stellantis |
| Revenue: ~$196.4 billion USD (total Stellantis revenue) | Website: chrysler.com |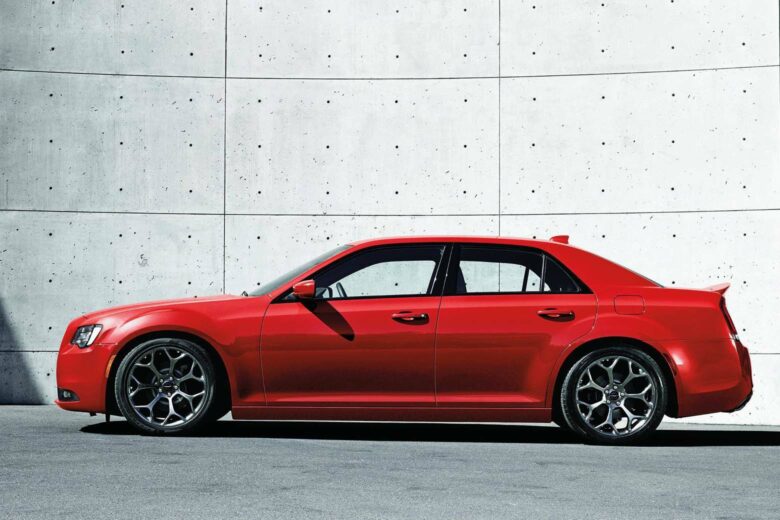 Chrysler price
How much does a Chrysler cost?
Chrysler car prices are fairly reasonable, with the popular Chrysler 300 sedan price starting at $33,700. This entry-level price gets you into a comfortable car with a V-6 engine and nearly 300 horsepower.
At the Chrysler dealer, you'll also find the Chrysler Pacifica price starts at $37,300. While an electric Chrysler doesn't currently exist, the Pacifica Hybrid is the closest you'll get, and its price starts at $48,500. And you'll save money at the pump thanks to its 30 mpg combined rating.
What is the most expensive Chrysler?
The most expensive new Chrysler for sale is the high-performance and powerful Chrysler 300C. It features a monstrous 6.4L Hemi V-8 engine, similar to those used in other high-end Dodge and Jeep models, producing 485 horsepower and 475 lb-ft of torque.
If you want to see other expensive Chrysler models, keep your eyes peeled for upcoming electric Chrysler cars. The Chrysler Airflow concept car is expected to hit the production lines in 2025, with an estimated starting price of $50,000 and premium variants with higher price tags.
How much is the cheapest Chrysler?
The cheapest Chrysler is the Chrysler 300 base model sedan. It starts at a very reasonable $33,700. Chrysler minivans also do a great job at providing top value, and the Chrysler Pacifica price starts at $37,300.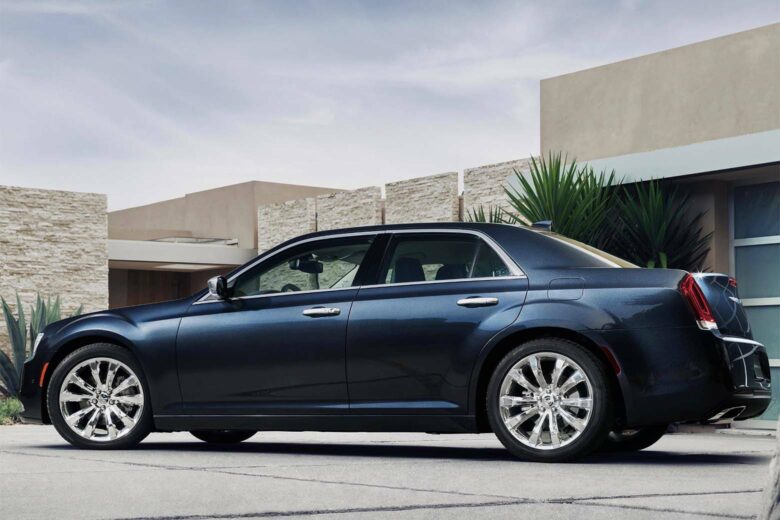 About Chrysler
History of Chrysler
In 1925, Walter Chrysler swept in to take over the struggling Maxwell Motor Company. He reorganized the American automobile producer and brought it from financial strain to a booming company by focusing on creating high-quality reliable vehicles.
The Chrysler Six was a remarkable series of automobiles featuring the Chrysler Straight Six engine that produced incredible power thanks to innovative features like high compression ratio and other protective measures such as a carburetor air filter, oil filter, and four-wheel hydraulic brakes.
Through the mid-20th century, Chrysler expanded its offerings by introducing the more affordable Plymouth brand and taking over Dodge. It also introduced the Hemi engine design, using hemispherical cylinder head valves to achieve a superior surface-to-volume ratio.
Chrysler made many iconic models throughout the years but faced difficulties during the 1970s energy crisis when the less expensive Dodge and Plymouth models stole the spotlight.
As the brand opened the door to the minivan segment, the 1990 Chrysler Town & Country became a new hit. The 1995 Chrysler Sebring was another popular model that fused practical purposes with a relatively stylish appeal.
In 1998, Chrysler joined German-based Daimler-Benz AG to form DaimlerChrysler AG, creating many vehicles together, including the 2004 Chrysler Crossfire. Chrysler was then separated from Daimler in 2007, before encountering significant financial strain during the Great Recession.
Fiat bought Chrysler in 2014, and then in 2021, multinational automotive conglomerate Stellantis bought the Fiat Chrysler Automobiles company.
Chrysler regularly appears on our annual ranking of the most popular luxury car brands online, confirming its place as one of the top manufacturers in the world.
Understanding Chrysler's car range
Chrysler cars fail to follow much of a naming convention. The only two models currently available today are the Chrysler 300 sedan, taking its name from the 1955 Chrysler 300, and the Chrysler Pacifica, once used as a trim package and then again on a crossover SUV before seen on today's Chrysler van.
Interesting facts about Chrysler
Chrysler is one of the Big Three automotive companies in the US, joining General Motors and Ford Motor Company in an iconic status. While Chrysler may be less dominant in today's market, Stellantis plans on bringing back the vibrant brand the world once knew.
Stellantis has announced it plans to release a series of electric Chrysler cars, starting with the Chrysler Airflow, a crossover SUV with a battery-electric drivetrain that will deliver more than 400 miles (644 km) of range on one charge.
Where is Chrysler made?
Chrysler headquarters remain in the United States in Auburn Hills, Michigan. But the production facilities have shifted to Canada, with the Pacifica and 300 made in Ontario, Canada.
Chrysler electric cars
The only current Chrysler electric car is a hybrid model, the Chrysler Pacifica Hybrid. It delivers a whopping 30 mpg on a platform that is made to haul up to eight people and their cargo.
But stay tuned for more electric Chrysler cars soon. The brand has released major targets to release a new lineup of EVs, including the sleek Chrysler Airflow crossover SUV by 2025, and will offer exclusively electric vehicles by 2028.
Perhaps someday soon, the Chrysler logo will be on our list of the best electric cars.
Chrysler models
Let's dive into the details of the past, present, and future Chrysler cars.
Chrysler Airflow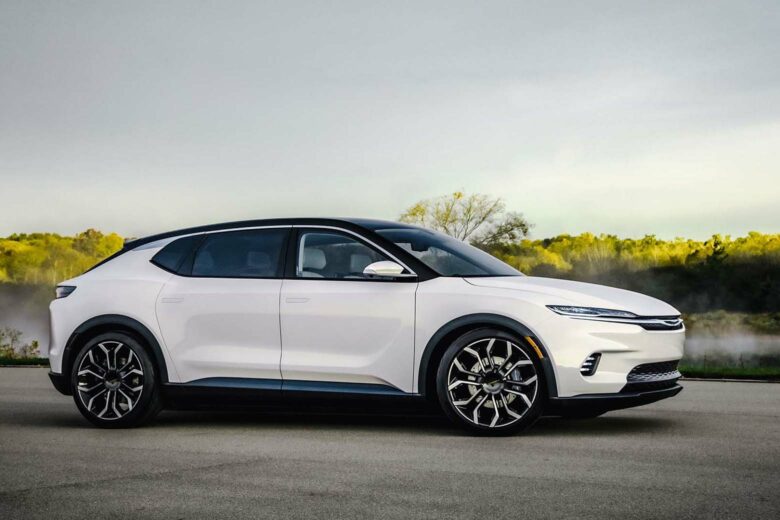 Although Chrysler may have looked like it was tip-toeing the line between life and death, the great American car brand might be hibernating like a grizzly bear. It's now poised for a glorious comeback.
The main sign of rejuvenation came in 2022 with the unveiling of the Chrysler Airflow concept car. It is a battery-electric Chrysler luxury SUV that will compete with the likes of the Tesla Model Y, Volvo XC40 Recharge, and the upcoming Polestar 3 SUV.
The expected 400-mile range of the Chrysler Airflow EV showcases the brand's lofty targets. And so does the design. The exterior has a round shape somewhat reminiscent of a Porsche, while the inside is packed to the gills with advanced tech on par with the Lincoln L100 concept car.
| | |
| --- | --- |
| Price: | Starting at $50,000 (est.) |
| Release year: | 2025 (est.) |
| Engine: | One to two electric motors |
| Top speed: | Not yet available |
| 0-60 mph: | Not yet available |
| Power: | Not yet available |
| Torque: | Not yet available |
| Range: | 400 miles – 644 km |
Chrysler 300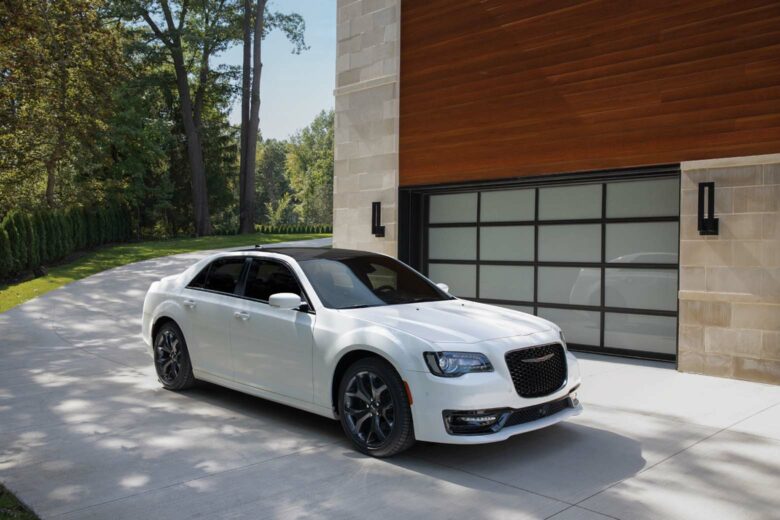 The Chrysler 300 has had a long run with almost two decades of production. But 2023 will be the model's last year, and it's going out with a bang. Although you won't see the Chrysler 300 for sale at Chrysler dealerships any longer, this final iteration will turn some heads.
The top-of-the-line variant is the 485-horsepower Chrysler 300C, featuring a rear-wheel drive layout with a massive 6.4L V-8 engine last seen on the 2015 Chrysler 300 SRT8. It's ready to burn rubber and melt any icy heart.
This popular Chrysler car was unusually luxurious compared to other recent models, partly because during its development, the Chrysler staff went to study Mercedes-Benz engineering designs. It also punched outside its weight class with its long, straight lines and massive front grille, not unlike that seen on a Rolls-Royce or Bentley.
| | |
| --- | --- |
| Price: | Starting at $33,700 |
| Release year: | 2005 |
| Engine: | 3.6L V-6, 5.7L V-8, 6.4L V-8 |
| Top speed: | 160 mph – 257 km/h |
| 0-60 mph: | 4.3 to 6.3 sec |
| Power: | 485 to 292 hp |
| Torque: | 475 to 274 lb-ft |
Chrysler Pacifica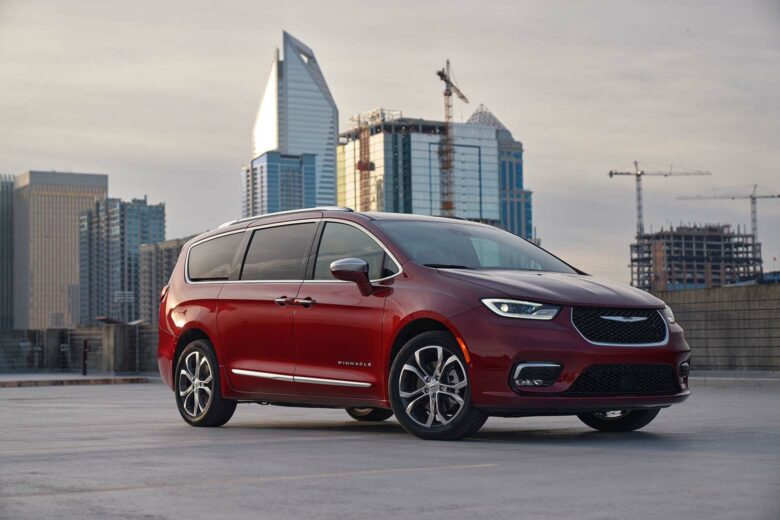 As the world turned to crossover SUVs from nearly any brand, from Cadillac to Maserati, the Chrysler Pacifica remains steadfast in its practical minivan segment.
In the same way Lamborghini is known for massive engines, this Chrysler van puts the Stow'n Go seating first. This impressive design might not transform it into one of the best classic cars, but it lets the second-row seats fold flat for hauling cargo better than giant Land Rovers.
Although the Pacifica van's future is uncertain as electric Chryslers pave the way forward, the Pacifica hybrid achieves an impressive 30 mpg combined EPA rating. Let's see if the world's most expensive or fastest cars match that.
| | |
| --- | --- |
| Price: | Starting at $37,300 |
| Release year: | 2017 |
| Engine: | 3.6L V-6 with available hybrid |
| Top speed: | 111 mph – 179 km/h |
| 0-60 mph: | 7.3 sec |
| Power: | 287 to 260 hp |
| Torque: | 262 lb-ft |
Chrysler Voyager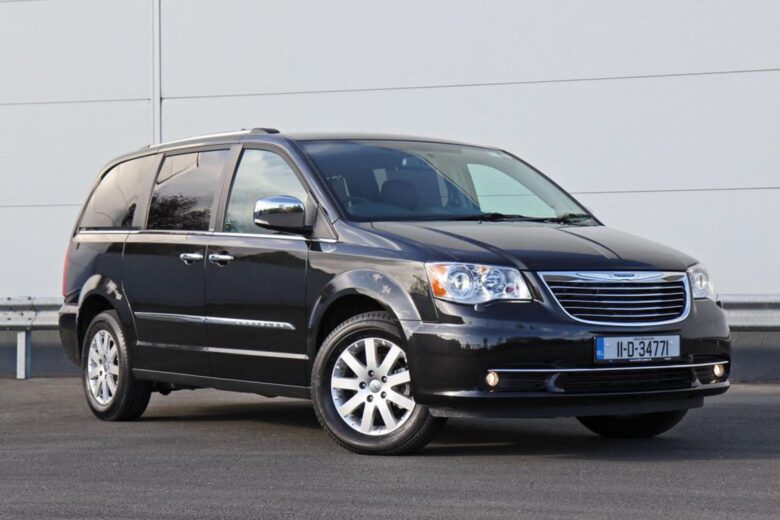 While not quite as exclusive as other luxury cars like those from Bugatti or Koenigsegg, this Chrysler van is only available to select buyers. You have to maintain a commercial fleet to get your hands on a new Chrysler Voyager.
In return, you get a more affordable version of the Pacifica minivan. It holds the same 3.6L V-6 engine and second-row Stow'n Go seating but on a platform without leather seats or automatic climate control.
The Chrysler Voyager and Chrysler Grand Voyager might be the least exciting vehicle in the history of Luxe Digital's automotive coverage, but then again, not every vehicle is made to compete with luxury brands like Pagani, Aston Martin, and McLaren.
| | |
| --- | --- |
| Price: | Starting at $33,600 |
| Release year: | 1988 |
| Engine: | 3.6L V-6 |
| Top speed: | 111 mph – 179 km/h |
| 0-60 mph: | 7.2 sec |
| Power: | 287 hp |
| Torque: | 262 lb-ft |
Chrysler PT Cruiser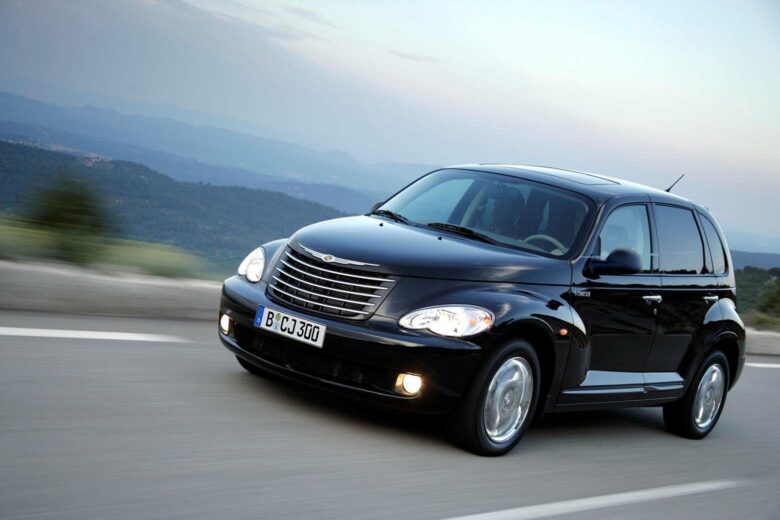 The Chrysler PT Cruiser broke the mold at its release and exemplified the brand's willingness to take risks. The PT cruiser is a retro-styled hatchback that could be considered a Chrysler SUV, strikingly resembling today's compact crossover SUVs.
If you think PT Cruisers for sale didn't generate demand, think again. More than 1 million units of this model rolled off the production lines and into customer driveways, including many of the PT Cruiser convertible variants.
This unique Chrysler car might not win battles against a modern BMW X3, Audi Q3, or Lexus NX, but it was once a pretty remarkable achievement.
| | |
| --- | --- |
| Price: | Starting at $19,000 (2010 MSRP) |
| Release year: | 2001 |
| Engine: | 2.4L inline-4 with available turbo |
| Top speed: | 125 mph – 201 km/h |
| 0-60 mph: | 7.0 sec |
| Power: | Up to 230 hp |
| Torque: | Up to 245 lb-ft |
Chrysler Prowler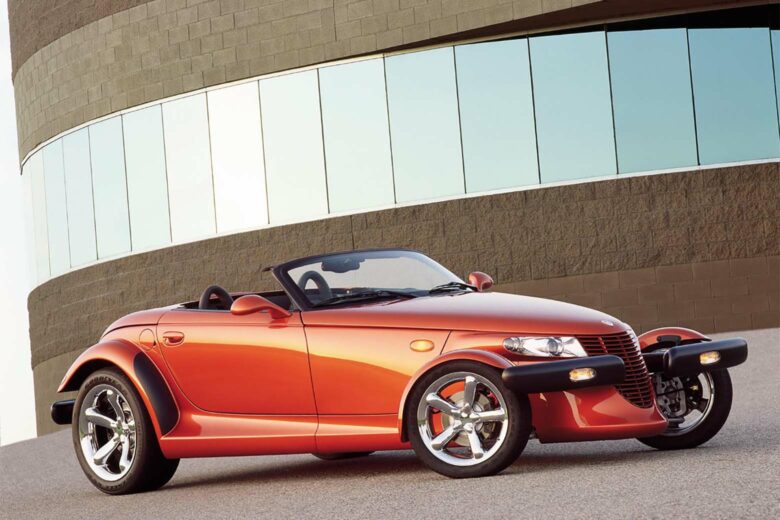 If you've ever wondered what happens when you let hot-rod-loving engineers design the production car of their dreams, the Chrysler Prowler is your answer.
With distinctive racer-style open front wheels and a convertible roof, the Prowler was a limited-production model that won over the hearts of 1930s car enthusiasts across the globe. But this one featured a powerful, modern V-6 engine that leaves the usual hot rod reliability issues in the dust.
Available as a Plymouth Prowler and Chrysler Prowler, a total of 11,702 units were produced, each one of them as unique as the rest.
| | |
| --- | --- |
| Price: | Starting at $44,600 (2002 MSRP) |
| Release year: | 1997 |
| Engine: | 3.5L V-6 |
| Top speed: | 126 mph – 203 km/h |
| 0-60 mph: | 5.9 sec |
| Power: | 253 hp |
| Torque: | 255 lb-ft |
Chrysler 200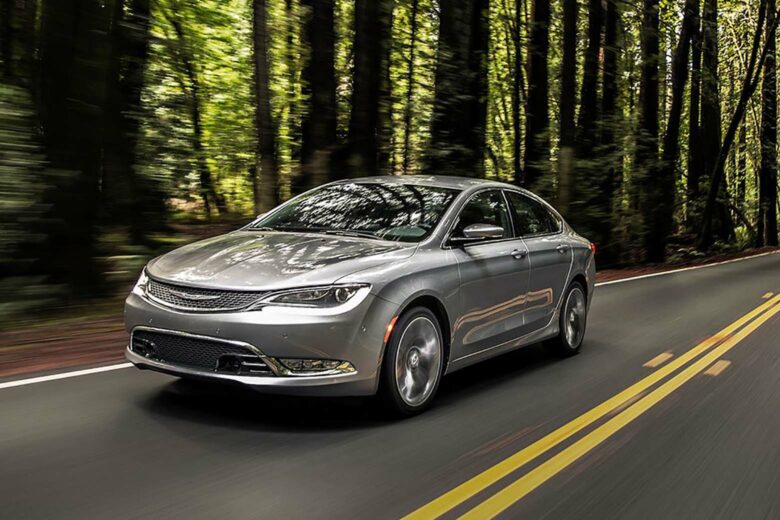 Once selling more than 140,000 units annually, the Chrysler 200 was a staple in the American car brand's lineup. This midsize sedan didn't dazzle us like a Ferrari or Lotus Cars, and probably wouldn't hold up against Genesis models, but it was still a fairly upscale creation.
The inline-4 engine options wouldn't win many awards, but the later versions of the Chrysler 200 feature the 3.6L Pentastar V-6 that holds some serious pep.
The touchscreen infotainment screen, available Garmin GPS navigation, and Alpine premium sound system helped deliver a more luxurious Chrysler car.
| | |
| --- | --- |
| Price: | Starting at $23,200 (2017 MSRP) |
| Release year: | 2011 |
| Engine: | 2.4L inline-4, 3.6L V-6 |
| Top speed: | 129 mph – 208 km/h |
| 0-60 mph: | 6.8 sec |
| Power: | Up to 295 hp |
| Torque: | Up to 262 lb-ft |
Chrysler customer service number
To speak with a knowledgeable staff member, call the Chrysler customer service number at 1-800-247-9753. You can also visit the Chrysler Contact Us page for a mailing address, email options, and to find a local dealer.
Chrysler social media profiles
Stay up to date with the latest news and events by following the official Chrysler social media profiles:
Frequently asked questions about Chrysler
Are Chrysler cars still made?
Yes, Chrysler cars are still made. The current lineup is the Chrysler 300 sedan and the Chrysler Pacifica minivan. The American car brand has announced plans to rejuvenate its lineup, starting with the 2025 Chrysler Airflow electric SUV. Read our Chrysler car models and prices guide to learn more.
Is Chrysler American or German?
Chrysler is an American car brand, started in Detroit, Michigan, and with current headquarters in Auburn Hills, Michigan, but owned by Netherlands-based Stellantis. Chrysler is one of the Big Three automotive companies in the US, along with GM and Ford.
What brands does Chrysler own?
Other brands owned by the same company as Chrysler include Jeep, Dodge, Ram, Alfa Romeo, Fiat, Citroen, Maserati, Opel, and Peugeot. All are owned by Stellantis, a multinational automotive conglomerate with headquarters in Amsterdam, Netherlands.
How much do Chrysler cars cost?
Chrysler cars cost about $34,000 to $57,000. The Chrysler 300 starts at $33,700, but the high-performance Chrysler 300C price is $56,600. The Chrysler Pacifica minivan's price starts at $37,300. The upcoming Chrysler Airflow EV is estimated to cost $50,000.