It's hard to talk about the recent history of the United States without mentioning Buffalo Trace at least once or twice. Known as the oldest continuously-operating distillery in the US, this popular bourbon brand, with its smoky, sweet and ever so slightly spiced notes, is a firm favorite for whiskey drinkers old and new and especially those with a love of history.
Most distilleries in the US have a fragmented history: one that either begins after the prohibition period or an even shorter one, which stopped at the beginning of prohibition. Buffalo Trace? Theirs never stopped running.
Even when the sale of alcohol was illegal, this distillery still legally continued to produce its much-loved whiskey, because its spirit was produced for "medicinal purposes".
That might just be where Buffalo Trace's popularity really took off. During this time, it was possible to order a "prescription" of one pint every 10 days: Buffalo Trace sold over 60 billion pints.
And that's saying something for a distillery that prides itself on a relatively small-batch process. This award-winning bourbon is batched from no more than 40 barrels at a time. Nowadays, Buffalo Trace produces an estimated 10,000,000 liters of whiskey per year. And that's a number that's only going up.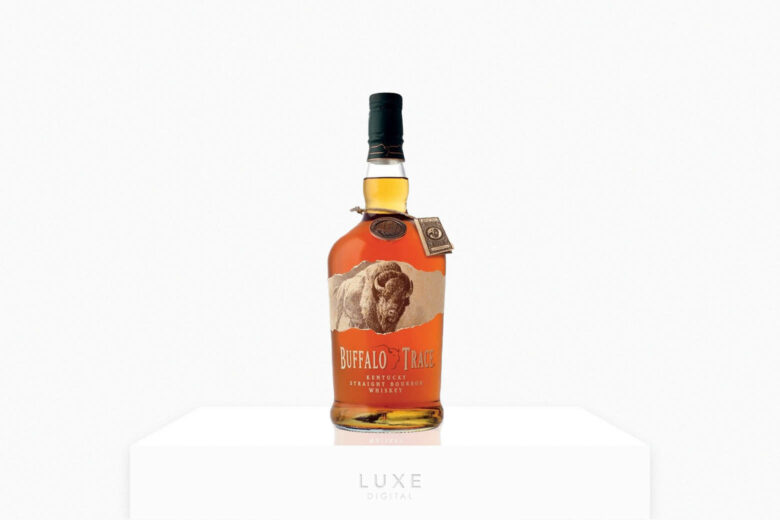 Buffalo Trace Bourbon price and bottle sizes
| Bottle | Size | Price (USD) |
| --- | --- | --- |
| Buffalo Trace White Dog Wheated Mash | 375ml | $22.99 |
| Buffalo Trace Distillery Bourbon Cream | 750ml | $27.99 |
| Buffalo Trace Bourbon | 750ml | $47.99 |
| Buffalo Trace Kosher Kentucky Straight Rye Whiskey | 750ml | $54.99 |
| Buffalo Trace Kosher Wheat Recipe | 750ml | $69 |
| Buffalo Trace Kosher Rye Recipe | 750ml | $124.99 |
| Buffalo Trace Experimental Collection | 750ml | $149.99 |
Older and wiser, year by year
With age comes wisdom and Buffalo Trace is right at the top when it comes to proving just that. Everything about this spirit is just right: it's a bourbon designed carefully; just as much for newbie drinkers as it is for whiskey connoisseurs.
This solid bourbon is rich and complex, renowned for its smooth notes of vanilla and toffee. Bring it along to mix into cocktails or to sip by itself or with a drop of water: Buffalo Trace ticks all the boxes in the world of whiskey drinking.
Each batch of Buffalo Trace is double distilled and then aged in new oak barrels, most of which are sourced from the Ozark Mountains. It's not just the whiskey itself that's aged, either: the wood is aged for six months before being built into barrels. Then, the insides are charred and the whiskey — known as White Dog at this point — goes in.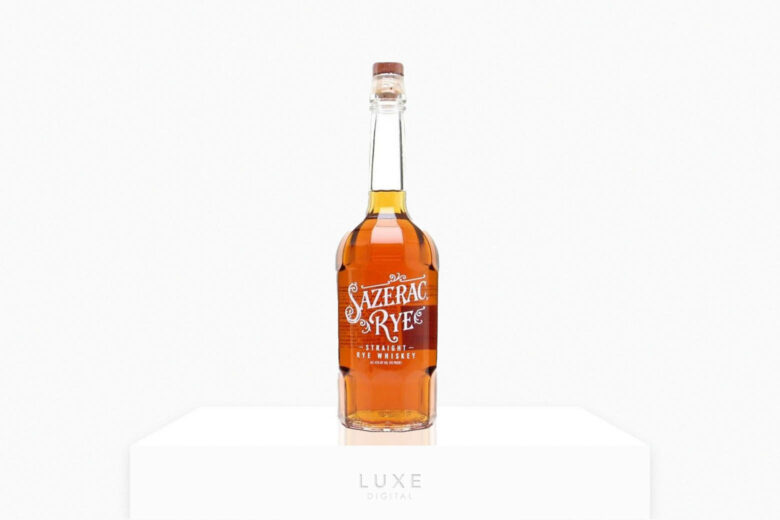 While the whiskey itself has won plenty of awards, it's still not quite as popular as its distillery. Buffalo Trace's distillery, still known by its old name, George T. Stagg Distillery, was listed as a National Historic Place in 2001 and officially called a National Historic Landmark in 2013. Coming here isn't just a winner from an alcohol perspective; it's also a piece of US history.
Family owned and located in Franklin County, Kentucky (close by to other Kentucky favorites like Maker's Mark and Blanton's), the distillery covers an impressive 130 acres of land and is home to four centuries of architecture. It's impossible to wander around it without thinking back about the brand's 200+ years of history. 
Now, it's the most award-winning distillery in the world. It's got more than 100 awards under its belt for its vast array of products and Buffalo Trace was on the receiving end for plenty of them — along with other popular brands like Old Taylor, Eagle Rare, George T. Stagg and McAfee's Benchmark.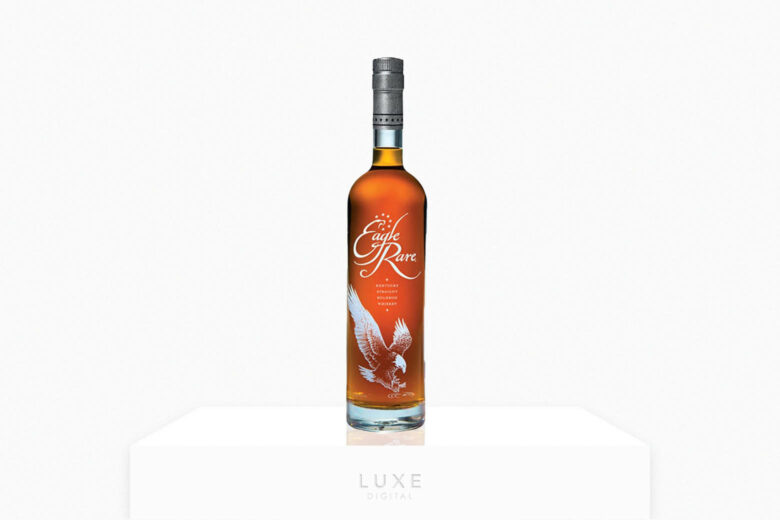 How to drink Buffalo Trace Bourbon
There are three main ways to drink Buffalo Trace bourbon and they're all pretty simple. This robust, slightly sweet spirit deserves a lot of attention and the best ways to drink it are designed to fully appreciate each note, one at a time.
The first way to drink Buffalo Trace is neat. Whiskey connoisseurs and those with a taste for the spirit will likely drink Buffalo Trace this way. For best results, enjoy your Buffalo Trace out of a brandy snifter glass or a rocks glass. Aim to pour around 60 ml (a "finger") of bourbon at a time, so as best to enjoy it rather than rushing it.
If neat bourbon is too strong of a taste, try adding a drop of water. Again, a rocks glass is your best companion for this style of drinking. If you're feeling fancy (or drinking somewhere fancy), you might be given a pipette for adding water to your whiskey. If not, a gentle droplet straight from the bottle will do the trick.
Alternatively, drink your Buffalo Trace on the rocks. The addition of ice counteracts the strong flavors of the whiskey, making it more palatable for newer drinkers. If you're drinking your Buffalo Trace while eating, a little bit of bottled or distilled water is considered the best way to get the most from the spirit without overshadowing your food.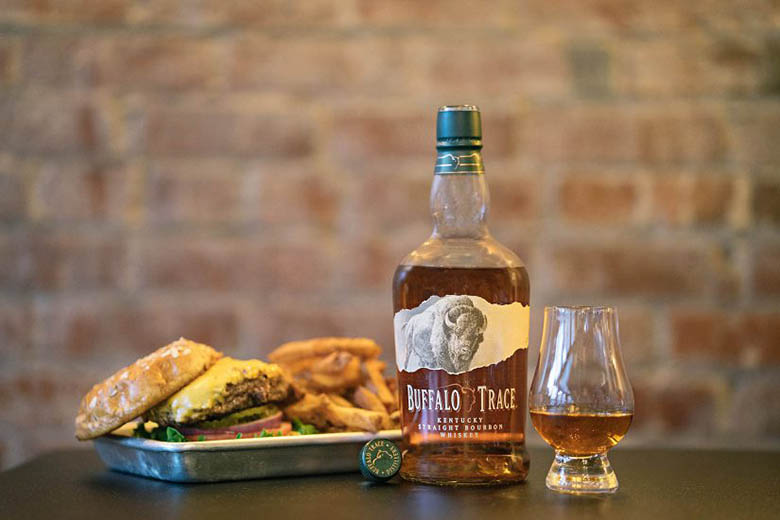 Buffalo Trace Bourbon recipes: The best cocktails to make
Buffalo Trace is renowned for being at the sweeter end of bourbons, which makes it a great option for cocktails and those who might not traditionally opt for a whiskey-based drink. Choose cocktails that either balance out the sweet notes or accentuate, depending on who's drinking.
Bourbon Peach Smash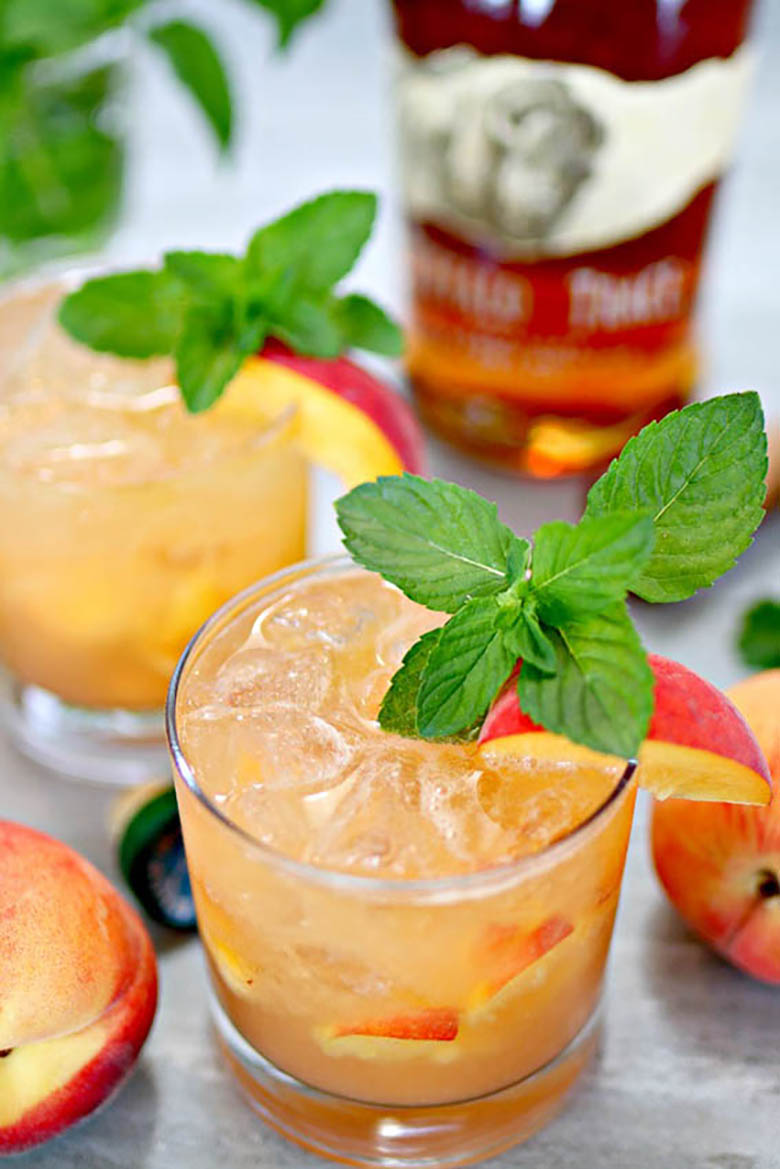 Ingredients:
60 ml Buffalo Trace Bourbon
30 ml Simple Syrup
Half a Large Peach, diced
Four Large Mint Leaves
Splash of Ginger Beer
Fresh Mint and Peach Slice for garnishing
A sweeter take on the typical bourbon cocktail, this Bourbon Peach Smash is delicious even to non-whiskey drinkers. Make one by adding peach, mint leaves and the simple syrup to a cocktail shaker. Muddle to release the juices and mint oils. Then, add Buffalo Trace Bourbon and ice and shake vigorously. Strain into a Rocks glass filled with more ice and top with ginger beer. Garnish with the fresh mint sprigs and a peach slice before serving.
Bourbon Old Fashioned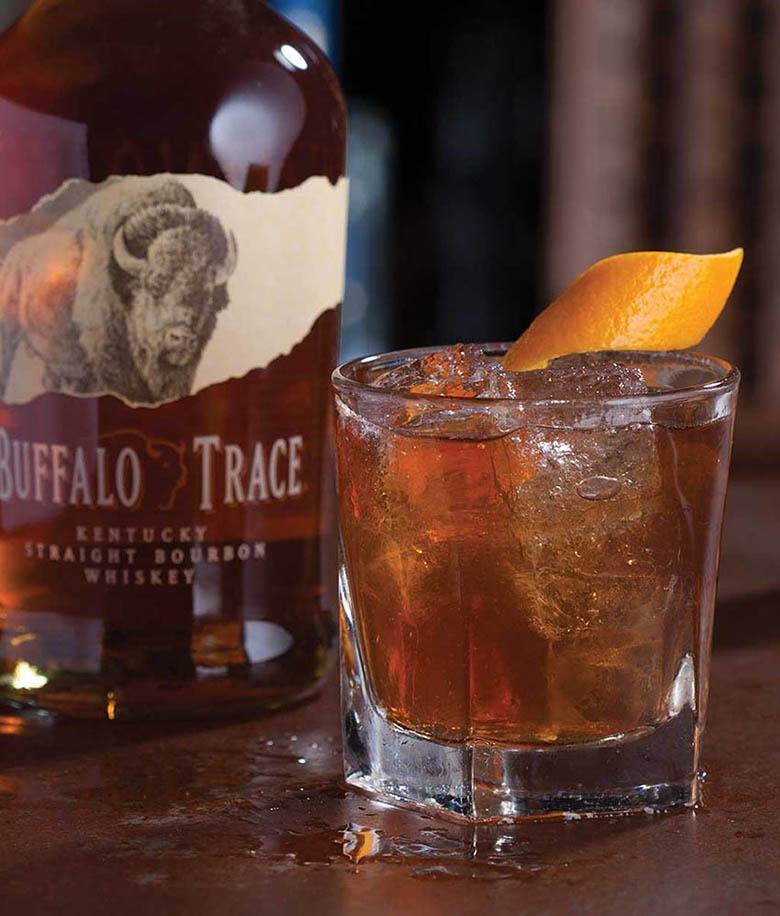 Ingredients:
60 ml Buffalo Trace Bourbon
Two dashes Angostura Bitters
One Sugar Cube
One splash Water
One Large Ice Cube
Orange Peel for garnishing
The best Old Fashioneds are made with a premium bourbon and Buffalo Trace works every time. To make, drop the sugar cube into an Old Fashioned glass and add bitters and water. Muddle until the sugar is fully dissolved. Next, place the ice cube in the glass and pour over your Buffalo Trace. Gently stir, and add the orange peel as garnish before serving.
Whiskey Sour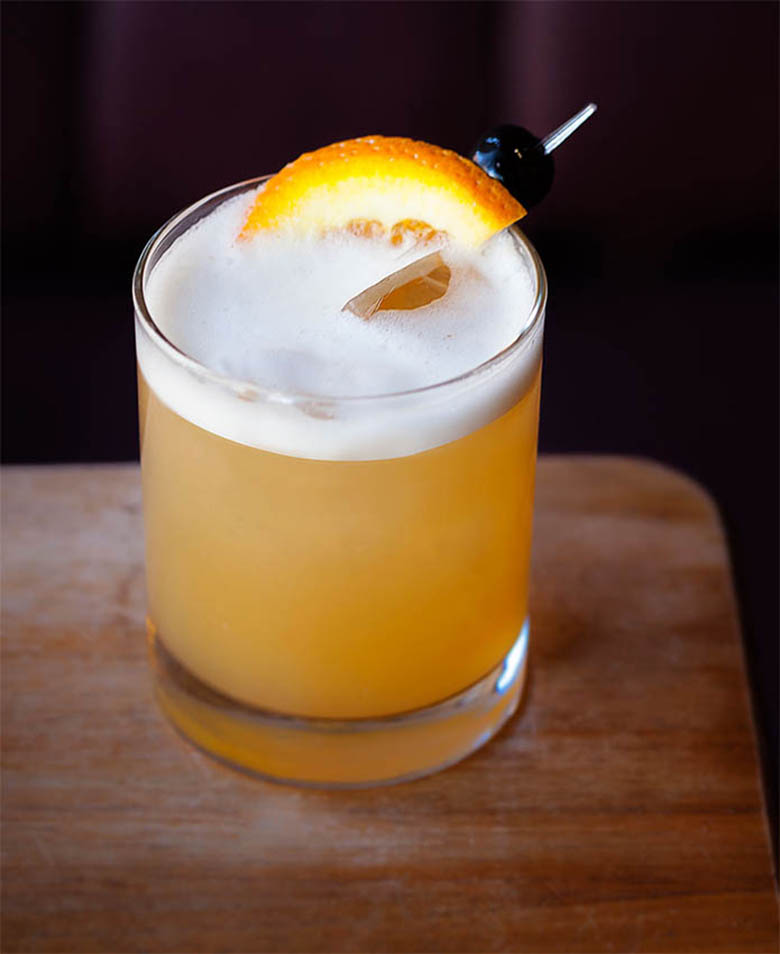 Ingredients:
60 ml Buffalo Trace Bourbon
30 ml Fresh Lemon Juice
25 ml Pure Maple Syrup (or Simple Syrup)
Orange Peel and a Cocktail Cherry for garnishing
The perfect balance of smoky and sour, a Whiskey Sour is brilliantly versatile. Make one by adding Buffalo Trace Bourbon, lemon juice, syrup and a handful of ice to a cocktail shaker. Shake vigorously until the mixture is cold. Then, strain the mixture into an Old Fashioned glass and add ice. Garnish with the orange peel and a cocktail cherry before serving.
Frequently asked questions about Buffalo Trace Bourbon
Is Buffalo Trace expensive?
Buffalo Trace Bourbon is a mid-price bourbon and a 750 ml bottle starts at around $45.99. Prices vary and more premium offerings like the Buffalo Trace Experimental Collection cost around $149.99 per 750 ml bottle.
Is Buffalo Trace a good bourbon?
Buffalo Trace is widely regarded as a great bourbon. It's a firm staple to store at home for any occasion. Some other popular whiskey brands include Jack Daniel's and Bulleit.
How much is Buffalo Trace whiskey?
Buffalo Trace whiskey starts at $22.99 for a 375 ml bottle of Buffalo Trace White Dog Wheated Mash and goes up to around $149.99 per 750 ml bottle of Buffalo Trace Experimental Collection.
Do they sell bourbon at Buffalo Trace?
Buffalo Trace Distillery is mostly known for its bourbon production, but it also produces other spirits like rye whiskey and vodka.