There's pretty much a use for everything when it comes to Absolut Vodka.
Andy Warhol used it as aftershave, the local pigs and cows over in Sweden feast upon the leftover stillage (or "distillate byproduct" if you want to be fancy) and, of course, a large population of the world is quite fond of it too.
And, as well as finding creative uses for the vodka itself, Absolut is also a *cough* absolute pioneer when it comes to paving the way for creativity across the world.
Back in 2005, the brand released a music album loosely based around Lenny Kravitz's "Breathe" as a sort of promotional push called Absolut Tracks. In more recent years, it has curated the Absolut Art Collection at the Museum of Spirits in Stockholm, featuring 900 Absolut-themed commissioned works by big names like artist Damien Hirst and designer Tom Ford.
If that wasn't enough, it also launched its own virtual-reality experience with Canadian DJ Deadmau5. Basically, if there's a new creative outlet on the horizon, you can bet that Absolut has already put together a game plan to tackle it.
This vodka's focus on purity means its rich, full-bodied, smooth and mellow flavours come without any artificial colours or flavourings. With its core Absolut Original 40% ABV Vodka and its 31 equally as delicious flavoured bottles, you can bet the masses will always be lining up to see what this vodka-giant does next.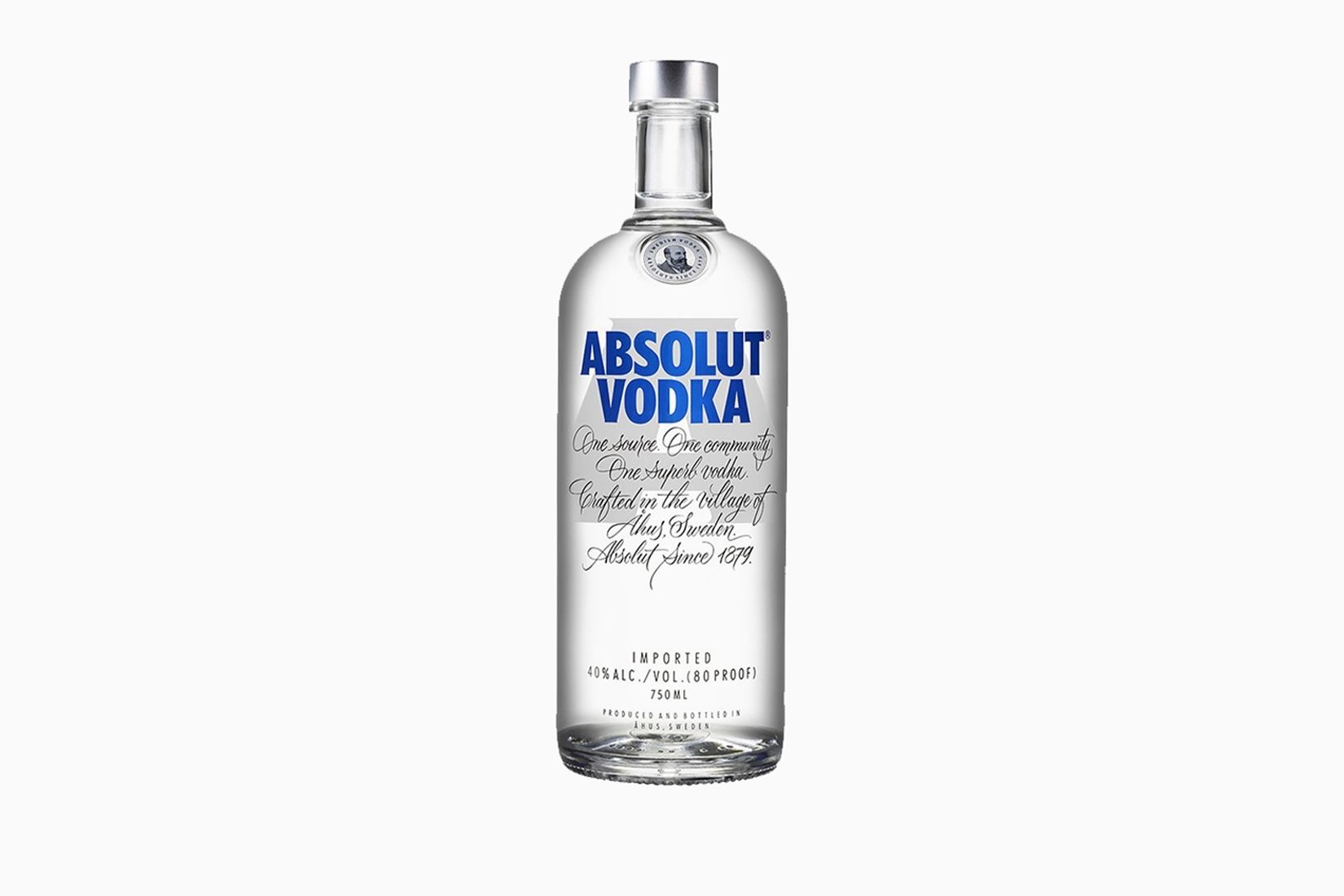 Absolut Vodka price and bottle sizes
| Bottle | Size | Price (USD) |
| --- | --- | --- |
| Absolut Citron Vodka | 750ml | $25 |
| Absolut Apeach Vodka | 750ml | $25 |
| Absolut Mango Vodka | 750ml | $25 |
| Absolut Lime Vodka | 750ml | $25 |
| Absolut Grapefruit Vodka | 750ml | $25 |
| Absolut Mandrin Vodka | 750ml | $25 |
| Absolut Juice Strawberry Edition | 750ml | $25 |
| Absolut Juice Pear & Elderflower Edition | 750ml | $25 |
| Absolut Juice Apple Edition | 750ml | $25 |
| Absolut Original Vodka | 750ml | $29 |
Absolut Vodka: the story behind the brand
Let's take a quick look at the history behind the Absolut Vodka brand.
If you're not familiar with the name Lars Olsen Smith, you should be.
The old guy shown on every single bottle of Absolut wasn't one to cut corners when it came to creating the spirit. Lars figured out a new way to distill vodka in 1877 and used this skill to produce "Absolut Rent Brannvin" or, as we know it today, Absolut.
"Absolut Rent Brannvin" translates to "Absolutely Pure Vodka" and was named as such to describe the fact that Absolut contains nothing other than pure, undiluted ingredients.
Lars also wasn't prepared to bend to the rules in Stockholm at the time, which meant that Absolut was originally produced on a nearby island where a liquor license wasn't needed. Anyone who wanted to visit the distillery could do so with a free ferry ride.
Despite Lars' fussiness, you'll still find his face proudly displayed at the top of each medicine-inspired bottle.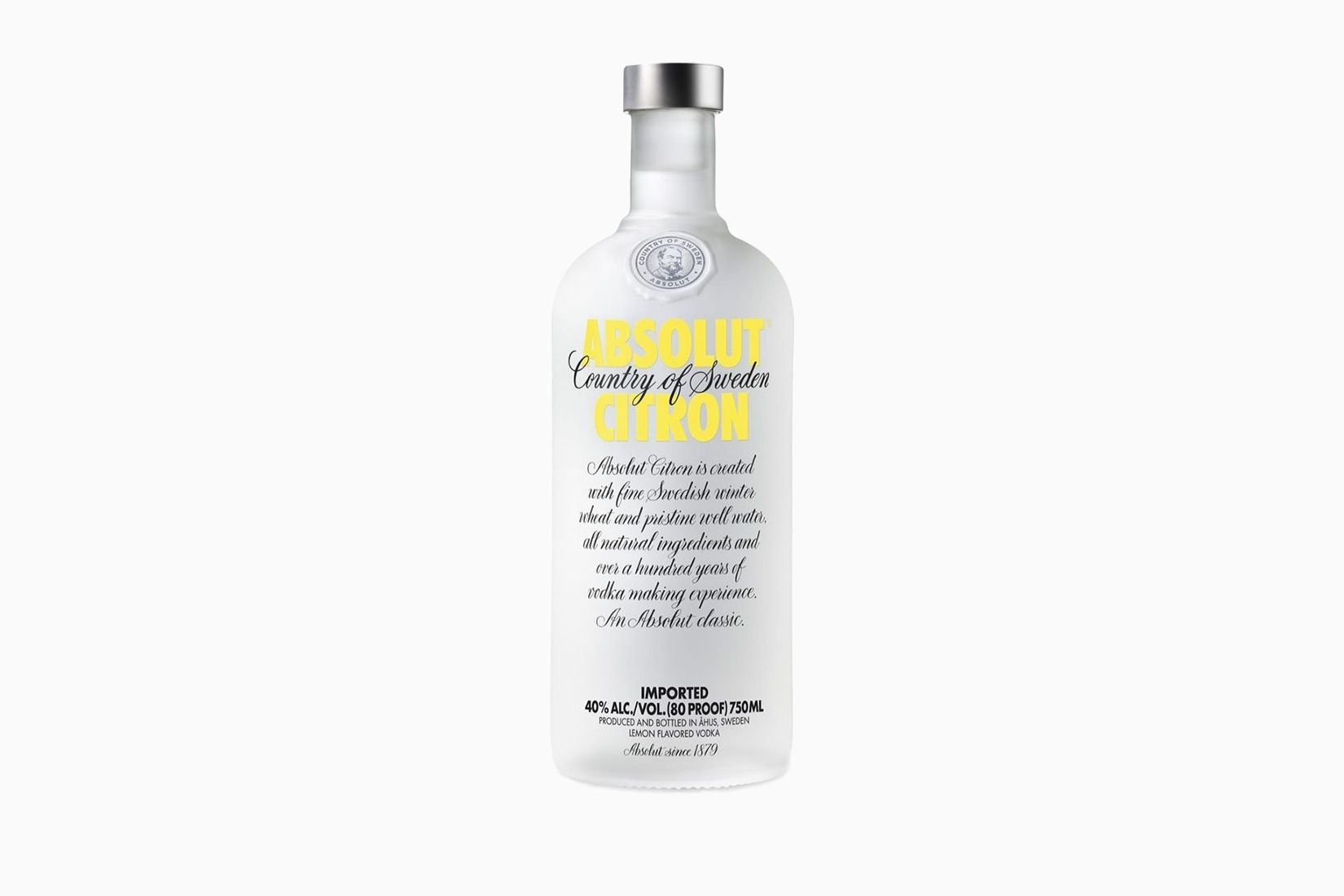 And let's talk about those bottles.
The brand, which is one of the few that doesn't use labels on its bottles, took inspiration from 18th-century Swedish apothecaries. This was in contrast to every other single vodka brand at the time — and most in recent times — who took their inspiration from Russian vodka designs.
Perhaps it was this unique touch or maybe it was the crystal clear clarity of the spirit itself, but Absolut quickly rose through the ranks to become one of the biggest vodka brands in the world. As of recent years, Absolut's Åhus distillery produces half a million bottles a day just to satisfy the brand's US audience. And that's without taking the rest of the world into account.
Not only is Absolut's Original Vodka a hugely popular choice worldwide, but its flavoured vodkas are also widely enjoyed, too. Absolut Citron was the world's first commercially available clear flavoured vodka and the brand's other 30+ flavours, including unusual bottles like Wild Tea and Orient Apple, are also delicious options.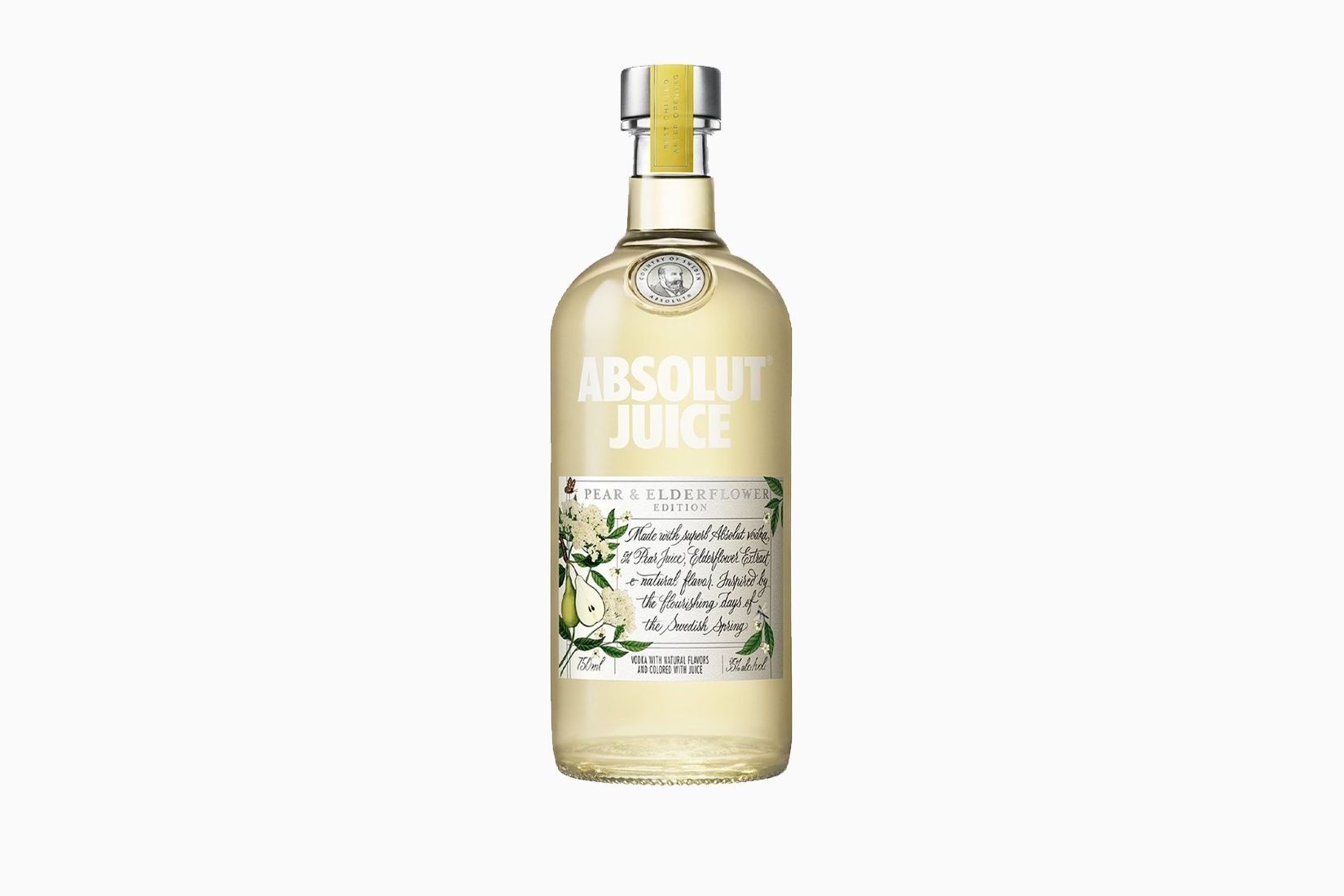 But, the best thing about Absolut?
It's a sustainable brand from beginning to end. All of the components of Absolut are widely found in southern Sweden (within a 75 mile radius of Åhus in the province of Skåne, if you want specifics) and the bottles are made from 40 percent recycled glass.
The leftover wheat residue is given to local farmers and the carbon dioxide released during production is bottled and sold to beverage companies. So, if you're looking for a vodka that tastes good and does good at the same time, Absolut is top of the list.
More recently, the brand has been transforming old storage containers with more creative projects in mind. A creative hub that's already been used to host hackathons back in 2015, Absolut's Creative Space is home to plenty of new ideas of how to reuse the brand's vodka bottles.
Next on the list? Sustainable, innovative ideas that might be necessary in the future. Like everything else they've already done, Absolut is determined to stay one step ahead when it comes to creatively shaping the future of sustainable alcohol.
How to drink Absolut Vodka
A casual and carefree spirit, it's easy to enjoy vodka in plenty of different ways. The wide range of flavours available from Absolut means you'll want to sample at least a few of them without any accompaniments.
But, when you're looking for a drink with a difference, Absolut's variety gives plenty of room for experimentation. Unlike other spirits, there's no one particular glassware needed – just make sure your Absolut is served chilled.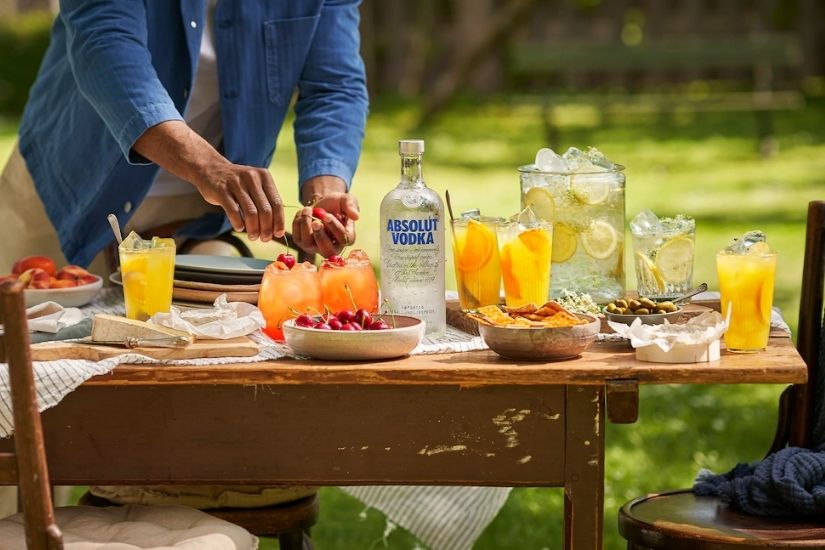 The best cocktails to make with Absolut Vodka
The sky's the limit when it comes to creating cocktails with Absolut Vodka. Use the brand's Original Vodka as a base for cocktails with strong flavours, or let your inner mixologist shine by playing around with any number of Absolut's flavoured bottles. As a rule of thumb, let the mixers do the talking and only use one flavour of vodka at a time.
Absolut Vodka Martini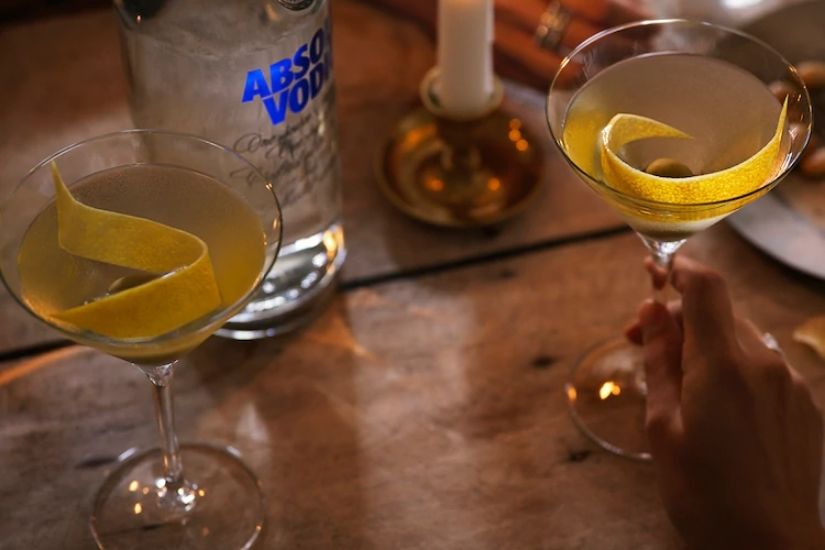 Ingredients:
45ml Absolut Vodka
5ml Dry Vermouth
1 twist lemon zest
1 whole green olive
Ice cubes
Keep it classy with a vodka martini with a difference. The Absolut Vodka Martini can be made by filling a mixing glass with ice cubes and adding all ingredients. Stir gently before straining into a cocktail glass. Finally, garnish with a twisted lemon zest and a green olive before serving.
Absolut Bloody Mary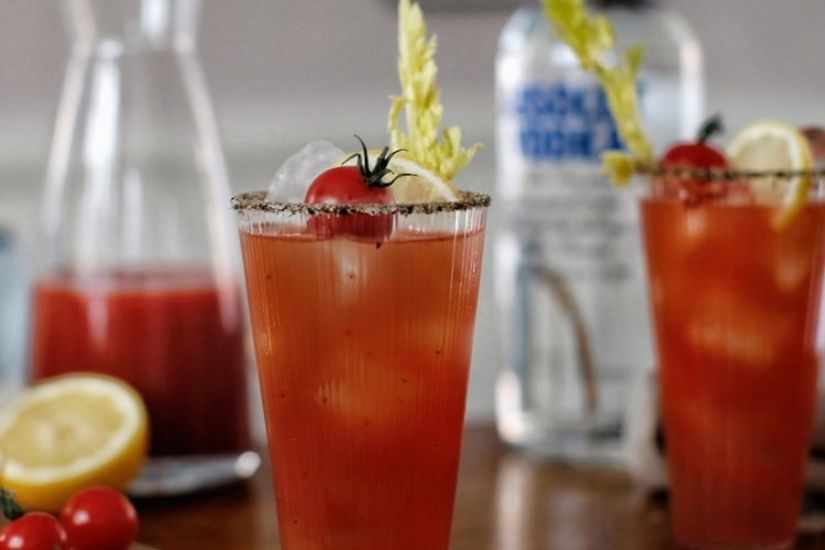 Ingredients:
45ml Absolut Vodka
30ml Horseradish
120ml Tomato juice
4 Dashes hot sauce
10ml Worcestershire sauce
10ml Lemon juice
1 wedge lemon
1 stick celery
Excellent hangover cure or refreshing start to the day: you decide. Whatever your chosen circumstance, you'll find yourself reaching for a second one of these. Make an Absolut Bloody Mary by filling a mixing glass with ice cubes and adding all ingredients. Stir together and pour into a highball glass. Then, garnish with a lemon wedge and a celery stick and wait for the hangover symptoms to disappear.
Espresso Martini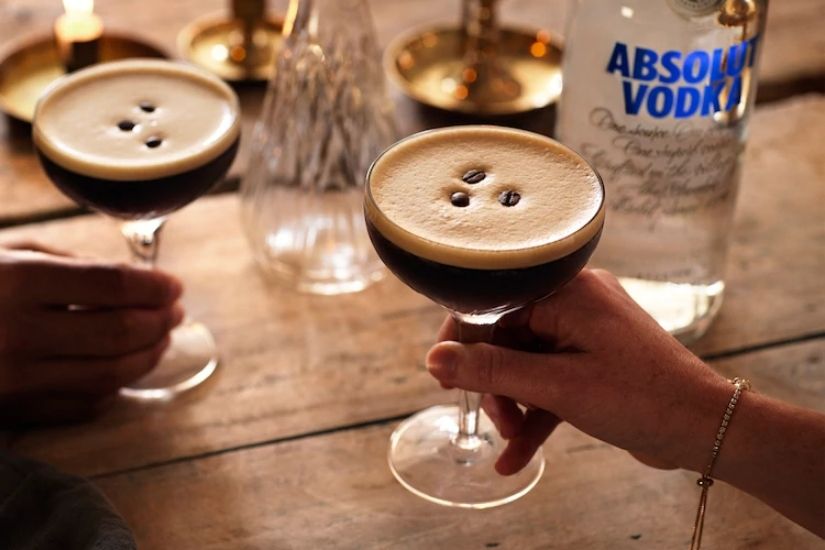 Ingredients:
40ml Absolut Vodka
20ml Kahlúa
20ml Espresso
3 whole coffee beans
Ice cubes
Invented by the famous late bartender Dick Bradsell, as an unusual request from a British model in his London bar in 1983, the Espresso Martini is now a firm favourite worldwide. Fill a shaker with ice, shake all ingredients (except the coffee beans) together vigorously before straining into a cocktail glass. Garnish with coffee beans and serve.
Frequently asked questions about Absolut Vodka
How much is a shot of Absolut Vodka?
It depends where you're drinking it, but a shot of Absolut Vodka is generally one of the cheaper options to order at the bar. As a worldwide staple, this vodka is a safe choice for a fun night out without spending too much money. A shot in the US generally starts around $15. 
Is Absolut Vodka bad?
Absolut vodka is a popular vodka that combines smooth texture with subtle flavour notes. It's a good vodka for mixing into cocktails (particularly Bloody Marys) but is also refined enough to enjoy on its own.
How strong is Absolut Vodka?
Absolut's Original Vodka has a 40% ABV. All of its flavoured vodkas, like Citron, Pear, Grapefruit and Lime are all also 40% ABV. The brand's Absolut Juice production line is slightly weaker, with a 35% ABV. 
Is Smirnoff better than Absolut Vodka?
Smirnoff is a more popular vodka than Absolut but they're both very widely available brands and both produce excellent vodkas. Smirnoff is thought to be slightly weaker in taste compared to Absolut and is also a little cheaper per 750ml bottle. 
What is Absolut vodka made from?
The main ingredients in Absolut Vodka are water and Swedish winter wheat. Unlike many vodkas, Absolut doesn't contain any sugar or flavourings. The winter wheat grows under the Swedish snow before it's mixed with water from a well in Åhus, free of impurities.