Backpacks can be unnecessarily complicated. Too many compartments, too many straps, a look that is over-busy when all you want is a little simplicity from a range of super-slim, minimalist bags and backpacks, plus the travel accessories that we all need.
This is where the dedicated form-follows-function bag specialists at ODA come in. Their modular bags easily carry all that you'll need in the urban jungle – or on a recharging country walk, weekend away or city break – and the look is quietly efficient.
ODA have dedicated themselves to this cause and their near obsessive single-mindedness in coming up with the very best slim backpacks benefits anyone who invests in one of their essential travel companions.
Monochrome rules in the ODA world, which means that whatever you're wearing, your ODA bag will easily key to your personal colourways. The ODA ethos is based around three keywords: slim, modular, simple. As they put it: "We want to help modern citizens live, work and travel better so they can focus on what matters most."
Minimalist backpacks have a beguiling way of simplifying your life and when you have ODA slimline bags in your life, we'd confidently predict that your life becomes simpler too. It's not only minimalist backpacks, slim bags and their renowned modular bag: ODA have branched out into a carefully curated selection of accessories, too. Welcome to your well-organised life.
For more travel essentials inspiration, check our selection of the best travel backpacks, weekender bags, carry-on luggages, dopp kits, and packing cubes. We got you covered!
Hop – Backpack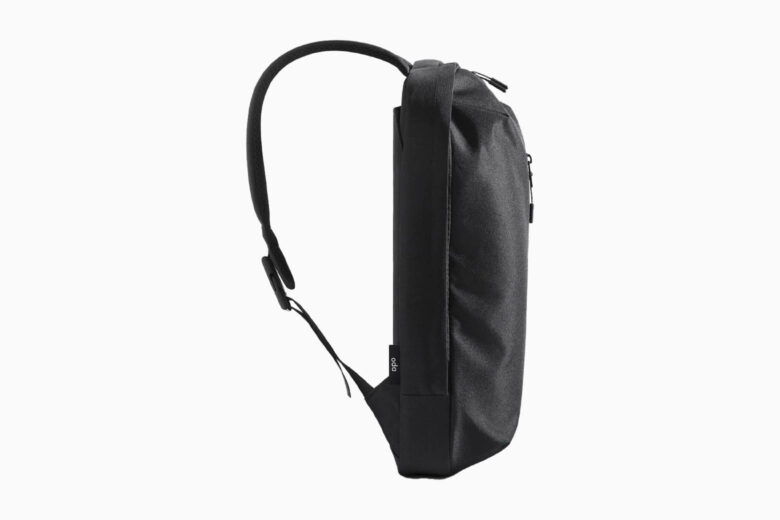 The centrepiece of ODA's essential travel range. The Hop Backpack, in our humble view, lays claim to be the monarch of minimalist bags.
So simple to look at that it whispers efficiency, yet look beyond that slim silhouette and there's a wealth of versatile storage details in this most aesthetically pleasing of slim backpacks, easily to cope with whatever you need on your daily commute, as a carry-on for your next vacation or as a day bag for holiday outings.
Let's take a look at those details: there's sturdy zip access with a variety of pockets to take care of your daily essentials: whether that's your phone, wallet or ODA's Stilform pens and Field Notes notebooks. ODA have added a very useful padded internal pocket that takes care of your 16″ MacBook Pro, too. A quick access front pocket securely takes care of passport and boarding pass.
One neat touch is that shoulder straps ergonomically stow away. There's a top handle for carry mode.
Rainy day? Less than clement weather on holiday? No problem for this most versatile of minimalist bags since its technical fabric offers water resistance and durable protection for your most important accessories.
Volume is a generous 9.5 litres. Want more? The Hop Backpack easily clips on to ODA's essential Hop Shoulder Bag.
Hop – Shoulder Bag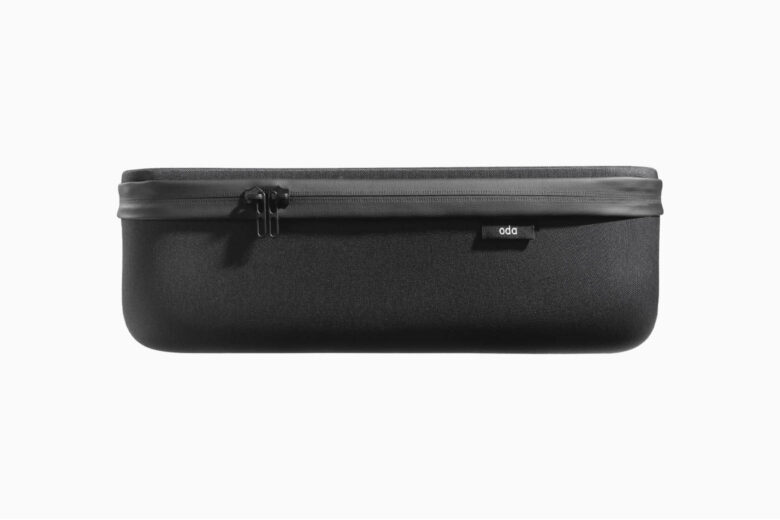 Designed as a standalone or, for added practicality, to clip on to your ODA Hop Backpack, the Hop Shoulder Bag takes slimline bags to a new level. We confidently predict your Hop Shoulder bag will become your faithful go-to when it comes to overnight work trips, city breaks or cheeky weekends away.
ODA – efficient as ever with their descriptions of their minimalist bags – say the Hop Shoulder Bag will see you through three days away from home with all that you need perfectly packed away.
Reinforced construction means that not only does this modular bag have a slim silhouette, but that your carry-on essentials are properly protected, too.
Open the Hop Shoulder Bag up to reveal magnetic dividers ready to be configured to your bespoke needs. Take them all out for one large space. ODA's Fidlock Snap system allows for quick release of the shoulder strap to change carrying mode of this modular bag. Zipper can accommodate a padlock for added security.
Easy transformation when you need more? Done. Just clip on your Hop Backpack.
Go – Pack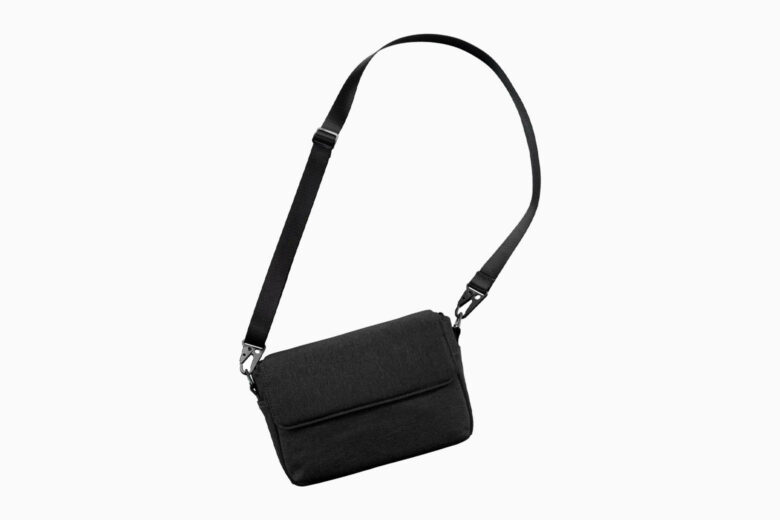 ODA have designed this smaller interpretation of their minimalist bags for those days when your pockets just aren't enough. The Go – Pack is a modular bag that's perfect on holidays for your camera, phone, wallet and more and yet it's both light and just as importantly – since it's constructed from 100% technical Polyester – both waterproof and durable.
When it comes to choosing slim bags, the Go – Pack makes a good case for having it all.
This impeccably designed modular bag has an optional two piece divider specifically designed for the Go – Pack which allows you to personalise your slim bag to your changing needs, whether that's for work, a day out with friends or sightseeing on holiday when all you need with you are the bare essentials.
Front pocket accommodates your iPad Mini, there's a quick access back pocket, and options on shoulder straps are available. Closure of this modular bag is by easy – and classically for ODA – no-nonsense magnetic snaps.
ROAV – Folding Sunglasses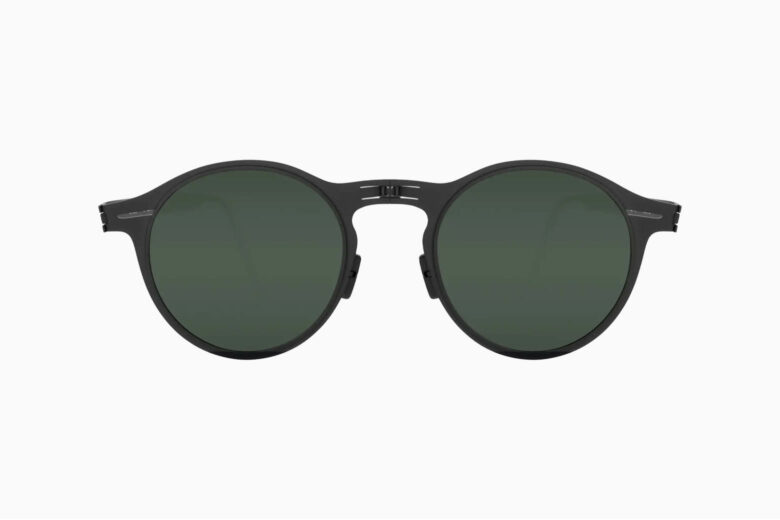 As we've said, it's more than the perfect minimalist bags from the travel specialists at ODA.
Their folding sunglasses are a solution to that perennial holiday dilemma of whether you'll need sunglasses or not – and where to put them when you're indoors.
Enter ODA's ROAV folding sunglasses. First, take a look at that style. Quietly slick, we'd say. The key to ODA's no-fuss approach to design – from their slimline bags and minimalist backpacks to their modular bag – is that simplicity is always in fashion, beyond mere trend.
ROAV folding sunglasses are designed to fold up into their own rubber pouch and fit, as ODA put it, into the "skinniest of jeans and the smallest of bags". They'll be with you whenever the clouds reveal the sun, and when you move from a sunny beach to a fashionable secluded restaurant.
More than that, your eyes will be fully protected too. They're polarised and protect against harmful UVA and UVB rays. Hinges are screwless, overall practicality is such that you'll truly wonder how you managed without them.
Orbitkey – AirTag Slim Case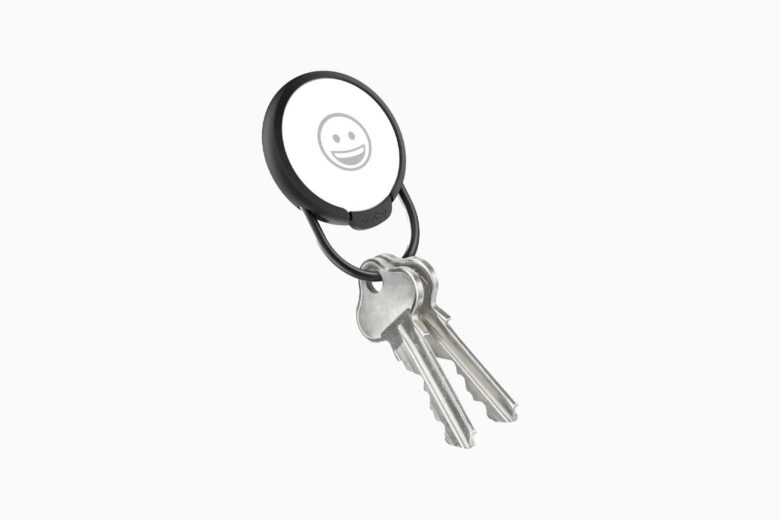 Specifically designed to accommodate Apple's very useful Airtag – use it once and you'll wonder how you managed without it – ODA's Orbitkey allows your to attach an Airtag to your keys, or anything else for that matter, so that you can track them wherever they are.
Simple? Of course because that's the ODA way.
Stilform – Ballpoint Pen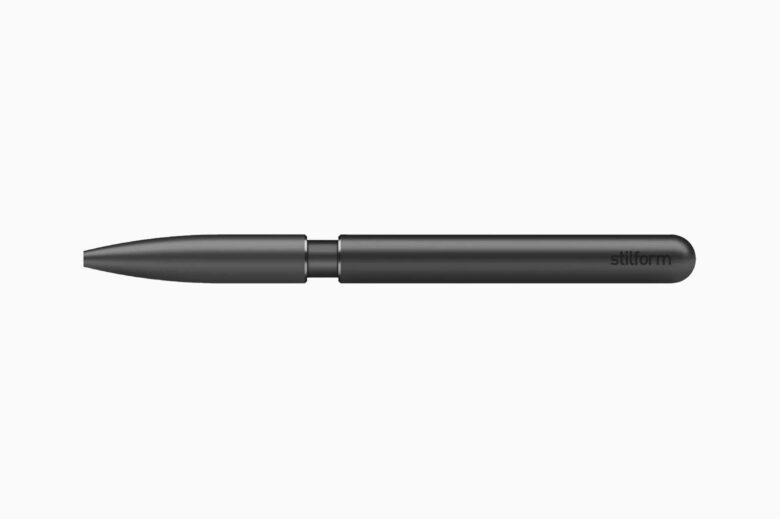 ODA's approach is that everything that's essential to your everyday world can be simplified and updated just as their minimalist bags transform on-the-move storage. Enter the Stilform Ballpoint Pen. A unique Neodymium magnet exposes and retracts the tip with proper analogue click. ODA say it's the first in the world to employ this mechanism,
Design is matte black to make the Stilform Ballpoint pen a stylish addition – essential we'd say – to your minimalist life.
Field Notes – Ruled Memo Book – 3 Pack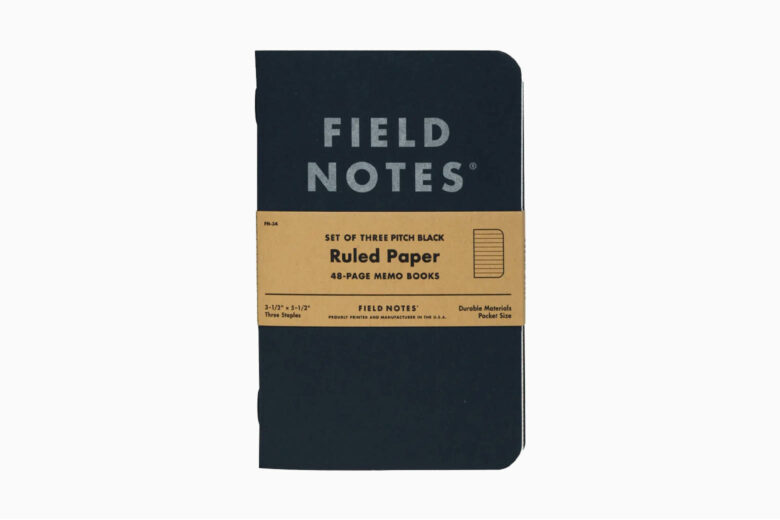 Off on a trip? Take some notes with your Stilform pen in the classic analogue way into a notebook. Whether you're journaling as a way to process what's around you – and in your head – or just recording the joy of the moment, ODA's Field Notes Ruled Memo Books are the solution.
Each book has 48 pages and will tuck away snugly in ODA's Go – Pack or Hop Backpacks and Shoulder Bags.
Orbitkey – Ring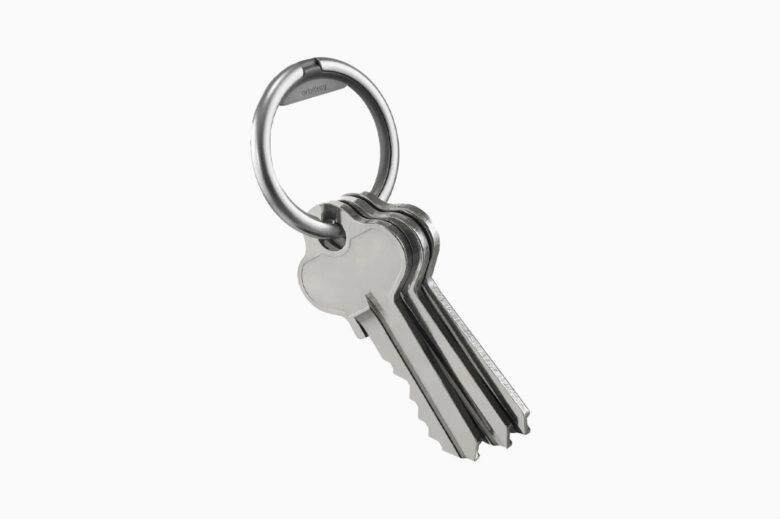 Nothing's too small or apparently insignificant to be reinvented in the ODA world. Not content with their work on slim bags, minimalist backpacks and their take on the modular bag, ODA designers have taken on the fingernail-shredding keyring.
Pinch and pull down the inner tag and the ring opens. Stainless steel construction can hold up to ten keys. Efficient simplicity.
Orbitkey – Key Organiser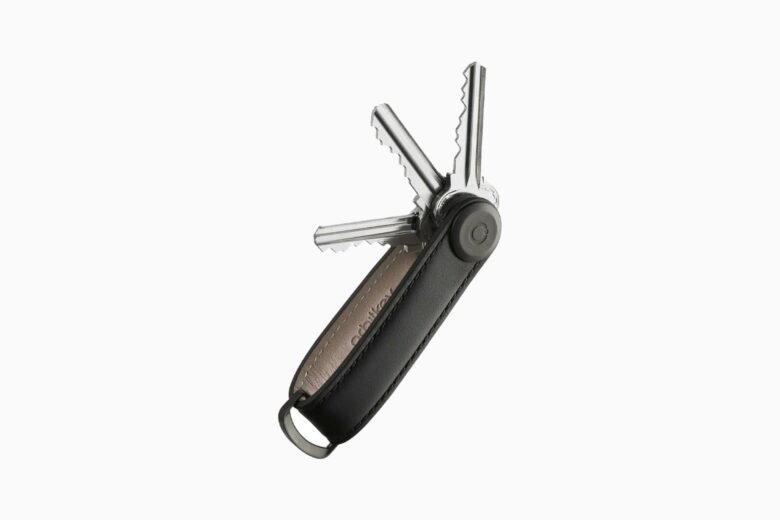 Transform your keyring, ODA suggest, into a stylish accessory. High end leather forms a neat strap, up to seven keys can securely be clipped to a D-ring.
Secure locking mechanism is award-winning.