From work to family to friends, seamless communication is vital. If you've been struggling with all the exhausting changes occurring while attempting to adjust to online communication, we have the solution for you.
With new environments come fresh challenges. No longer can we simply reserve the conference room for that important presentation, or gather together in one room to discuss the next big project. Understandably, without these privileges we have taken for granted in the past, our new normal can feel somewhat limited in comparison.
Thankfully, with the correct digital tools, our new work-life balance can be transformed from a rudimentary DIY workspace to a comfortable and efficient one. By bringing additional technology into our homes, we can now enjoy days filled with more excitement and convenience. 'How', you ask?
Introducing the LG One:Quick Series
As innovative digital communication tools that adapt to our fast-moving lives, LG Business Solutions has launched its groundbreaking One:Quick series in the fourth quarter of this year. Why? LG recognized that we were navigating unfamiliar territory (read: new ways of working)—and in order to thrive, we'd need new hybrid tools.
One:Quick Flex: for ultimate versatility
A thoughtful solution to the trials and tribulations of unreliable technology, One:Quick Flex is flexible and agile (just like you).
So, what exactly does it do?
Let's imagine a day with the One:Quick Flex. With its Windows OS Based program, it's easy to utilize. You can check the weather, review your to-do list, and more. But wait! It looks like you have a video conference in just 30 minutes. Well, that's not a problem because the One:Quick Flex is known for its all-in-one technology. What does that mean? It means it has everything you need for a video conference already built-in, so you don't have to fumble around 15 minutes before the meeting starts, wondering what cables are needed.
With its built-in 2K Full High Definition (FHD) camera, microphone, and speaker, this ultimate digital toolkit bypasses tiresome (not to mention time-consuming) set-ups for video conferencing. No sweat, no stress: One:Quick Flex makes meetings and calls an absolute breeze. Don't forget that it is Windows OS based, meaning you can download your preferred conference app right from the app store.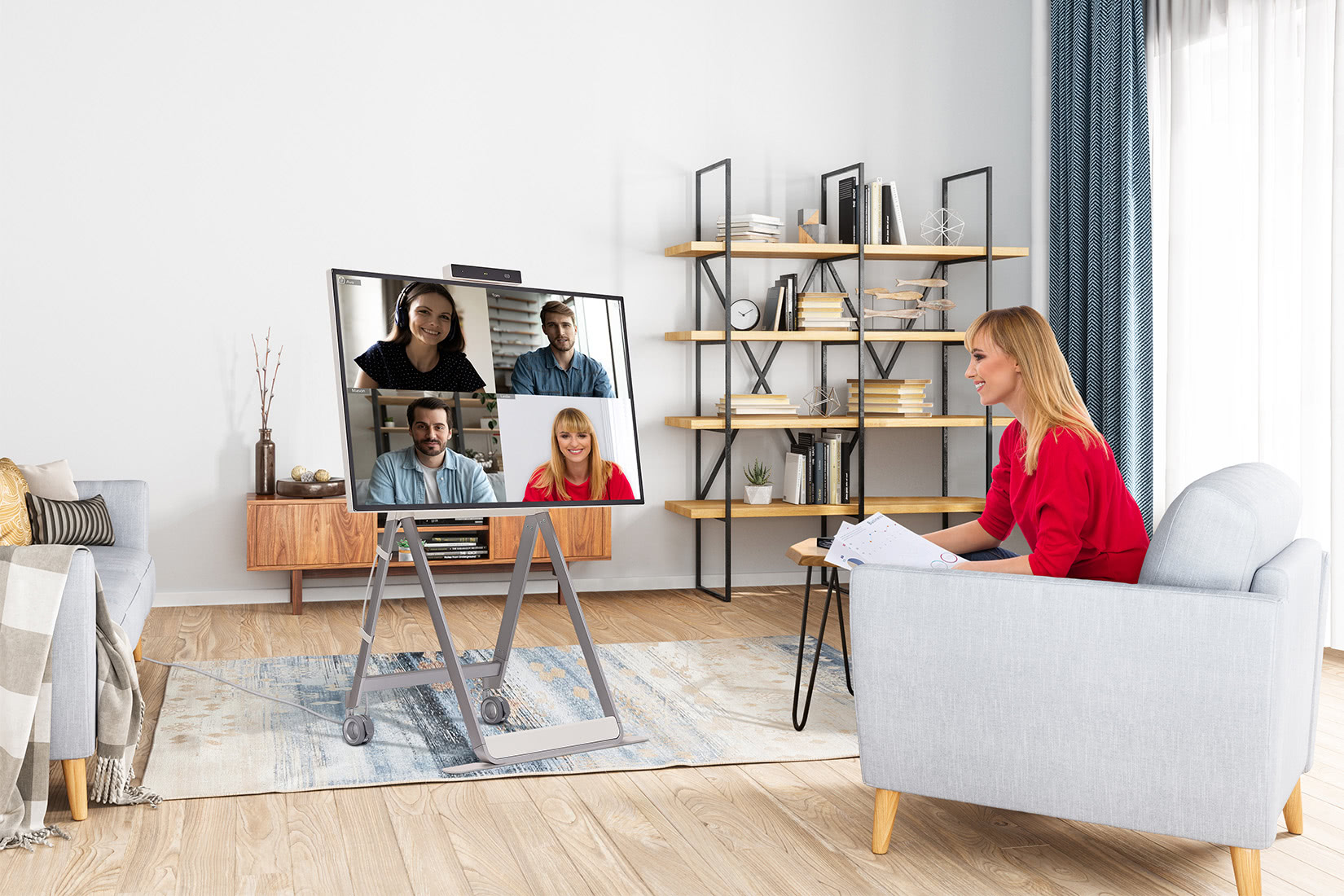 Once you're ready for your meeting, roll the One:Quick Flex over to your home office (moving stand sold separately). No worries about getting cut off from the screen as the wide 88-degree field view captures you with ease, and the microphone—with a 3 meter pickup range—captures your voice whether you are near or far. Additionally, the split-view function lets you make annotations while viewing your meeting with the digital whiteboard function (available from the app store). Touch pen included! If you're looking for more in this area, it even has its own dedicated video conferencing app—One:Quick Remote Meeting is already installed and free for the first six months. It helps users hold online meetings, invite guests, and share documents in various formats with ease.
If you were in an office, you and your colleagues could pitch ideas together since the One:Quick Flex comes with ten touchpoints! It allows multiple people to draw and write on the board simultaneously.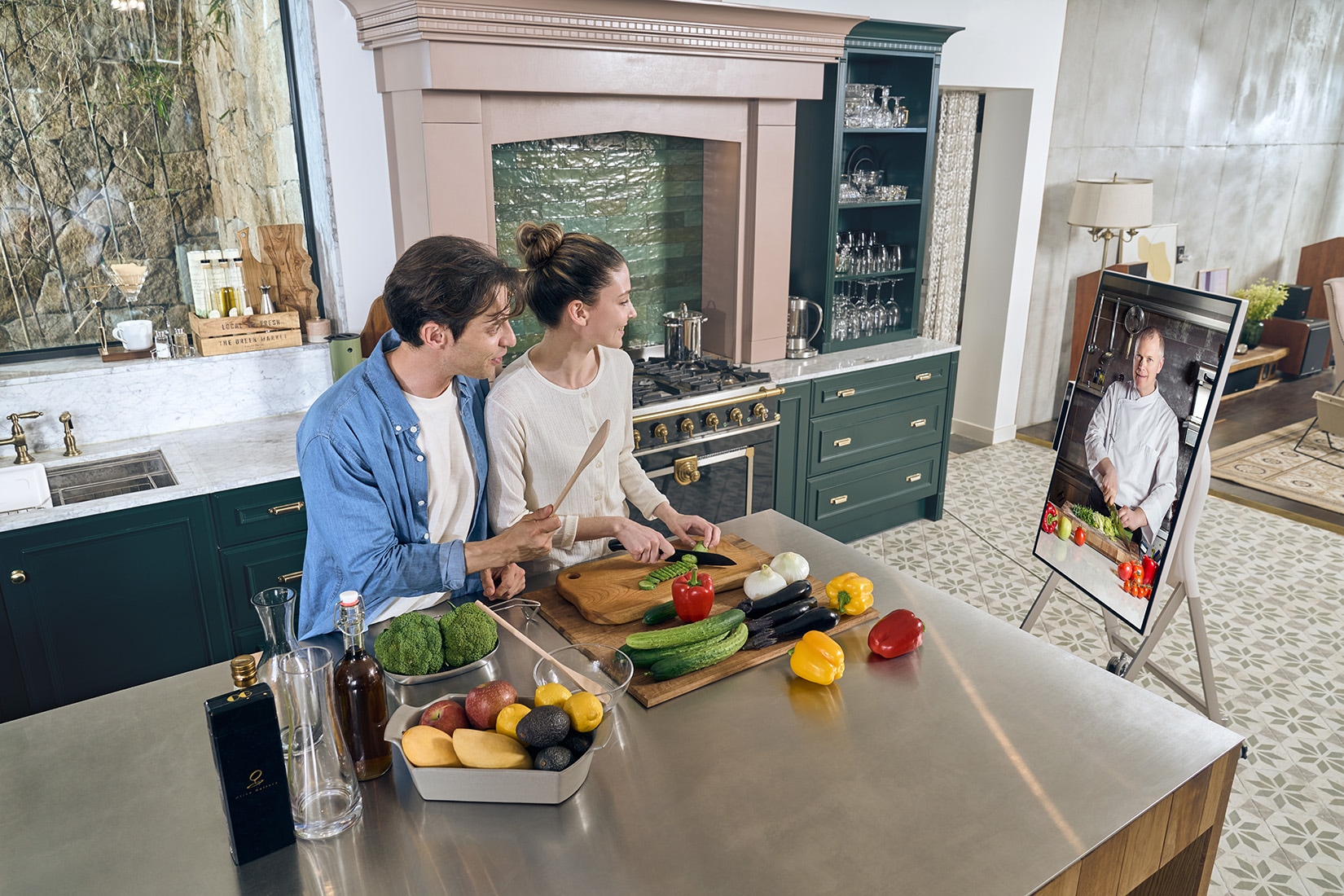 Once your meeting is over, it's time to make some lunch. You can put on a nice cooking video and keep it next to you in the kitchen while you follow the on-screen instructions step-by-step. You can even use your voice to adjust the settings, such as volume, while your hands are busy. Put it in Portrait or Landscape mode—whichever you prefer. You can even adjust the height in order to fit your perfect comfort level.
The crystal-clear 4K visuals will impress not only your children as they watch their favorite shows throughout the day but also allow you to sit back and enjoy a nice video chat with your family at night.
Worried about it being clunky and clashing with your interior design? The slick aesthetic of the contemporary beige will blend effortlessly with your existing interiors, versatile enough to complement both modern and rustic themes.
Spend time with your children with the One:Quick Flex by heightening their creativity. You can draw colorful drawings together, and invite others to join as well! The ten touchpoints allow group participation. Take videos, and watch your favorite movies snuggled together in a blanket on the sofa. The One:Quick Flex is truly versatile—just like you.
Wait, there's even more:
Good things come in 3s, right? Right. Working fantastically as a team (just like you and your colleagues) this trio provides an all-around seamless, effortless, and digitally-advanced work solution. So, meet the other two players in the LG One:Quick series.
One:Quick Works
If you are a business owner who needs professional tools to support your high-performance business, maximize your productivity with One:Quick Works. A winner of a 2021 Red Dot award, this remote working solution serves up a larger 55" display and myriad of robust features that'll make you want to learn more:
Like the One:Quick Flex, it too has a built-in camera, microphone, and speaker for easy video conference set up. Yet, the most unique feature of the One:Quick Works is the Smart Auto Focus. What exactly does that do, you ask? Get this. It automatically tracks the person speaking with its microphone picking up sound from up to 6m (20 feet) away (with minimal background noise, may we add) while the 3,840 x 2,160 4K resolution camera automatically focuses on the individual speaker. You won't have to fight for the best seat near the microphone or camera anymore to get a say during a meeting.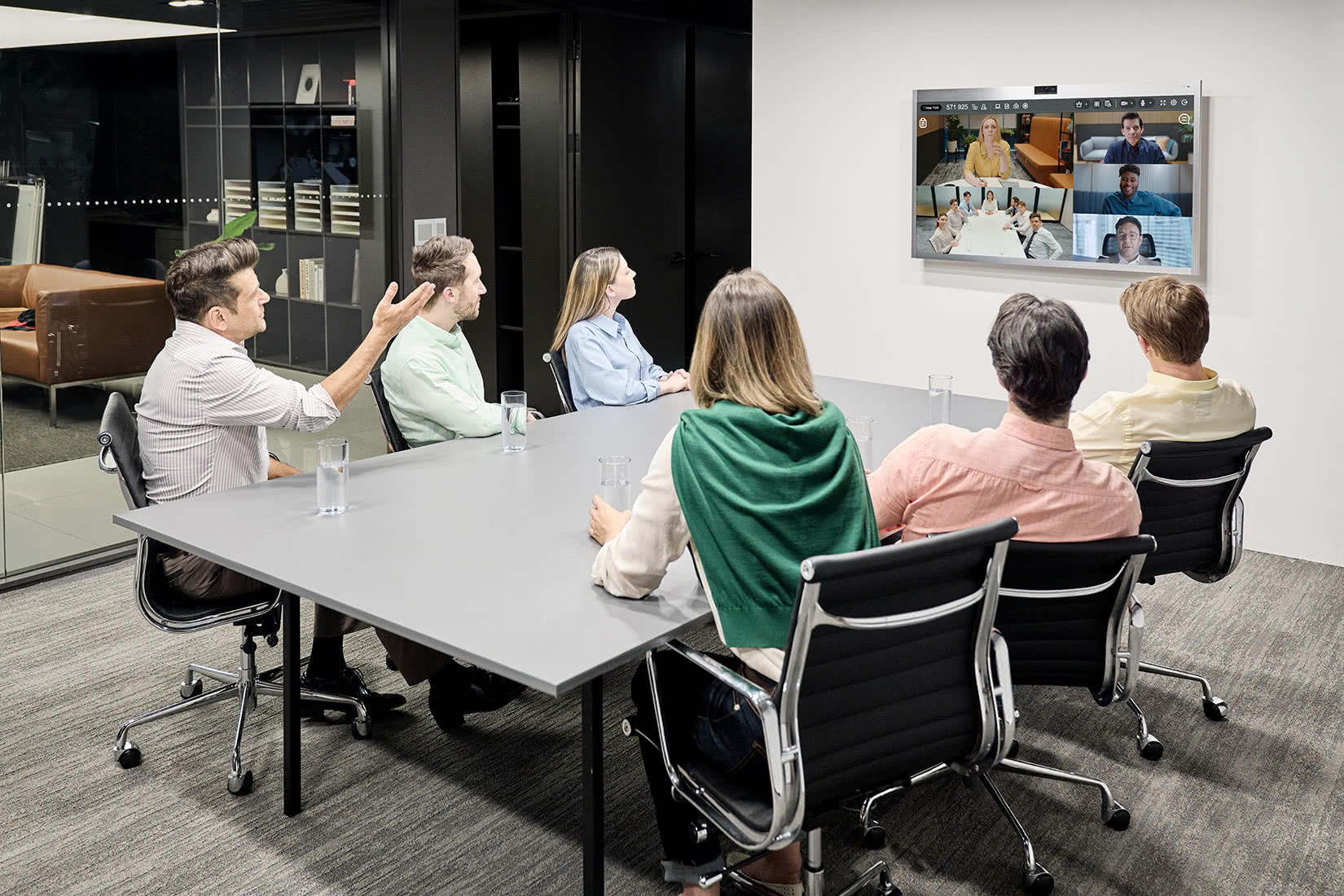 It also has a built-in Windows PC, and MS digital whiteboard (available from the app store)—and yes it can accommodate as many as ten simultaneous touchpoints. Impressive, huh?
The mission is clear: the One:Quick Works is designed to enhance, improve, and expand your horizons, and it's certainly up to the task.
One:Quick Share
For those of you looking for a simple screen sharing solution, simply connect, press the button, and enjoy wireless screen-sharing on select LG Digital Signage models. With wi-fi already embedded in the device, no transceiver is necessary. You can show up to four screens simultaneously!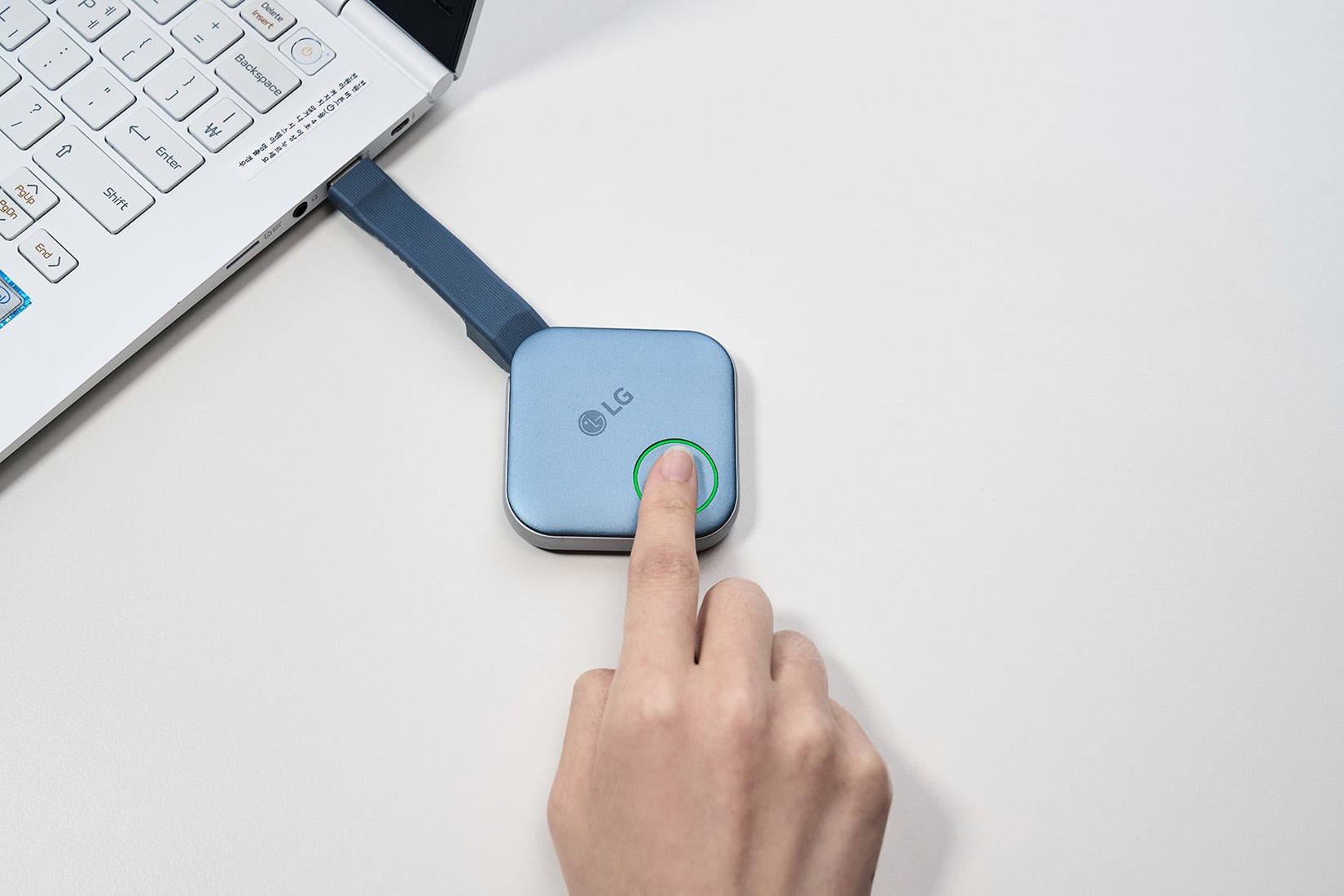 Seamlessly switch from one source to another and back again. Your meetings will glide by with no pauses in between. Now that's easy technology. You can even tailor the settings to your preferences right from your One:Quick Share PC application; adjust volume, brightness, and picture mode without a remote.