Vacuuming probably isn't at the top of anyone's list of things to do for fun. But, whether it's a chore you tolerate or one you absolutely detest, it's sure to become a lot easier—and faster—with the addition of one of the best cordless vacuums.
Gliding from room to room, instantly removing dust you hadn't even noticed yourself, deftly slipping into all of those hard to reach spots: the most impressive lightweight cordless vacuums might—dare we say it—even turn vacuuming into something you kind of enjoy (just like with the best vacuum robots).
Dyson might have started the trend back in 2006 and countless cordless vacuum reviews have widened the playing field ever since.
These days, the best stick vacuum comes with a few more strings under its bow—complete with stronger-than-ever suction force and impossibly light frames. Once you've invested in the best cordless stick vacuum, you'll never look back.
Without further ado, here are the best cordless stick vacuums that really sucks (in the very best ways).
The 10 best cordless vacuums
Check our special cordless vacuum's buying guide after the list to see exactly what you should pay attention to when shopping for a stick vacuum online.
Tineco Pure ONE S11: Best overall cordless stick vacuum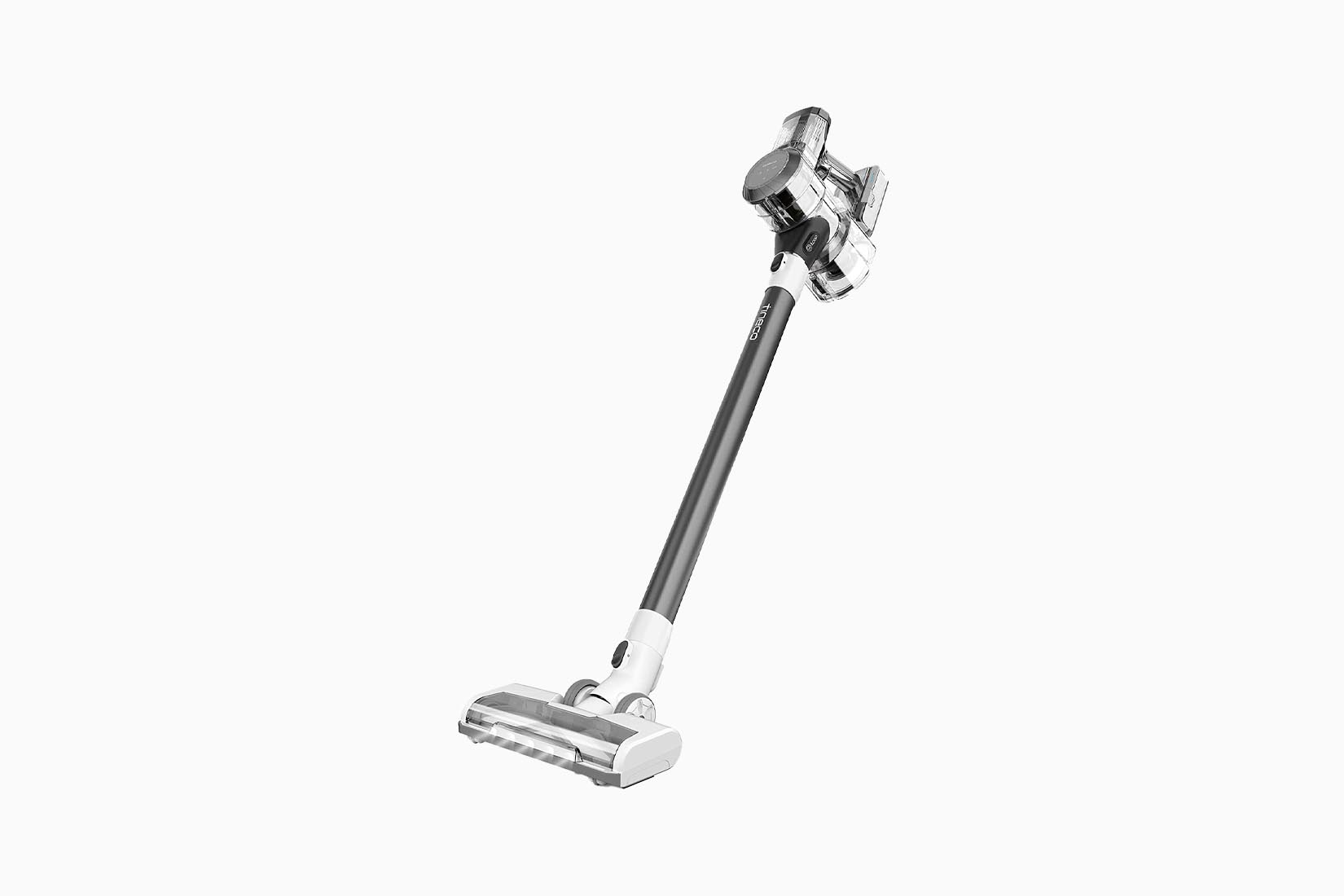 The Tineco Pure ONE S11 takes things a little further when it comes to cleaning your house: it doesn't just clean the dirt that you can see, it also uses its built-in smart detection to tackle unseen dirt on the floor and in the carpets.
It's a cordless vacuum cleaner for those with an almost professional level of attention to detail, with 4-stage HEPA filtration, smart operation sound control and optimal battery management so you'll never—literally—get cut short. It also easily converts itself into a handheld vacuum to clean stairs, cars, furniture and anything else that could do with a helping hand.
Runtime: 40 minutes
Dust Tank Capacity: 600 ml
Weight: 3.53 lbs / 1.6 kg
Dyson V11 Outsize: Best high-end cordless stick vacuum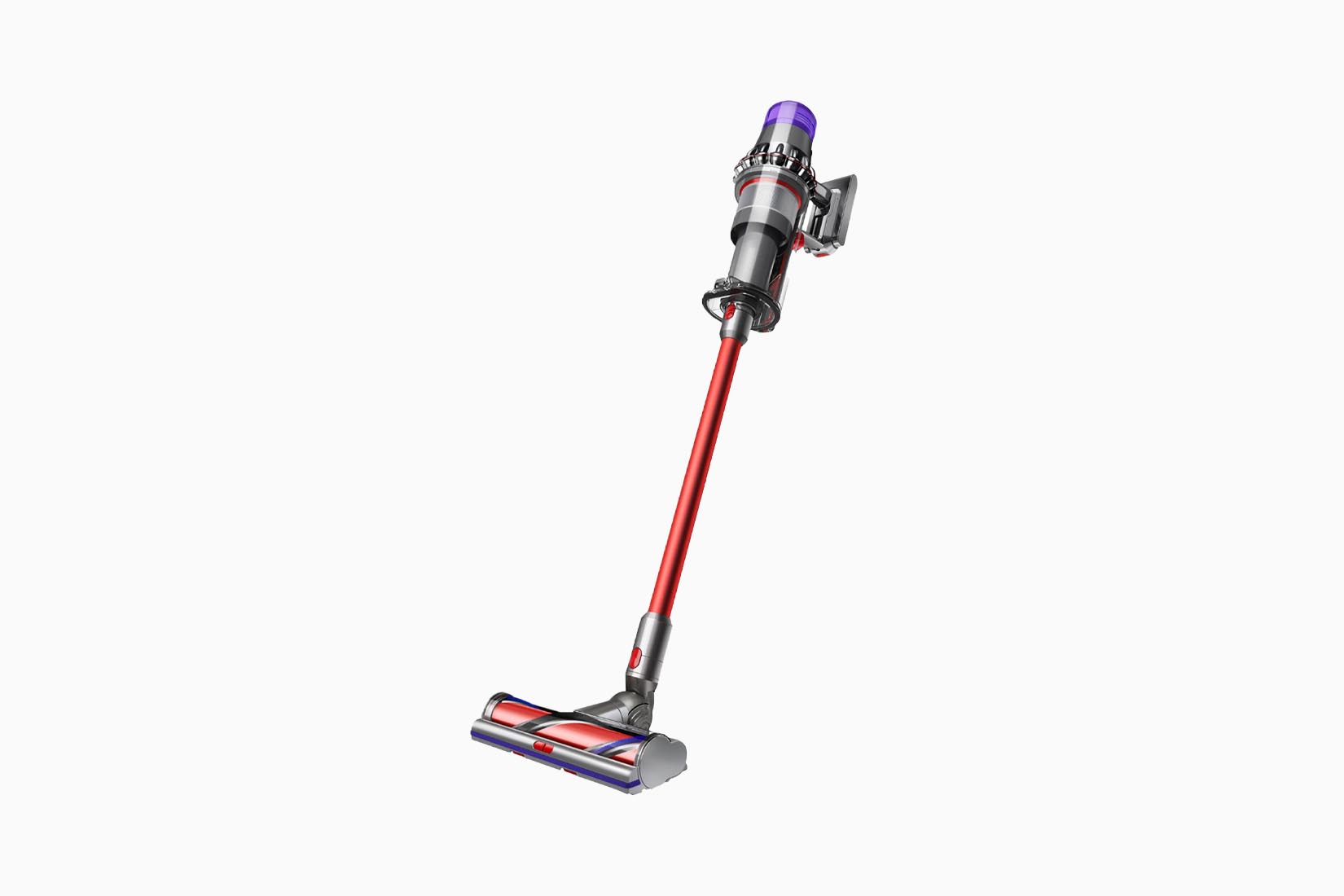 You can't fault a Dyson when it comes to a premium vacuum cleaner and the Dyson V11 Outsize is no exception. This futuristic looking cordless vacuum cleaner stands worlds apart from the bulky machines of before, with a sleek and stylish body that you'll almost feel bad about stashing in a cupboard when you've finished cleaning.
Of course, it's a more premium option, but it's also Dyson's most powerful, intelligent cordless vacuum. Its unique technology automatically senses and adapts to changes in floor type to extend its runtime, making cleaning an entire house quickly a breeze. One of the best features? Its LCD screen, which displays runtime and performance.
Runtime: 120 minutes
Dust Tank Capacity: 1700 ml
Weight: 7.7 lbs / 3.5 kg
Black+Decker Powerseries: Best value cordless stick vacuum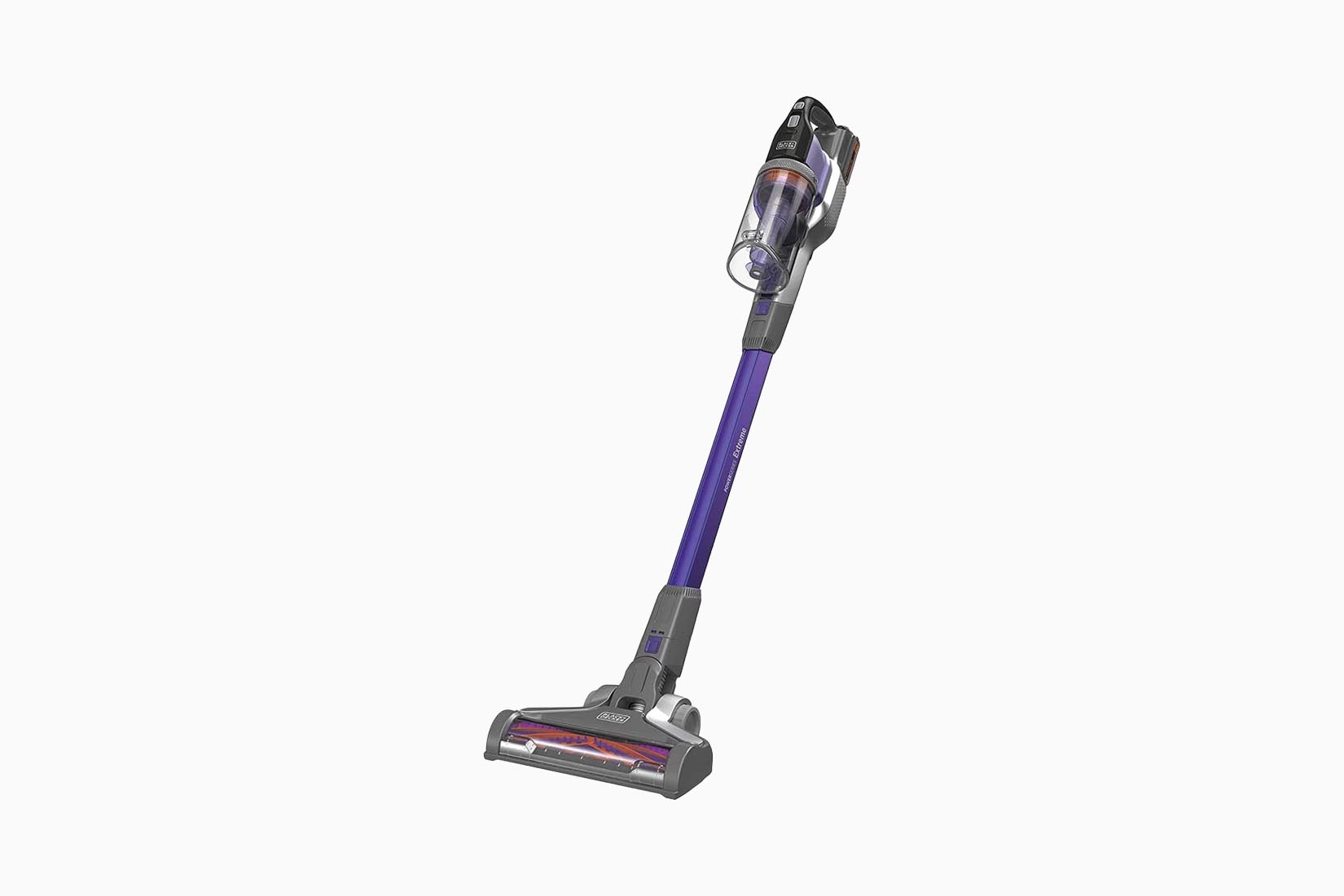 Black+Decker is the go-to cordless vacuum cleaner if you're looking for both style and substance, in a machine that doesn't break the bank yet also doesn't forgo any important features. This is a cordless cleaner that's suitable for all kinds of surfaces, thanks to its angled floorhead for use on multiple surfaces, v-shaped bristles to pick up all types of debris and an anti-tangle pet hair brush bar.
Its impressive filter promises to pick up significantly better levels of debris than standard cleaners and three different speed controls easily let you spend more time on deeper cleaning parts of the house and less time on those that just need a quick do-over. If you're looking for the best cordless stick vacuums under $200, BLACK+DECKER's Powerseries is your best bet.
Runtime: 55 minutes
Dust Tank Capacity: 750 ml
Weight: 6.8 lbs / 3.1 kg

Roborock H7: Best lightweight cordless stick vacuum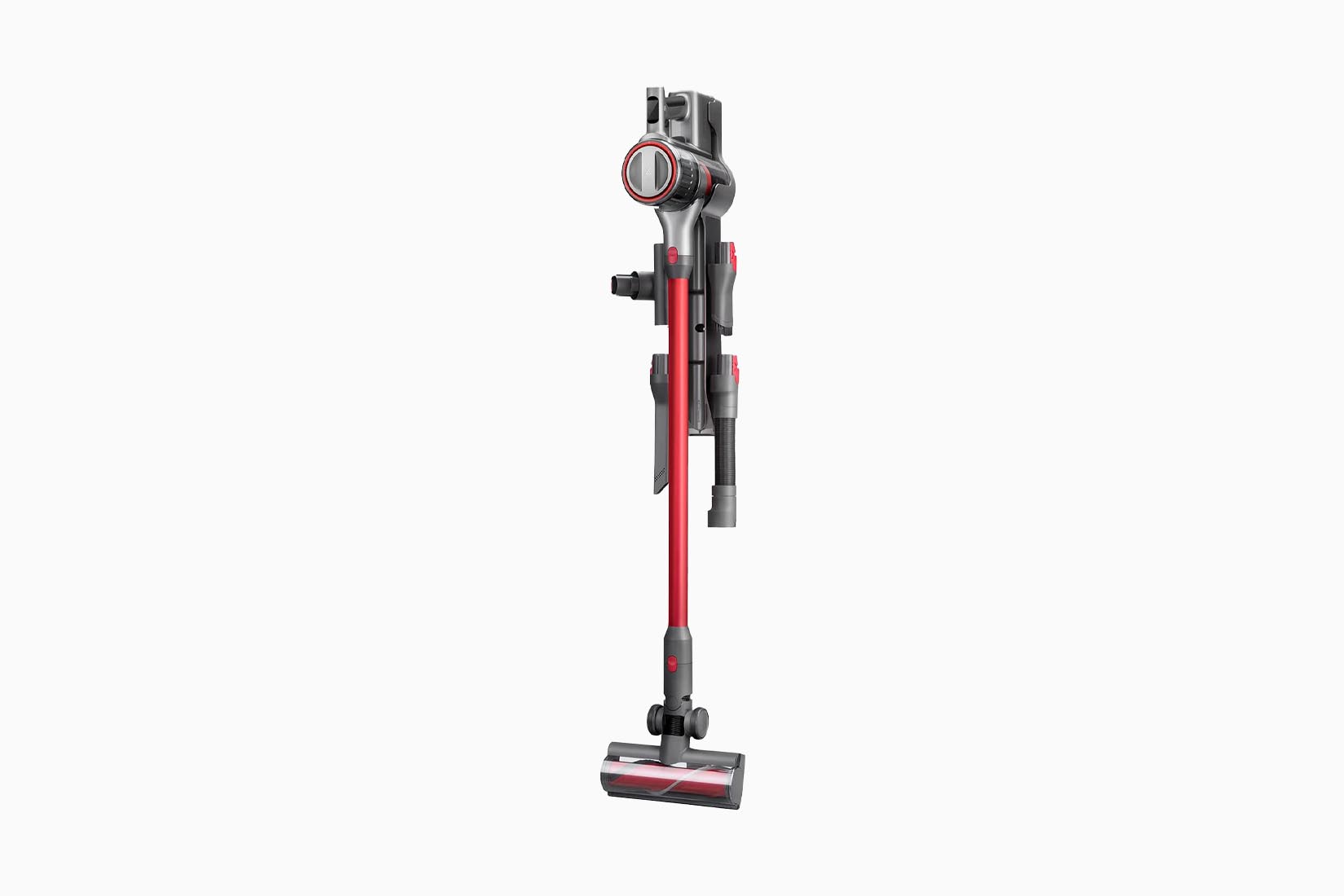 Roborock's H7 Cordless Stick Vacuum Cleaner looks a little more like a futuristic weapon than it does a standard vacuum cleaner and it packs a lot into a relatively small space. One of the best cordless cleaners for those who don't want to lift around a heavy machine each week, this machine is not only one of the best lightweight options but also has one of the best runtimes.
Packed to the brim with intelligent features, the Roborock H7 contains a five-stage HEPA air filtration system, which keeps dust from spreading around your home while you clean. It also has an optional wall-mountable dock if you're trying to keep things ultra tidy.
Runtime: 90 minutes
Dust Tank Capacity: 560 ml
Weight: 3.19 lbs / 1.45 kg
Dyson V11 Animal: Best cordless stick vacuum for pet hair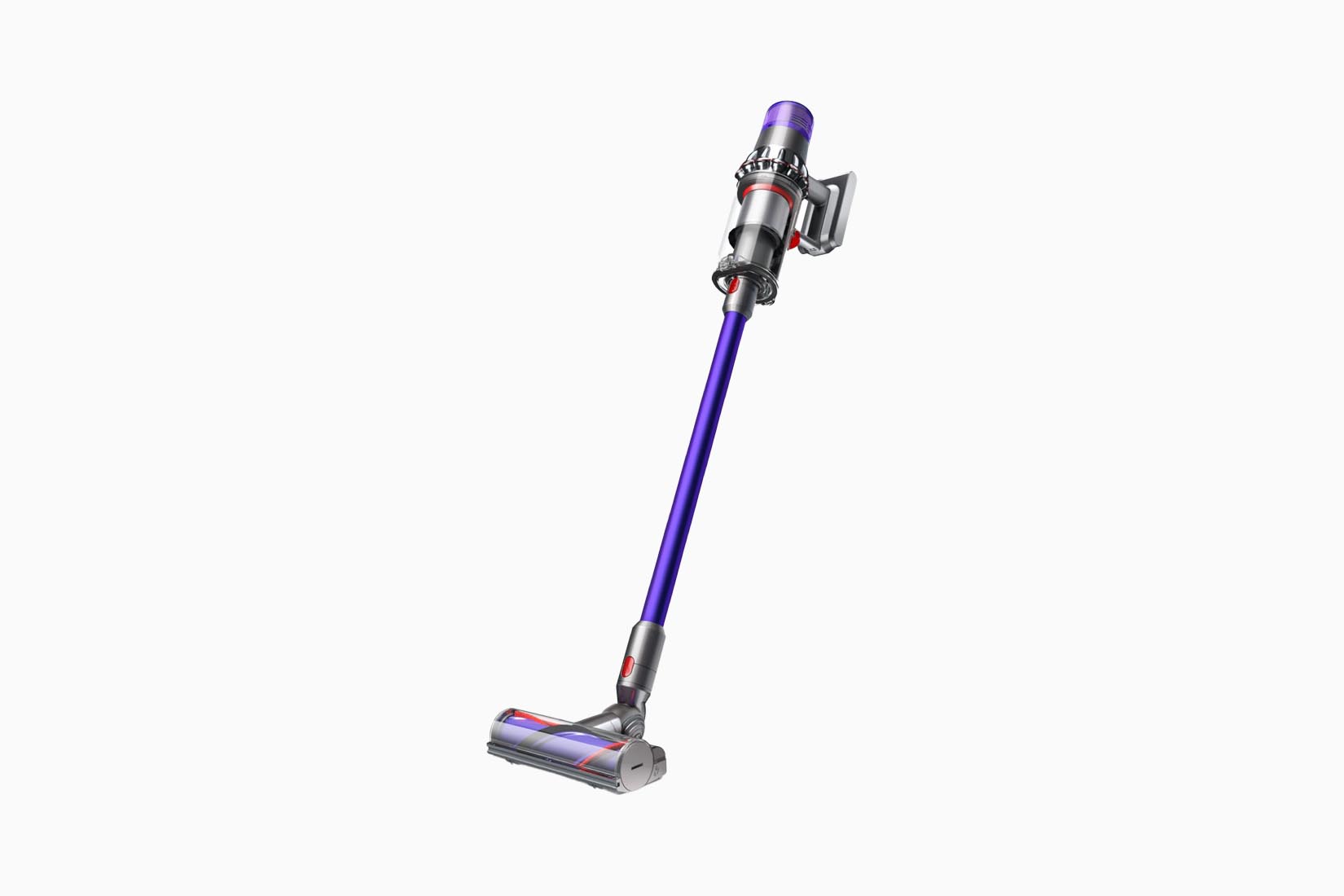 Like its name might suggest, the Dyson V11 Animal Cordless Vacuum Cleaner was designed with animal hair in mind. Great for anyone with long-haired pets (or family members with longer hair, too), this cordless vacuum looks only at matted hair as a challenge rather than a defeat.
Everything about the Dyson V11 Animal is designed to remove pet hair almost instantly, from its suction power to its runtime and tools included for best results. Its High Torque cleaner head automatically adapts suction and power to deep clean different floor types, dislodging hair from even the thickest of carpet floors. Considering getting a second dog? This might be the excuse you need.
Runtime: 60 minutes
Dust Tank Capacity: 757 ml
Weight: 6.68 lbs / 3 kg
Samsung Jet 90: Best cordless stick vacuum for hard floors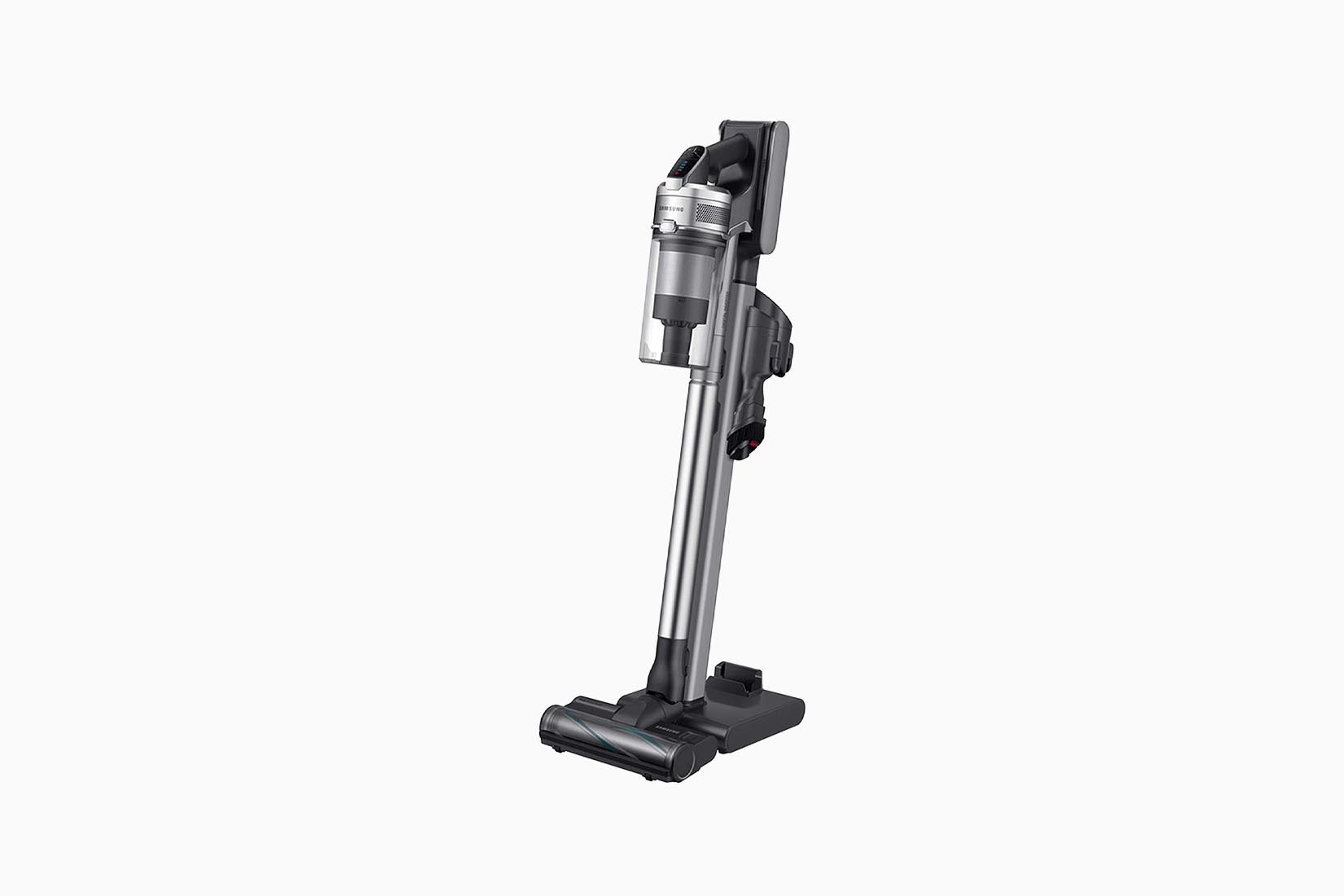 Samsung has no limit when it comes to premium electricals and the brand's cordless vacuum cleaner is a brilliant example of everything Samsung is capable of. You'll really maximise this vacuum's potential on hard floors, when vacuuming becomes a breeze as the machine glides from one room to another.
A jet cyclone and Turbo Action Brush work together to prove that the best things in life may be free, but the second best is a Samsung Jet 90 Stick Vacuum Cleaner. As you'd expect from all kinds of Samsung products, this is one that promises to last through endless amounts of wear and tear.
Runtime: 60 minutes
Dust Tank Capacity: 800 ml
Weight: 6 lbs / 2.72 kg
Miele Triflex HX1: Best multi-surface cordless stick vacuum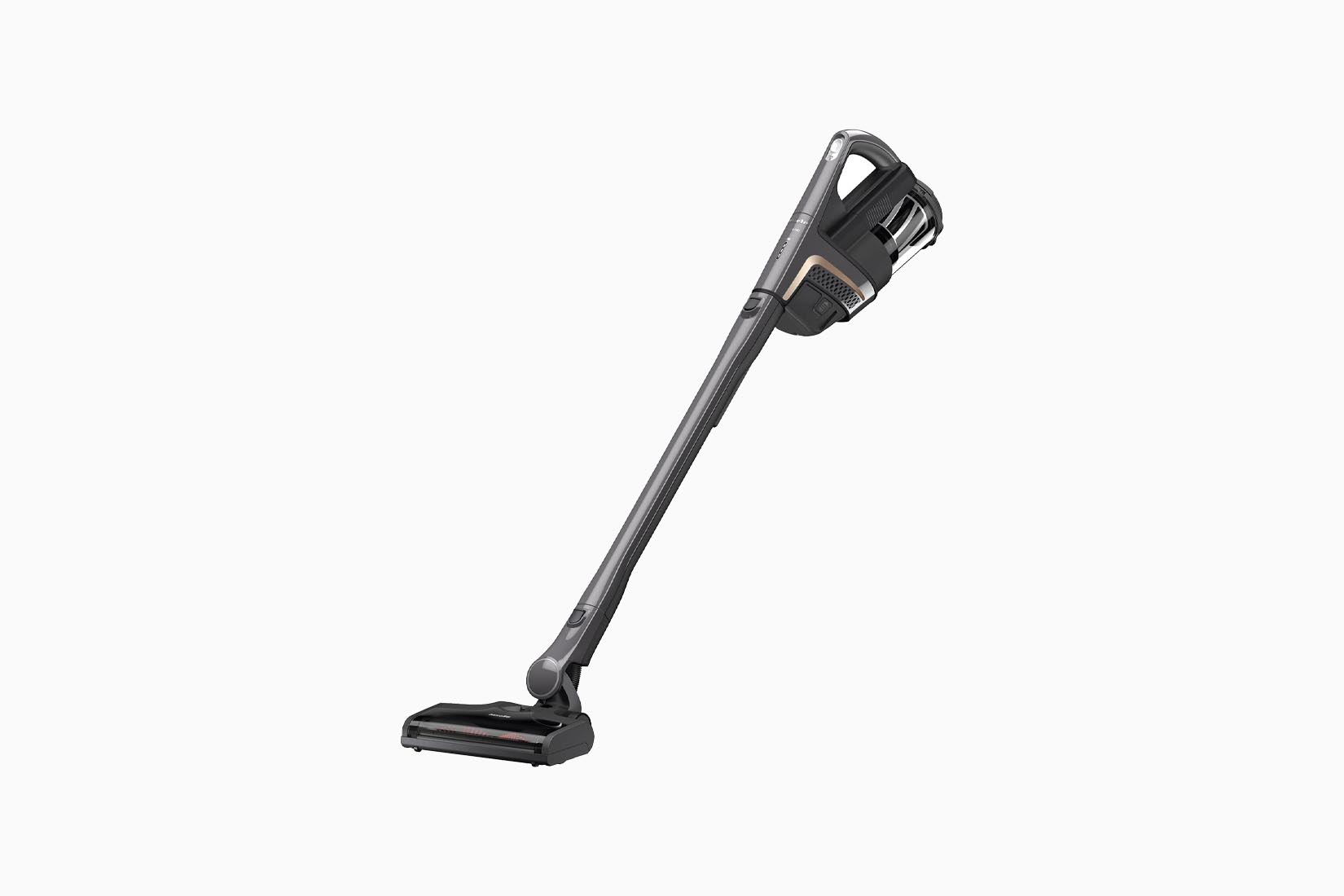 Household name Miele promises to never let you down when it comes to cleaning. One of the best cordless vacuum cleaners for multi-surfaces, the Miele Triflex HX1 is just as happy powering through carpet as it is across hard surfaces without ever flinching.
While some machines may put up a fight when swiftly swapping from one surface to another, this cordless stick vacuum utilises its unique extra-wide electrobrush Multi Floor XXL: a big name that promises equally as big results. Switch it on with one finger, effortlessly run it around the house and, when you're ready to stop, this cordless vacuum easily 'self parks' in an upright position. Job done.
Runtime: 60 minutes
Dust Tank Capacity: 500 ml
Weight: 7.9 lbs / 3.6 kg
Shark IZ682H Vertex Pro: Best cordless stick vacuum for dust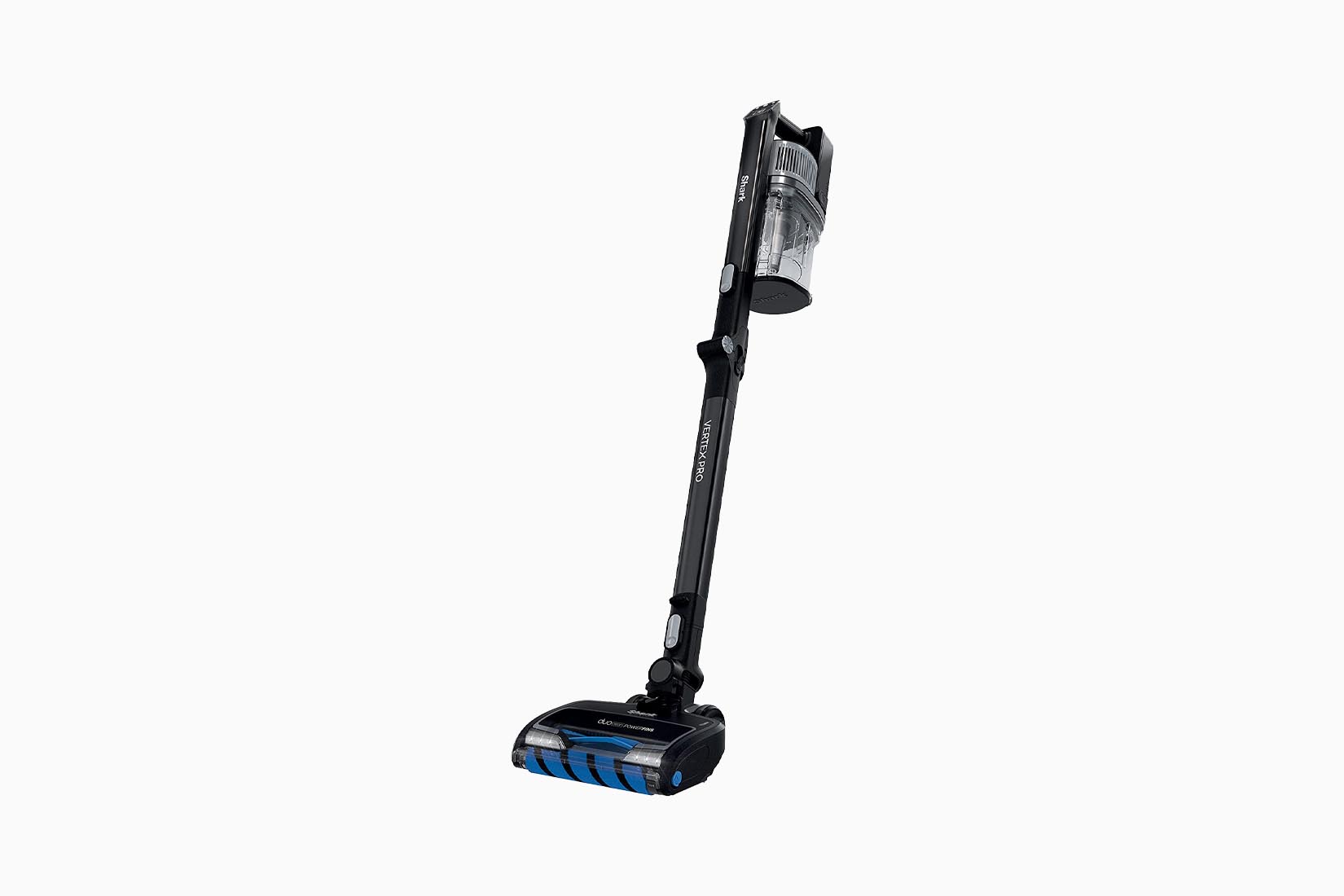 Some see a dusty house as a challenge, others see it as something to hide away from. Luckily, the Shark IZ682H Vertex Pro fits into the former category: a ruthless cordless cleaner with a penchant for hunting down and removing every inch of dust in sight—and some that even isn't in sight.
Its two hour run time puts it among the best on the market and, when paired with intelligent features like its IQ real-time readouts on runtime and duo-clean power fins, definitely brings it towards the top of the list. Combining power and performance into one lightweight machine, this dust-friendly vacuum is seriously popular for a good reason.
Runtime: 120 minutes
Dust Tank Capacity: 320 ml
Weight: 8.82 lbs / 4 kg

LG Cordzero A9: Best cordless stick vacuum for carpets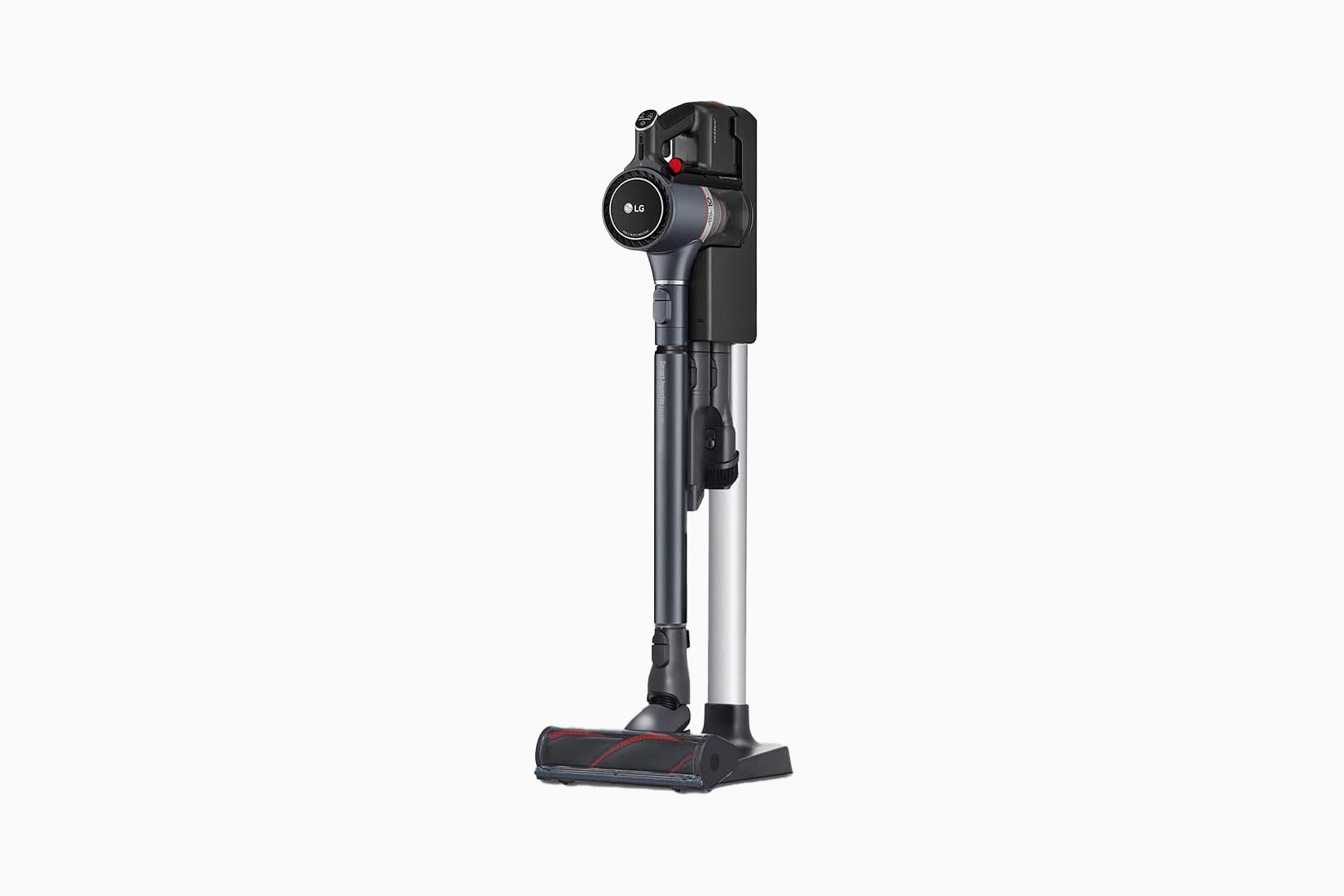 A lesser vacuum may be put off by thick carpets but the LG Cordzero A9 Kompressor knows no boundaries when it comes to quick and easy cleaning. A premium but still more budget friendly version of some of the most impressive cordless cleaners around, the LG Cordzero A9 Kompressor comes with all of the essentials and more for a swift routine.
Its Portable Charging Stand ensures setting this vacuum down for a rest never takes more than a few seconds, before it's roaring to go again with its Kompressor lever, which compresses collected dirt, dust and pet hair in the bin to allow for even more space.
Runtime: 120 minutes
Dust Tank Capacity: 440 ml
Weight: 5.95 lbs / 2.7 kg
Bissell PowerGlide: Best cordless stick vacuum for hard to reach places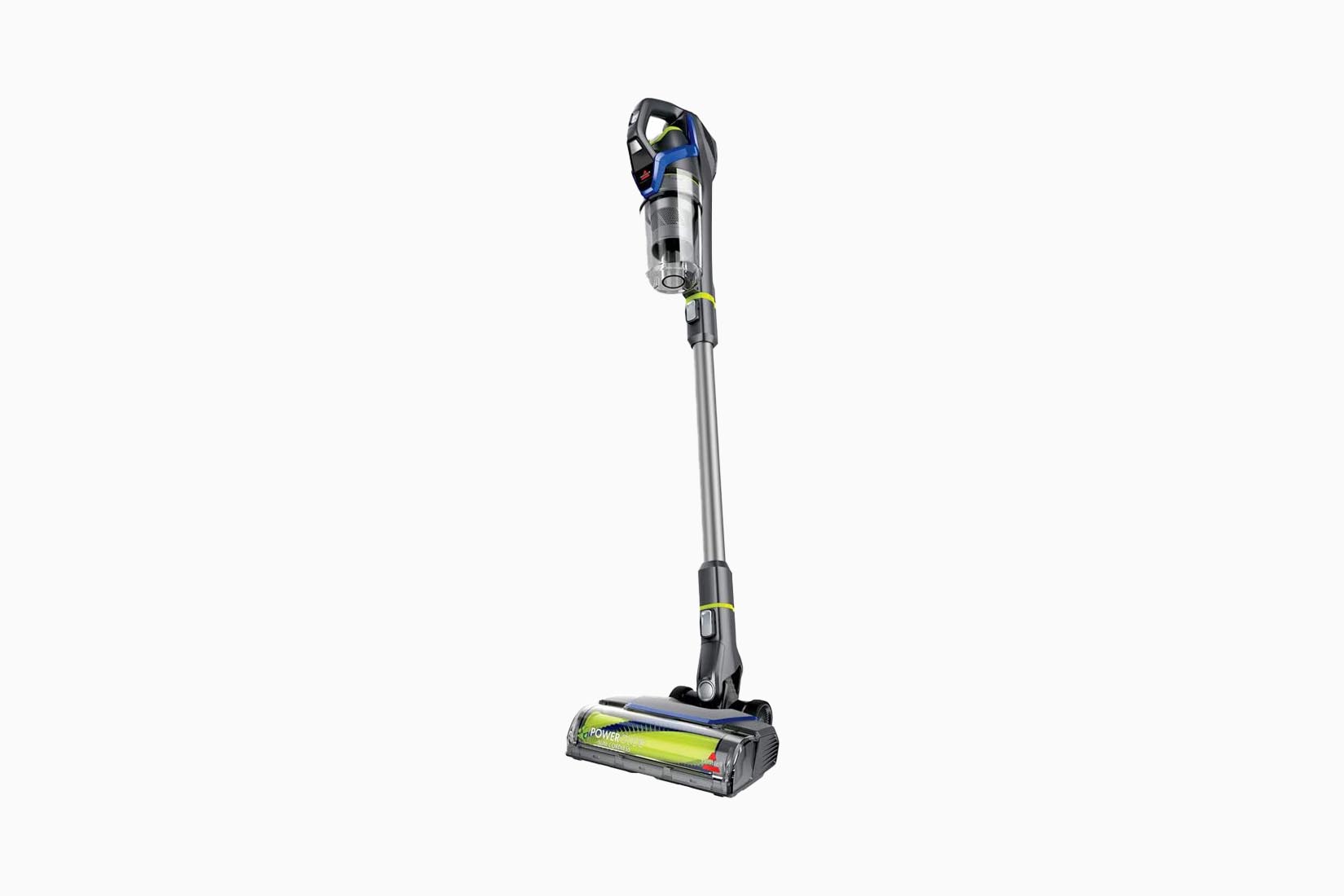 The BISSELL PowerGlide is the closest thing you'll find to an enjoyable vacuum session, thanks to its unbeatable ability to manoeuvre itself into those seemingly impossible to reach corners. Even those who absolutely detest vacuuming will find some sort of enjoyment from using this machine, simply because of how versatile it is.
Rooms that might have previously taken a long time to clean quickly become almost instant, without having to move or lift furniture or get down on hands and knees. It's lightweight, designed to tackle pet hair and also donates a little from each purchase to helping homeless pets. If that doesn't make you feel good while cleaning, nothing will.
Runtime: 30 minutes
Dust Tank Capacity: 500 ml
Weight: 8.5 lbs / 3.8 kg
Buyers guide to the best cordless vacuums
Cordless vacuums are all the rage for anyone who's tired of pausing every few minutes to unplug the machine before switching rooms, or getting down on hands and knees to ensure those tight corners are clean enough. Before you invest in a cordless vacuum cleaner, here's everything you need to know.
Surfaces
Most cordless vacuums are well equipped to tackle all sorts of surfaces, but some specialise more than others. If you live in a house with mostly hard floors, you should be fine with a more budget-friendly cleaner.
But, if you live in a house with lots of carpets or mixed flooring, you'll want a more premium brand that won't hesitate at a change of surface below. Higher-end cordless cleaners tend to be more prepared for things like pet hair, too, without having to pause every so often to fix the suction.
Price
It's possible to find a budget-friendly cordless vacuum cleaner for around $200, but these tend to come with the essentials only.
Cheaper machines may have a shorter battery life and a smaller dust bag, which makes them ideal for smaller houses but less suitable for large properties, when you may find yourself having to pause mid-clean for the vacuum to charge itself up again.
If you're cleaning a larger house, a cordless vacuum that'll do the job will likely be around $400.
Battery life and charging time
If you're aiming to cover a lot of ground or would rather get all of the cleaning out the way in one go, you'll want a cordless cleaner with a high battery life and a low charging time.
Most standard vacuums start at around 30 minutes of cleaning but more premium offerings can go up to around 120 minutes. It's also worth checking out capacity time for different power strengths: vacuums with the ability to turbo clean may lose charge a lot faster.
Some cordless vacuums come with swappable batteries, which are designed to supplement your cleaning routine while the other battery charges. Then, you can simply swap one battery for another and continue cleaning—forever— if you needed to.
Features
A standard cordless cleaner still has a huge advantage over a traditional cleaner on the basis that you're not limited by cord length or tight corners. But newer models also come with extra features, like removable and swappable heads for cleaning even smaller areas.
Some cordless vacuums can easily be converted into hand-held cleaners, while others have unique shaped suctions designed to fit into circular spaces and more unusual places.
Depending on the shape and style of your house, it's worth looking into a vacuum with these extra abilities for ease.
Power trigger or switch button 
Cordless vacuums tend to be lighter than their traditional counterparts, largely due to their modern design. However, this does often mean they have a smaller dust capacity than traditional cleaners.
If you're swapping from a traditional cleaner to a cordless one, it's worth paying attention to your current vacuum's capacity to see how your new one will compare.
Power trigger or switch button
The new-style design of cordless machines means many of them come with energy-saving tricks, like a power trigger. This means holding your finger down for the entire duration of the clean rather than only pressing the button once to switch it on.
While this is definitely better in terms of sustainability, it can cause muscle strain if you're cleaning for a long time. Other models stick to the traditional switch style.
Frequently asked questions about the best cordless vacuums