Endless frame styles to chose from. Convenience and speed of shopping online. Our handpicked selection of the best places to buy glasses online offers the broadest choice of prescription eyewear from budget to designer glasses.
The best online eyewear stores even let you do virtual try on before ordering your next pair of glasses. Not a good fit? Not a problem! Most of these places also offer free returns. 
All you need to know is your current prescription and a few other measurements and you're good to go.
Replace your glasses from the comfort of your home. Whether you're looking for super trendy eyewear to show off at the office, an affordable backup pair to keep in the car, or luxury reading glasses to make you look extra intellectual, check out these places to buy online glasses.
Suddenly sitting on your specs and breaking them doesn't seem so bad, does it? 
The 11 best places to buy glasses online in 2021
Check our special online glasses stores buying guide after the list to see exactly what you should pay attention to when shopping for your next pair of prescription glasses on the Internet.
We also have dedicated guides to the best blue light blocking glasses, the best sunglasses for women, and the best sunglasses for men.
Warby Parker: Best overall online glasses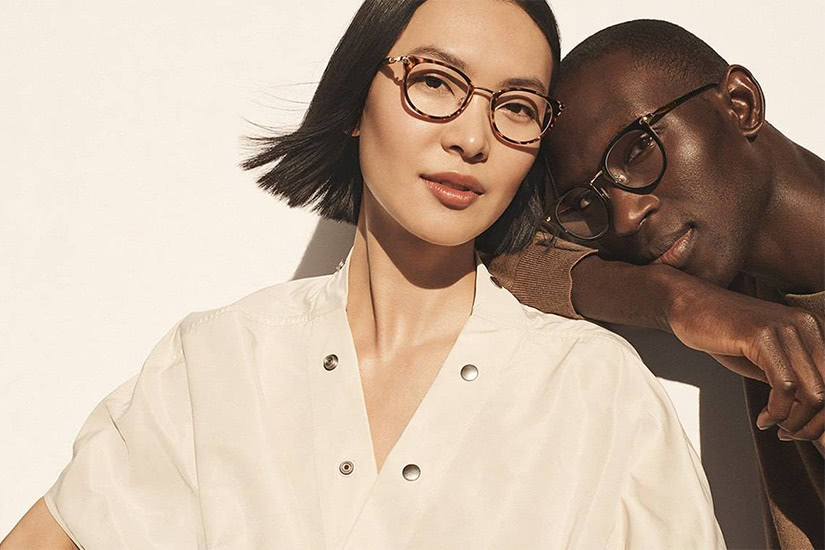 The best place to buy glasses online? It has to be Warby Parker. The online glass store has acquired a devoted following in recent years thanks to its edgy attitude and socially conscious business ethos, offering wearers the chance to buy glasses online without compromising on style or price.
With Warby Parker glasses, you can select five frames to try on at home for five days. You can also use the Virtual Try-On tool or take a quiz to determine which frames suit your face. The designs are the perfect balance between thoughtful and trendy and each pair comes with anti-reflective scratch-resistant lenses with 100% UV protection.
The site is easy to navigate, making it a far superior shopping experience to standing around a store while a hard-nosed assistant pushes different products on you. Plus, for each pair of Warby Parker glasses that you buy, another pair is given to someone in need.
Glasses that actually make you look better and leave you with money to spare? Welcome to Warby Parker. This time your eyes aren't deceiving you.
Best for: The glasses that everyone's talking about.
Price: $$
International Shipping: NO (US & Canada)
Returns: 5 days 
Glasses USA: Largest selection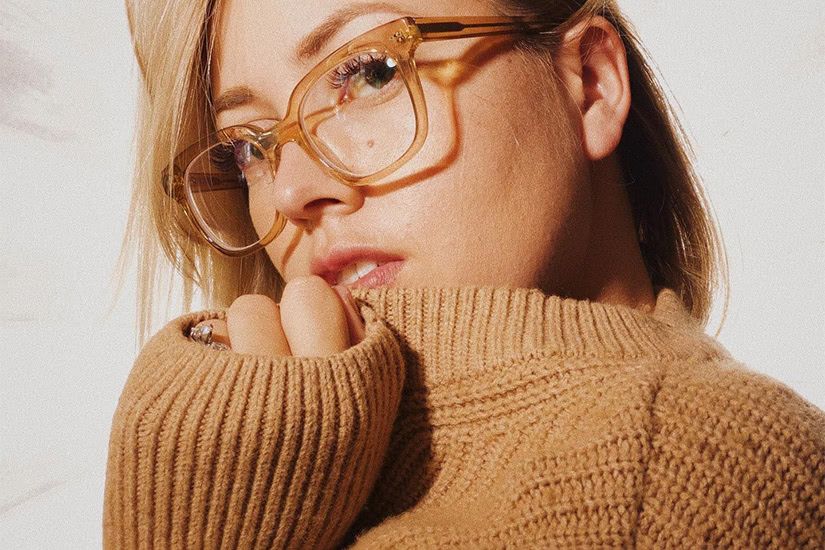 Glasses USA makes buying eyeglasses online simple, straightforward, and stress-free with their extraordinarily large selection of frames and eyewear.
The company has transformed the way we buy glasses. Seeing that people were stuck paying too much for run-of-the-mill glasses that all looked the same, they decided to shake things up. Today they're the largest online eyewear retailer and a revolutionary player in the industry, cutting out the middleman to offer premium designer glasses at 70% less than other stores.
For anyone in need of vision correction, Glasses USA is a one-stop-shop. You can use their virtual try-on technology and frame size finder to find the perfect pair, and they also offer free returns and a 100% money-back guarantee.
The future looks bright indeed.
Best for: Major savings on quality specs.
Price: $$
International Shipping: YES
Returns: 14 days 
Yesglasses: Best value place to buy glasses online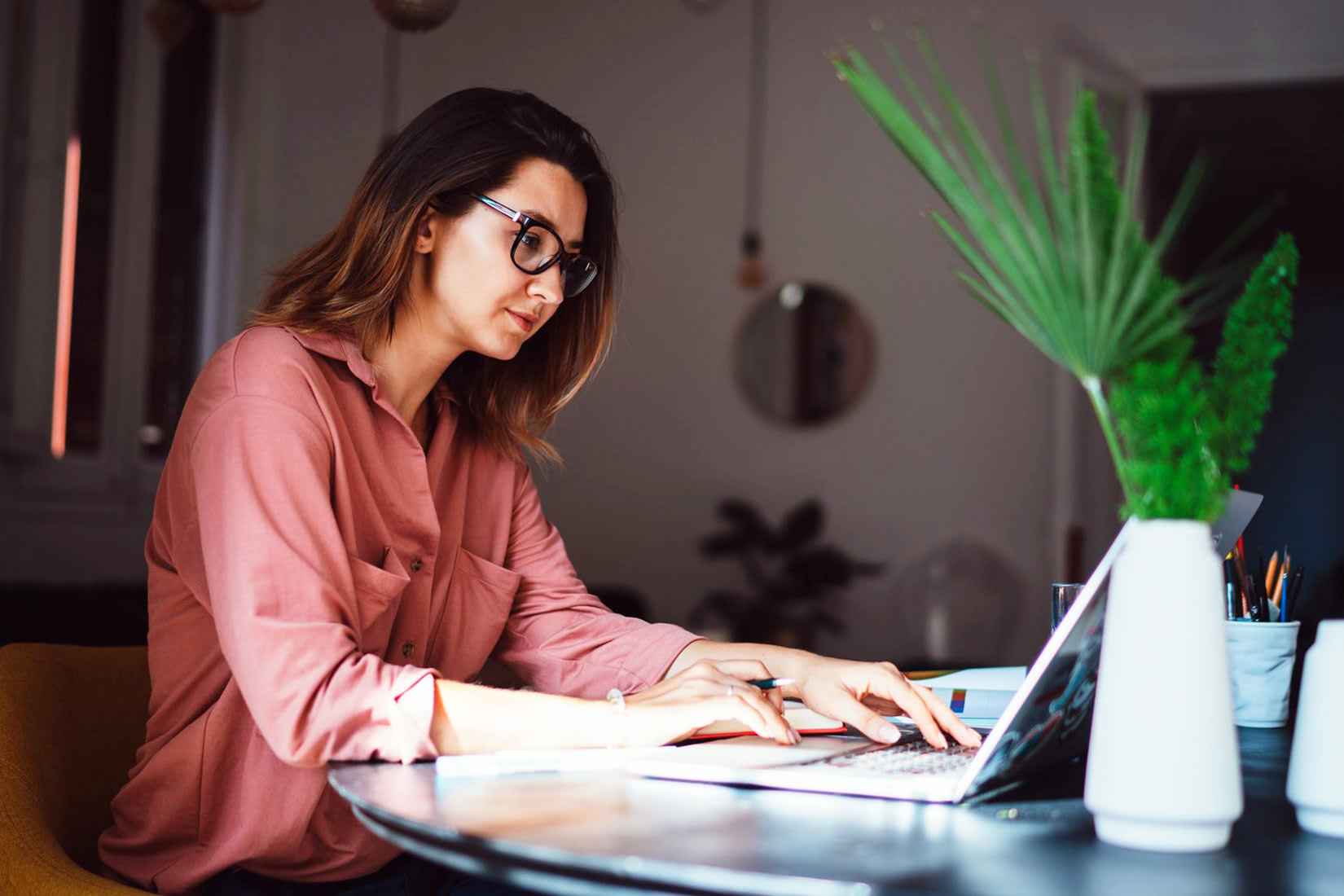 Yesglasses is all about making eyewear accessible. No more shelling out half your savings just so you can see. Now you can order glasses online at a fraction of the cost—and they're great glasses at that. 
How do they do it? Simple. They keep everything in-house. Concept, design, and manufacturing are all done by Yesglasses. This means savings for them and for you with the most affordable prescription glasses in the world. 
We like this store so much that we wrote an in-depth Yesglasses review if you want to learn more about them.
We own more than one pair of shoes and we own more than one coat. With Yesglasses, you can now own more than one pair of glasses too. Browse their vast online catalogue of frames, pick out models to suit different moods and occasions, add your prescription, choose your lenses, and you're off. 
Best for: Minimum expense, maximum style, optimum vision.
Price: $
International Shipping: YES
Returns: 14 days 
Net-a-Porter: Best for women's designer eyeglasses online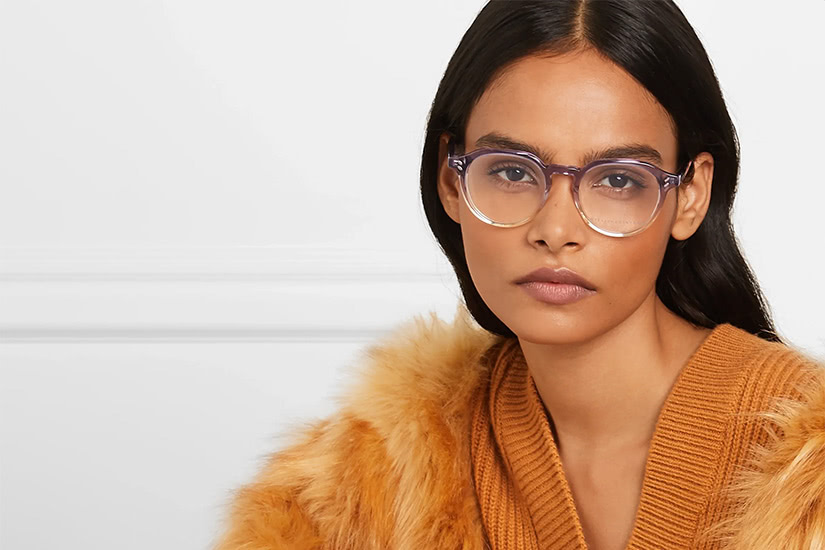 A true pioneer in the world of online shopping, Net-a-Porter is also one of the best places to buy glasses online. It's the hottest virtual destination for browsing high-fashion offerings and its glasses selection doesn't disappoint either.
While the collection isn't limitless, it is carefully curated to ensure it includes only the best of the best when it comes to women's designer eyeglasses with frames by the biggest names in fashion — from Gucci to Fendi, Givenchy, and Saint Laurent. Whether you're looking for statement-making cat-eye frames or aviator-style glasses in gold, your dream specs are waiting on Net-a-Porter.
The glasses can be fitted with prescription or UV protective lenses. You can order, try them on in the comfort of your home, ask the opinions of all the most important people in your life, and, if they're not quite right, get them collected and returned.
Best for: Luxury eyewear for being seen just as much as seeing.
Price: $$$
International Shipping: YES
Returns: 28 days 
Mr Porter: Best for men's designer eyeglasses online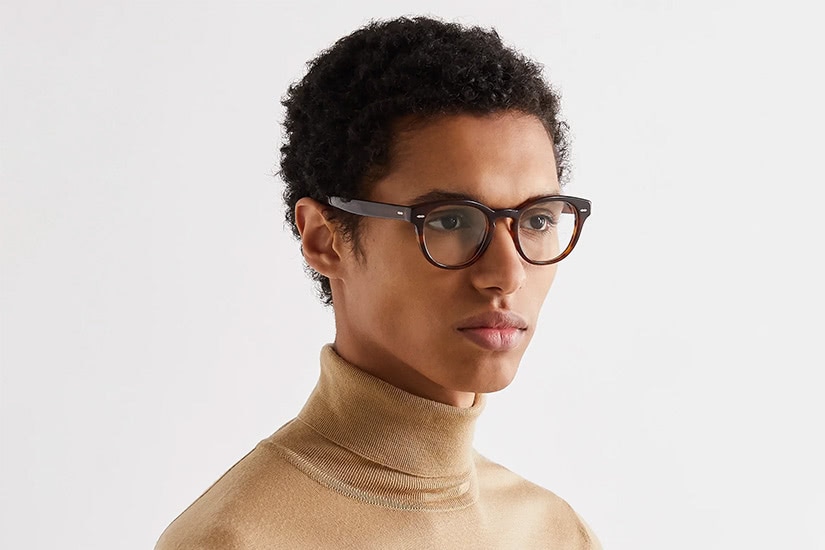 The virtual equivalent to stepping into a high-fashion store in the fanciest part of town? Entering the Mr Porter website. It's the online destination that you can rely on for high-end men's style—and that includes online prescription glasses.
Feast your eyes on the collection. Tom Ford, Saint Laurent, Fendi, and, of course, Mr Leight, the designer behind some of the most thoughtful and original luxury eyewear on the market. These designer glasses are pretty much the Rolexes of the eyewear world.
Filter by colour or designer and order them as they are or get them fitted with your prescription or UV-protective lenses. Whether you're looking for a new set of reading glasses (check out Mr Leight's Stanley C glasses) or frames you can wear all day, every day (like Fendi's 70s style gold-tone square frames), Mr Porter's collection has a pair with your name on.
Best for: Exclusive eyewear from the apex of online fashion.
Price: $$$
International Shipping: YES
Returns: 28 days 
Pair Eyewear: Best kids' glasses online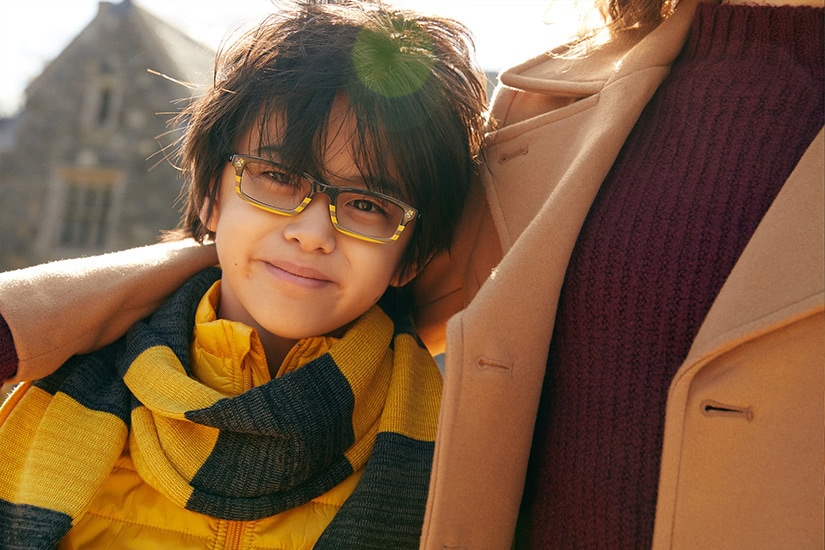 Wearing glasses when you're a kid should be cool. So cool that even non-glasses-wearing kids want a pair. Pair Eyewear is here to ensure that kids get affordable and attractive glasses that make them want to wear glasses and less likely to lose them.
Pair Eyewear is behind some of the best online glasses for kids. It was built on feedback from kids and adults who were dissatisfied with status quo specs. Revolutionising the kids eyewear industry, they create cool and fun glasses at accessible prices.
And if you're wishing you were a kid so you could get your hands on a pair, the good news is you can. Pair also makes glasses for adults at the same great prices.
For stylish and age-appropriate specs for your kid, however old they are, check out Pair Eyewear.
Best for: Putting a sparkle in your child's eye with quality kid-friendly specs.
Price: $$
International Shipping: NO (US, only)
Returns: 30 days
Vint and York: Best vintage-inspired online glasses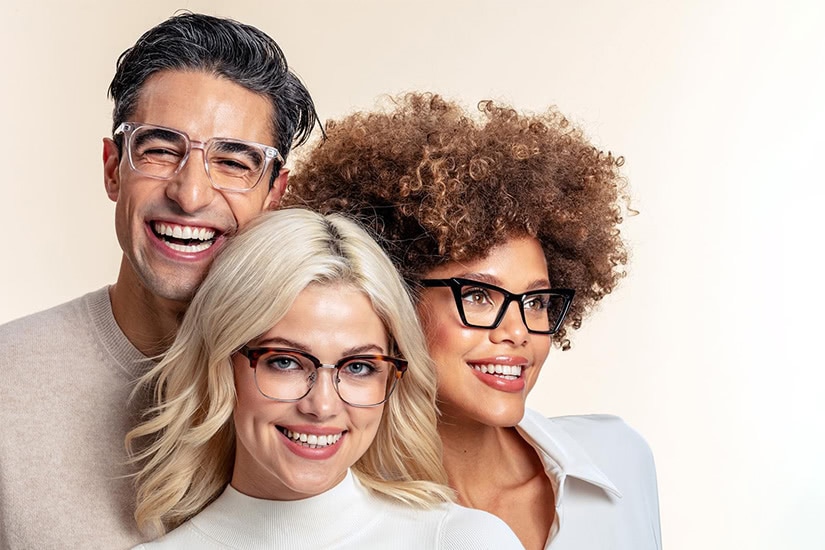 Old-school-style specs combined with an ultra-modern shopping experience? It doesn't get better than Vint and York.
For anyone nostalgic for the elegance and retro glamour of yesteryear, Vint and York make glasses for you. Each pair of glasses is inspired by vintage trends but made with a thoroughly contemporary commitment to quality and craftsmanship. The result is premium eyewear that captures a sense of a unique time period.
Whether you opt for statement-making 60s-style cat-eye glasses or conservative but classic frames in a bold shade of black, Vint and York is the dream online shopping destination for anyone bewitched by the romance of bygone times.
Best for: Self-certified eyewear nostalgics looking to start a retro revolution.
Price: $$$
International Shipping: YES
Returns: 15 days 
Westward Leaning: Best online glasses for customising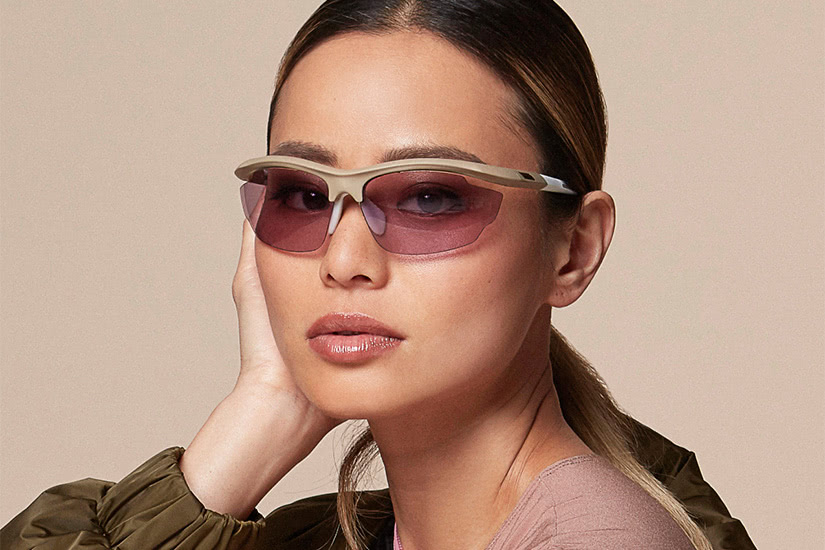 Westward Leaning makes showstopping specs. Once you order, a member of their specially trained optical team will get in contact to handle the entire prescription process, making for a hassle-free shopping experience.
On top of that, Westward Leaning has a small but impressive selection of sunglasses, designed to flatter every kind of face and beloved by the world's top trendsetters and taste-makers.
Westward Leaning also allows you to personally choose each detail of your sunglasses, from the frames and colours to the lenses and finishes. The result is thousands of different combinations so you can be sure you'll never come across anyone else with sunnies like yours. A bespoke pair of shades without spending a fortune.
Each pair is hand-crafted with meticulous attention to detail using unique and premium materials. Look out for the parallelogram-shaped inlay at the temples—the brand's signature move. No wonder the brand is a favourite among celebrities, including Gigi Hadid and Katie Holmes.
Best for: DIY designer sunnies that are totally unique to you.
Price: $$
International Shipping: YES
Returns: 30 days 
Zenni Optical: Best budget glasses online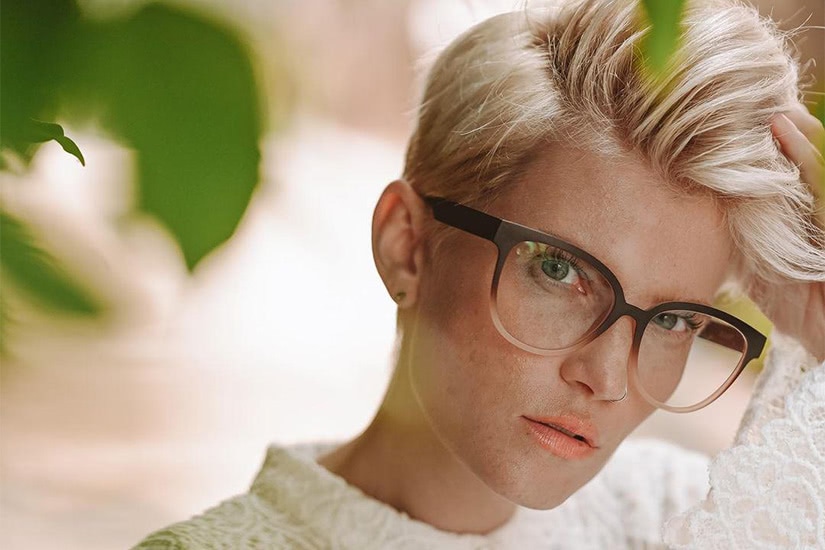 The price of new glasses can feel like a crime. Here to right this wrong is Zenni Optical, the best place to buy cheap glasses online. Save money while looking stylish with this budget-friendly online eyewear retailer, ready to bring you perfect vision without breaking the bank.
From no-frills utilitarian specs to glamorous frames, Zenni Optical has a whole range of glasses on offer. You can even buy sports glasses and goggles.
The best bit about shopping with Zenni Optical? You can test out the glasses using the Virtual Try-On tool, uploading a video of yourself and trying on up to fifty frames. It's simple and efficient, allowing you to find glasses that look so good you'll want to keep them on even in bed.
For prescription eyeglasses online with price-tags that won't make your eyes water, definitely check out Zenni Optical.
Best for: Premium specs without paying top dollar.
Price: $
International Shipping: YES
Returns: 30 days 
Felix Gray: Best online store for blue light blocking glasses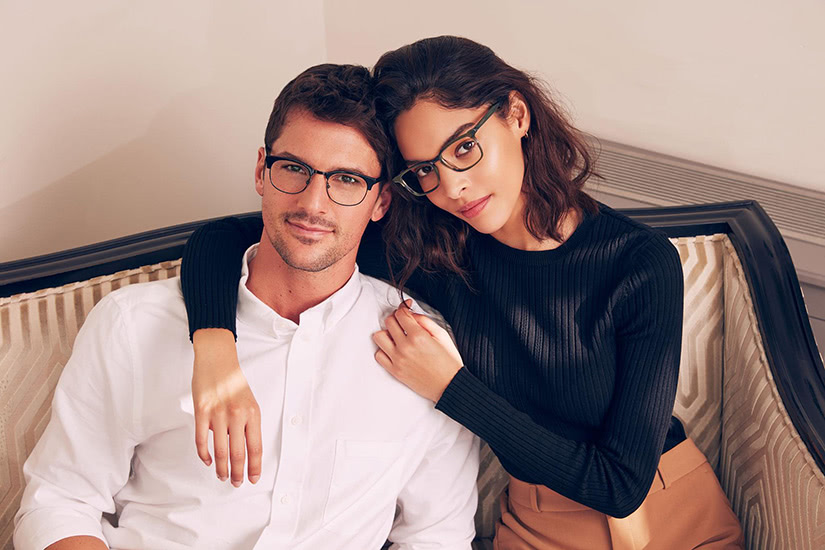 Science has found that regular exposure to the blue light emitted by our devices damages the sensitive cells in our retinas and strains our eyes. But don't panic. Felix Gray has your back. The brand makes eyewear with blue-light blocking technology and glare eliminating lenses, protecting your eyes and helping you to sleep better.
Felix Gray's proprietary lens filters out the highest energy wavelengths. Meanwhile, the Anti-Reflecting coat on the glasses eliminates the glare which can also cause strain, headaches, and blurry vision.
But being sensible and safe shouldn't mean being boring. So not only do Felix Gray glasses protect your eyes, but they also tick all the sartorial boxes too, with eye-popping and eye-catching designs that push the boundaries of ocular style in all the best ways.
Best for: Giving your eyes a much-needed digital detox.
Price: $$
International Shipping: NO
Returns: 30 days 
LensCrafters: Easiest online glasses shopping experience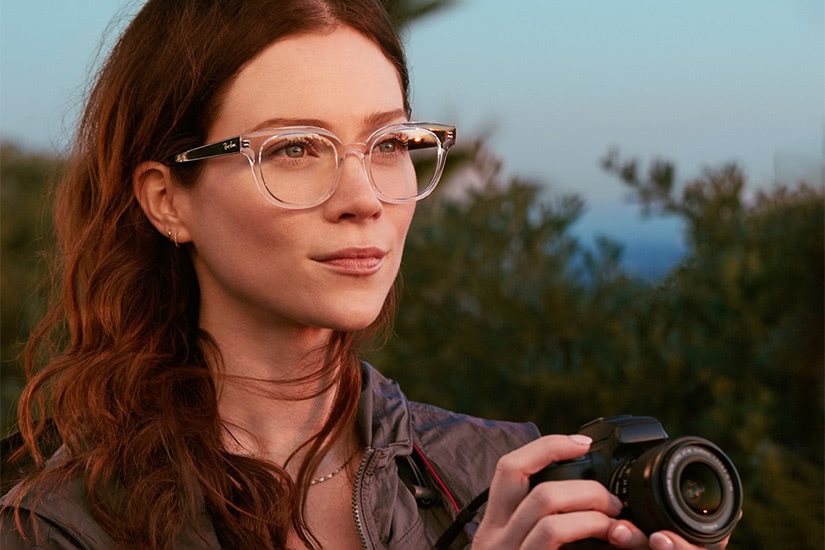 Even if you're a tech-sceptic convinced that nothing beats the IRL experience, you'll find yourself seduced by the shopping experience offered by LensCrafters. They make shopping for glasses online so straightforward that you can do it during your coffee break.
There's the brand's easy-to-navigate website, for one thing, which includes an online vision guide, eyewear glossary where you can search for any confusing terminology, plus instructions on measuring your PD (pupillary distance).
Additionally, ground shipping is totally free. And if you're not sure about your new specs—or you need a different size—the returns process is equally easy thanks to the brand's 30-day happiness guarantee. They also offer unlimited free cleanings and adjustments.
Perfect sight just became a piece of cake.
Best for: Making buying new glasses as easy as buying weekly groceries.
Price: $$-$$$
International Shipping: NO (US, only)
Returns: 30 days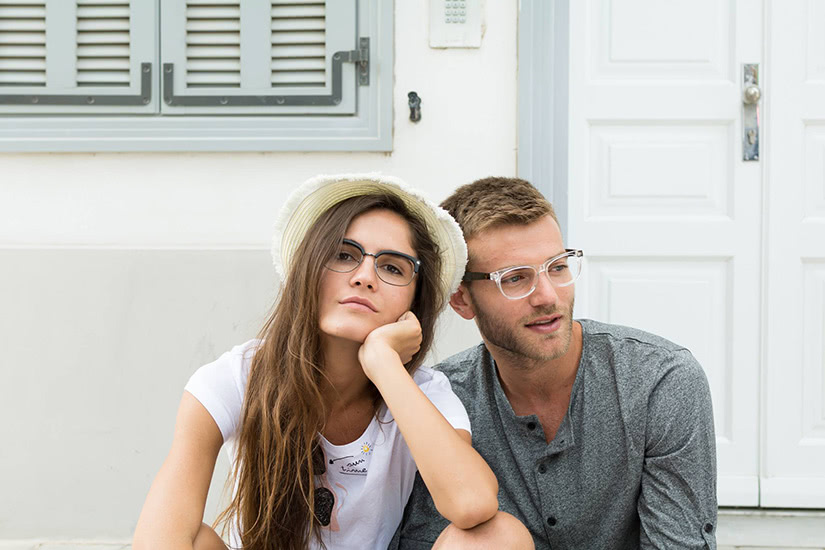 Buyers guide: how to choose a pair of glasses online
Buying a pair of glasses online is similar to choosing a pair in the shop except you don't have an assistant to help you. Here's the lowdown on what to expect when buying glasses online:
Before you start, you need to know:
Your pupillary distance – this is the space between your pupils, measured in millimetres and which you need in order to make sure you're looking through the right spot in your lenses when you put the glasses on.
Your prescription – making sense of your prescription can be tricky. Look at the numbers under the headings OS and OD, which stand for left eye and right eye, respectively. OU refers to both eyes. A plus sign means you're long-sighted. A minus sign means you're near or short-sighted.
The measurements of your current glasses – you'll find these inside the arm or on the bridge and there will usually be a sequence of 3 numbers. The first number is the lens width, usually between 31 and 60 mm. The middle number is the bridge width—the distance between the two lenses—and is typically between 12-31 mm. The last number is the length of the arms and is usually between 115-155 mm. You want your new glasses to match the same first two numbers as your current glasses.
What style of glasses suits me?
The glasses that suit you will depend on the shape of your face. Oval faces suit most frame shapes, rounded faces suit angular frames, heart or triangle faces suit broader frames or cat-eye style glasses, while square faces suit more rounded frames.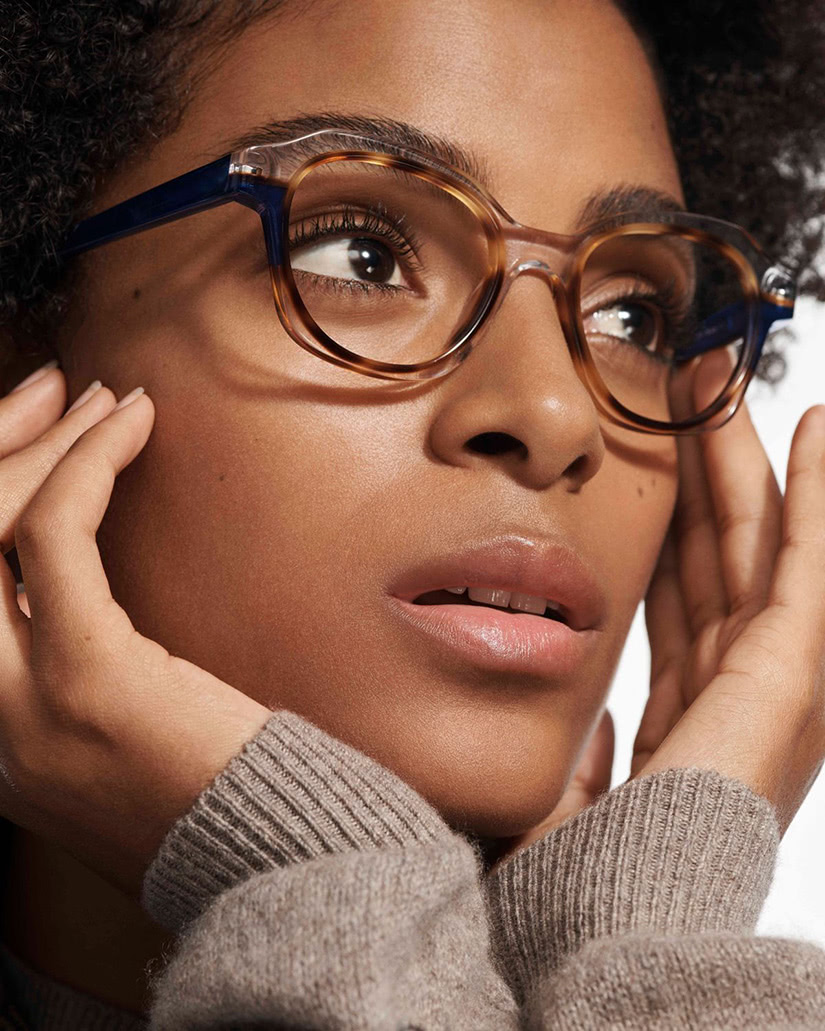 Thick frames are good for de-emphasising any strong facial features and also look bold and trendy. Thin frames are more understated. Consider choosing frames in a colour that contrasts with or complements your eye or hair colour. For example, green eyes suit red frames.
Do my glasses fit properly?
When glasses fit well, they distribute pressure evenly across the face so you don't experience any aches or pains. The frames shouldn't be wider than the width of your face, the top of the frames shouldn't extend beyond your eyebrows, and the lower edge of the frames shouldn't rest on your cheek when you smile. There should also be a very small gap between the arm of the glasses and your temple.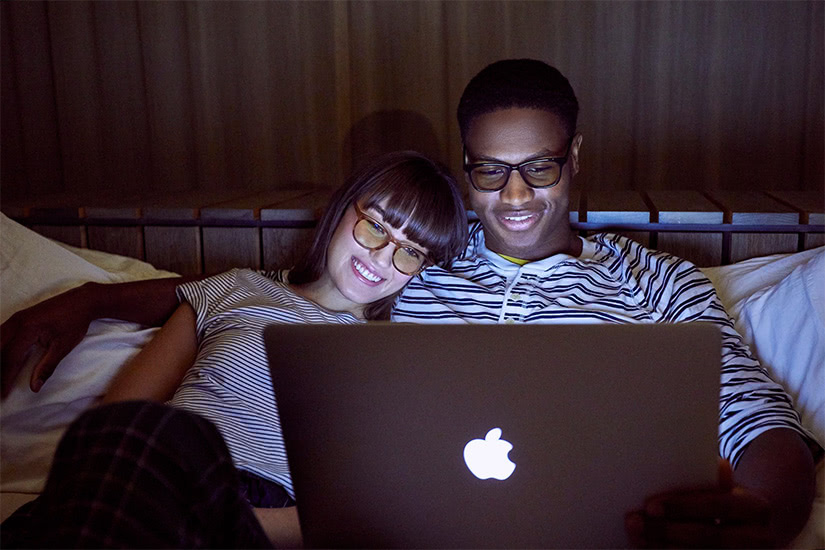 More tips for buying prescription glasses online:
Look out for glasses with additional features such as anti-reflection coating to reduce glare, adaptive lenses for UV protection, and a blue light filter to prevent ocular damage and strain when using digital devices.
Check the return policy before you buy. Most online retailers offer between 14 and 30 days to return glasses. Some places also offer free frame adjustments.
Some online eyewear retailers have a virtual mirror so you can either try the glasses on a model or use your webcam or a photo to see how the glasses look.
Frequently asked questions about buying glasses online
What is the best place to buy prescription eyeglasses online?
The best places to buy prescription eyeglasses online are Warby Parker for the US and Glasses USA if you are looking for international shipping. These online stores offer everything from virtual try-on technology to a frame size finder.
What is the best online glasses store?
The best online glasses store is Warby Parker with its five-frames home try-on service. Other good online glasses stores include Glasses USA, the large online eyewear retailer with high-quality glasses as well as Yesglasses for great eyewear at accessible prices.
Can I order prescription glasses online?
You can now order prescription glasses online. All you need is your prescription information and the measurements of your current glasses and you can start browsing.