Summer and sunshine mean plenty of garden parties, prosecco in hand. Ideal go-to top? The short-sleeve shirt, of course. This perennial essential is having a real fashion moment and we'd say now's the time to invest in a piece that's going to get a lot of love this season – and for many more to come.
More than a party piece, you'll find that the women's short-sleeve shirt is an office option, too. Dressed up or slouched down, the short-sleeve shirt is a real wardrobe friend. Key, of course, is matching cut to your personal style. Take a look at sleeve length in particular – and there's always the option with longer short sleeves of rolling up for a bit of casual chic.
Never forget that all-time classic polo shirt, too. Another that's never far from the fashion spotlight. Every wardrobe should have at least one, not least because of their versatility.
Most of all, the short-sleeve shirt is about freedom. Sun on skin, laughter on lips. We've picked out our favorites for you to choose from. Now, where's the prosecco?
Best women's short-sleeve shirts in 2022
Barbara – Darling by Britt Sisseck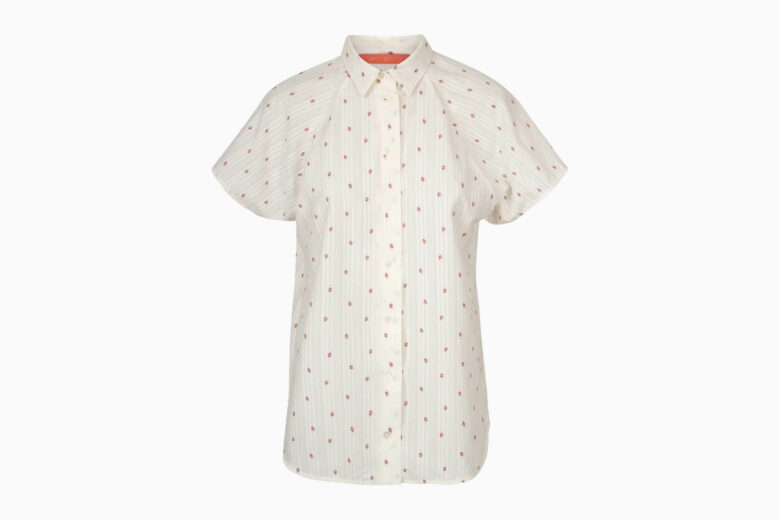 Danish designer flair? Done. Britt Sisseck occupies her own upscale fashion niche: subtle with a kick, feminine with a masculine edge, quietly brilliant. Cut here is straight, with a slightly looser fit for summer comfort. Fabric is the palest ivory stripe with jacquard floral detailing in contrasting dark red. Detach cuffs for simple workday lines, playfully accessories as bracelets for cocktails, or re-attach for a whole new look.
Pisarro by Loolios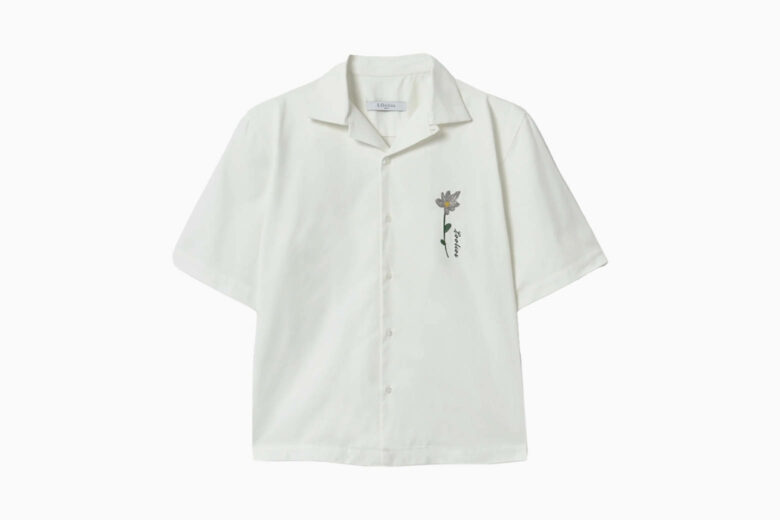 Flatter your inner artist with the impressionist simplicity of the Pisarro from the Mediterranean fashion creatives at Loolios, whose style is defined by galleries and museums. Crafted from organic cotton, the Pisarro's cut is dropped shoulder with a relaxed camp collar. Big story here is the relaxed dropped shoulders – and of course that boldly beautiful embroidered flower. Style is relaxed for outdoor weekend brunches, so well-tailored it's perfect for urban jungle chic too.
Short-sleeved Shirt With Chest Pockets by Zizzi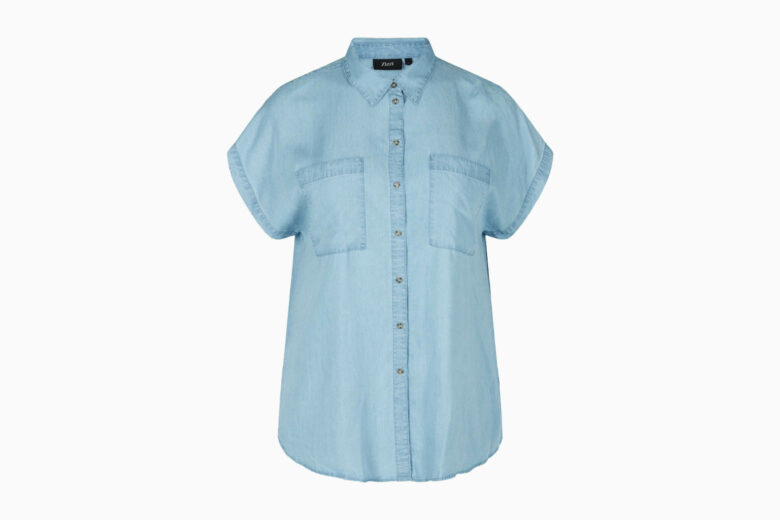 So laid-back that we can just smell the weekend coffee, Zizzi's breezy pale blue take on the classic women's short-sleeved shirt is generous in every way. Super-soft lyocell fabric is easy on the skin, easy to care for. Sleeves are short, designed to be rolled up or down depending on your taste, style, and – above all – mood. Cut is long and relaxed with dropped shoulders and classic collar. Chest pockets and side slits hint at boyfriend shirt: tucked in or out, we just love it.
Polo Stretch Linen White by Scaglione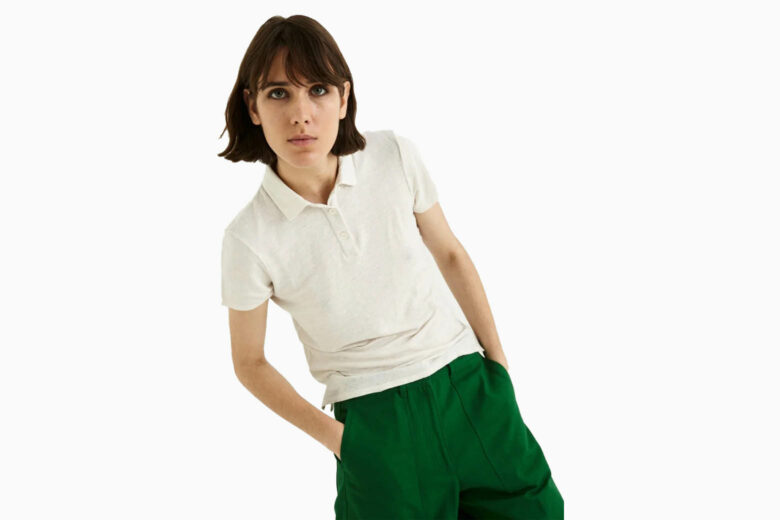 How, exactly, have you managed without this distinctly Italian take on the essential polo shirt from Scaglione? Us, neither. Art, beauty, and deep artisanal knowledge are the bedrocks of every Scaglione piece. Linen simplicity is the story here – and what a story it is. Classic three button collar and slim-cut sleeves are the keynotes, Italian linen is complemented with just a touch of Lycra for a little added stretch. Crafted in Italy. Next stop: La Dolce Vita.
Relaxed Short Sleeve Shirt Beige by Cordera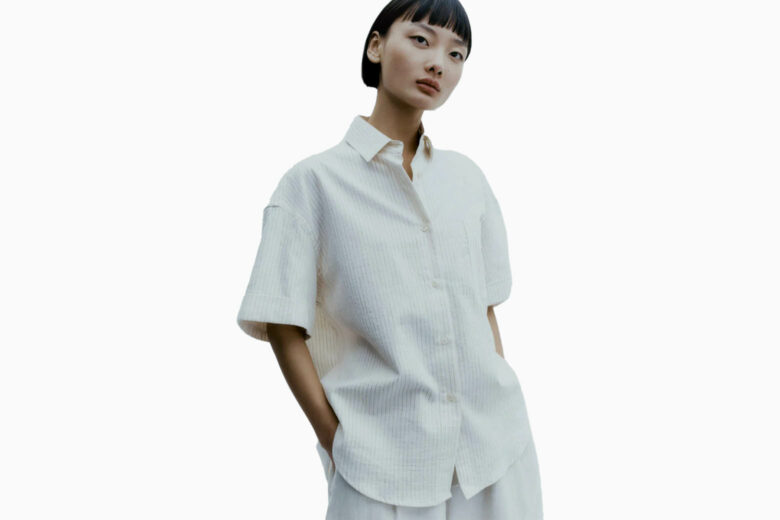 Such easy elegance could only be Spanish, and specifically Galicia, where nature and her simplicity inspire timeless design. More than that, as you can see here, Cordera are committed to stylish sustainability. Pinstriped print suggests formality, playfully contrasts with oversized relaxed fit. Cuffs to short sleeves add detail and structure. Ethically made to Cordera's high sustainability standards in La Coruña, using only small family-run factories. Now available from Barcelona-based independent label haven Bassal Store.