We already know what you're going to ask first—what's the difference between the best hiking shoes and the best hiking boots? Men's hiking shoes are lighter, making it easier to keep up your energy levels over the span of a long hike. Think of them as hiking sneakers—athletic shoes that are built to help you stay safe on a hiking trail, as opposed to being built to work on a level surface like a basketball court or a track.
Hiking boots lean further into features like ankle-bracing collars and stiffer midsoles which help keep you safe while you're lugging around heavy camping backpacks.
But don't let the term "hiking sneakers" fool you. Hiking shoes are built to battle the elements and to provide extra safety off the beaten path. As listed below, hiking and trail shoes aren't just glorified runners; they come with built-in safety features of their own, as well as waterproofing to help combat the environment's efforts to ruin your day.
Are you going to choose weight as your primary consideration? How about waterproofing? Are you looking for a casual walk along a well-trodden forest path, or are you looking to run where few have dared to run before? Let's help you figure out which men's hiking sneakers are going to help you go further.
The 11 best hiking shoes for men
Adidas Terrex Ax4 Primegreen: Best overall hiking shoes for men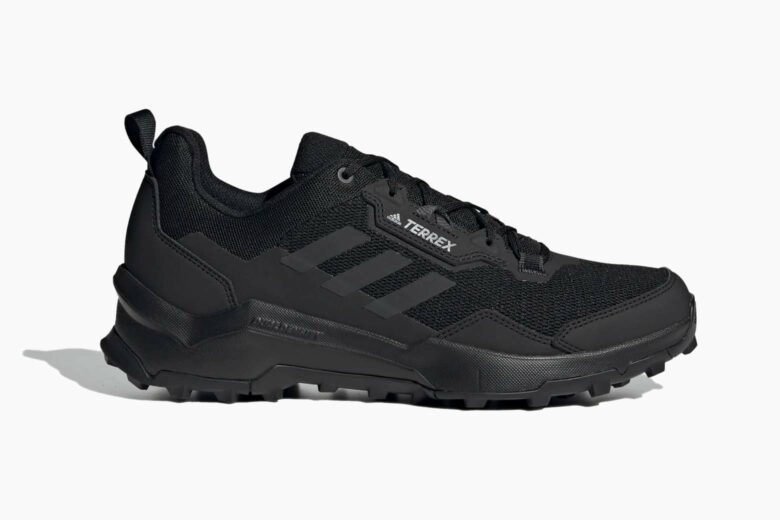 Here's a prime example of what we mean by hiking sneakers. From a distance, nobody could blame you for thinking that Adidas' Ax4 Primegreen hiking shoes were straight-up running shoes, thanks to their sleek athletic design. But a closer inspection reveals these are indeed shoes for hiking, featuring Continental Rubber soles geared toward giving you a serious grip on everything from alpine trails to leaf-littered forest paths.
| | |
| --- | --- |
| Best for: | Greeting Mother Nature on equal terms. |
| Colors: | Core Black, Focus Olive, Blue Rush |
M.Gemi The Carlo: Best designer hiking shoes for men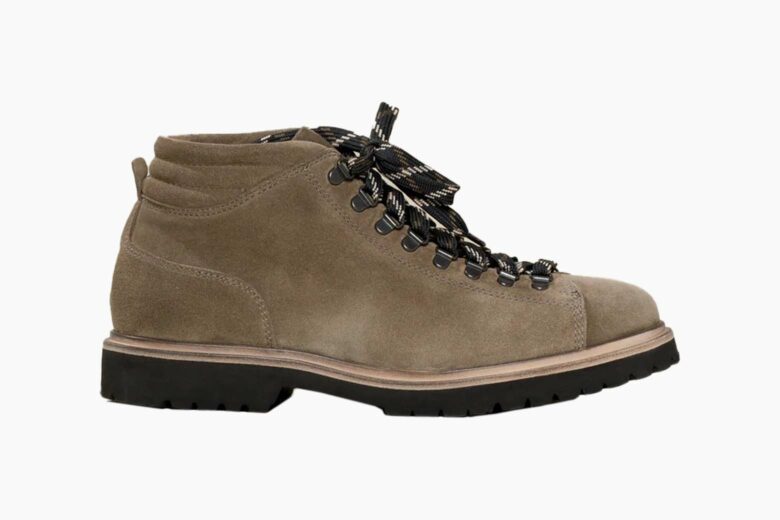 Handsome as any dressy casual shoes you'd care to name, M.Gemi's The Carlo boasts either a hand-brushed suede or polished burnished leather exterior. So these lightweight hiking shoes are certainly attractive enough to match them up with designer jeans and maybe a select bomber jacket, but can they walk the nature-trail walk? While we wouldn't recommend that sexy suede exterior for crossing streams or climbing rocky hillsides, the thick EVA lightweight sole will do you just fine for forest paths.
Learn more about the story behind M.GEMI.
| | |
| --- | --- |
| Best for: | Bringing luxury fashion to the forest. |
| Colors: | Sand, Brown |
Merrell Moab 2 WTPF: Best value hiking shoes for men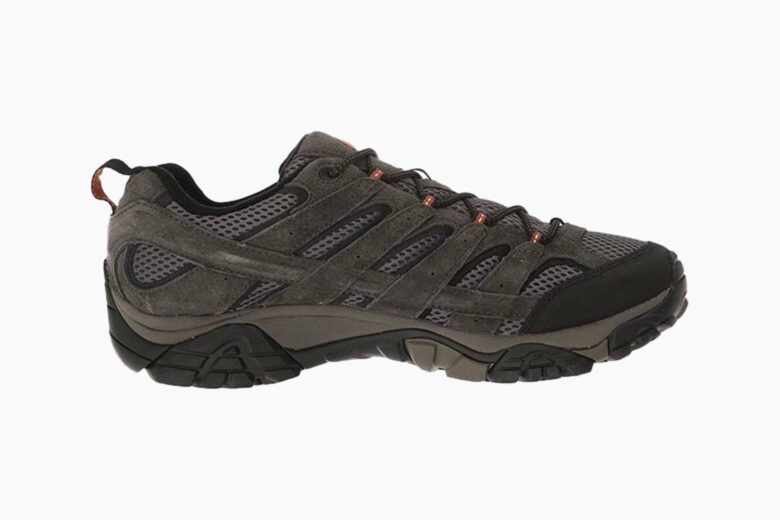 "MOAB" stands for "Mother Of All Boots", and Merrell is certainly making a case for the claim. Sporting an easy price tag, Merrell's Moab 2 WTPFs make sure everyone has a chance to get out and enjoy what nature has to offer with tons of great nature-friendly features. The shoe is constructed with a waterproof membrane, a tongue designed to keep out debris, and a Merrell air cushion in the heel to absorb impacts.
| | |
| --- | --- |
| Best for: | Supporting your feet and your finances at the same time. |
| Colors: | Charcoal, Dark Brown, Espresso + More |
On-Running Cloudventure: Best hiking sneakers for men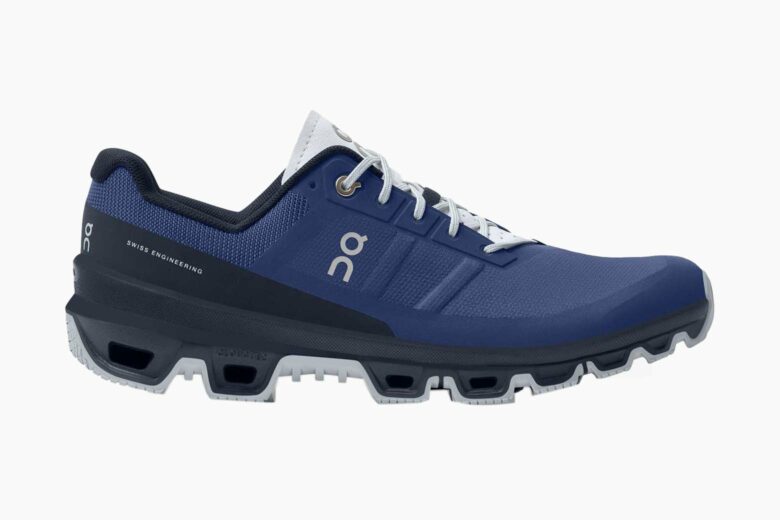 Let's kick things into high gear. On-Running was founded by Swiss Ironman champ Olivier Bernhard, and is staffed by multiple world-class runners, so it makes perfect sense that they'd develop the ultimate off-trail runner, the On-Running Cloudventure. On hiking shoes offer a Missiongrip sole to give you the level of grip necessary to keep your fast footfalls precise on imprecise terrain, and the company's CloudTec system cushions your foot's impact on rocks and roots.
Check our in-depth On-Running sneakers review to learn more about the brand.
| | |
| --- | --- |
| Best for: | Speeding up your search for new off-trail adventures. |
| Colors: | Twilight, Flare, Glacier + More |
Allbirds Trail Runners SWT: Best lightweight men's hiking shoes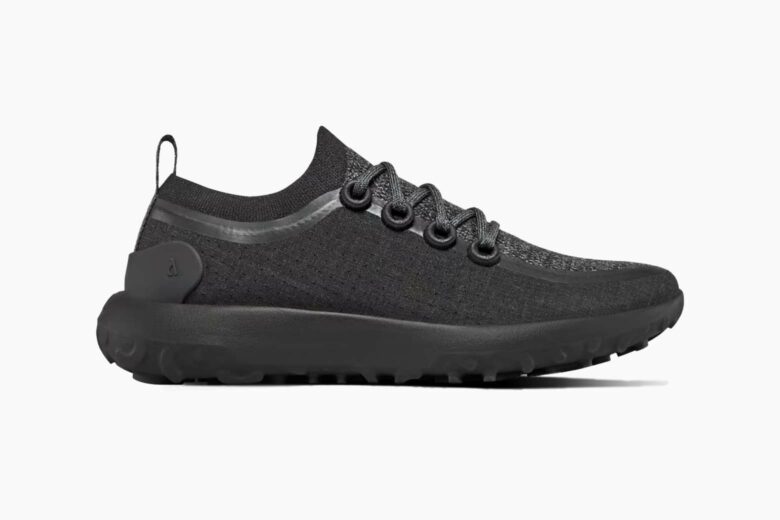 Allbirds' SWT trail runners are surprisingly stylish for such a durable shoe. From the top, the SWTs almost have the appearance of a luxury slipper rather than men's outdoor shoes. But don't be fooled, the SWT's are waterproof runners with stabilization built-in, as well as ripstop fabric to help these shoes (and your feet) survive challenging territories.
Check our in-depth Allbirds review to learn more about the shoes, or read our story behind Allbirds to learn more about the brand itself.
| | |
| --- | --- |
| Best for: | Swank speediness. |
| Colors: | Natural Black, Medium Grey, Diablo + More |
Nike ACG Air Mada: Best slip-on hiking shoes for men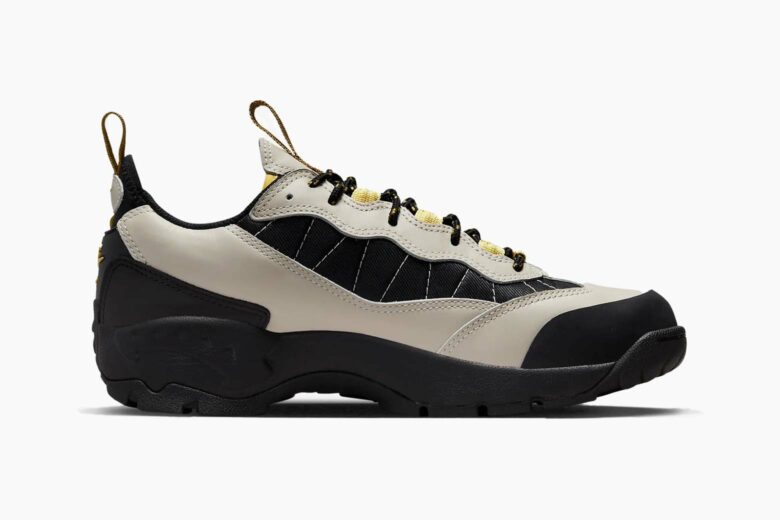 Set your laces and then forget 'em with Nike's ACG Air Mada hiking shoes. Pull tabs at both the heel and the tongue turn the Air Madas into sturdy slip-on hiking shoes (and also provide a handy hanging point for you to clip them onto your backpack). The ACG (All Condition Gear) in the name is accurate: the toe cap protects your toes and helps lead the way for the large underside lugs designed to keep your footing solid on multiple types of surfaces.
| | |
| --- | --- |
| Best for: | Becoming a quick-switch magician in the middle of nowhere. |
| Colors: | Vachetta Tan, Black, Ash Green |
Diemme Possagno: Best men's hiking shoes for beginners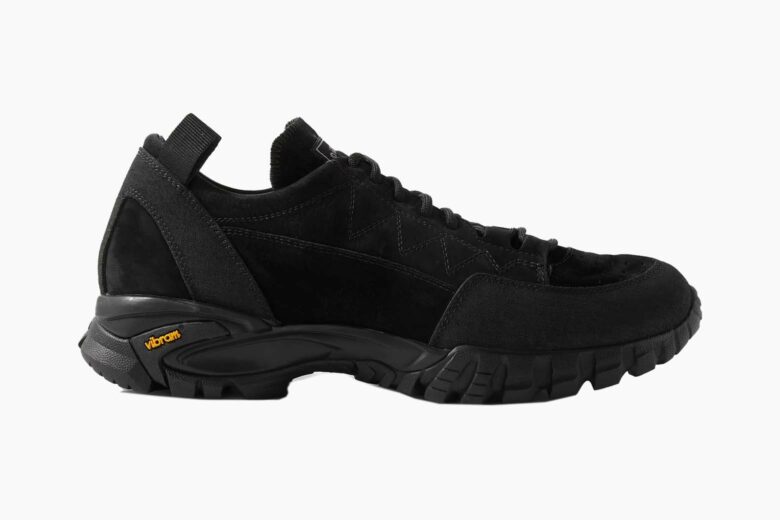 The cool thing about Diemme's Possagno paneled suede sneakers is that they totally look like a luxury pair of runners, so they'll do you just fine matched up with your dressy-casual outfits. But while they're all sleek styling up top, on the bottom they feature Vibram Nuasi soles which offer plenty of traction and stability. If you're taking your first steps into the world of nature hikes, these are a great set of hiking shoes to ease your way in.
| | |
| --- | --- |
| Best for: | Breaking into the hiking game with tip-top style. |
| Colors: | Black, Brown, Blue |
Salomon X Ultra 3 GTX: Best waterproof hiking shoes for men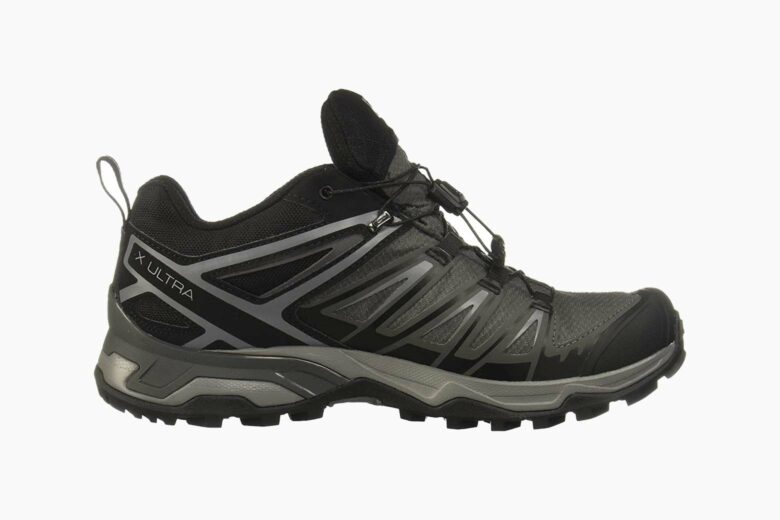 Wet feet on a hike don't just feel uncomfortable, they can become a real problem by bringing on blisters or fungal infections. It's definitely a good idea to keep your feet dry on a hike, and the best hiking shoes for the job are Salomon's X Ultra 3 GTXs. GoreTex material is the hero here, keeping your feet dry, and the shoe as a whole is actually designed with wet downhill descents in mind, keeping you both dry and safe even on rainy days.
| | |
| --- | --- |
| Best for: | Go the distance. Get there dry. |
| Colors: | Black, Castor Gray, Dark Denim |
Hoka One One Hopara: Best men's hiking shoes for summer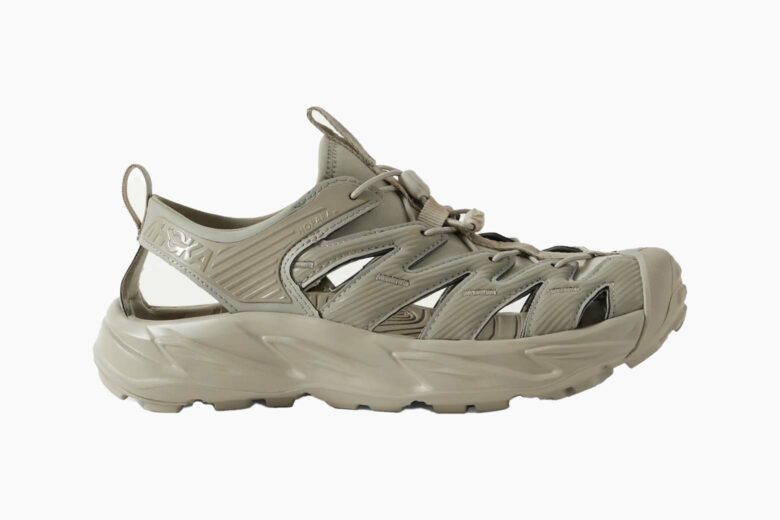 Sweaty feet come with the same problems as feet that get wet from rain or rivers. They're uncomfortable of course, and they also carry the threat of fungal infections and blisters. That's why if you're a year-round hiker it pays to have a pair of summer hiking shoes, like Hoka One One's Hoparas. Featuring rubber woven in a sandal configuration, the Hoparas still have a toe cap for protection and lugs so you can keep your grip.
| | |
| --- | --- |
| Best for: | Fighting off the summer sweats while still keeping safe. |
| Colors: | Gray |
KEEN Targhee III: Best men's hiking shoes for wide feet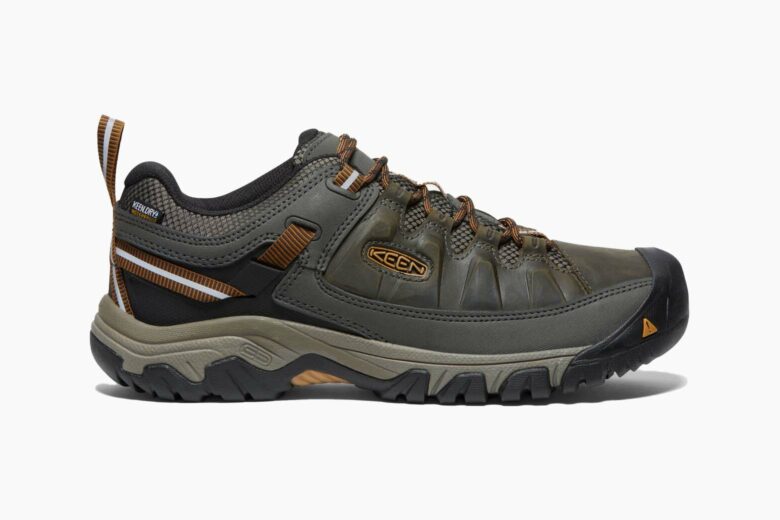 Men with extra-wide feet need some hiking shoe luvin' too. If your stompers are on the wider side, give KEEN's Targhee IIIs a try. Offering a wide version of all their sizes, the Targhee IIIs are some of the most comfortable hiking shoes around. And they still offer you all the hiking trimmings: waterproofing, an all-terrain rubber outsole for grip, and External Support Shanks to protect against harmful torsion.
| | |
| --- | --- |
| Best for: | A big step forward in hiking shoe designs for big feet. |
| Colors: | Black Olive, Steel Grey, Bungee Cord |
Axel Arigato Marathon R-Trail: Best men's hiking shoes for trail walks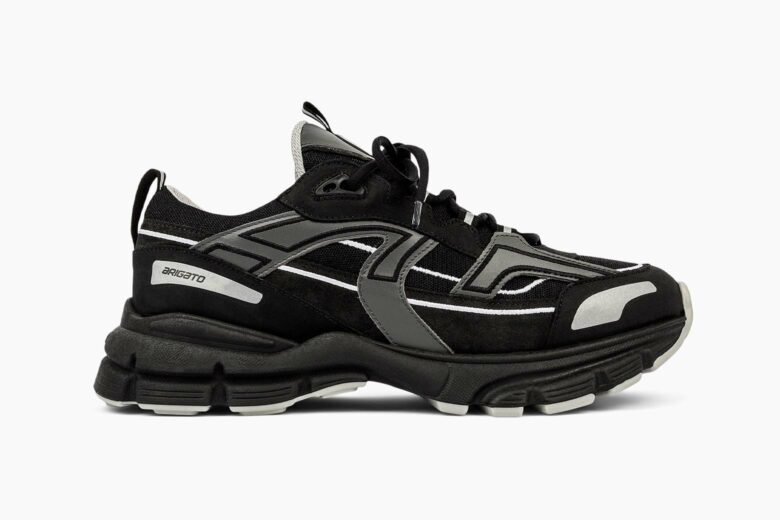 Oddly enough, the best hiking shoe for a nice nature-based walk is based on a marathon runner. Axel Arigato's Marathon R-Trail is a descendent of the brand's bestselling Marathon Runner, using a lot of the same design concepts in its style and frame. Shoe-long reflective transfers add visibility, and detailing includes looped laces and a transparent micro mesh. Axel Arigato says the sizes run a bit small, so round up if you're a half-size.
| | |
| --- | --- |
| Best for: | Taking it slow so Mother Nature can soothe your spirit. |
| Colors: | Black |
Buyers guide for men's hiking shoes
Types of hiking shoes
"Approach" hiking shoes are for vertical faces. These aren't all-out mountain-climbing shoes; they're extra-grippy shoes that will get you up the foothills to the mountain.
Straight-up hiking shoes have more stability and protection than average shoes. Hiking shoes (as opposed to hiking boots) are what you want if you don't have to hump in heavy backpack gear, and you're not likely to encounter terrain that will try to cut your ankles.
Trail runners offer more protection and grip than regular running shoes.
Hiking shoe features
Breathability
Breathability keeps feet cool and allows wet shoes to dry faster. If you're hiking in hot and dry climates, choose breathability over waterproofing.
Insoles
You can pull out standard insoles that come with your hiking shoes and replace them with specific insoles that will give you the support you need. Insoles can help with arches (or lack thereof), cushioning, and stability.
Materials
Leather equals durability. If you expect a lot of punishment, try out leather uppers.
Synthetics (nylon or polymers) are lighter than leather, more flexible, and allow your feet to breathe more.
Suede is more "show" than "go". Suede looks great, but it's hard to get clean and can get permanently scuffed quite easily.
Midsoles
Softer midsoles are fine for easier hikes, but if you're going to be taking on rough turf or you're going to be carrying a heavy backpack, a stiffer midsole will keep you safer.
Stability
If you're walking without carrying much extra weight, it's perfectly fine to go for more flexible hiking shoes. However, if you're carrying a heavy backpack look for more built-in stability to protect yourself from twisted ankles and falls.
Traction
If the sole features fat lugs (the molar-like "teeth" on the bottom of a shoe), they're probably intended for muddy or otherwise slippery terrain. Soles designed for "approach shoes" tend to have smaller lugs (or no lugs at all) and are made from stickier forms of rubber.
Waterproofing
Waterproofing keeps your feet dry, thereby avoiding blisters and fungus. The trade-off is breathability. If you're going to be in dry environs, feel free to skip waterproofing. If you're going into wet climes or will be crossing streams, then give waterproofing some consideration.
Weight
Hauling around an extra pound or two on your feet can add up over a long day on the trail. However, keep in mind that weight reduction comes at the price of enhanced stability and durability, so consider your environment when making your choice.
Frequently asked questions about hiking shoes for men
Which type of shoes are best for hiking?
Overall, we recommend Adidas' Terrex Ax4 Primegreen hiking shoes. They merge the best attributes of trail runners and hiking boots, making for a solid do-it-all trail shoe. Check our round-up of the best hiking shoes for men to find the perfect pair for you.
Is it OK to wear running shoes for hiking?
You might get away with running shoes on easy pre-made paths, for shorter distances. However, if you have to take on rough terrain, inclement weather, cross streams, or carry a camping backpack, you'll regret not switching to a hiking shoe or hiking boot.
Are hiking shoes good for everyday use?
Unlike many hiking boots, hiking shoes are light and breathable enough to serve as everyday shoes. For example, M.Gemi's The Carlo or Allbirds' Trail Runners are stylish and comfortable enough to work with your regular casual daily outfits. Do keep in mind that some hiking shoes have stiffened midsoles, which are not as cushiony as the soles of most regular everyday shoes.
What is best for hiking, shoes or boots?
For easier hikes, trail running, or mountain approaches, hiking shoes are perfectly fine as long as you're not carrying a heavy backpack. If you are carrying a heavy load, or if you're working your way through underbrush or rocky terrains, hiking boots are probably the better bet.