Over 100 startups from across the world exhibited at this year's Unbound Bahrain event, doubling the attendees in size from last year. Large delegations from the UK, India, Hong Kong and the wider MENA region gained deep insights into startup growth and the future of digital. Readers of Luxe Digital were entitled to a special discount on delegate passes.
Major international and regional corporate tech players such as Amazon Web Services (AWS), Zain and CrediMax partnered with the event to meet with and hopefully build relationships with early emerging market players.
"You have a government here who is willing and able to help you succeed," said Excellency Khalid Al Rumaihi (Bahrain), Chief Executive of the Bahrain Economic Development Board (EDB) as part of his opening remarks at leading innovation festival Unbound Bahrain which took place in Manama, Bahrain this week.
The event took place in conjunction with StartUp Bahrain Week, a community-led festival that promotes entrepreneurship and innovation connecting attendees from around the world.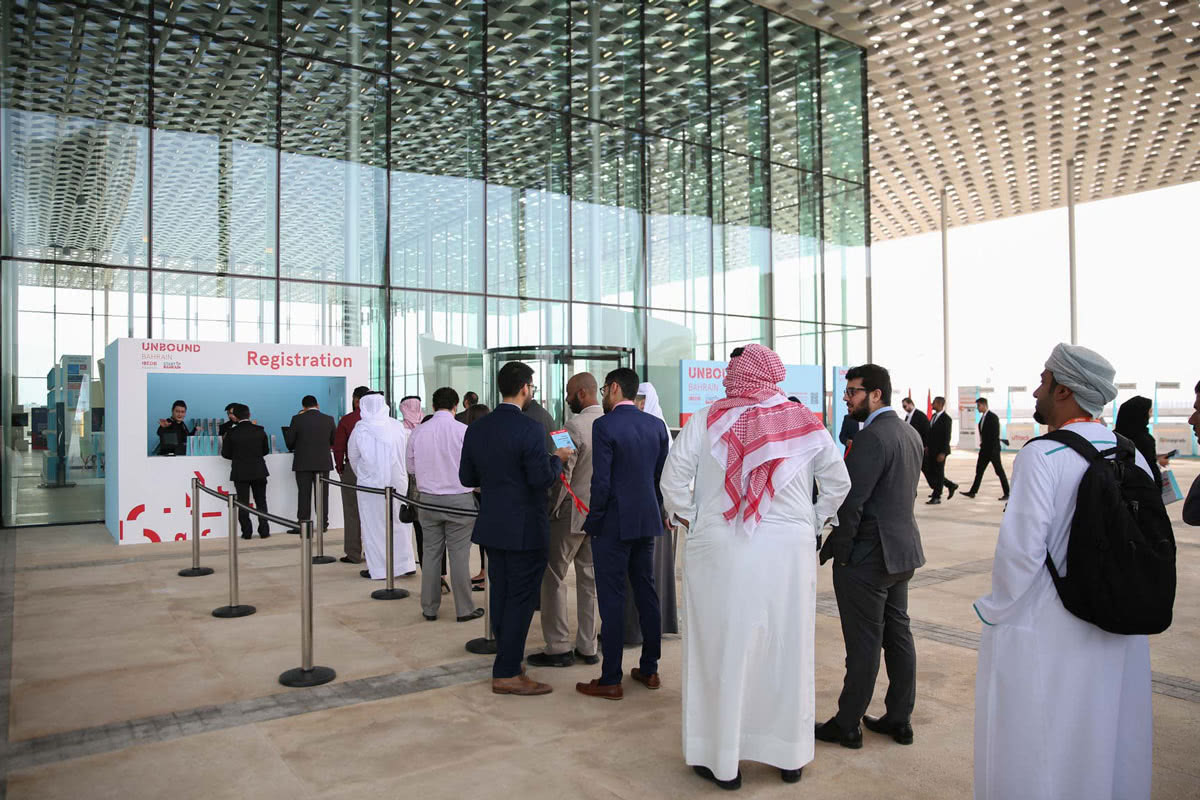 "Corporations are recognising the power and influence of regional startups, your Careem, Fetchr, Talabat are all disrupting traditional business models so corporations are adopting one of two solutions: find skills and resources to compliment them or find ambitious startups to partner with and help them develop," said Sheikh Abdulla Al-Khalifa, Director of Communications, Zain Bahrain.
AWS held the MENA Startup Battle competition attracting hundreds of applications across the region with heats taking place in Cairo, Abu Dhabi, Bahrain and Saudi Arabia. 12 startups were selected for the finals where Statys, a FinTech startup that reduces the cost of risk assessment for banks and other lenders, was announced as the winner.
MENA region sees surge in interest from startups around the world
"We came to Bahrain to explore opportunities and we've had very positive discussions. If we can secure roll out of our product, Bahrain would be an ideal place to set up business" said Harvider Hingh, Chairman of AIRSENSA, an environmental startup focused on improving air quality.
Another startup exhibiting at Unbound Bahrain is planning to establish a headquarters in Manama."We're participants in the Flat6Lab in Bahrain. We have offices already in Chile and India but we're looking at establishing our headquarters in Bahrain, it's perfectly positioned for us" said Ahammed Unmi, CTO of ExpressBase.
Unbound Bahrain was held at Bahrain National Theatre over the 6th and 7th of March with a series of cutting edge keynotes, panel discussions and pitch competitions.
The second day saw speaker sessions from Tom Goodwin, CEO of Zenith Media and top LinkedIn Influencer, Tim Draper, American Venture Capitalist, Chris Rogers, Partner, Lumia Capital and Ali Sabkar, Global Chairman of Global Social Media Club.
Corporate and startup engagement is growing as a trend demonstrated by a near 3,000 attendee event in Manama, a near double attendance on 2018.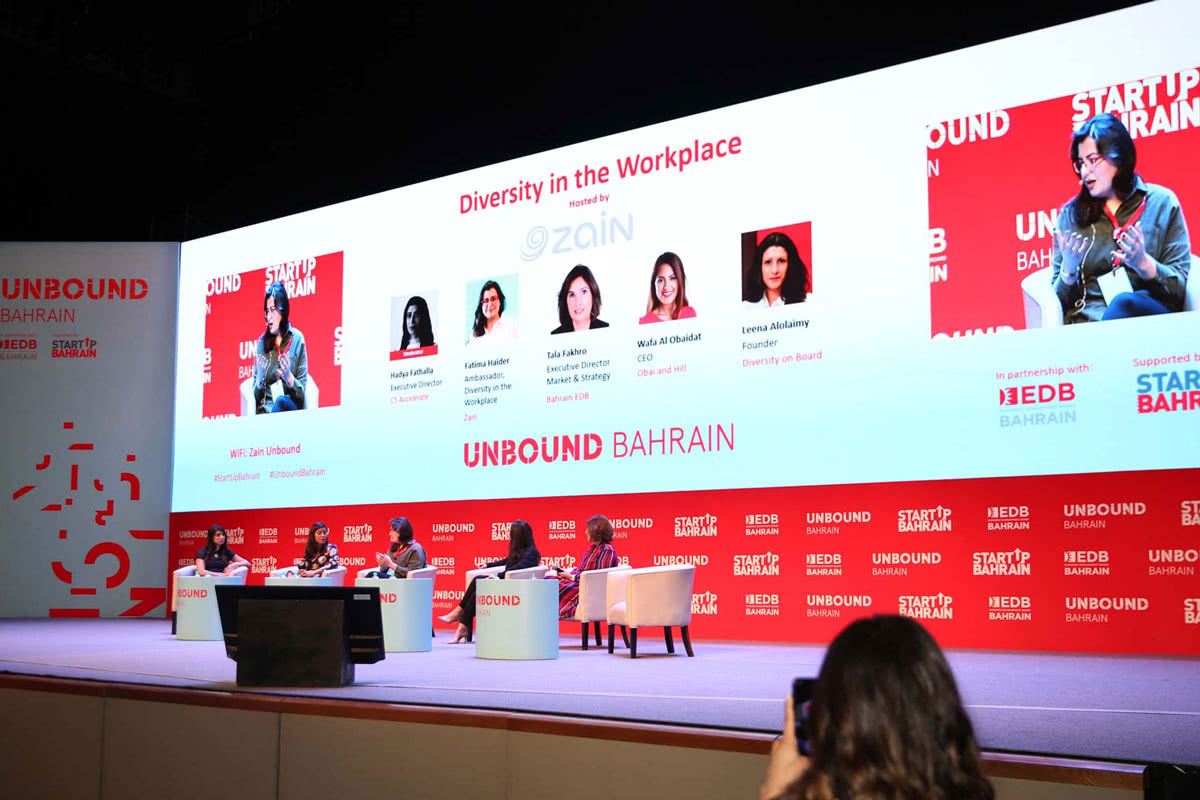 "Openness is crucial if corporates are to engage with startups. At Zain Bahrain we offer an opportunity to startups every Thursday to showcase themselves to our employees and promote them over our social media channels. We are helping amplify the ecosystem around the region through platforms such as ZINC and it's having a positive effect for entrepreneurship overall." Sheikh Abdulla summarised.
Over 3,000 startups, investors and businesses in AI, blockchain, digital wellbeing, energy, FinTech, investment and sustainability took part in Unbound Bahrain 2019.
This year we welcomed over 100 successful startups and 3,000 attendees, nearly double the number from last year to network and gain insights into how to do business through our unique workshops. Thank you to the EDB for giving us the opportunity to do business in Bahrain and highlight one of MENA's most promising ecosystems. It's been another successful year for Unbound Bahrain, highlighting its ability to become a global tech hub for the MENA region. Long may it continue."
Daniel Seal, Unbound Founder and CEO
This year's leading innovation festival was the biggest yet and was composed of 35% corporates and brand executives, 35% founders and entrepreneurs, 15% digital and media agencies, 5% Government and trade agencies, 5% investors and 5% journalists.
The event, which celebrates global innovation, was the anchor of Startup Bahrain Week which is under the patronage of His Royal Highness Prince Salman bin Hamad Al Khalifa, Crown Prince, Deputy Supreme Commander and Chairman of the Economic Development Board (EDB).
Unbound Bahrain provided regional and international entrepreneurs with unique networking opportunities, workshops and speaker sessions that gave unique insights into the latest in tech innovation.