It's the most wonderful time of the year—as the song goes. But if cutting down a perfectly healthy pine tree to force it into your car and drag it through your house with a trail of needles behind you sounds anything but wonderful, then we've got you covered with our curated selection of the best artificial Christmas trees.
We all know the difficulties of keeping indoor plants alive—but what about keeping an entire Christmas tree looking its best? The advantages of artificial Christmas trees are clear. A tree that doesn't drop its needles? That can be packed away in a box? That doesn't cause allergies and isn't a fire risk? Sign us up now!
When it comes to realistic yet fake Christmas trees, there are a few things to consider. Do you want it pre-lit? Snow-flocked? Upside down?
Decisions, decisions—from choosing presents to selecting a turkey stuffing, Christmas is full of them. To narrow down your tree choices, we've picked out the 15 best artificial Christmas trees on the market.
If you've yet to discover the wonders of fake firs and pseudo spruces, get ready to be wowed by these fake holiday trees. They're the veritable doppelgangers of the real things. And as an important bonus, they're more sustainable if you keep them for 20 years or more.
The 15 best artificial Christmas trees of 2022
If you want to make sure that your artificial Christmas tree looks like the real deal, check our top three decoration tips after the round-up to see exactly how to decorate your tree. We also have a short buyers guide to help you choose the best artificial Christmas tree for your home.
National Tree Company 6.5 feet: Overall best artificial Christmas tree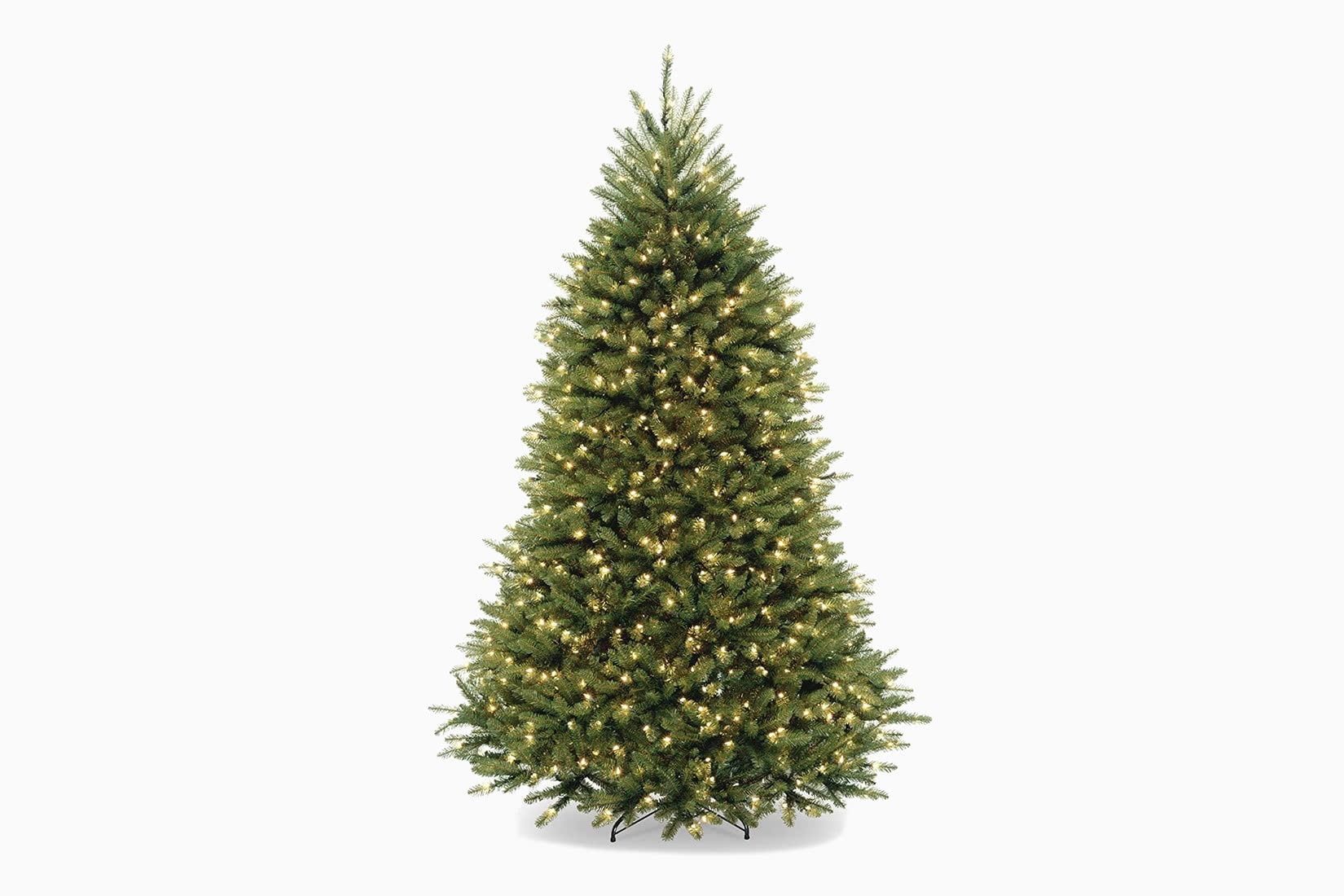 Thousands of positive reviews testify that this artificial tree by National Tree Company is the ultimate holiday hero.
Hinged branches attached to center poles make for a super speedy set-up and the fact that it's pre-lit also makes this tree a low-effort option. Plus, the 650 UL white lights remain lit even if one bulb burns out. 
200 cm tall (6.5 foot) and featuring 1,838 individually crafted branch tips and a 135 cm (53 inches) diameter at the base, this tree is as bushy and dense as the real thing. The branches are flexible but strong, able to support even the most extravagant array of baubles.
This artificial tree from the National Tree Company is the best fake Christmas tree we've found and is destined to accompany you and your family through many Yuletides to come.
Best for: Delivering wintery wow factor to your living room.
National Tree Company 10 feet: Best high-end artificial tree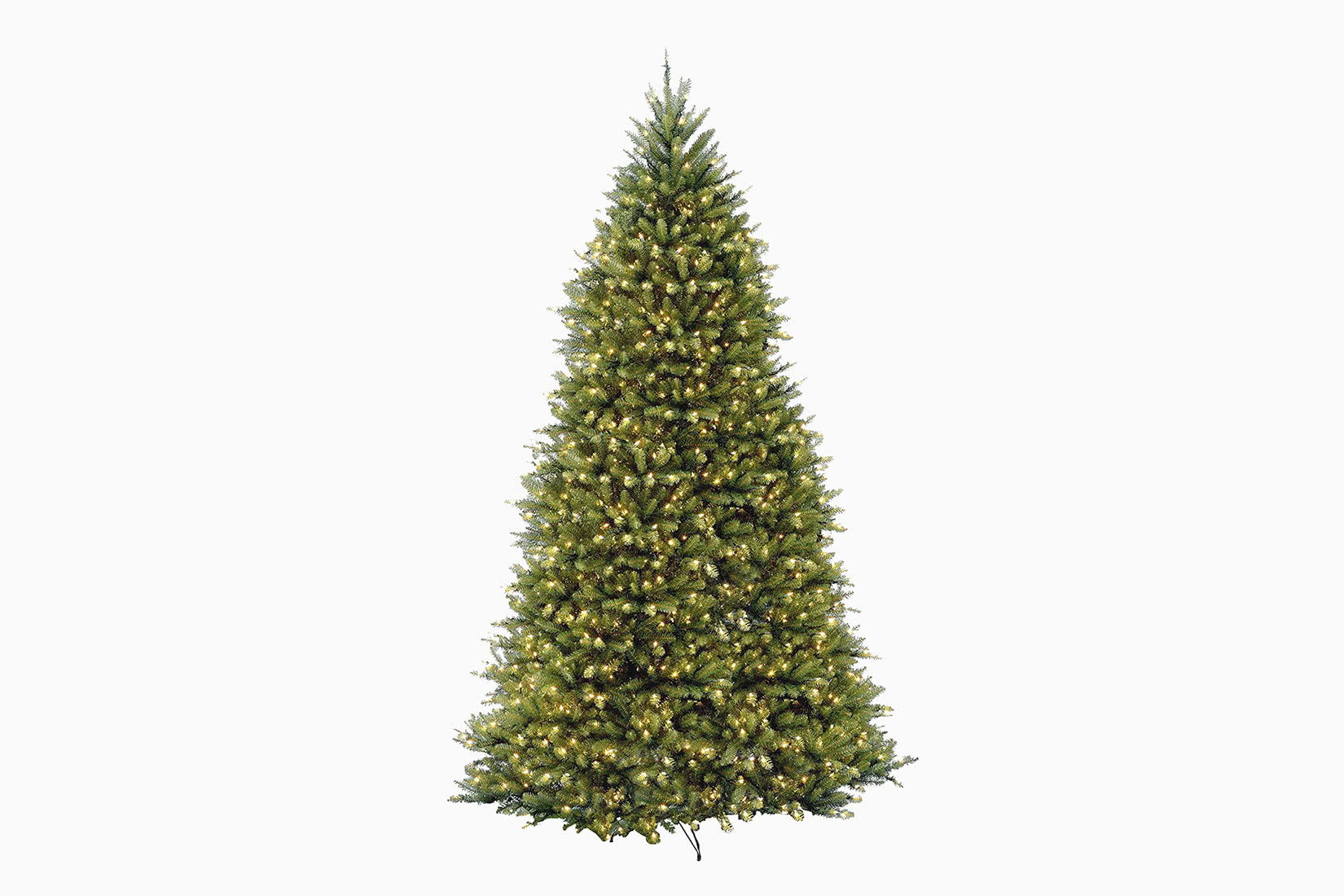 For the grandest and most opulent of interiors, only the largest of artificial Christmas trees will suffice. Our pick of the most luxurious fake trees comes from the National Tree Company and stands at a whopping 300 cm tall (10 ft) with a 177 cm (70 inch) diameter at the base.
A tree of that stature could be a struggle to light but you're in luck. It comes pre-lit with 1,200 UL white lights, offering a truly dazzling spectacle. After all, you can never have too much sparkle. It's also pretty lightweight, making for simple set-up and storage. And not only are the needles ultra-realistic but they're also non-allergenic and fire-resistant.
Position in a drawing room with high ceilings—or in an entrance hall if you really want to make a statement. The perfect addition to any high-end home, this National Tree Company tree is the ultimate minimum effort, maximum impact Christmas addition to your household.
Best for: A towering artificial tree that's so spectacular it risks upstaging your turkey.
Balsam Hill: Best value artificial Christmas tree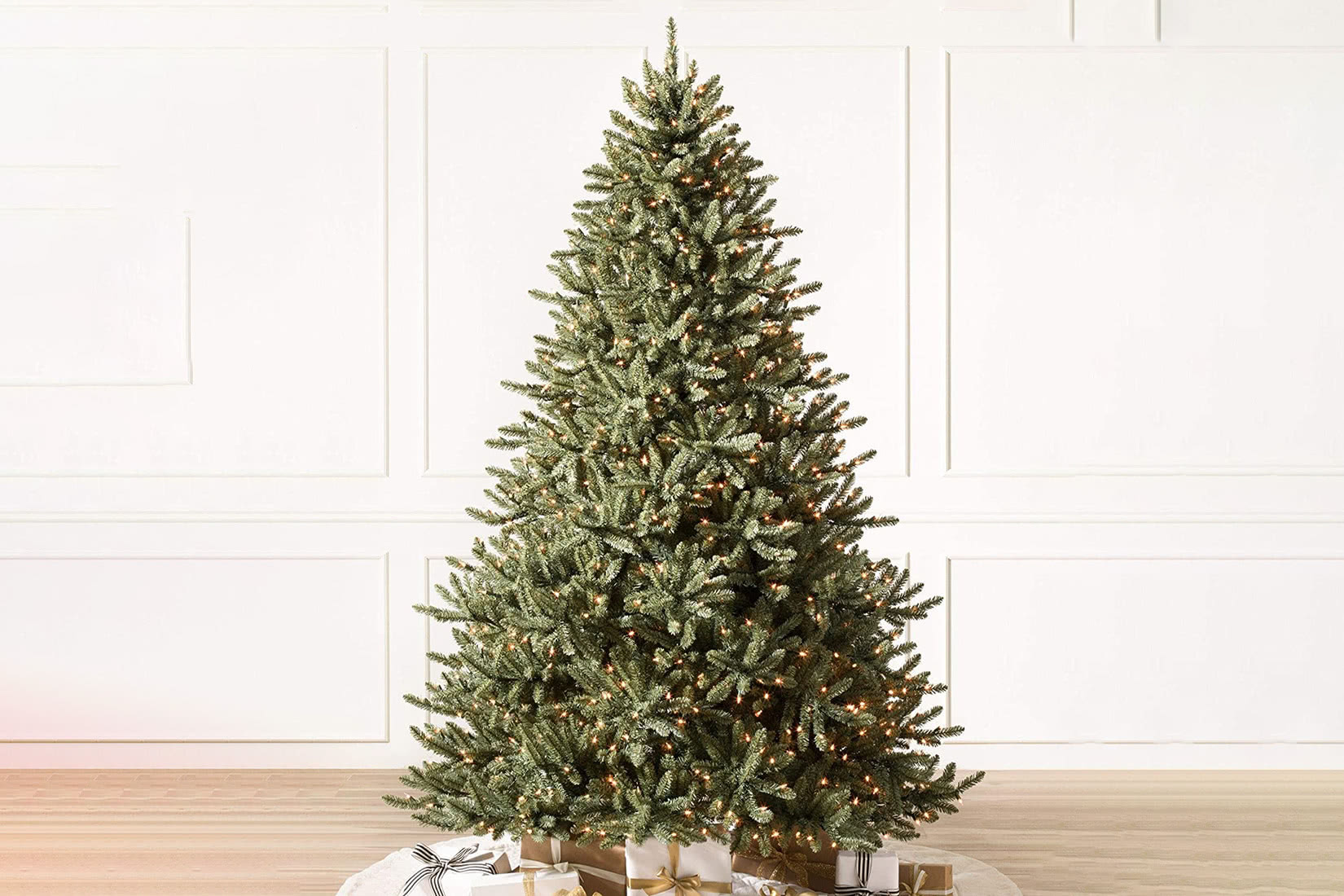 The holiday season can be stressful, especially from a financial point of view. Take some of the pressure off with this great value artificial but super realistic Christmas tree from Balsam Hill.
Budget-friendly yet high-quality, this tree is the ideal option for those of you anxiously watching your bank balance during December. With its classic Blue Spruce design, it looks just like the trees you see on the front of Christmas greetings cards.
The needles are a beautiful medley of light-grey, blue-green, and moss-green—a variety of hues that add to the realism. It's also very full in shape with 886 branch tips in total, well-distributed to create plenty of bush and body.
Plus, it's pre-lit with 300 warm incandescent lights, saving you time that you can instead spend present-wrapping, carol-singing, and pudding-making.
It may be one of the cheaper options out there but this Balsam Hill tree still has all the jingle bells jolliness that we demand of all the best realistic Christmas trees.
Best for: An Instagram-worthy tree that leaves money left over for presents.
National Tree Company 4.5 ft: Best pre-lit fake Christmas tree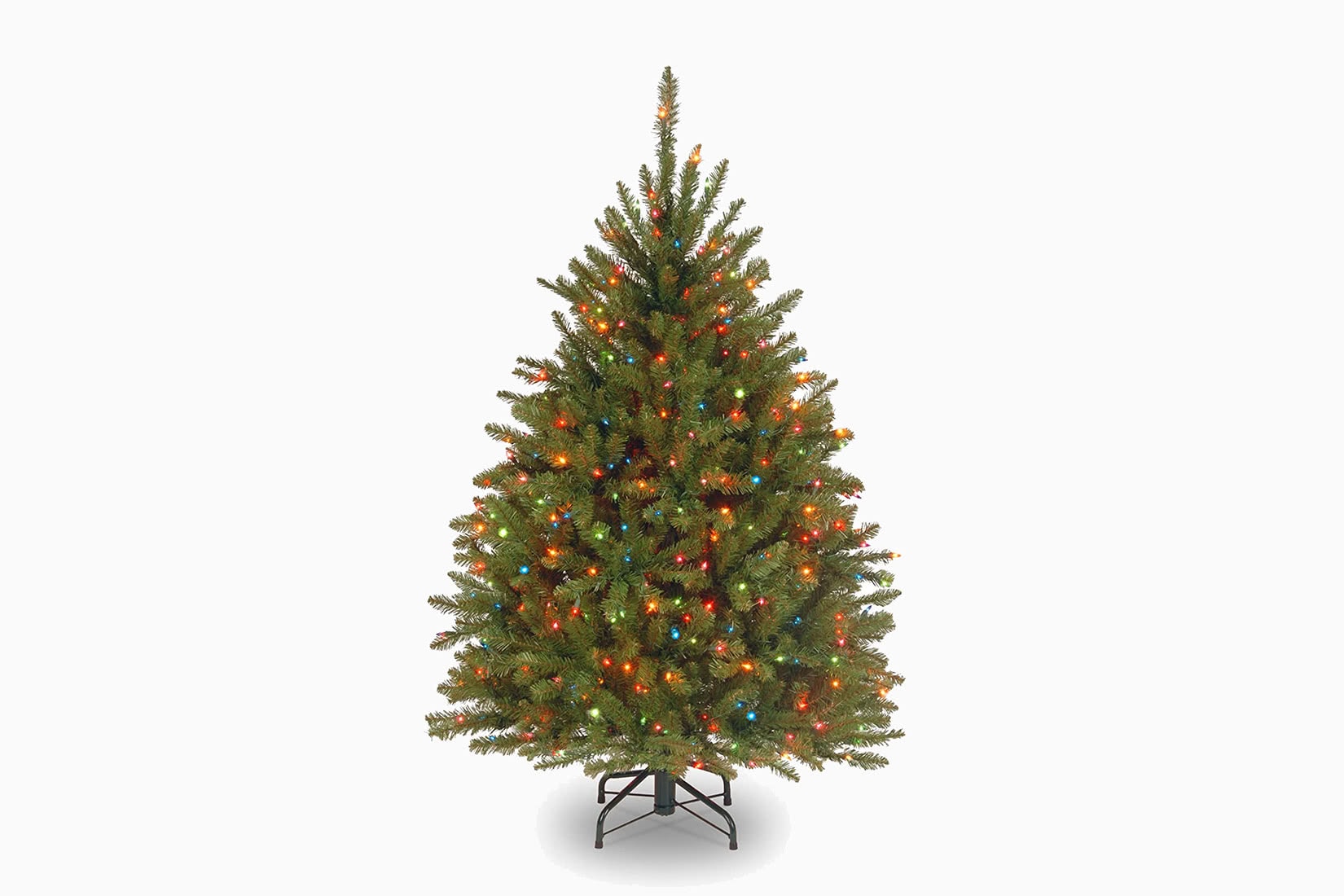 There are a lot of pre-lit artificial Christmas trees out there but as far as we're concerned, this one is the best. While many artificial Christmas trees have white lights, these ones are multi-colored, creating a warm and cheerful glow that couldn't be more Christmassy if it tried. 
If you're looking for a high-quality lighted Christmas tree, this one by the National Tree Company is the one to go for. The branches are hinged with 450 UL multi-color lights, pre-attached, making the task of assembling the tree and getting it decorated stress-free. And if one bulb burns out, the rest stay lit—a true Christmas miracle. 
Want a pre-lit artificial Christmas tree to save you the hassle of unraveling a tangled mass of fairy lights? Check out this tree by the National Tree Company. Simply add artificial snow and sleigh bells and you're good to go. 
Best for: Not faffing around with Christmas lights means more time for a festive egg-nog.
National Tree Company Pencil: Best slim artificial Christmas tree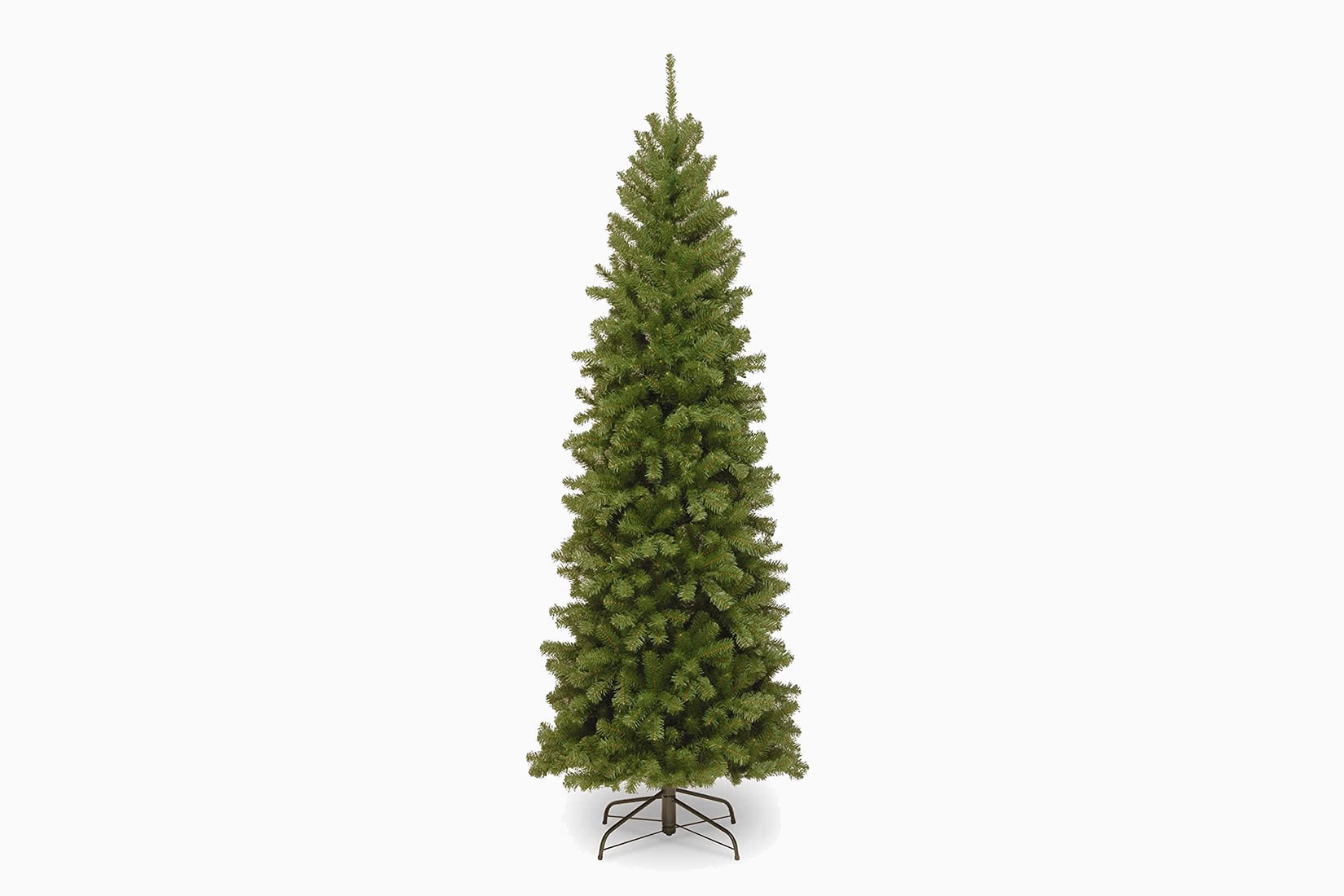 If you're looking for a thinner and more narrow artificial Christmas tree, we highly recommend this Spruce Pencil tree from the National Tree Company. With its slimmer profile, it's ideal for those of you who need to save space for all those presents for him and gifts for her.
At 182 cm tall (6 ft), it still feels as majestic and impressive as the bigger faux holiday trees but it's only 74 cm (29 inches) in diameter at the base, compared to 135 cm (53 inches) for the chunkier models.
Despite its slim profile, it's still dense with foliage and once you've got it decorated with lights and ornaments, it's certain to make a serious impact. Take 45 minutes to arrange and shape the branches for the lushest and fullest effect.
The North Valley Spruce's extra thin profile is ideal for smaller spaces. Squeeze it in next to the TV and immediately inject some festive cheer into your home.
Best for: Reserving enough space in the room for all the presents.
Best Choice 9ft Tree: Best large artificial Christmas tree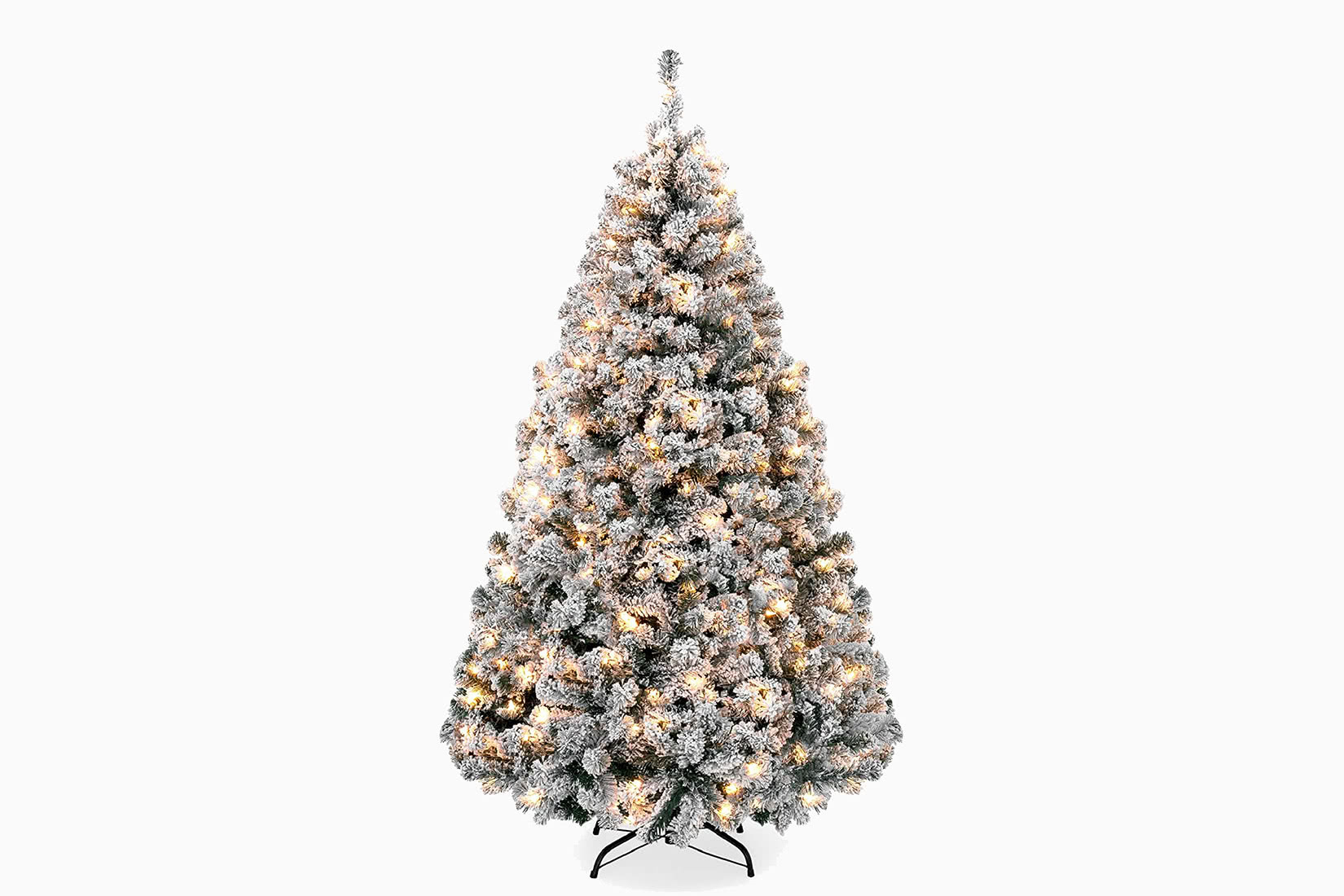 What's better than a massive Christmas tree? A massive snow flocked and pre-lit Christmas tree—like this one by the Best Choice Products store.
Enjoy all the wonder and delight of fresh snowfall without having to actually deal with a blizzard thanks to this superb snow-flocked tree. It looks full, healthy, and natural, with plenty of branches to support all the ornaments, garlands, and decorations you might heap upon them. And the fact that it's pre-lit saves you valuable time that you can instead spend lounging on the sofa enjoying a well-deserved mince pie in your slippers or practicing your carol singing. 
At 275 cm (9 ft) with a 150 cm (59 inch) diameter and 2,094 tips, this is most definitely a big tree. But with that comes big impact—plus it's easy to assemble. Grab your candy canes and candles. It doesn't get more Christmassy than this Best Choice artificial Christmas tree.
Best for: Turning your home into a true winter wonderland.
Vickerman Tree: Best small artificial Christmas tree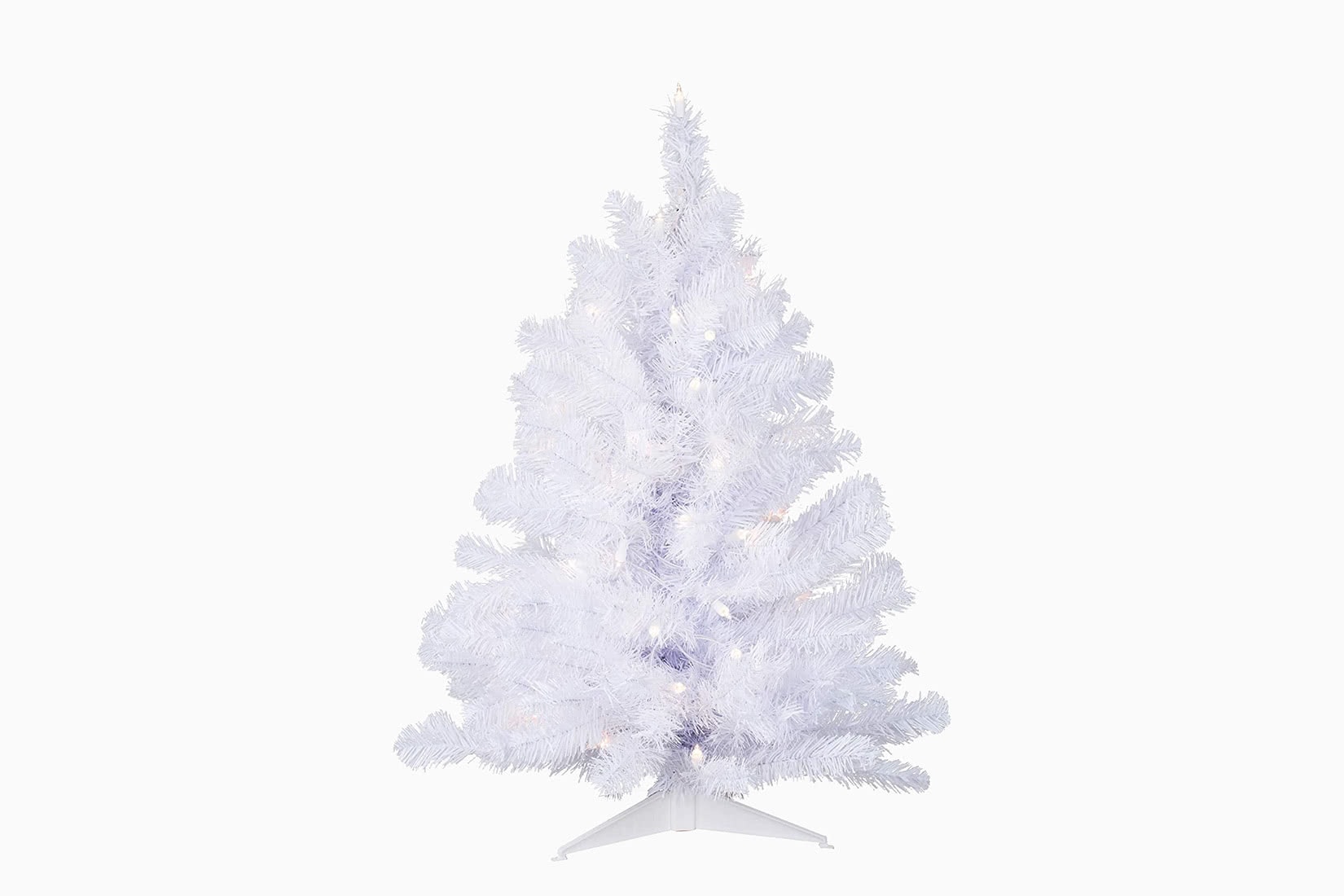 Perhaps you're looking for a Christmas tree for your over-excited kids to put in their bedroom. Or a tabletop Christmas tree to deliver festive fun to your dining room. Either way, it's worth checking out this mini Christmas tree from Vickerman.
It comes in white which makes a nice alternative to traditional green and looks absolutely incredible teamed with vibrant colored ornaments. Create a suitably angelic vibe with silver and gold tinsel—or go multi-colored to really get in the celebratory mood. We can imagine this little tree placed by the chimney, all ready for Santa's much-anticipated arrival. 
The best bit? It's pre-lit with 50 clear Dura-lit incandescent lights which use microchips so even when some bulbs are broken or missing, the other bulbs stay lit.
We can't remember all the gifts listed in the 12 Days of Christmas but we're sure this cute artificial tree by Vickerman should be in there somewhere.
Best for: A compact tree that feels as Christmassy as cranberry sauce.
Best Choice 6ft Snow Flocked: Best Christmas tree with artificial snow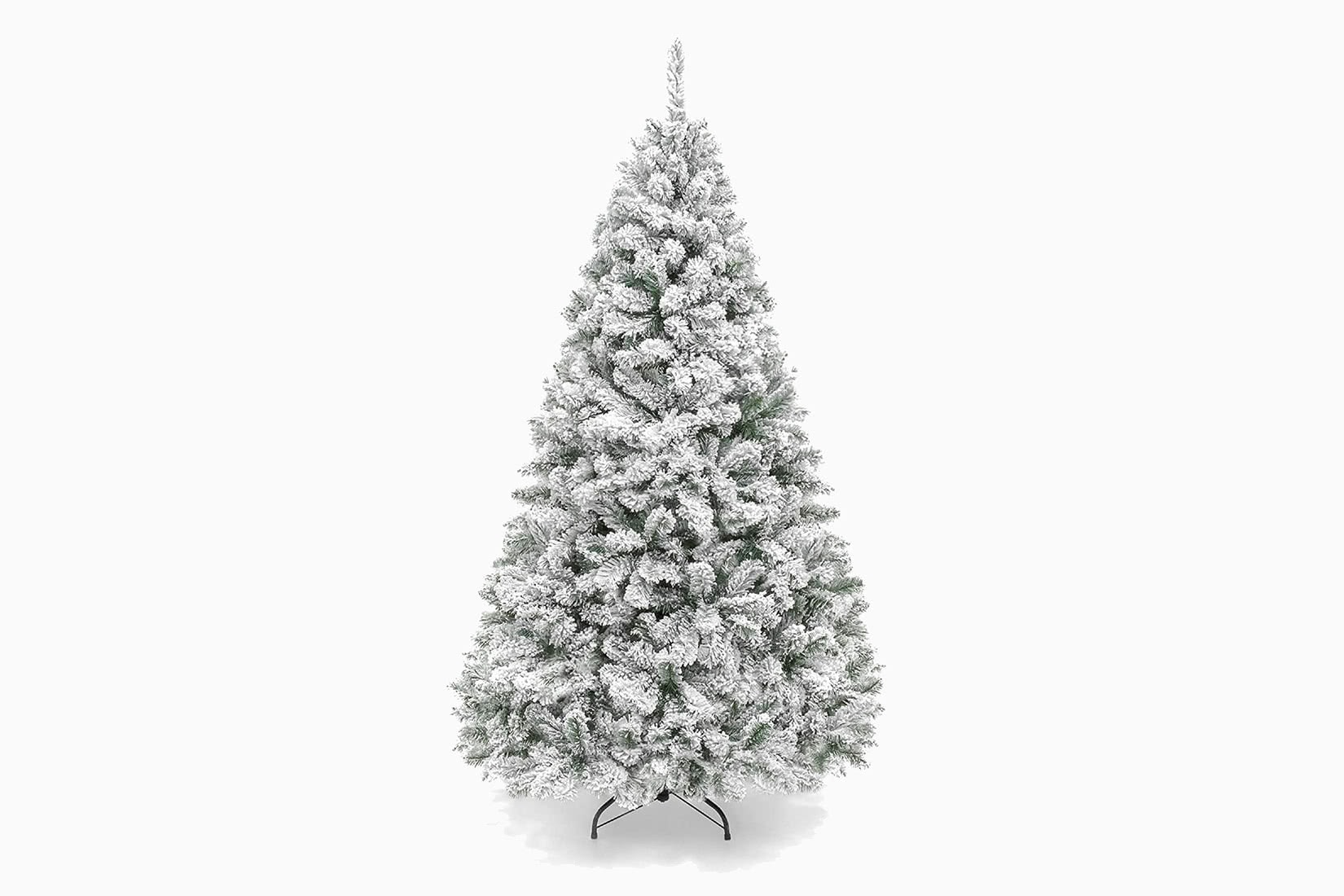 Nothing says season's greetings quite like a dusting of fresh snow and this 183 cm (6 ft) tree from the Best Choice Products brings all the wonder of December snowfall straight to your living room.
Inspire a suitably merry mood with this Christmas tree which has 928 branch tips and a very natural-looking layer of artificial snow— less on the lower branches just as you would expect out IRL.
It's easy and quick to assemble—although you'll want to take a moment to form and fluff up the branches. The tree is also high-quality with durable metal hinges. The fact that it's flame-retardant is another bonus.
Go heavy on the glittery baubles and add your own lights—either multi-colored or a warm white—and you'll have a compliment-worthy Christmas tree ready to see you through the season. Banish any Scrooges from the vicinity with this snow-flocked tree from Best Choice Products. 
Best for: A snow-flocked tree that definitely has Santa's approval.
Best Choice 7.5 ft Spruce: Easiest artificial tree to assemble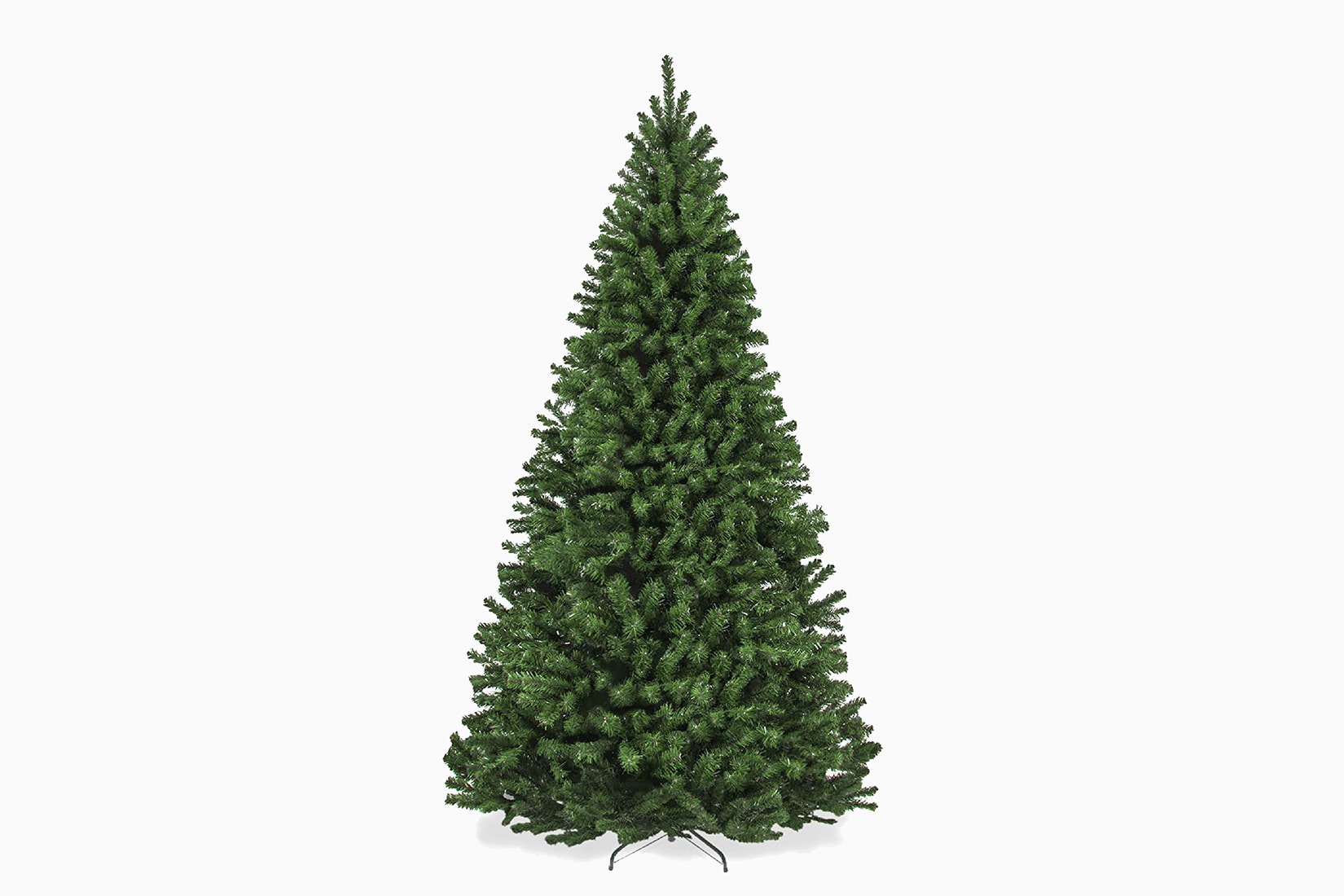 All fake holiday trees are simple to set-up—but the easiest one to assemble? This Christmas tree by the Best Choice Products. You can have it up and ready for decorating in just three straightforward steps.
You simply need to unpack it, connect the base to the largest section of the tree, assemble the rest of the branches, fluff them up, and you're good to go.
It comes in a natural shade of green and is perfectly symmetrical. All it requires is lights and a perfectly coordinated colour scheme to go with it. This Best Choice Products tree is also built to last more than a single festive season with durable metal hinges, plus a sturdy base that will withstand all the high-energy antics of your children.
Best for: Assembly so easy that you can do it even after several glasses of bubbly.
KI White Tree: Best white artificial Christmas tree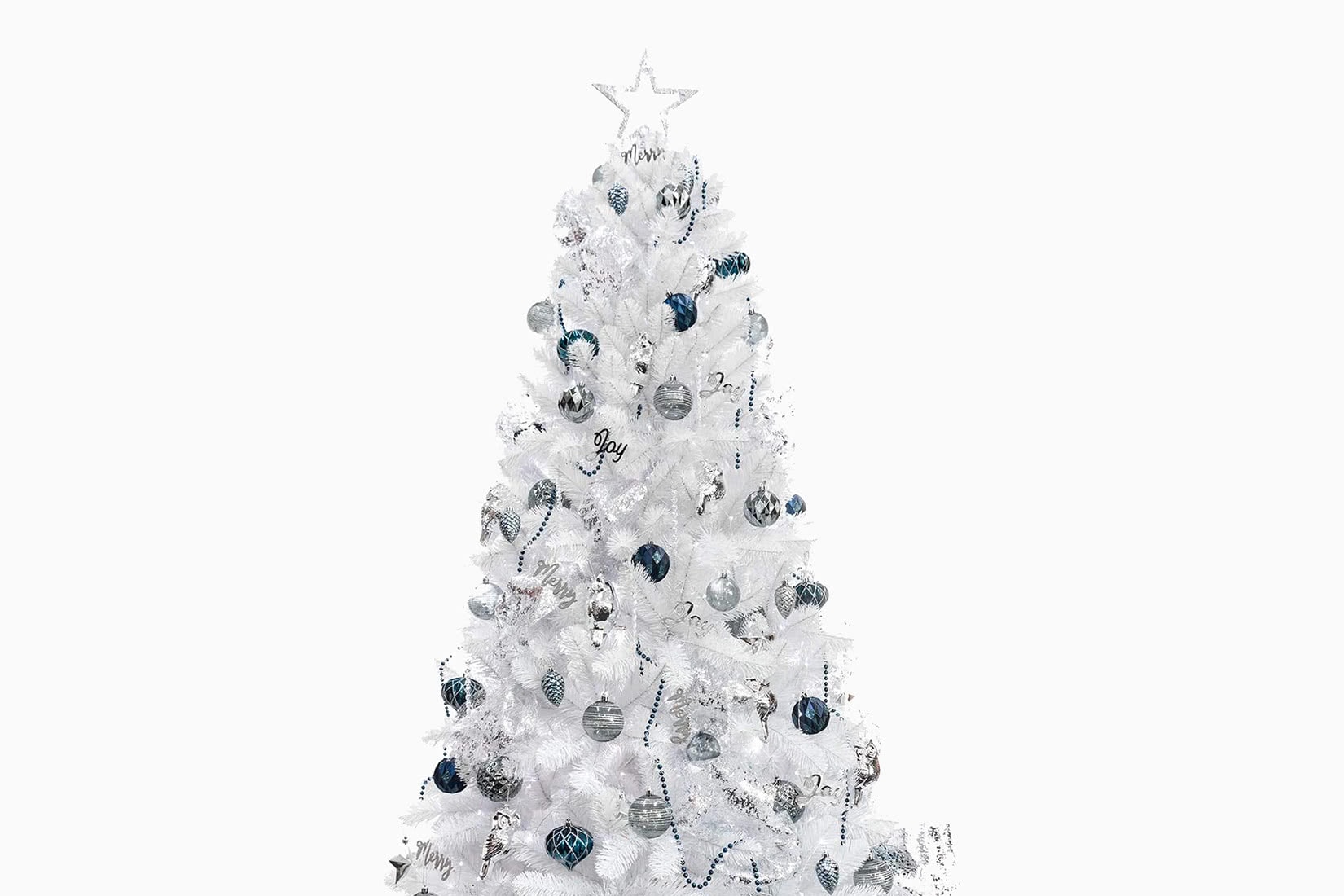 If you're looking for a stylish alternative to the standard green faux holiday trees, then definitely get your hands on this white artificial Christmas tree by the KI Store.
White Christmas trees immediately make us think of snow-clad landscapes and the sparkle of frost in the mornings. Team with the silver and blue baubles and garlands provided and you'll have yourself one of the most magical Christmas decor schemes imaginable.
Make sure you're 100% ready for December 25th with this dreamy white Christmas tree, which comes with 2 sets of safety-friendly LED lights. The needles are crush and fade-resistant so it will look as good next year as it does this year, and the metal base is sturdy and stable—even with little children running around in a frenzy of festive excitement.
For the perfect tree in the frostiest of seasons, opt for this KI Store white Christmas tree. We can almost hear Dasher and Dancer approaching in the distance.
Best for: Anyone dreaming of a white Christmas.
Balsam Hill 6.5 ft: Best LED artificial Christmas tree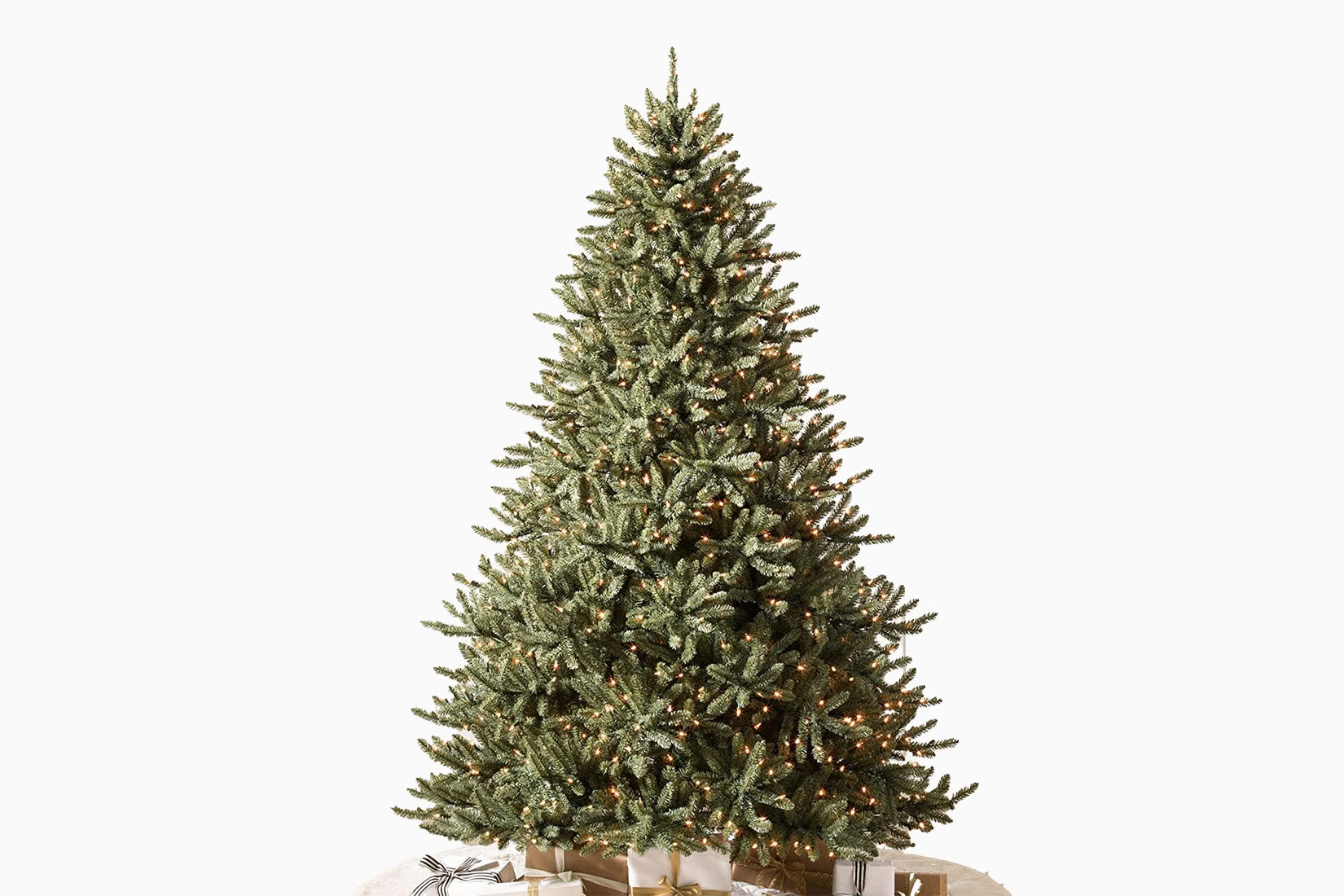 The best Christmas present we can think of? Not having to deal with Christmas lights that keep breaking. The solution? This pre-lit artificial Christmas tree from Balsam Hill.
LEDs use light-emitting diodes rather than filaments, making them more efficient and durable. Plus, they don't get so hot, so are a safer option for wrapping around your Christmas tree.
This tree comes pre-lit with 700 clear energy-efficient LED lights that are designed to cast a soft warm glow, similar to candle's flame, all professionally hand-strung to minimize the appearance of wires. 
Meanwhile, the tree itself is super realistic with a dense mixture of grey, blue-green, and moss green needles providing ample coverage, perfectly emulating the exact shape and form of the Colorado Blue Spruce.
With a higher bulb count and brightness than your standard artificial tree, this Balsam Hill LED artificial tree is the perfect choice for anyone who prioritizes Christmas lighting.  
Best for: Durable and long-lasting lights to see you through dark winter nights.
National Tree Company: Best 12 ft fake Christmas tree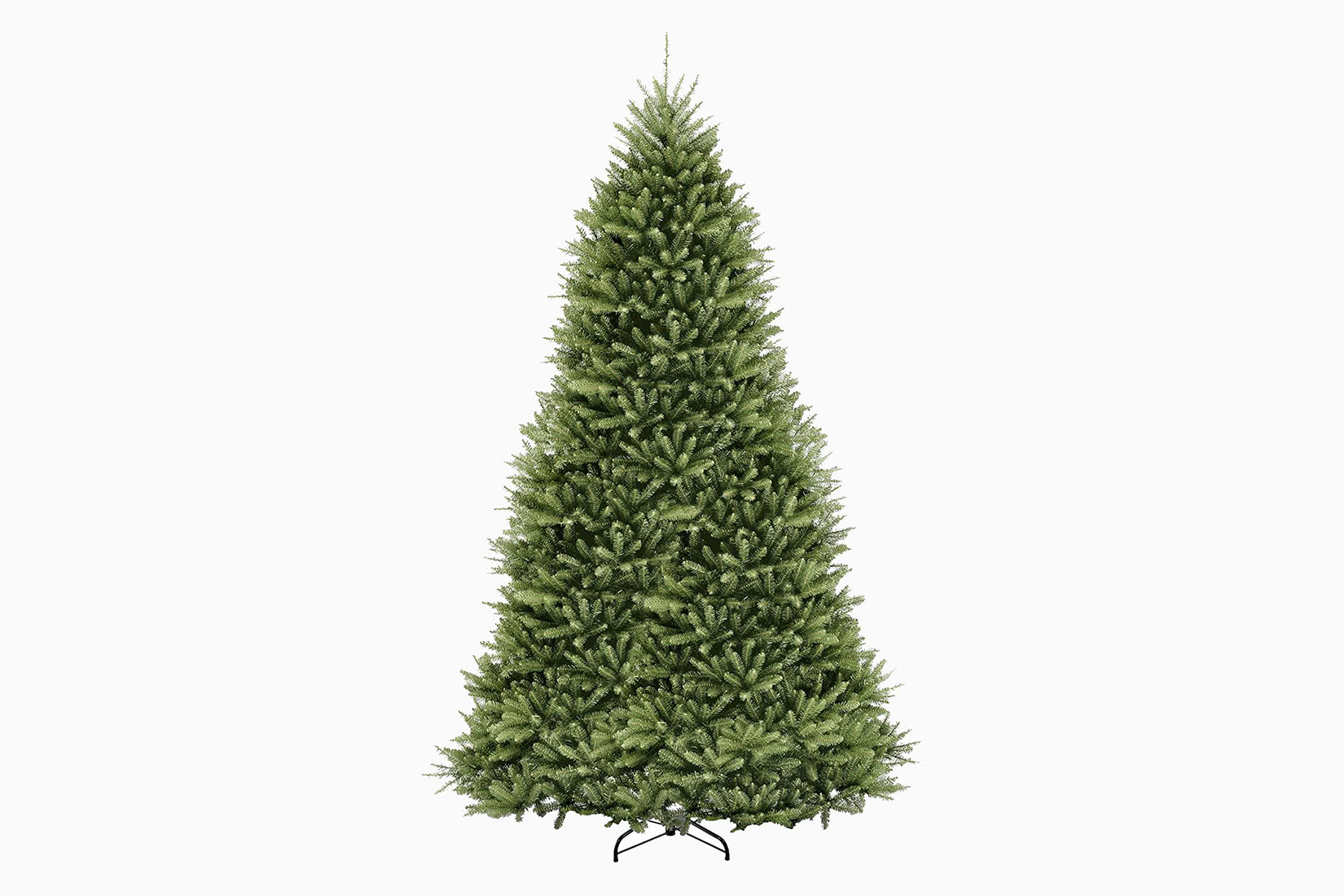 Why not make this Christmas one to remember with your biggest Christmas tree yet—a 12 ft artificial Christmas tree from the National Tree Company?
Not only is it massive but it's also incredibly lifelike. While you'll need to commit to at least 30 minutes of fluffing time when it first comes out of the box, when you're finished, this stately tree will look like it came straight out of the forest.
Add your chosen lights, then start on decorating. With 7,784 individually crafted branch tips to cover, there's space for every kind of ornament and decoration. Tinsel, ribbons, candy canes, bells—you name it, this tree can accommodate it.
The bigger the tree, the more presents that can go under it—right? Ensure you get everything on your Christmas list with this massive 365 cm (12 ft) artificial tree from the National Tree Company.
Best for: Major festive flamboyance with a giant and jolly Christmas tree.
Vickerman: Best upside-down Christmas tree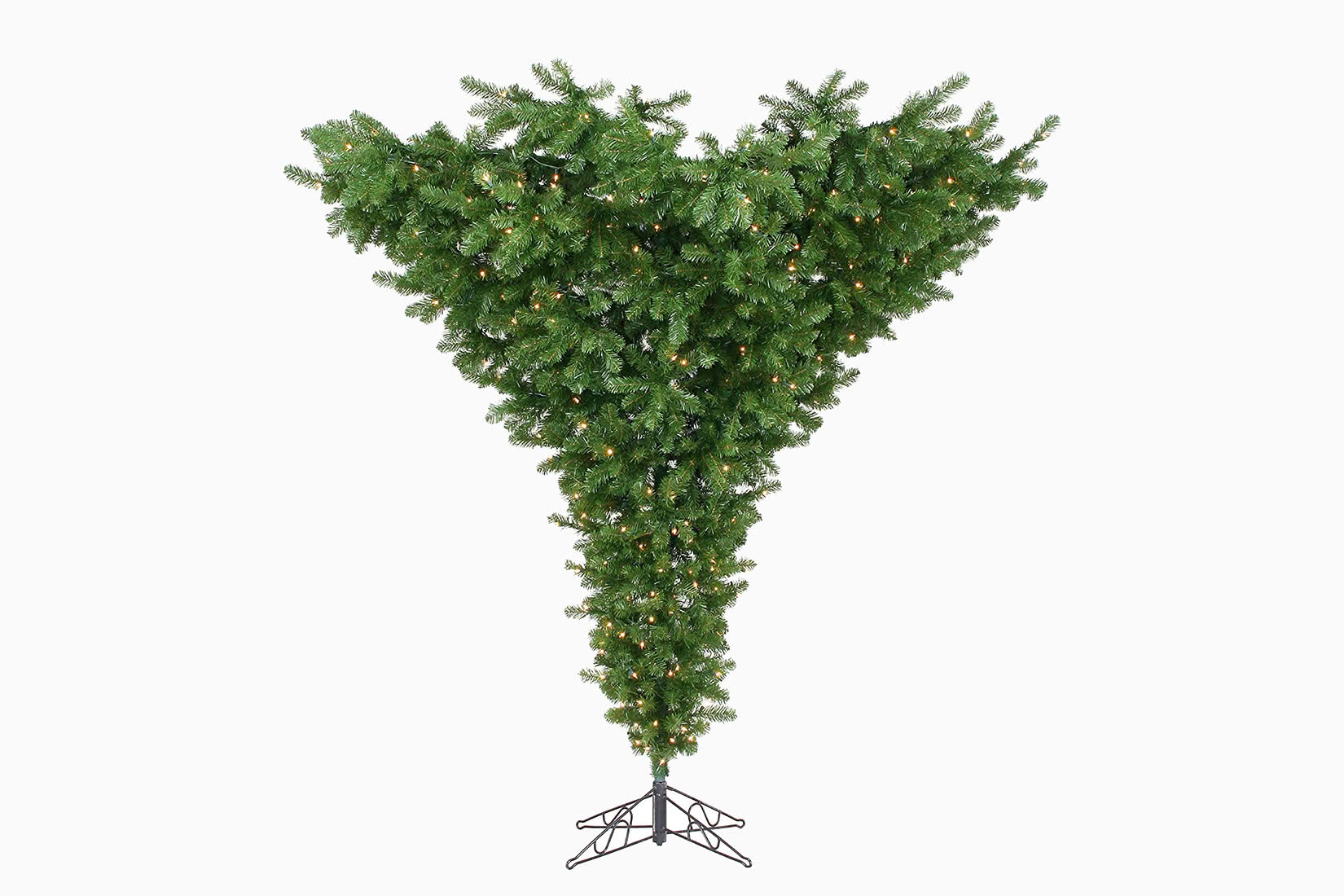 If you've got your finger on the festive pulse, you'll know that upside-down Christmas trees—like this one from Vickerman—are the only acceptable choice for any fashion-forward and design-savvy homeowner.
And while they might seem like a novelty, upside-down Christmas trees have actually been around for ages. Inform anyone who asks that they're especially popular in southern Poland where they are part of a tradition called podłazniczek.
This unique tree features PE tips—the most realistic variety—and looks great from all angles. Plus, it comes with 650 Dura-Lit clear lights.
Putting a totally different spin on your standard Christmas tree, this original offering from Vickerman should be the number one choice for anyone who likes to stand out from the crowd.
Best for: The perfect Christmas party conversation-starter.
Best Choice Products 4.5ft: Best budget artificial Christmas tree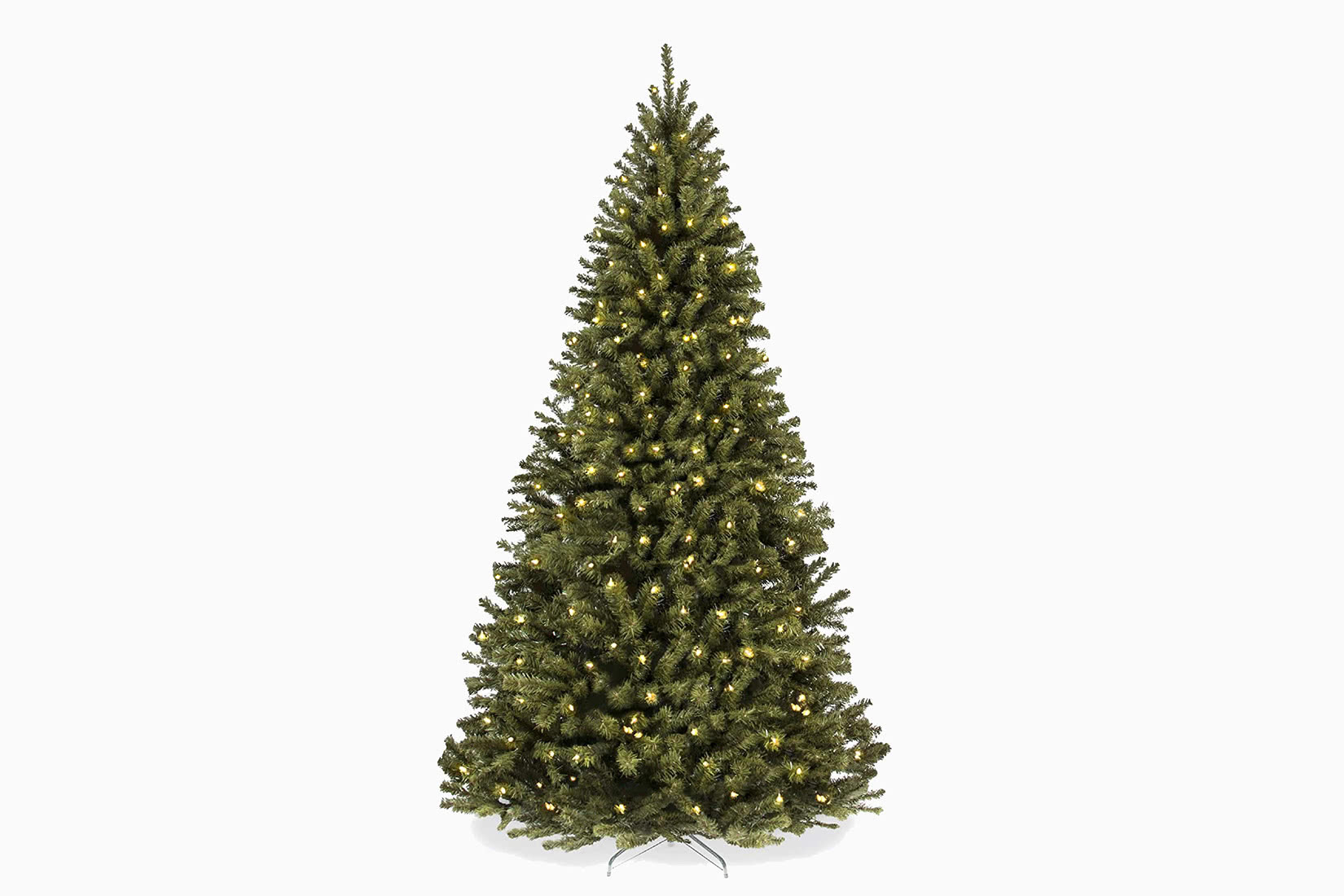 The more money you save on your Christmas tree, the more you can spend on other important festive purchases—like Champagne. So definitely check out this budget artificial tree by Best Choice Products.
At 137 cm (4.5 ft), it's a convenient size. It's also got a nice full shape, seriously substantial greenery, and is beautifully tapered in that iconic Christmas tree silhouette. Take 30 minutes to fluff up the branches and you'll have the best spruce lookalike you could hope for.
Assembling the tree is incredibly straightforward and it comes with pre-strung white lights. Simply plug it in and you'll have a twinkly vision for all to enjoy. It's almost like the Christmas elves came and did it for you.
For quality festive foliage that won't leave you penniless, add this Best Choice Products tree to your shopping cart now.
Best for: Holiday cheer without spending hundreds of dollars.
National Tree Company Downswept Fir: Most expensive artificial Christmas tree
Santa's not known for his sophistication—but if he was, we'd reckon he'd have a tree-like this in the North Pole. This is the most glamorous artificial tree we've come across.
Luxurious and startlingly lifelike, this large fake fir features crush-resistant downswept branches which create a beautifully elegant profile—perfect for the most elegant households. The tree is made using the company's 'feel real' technology which means each branch tip is individually molded from actual tree tips to expertly mimic the real thing. 
This tree truly does have that real feel. What's more, pre-attached hinged branches make for an easy set-up while the light strings are pre-attached to further save time and effort.
For anyone who takes Christmas seriously and isn't afraid to splash out, this Downswept Douglas Fir will certainly make your festive drinks party a memorable one. 'Tis the season, after all.
Best for: No-expense-spared merrymaking.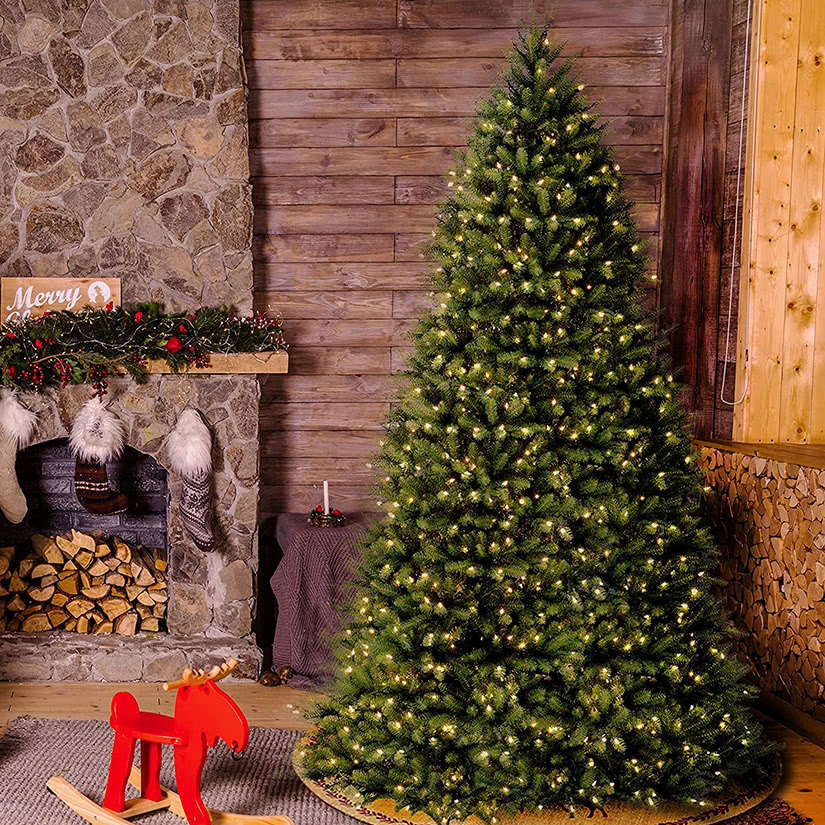 Buyers guide: how to choose an artificial Christmas tree
Faux holiday trees come in a whole range of prices but before you dive into the Christmas tree sale, make sure you know exactly what you're looking for.
Height
Measure the space where you plan for your tree to sit. You want to have at least 15 cm (6 inches) between the top of the tree and your ceiling—or 30 cm (12 inches) if you plan to have a tree topper. The standard Christmas tree height is between 213 and 230 cm (7 and 7.5 ft).
Miniature trees, coming in under 150 cm (5 ft), are perfect for small hallways—and also mean less financial outlay on ornaments. 183 cm (6 ft) is ideal for rooms with low ceilings.
Shape
You can choose between a wide and full or slim and narrow tree, depending on how big your space is. You can even find artificial trees with flat backs so you can place them right up against the wall to save on space.
Types of branches
You have two options when it comes to branches: hinged or hooked-in. Hinged branches are permanently fixed in, making the tree easier to set-up. Hook-in branches hook onto a central pole and are more time-consuming to set up but also cheaper.
Types of needles
PVC needles are flatter while polyethene (PE) needles generally look more realistic. Some artificial trees will have a combination of both. The higher the percentage of PE needles, the more realistic and high-quality your tree will appear.
Colour
You're not limited to green when it comes to artificial Christmas trees. There is also the option of white—perfect for making a bit of a style statement.
There are also artificial trees made from tinsel, available in a heap of colors, including metallic shades like gold or silver. 
Another option is a green tree with artificial snow. A light dusting of fake snow delivers all the romance of December straight to your living room.
Lights
You can either hang the lights yourself or buy a pre-lit artificial Christmas tree for quick and low-effort assembly. These are often designed so that if one bulb breaks, the rest remain lit. But it's worth bearing in mind that pre-lit trees are generally more expensive.
Accents
Some fake holiday trees include accents to make them more realistic such as pinecones or berries. You may also be able to get your hands on a tree whose base is decorated with moss and earth-effect.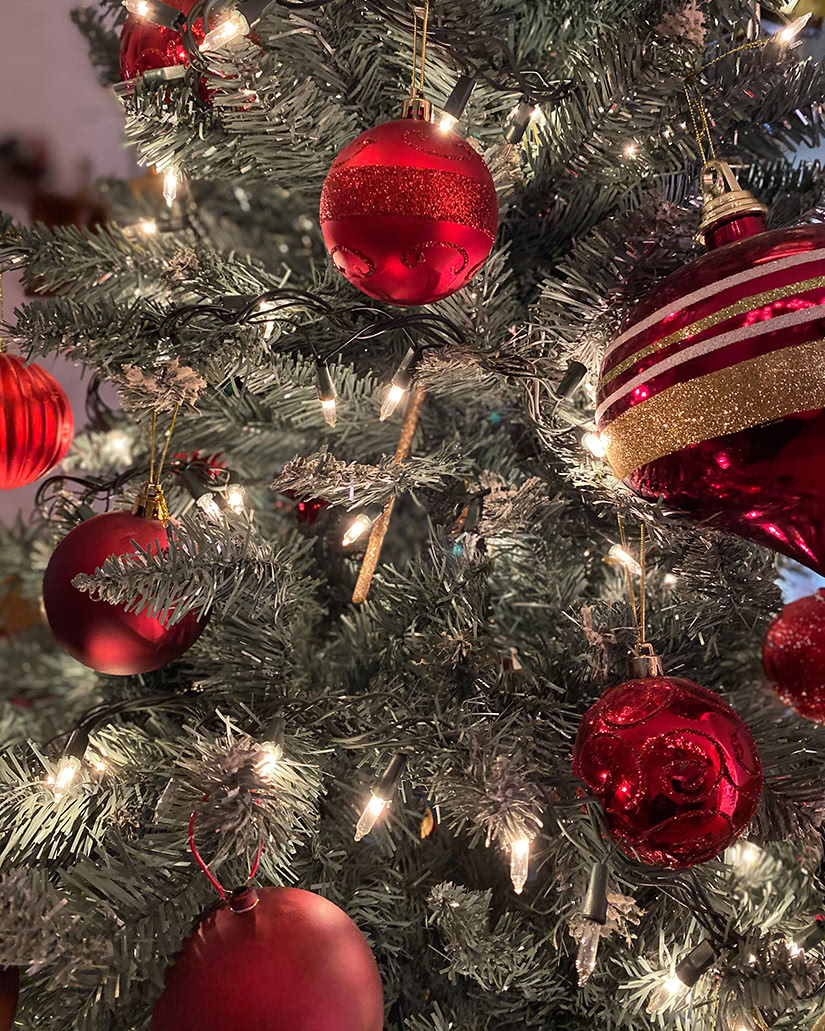 Our top 3 decoration tips: how can you make an artificial Christmas tree look like the real deal?
1. Spruce up the branches (excuse the pun)
After spending all year sitting in a box somewhere, chances are your artificial Christmas tree looks a bit worse for wear. Take it out of the box a few days before decorating to allow it to return to its original shape.
If it's still a bit sorry-looking, take some time to fluff up each branch, taking care to fan out all the needles, especially the tips. Start at the bottom and work your way up, paying attention to the most scrunched up areas and bare patches, shaping and arranging the greenery so it looks even and tidy.
You could also try wrapping a fake or real garland around the tree or picking real pine sprays and attach them to the stem with wire.
Another option is to give the tree a dusting of fake snow. This is known as flocking and looks best when it's applied to the parts of the tree where snow would land naturally. Another option is to spray your tree a different color completely. White always looks festive.
And if you're yet to invest in an artificial Christmas tree, consider buying one with a higher percentage of PE needles for added realism.
2. Add ornaments and decorations
Carefully place ornaments to conceal any empty or bare-looking parts of the tree, using large sparkly baubles as a distraction. Add natural and organic accents such as pine cones or cinnamon sticks—which also have the advantage of making the tree smell great. We've even seen people put real flowers in their tree, attached with floral wire. 
Add extra lights for a bit more glitter and glamour. Wrapping the trunk of the tree in lights draws the eye inwards so people will pay less attention to the branches. Tinsel is another great choice for covering up sparser-looking spots on the tree—or tie velvet ribbons to branches at even intervals. 
Don't forget about the stand. Cover it with a tree skirt or put the tree inside a basket. You could even fill the basket with logs or pinecones for more of a natural aesthetic. Another option is to use an old tree stump with a hole drilled for the metal stand. Putting your tree on a stand like this also has the advantage of making it seem taller.
3. Don't forget about the scent
To get that wonderful woodland aroma, either invest in some scented sticks—aka scentsicles—to hang from your tree or opt for a diffuser with some coniferous oils.
We also highly recommend investing in a scented candle that will deliver that nostalgic Christmas tree smell. Check out this collection by Diptyque, it will lend a fresh and organic fragrance to your living room and make it seem like you have a real tree in there.
Frequently asked questions about artificial Christmas trees
Which is the most realistic artificial Christmas tree?
The most realistic artificial Christmas tree is the National Tree Company's 12 ft Downswept Douglas Fir. Not only does it have the stature and height of a real tree but it's been made with 'feel real' technology, with each branch tip molded from actual tree tips.
What should I look for in a fake Christmas tree?
When choosing a fake Christmas tree, look for a tree that will fit neatly into your space. The standard height is 213 cm (7 ft). Opt for a high percentage of PE needles for a tree that looks more realistic. Also, consider a pre-lit tree if you want something easy and quick to assemble. Take a look at our guide to the best artificial Christmas trees if you need help to find the best option for you.
Is it better to have an artificial Christmas tree?
An artificial Christmas tree can be a better choice than a real Christmas tree when it comes to cost, durability, and maintenance. They're lightweight, easy to transport, and they can be used again and again. Plus, they don't drop their leaves, don't require watering, and are easy to assemble—especially if you opt for a pre-lit artificial tree.
What is the best time to buy an artificial Christmas tree?
You can buy an artificial Christmas tree at any time of year but investing in one in January is a smart move as many retailers will have them on sale. Because artificial trees last forever, you can buy them well in advance of the holiday season.
What is the best artificial Christmas tree?
The best artificial Christmas tree is the National Tree Company's 6.5ft Dunhill Fir. Not only is it the best size for the majority of homes but it's also durable, high-quality, easy to assemble, and comes with pre-lit branches to save you time and hassle.