There are few journeys more exhilarating than those completed on an electric motorcycle.
Combining all of the power from oil-powered machines with a sustainable alternative, electric motorcycles promise to take over the market almost as quickly as they take off on the road.
There is a newer version of our ranking. Check our list of the best electric motorcycles of this year to see the latest ranking.
Some of the best electric motorcycles in the world are the performance-orientated bikes for those looking for thrills on the road while others are lightweight and nimble for quick and easy commutes.
The best electric motorcycle for commuting might differ hugely from the fastest electric motorcycle or the most stylish electric motorcycle but they all have a few things in common: their low maintenance requirements, accessibility and perks of ownership.
Electric motorcycles often appeal to those who want the joy of riding a motorbike without the potential hassle of changing the oil or fixing a leaking gasket. Others prefer them to oil-powered bikes for the significantly cheaper "refuelling" costs and the added tax benefits.
The 13 best luxury electric motorcycles of 2020
Check after our list our electric motorcycles buying guide for tips to find the e-bike that's best for you. We also explain how we picked the best electric motorbikes and scooters of the year and answer some of the most important questions readers ask us before buying their first electric motorcycle.
1. Harley-Davidson LiveWire: Best overall electric motorcycle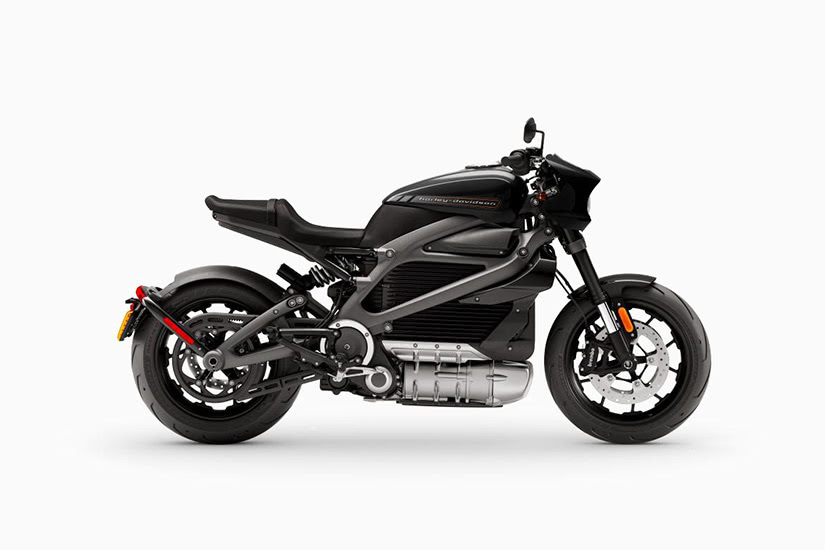 Harley-Davidson made a name for itself as a household brand thanks to its top quality bikes and outstanding performance. And its first venture into the world of electric motorcycles, with the LiveWire, continues that trend.
It's a bike that, despite being powered entirely by batteries rather than gas, has the ability to accelerate with the same strength as any oil-powered superbike. A well-built machine, it's easy to handle, enjoyable to ride and offers comfort on the seat. The brand calls the LiveWire the most powerful bike it's ever produced and there are plenty more advantages on the road aside from that.
The crisp steering combined with the company's own motor, inhouse developed batteries and electronics, makes the LiveWire a joy to drive on what's widely known to be a very premium product. Its excellent suspension and Balance Free shock at the rear make this bike a pleasure to experience on bendy roads and long stretches.
It has a range of 146 miles when driven conservatively or around 90 when hitting top speeds. Speaking of speed, it'll hit 0-60mph in exactly three seconds.
Website: www.harley-davidson.com
2. Zero FXS: Best value motorcycle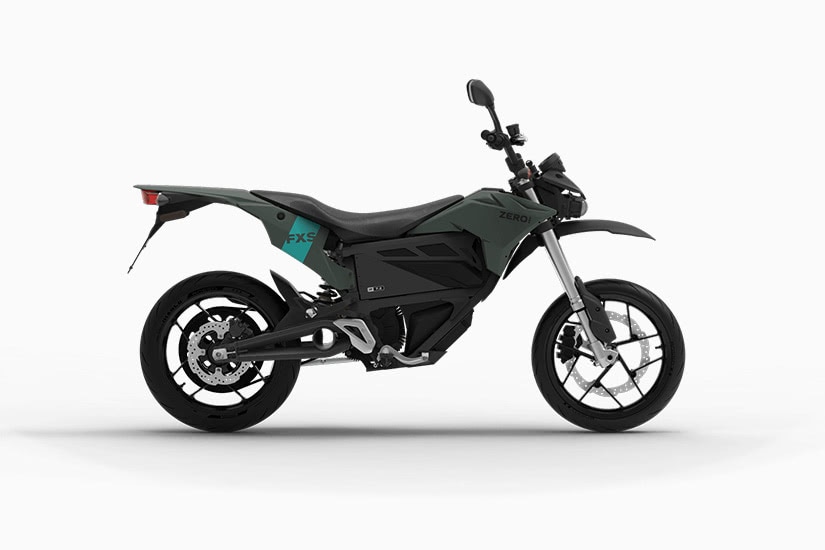 The silhouette of Zero's FXS makes it an instantly recognisable bike. The 2019 Zero FXS starts at just $8,495 which, while it might not be the absolute cheapest electric motorbike on the market, is still an accessible price for a very enjoyable journey.
The FXS has a range of 100 miles, making it capable of storming down the highways while hitting top speeds. But where this bike really comes into its own is on shorter distances, making it an ideal bike for city dwellers and commuters. It has a top speed of 85mph and, when paired with a fast charger, can recharge to full power in two hours.
Despite the relatively low price tag, this is a bike that easily glides off with the smallest amount of pressure. Considered a "supermoto", it's a bike that's built to perform for a variety of requirements, ranging from quick trips downtown to longer distances and faster speeds. Its sub-300 pound weight makes it a nimble bike to manoeuvre and it also has the suspension to move around with ease. It's a successful bike all round.
Don't let this lower price tag put you off – this bike has the ability to hit speeds of 60mph in only 3.5 seconds, putting it up there next to bikes in a much higher price bracket.
Website: www.zeromotorcycles.com
3. Arc Vector: Best premium motorcycle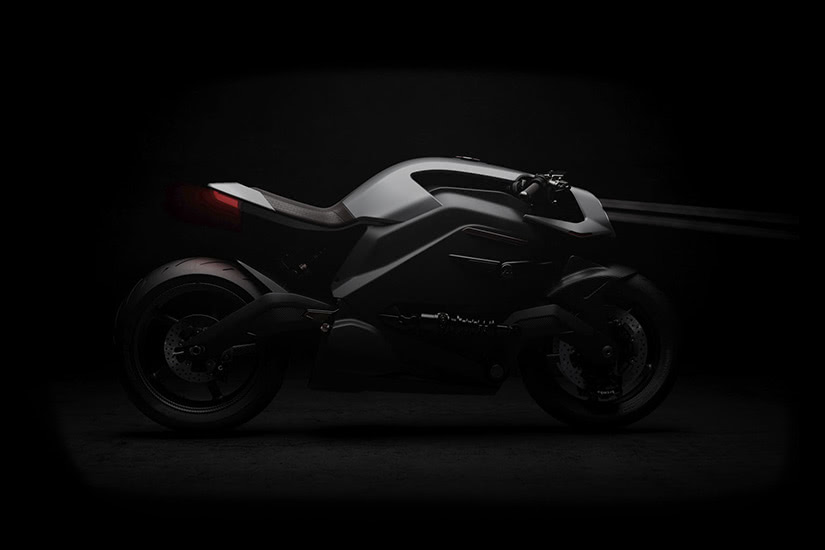 Everything about the Arc Vector is impressive. From its range of 387 miles in urban areas and 230 miles at speed, to its "neo-café racer" design and innovative chassis technology, it's a bike made for lovers of the sport.
With a price tag of around $110,000, you'd expect high quality components, and that's exactly what you'll find on the Arc Vector. It has a top speed of 125mph and can hit speeds of 60mph within three seconds. Much like most electric motorcycles on the market, it's free of a clutch and gears, but has plenty of variable power modes and cruise control to supplement.
While the Arc Ventor is absolutely stuffed full of impressive technological features like its Öhlins TTX flow piggyback shock and a highly sophisticated chassis, it's the Samsung battery that sets it apart from many other bikes on the market.
The Samsung 21-700 batteries are only available on the Arc Ventor and are some of the most powerful of their kind along with having the most longevity. With these batteries, this bike boasts more battery cells and, therefore, more power than any other electric bike on the market.
Alongside its unique look, the Arc Ventor also comes with its own helmet and jacket, called the Zenith and Origin, respectively. The Zenith offers a speedometer, navigation and even a rear-view camera.
Website: www.arcvehicle.com
4. Lightning LS-218: Fastest electric motorbike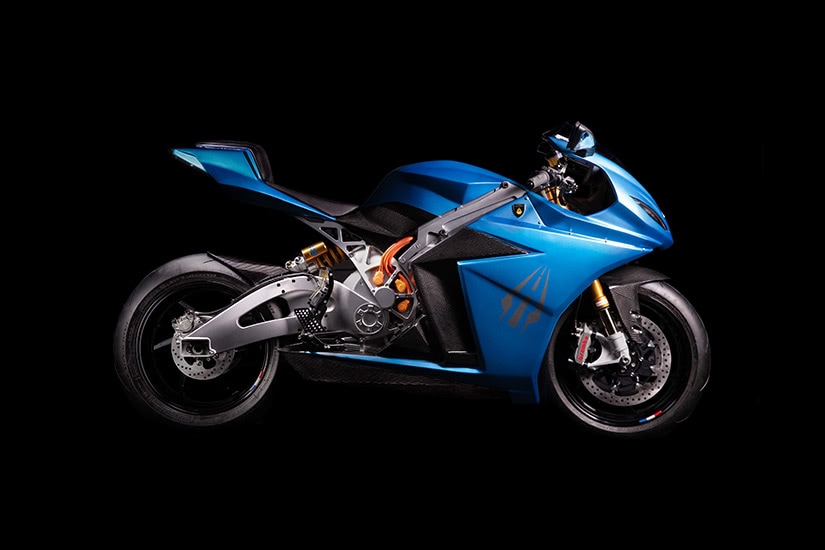 If ever there was an electric motorcycle built specifically for speed, it would be the Lightning LS-218. As the name suggests, it's a bike that heroes power more than anything else, with top speeds of just over 215mph. It broke a world record for hitting that speed at Bonneville Speedway in Utah in 2011 and has kept its name as the fastest on the market ever since.
Lightning as a brand takes speed very seriously and has dominated the racing tracks over recent years. It builds its bikes with durability and power in mind, combining high quality materials with control and performance.
The Lightning LS-218 is an elegant bike with an average range of 100 miles on highways. It weighs in at 495 pounds, which is about the average weight of a typical superbike. While its battery makes up a large chunk of that weight, it does mean that this bike has the ability to charge up to 100% in an hour.
This need-for-speed dedication means the LS-218 lifts off immediately and aggressively hits full throttle. It has impressive build quality and offers a hair-raising ride for those looking for a challenge. The company claims it's the fastest production motorbike in the world.
Website: www.lightningmotorcycle.com
5. Energica EGO: Most stylish electric motorcycle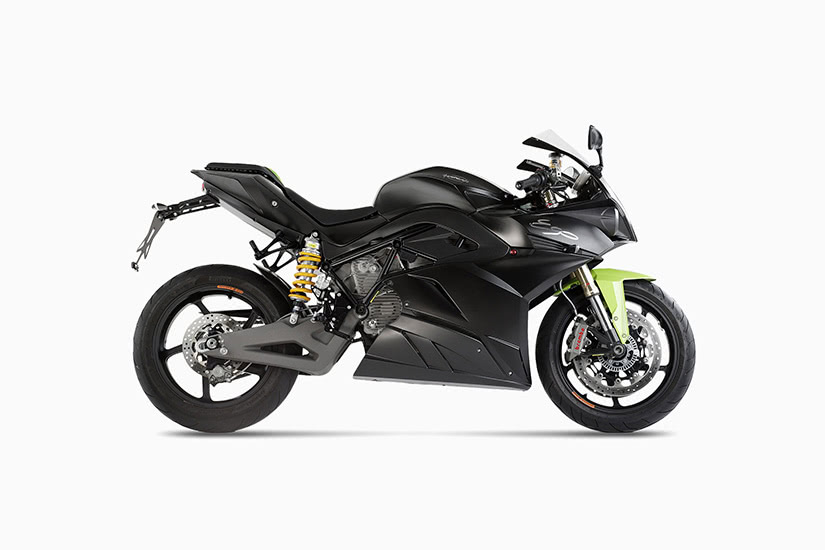 With its unmistakably Italian-influenced design, Energica's EGO is an electric motorbike that promises to capture attention before it even takes off. Known for contributing to the future of motorcycling, it's a bike that has one of the most exciting power deliveries on the market with its fast charging system and sleek design.
The EGO's manufacturing makes it look almost like a traditional motorcycle, with a realistic-looking fuel tank hump and a natural fly line. The structure of the seat also makes the EGO enjoyable to drive, no matter whether you're at the front or riding as a passenger.
Energica's ECO is easy to ride and offers power behind the wheel with brakes by Brembo and ultra premium Ohlins suspension. It has a top speed of 150mph and can recharge from a flat battery in a mere 25 minutes.
Being an electric motorcycle, it's a bike that takes off immediately but without any of the ubiquitous engine-roaring heard from oil-powered bikes. It's suitable for both longer and shorter distances, making it a great bike to ride in the city or down the country roads. It promises a range of around 100 miles and comes with a variety of driving modes, suitable for whatever speeds you're hoping to hit.
Website: www.energicamotor.com
6. CSC City Slicker: Best budget electric motorbike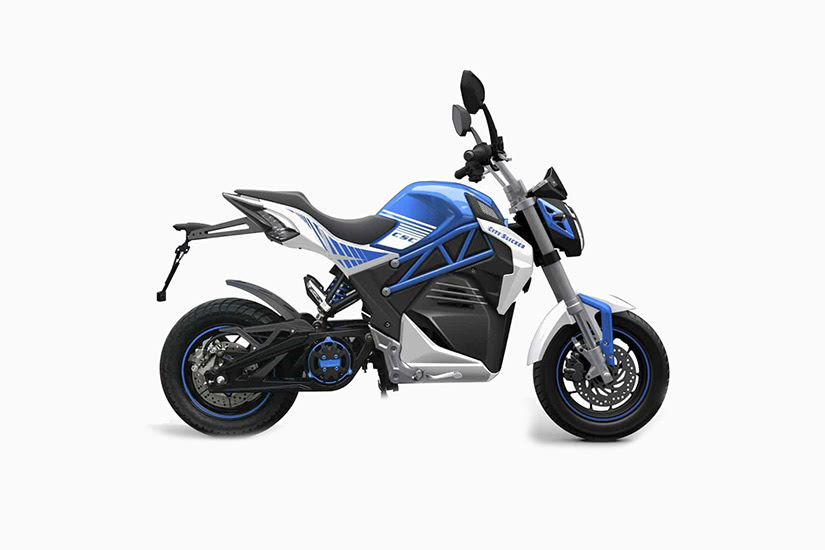 At just under $2,500, CSC's City Slicker is arguably the most cost efficient and accessibly priced electric motorcycle on the market. It's the perfect bike for riding in the city, with its smaller, urban style and enough power and speed to quickly get from A to B.
CSC has been producing budget motorcycles for years and its City Slicker is the brand's first jump into the electric vehicle market. Much like the rest of its vehicles, this electric bike comes from Zongshen, one of the best light motorcycle builders in China. Don't let the budget price put you off; CSC is known for its high quality parts and ease of riding.
CSC calls its electric bike "fully-functional", which technically means it can be used for multiple uses and on varied terrain. But where this bike excels is in the cities and suburbs.
Its top speed is just under 50mph and it can run for 40-60 miles without needing a recharge. With no gears in sight, the City Slicker can easily shoot off to hit its top speed in a matter of seconds. It's easy to take advantage of its acceleration when there's nothing else on the bike to worry about, making it a fun journey to experience at a low cost. It's a suburban bike that shows off its skills best on shorter journeys, making it ideal for commuters.
Website: www.cscmotorcycles.com
7. Johammer J1: Most unique electric motorcycle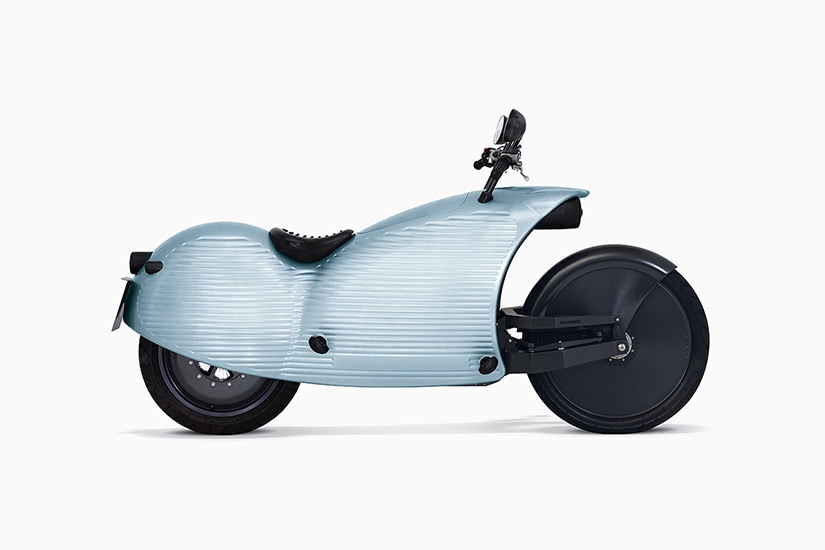 There is no motorbike on the market that looks similar to the Johammer J1. This Austrian-designed electric motorcycle wouldn't stand out in a sci-fi film and has drawn worldwide attention for its unique look.
The Johammer J1 comes in two variations – the J1.150, which comes with a range of just over 93 miles and the more expensive J1.200, with a range of 124 miles on tough terrain, and 186 miles urban. Both models have a rated top speed of 75mph, to avoid energy-sapping wind resistance, and have adjustable handlebars and footpegs.
Its 350mm centre of gravity promises a secure feeling while driving and a very comfortable ride, while its unusual design promises plenty of attention on the road. Another lesser-spotted feature comes in the bike's lack of dashboard. Instead, information and data are displayed in the rear-view mirrors.
It's an efficient bike that can recharge with a standard charger in 3.5 hours, or only 80 minutes when using a fast-charger.
Website: www.johammer.com
8. Lito Sora Generation 2: Best designer electric motorbike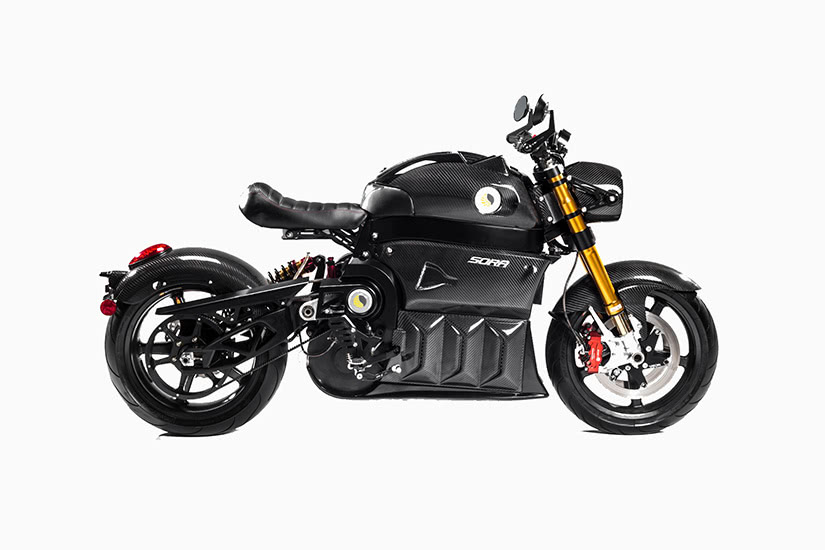 Lito's Sora Generation 2 is another bike to capture attention wherever it goes. It's one of the world's first luxury electric superbikes and combines electric motorisation, sporty performance and impressive adjustable dynamics to produce a top-of-the-range bike. Its carbon fibre design makes the Sora an impressive machine to admire.
The Sora has a top speed of 120mph and a power management system with three control modes – performance, normal and safe range. Along with its electrical seat that can shift between "custom" and "sport" mode as you ride, it offers an enjoyable cruiser-like ride without much effort at all. This also makes it a better experience for taller riders.
When used with a fast charger, the Sora can be back up and running at 100% in 3.5 hours. One additional feature is that it'll also send an email when charging is complete.
It has a maximum range of 180 miles, or lower if pushing the bike to full speed. It uses regenerative braking for battery preservation and an integrated touch screen GPS will remind you of the remaining battery life and whether there's enough charge for your anticipated journey. It'll automatically switch modes while driving to save electricity and also has the facilities to charge and store a mobile phone.
9. Gogoro Smartscooter S2 Adventure: Best electric scooter for varied terrain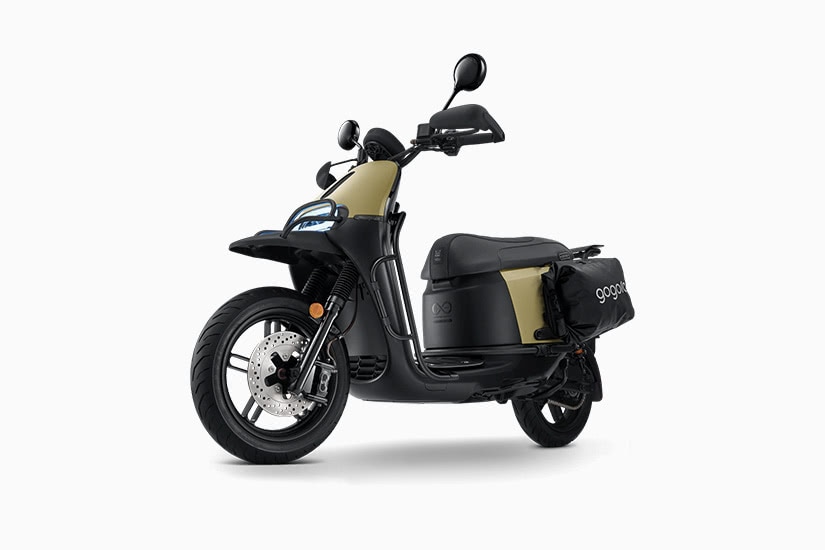 Gogoro is a subsidiary of HTC, one of the biggest smartphone makers in the world. It replicates that quality found in its phones with its electric motorbikes, too. The Smartscooter S2 Adventure is the standard S2 bike's sportier cousin. It contains all of the best features of the S2 with the added bonus of being the perfect motorcycle to ride on almost any terrain.
The S2 has a range of 68 miles and a top speed of 28mph. It takes two and a half hours to recharge and is a great option for those looking for anything from an easy commute to an off-road adventure. It's a bike that's not easily dissuaded from attempting a new route or branching out from the highway.
It boasts 35mm higher suspension, 30mm higher seat height and 30mm higher ground clearance, making it ideal for off-road usage. It features impressive braking technology for improved performance in wet conditions, with a combination of its dual disc brakes, regenerative braking and Synchronized Braking System to combat muddy conditions.
The S2 also comes with 100% waterproof storage bags, remote servicing and is digitally encrypted and fingerprint authenticated.
Website: www.gogoro.com
10. Brutus V9: Best electric motorbike for range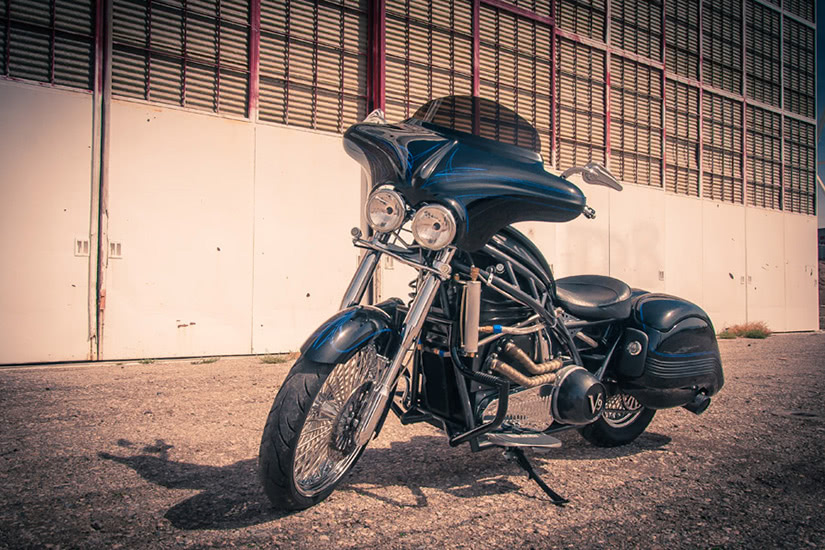 The name doesn't lie when it comes to motorbikes where Brutus is concerned. And its electric motorcycle, the V9, is an especially good example of that. With a strapping battery pack, this is a bike that stands its ground even when compared to the performance of a range of supercars and other bikes in a higher price bracket.
Brutus' V9 has a top speed of 115mph but its range is really where this bike excels. It can travel up to 280 miles on a single charge, making it the best bike on the market for those looking to regularly travel long distances. No other bike can compare when it comes to impressive range.
Its classic American cruiser-style design complete with batwing fairing makes this bike a unique one to admire, too. It's reminiscent of a traditional motorcycle and comes with plenty of attention to detail.
This is a practical, stylish bike that's perfect for electric motorcyclists looking to take their journey to the next level. And with two-up seating, premium foot pegs and various other comfort options, it's a bike that ticks almost every box.
Website: www.brutusmotorcycle.com
11. Vespa Elettrica: Best electric scooter for commuting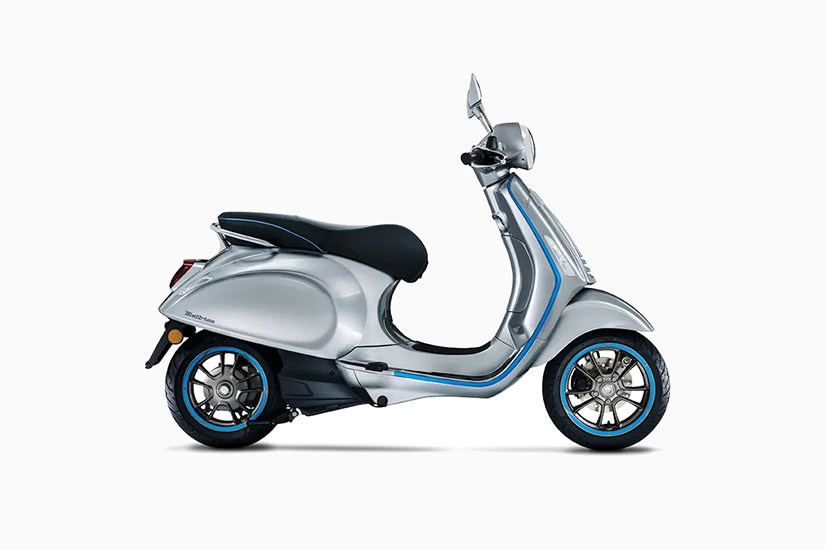 Bridging the gap between a commuting vehicle and an elegant, easy to drive scooter is Vespa's Elettrica. This motorcycle is one made for short journeys with its ability to whip round corners and squeeze through gaps in the traffic with no difficulties in sight.
The Elettrica isn't built for speed, but that's one of the attractions of it and yet another reason why it suits its purpose as a commuter's bike perfectly. It comes with two standard modes – ECO and Power, which have top speeds of 18.6mph and 30mph respectively. There's also a handy third mode – reverse, to assist with parking. These modes combined with its lightweight design allow the Elettrica to quickly take off on the road.
It's also full of plenty more commuter-friendly features, like the ability to connect to a Vespa app. This app allows the driver to view incoming calls and messages and control the music on screen. Other features include battery charge use percentage, statistics on the last 30 trips and push notifications on the battery charge status.
It's a comfortable bike to drive and nimble when navigating through traffic. Balanced and agile, it excels on European inner city roads.
Website: www.vespa.com
12. TORP Bike: Best electric dirt bike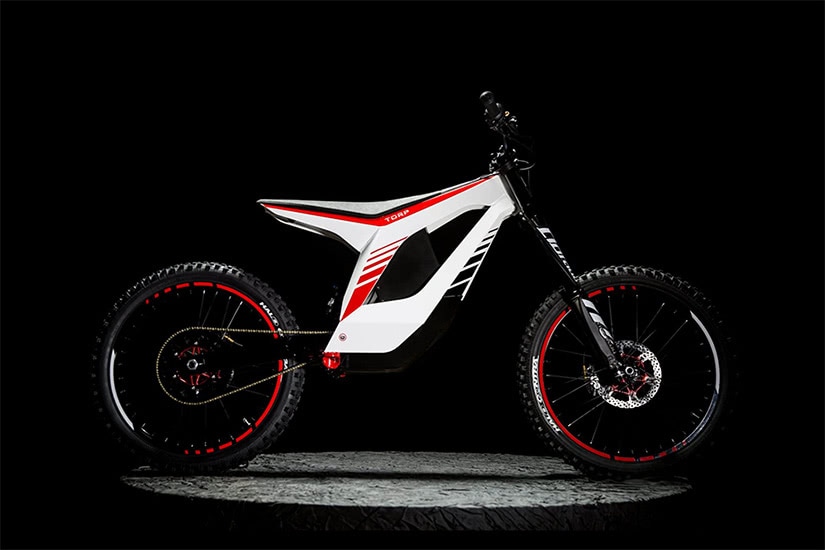 Croatia might not be the first country that springs to mind when you think of the thriving electric vehicle market but it's one that should be remembered for its growing number of impressive, sustainably-powered cars and bikes. And TORP, a brand originating from Croatia with a love of adrenaline and speed, have produced one of the finest electric bikes on the market.
The TORP bike is a hugely powerful machine that combines speed and agility. It offers an impressive power to weight ratio, with a total weight of only 64 pounds. It has a low centre of gravity and a 50mph top speed.
It's a bike designed to be enjoyed off road, promising 2.5 hours of "hard off-road riding" on a single battery power. Both the electronic speed controller and custom Battery Management System were designed in-house, adding another level of uniqueness to an already impressive design. It can recharge to 80% in only 30 minutes.
Website: www.torpmotors.com
13. Tarform: Best electric motorbike for tech lovers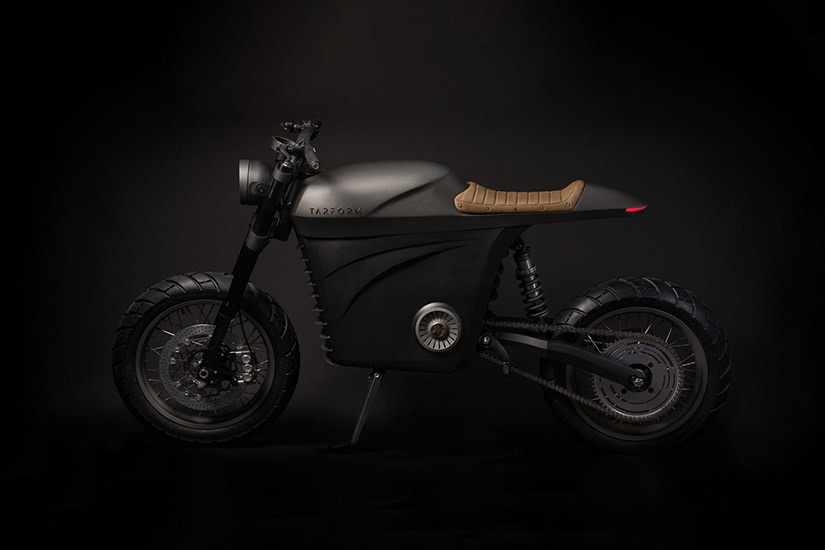 Tarform describes itself as "the motorcycle of tomorrow", a statement that rings true when you take into account the fact that this bike is mostly produced using a 3D printer. Around 55% of the bike's exterior is 3D printed, and other elements of it are recycled from kombucha-derived leather and pineapple-leaf fibers for upholstery. It combines clean technology and advanced manufacturing to produce a high-tech bike with a sleek look.
The Tarform offers 90 miles of range and comes in a standard variation or a collector's edition. Despite being heavily focused on the future, this bike manages to include some vintage looking elements like a leather seat and bronze ring around the instrument panel.
Advanced features really shine through when it comes to the bike's artificial intelligence programming. This allows the bike to remain ultra aware of its surroundings, helping to avoid any obstacles and to inform the driver of any potential danger. This is done with two cameras installed on the Tarform, one on the front and one on the back.
It also uses Haptic feedback to keep safe on the road. If the driver takes a corner too quickly, the handlebars vibrate, signalling to slow down.
Website: www.tarform.com
Which electric motorcycle is best for your lifestyle?
Electric motorcycles bridge the gap perfectly between electric bicycles and electric cars. That makes them the ideal midpoint for those looking for a faster journey while remaining nimble on the road. And, of course, they're generally cheaper than electric cars. But, with so many new additions to the market, what factors do you need to take into consideration when choosing the ideal electric motorbike for you?
First, it's important to note the range of the motorbike and the primary reason for buying one. If used mostly for commuting and urban journeys, a longer range isn't as important. But if you're looking to venture into the electric motorcycle world to tackle the highways with some speed, longer range is arguably the most important factor.
For these longer journeys, it's also worth considering the comfort and style of the seat, the position and flexibility of the footpegs and the storage space. For shorter but more frequent journeys, important factors include the charging time, ease and any assistance when it comes to parking the bike, and ability to attach any necessary upgrades that would benefit your journey.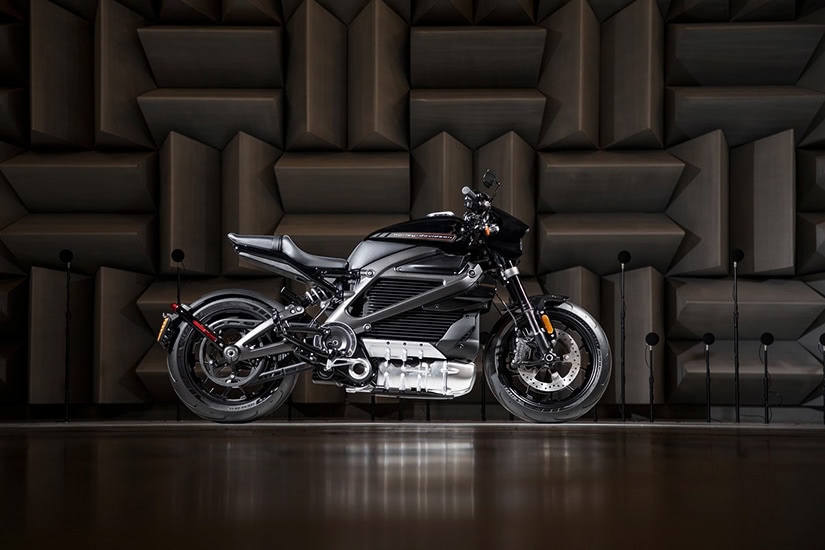 Our methodology to select and rank the best electric motorcycles of 2020
Electric motorcycles generally fall into two categories – those that look similar to their oil-powered counterparts and those that go out of their way to look entirely different. But within these two categories are plenty of important elements to consider.
For a start, the quality and makeup of the materials used. When creating this guide, we made sure to only feature electric motorcycles that use high quality materials and, where possible, sustainable or recycled components.
We also weighed up the range of each bike as well as its recharging time and whether or not it had the ability to link up to a supercharger. We looked at the individual purpose of each bike, the terrain it was most suited to, the ability to perform for multiple uses (such as commuting on urban roads or travelling at fast speeds for long distances) and the authority of the brand. Then, we looked at expert opinion, read reviews on each bike and considered some lesser-known brands, too.