If you've heard us talking about bottles recently, there's a real chance we're not talking about the ones filled with fine wine and stored in a cellar. Nope. The bottles on our mind at the moment are more likely to be stored in your bathroom cabinet.
Shampoo bottles are the ones we're focusing on right now: the miracle products that give your hair a seemingly magical lift that's fresh-out-the-salon-worthy.
When it comes to the best shampoos for women, it can be akin to wandering around a pick 'n' mix stand – so many different colors, flavors, and scents to choose from.
From the best volumizing shampoo to the best shampoo brands for color, curls, or conditioning, here's your guide to the best women's shampoos.
Get ready to store your new shampoo bottles almost as proudly as the ones filled with Champagne.
The 21 best shampoos for women
Nuori: Overall best shampoo for women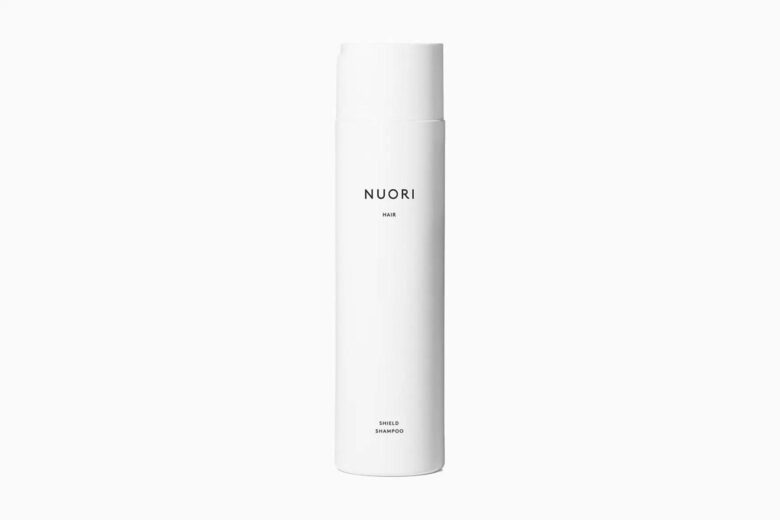 Even the biggest serial shampoo daters will want to stay loyal to Nuori because it's one of the few bottles out there that manages to do absolutely everything. Nuori's Shield Shampoo is the hair care equivalent of The One. You'll find yourself infatuated at first, bringing it up at any moment and finding excuses to mention your new favorite shampoo brand. If you find yourself swishing your hair a little more than usual, you'll know you've been sufficiently converted.
Much like a new boyfriend, you'll shoehorn this product into any relevant (and some irrelevant) conversation — talking about its gentle nature, moisturizing ingredients, and careful cleansing. You can expect your friends to get a little tired of your constant mentions — until they've sampled it too, and the circle continues.
Best for: Your hair care standards to be raised forevermore.
Philip B White Truffle: Best luxury shampoo for women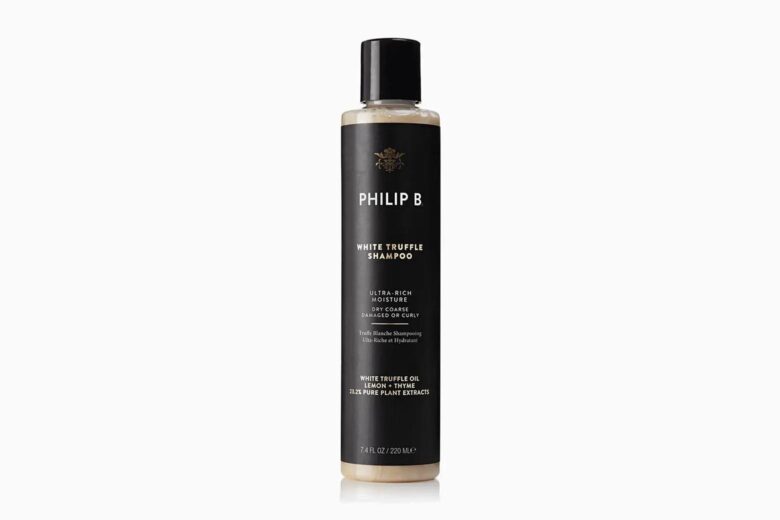 Tough meeting at work or emotionally draining day? A long, hot bath with plenty of luxurious products is calling your name. You'll want to grab a bath bomb or some luxe bath salts and lie back surrounded by bubbles with a face mask on. This is also the time to make use of those fancy hair care products that you've been saving for exactly this moment.
And when it comes to luxury shampoo, there isn't much that can beat Philip B's White Truffle Shampoo. Ultra-rich and thick in formula, this magical shampoo is especially beneficial for anyone with coarse or over-styled hair. Italian White Truffle means you'll smell as rich as your bath makes you feel, and soy protein and vitamin B5 add an extra touch to make sure your hair feels delightfully soft when you eventually get out of the bath.
Best for: True, unadulterated indulgence.
Verb: Best value shampoo for women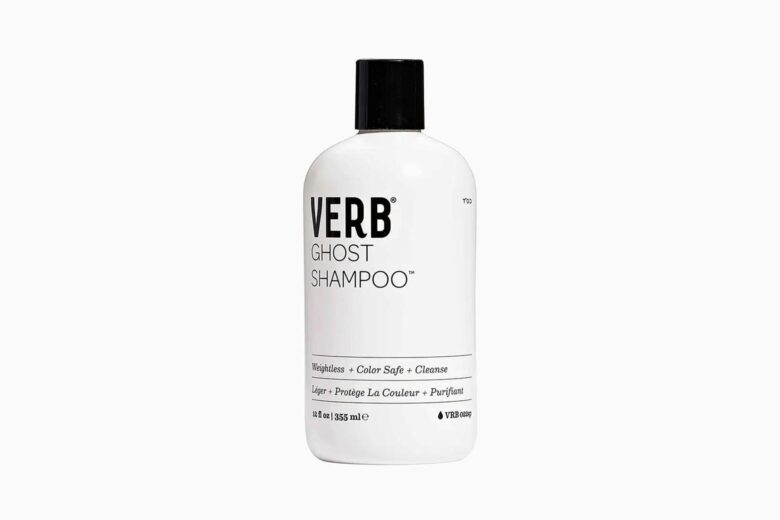 Great shampoo doesn't have to come at a high price, which you'll realize as soon as you've added Verb's hair care products to your bathroom. Everything Verb produces comes in a sleek, minimalistic bottle that'll add a modern touch to your cabinet and a boost of freshness to your hair. Suitable for all hair types, the only scare you'll get from Verb's Ghost Shampoo will be the fear of forgetting to add it to your basket when you're running low.
You'll rinse your hair and immediately feel the difference in smoothness and shine before it's even had a chance to dry. Somehow adding weight and thickness to thin hair and moisturising dry hair without being too heavy for oily hair, this is the lucky charm shampoo that's prepared to take on all of your hair-based fights and win them all.
Best for: Taking on a girls' holiday to suit everyone's needs.
Briogeo: Best shampoo for women with dry hair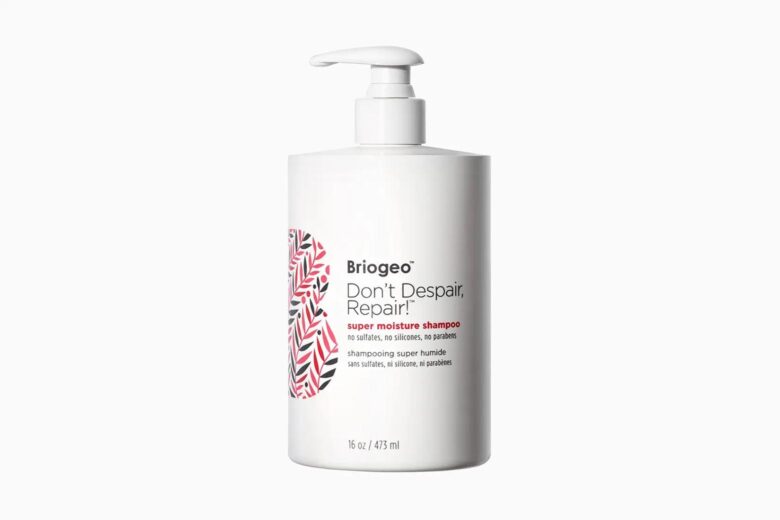 A quick wash with Briogeo's moisture-boosting shampoo, and you'll wonder why you ever bothered trying out a different product. Set to become a staple hair care product for any woman who struggles with dry hair, it's a thick and creamy formula promising deliciously clean hair. Briogeo's Super Moisture Shampoo combines natural products with deep-conditioning moisture to produce the best hydrating shampoo that nourishes your hair day after day.
Unlike other shampoos for dry hair, Briogeo's formula isn't especially heavy, which means dry hair can benefit from extra moisture without being weighed down. And, along with making your hair appear thicker and more nourished, it'll also strengthen follicles, balance hydration and control any frizz. It's basically one superpower haircare product that you'll want to stock up on so that you never run out. It's the best moisturizing shampoo out there for dry hair.
Best for: Causing you to swish your hair around whenever you pass a mirror.
Rahua: Best shampoo for women with colored hair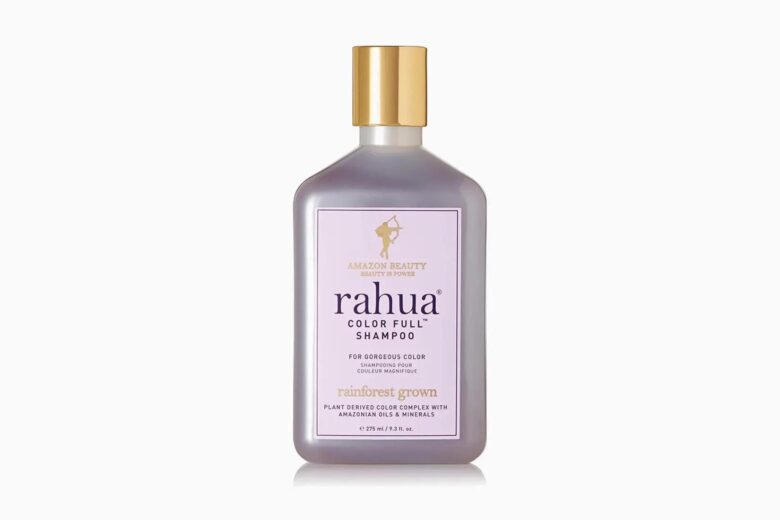 If you're guilty of avoiding shampoo after you've just dyed your hair, you won't be the first woman to do so or the last. Not only does freshly dyed hair usually smell beautiful (shout out to those conditioning treatments that follow), but it's also at its brightest. If you're someone who dyes your hair regularly, you'll know the pain of watching the color slowly fade away, wash by wash. If you are someone who dyes frequently, you'll also know the damage that regular dyeing can cause.
So if you're after a shampoo that retains color and moisture at the same time, look no further than Rahua's Colour Full Shampoo. The best shampoo for colour-treated hair, it'll lock in the vibrant tones from your last dye job long after you've left the salon.
Best for: Justifying that spontaneous decision to dye your hair again.
Davines: Best women's shampoo for curly hair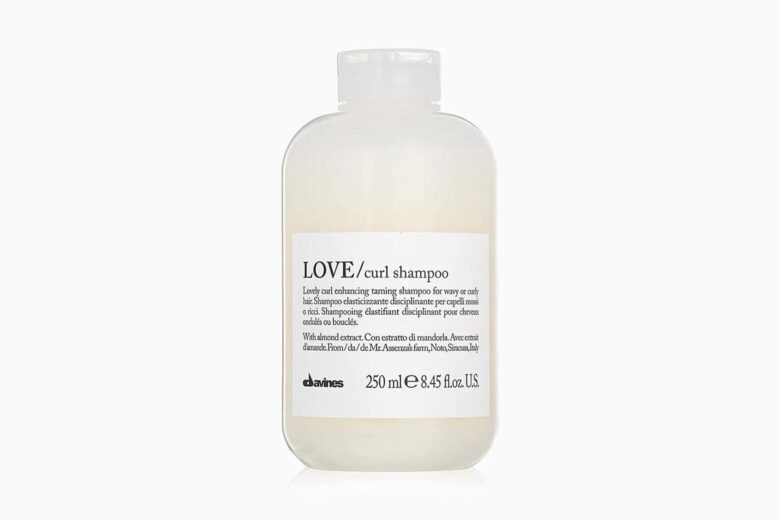 No doubt you'll have straight-haired friends agonize over your curly hair all the time, wistfully telling you how much they'd love the natural bounce to your hair and the incredible texture. Chances are, you've probably retorted back with something about managing your curls, struggling to find a suitable shampoo to emphasize them in the right way, and other similar complaints.
Davines is the place to look, if you're on the hunt for the best shampoo for curly hair. Davines' Love Curl Enhancing Shampoo highlights all of the best qualities of your hair while minimizing any frustrations you may have. It uses ingredients like almond extract to hydrate textured hair without disrupting the structure, giving you effortless extra volume. Set to become your next secret weapon for controlled but beautiful curls, this Italian-crafted shampoo will never let you down.
Best for: Reinforcing how grateful you are for your curls.
Tea Tree: Best shampoo for women with fine hair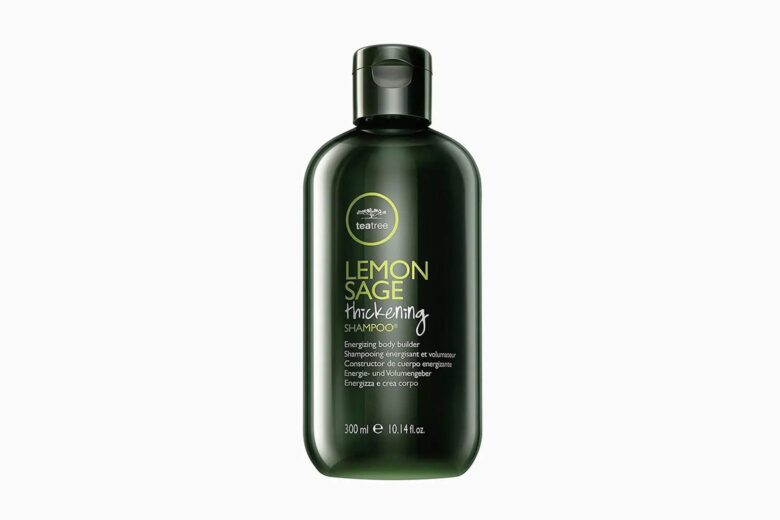 Chances are you've already heard of this shampoo from a hairdresser or stylist if you've complained about thin hair. Thickening without being overbearing, Tea Tree hair products come at a low price but promise high levels of satisfaction and offer the best shampoo for fine hair. While this shampoo can't actually make your hair thicker (you'd need prescribed treatments for that), it can absolutely give the impression of thicker hair without any frizz in sight. Tea Tree's Lemon Sage Thickening Shampoo smells gorgeous, is as mild as it is effective, and will stand proudly in your bathroom every time you use it.
Uplifting lemon, soothing sage, tingly peppermint, and tea tree oil all come together with a zesty finish that'll give you a burst of energy as soon as it's lathered into your hair. Not only will your hair look clean, thick, and healthy, it'll also seem more volumized to the touch. Cruelty-free and offering UV protection, this is a bottle that does it all.
Best for: Uplifting your hair and your spirit.
John Frieda: Best shampoo for women with frizzy hair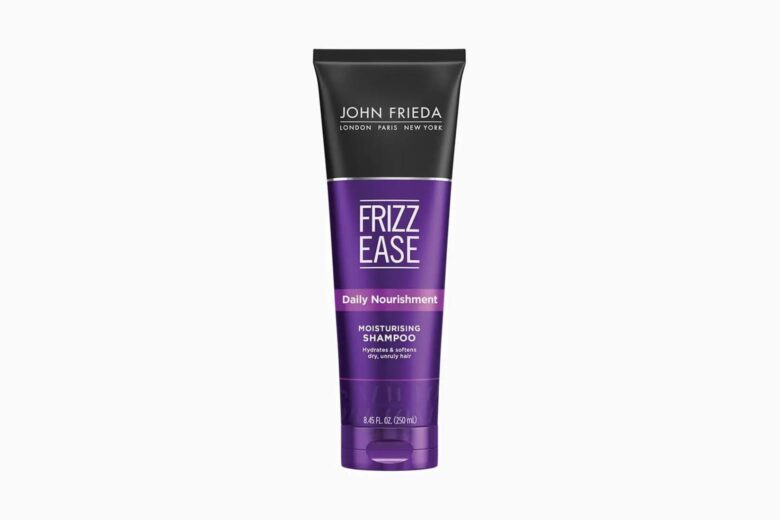 Lightweight and moisturizing, with a silky finish and a gorgeous scent, you'll find people standing closer to you in public just to figure out what smells so good. When it comes to frizzy hair, John Frieda is the long-standing king, with a shampoo that you'll insist on bringing on every single trip you take. FrizzEase by name and frizz-ease by nature, John Frieda's Daily Nourishment Shampoo promises to inject a gentle burst of moisturizer into every strand of your hair, giving you an overall smoother look.
The perfect shampoo to use if you know you'll be styling your hair, it strengthens and cleanses damaged and broken strands making you second guess whether your hair was really as bad before as you thought. Better yet, this shampoo will set you back less than $10 a bottle, which means you'll probably find yourself buying one for your bathroom, one to take to the gym, one tucked away in your suitcase for future travels, and one more for luck…
Best for: Being thrown in your suitcase even before your suncream.
SheaMoisture: Best shampoo for women with natural hair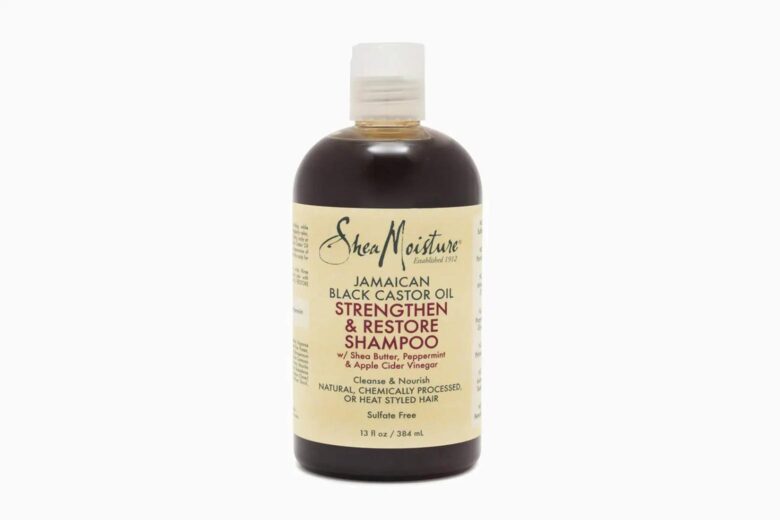 You could quite easily call SheaMoisture Strengthen & Restore Shampoo a miracle product. Somehow it combines all of the best ingredients for natural hair, like Shea butter, peppermint oil, and black castor oil, without including any nasty or damaging ingredients like silicone, sulfates, parabens, phthalates, propylene glycol, mineral oil, or petrolatum. It gives natural hair — or hair that's been styled with heat a lot — a healthy dose of nutrients in a shampoo so dense that you'll reap its benefits after a single use.
Castor oil encourages extra hair growth, while apple cider vinegar ensures your hair feels clean and fresh after shampooing. Although this shampoo can't claim to actually encourage hair growth, it's something that's mentioned again and again in its thousands of positive reviews. A little goes a long way here, which means one bottle is a brilliant investment into keeping your hair strong and healthy.
Best for: Being the comfort blanket to all of your hair woes.
Nioxin: Best shampoo for women with thinning hair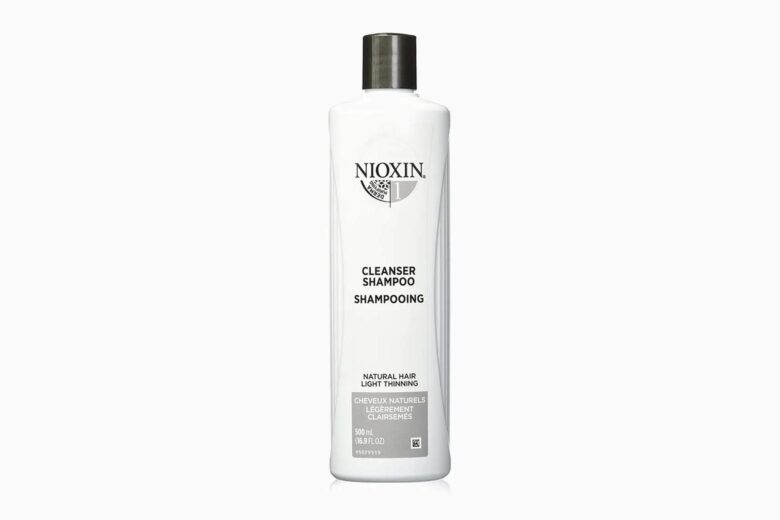 If you've ever typed "thinning hair" or "hair loss shampoo" into Google, you'll probably be familiar with Nioxin. And that's because this brand really is the best of the best when it comes to tackling hair loss and actually making your hair thicker as well as looking more volumized. The best shampoo for thinning hair, it's one complimented by professionals and promises quick results with a refreshing peppermint scent.
Think of it as the hair care equivalent of taking your car to get serviced: Nioxin will detoxify your hair, removes pollutants and toxins, clears nutrient pathways, and rounds off the experience with body, volume, and shine. You'll come out of the shower feeling a bit like you've gone through the car wash but with beautiful hair and no trace of damage in sight. Keep using Nioxin's Cleanser Shampoo and, after time, you'll realise what a game changer it truly is.
Best for: Giving your hair a complete 180.
Olaplex: Best shampoo for women with damaged hair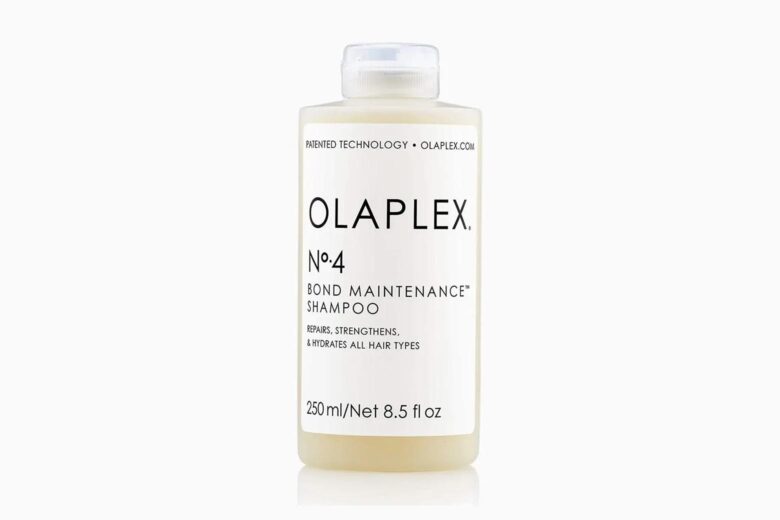 Maybe you've bleached your hair one too many times, or perhaps you've just got home from a holiday in the sunshine. Whatever the reason, your hair's looking damaged, and you need a quick solution. Even if your hair feels starchy to the touch now, it's not the end of the world. Modern technology and the miracle work of new haircare means you can run to the store to fix it rather than to the hairdresser to get it chopped off.
Famed initially for being an amazing in-salon treatment, you can save some money and time by buying a bottle of Olaplex and doing it yourself instead. Undoubtedly the best shampoo for damaged hair, Olaplex No.4 Bond Maintenance Shampoo promises to give your hair a complete makeover from the inside out. You'll never regret bleaching your hair again.
Best for: Justification for booking another holiday in the sun.
Ouai: Best shampoo for women with thick hair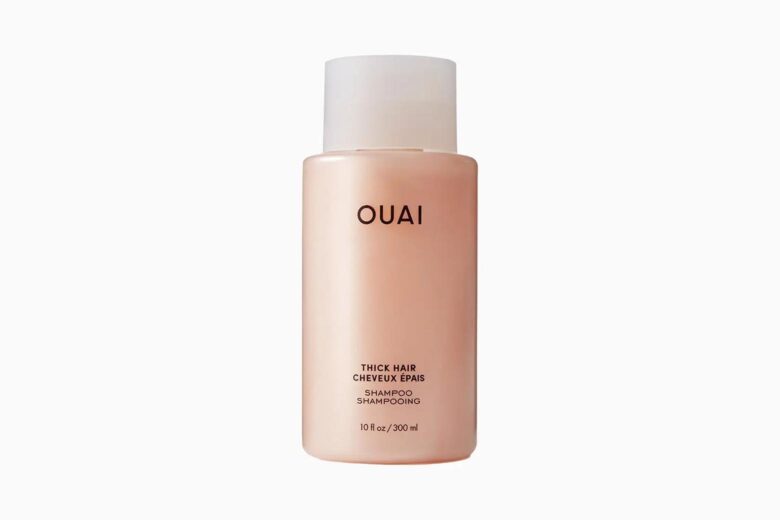 It's never a bad thing to have thick hair – as you'll likely know, from the admiring glances from hairdressers, envy of your thinner-haired friends, and carefree nature when it comes to raking a brush through it. But if there had to be a downside of thicker hair, it's the time it takes to dry, the time you'll spend styling it, and, let's not forget, the ache in your neck when you've had it tied back all day.
But, regardless, thick hair is something to be celebrated, and you'll want to let it shine in all its glory with a proper shampoo that does it the justice it deserves. Enter: Ouai Haircare's Thick Hair Shampoo. We'd expect nothing less from the name of this bottle, but it's still very much deserving of its award for the best shampoo for thick hair. Marshmallow Root, Shea Butter, and Avocado Oil all blend to give you a mane that's properly cared for and freshly cleaned without scrubbing at your head for ages.
Best for: Making you feel like you're starring in your own personal shampoo advert.
Amika: Best shampoo for women with oily hair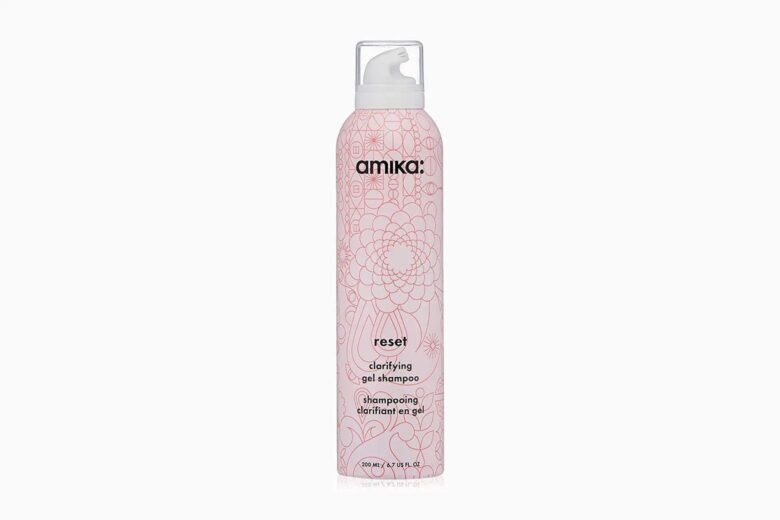 Those of us with oily hair will know all the tricks in the book: dry shampoo, talcum powder on the roots, trying to go a few more days between each wash, sampling every "greasy hair" shampoo on the market. Maybe you've had success with one method or another but the curse of oily hair is one of those things that's always — quite literally — hanging over you. The other issue with shampoos designed to tackle oily roots is that they can sometimes go the other way and cause dryness.
It's an endless battle of finding the perfect midpoint that's nourishing without adding too much moisture and oil-stripping without being damaging. The best-clarifying shampoo for oily hair is Amika's Reset Clarifying Gel Shampoo. Mineral oil-free, sulfate-free, phthalate-free, and also free of everything else you'll want to avoid in the world of haircare, this is a miracle product that'll leave you with gloriously soft locks and an extra day of fresh and bouncy hair.
Best for: Stopping you from caring when you realize you're out of dry shampoo.
Oribe: Best shampoo for women with dandruff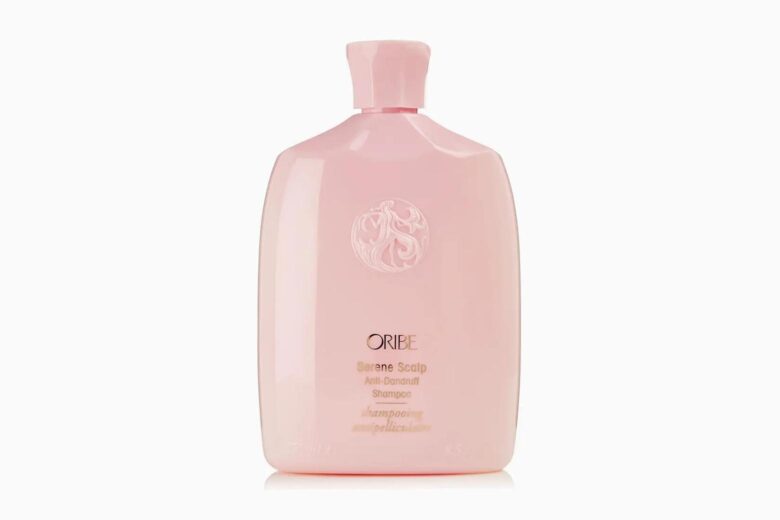 You'll want a gentle shampoo if you're tackling dandruff. An itchy, flaky scalp doesn't add any kind of fun to your day to day activities and, if severe enough, might have even put you off of wearing too many black shirts. Oribe might not be the cheapest shampoo on the market, but it's one that'll give you confidence when it comes to choosing your outfits once again.
Suitable for all hair types but especially great if you suffer from dandruff, Oribe's Serene Scalp Anti-Dandruff Shampoo will wave goodbye to those dreaded flakes every time you wash your hair. Unlike some other shampoos designed to fight dandruff, this one also helps to cleanse your hair for extra shine without being overly drying. Fresh out the shower, you'll be able to breathe in its beautiful scent of watermelon, lychee, and Edelweiss flower extracts and wonder why you ever wasted time trying a different bottle.
Best for: An instant burst of much-missed confidence.
Iles Formula: Best shampoo for women with long hair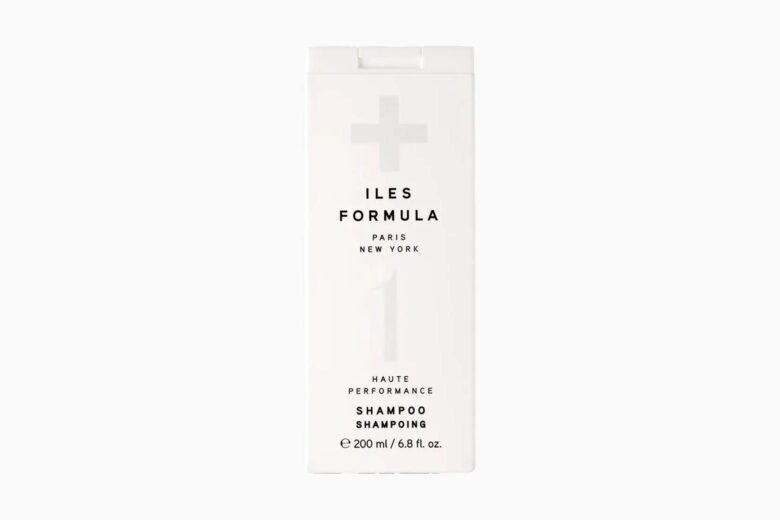 Chances are, if you've got long hair then you're used to two things: First, family members, friends, and even occasionally people in the street coming up to you and stroking your hair with wonder in their eyes. And second: finding random strands of hair everywhere you go. It's safe to say that long hair comes with its blessings and its curses. It's a beautiful thing, but it needs a lot more maintenance than shorter hair.
You'll want to use products that keep the length in good condition to reduce split ends and any chance of having to go for the dreaded snip. One shampoo that promises to go above and beyond for any woman with long hair is Iles Formula's Haute Performance Shampoo. Perfect for post-shower detangling, this shampoo is infused with antioxidants and silk proteins to prevent any damage no matter how frequently you wash your hair.
Best for: Making you feel like a real-life Rapunzel.
Sachajuan: Best salon shampoo for women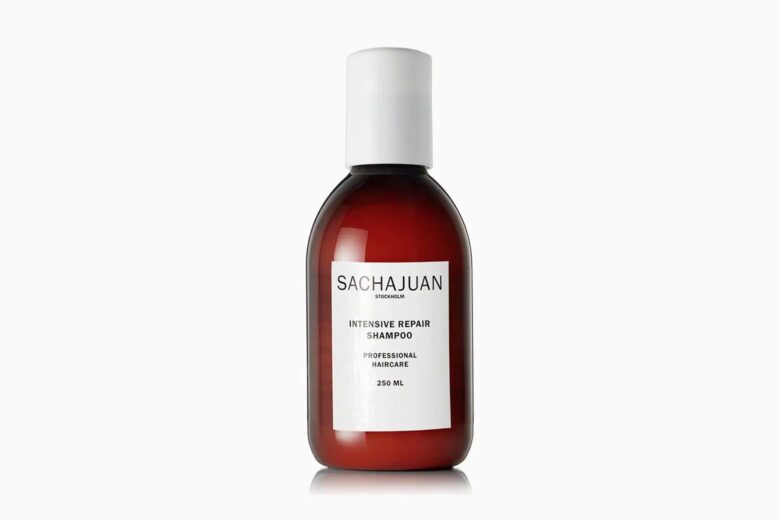 Want that salon experience at home? Sometimes you don't have space in the calendar for a proper salon treatment, so the next best thing is to bring the salon to you. We're talking the full works: scalp oil, fancy shampoo and conditioner, and an at-home blow-dry if you can master it. Maybe even a face mask thrown in too for good measure.
For the full treat-yourself experience, Sachajaun is the brand you'll want to go to. The best professional shampoo, Sachajaun's Intensive Repair Shampoo has won awards for its magic, and you'll feel a million dollars once you've massaged it into your hair. Along with smelling incredible, the Intensive Repair Shampoo will revive your damaged, sun-exposed or dehydrated tresses with a shiny finish that'll have you running your fingers through your hair. If you're looking for the best salon shampoo, this is the bottle to choose.
Best for: Feeling like you've just left the salon.
HiBar: Best solid shampoo bar for women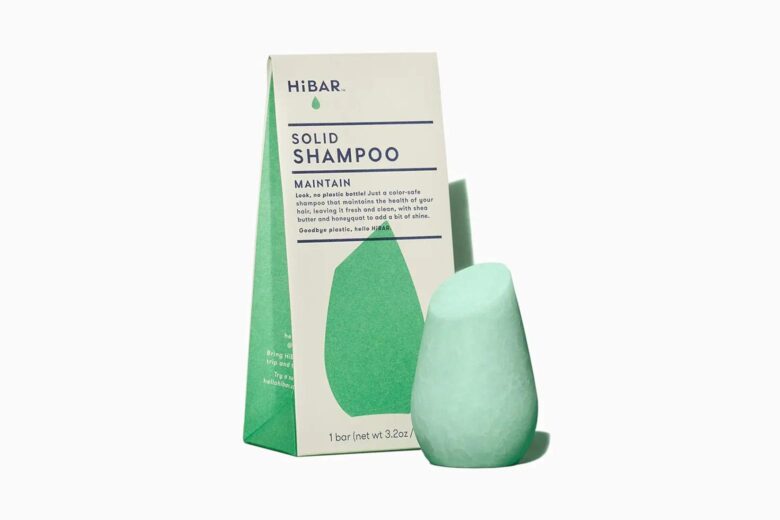 Not only are solid shampoo bars great for the environment, they also last a lot longer than bottled shampoos and have the added bonus of being portable. So, if you're planning a weekend away or you're traveling abroad, find your new favorite solid shampoo bar now and save yourself the hassle of squeezing your existing shampoos into those tiny portable bottles. Or, worse yet, having to sacrifice your locks with the only shampoo you could find in the tiny shop round the corner from your hotel.
We might preach the benefits of shampoo bars, but not all bars are created equally, so it's important to find one that'll nourish and protect your hair while adding an extra burst of moisture. Our favorite for doing all of the above and more is HiBar's Solid Shampoo Bar. Somehow managing to add volume and moisture without adding too much weight to your hair, HiBar's shampoo products are also all plastic free. Once you've converted, you'll probably never go back.
Best for: Revolutionising your hair care experience.
Joico: Best purple shampoo for women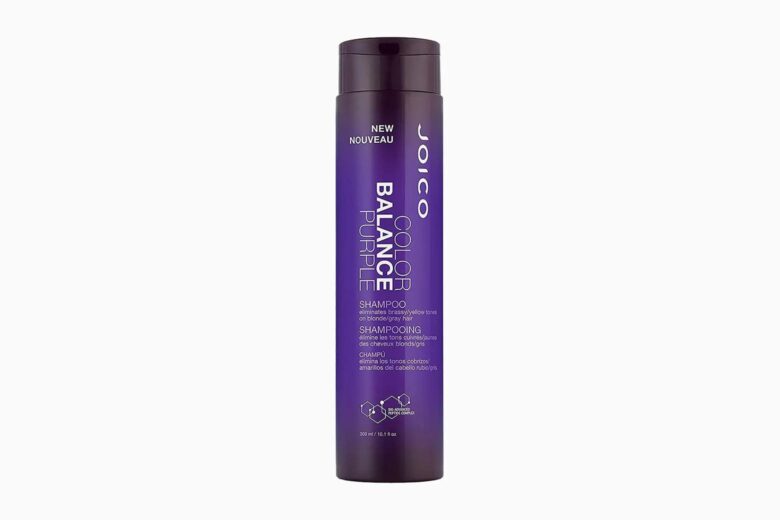 Remember the first time you tried purple shampoo? That underlying fear of getting out of the shower with bright violet locks? Unless you left it on a little too long (and we've all been there), you'll know the magic and simplicity of purple shampoo and its instant ability to tone down brassy locks. It shouldn't be quite so easy as just looking at the color wheel when it comes to taking any orange or yellow tones out of your hair, but, as anyone who regularly bleaches their hair will know, the addition of purple shampoo to your bathroom cabinet is an almost effortless lifesaver.
Joico's Color Balance Purple Shampoo is the best of the best when it comes to purple shampoos that really prove their worth. Neutralizing any unwanted shades and bringing out the cool, blonde tones, this shampoo is one you'll always want to keep a stash of in the bathroom. Expect salon-worthy locks almost instantly.
Best for: Convincing you to go bleach blonde again.
Hair By Sam McKnight: Best dry shampoo for women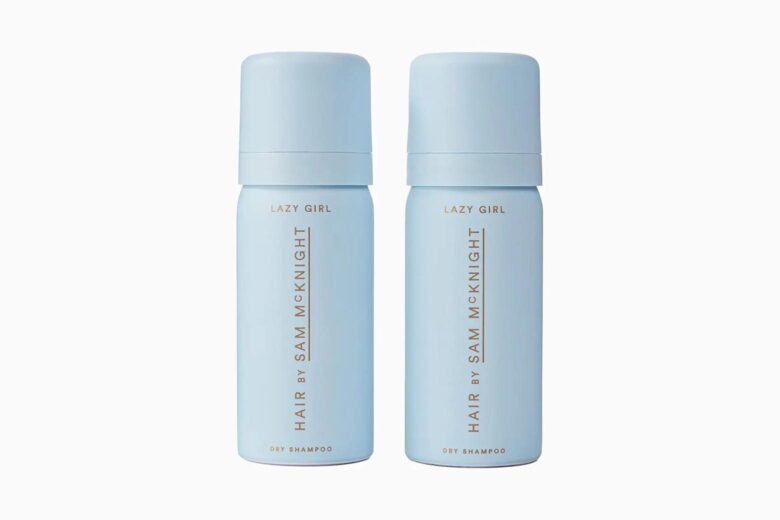 If there's one haircare staple that'll get you changing out of your pajamas and into jeans and a nice top almost instantly, it's dry shampoo. Reliable and ready to jump to the rescue, dry shampoo is the difference between having another shower and washing and styling your hair – or just giving it a quick spray and being ready to go in mere minutes.
Of course, not all dry shampoos are quite as reliable, and there's a definite hierarchy from the bottles that leave you with faintly grey roots or those that almost make your hair look better than if you'd washed it. One dry shampoo that will almost make you wish for those "ready to wash" days comes from Hair By Sam McKnight. The Lazy Girl Dry Shampoo does everything it says on the tin and more. Water lily, green stem, and juniper wood will leave your hair smelling great as well as looking great.
Best for: "Lazy?" Nope, we call it chic and effortless.
Paul Mitchell: Best budget shampoo for women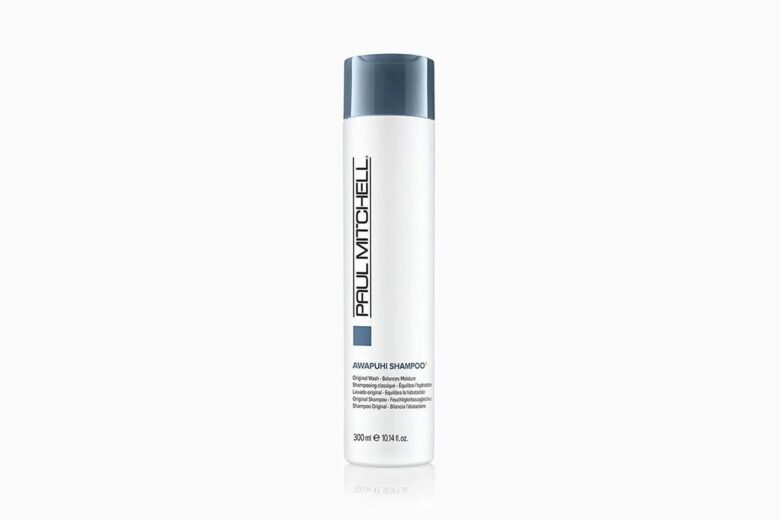 Incredible hair products don't have to come at a high price, as proven by Paul Mitchell's Awapuhi Shampoo. The best cheap shampoo that you'll no doubt spot everywhere from now on, this gently cleansing shampoo promises to give you luscious and healthy-looking locks for less than $10. It's suitable for all hair types, which makes it a great addition to your holiday beauty essential list, and it's cheap enough that you won't mind sharing it with whoever's accompanying you.
If you're someone who washes your hair a lot, this shampoo is a great option for everyday usage. Despite its low price tag, it'll add moisture and volume to your hair, making it a great allrounder. This might be the bottle that ends up tucked away in your bathroom cabinet, but when you reach for it after running out of your expensive bottles and run your fingers through your fabulously bouncy hair, you'll wonder why you ever bothered spending more money on other products.
Best for: Becoming your new Monday-to-Friday shampoo.
Philip B Russian Amber: Most expensive shampoo for women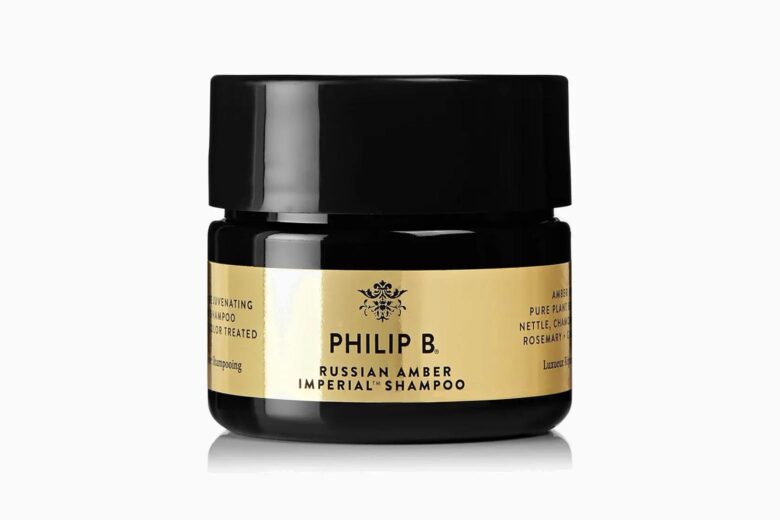 Hopefully, you're prepared to do a lot of internal arguing after you've tried this shampoo, because once you've washed your hair using Philip B's Russian Amber Imperial Shampoo you'll never want to use anything else again. Is $160 too much to be spending on your hair-washing routine? We'll let you be the judge of that, but don't blame us if you find yourself doing the odd supermarket swap to justify treating yourself to a second bottle.
Let's cut to the chase here, because there's really no doubt about it: the Russian Amber Imperial Shampoo really is the best of the best when it comes to luxe hair treatments. It might set you back about the same as a trip to the salon, but you'll never regret purchasing this bottle when you realize just how silky smooth your hair feels afterward. If ever you've wanted to feel like a celeb while running a bath or doing your hair care routine, this is the bottle to choose.
Best for: Pairing with that "if I won the lottery" daydream.
Beauty guide: How to choose the right shampoo for women
We've all been guilty at one point of hastily grabbing the nearest bottle of shampoo on the shelf in a rush. But if you're on the hunt for the perfect shampoo, take the following into account:
Hair type
Is your hair prone to oiliness, dryness, or somewhere in between? Dry hair will benefit from moisture-packed shampoos, while greasy hair can be combated with rebalancing shampoos that target oil production. If you're fortunate enough not to struggle with either, or have a combination of oily roots and dry lengths, you'll want a versatile shampoo that nourishes without adding weight to your hair.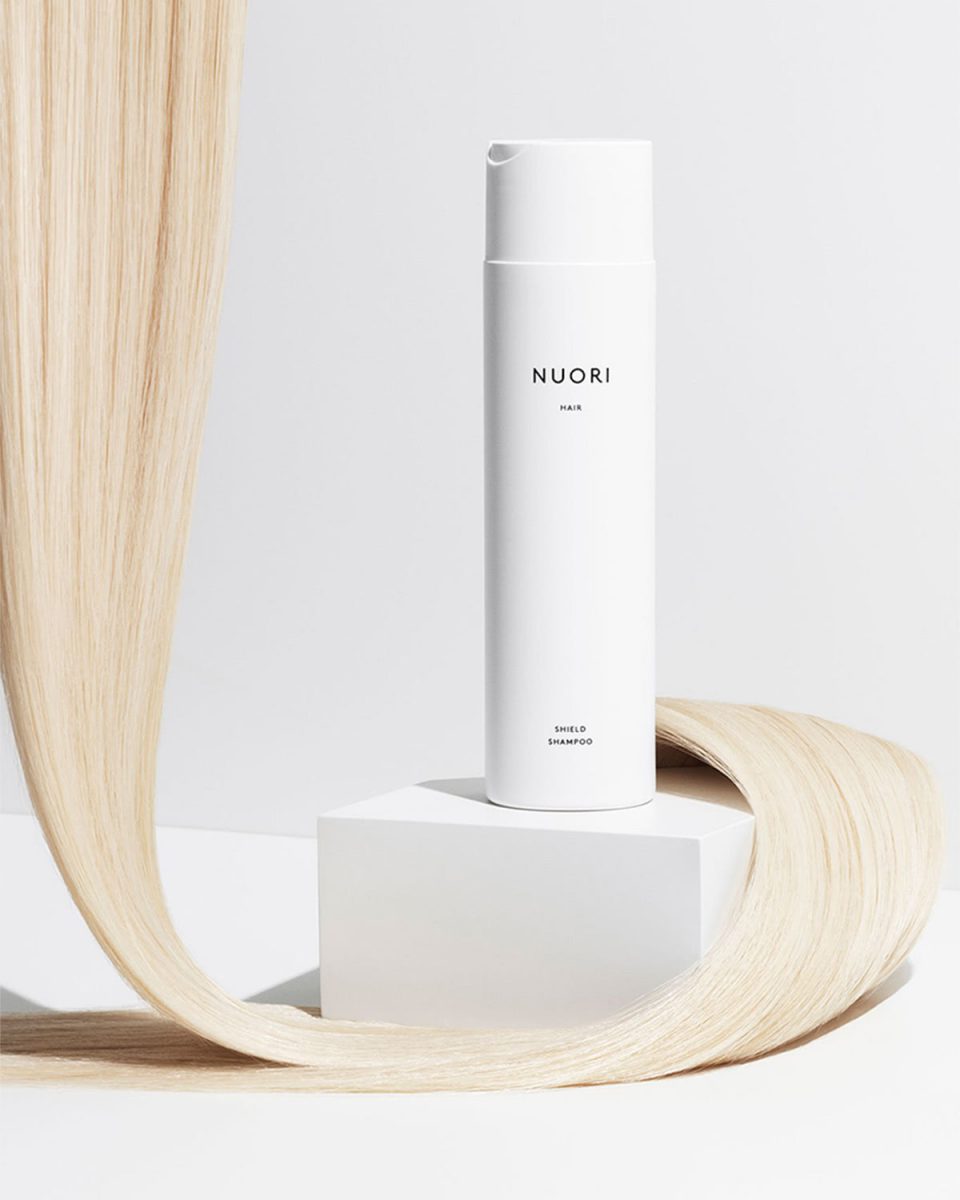 Hairstyle
Curly hair needs a little more attention than straight hair to fully maximize your curls without frizz. Look for hydrating shampoos with anti-frizz ingredients and essential oils or butters added. Stay away from clarifying shampoos, which can dull your curls and strip away moisture. Thick hair tends to be a little dryer, so opt for sulfate-free shampoos with keratin or argan oil. If you have thin or flat hair, choose volumizing products to give the illusion of thicker hair.
Hair length
Ensure long hair stays glossy and nourished with shampoo that hydrates your locks. If you have short hair that undergoes a lot of styling, make sure to use products that restore moisture too.
Frequently asked questions about women's shampoos