So, you've spent time and care growing out an impressive beard. If there are days where you think it's more irritating than resplendent, you're not alone. You just need a little help. Fortunately, the best beard oils make grooming, taming, and even nourishing your mane as easy as can be.
Whether you sport a well-groomed goatee or have cultured more of a 'mountain man' vibe, you're sure to benefit from a little beard care. Beards of all lengths, styles, and textures can be transformed from a frizzy mess into top-tier facial topiary in no time at all — as long as you have the right beard oils.
We've combed through all the beard growth products and beard oil reviews to determine the ones truly worth your time. Soon, you won't have any irritation, pesky beardruff, or dry skin at all. These beard oils will make your beard soft, supple, and seriously good-looking (and you may even find a new signature scent in the process).
We've also included a grooming 101 guide, with all the information you never knew you needed to know.
The best beard oils
Check our special beard oils buyers' guide after the list to see exactly what you should pay attention to before purchasing a beard oil.
D R Harris: Overall best beard oil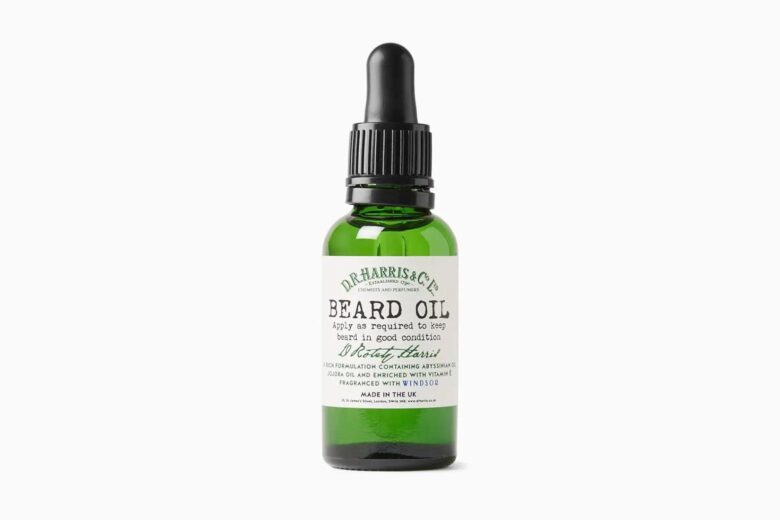 Citrus. Vetiver. Black Pepper. For burgeoning beard enthusiasts and seasoned aficionados alike, this classy formula packs a delicate scent, gentle relief, and powerful styling hold…all in one gorgeous apothecary-style glass bottle.
Whether you're in the early stages of growth or have a boast-worthy beard to begin with, the D R Harris Beard Oil is a necessity. The Vitamin E-enhanced Jojoba oil will stop itchiness and irritation in its tracks. The Abyssinian oil keeps your skin healthy and promotes future growth.
The incredible nourishing factor of D R Harris Beard Oil will have you looking and feeling refreshed in no time. Four drops: That's all it takes. Trust us: Your skin and style will thank you for years to come.
Best for: Dapper gentlemen seeking soothing, beautifully-scented beard-styling aids.
Tom Ford: Best premium oil for beards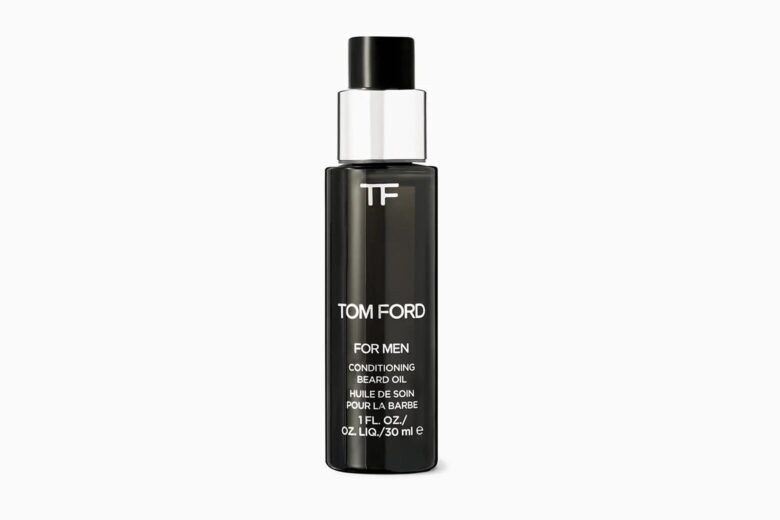 The simple secret that translates to a stylish, healthy beard? Daily maintenance. Luckily, with this luxe beard oil, that routine treatment will become a self-care retreat you anticipate every day.
Grooming is easy with this decadent Tom Ford oil. The exclusive formulation with ultra-revitalizing grapeseed, jojoba, and almond oils conditions facial hair so it looks better with every use.
Its scent will evoke warm, rich, textured feelings: Vanilla and Clary Sage, with a leather heart. You'll carry that confidence with you all day, knowing that both your look and your aroma are on point. This fabulous Tom Ford Beauty Beard Oil is a showstopper, yet subtle and sophisticated.
In short, it's everything you want to be.
Best for: Those who aspire to the heights of facial hair sophistication.
Honest Amish: Best value beard oil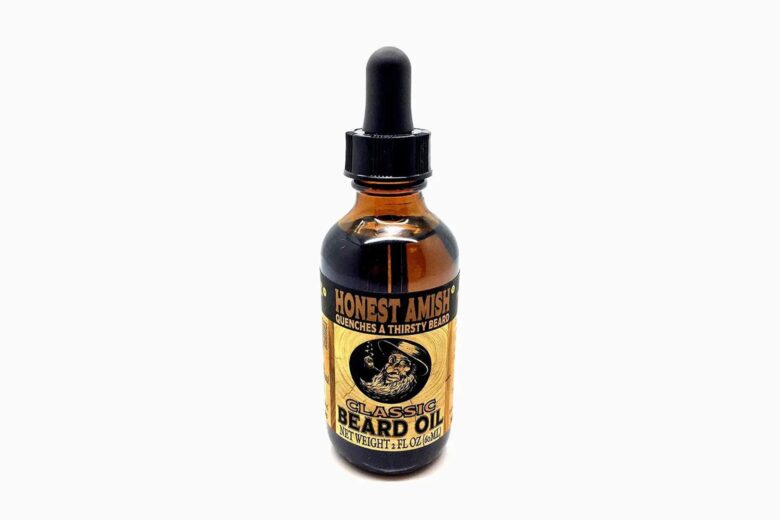 When you're looking for a good, solid beard oil to add to your daily routine, you want one that performs well — simple as that.
Honest Amish sought to make an oil that was better than the rest; they avoided using the same 2 or 3 oils that go into every other beard oil.
Instead, Honest Amish's Beard Oil contains a bespoke blend of no less than seven carrier oils and seven essential oils in their top-secret recipe. The result? A delicately-scented styling powerhouse that (for the money) is the best value around.
(Honest Amish also completely guarantees their product. That's confidence we like to see!)
Best for: A cult-loved beard oil.
Bossman: Best oil for beard growth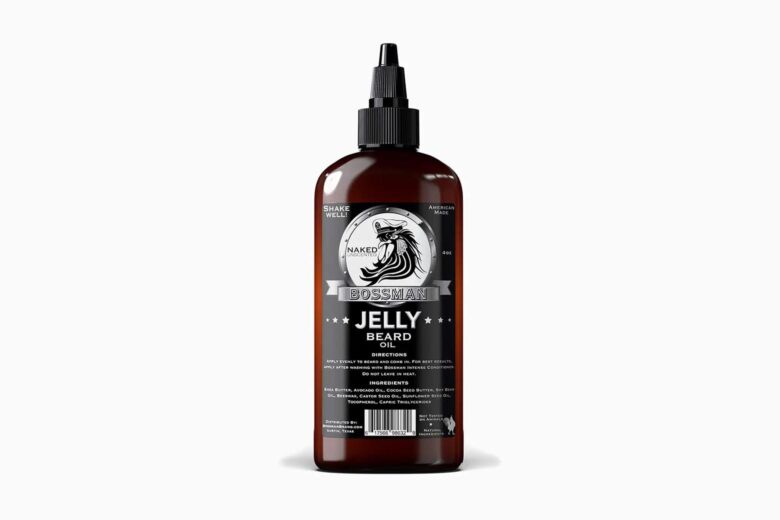 When you're first starting to grow a beard, one thing is clear: Faster is better. You want to get past the starter stubble-and-scruff stage as quickly as you can.
When it comes to quick growth, you want results. You want action. This beard oil delivers on both counts. This is a thicker oil — a jelly, even — that is more effective because of its increased viscosity. It'll bond to your follicles and pores to act quickly. It hydrates your hair for a luscious look, keeps your skin healthy and soft, and results in a thick, flowing beard before you know it.
With twice as much product as most of its competitors, the Bossman Beard Oil works well, lasts a long time, and gets you results. It's quite simply the best beard oil for growth. What more could you want?
Best for: Beard-growing beginners who want to see as much growth as possible — while looking good, every step of the way.
Le Labo: Best scented beard oil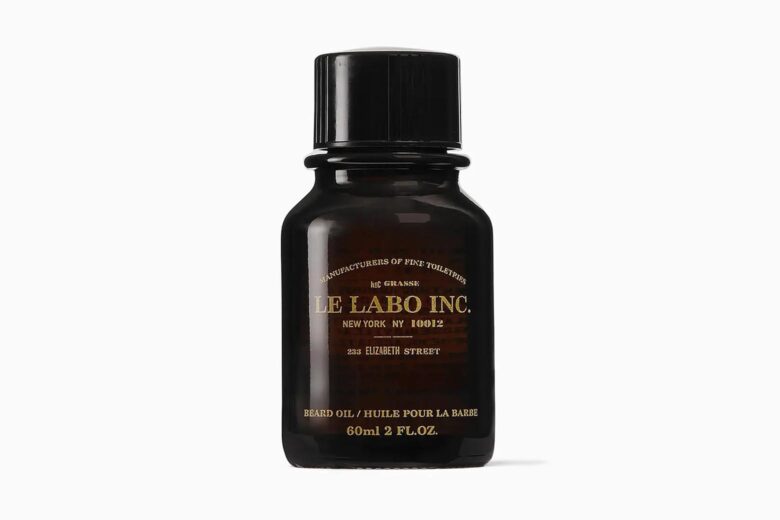 If you're looking for a plant-based, all-natural beard oil, you're usually left with lackluster options — such as, for example, simple coconut oil or almond oil options.
That was then. This is now.
No matter what type of beard you have, your skin and hair will benefit from the smoothing, protective, and moisturizing benefits of this specially-formulated blend. What's more, the Le Labo Beard Oil is infused with an intoxicating aroma. Lavender, Bergamot, and Tonka Bean additions give this multitasking oil a seductive, relaxing, yet not overpowering boost.
You'll feel refreshed and ready to take on the world — with zero chance of irritation from parabens, phthalates, or artificial add-ins.
Personally, that's what we call a win-win for this best-smelling beard oil (and for you).
Best for: Those with sensitive skin – no cologne needed!
Anthony: Best pre-shave men's beard product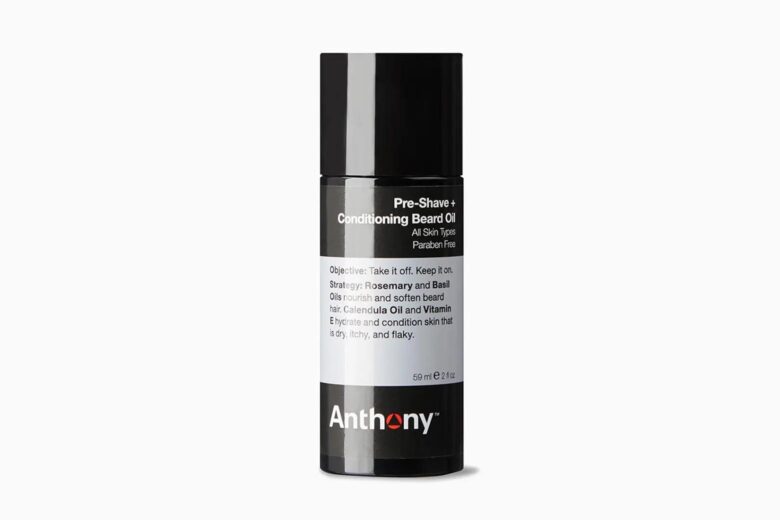 When it's time to groom your beard, you need a pre-shave that protects, hydrates, and conditions your skin and softens your hair for an easy, nick-free experience.
This conditioning oil sets you up for success and for enjoyment of silky-smooth skin long after you put down your razor.
With a softening, soothing combination of rosemary, basil, calendula, and olive oils, the Anthony Conditioning Oil is a paraben-and-gluten-free formula that makes grooming easy and satisfying.
Massage it into your skin to reduce dryness, redness, and flakiness. Distribute it evenly into your beard for a supple shininess that will render you best-styled, no matter where you go.
(As an added pro, its sleek, chic, unassuming black canister will look good in your home. It's the little things, isn't it?)
Best for: A multitasking product to condition, protect, hydrate, and style.
Haeckels: Best conditioning beard oil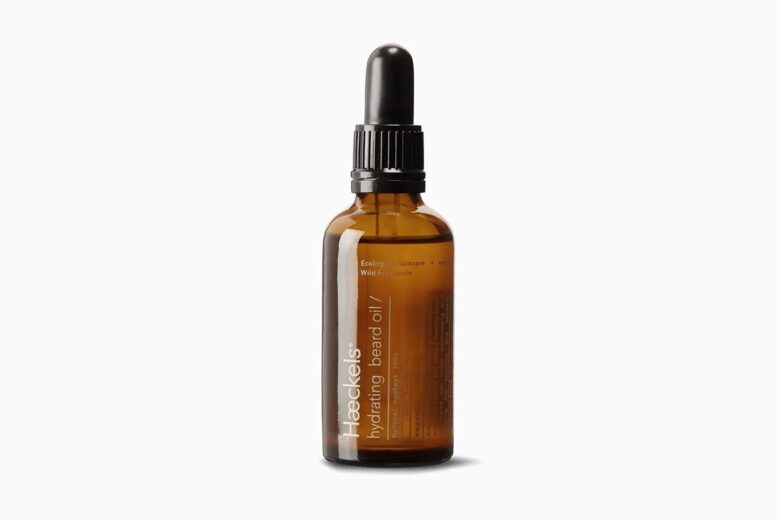 It's a truth universally acknowledged that having a beard requires upkeep. You need to invest in your beard. You need to take care of it.
Luckily, this maintenance doesn't have to be a chore. You can protect your beard and enjoy the process. You just need an oil that is simple, strong, and stylish.
Enter: Haeckels Beard Oil.
With seaweed extract and vitamin E, this beard oil goes past the surface deep into the shaft of your hair to strengthen from within. Your hair will grow faster, silkier, and be much more resistant to split ends.
Haeckels Beard Oil is also infused with an antibacterial Neroli oil that smells divine and keeps your skin healthy, fresh, and clean. Two to three drops is all you'll need on a daily basis to look and feel fantastic, no matter what stage of beard-growing you're at.
When you're growing your beard, you've got to take care of it. You need the best beard conditioner available. It's simple: With this oil, that maintenance will feel like an indulgence, every day.
Best for: Anyone currently suffering from dry, coarse, or damaged facial hair. (Very soon, you won't be.)
Aesop: Best beard-and-hair oil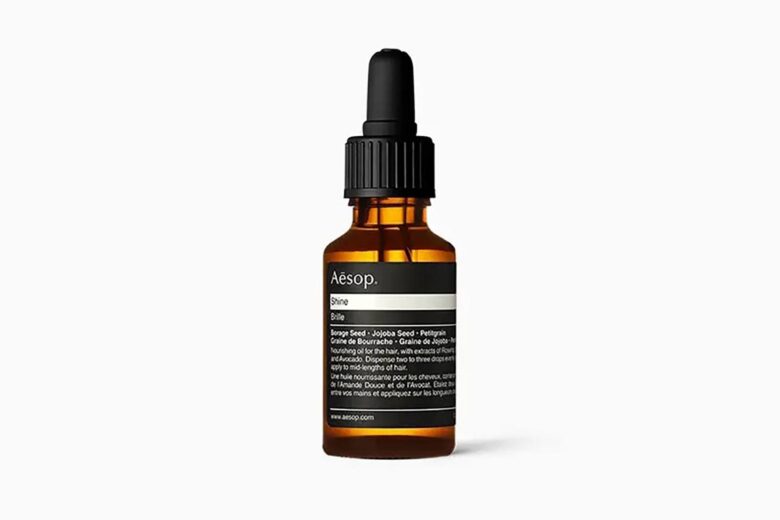 Are you looking for a universal way to smooth static and flyaways? Sculpt your beard with luster and shine? If you have coarse, thick, or wavy hair, you might have just accepted that a truly sleek look might be out of the picture for you.
Think again.
This Shine Oil from Aesop leverages incredible moisture and frizz-reducing formulas without making it feel like your beard is weighed down by grease. It does this with a silicone-free recipe to keep your beard and hair healthy….while Borage and Jojoba lock in intense moisture and style-enhancing luster.
With the best botanicals for a scientifically-backed product, this Aesop Shine oil will be a go-to for you, guaranteed. It's multipurpose. It's natural. It's indulgent. It's the best for beard and hair application.
Best for: Those seeking an all-natural option, but want dramatic results on dry or damp hair.
Hawkins & Brimble: Best softener for beard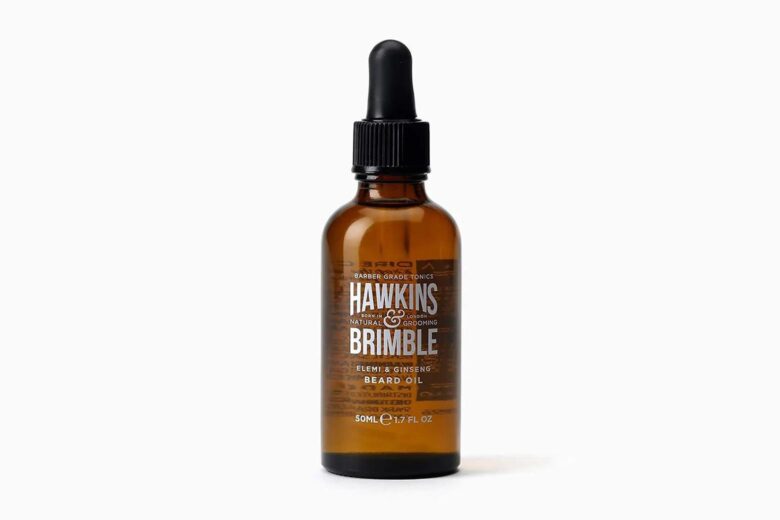 If you find yourself saddled with spiky stubble or skin that's perpetually rough and dry, stop reading right now. You've done it. You've found the best beard softener. Your problems are solved.
Whenever your skin and hair are in need of a little TLC, Hawkins & Brimble is ready to help with their ultra-nourishing Beard Oil. With zero artificial colorants or other irritating chemicals, this cruelty-free option treats split ends, reduces frizz, and gives your hair incredible shine.
The argan oil and shea butter combined in this beard oil confer incredible conditioning power to both your hair and skin. If you're looking for a soften-beard option, this is it. The all-natural Hawkins & Brimble Beard Oil will make your skin supple and your hair soft and shiny, every time you use it.
Best for: Making your beards unbelievably touchable, soft, and comfortable.
Baxter of California: Best fast-absorbing oil for beards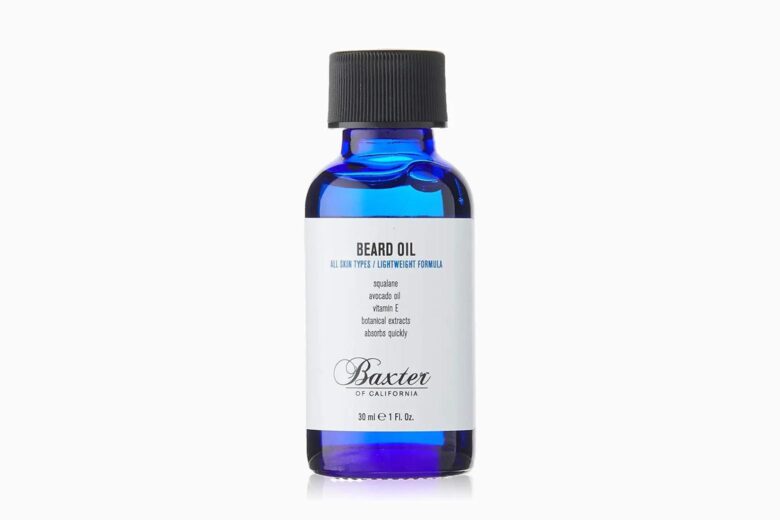 If your beard isn't particularly well-behaved, you might have had to resort to using several products to keep it in check.
Those days are over.
Instead of just conditioning and smoothing your hair, this grooming oil from Baxter does everything. It smooths and conditions, but also tames coarse beards, penetrates through your hair to increase growth, hydrates your skin, and smells good enough to double as a cologne.
(Our favorite part? That it does all of that but absorbs instantly. It doesn't stay on top of your skin, making you feel greasy and filmy. It's gone in a flash, working as quickly as you put it on.)
The fast-absorbing Baxter Grooming Oil contains avocado oil, Vitamin E, Squalene, and features subtle notes of Jasmine and Cedarwood.
Best for: Those who don't have the time to wait for miracles to happen.
Jack Black: Best oil for beardruff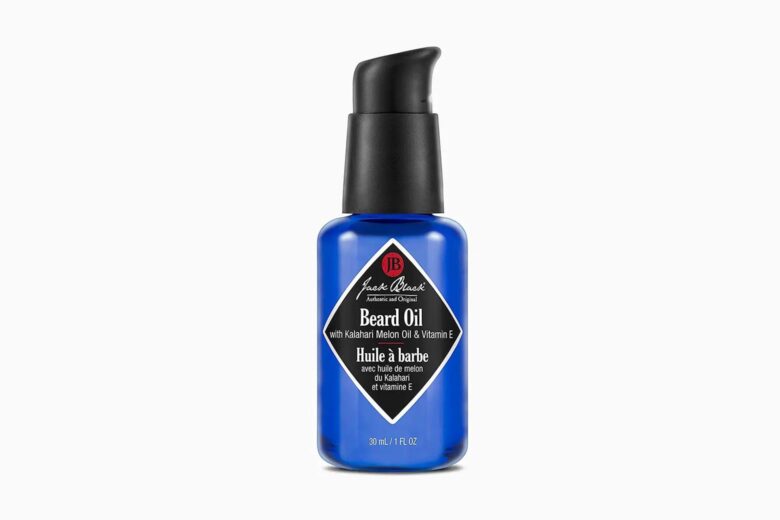 If you know, you know: When you're experiencing beardruff (or 'beard dandruff'), you need a solution, and you need one fast.
When the skin under your beard gets dry and itchy, you won't be comfortable. Your look may suffer. That's when you reach for the Jack Black Beard Oil — a beard oil full of vitamins to soften and hydrate even the most irritated of skin. It's all-natural, formulated with zero harsh chemicals or free radicals, to treat delicate skin with a soft yet powerful touch.
Kalahari melon. Marula. Brown algae, carrot extract, and other antioxidants. This oil will do more than calm your skin, it'll protect it. It'll also make brittle hair more malleable, so you can style it with more control and higher shine.
The Jack Black Beard Oil is superior for instant relief when you have beardruff — and perfect for styling on any occasion.
Best for: Those seeking a soothing option that also styles.
Viking Revolution: Best unscented beard oil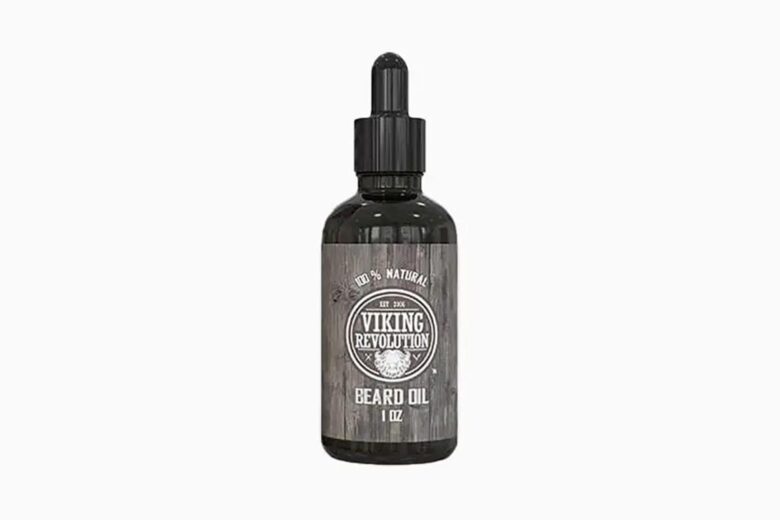 Simple, sophisticated style — if that's all you want, then you're in the right place.
Sometimes, fragrances can be distracting. When you just need to nourish your skin and tame your flyaways without focusing on an aroma as well, this is your new go-to. Viking Revolution's beard oil will give your beard irresistible shine — and it'll do it without clashing with any other scents you may be wearing.
This unique blend of organic Argan and Jojoba oils is completely natural, so it won't irritate, only soothe. Just a few drops can tame even the burliest of beards! The Viking Revolution Beard Oil is perfect for frizz-free smoothness and shine.
Best for: Anyone who seeks an oil strong enough for warriors of old.
V76 by Vaughn: Salon favorite oil for beards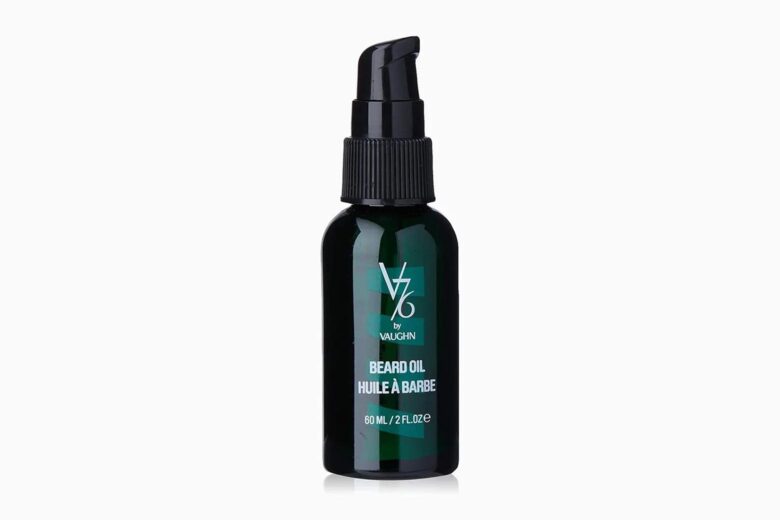 Are you interested in that top-of-the-world, high-class feeling you get when you walk, freshly groomed, out of your favorite salon?
V76 Beard Oil is vegetarian, gluten-free, and cruelty-free. Its magnetic, woody scent is completely alluring, but where it truly shines is its quick-absorbing hydration properties.
Coconut milk. Saw palmetto. Safflower oil. Unique, exotic ingredients that combine to soothe your hair and skin, making them easier to style and making you feel fantastic.
Completely free of irritants, V76 by Vaughn Beard Oil seeks to combine luxury and sensibility for a practical product that elevates the everyday.
Everyday that you're just home from the salon, that is.
Best for: The well-groomed man who seeks an eco-conscious product to feel fresh every day.
Elemis: Best oil for maintenance for your beard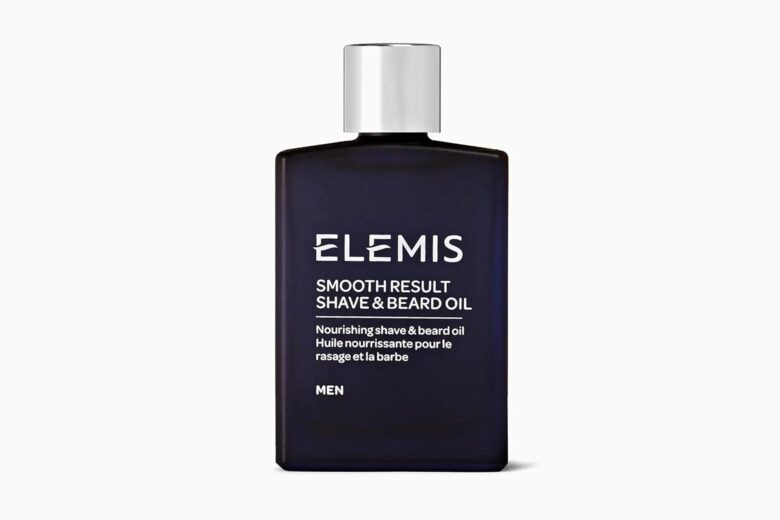 A smooth result. Isn't that what everyone wants?
To really add the icing atop your daily grooming routine, Elemis has created a lightweight finishing oil to lock in moisture and shine for your whole day. But it's more than just a finishing oil. You can also use it with an electric razor for a fine, dry shave. Apply it to a clean, damp face, and it'll quickly absorb for intense moisturization.
Jojoba, hazelnut, and grapeseed swirl together to give you a unique nongreasy formula that you'll be excited to wear. For daily maintenance, Elemis' Smooth Result Oil is the best: It does precisely what you need, in a subtle, non-distracting way.
Best for: The perfect daily minimal multitasker for reliable styling and health.
Cremo: Best budgetary beard oil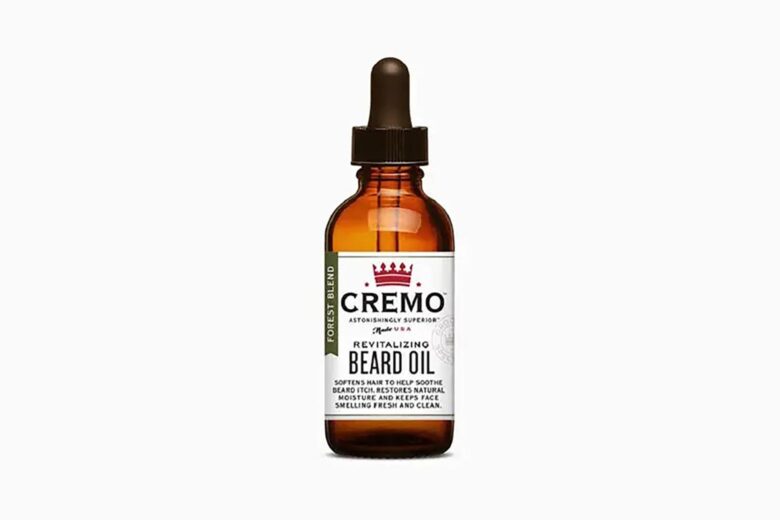 Itch-reducing. Moisture-locking. Beard-growing. Soothing, nourishing, hydrating.
If you're in need of a simple solution to blunt ingrowns, heal itches, and keep your style on point all in one easy-to-use formula, this is your best bet.
Cremo Forest Beard Oil uses a proprietary blend of different oils to ensure that your skin is fully moisturized, that your face and beard smell fresh, and you don't feel any itches or irritation. A subtle, soothing, woodsy forest scent delights the senses but doesn't overpower.
This quick-absorption formula lasts for a long time, gently scents, and even promotes healthy hair growth — and can be found for a wallet-friendly price.
Best for: Budget-savvy style enthusiasts who need assistance with their beard — for less.
Grooming guide
Looking to get into the decadent yet endlessly practical world of beard oils? We've got your back. Next, we'll delve into the types of beards, oils, and grooming regimens there are so you can find the one that'll work for you.
Types of beards
Every man's hair and skin are different. You'll have unique needs depending on your specific type of beard. For example, if you have very wiry or coarse hair, you'll need a beard oil that's up to a tougher task (like the Aesop Shine Oil).
For gentlemen with oiler skin and beards, you may wish to pick up a fast-absorbing lightweight oil, such as the Baxter beard oil. If you're susceptible to itches and irritation, a natural option might be just what you need (for this, we like the Viking Beard Oil).
It's important to note that you can have a well-groomed beard, no matter which type of hair and skin you happen to have. Taking the extra time to consider your beard and skin type can help make the products work better for you.
What is beard oil
Of all beard care products, beard oil might be the simplest. It's a blend of oils that you apply to your beard (or goatee, mustache, or stubble) to ensure that both the hair and the skin underlying it is soft, clean, and healthy. If you itch from ingrowns, suffer from acne, or have dry, irritated skin, a beard oil is likely a good choice for you.
Of course, you can use homemade beard oil. However, the specially-formulated oils that you can find on the market are made to keep your hair hydrated, soft, and healthy.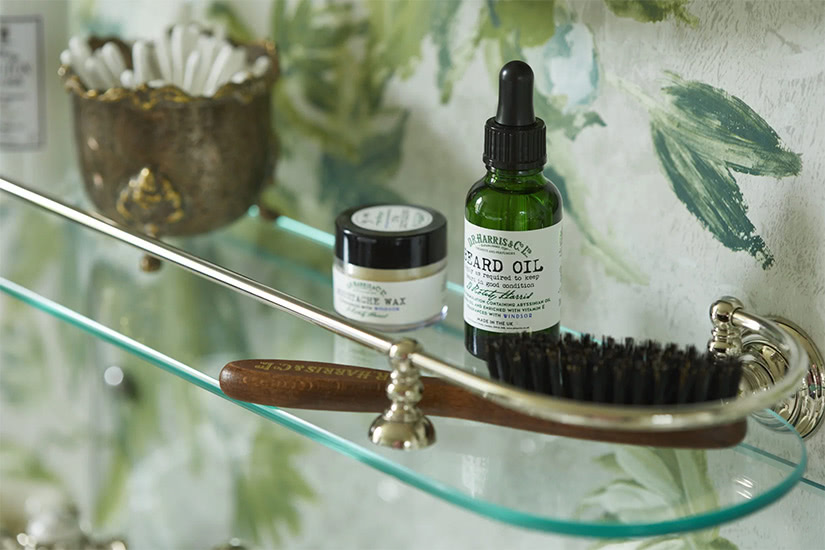 Some come with incredible scent profiles, making them a luxurious addition to your styling routine. It can be difficult to find the perfect balance of quick absorption and lightweight, non-greasy feel…which is why we recommend leaving this up to the pros.
What does beard oil do
Beard oil can help you tackle three specific goals to upgrade even the wildest of whiskers.
First, and most simply, beard oil can tame your hair so it's much easier to work with. If your facial hair is currently rough, coarse, or spiky, you'll have a hard time getting it to look or feel the way you want without some help. With a dense, meticulously-blended oil, you'll be able to coach and condition your beard so it stays in check and feels great.
Secondly, sillage comes into play. 'Sillage' refers to a light, lingering, ultra-subtle scent — perfect for a beard, or if you're looking for something more casual than a cologne. Your beard oil might have built-in fragrance; be sure to find one that makes you feel more like you.
Finally, remember that your beard oil is a versatile emollient. You can use it to lubricate your skin prior to a shave, moisturize it afterward, and even keep your beard itself nourished so it keeps growing long and strong.
How to use beard oil
Ultimately, you get to call the shots regarding how you use your oils. It'll depend a lot on the specific formulation of your oil — and on the nature of your skin.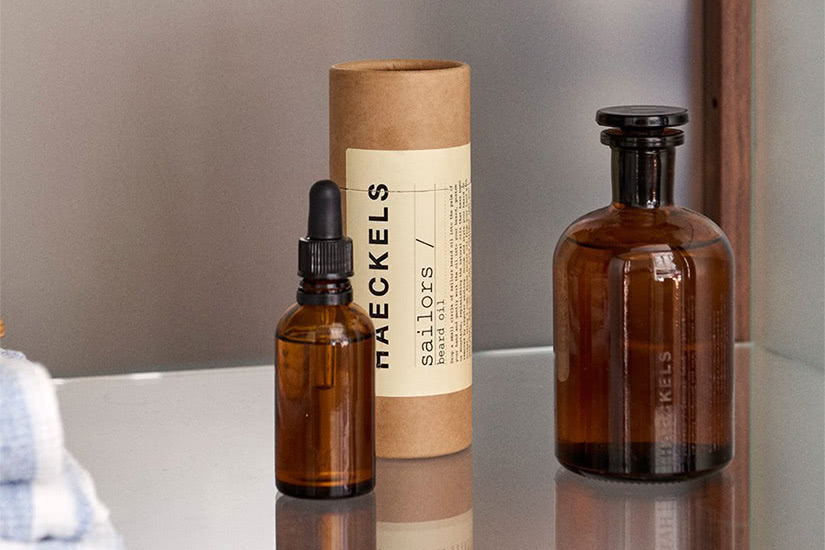 The method is simple: First, wash your beard with your beard shampoo of choice, before either towel or blow-drying it. Then, pipette out a few drops (2-4) of the beard oil into your hands, work it through your beard with your fingers, and smooth it down with your palms for a sleek, finished look.
How much beard oil to use
While it's likely a good idea to follow the instructions on the bottle for the amount per use, you'll get a sense after a while precisely how much oil your beard needs. This'll come down to your specific type of hair and skin, as well as the viscosity and makeup of the oil itself.
If the oil is quick-absorbing or washes off easily, for example, you'll want to use a few drops daily. If your skin can't take that much additional moisture, you might want to look for something a little long-lasting so you can be more economical with your oil.
Frequently asked questions about the best beard oils
Do beard oils actually work?
Beard oils do actually work if you have a beard that's in need of taming! Beard oils can assist with softening your hair and skin, moisturizing and nourishing your beard, and making it easier to manage so your looks can be on point.
How to apply beard oil?
You can apply beard oil very simply by pipetting out 3-4 drops of the oil onto your palms, rubbing your hands together to warm the oil, and combing it through your beard with your fingers. How often you apply beard oil will depend on how oily your skin and beard naturally get!
What's the best beard oil on the market?
The best beard oil on the market is currently D R Harris' Beard Oil. It's an overall best option due to its light scent, irritation-reducing properties, soothing feel, and gorgeously aesthetic glass apothecary bottle. Depending on your specific needs, however, we've got a ranked list of the best options for you to select the perfect beard oil for you.
Should I use beard oil or balm?
You should use whichever you're more comfortable with, but do note that beard oil is generally more versatile than balm. Oil can moisturize and nourish the skin as well as the beard, where balm tends to be a little bit more focused on providing excellent hold for your style.