The online popularity of the best luxury brands in the world is a dependable predictor of future sales. Now maybe more than ever before, digital activations are lifesaving for many luxury brands—Even the most digitally averse brands are now embracing online channels to reach and engage with younger affluent consumers.
This is the fifth consecutive year that Luxe Digital publishes a list of the top luxury brands online ordered by popularity. Our ranking has, over the years, become an important and reliable indicator of future performances for the world's best luxury brands.
Every luxury brand on our list is enjoying significant customer attention. They each drive substantial online conversations across social media channels and search. They are at the center of what matters to modern affluent consumers.
Luxury brands are still performing well, demonstrating once again the luxury market's resilience. Amid global headwinds—economic, geopolitical, and monetary—luxury brands must remain agile, however. The question is: Which luxury brands will be the best at this balancing act between adapting to new luxury paradigms in an uncertain context while successfully preserving their brand identity.
In a rapidly evolving global environment, the three macro trends that we identified for the future of luxury in 2022 remain more important than ever. Online will soon become the single most valuable sales channel for luxury brands, with 30% of global luxury sales expected to take place online by 2025. Millennials and Gen Z shoppers are the growth engine of the industry. Together, these two generations of affluent shoppers will account for 70% of all luxury sales by 2025. Finally, the demand for luxury goods from Chinese consumers will define the industry's performances in the coming years. China was on track to drive 42.5% of global luxury sales by 2025, but the market's growth is now in question.
These three trends reinforce the need for luxury brands to embrace digital in order to support their growth and remain relevant to new generations of affluent consumers.
So if you're wondering if and how the finest luxury brands in the world performed online, ponder no longer. We lift the lid on all the juicy data and details in our brand-new ranking of the best luxury brands online in 2022.
In this article, you will discover which luxury brands are the most talked about and sought-after online in 2022. We highlight particularly noteworthy digital initiatives and successful new product launches that help explain their current popularity online.
How do we estimate the online popularity of a luxury brand? We took into account a combination of brand value, search share of voice and social media conversations to create this list. You can read more details about our methodology and data sources.
For this ranking, we focus exclusively on brands in luxury fashion, beauty, and "hard luxury" (jewelry and watches). We have a separate report for the best luxury car brands.
The top 15 most popular luxury brands online in 2022
Questions? See our methodology, definitions, and sources.
1. Gucci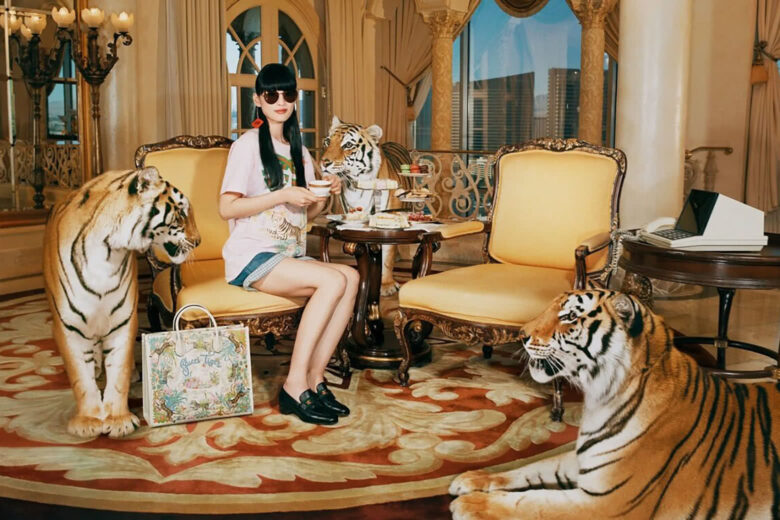 Italian luxury fashion house Gucci takes the top spot on the 2022 edition of our list of the most popular luxury brands online five years in a row—asserting its position as a leading luxury fashion authority.
The online popularity of the Kering-owned star label continues to decline in 2022, however. This year, the gap between Gucci and the second brand on the list—Dior in 2022—has narrowed. Gucci's share of total search interest continues to decline from 17.5% in 2020 to 15.2% in 2021 and 14.8% in 2022.
The traffic to Gucci's official website has also dropped by 7%, even though the luxury brand is investing in driving more direct online sales through Gucci.com.
Nevertheless, Gucci, which celebrated its 100th anniversary in 2021, remains one of the industry's best-in-class digital performers.
Its social media audience across all digital platforms dwarfs most other luxury fashion brands worldwide—the Italian luxury brand records over 78.2 million active followers worldwide. Only Chanel is doing better with an engaged social media audience of 89.1 million.
In 2022 alone, Gucci experimented with crypto payments in some of its U.S. outlet stores, embraced Esports, and ventured further into web3 virtual worlds—from its SuperGucci NFTs and 10KTF Gucci Grail to its persistent digital space, Gucci Town on Roblox.
On top of digital innovations, Gucci also embraces gender fluidity and a sustainable supply chain—two important values, especially for the coveted younger generations of luxury shoppers.
Just like in 2021, the Florentine fashion house started the year strong with yet another buzz-worthy eco-sustainable collaboration with the outerwear giant, The North Face. And more recently, in June 2022, Gucci launched the highly anticipated Adidas x Gucci collaboration, mixing streetwear with Italian sartorial tradition in a spectrum of clothes, accessories, and footwear—from designer sneakers to loafers, slides, and heels. New additions to the Gucci Beauty family also widen the luxury brand's appeal.
Last year's release of House of Gucci also contributed to the brand's growing popularity in the luxury resale market.
The brand with the double G's appointed Laurent Cathala as the new President of Greater China in 2022 to ensure a stronger local execution in one of the brand's most strategic markets—an interesting move (and certainly one to watch in an industry where strategy is typically dictated by executives based in the European headquarters).
Most popular Gucci items online
When searching for Gucci online, people most often looked for the following products:
Gucci shoes
Gucci bag
Gucci belt
Gucci t-shirt
Gucci watch
Top Gucci items for women
Top Gucci items for men
Online interest for Gucci over time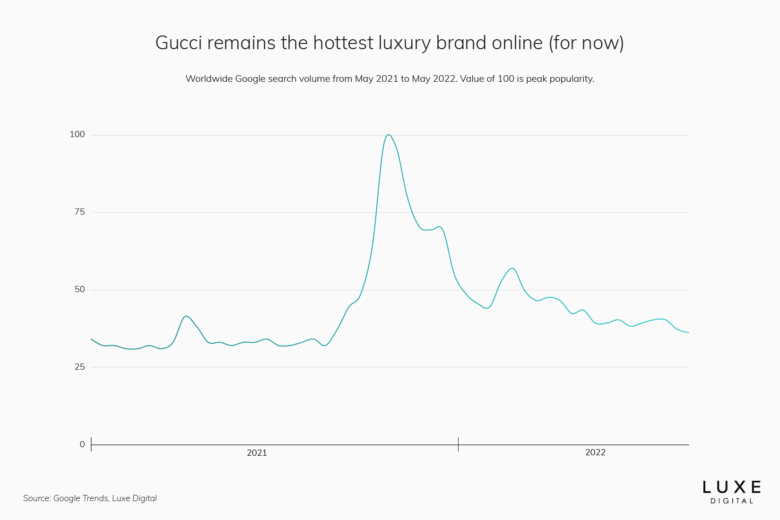 2. Dior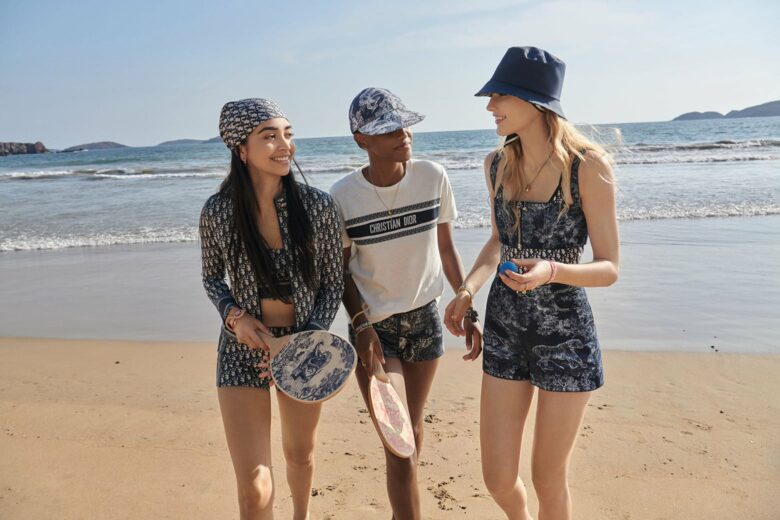 Dior continues its steady assent on our ranking of the best luxury brands online, rising from the fifth position in 2020 to the fourth place in 2021 and now taking the second spot in 2022. French luxury goods company Christian Dior, or just Dior for short, benefited from the continued success of the Lady Dior bag and the rebound of its beauty line, driven by makeup and perfume (thanks to the continued popularity of its iconic fragrances Sauvage, Miss Dior and J'Adore).
All that's to say—Dior, which just reopened its historic birthplace at 30 Avenue Montaigne in Paris in March 2022, continues to prove its dynamism as a top luxury brand online with continued strong momentum of online revenue and omnichannel developments. The traffic to the brand's website is growing 12% year over year.
Interestingly, social media engagement for Dior drastically decreased in 2022. From an engagement rate of 21.2% in 2021, Dior only managed 10.3% in 2022. We expect this is a direct result of the luxury brand's marketing budget being reallocated away from Facebook and Instagram to focus on driving traffic to their own website instead. This would have a positive impact on Dior's profitability for the year.
The much-anticipated Dior x Birkenstock Cottagecore-inspired collaboration, officially known as Dior by Birkenstock, also strengthen the French Maison's desire among younger generations of affluent consumers and got them buzzing. The French luxury brand also joined the wellness transformation of luxury with its Dior x Technogym Dior Vibe—a range of home fitness equipment developed in collaboration with sports equipment and digital technologies company Technogym. Proof if ever we needed it that unique collaborations are still very much in fashion and propelling luxury brands forward.
Most popular Dior items online
When searching for Dior online, people most often looked for the following products:
Dior bag
Dior perfume
Dior shoes
Dior sneakers
Dior makeup
Dior T-shirt
Top Dior items for women
Top Dior items for men
Online interest for Dior over time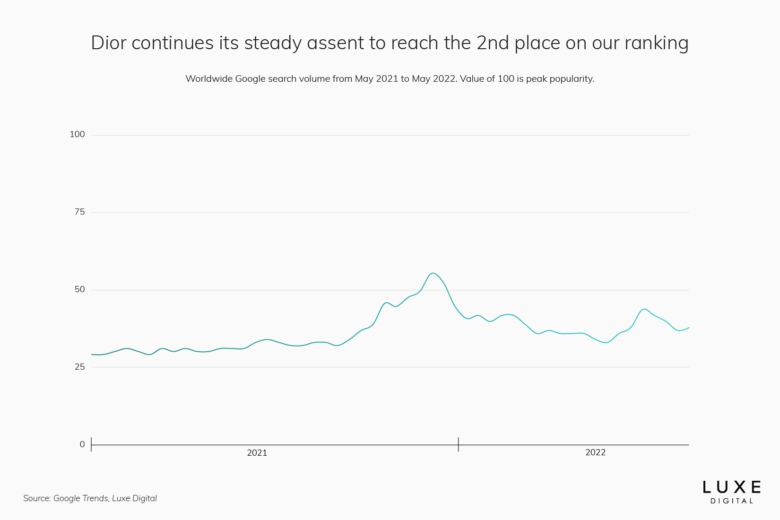 3. Chanel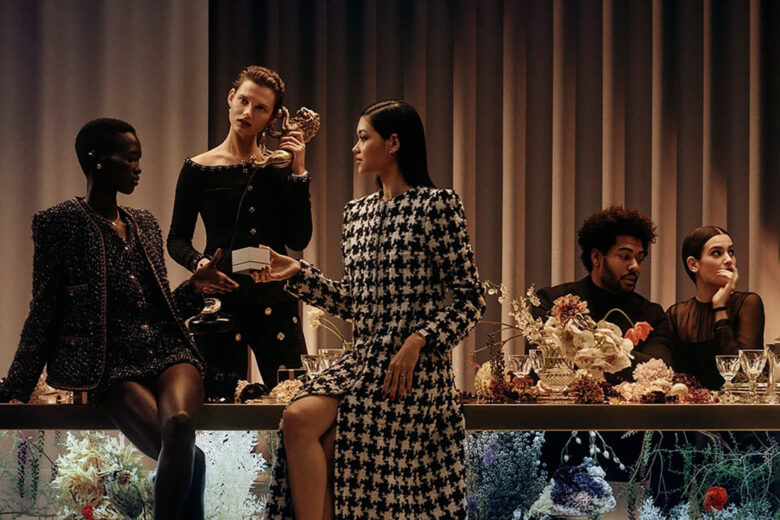 Luxury French fashion house Chanel drops one position on our list of the most popular luxury brands online in 2022, landing in third place. This is primarily due to Dior's strong performances, however, as the interest for Chanel remained fairly stable year over year.
The fashion brand's social media audience steadily grew by 9% year over year, while traffic to the Chanel website stayed stable at 8.6 million per month in 2022.
One of the last digital holdouts in luxury fashion, Chanel is famously known for shying away from selling its clothes and handbags online. The historic luxury French Maison shines on social media, however—maintaining its top spot as the luxury brand with the biggest social media audience on our list.
One of the most recognized luxury brands in the world, Chanel continues to be an international byword for luxury, driven by strong demand across all product lines —in particular, its ultra-luxe quilted Classic Flap Bag (which has a purchase limit per person per year; this purchase restriction could be replicated on other high-end products and in more countries).
Noteworthily, Chanel is also said to begin rolling out a number of invite-only private boutiques in Asia in 2023 for its top customers, further consolidating the brand's exclusivity drive.
Chanel (most famous for its "little black dress") celebrated the 100th anniversary of its iconic Chanel No. 5 perfume in 2021, which contributed to the growth of the Fragrance category together with the success of Bleu and Coco Mademoiselle. Skincare also contributed to the growth of the beauty segment.
Chanel remains a privately held company owned by Alain and Gerard Wertheimer, grandsons of Pierre Wertheimer, an early business partner of Coco Chanel.
Most popular Chanel items online
When searching for Chanel online, people most often looked for the following products:
Chanel bag
Chanel perfume
Chanel earrings
Chanel necklace
Chanel lipstick
Chanel wallet
Chanel shoes
Top Chanel items for women
Top Chanel items for men
Online interest for Chanel over time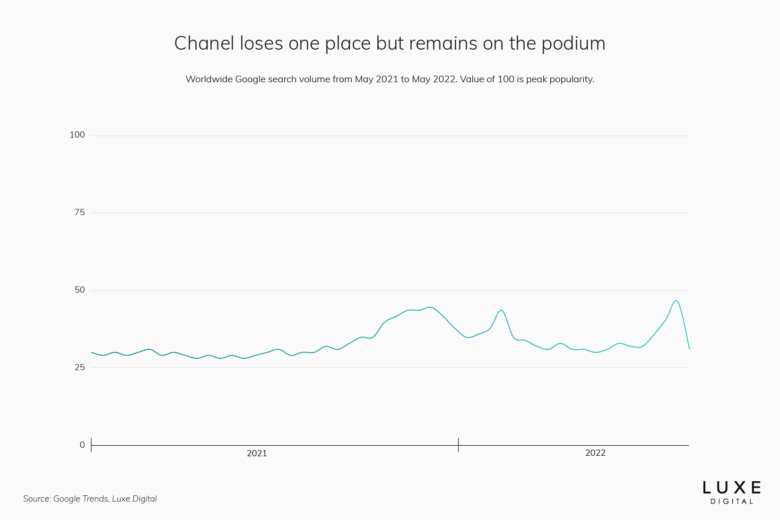 4. Louis Vuitton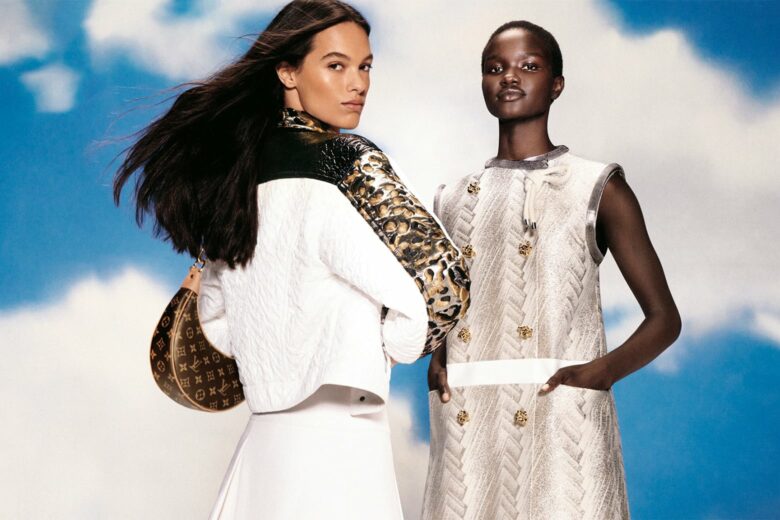 French luxury house Louis Vuitton, owned by the mega luxury conglomerate LVMH, regained one point on our ranking of the most popular luxury brands online in 2022, ending fourth on our list. There is no reason to celebrate, however, as the actual share of search interest for Louis Vuitton further decreased to 9.1% in 2022, from 9.7% the previous year. Smaller brands on our ranking gained a relatively larger share of search interest in 2022, eating away at Louis Vuitton's online popularity.
Louis Vuitton boasts the largest traffic volume to its website, though, with an average of 13.2 million visitors per month. That's slightly less than the previous year but remains well ahead of every other luxury brand on our list.
The only luxury company to make the top 10 most valuable European brands with a brand value of 20.2 billion euros (vs 15.6 billion euros for Gucci and 13.2 billion euros for Chanel), Louis Vuitton also continues to demonstrate its popularity in China – a strategically important market for luxury brands.
Highlights of the year include expanded product offering in all categories (and noteworthily the launch of the Tambour Horizon Light Up connected watch) and the presentation of Louis Dreamhouse, Virgil Abloh's last collection for Louis Vuitton. The luxury fashion brand also unveiled two new leather ateliers in Vendôme, ramping up production in France.
Following last year's launch of its stand-alone mobile app, Louis: The Game, Louis Vuitton is further experimenting with non-fungible tokens (NFTs). The heritage brand invites players to solve puzzles in the game to earn the right to enter a raffle of different PFP (profile pic) NFTs.[6]
Most popular Louis Vuitton items online
When searching for Louis Vuitton online, people most often looked for the following products:
Louis Vuitton bag
Louis Vuitton wallet
Louis Vuitton shoes
Louis Vuitton sneakers
Louis Vuitton card holder
Top Louis Vuitton items for women
Top Louis Vuitton items for men
Online interest for Louis Vuitton over time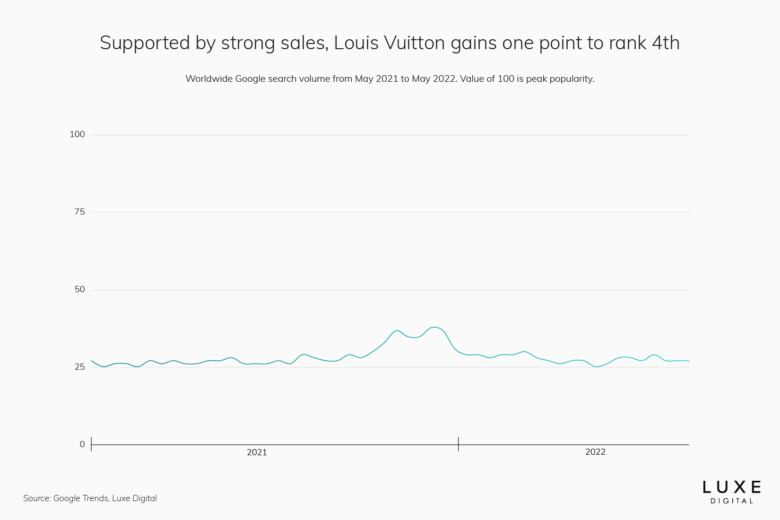 5. Hermès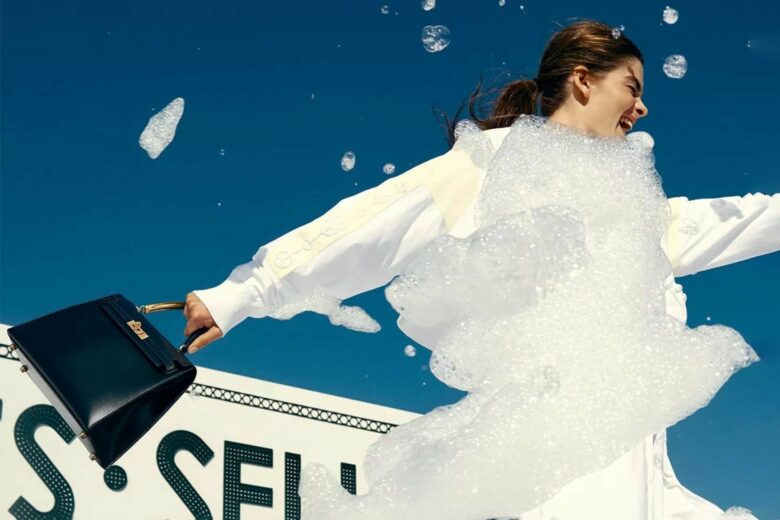 Private luxury house Hermès experiences a sharp decline in 2022, losing two positions to end at fifth place on our list of the most popular luxury brands online. However, every other indicator is positive, with a 20% year-over-year growth to the brand's official website and a 9% growth in total social media audience in 2022.
Hermès continues to enjoy excellent desirability for its timeless classics, especially in the handbag category with the very sought-after Birkin bag, which often generates long waiting lists. The brand's timelessness and enduring desirability could explain why the secondhand market for Hermès remains strong on resale sites such as Fashionphile and Farfetch.
For the first-hand market, Hermès remains very conservative, with only a curated selection of high-end watches available exclusively on Mr Porter. Hermès doesn't work with any of the other multibrand retailers at the moment. The brand has considerably increased the number of products available on its official website, however, with a broad range of categories now for sale online.
Most popular Hermès items online
When searching for Hermès online, people most often looked for the following products:
Hermès bag
Hermès Birkin
Hermès Kelly
Online interest for Hermès over time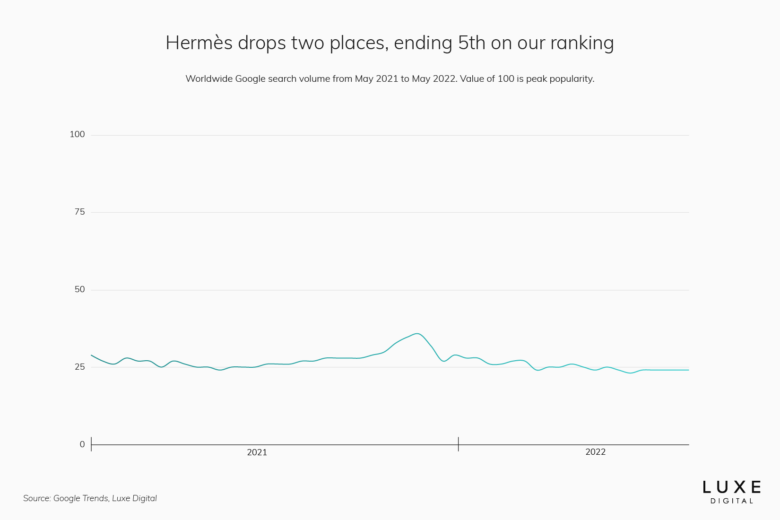 6. Rolex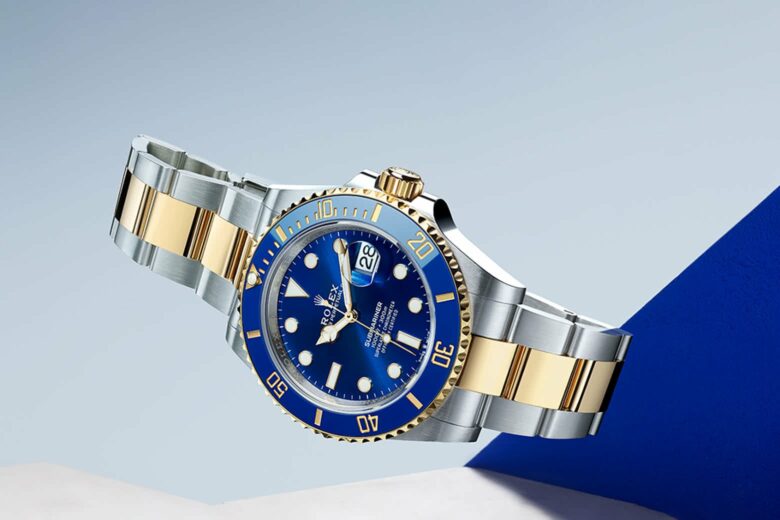 The most sought-after luxury watch brand online, Rolex remains remarkably stable in 2022, maintaining its sixth position on our ranking of the most popular luxury brands online. After losing two places last year, the Swiss luxury watch brand managed to maintain its place thanks to a combination of new model releases and the growing interest for second-hand watches online.
The constantly increasing resale value of vintage Rolex watches is indeed not only fueling interest for the brand as a safe investment asset class to protect against inflation but also driving conversations online. Just take a look at our list of the top 15 most expensive Rolex to see the affluent consumer's interest in rare pieces despite record-breaking prices and auctions.
Rolex scarcity and waiting lists aren't new, but it's increasingly noticeable. Rolex's "Exhibition Only" watch displays in brick-and-mortar stores are believed to be driving customers online.
Arguably the best-known and most popular luxury watch brand in the world, Rolex still doesn't offer e-commerce options (nor does it allow its authorized dealers to sell its watches online)—a rare breed in 2022, but the rising popularity of online luxury resale sites creates more opportunities for people to buy Rolex watches online. If you do decide to buy a vintage Rolex, though, make sure you trust the seller or go to reputable dealers like Bob's Watches or eBay with its Authenticity Guarantee.
With the Apple Watch outselling the entire Swiss watch industry, traditional watch brands are feeling pressure, particularly entry-level brands. Thanks to its exceptional brand recognition, Rolex generated record retail sales revenue of $13 billion in 2021, up from $8.5 billion in 2020. The brand also further increased its market share, ending the year with almost a third (29%) of the global luxury watch market, up from 25% the previous year. For now, the brand's prestige and cult following continue to support sales growth as young affluent consumers represent a larger segment of consumers on the market for the best luxury watch brands.
Most popular Rolex items online
When searching for Rolex online, people most often looked for the following products:
Rolex Submariner
Rolex Oyster Perpetual
Rolex Daytona
Rolex DateJust
Rolex Yacht-Master
Rolex Explorer
Top Rolex watches for women
Top Rolex watches for men
Online interest for Rolex over time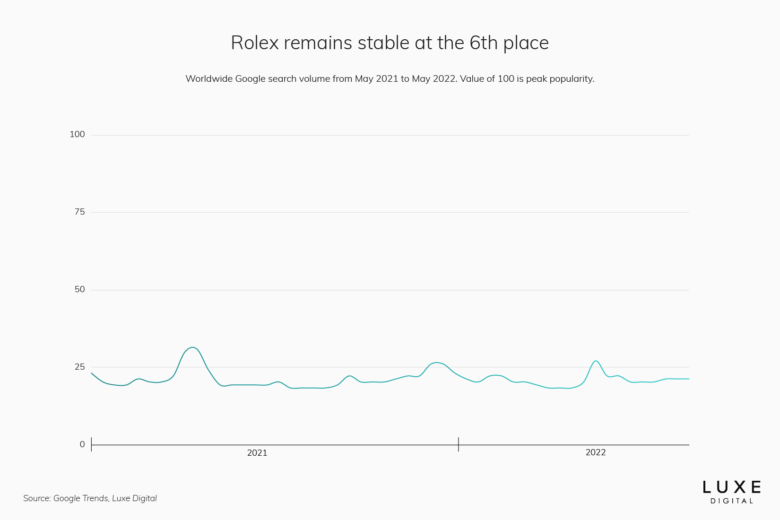 7. Tiffany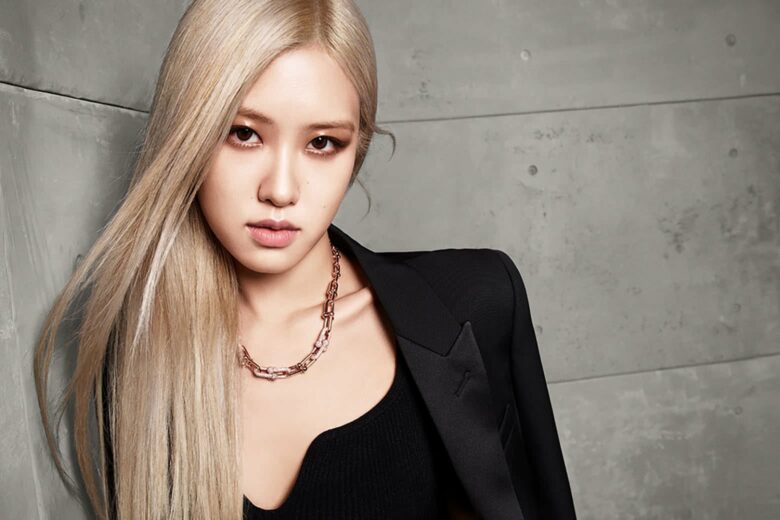 An American⎯French-owned since LVMH acquired it in January 2021⎯luxury jewelry brand, Tiffany & Co. consolidated its position on our list, maintaining its seventh place. The tumultuous saga of Tiffany's acquisition by the French luxury group is now settled, allowing the iconic jewelry brand to focus on growing its product portfolio and engaging younger generations of affluent consumers. And it does so brilliantly. The global launch of the new Knot collection was particularly successful.
The hard jewelry category as a whole benefited from sustained tailwinds throughout 2021, peaking towards the end of the year for the shopping season. While traffic to Tiffany's website remains relatively stable, the engagement rate on social media has significantly declined in 2022, probably due to shifting marketing budgets.
Tiffany & Co. first forayed into the metaverse with the acquisition of Okapi NFT from Tom Sachs: Rocket Factory for 115 Ethereum in March 2022.
And while Tiffany & Co.'s following venture into a cryptocurrency was just an April Fool's Day joke, the luxury brand did create limited-release 18k gold TiffCoins.
Most popular Tiffany items online
When searching for Tiffany online, people most often looked for the following products:
Tiffany engagement rings
Tiffany watches
Tiffany necklace
Tiffany bracelet
Tiffany earrings
Online interest for Tiffany over time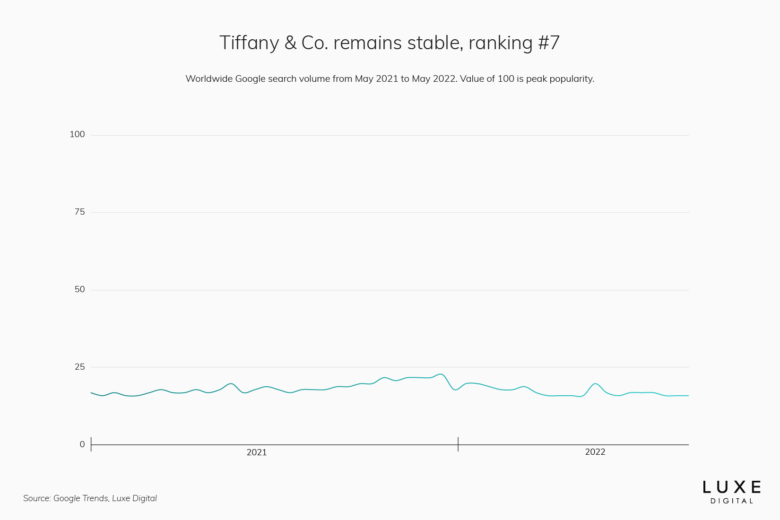 8. Prada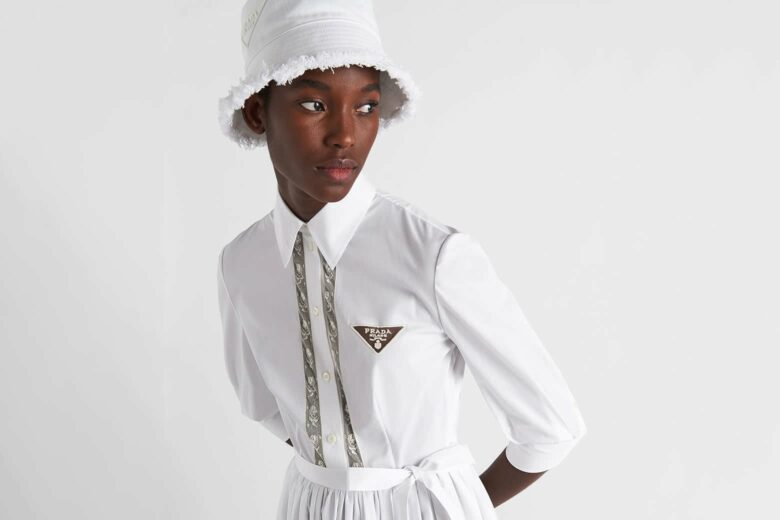 After remarkable international momentum and gaining five places on our ranking of the best luxury brands online last year, family-owned Prada consolidates its position at number eight in 2022. All the online brand visibility metrics are positive for the Italian luxury fashion house, with traffic to the website growing 14% year over year and the social media audience growing 9% over the same period.
Following a shift upmarket and online to revive sales, Prada continues to increasingly appeal to younger affluent consumers, for example, tapping into the cult appeal of the HBO hit "Euphoria" for its Spring 2022 campaign.
A founding member of the Aura consortium, Prada also embraces new technology (like blockchain) across physical and digital retail to enrich the customer journey. Following the first foray into NFTs with Adidas Originals in January, Prada continues expanding its Web3 presence and pushing further into the metaverse. We expect them to take full advantage of Instagram's digital collectibles now that they're available to the public.
The Italian launches its Timecapsule NFT Collection—a limited-edition physical item and a gifted NFT which drops on its Prada Crypted website section on the first Thursday of every month, available for 24 hours only. The Italian brand also designed exclusive in-game Prada Linea Rossa outfits for the multi-player racing game Riders Republic in partnership with Ubisoft.
Most popular Prada items online
When searching for Prada online, people most often looked for the following products:
Prada bag
Prada sneakers
Prada shoes
Prada perfume
Online interest for Prada over time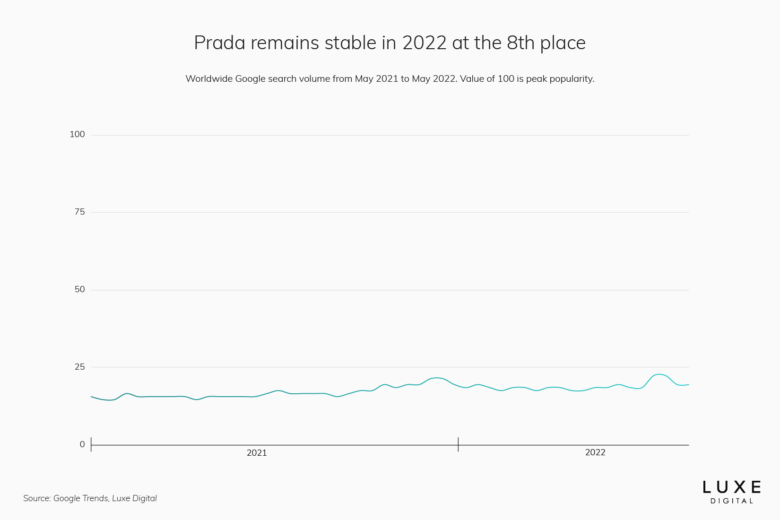 9. Versace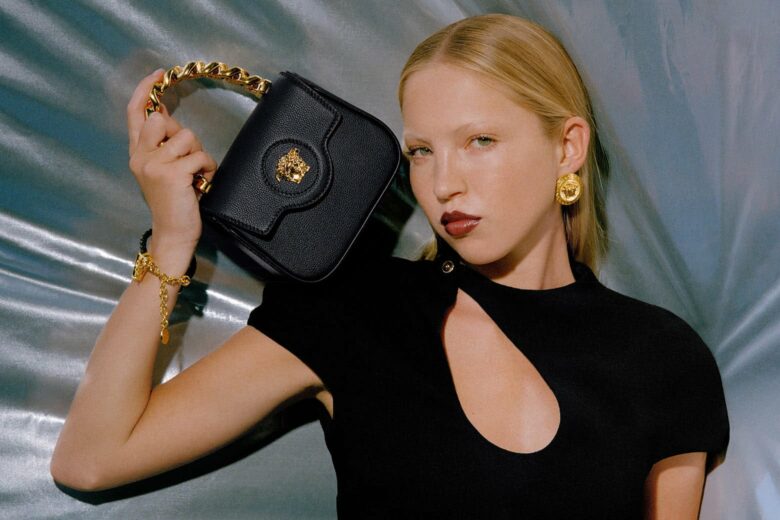 Founded by Gianni Versace in 1978, Versace strengthens its position on our list of the most popular luxury brands online in 2022, after gaining ten places last year.
The flamboyant Italian luxury brand remains the best performing luxury brand on social media with a consistent engagement rate of 14%, well above its competitors—The average for the luxury brands on our list being at 7.2%. However, it's noticeably lower than the engagement rate of 2021, when Versace enjoyed 25.8%.
Versace was already promising among younger affluent consumers when Capri Holdings (formerly Michael Kors Holdings) acquired the Italian brand in 2018. And thanks to fashion events and celebrity red carpet dressing moments (with the likes of Bella and Gigi Hadid), Versace generates extensive media and social media coverage for its unmistakable style.
From its roots in haute-couture to ready-to-wear, footwear, accessories, eyewear, watches, jewelry, fragrance, and home furnishings, Versace delivers a unique lifestyle that welcomes customers in its glamorous Italian universe.
Versace distributes its products through a diversified distribution network, which includes its own boutiques and its own e-commerce sites (covering 85 countries worldwide) but also multi-brand retailers and e-retailers.
Most popular Versace items online
When searching for Versace online, people most often looked for the following products:
Versace perfume (Versace Dylan Blue fragrance, Versace Crystal Noir, Versace Eros)
Versace sunglasses
Versace jeans
Online interest for Versace over time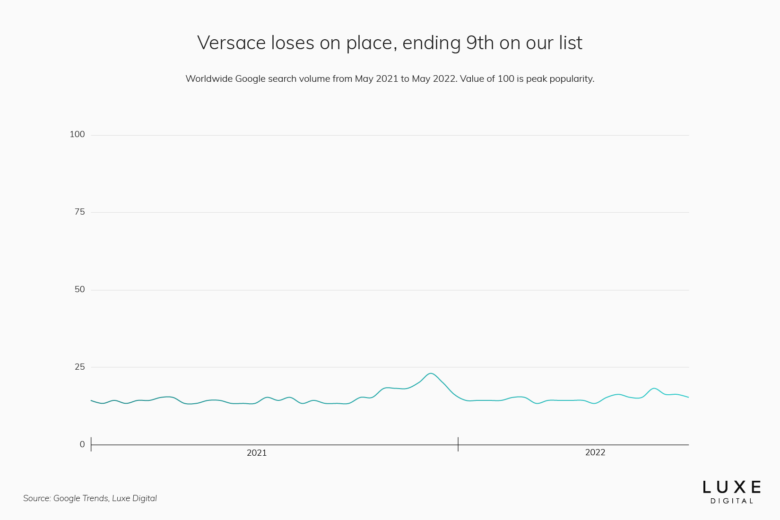 10. Ralph Lauren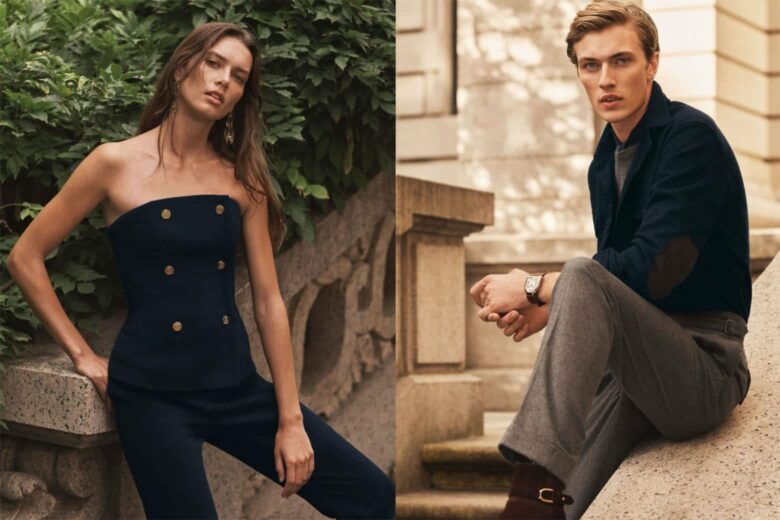 Ralph Lauren has been elevating its image as a high-end luxury brand (focusing on new full-price consumer acquisitions) and expanding its direct-to-consumer presence—and it seems to pay off.
The American fashion house makes its entrance for the first time on our ranking of the best luxury brands online, jumping directly to number ten. In 2022, Polo Ralph Lauren sees substantial growth in e-commerce sales, particularly in Asia. With 8.9 million monthly visitors to its website and a social media audience of 25.5 million followers, Ralph Lauren is well-positioned to gain further traction in 2022. Every digital metric is indeed above the industry's average.
While Ralph Lauren's timeless designs have kept the brand relevant for more than 50 years, the increasing importance of embracing a broader and younger audience is pushing the American brand to embrace the power of diversity and inclusion, by sharing a more complete and authentic portrait of the American dream. Which Ralph Lauren has started to do, judging by its latest campaigns and collections (i.e. the limited-edition capsule with Morehouse and Spelman Colleges).
With a clear commitment to sustainability, Ralph Lauren continues to deliver innovations that support circularity and its ongoing green efforts. In 2022, the brand debuted the world's first cotton-based performance material at the Australian Open Tennis Tournament. Ralph Lauren also just recently announced its Live On promise to extend further the life of its products—from its product design to ways for its consumers to rent, repair, and recirculate.
Most popular Ralph Lauren items online
When searching for Ralph Lauren online, people most often looked for the following products:
Ralph Lauren polos
Ralph Lauren perfume
Ralph Lauren T-shirt
Ralph Lauren jacket
Ralph Lauren shirt
Online interest for Ralph Lauren over time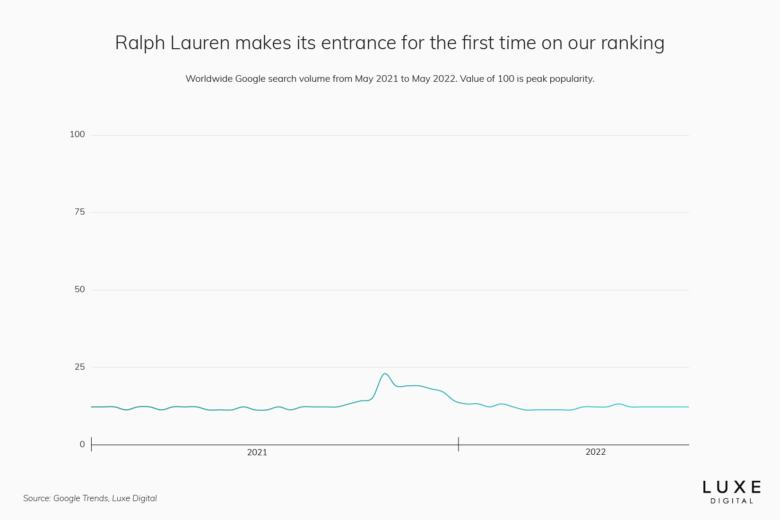 11. Armani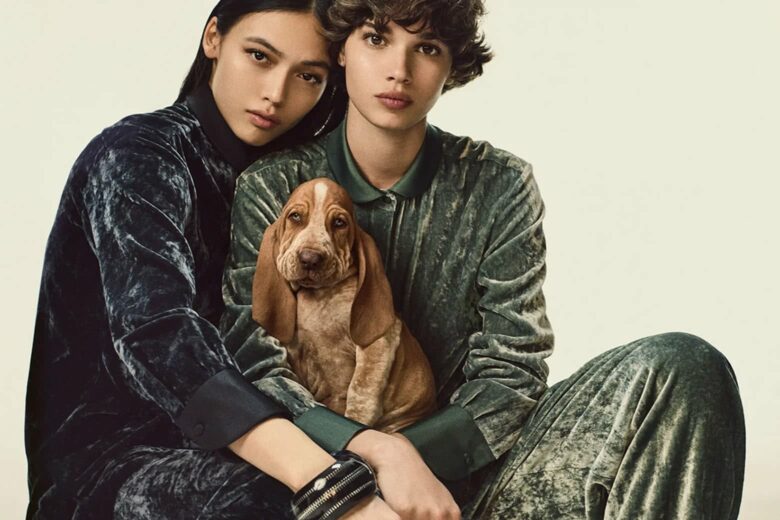 Armani loses one place on our ranking of the best luxury brands online, ending 2022 at the eleventh position. This is mostly due to the arrival of Ralph Lauren at number ten, however, as Armani's web traffic remains constant with 2 million monthly visitors.
The privately-owned Italian luxury fashion house founded by Giorgio Armani in 1975, was number seven on our list just two years ago, so the general downward trend is of notice.
Armani focuses on three core audiences: high-end customers with Giorgio Armani, mid-range consumers with Emporio Armani, and young fashionistas with A|X Armani Exchange.
Armani has opened its first virtual beauty store in virtual Piccadilly Circus, inspired by its real-life pop-up concept in London, inviting consumers to fully immerse themselves in the brand's beauty portfolio. The 3D virtual store features new and iconic beauty products that can be purchased, lets you book personalized consultations with beauty consultants and interact with makeup artists, and watch exclusive content.
Armani partnered with online retailer Yoox Net-a-Porter (already managing armani.com) to implement an AI-backed omnichannel business model that will support more sustainability, transparency, and circularity by enabling Armani customers to check product availability in inventory across its digital stores and physical boutiques, with full integration expected this year.
Most popular Armani items online
When searching for Armani online, people most often look for the following products:
Armani T-shirt
Armani jeans
Armani perfume
Armani watch
Armani shoes
Armani sneakers
Online interest for Armani over time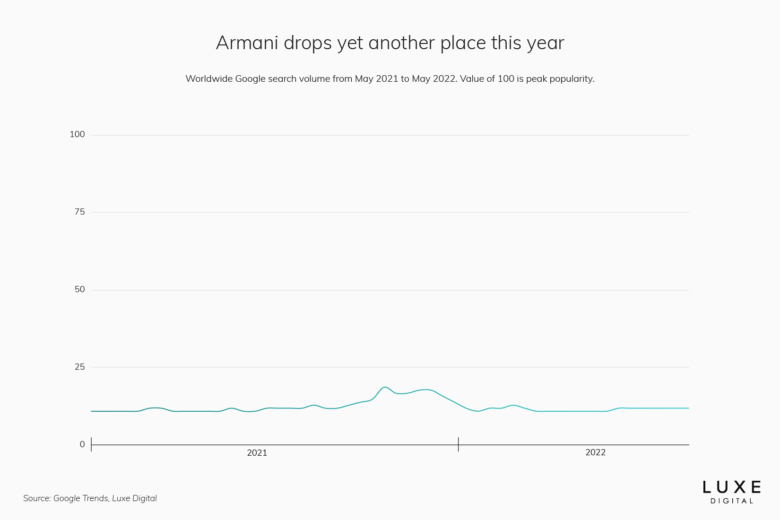 12. Cartier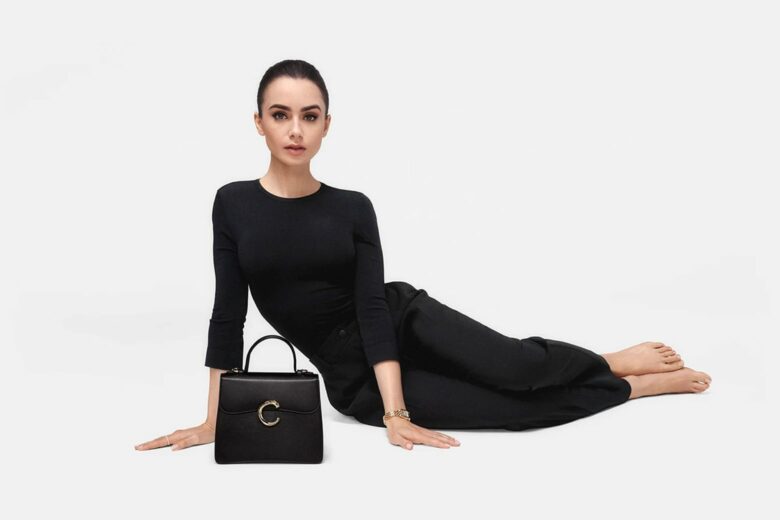 Founded in 1847, French luxury jewelry and high-end watch brand Cartier regains its spot as the twelfth most popular luxury brand online in 2022, after dropping one position the previous year. It does so while improving on all its core digital metrics. Web traffic to Cartier's brand website is up 7.7% year over year. Online followers for the brand also increased by 11% over the same period, while social media engagement improved to 7.3% combined. The engagement rate increase is particularly remarkable considering the general decline in social media engagement that we're observing for most of the luxury brands at the top of our ranking.
The Richemont-owned jeweler sees growth in Jewelry (including High Jewelry) which benefited from the resumption of events and renewed interest in hard luxury as safe investments, and Watches.
Cartier is generating lots of buzz not only for its iconic collections (Love, Panthère, Santos, and Ballon Bleu) but also because the brand regularly releases novelties, some of which were presented at Watches & Wonders.
A reference to true and timeless luxury, customers covet Cartier's love bangles (one of the most searched-for pieces of jewelry on Google) and Panthers watches, and are increasingly comfortable purchasing these expensive items online. Ecommerce indeed continues to have a significant role in the French Jewelry House's growth. In 2022, Millennials account for 65% of Cartier's customer base –a testament to Cartier's ability to resonate with the new generations of luxury shoppers.
Cartier also reinforced its social commitments, in particular women empowerment, with its Cartier Women's Initiative and the Women's Pavilion at the Expo 2020 Dubai (October 2021-March 2022), celebrating women changemakers all over the world.
Most popular Cartier items online
When searching for Cartier online, people most often looked for the following products:
Cartier bracelet (Cartier Love bracelet)
Cartier ring
Cartier watch
Cartier glasses
Online interest for Cartier over time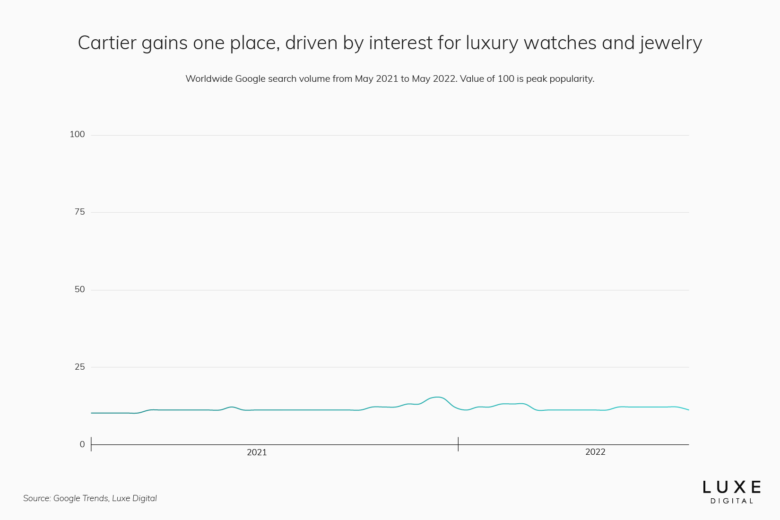 13. Valentino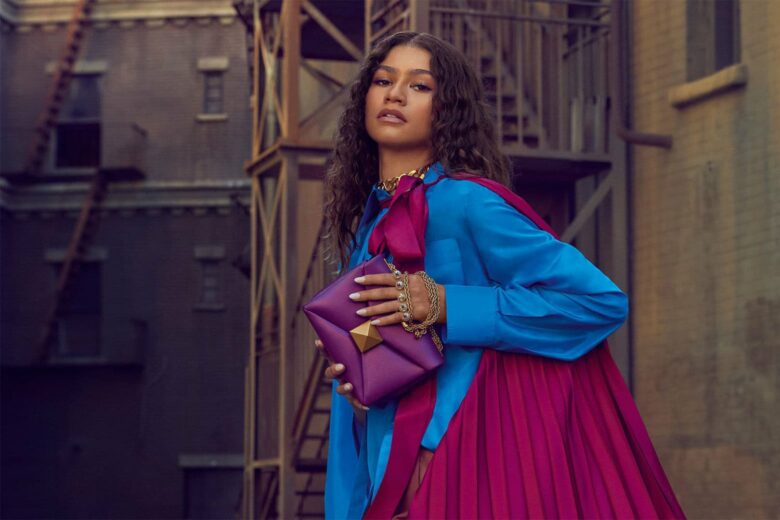 2021 was a key year for Valentino. The Roman brand underwent a repositioning, returning to its essence—the Italian Maison de Couture par excellence. Noteworthily, it also made its first appearance on our list of the most popular luxury brands online last year.
In 2022, Valentino loses two points to rank number thirteen. But this is mostly due to Ralph Lauren and Cartier performing better in 2022 rather than underperformance by the Italian fashion brand. Indeed, Valentino improved on all its core digital metrics this year. Traffic to the Italian luxury fashion brand increased to 1.2 million monthly visitors, and its social media accounts boast 23 million followers (16% more than in 2021). The online engagement rate is also strong at 7.6%.
Focusing its energies on one single label (Goodbye, Red Valentino) and going fur-free, Maison Valentino is now better positioned to support its new momentum on sustainability and organic growth—driven by strong demand for accessories. The brand continues its sustainable efforts with its Valentino Vintage program.
Founded in Rome in 1960 by Valentino Garavani, the Roman brand has never been more youthful. Valentino dropped behind the trademarked red color for the new collection and instead relied on two colors, hot pink and black. Valentino debuted a campaign led by Euphoria's lead, American actress and social media celebrity Zendaya. While the "Pink PP"—a hot-pink hue Pantone developed exclusively for Valentino (and in line with the dopamine dressing trend we can't get enough of this season, may we add)—dressed up every detail of the Autumn/Winter 2022 fashion show unveiled at Paris Fashion Week.
It also launched its first conscious sneaker made of recycled and bio-based supplies.
Also worth mentioning: Valentino Beauty made a bold entrance into cosmetics mid-2021—a great way to preserve the exclusivity of the brand and draw people to Valentino's luxury world without lowering prices.
Most popular Valentino items online
When searching for Valentino online, people most often look for the following collections:
Valentino bags
Valentino shoes
Valentino perfume
Online interest for Valentino over time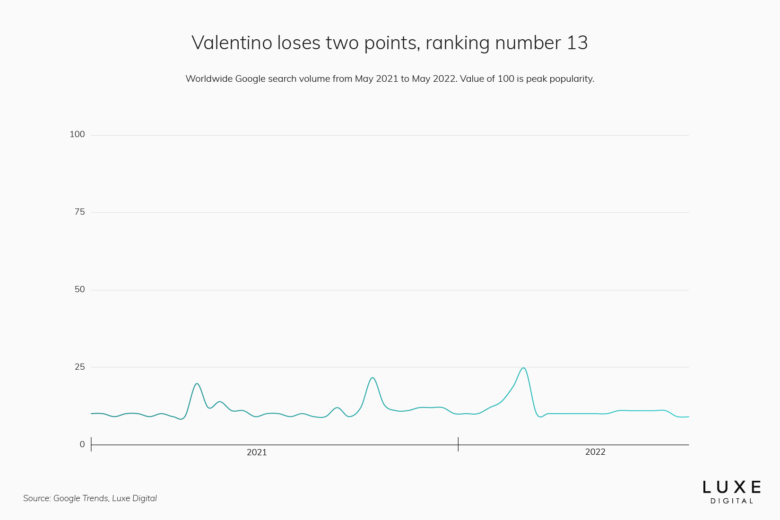 14. Balenciaga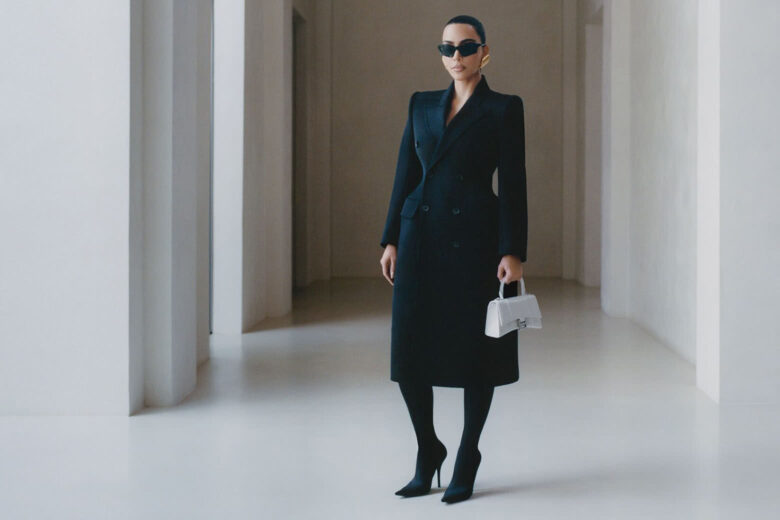 Founded in 1917 by Cristóbal Balenciaga, the Spanish luxury brand Balenciaga continues to lose popularity online. After being our biggest loser in 2021 (the brand dropped a staggering six points on our list last year), Balenciaga loses another two points in 2022, ending at number fourteen on our list of the best luxury brands online.
As shown by the search terms most often associated with the brand, Balenciaga benefitted from the strong performance of its original designer sneakers collection a few years ago.
The Triple S sneakers helped define the ugly dad shoe trend but failed to generate the same enthusiasm as the Speed Trainers. The Balenciaga Track 2 sneakers launched in 2020 failed to lift the brand back to its previous high, however. And we're not convinced that its latest Paris Fully Destroyed sneakers collection or its heeled Crocs will give the brand the support it needs to climb back up the rank.
Yet, Kering-owned Balenciaga remains top of mind and very much influential (It even made it to 2022 TIME100 Most Influential Companies).
Controversial and polarizing, maybe. Sparking conversations, most certainly.
After the first-ever collaboration involving two big luxury players—namely Balenciaga x Gucci The Hacker Project—Balenciaga continues to break with conventional codes with high-profile collaborations like the Yeezy Gap Engineered by Balenciaga or Balenciaga x Adidas. The brand also continues exploring the boundaries between fashion, culture, and entertainment with daring partnerships, from cementing a partnership with Fortnite that allowed players to dress in its signature looks to creating a Balenciaga-packed episode of The Simpsons broadcasted at the Paris Fashion Week.
In 2022, Balenciaga also ruled the Met gala red carpet, released a campaign featuring Kim Kardashian and Justin Bieber, and unveiled its new London flagship on Bond Street. The brand also celebrated its return to Haute Couture and reissued Y2K archival pieces, including the Le Cagole range.
In short: Balenciaga knows how to generate brand heat and social buzz.
Most popular Balenciaga items online
When searching for Balenciaga online, people most often look for the following collections:
Balenciaga sneakers
Balenciaga Triple S
Balenciaga Track
Balenciaga Speed Trainer
Balenciaga shoes
Top Balenciaga items for women
Top Balenciaga items for men
Online interest for Balenciaga over time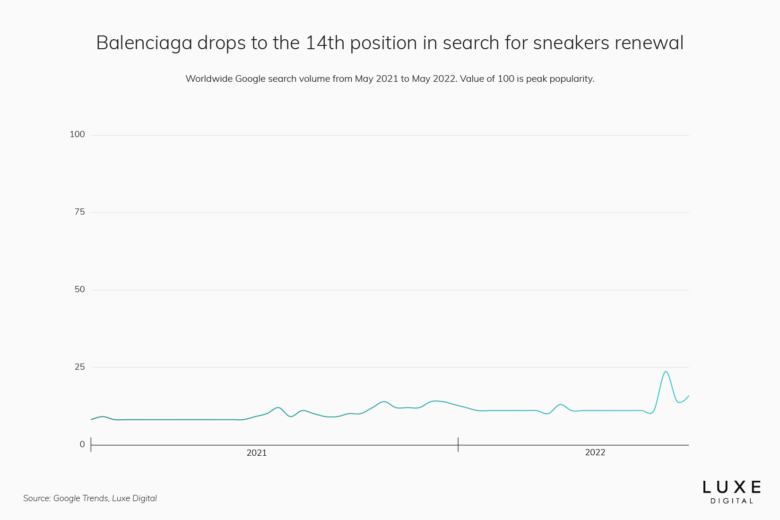 15. Estée Lauder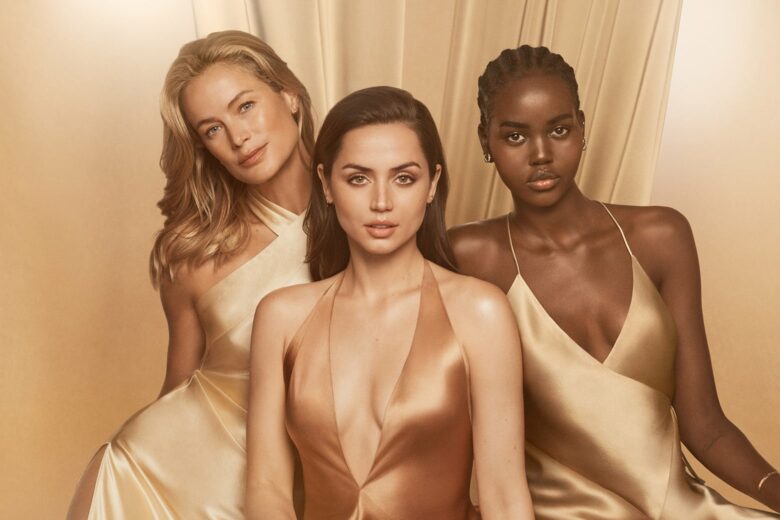 The most popular and fastest-growing luxury beauty pure player on our list, US prestige brand Estée Lauder makes a dramatic comeback to our list, gaining six points in a year to rank number fifteen in 2022. With 2 million monthly visitors to its website and a social media audience of 7.2 million, Estée Lauder remains comparatively small, but the sharp increase year over year is a testament to the market's renewed interest in cosmetic products in 2022. Estée Lauder is indeed the best-positioned brand in the industry to capitalize on growing sales (online) for prestige beauty brands.
A prestige beauty heritage player, Estee Lauder entered the metaverse—It was the exclusive beauty brand partner of the first-ever Decentraland's Metaverse Fashion Week where it released the first NFT of its hero product, the iconic Advanced Night Repair.
The Makeup category is growing—fueled by the Double Wear product line— reflecting the increased usage occasions to the prior year. The Fragrance category is also growing strong, primarily driven by the recently launched Luxury Fragrance Collection (with mood-boosting scents).
Most popular Estée Lauder items online
When searching for Estée Lauder online, people most often looked for the following products:
Estée Lauder foundation (Double Wear)
Estée Lauder serum (Advanced Night Repair)
Estée Lauder perfume
Online interest for Estée Lauder over time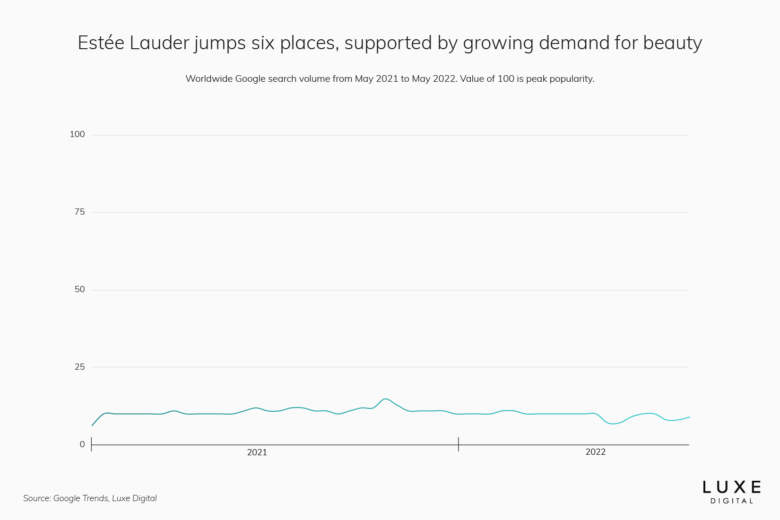 Best luxury brands of 2022: Key takeaways to be popular online
With 30% of all luxury sales expected to take place online by 2025, digital players are competing to reach the top spot in a fast-growing segment. Our series on the future of digital luxury retail explores how the space is fast evolving, with luxury brands opening their own online store while multi-brand retailers try to reinvent themselves into platforms and technology providers.
The majority of luxury brands now offer the option to shop online through their directly operated websites, such as Gucci.com. Some luxury brands are still resisting online sales, however. Most notably, Rolex still doesn't sell online in 2022, and Louis Vuitton only sells through its owned multi-brand retailer 24 Sèvres.
While multi-brand retailers continue to drive the majority of online luxury sales, mono-brand websites are fast catching up. Mono-brand e-commerce websites are now likely to make up 40% of the online segment, up from 30% in 2019.
In addition to the three macro shifts highlighted in the introduction, we identified seven trends that are shaping the future of luxury in 2022:
Resale race: Second-hand luxury becomes first-class priority
Priceless pixels: NFTs to the moon
Into the Metaverse: Worlds of creativity at play
Seamless shopping: Social commerce goes live, globally
Sustainable sustainability: Towards a more holistic approach to values
Localization, localization, localization: Domestic luxuries to journey away from the global sea of sameness
Youthful you-niverse: Data-driven digital experiences as a competitive advantage
Read our in-depth article on the trends shaping the future of the luxury industry to learn more.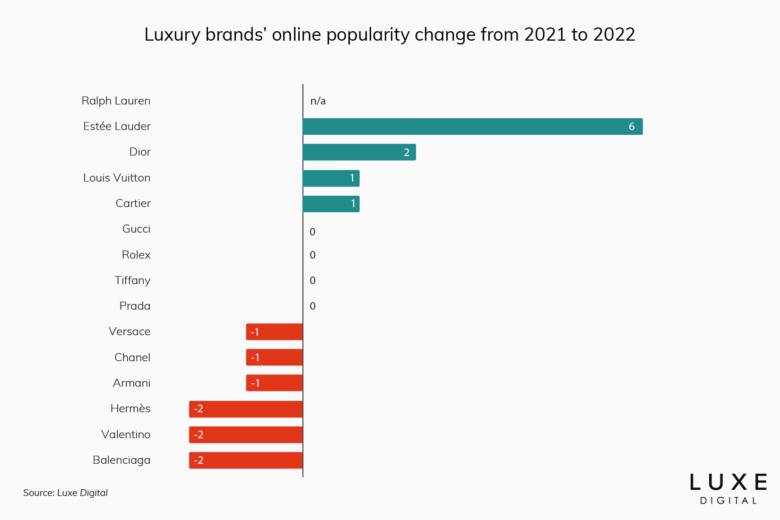 Final thoughts
2022 is turning out to be a challenging time for luxury brands. International conflicts and fear of a widespread recession are depressing the market. While the impact of these macro events doesn't seem to have reduced online interest for luxury brands (yet), brands need to double down on digital if they want to remain competitive and relevant to their younger consumers—the driving force of growth for the global luxury market.
At Luxe Digital, we think focusing on value-led, conscious elevated living remains the key to a brand's longevity.
Future-proofing opportunities lie in resiliency, agility, and nimbleness in the face of changing consumer behaviors and an unpredictable environment.
That means focusing on an omnichannel approach, of course, but also highlighting the quality, durability, and timelessness of their products and delivering sustainability through the value chain.
Luxury brands must lean in and transform themselves from a brand-centric, controlled, and confidential model to a more transparent, engaging, and customer-centric organization. Delivering a timely and timeless form of meaningful value and empowering expressions of individual identities will widen the lead of the best-performing luxury brands against the poor digital performers.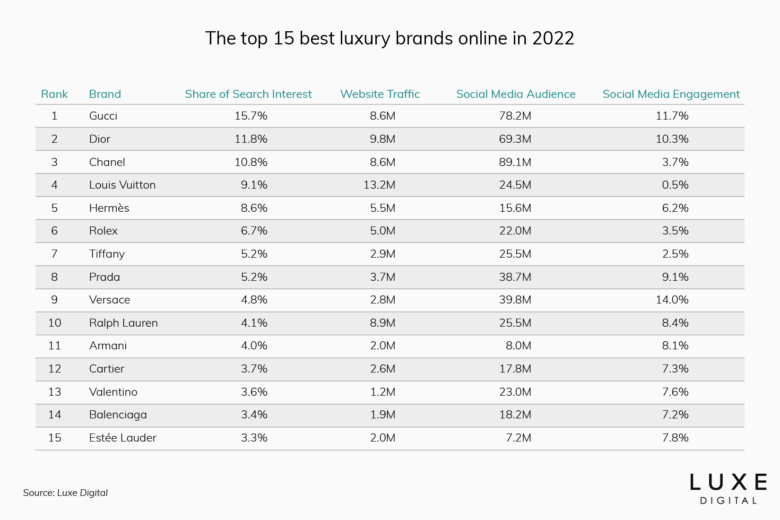 *Notes on Data:
This year, we included Ralph Lauren on our list of luxury brands considered for the ranking. We've calculated the brand's position for our 2022 ranking as accurately as for any other brand, but this year's data are not directly comparable with figures from the previous years.
Though some will argue that Ralph Lauren is not entirely a luxury brand (due in part to the many discounted sub-labels originating from the American brand), Ralph Lauren's focus on its brand elevation strategy, including reassessing its brand's portfolio, is of noticeable importance. Indeed, Ralph Lauren has been doubling down on its luxury positioning recently.
What luxury brands didn't make it to the top 15?
We started with a list of the top 100 luxury brands in the world, so most of the brands on our initial list didn't make it to the top 15. The brands that felt just short are Burberry, Swarovski, Lancome, Saint Laurent, Hugo Boss, and Tom Ford, in that order.