New generations of multifaceted women call for a new generation of powerhouse accessories.
And whilst our humble tote could once get away with standing still and looking pretty, we celebrate the fact that fashion without function no longer hits the mark. Enter: KAAI bags—everyday handbags that are as beautiful on the outside as they are on the inside (just like you.) A cliche, we know, yet unapologetically true.
Empowering the modern woman to conquer her day-to-day with confidence, KAAI was founded by Ine Verhaert and Helga Meersmans in 2017. The female-led brand was born in Antwerp, Belgium, and derived from the co-founders' personal struggles with finding a stylish business bag to complement their active lifestyles. When hunting through the market for the perfect work-life bag, Helga and Ine found it to be saturated with iterations that lacked one or the other. Handbags were either hyper-practical but lacked style (we see you school-inspired backpacks). Or they were totally on trend externally but a hot mess internally (yep, that's the oversized, pocketless carryall).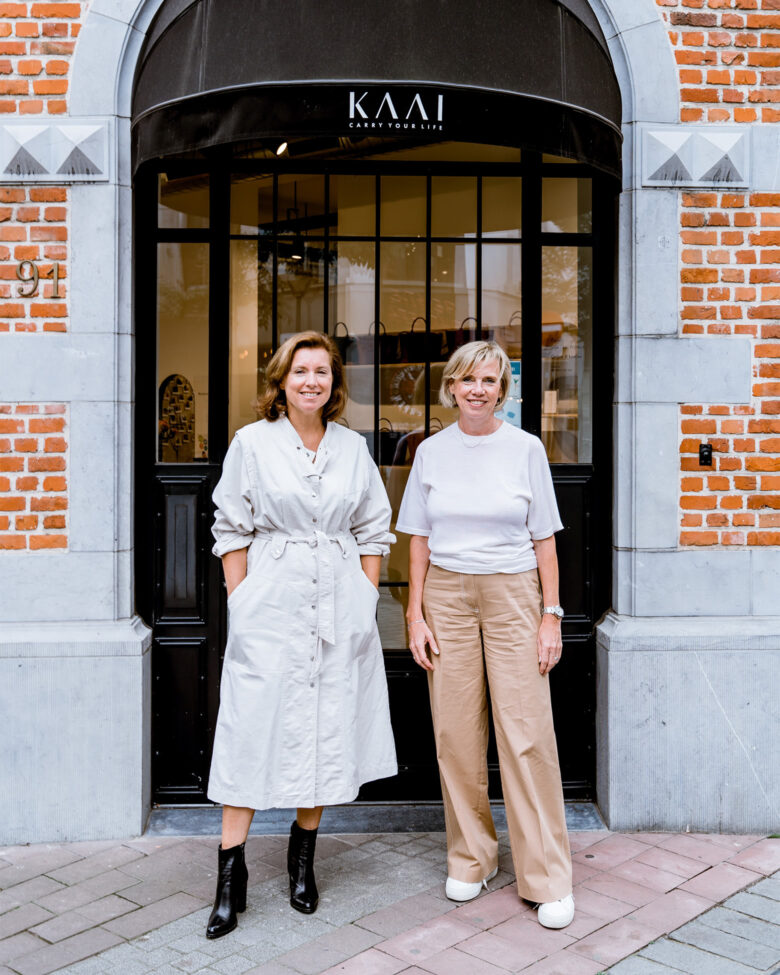 Helga and Ine both had C-level careers in fashion and retail before launching KAAI. And so they met through negotiating contracts between Veritas and Wolford. Later on, over a hotel breakfast in Amsterdam, the forward-thinking business duo landed at the same conclusion for "what's next" in women's accessories—that being an affordable luxury brand that appreciates women's innate desire for elegant organization on the go. So they got a handle (pun intended) on what the modern woman requires. And now, thanks to them, we never have to compromise a perfectly good ensemble or scrabble for a pen in the boardroom again.
If you have been reading Luxe Digital, you know we're moving (more like running) away from fast fashion with conscious, informed purchases. And KAAI is the Belgian queen (well, at least, our queen) of Work-Life Kingdom and definitely one of the best ways to welcome eclectic days with open arms (literally). 
In this exclusive interview with the women that started it all, we're unpacking what sets the brand apart from other designer work bags. We talk about their journey to success, their motivation and inspiration, and what's next for the label.
What's in the name, you're asking? KAAI means "The Quay" in Dutch and reflects Antwerp's vibrant energy and its ever-moving waters, but it also symbolizes the fluidity of modern women navigating life's journeys.
In all senses, KAAI is going places. And we can't help but go with the flow.
Ine Verhaert and Helga Meersmans on the forces behind the rise of KAAI
Luxe Digital: Hello, Ine and Helga; thank you for taking the time to speak to us. Let's start with your business. How would you describe KAAI?
Helga: KAAI is about more than just luxury bags and accessories; it is a lifestyle brand that combines both functionality and elegance into timeless designs. That is quite rare in the luxury handbag market. Oftentimes, luxury handbags look beautiful but are limited by their impractical interior—mainly consisting of a single (messy) big compartment.
Designed as affordable everyday luxuries, our KAAI bags are meant to be one of the best-looking and hardest-working essentials of the modern woman.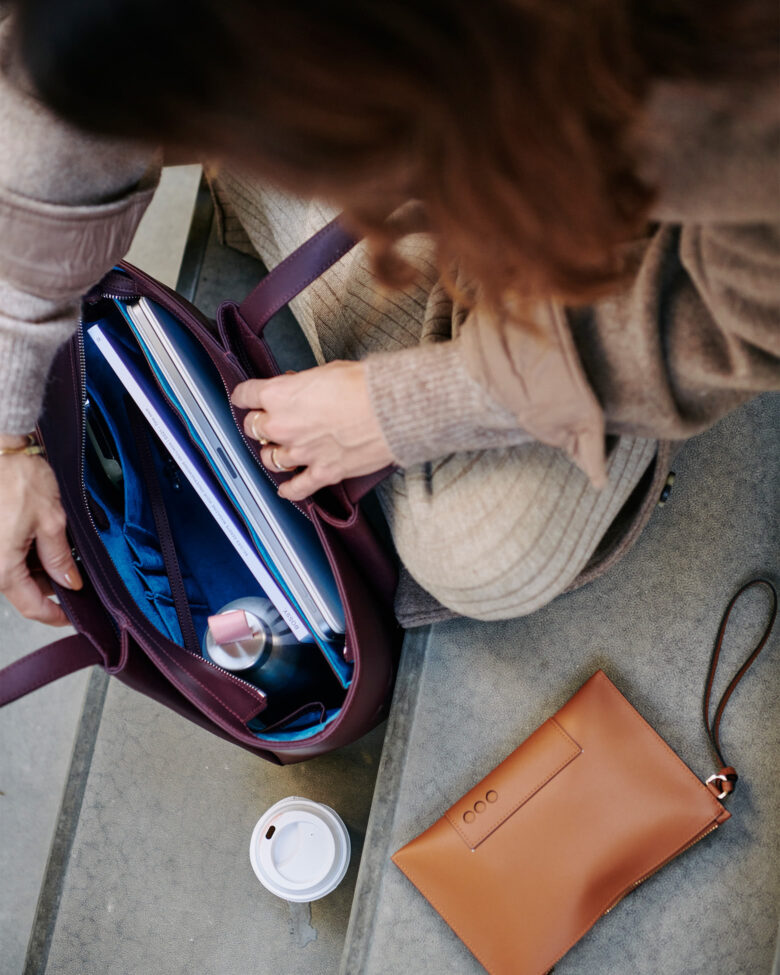 The inner compartments keep the daily necessities neatly organized, so you always know exactly where to find everything that is inside your bag at one glance—No more turning our handbags inside out to find our keys, lipstick, or pen.
Made to last, the leather exterior is treated with an innovative coating that protects it against scratches, rain, and UV.
Luxe Digital: You were both in C-level corporate positions. Why did you decide to launch your own fashion brand?
Helga: Ine and I launched KAAI in 2017. Before that, we both worked in corporate management roles in the fashion and retail sectors. Our jobs required frequent traveling and commuting. Basically, we spent a lot of time packing and (double or even triple) checking if we weren't missing anything. The last thing you want while on the go and racing between meetings is chaos.
We felt that there wasn't any bag on the market that really met our needs. Well-organized bags existed, but finding one that was not only functional but also fashionable, was way more complicated. If not impossible back then.
So we started interviewing women in our surroundings to discover how they felt about this. We learned about their work habits, their commutes, and the roles their handbags needed to play. Turns out, we were not the only ones looking for fashion and function in our work bags. That's where our entrepreneurial spirit emerged.
Luxe Digital: Who is KAAI for? What are your customers seeking when buying bags and accessories from your brand?
Ine: A KAAI bag is for the modern, active woman who values quality and has a great sense of style. She values discretion in her wardrobe and seeks a practical bag that looks feminine and luxurious. 
KAAI is a brand that is desired across different generations. We're an affordable luxury brand, so even the younger generations who have just started their careers can afford KAAI.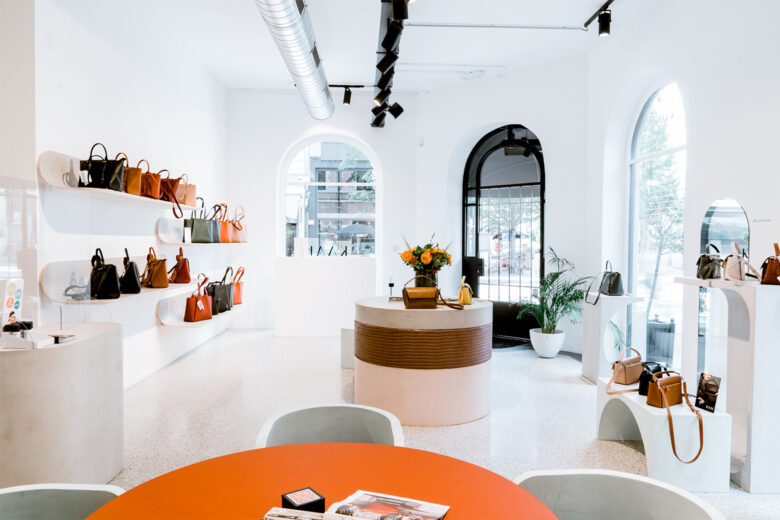 We love that KAAI is also often a cherished mom-daughter moment. Many moms who own a KAAI bag, inspire their daughters to work hard to buy one for themselves. Others get it as a graduation gift to kick off their career in style.
Luxe Digital: KAAI focuses on bringing premium designs to modern women. How do you think women should build their essential wardrobe?
Helga: An essential wardrobe allows you to put together a look in just seconds. It should consist of a balanced mix of timeless pieces and fashion-forward items. Once you have the right foundation of timeless basics that can be mixed and matched, you'll easily create style variations.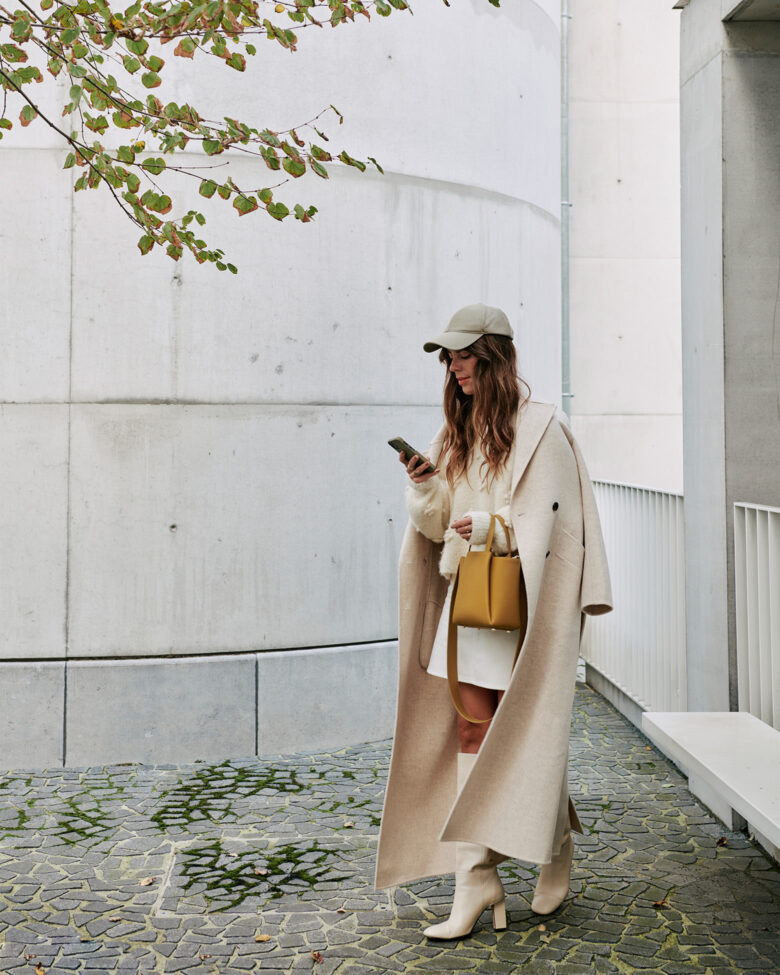 A great pair of trousers (black/beige/jeans) and a white shirt and t-shirt are fundamental pieces. From that base, you further build up your look depending on your mood or your plans for the day.
And then there's the bag. Your handbag choice can make a difference as it is a prominent part of your look. The bag you invest in should be one with a timeless character. Season after season, you want that bag to be versatile enough to mix and play endlessly with everything without overthinking it. That's why at KAAI we bring minimalistic designs in a range of timeless colors that seamlessly fit your everyday wardrobe.
At Luxe Digital, we champion conscious, elevated living. How does KAAI embody this definition of luxury?
Ine: We highly value quality in our design process. So prior to launching a new style, we have a long period of testing. Some of our KAAI women get invited to test out the new design for over a year before it's available on the shopfloor. By doing that, we not only guarantee the high quality of our products, but we also experience their functionality firsthand. The feedback we gain from this testing phase is of great importance to us to further improve our styles and ensure their long lifetime.
Designed with longevity in mind, KAAI bags are crafted from the finest Italian leather and feature buttery-soft micro-suede interiors. We conducted thorough research on leather suppliers for over a year (that's how committed we are to quality). Eventually, we found a high-end tannery in Italy—a country with a long history of leather craftsmanship—which, thanks to a patent technology makes the surface scratch, UV, and water resistant. That brings us to elevated living. A KAAI bag gets the job done and looks good doing it. It also keeps you organized and brings you that satisfying feeling of getting your life together. That's luxury for us.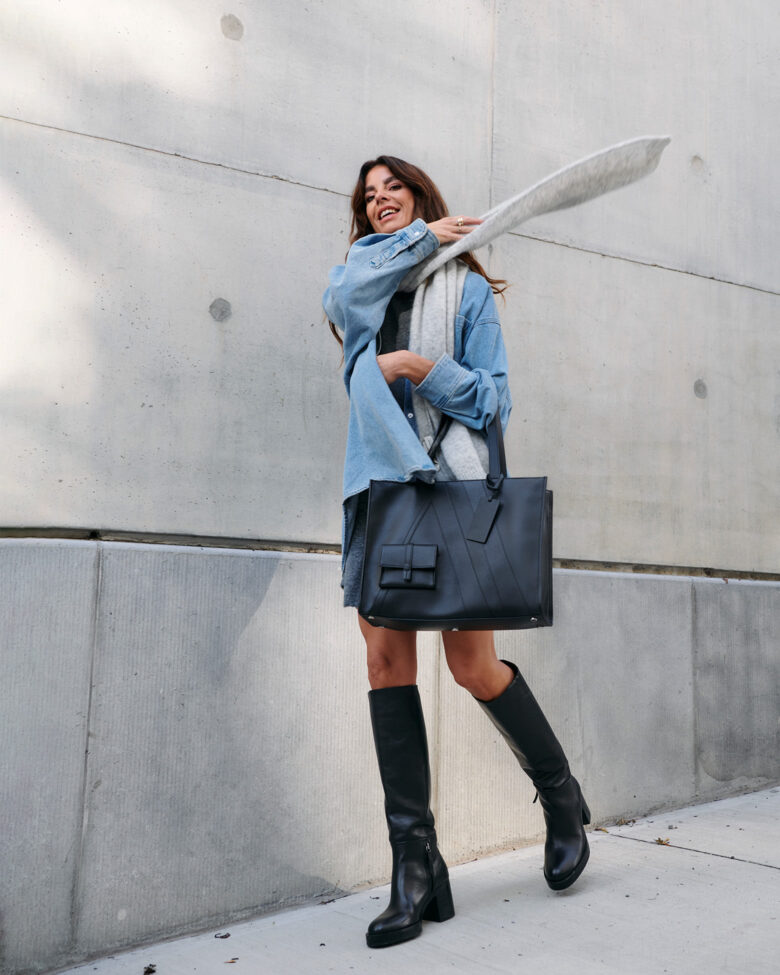 As our bags have a hybrid character—they combine a business bag with a luxury leather handbag—the production takes place in an atelier that works with computer-steered sewing machines to ensure the inner pockets are stitched 100% correctly on the millimeter. After all, your laptop must fit perfectly inside the built-in laptop sleeve.
The bags are assembled, one by one, by experienced leather artisans that craft the leather in the right shape with the perfect seams and finishes.
Luxe Digital: What trends do you think will have the most impact on the luxury bag industry in the next 5 years?
Ine: The new definition of luxury and digitization create space for new brands in a market that until recently had been dominated by renowned heritage brands. We noticed the rise of new (DTC) handbag brands that focus strongly on social media and community-building.
Regarding materials, we believe that the rising desire for vegan alternatives will greatly impact the handbag industry and will definitely push brands to innovate. For luxury brands, the challenge lies in finding the right vegan leather substitute with the same luxurious feel and appearance as real leather but sustainable.
Helga: Sustainable business models will become more and more the norm. That is also why at KAAI we offer a repair service. This prevents handbags from being stored in a closet and not seeing the daylight again or, worse, reaching the landfills. We offer this service to give every KAAI bag the longest lifespan possible.
Ine: Speaking about these business models, the rental and resale businesses will also continue to rise and mark the industry. Especially since it will impact the consumer attitude toward brands. It will increasingly grow this culture of 'investment' pieces.
What does the future reserve for KAAI?
Helga: We just celebrated KAAI's 4th anniversary, and what a journey it has been. As we grow and gain momentum, more and more opportunities come our way.
Not only has the brand been growing rapidly in our home market, Belgium and Europe, we're also growing at a fast pace internationally. And that is a very exciting step. Every market is different, with different languages, cultures, and habits. Every day, we learn new things from our KAAI women and business partners across the globe. We hear stories from KAAI fans across the world and love to share these with our community.
Earlier this year, we also launched a podcast series—'KAAI women around the world.' Further growing this community and building deeper connections take center stage in all our plans for the future. In the US and UK, we have built a solid base over the years; now, we want to deepen that connection with our KAAI women in these international markets and build a strong global community of wonderful women.
A few words that say a lot:
A book that influenced your life
Ine: Well, I'd like to divert a bit from the book idea. There is one particular event that changed my mindset entirely. An intensive 3-day masterclass at Hyper Island in Stockholm in 2013, was the moment I got that digital-first mindset that changed not only my professional life but also my personal life.

Helga: 'Not Without My Daughter' is an autobiographical book by American writer Betty Mahmoody. In the book, she describes how she was held by her husband, doctor Sayyed Bozorg Mahmoody, against her will with her infant daughter Mahtob in Iran in 1984. The story is very intense and moving. She is pushed to her limits but does not give up her fight. Even though it would be much easier for her to flee on her own, she does not do so and ventures on a very difficult and dangerous flight to take her daughter with her as well. Love, fear, violence, friendships, everything intertwines. A book first published in 1987 but still relevant.
Luxury in one word
Ine: Long lasting
Helga: Timeless
The future of digital in one word
Ine: Human
Helga: Connect
If you were to only pick one color
Ine: Green is a good alternative to black. It's softer and suitable for all occasions.
Helga: Blue